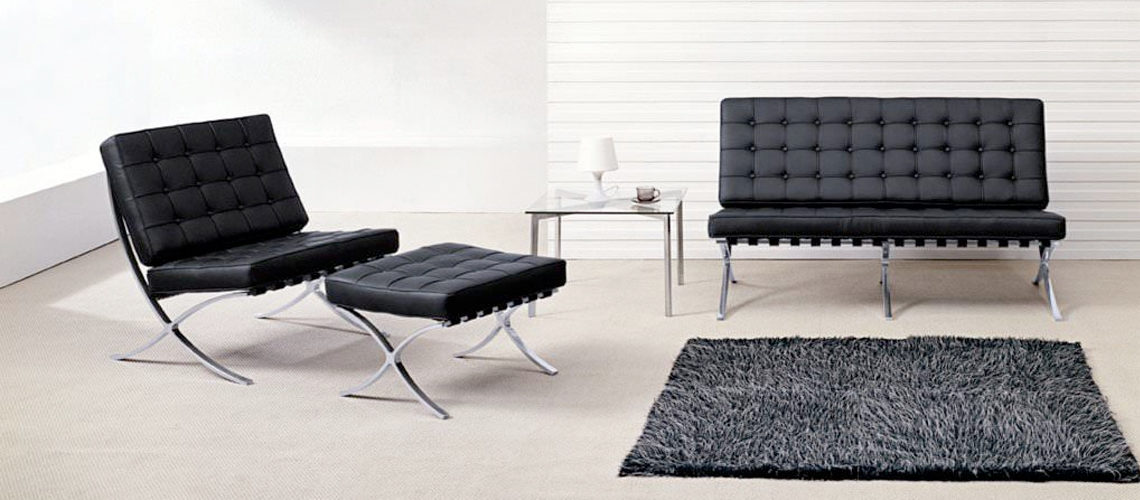 One of the most iconic and celebrated designs of the 20th century, designed by Ludwig Mies van der Rohe and Lily Reich in 1929, the Barcelona chair was different than most furniture being produced at the time.
It was specifically designed for the Spanish Royalty.
Despite its industrial appearance, the chair requires a lot of hand craftsmanship.
The frame is made of two different steel configurations, chrome and stainless and authentic pieces have a facsimile of Ludwig Lies van der Rohe's signature stamped into each chair.
The frame was initially designed to be bolted together, but was redesigned in 1950 using stainless steel, which allowed the frame to be formed by a seamless piece of metal, giving it a smoother appearance.
In 1947, Knoll began manufacturing Barcelona chairs and they are still in production to this day. 
In the 1970's they introduced bronze plated legs and later on they produced the lounge chair and ottoman as well as the Barcelona couch, stool and table.
Knoll chairs are almost completely hand labored and the signature is still stamped onto each chair.
Still popular to this day, any true modernist can love and appreciate this beautifully designed piece.
An authentic Knoll Barcelona Chair will run around $6,230/each.
Barcelona chairs are also made by other manufacturers worldwide and are sold under different marketing names.
Here's the Best Affordable Barcelona Chair Reproductions of 2023:
Pavillion Leather Chair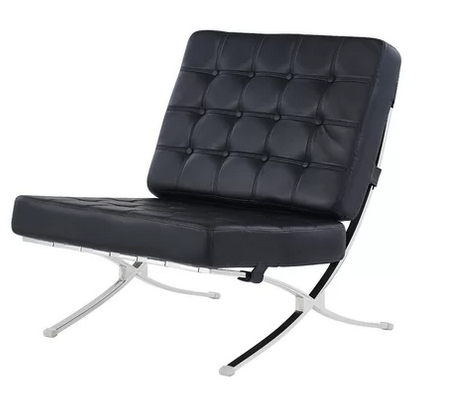 First we are going to talk about the Pavillion Leather Lounge Chair.
We included the best Bonded Leather Barcelona chair reproduction for those that don't care for real leather and that only want to spend a few hundred dollars.
Although this chair isn't real leather, for only $650 it's a really good faux version.
With reviews raving about the quality and style, this is definitely a solid lower price option.
If you have kids or perhaps a busy office setting, this would make a great addition to your space without you having to worry about ruining a pricey version.
PS: no one will know you paid such a low price!
The chair comes in four beautiful color options: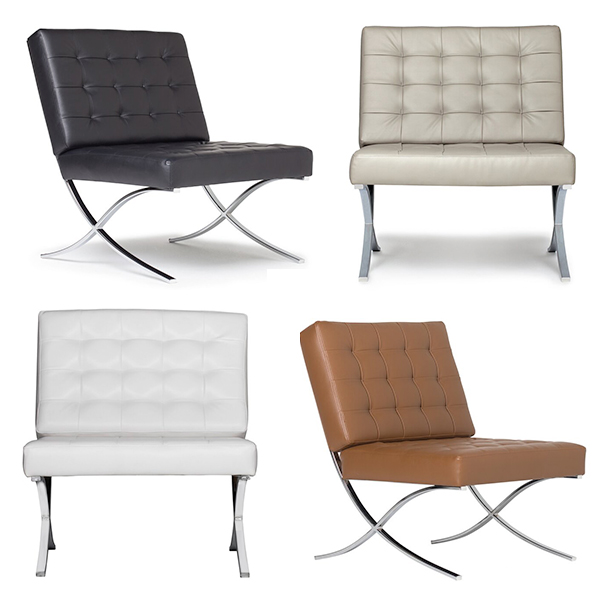 Features:
Bonded Leather
Faux Leather
No Assembly required
Foam seat filler
Solid wood frame
Stainless steel Metal legs
Tufted cushions
Buy Here:
Barcelona Chair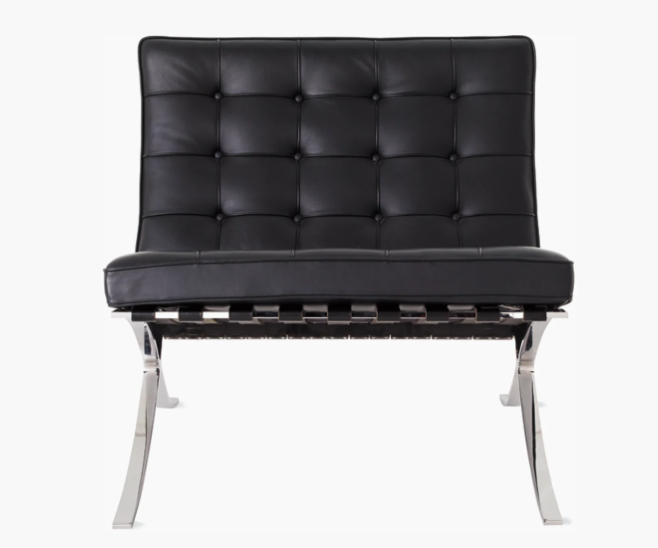 Originally created for the king and queen of Spain, the Barcelona Chair (1929) continues to endure as an icon of modernism and master craft.
It's upholstered using a single Spinneybeck cowhide and supported by a polished chrome frame hand-buffed to perfection.
To create the precise tufting, individual panels of leather are cut and upholstered by hand.
The Barcelona Chair is a registered trademark of Knoll, Inc., this is the authentic Barcelona Chair by Knoll. Made in U.S.A and the price certainly reflects it!
Features:
Produced according to the designer's original specifications.
Made in the USA
Dimensions: 30.25″ H 29.5″ W 30″ D
Registered trademark of Knoll, Inc.
Price:
$6,479.00
Buy Here:
Studio Designs Home Bonded Leather Atrium Chair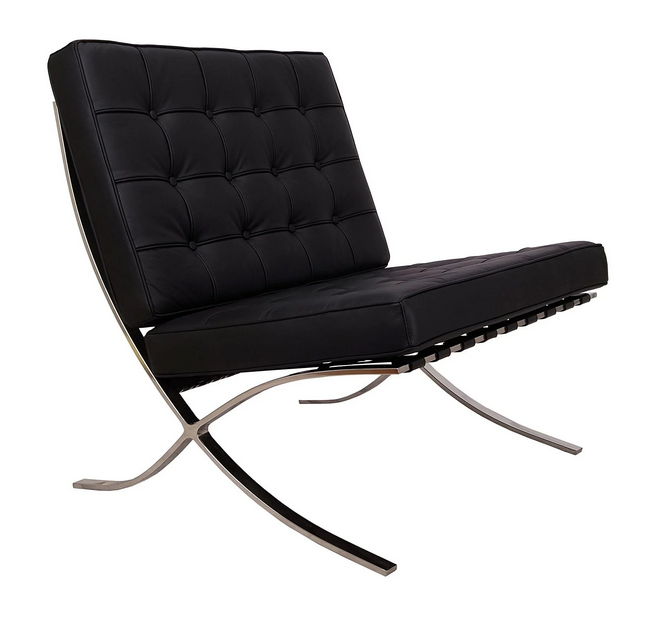 This is an really nice bonded leather version of the popular atrium chair.
If you simply just like the style of the original Barcelona Chair but are on a tighter budget, this is a great value choice.
This isn't going to be the closest reproduction out there, but it will be the closest in it's price range!
Consumers who purchased this have said "The bonded leather is gorgeous and the chair is comfortable and sleek!" and "these are much better than I had anticipated at the price point. They are solid and stunning."
This chair will still give you the style you are wanting to achieve but at at a budget friendly price!
Features:
Black bonded leather
Dimensions: 32.5 x 29 x 32 inches
Polished and durable chrome legs made of alloy steel offer maximum support of 250 pounds
Handmade
Some assembly required
Price:
$220
Buy Here:
Atrium Lounge Chair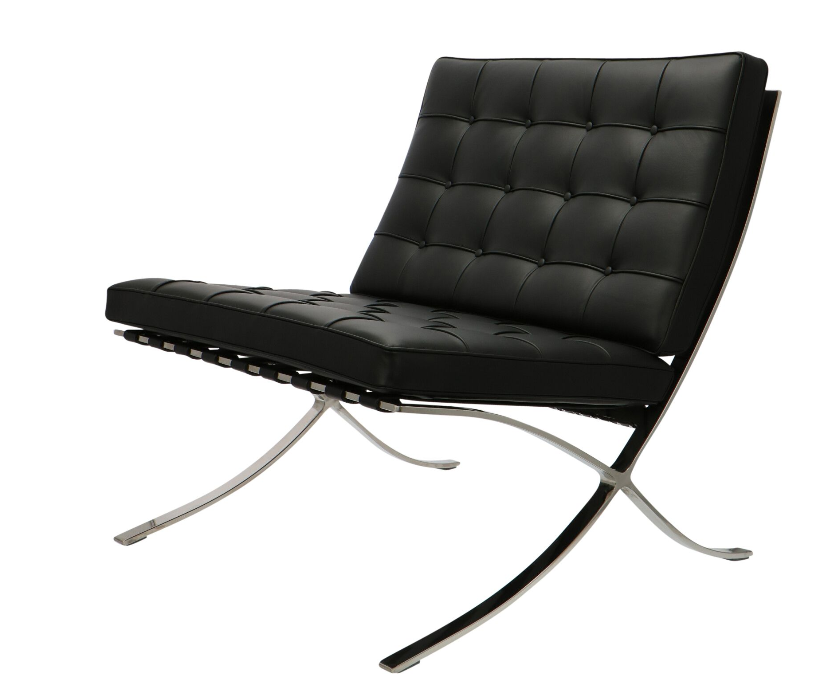 Another fabulous reproduction – the Atrium Lounge Chair.
The dimensions of thisLounge Chair are a 1 on 1 match with the original.
The frame is slightly thicker making this a sturdy, durable and long lasting piece.
Not only is this a close replica to the original, it comes in Genuine leather.
The patches are put together one by one, so this chair looks almost identical to the original at a great price.
Features:
Faux Leather Cushions
Stainless Steel with a Steel Core
Rubber Feet protector
No assembly required
Price:
$284.99/Chair
Buy Here:
From offices to living spaces to restaurants and television sets, the Barcelona Chair has been gracing us with its presence for many years, since 1929 to be exact.
This chair is a modernists dream and it's nice to see that you can get a solid reproduction at several different price points.
Whatever your budget is, just be sure to thoroughly read reviews when making a purchase to be sure you will receive a chair that you will be satisfied with.
If there are any awesome Barcelona Chair reproductions that you know of that are not listed in this article, please share them in the comments below!