10 Most Outstanding TV and Movie Chandeliers
Whether you are craving a little bit of lighting bling or just looking for inspiration for "later" design additions, my last post highlighting some fab lighting on a current show ( popular TV and Movie set designs) got me inspired to dig a bit deeper into how lighting is showing up on the big screen. Hoping you will enjoy these 10 interesting and unique pieces found on TV and move sets. Lighting is- as most of you may be used to hearing me say- one of my favorite additions in bringing a room together. Lighting, while  functional also must be enchanting to look at in a room. It can most easily become a work of art!
1. Gossip Girl – David Weeks Aluminum Bullet Chandelier
This David Weeks Aluminum Bullet Chandelier that hangs above Lily's desk is a uniquely clean lighting fixture that seems to float within the room. Lily's apartment is a modern and simple place where this piece fits in perfectly.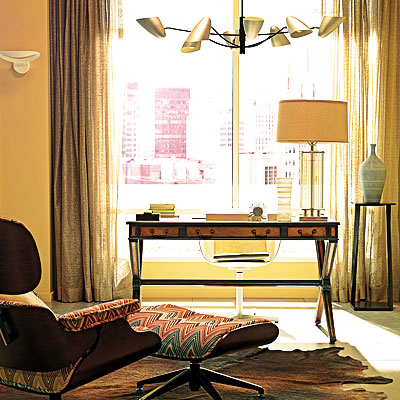 (Image Credit)
2. True Blood – LAMF Crystal Chandelier
The LAMF chandelier over Bill's desk in his office is a traditional crystal chandelier encased in a black lamp shade taking something simple and traditional and elegantly recreating it into something unique and modern. I know that I shared this image last week- but just couldn't resist adding it again 🙂

(Image Credit)
3. Sex and the City 2 – Lindsey Ademan Studio Blown-Glass Chandelier
The Lindsey Ademan Studio blown glass chandelier in Carrie and Big's hallway in Sex and the City 2 is absolutely exquisite and screams "Carrie" the instant you look at it. The look of bubbles mixed with the champagne colors is the perfect example of how attuned to "the deets"  set designers are putting together with the perfect pairings.

(Image Credit)
4. Mirror Mirror – Laeila Chandelier
In the movie Mirror Mirror, this three meter tall chandelier creates an elegant backdrop for the queens palace. The 6,000 pieces of handblown glass leaves give it a whimsical and beautifully sparkling look that is perfect for this Snow White tale. Mystical and magical!

(Image Credit)
5. Gilmore Girls – Richard and Emily's House
There are a ton of great lighting fixtures at Richard and Emily's house, but one you see quite often is the one over the dining room table. Wether they are enjoying Friday night dinners or reading the morning paper, the chandelier here becomes a regular fixture during the show's seven seasons. It is a traditional and timeless piece.

(Image Credit)
6. The Phantom of the Opera – Swarovski Theater Chandelier
Words can barely describe this amazing 2 ton chandelier. This piece is made of over 20,000 Swarovski crystal pieces and measures 17 feet tall and over 13 feet wide. The chandelier has it's own part in the movie, as well as a stunt double.


(Image Credit)
7. True Blood – Gotham Chandelier
Bill Compton has too many pieces to only list one. This amazing Gotham Chandelier is hung in his foyer, placed after he became the King of Louisiana.

(Image Credit)
8. The O.C. – The Cohens Kitchen
In the TV show The O.C. the Cohens have an amazing chandelier that doubles as a pot and pan holder in their kitchen. This is one of the most beautiful set designs showing how a kitchen can look elegant and still be functional in an Orange County home. Looks and feels perfectly "homey" and warm.

(Image Credit)

9. Harry Potter – Gringotts Wizarding Bank

The Chandeliers in Gringots Bank that the children visit in Harry Potter and the Deathly Hallows Part 2 are paired with beautiful marble columns to convey an amazing reflection of wealth, whimsy and grandeur.

(Image Credit)
10. GCB – Gigi's Foyer
The chandelier in Gigi Stopper's grand foyer is designed to be elegant and show stopping. The two focal points of this space are meant to be the chandelier and the staircase. Classic elegance.

(Image Credit)
What are some of your favorite chandeliers from TV and Movie sets? How do they add to the space or reflect the characters they belong to? All MG's prepare to comment and share!