DECORATING: HOW TO DECORATE YOUR SHELVES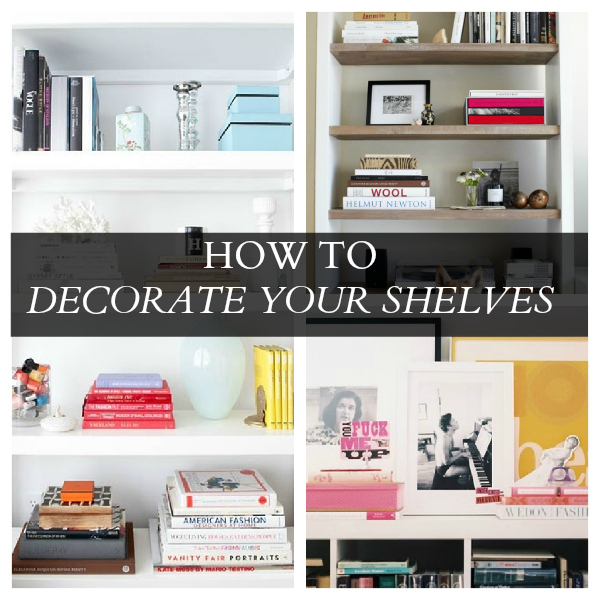 Recently one of my friends asked me for some help in how to decorate her hanging shelves. It may seem like a no-brainer for some, but coming up with a carefully curated display can also be a challenge. It usually takes me several days to come up with an arrangement I like- but I've put together a few helpful tips that I use.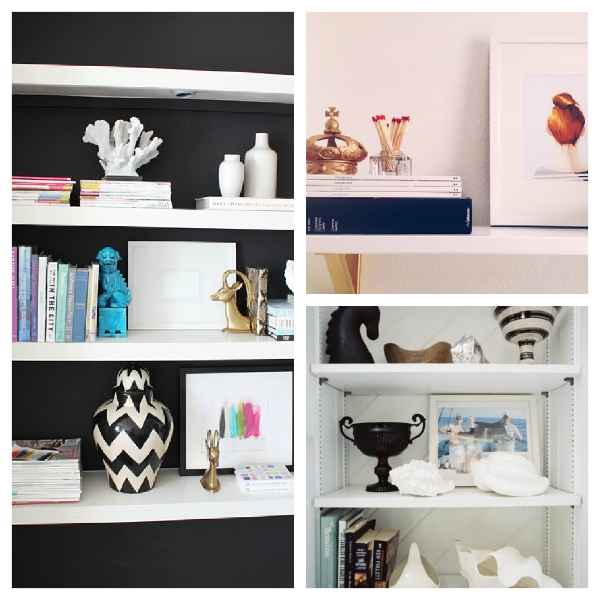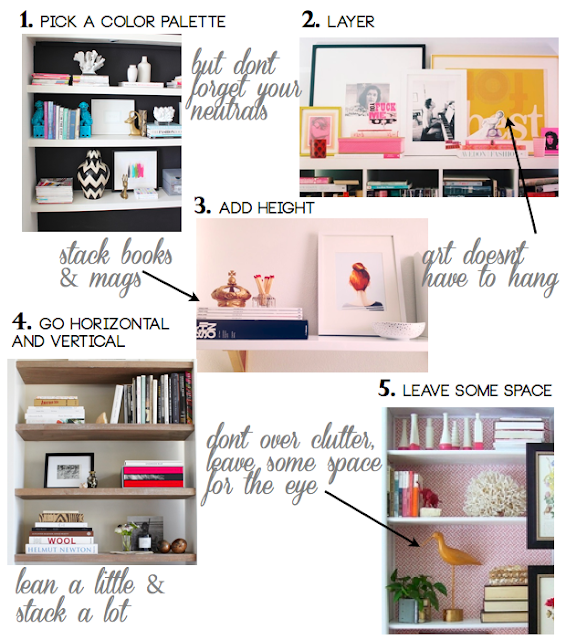 1. PICK A COLOR PALETTE: Select a few colors to work with – and include a heavy dose of black, white or grey and gold or silver. It doesn't have to match your existing decor perfectly but it should tie in with at least one color. Pick a color family, like oranges and pinks and work with whites and gold tones – or go with bright blue, pink, teal and add gray and white accents. You can also work with mostly neutrals (as seen in step #4) and just add a small pop of color!
2. LAYER: Layering is the most important step. Even if you're working with a small shelf – slide a framed print or small framed picture behind a vase, bowl, figurine or stack of books. Adding this dimension will really add to your vignette. If you have a larger space to work with you can layer several pieces
3. ADD HEIGHT: Equally important is adding height! You want to stray away from uniformly placed pieces aligned level with the shelf. If you're working with a small shelf, use a small stack of novels – larger shelves allow for a larger stack of books or magazines.
4. GO HORIZONTAL & VERTICAL: Don't be afraid to work horizontal and vertical – it will create a nice balance on your shelf. Books don't have to lean to the side!
5. LEAVE SOME SPACE: You don't need to fill an entire shelf- especially if its on the smaller side. Pick a few items you love to look at every day and leave some negative space for the eye to wander.