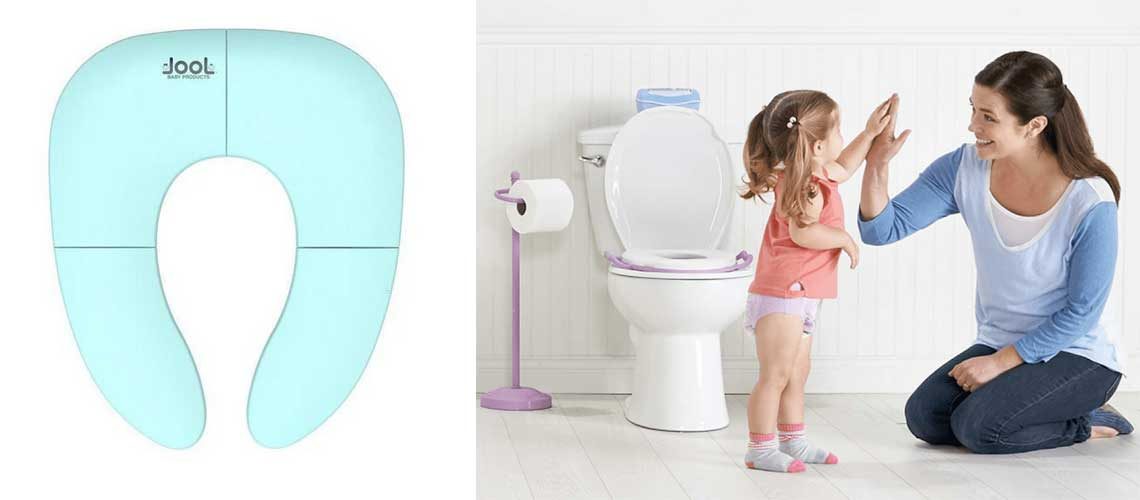 One of the most useful skills you can impart to your kids while in their young years is training them to use the toilet.
It's a win-win for both you and your kids.
But life happens and sometimes you need to travel right in the middle of your potty training efforts.
Rather than taking a break from potty training and reversing all of you and your little ones hard work, you can bring a portable potty seat with you!
To help you stay on track, we are going to review the best potty training seats that you can use while on the road.

Once you'll find your top choice, then you don't have to think about stopping time and time again to get your little one to use the toilet.
Quick Buying Guide
If you're looking for the best travel potty for your kids, you want to look for one that has more or less the same features that you can get for a regular adult toilet training seat for home use.
This means there are four important factors to look for when shopping for a travel potty seat:
No Hassle Cleaning – Let's face it, toilet cleaning is one messy business. No matter where you are using it; whether it be for home use or travel, for sure you want to use a toilet training seat that's easy to clean. One of the many ways to find one that's hassle-free in cleaning is in its design. A seat that is contoured, molded, and with lesser areas that are difficult to reach is a good choice. This will make your cleaning job a lot easier. 
Portability – Probably the make or break for your decision and the most important feature in a travel potty is its portability. You want to put it inside a diaper bag without making any mess while traveling. Best if it comes with accessories like a carrying and protective case or bag.
Steady and Reliable – Since you're looking for one that's useable on the road, you want to ensure the safety of your little one. Finding a travel potty where it is safe for your toddler to sit on and use while traveling is a requirement. You wouldn't want your kids to use one that is unstable and movable while they're sitting on it.
Convenient – You can't discount the importance of having a comfortable travel potty for your kids. Be very careful in choosing those toilet training seats especially the foldable ones. You don't want anything sharp to pinch your toddlers while they sit on the seat.
With all those features listed down, we'll give you the top picks that you can choose from.
Let's get started.
Here are our Top Picks for Travel Potty Seats:
Vinkki Folding Potty Training Seat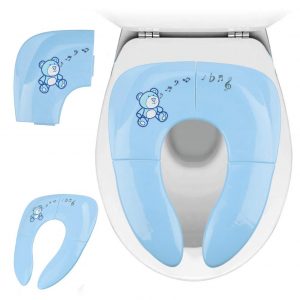 First on our list is this folding potty training seat made by Vinkki.
What makes this toilet seat unique from others on the list is its material which is made with polypropylene (a non-toxic material).
You are assured of the comfort of your child.
It also fits most regular and standard size toilets are foldable to smaller sizes and is very easy to clean.
The Vinkii Folding Potty Training Seat is the quick fix solution for toilet training for your kids while on the road.
It boasts of its portability where you can easily fold it and place it inside a small package and be a diaper bag.
Its design that fits right with regular toilet seats makes it very easy to complement with other toilets.
Jool Baby Folding Travel Potty Seat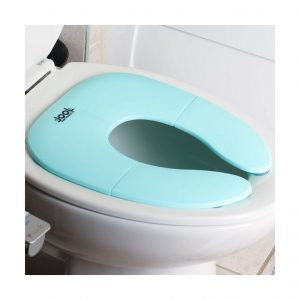 Next in line would be this baby folding travel potty manufactured by Jool.
Much like the toilet training seat by Vinkki, this kid-size is also suitable for regular-sized ones.
What sets this apart is its design feature that uses 8-super suction cups that fits right on the toilet seat.
Well for beginners like your toddlers, this gives them an extra boost of confidence to sit on this seat.
It's also lightweight which makes it very easy to carry.
The best part is its lifetime warranty and plus a free stylish bag that comes along with your purchase.

Jool is a known brand among baby products.
They manufacture one of the best toilet training seats that's popular in the market.
You can be assured of the quality, comfort, and security of your child.
Aside from the comfort that it assures you, this toilet potty is easy to carry because it is lightweight; plus it can be stored in a diaper bag.
Kalencom Potette Travel Potty Seat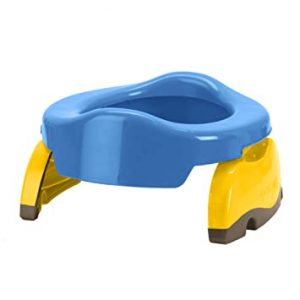 The Kalencome Potette Travel Potty Seat is unique in its kind.
It may not be as foldable and flexible due to its design but you cannot discount the features that it comes along with.
One, this toilet training seat comes with 3 super absorbent, leak-proof disposable liners.
Two, its security features are exemplary as it is non-slip and extremely durable.
It has legs on both sides that lock into place when opened. 
Like the other potty seats mentioned above, it is suitable for all sizes and regular ones and is easily foldable making it comfortable for your child's use.
The only downside is it's fitted for kids from ages 15 months up to those that weigh 50lbs only.
The Kalencom potty may not be as portable as it is but mind you, its 2-in-1 design makes it different and more usable compared to others.
The contoured seat with its unique splash guard assures the comfort of your child and their security as they use it.
Its size may be slightly bigger compared to its peers but it is still foldable and you can still sneak it right in a diaper bag.
OXO Tot 2-in-1 Go Potty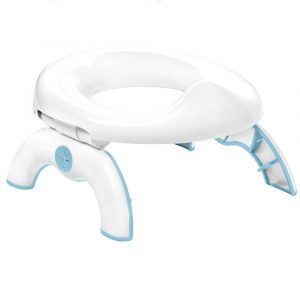 Much more like the Kalencome Potetty Travel Potty Seat, the OXO variant is easily distinguished with its legs folded in making it firm in storage for cars, strollers, and diaper bags.
This kind of potty seat also has legs that are securely attached to the seat which can be used as a stand-alone toilet for your little one when you're using a public toilet.
It's easy to open and very quick to use just in case an emergency is on sight.
Its exact product comes in dimensions of 11 x 11 x 2.5; with a weight of 3.2lbs making it very handy.
While OXO is a trusted name for kitchenware and bathrooms, they are also making a name for themselves in the baby products industry with their popular 2-in-1 potty seat – the go-to choice of parents because it is easy to handle while on the road.
With fantastic features such as splash guards and comfortable sitting, the OXO potty seat stands out because of its legs wherein when you fold them down, they can be used as a normal potty chair for your young one.
On the other hand, once it's used inside the toilet, the legs are then spread out and flattened which can be used as handles.
Baby Bjorn Toilet Trainer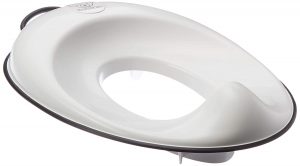 More classy than the other potty seats on this list because of its ergonomic design which makes it comfortable for your child to use and assists them in sitting properly.
The Baby Bjorn Toilet Trainer is easy to use for your child as it can be quickly attached and removed from the toilet trainer by itself.
It is also flexible and the toilet trainer is adjustable making it fit other sizes.
To put some icing on the cake, the sloping splash guards prevent spills from the toilet trainer making it easy to clean.
Though technically the Baby Bjorn version may not be identified as a travel potty seat, its size is small enough making it portable wherever you go.
Its popular because of its ergonomic design making it also a top choice for parents when they choose a toilet trainer for their kids.
Dreambaby Soft Touch Potty Seat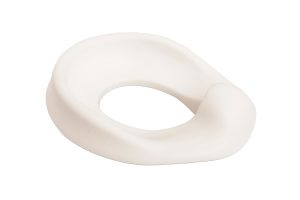 To round up this list, the Dreambaby Soft Touch Potty Seat is the most comfortable toilet trainer among others as it includes a soft cushion on its seat assuring maximum comfort for your little one.
Like others, it is also anti-slip and contoured on its design making it also easy to clean.
Much like the other versions, this toilet trainer is very handy and can be used both for home purposes or when traveling.
It is so lightweight which makes it easy to include inside the diaper bag or place at the back of the car while hitting the road.
Although some reviews have included negative ones like concerns on its durability and its structure which makes it messy to use, you still can't count this one out as it's an affordable option especially if you're only using it seasonally.