Inspiration: Getting Out of a Rut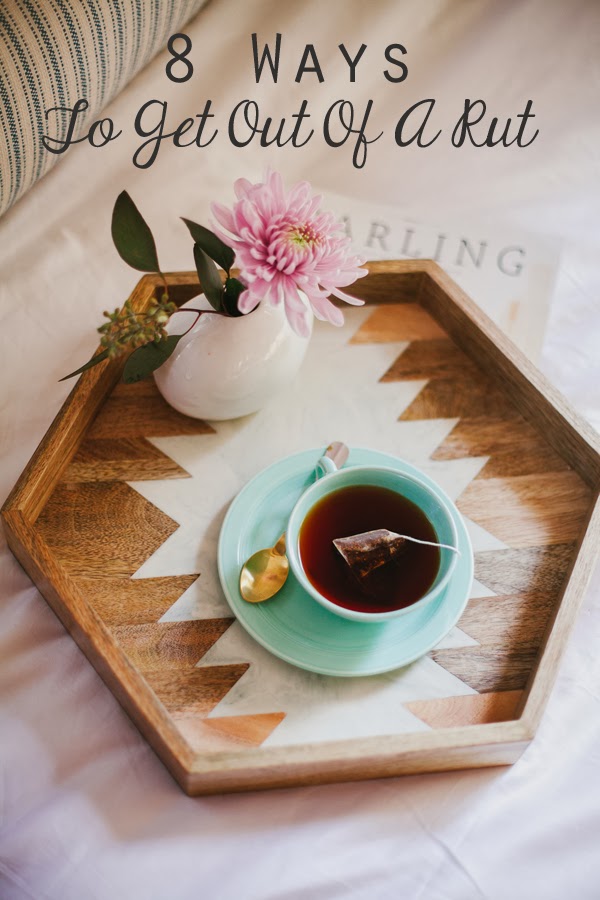 Lately I've been feeling a little off. Nothing is particularly wrong in my life but sometimes I feel like the days go by and I'm not living as much as I could be. I don't typically get too personal on my blog, but thought I'd share a little bit today, because maybe other people out there feel this same way. 
A few of my close friends have been going through some very tough times. Times that make you wonder why? Why do extremely horrible things happen to extremely wonderful people? The thing is you can't wonder why, you have to focus on how to turn these situations into something positive. This has all made me look at my own life and start to appreciate what I have more and figure out what I can be doing to live more. It's not about what we don't have, it's really about what we do. Sometimes I need to be reminded of this. 
Continue reading to see the few steps I've been making the past few weeks to get out of my own rut, and live my life a little more deeply. 
Read. This is a big one. I love to read and haven't finished but 2 or 3 books this entire year. That's sad. I spend entirely too much time in front of my laptop browsing Pinterest or reading blogs – not BOOKS. Curling up with a book at the end of the day or on the weekend is a totally simple joy I've been neglecting myself. 
Get organized. I've been working to create a clean, tidy and inspiring work place where I can be more productive during the day thus giving myself more free time. Start slowly and make progress each day to create a more organized life! 
Be a better, more present friend. To my boyfriend, my family and my girl friends. Really enjoy every moment with them. Put down your phone and disconnect when you're with loved ones. Take time to make kind gestures for your friends. Fresh flowers, a note in the mail, a kind compliment all go a long way. 
Walk. I love taking our dog for a walk. It's good for your body and your mind and there's no way you can't find 30 minutes during your day to take a stroll. This time of year is particularly wonderful to look at the leaves changing and feel the crisp chill in the air.
Tea time. I love the relaxing, comforting feeling you get by drinking a hot cup of tea. I picked up fresh tea leaves over the weekend and if you like tea, this is the only way to drink it. Before bed I have a cup with chamomile buds and lavender and in the afternoon I often brew myself a cup of chai or vanilla as well. 
Give back. There is so much we all take for granted and so many people who have far less than us, so why don't we do more about it? You'll change a life and yours too. We adopt a family for the holiday season and this year are providing them with a Thanksgiving meal + holiday gifts. We just got our match and it makes me giddy each season when I get the email. Why only do this during the holiday season? 
Power down. Set a time every day that you disconnect from your devices and find something else to do with yourself. This is a tough one for me since I am always on my phone, but I've started to implement a 'no emails after 8' policy with myself.
Express gratitude. Tell people you are thankful for them, send your loved ones letters and emails and let them know. I've started a list this month in honor of Thanksgiving and write down one thing I'm thankful for each day. Try to think about this every day, all year.  
Do you have any tips for me or others trying to live life more fully?