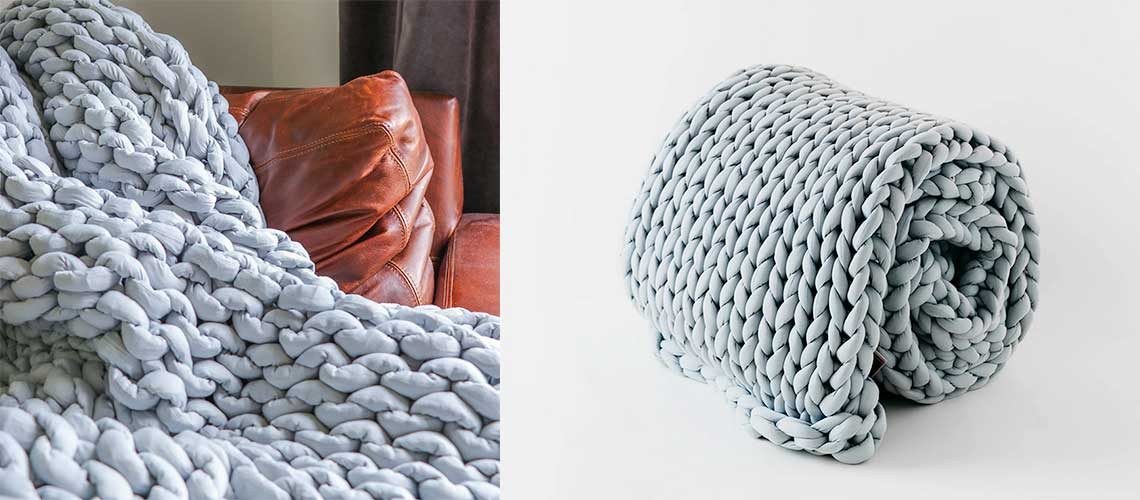 Nuzzie Knit Weighted Blanket Review
Many people don't realize that weighted blankets have more benefits than your average blanket.
Weighted blankets are heavy blankets that are used for therapeutic purposes such as relieving anxiety, stress, and sleep issues.
Using a technique called deep pressure stimulation (DPS), weighted blankets act like a hug to help you feel more secure.
In the early stages, weighted blankets were used to treat anxiety in children on the autistic spectrum.
The results were so good that they started being used on both children and adults with a variety of symptoms caused by stress, anxiety, emotional and mental disorders, and more!
Some proven benefits of using a weighted blanket include:
Increase in Serotonin which impacts the sleep-wake cycle and help regulate sleep stages and depth of sleep
Reduces nighttime movement
Eases symptoms of restless leg syndrome
Decreases nervous system activity which calms anxiety, hyperactivity, and other issues.
Increases feelings of security
Calms people with sensory disorders
These are just a few benefits but there are many more and you don't have to have an emotional or mental disorder to reap the many benefits of these blankets!
When weighted blankets first became available, they weren't made out of the best materials and fabrics and they weren't made with aesthetics in mind.
With their growing popularity, weighted blanket brands have taken these therapeutic blankets to a whole new level, and you can now find aesthetically pleasing ones that match your home decor style.
Nuzzie is a brand that has taken weighted blankets to a whole new level.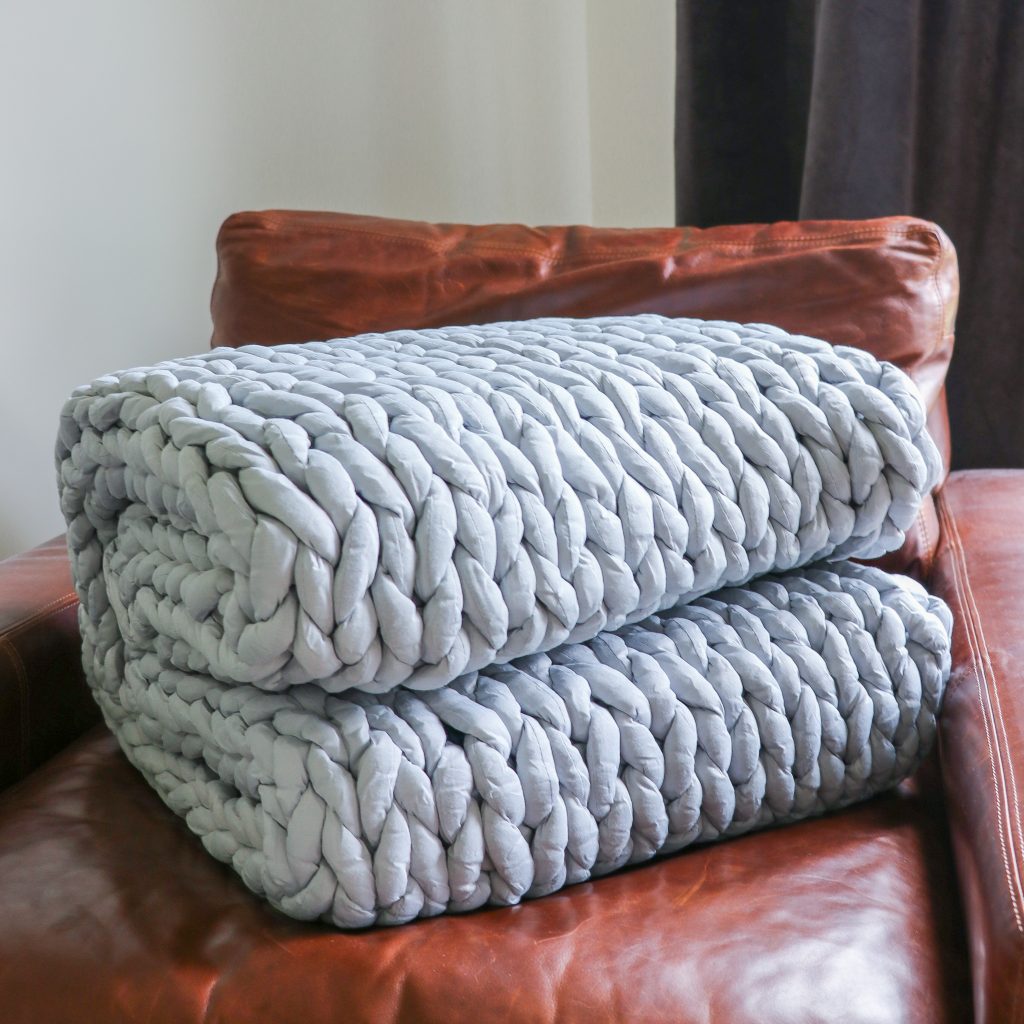 They offer knit weighted blankets, classic weighted blankets that are made of the softest, most breathable fabric but are also so pretty!
Place them on your couch, drape them over your favorite lounge chair, or place it as a throw on your bed when not in use and it will tie your home decor together creating a cozy and beautiful aesthetic.
Come time to relax or sleep, the Nuzzie will provide all of the benefits of a better night sleep and a more calm, relaxed, demeanor.
Key Highlights of the Nuzzie Weighted Blanket:
7 Color options: grey, white, off white, red, green, blue, black
4 Sizes: Kids 8 lbs, Full 15lbs, Queen 20 lbs, and King 25 lbs
Beadless (no noisy glass beads) which makes weight more evenly distributed
Filled with down-alternative polyester
Hand woven OKEO-Tek certified weighted yarn made from plush micro flannel polyester
Breathable knit design to stay cool in the summer and warm in the winter
Pesticide and fertilizer free
Machine washable and tested for 100+ wash/dry cycles
Machine wash and dry safe duvet covers available
Free Standard Shipping
Sustainable carbon neutral shipping and recycled/reusable materials
For every blanket sold, a blanket it donated to a community in need all over the world
Sleep effects everything we do from our mood to our productivity and out relationships.
Proper sleep gives us energy, a clear mind, and the ability to function at full capacity.
The buttery soft Nuzzi knit weighted blanket is superior to others on the market because of its carefully hand crafted design and evenly distributed weight.
Care is easy because you can machine wash and tumble dry your Nuzzie knit without destroying the weight distribution.
Many beaded weighted blankets cannot be washed or have issues with the beads collecting unevenly, creating a lumpy or unevenly weighted blanket.
Because the Nuzzie is beadless, this will never be an issue.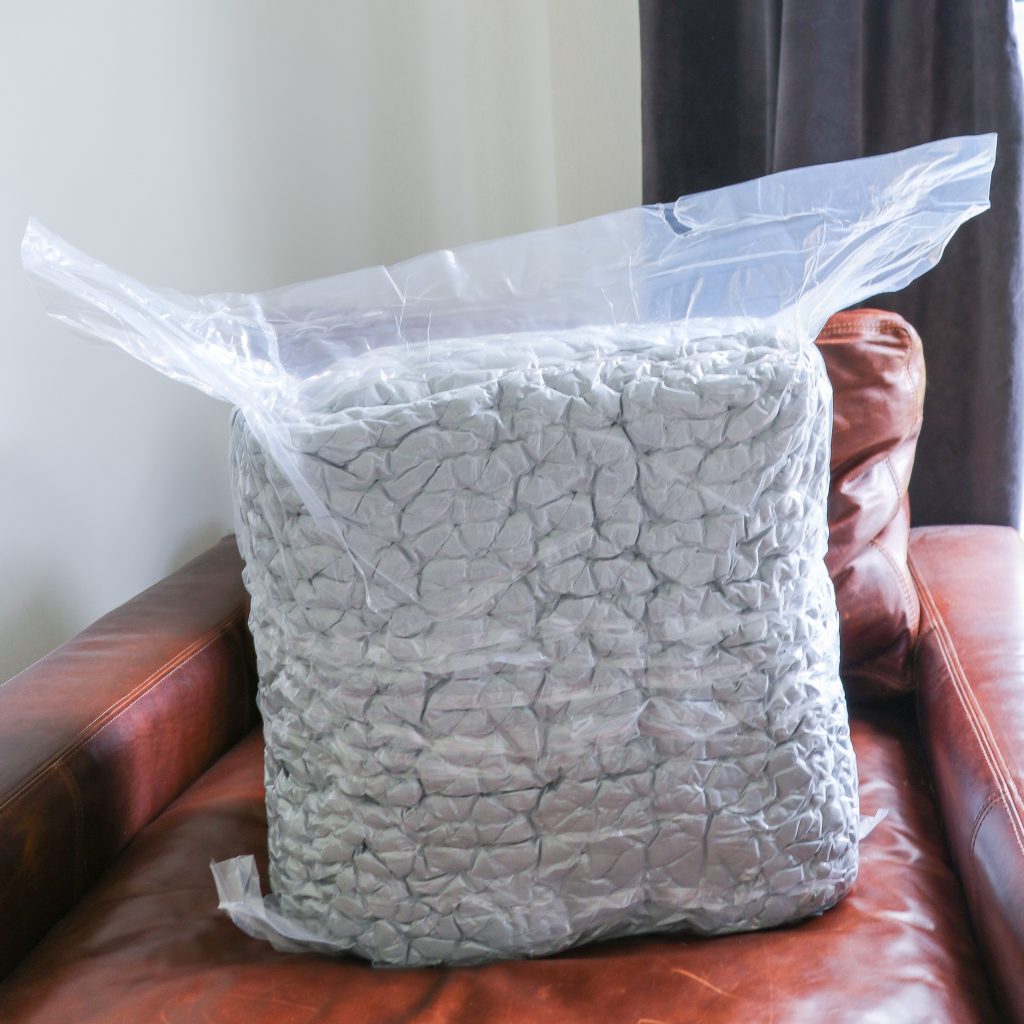 As mentioned above, Nuzzie is sustainable and uses carbon neutral shipping and reusable materials.
Your Nuzzie will come shrink wrapped and perfectly folded.
We also love that Nuzzie is socially conscious and donates a blanket for every blanket sold!
Weighted blankets can be a tad more expensive than regular ones but the advantages far outweigh the cost difference.
For those people with stress issues as well as those who are anxious-prone, these kinds of knit weighted blankets are perfect for lessening and alleviating the symptoms.
We all have a little stress in our lives and a Nuzzie premium weighted blanket can give you that much needed warm hug!