Heart Shaped Pop Tarts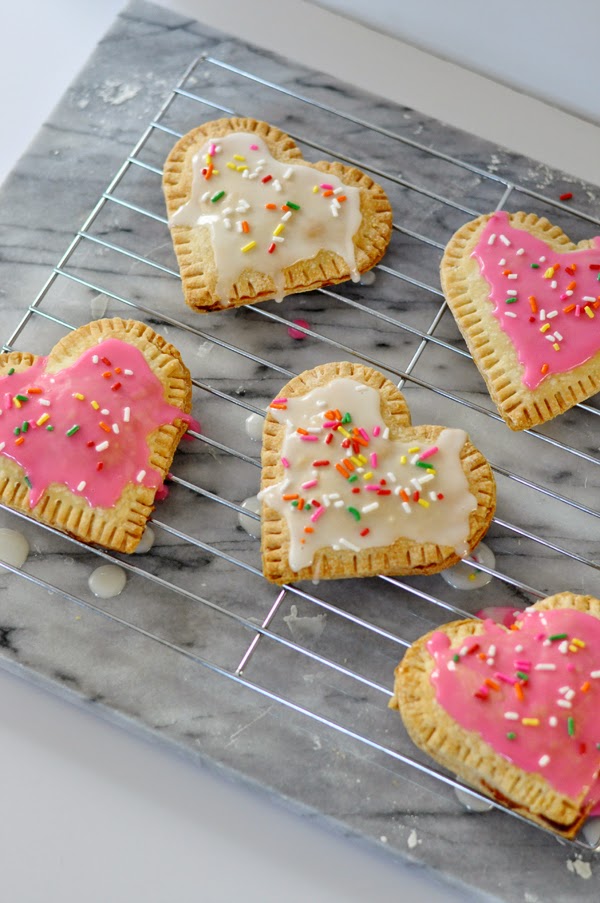 I've been wanting to try homemade pop tarts ever since my sister made them for my bridal shower last year  and I thought it would be cute to make a heart shaped version last weekend for our niece and nephews. While this recipe is really easy it requires a lot of steps, and a little time if you can't fit two cookie sheets on one rack like me. It's definietly worth it though- and since I used a pre-made pie crust it was even easier! 
I used Smitten Kitchen's recipe, found
here
but just used pre-made pie crusts (I used 3) instead of making my own. I suggest rolling out your pre-made dough so it's a little bit thinner than it comes in the package and then using a heart shaped cookie cutter to get as many hearts as you can. With the extra scraps of dough I rolled out 2-3 more hearts. 
For the filling I did a combination of strawberry and brown sugar with cinnamon following her filling recipes. For the glaze I used
this
recipe from Cooking Classy but added a bit more powdered sugar to thicken it up. For the brown sugar & cinnamon pop tarts I mixed a little of the filling mixture into this glaze and it was delicious!