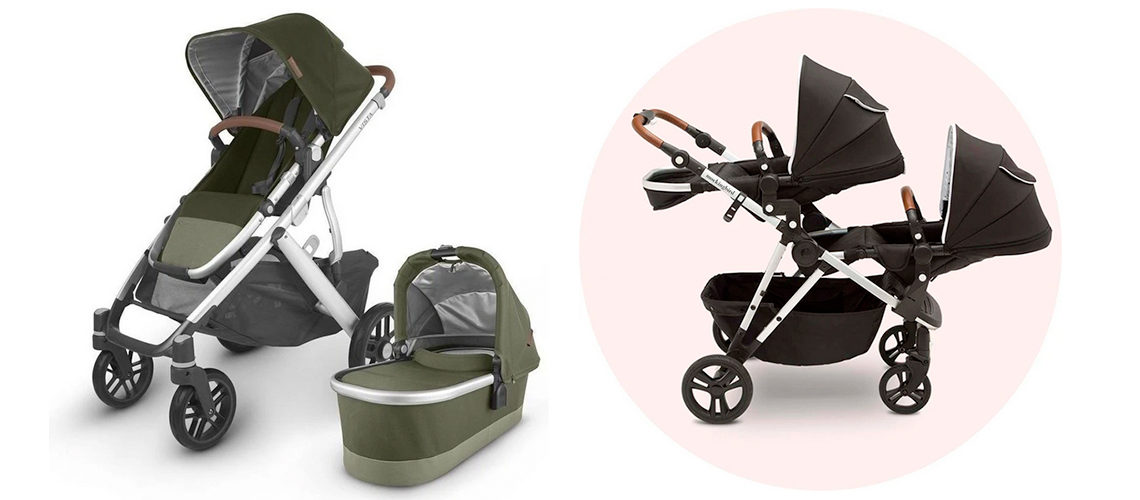 If you are going to drop close to a thousand dollars on a stroller, you'll want to make sure that you are getting the Best luxury stroller for the money you are spending.
There are some really beautiful luxury strollers on the market and choosing the right one can be a challenge.
We decided to review several luxury stroller models and see if they really do measure up to the price.
Out of the 7 that we reviewed, we felt like only four deserved a mention in this post.
So here we are going to review the top Luxury Strollers on the market based on overall value, features, customer reviews, and overall what they have to offer for the price.
Let's get started!
Here are the Best Luxury Stroller of 2021:
Mockingbird Luxury Stroller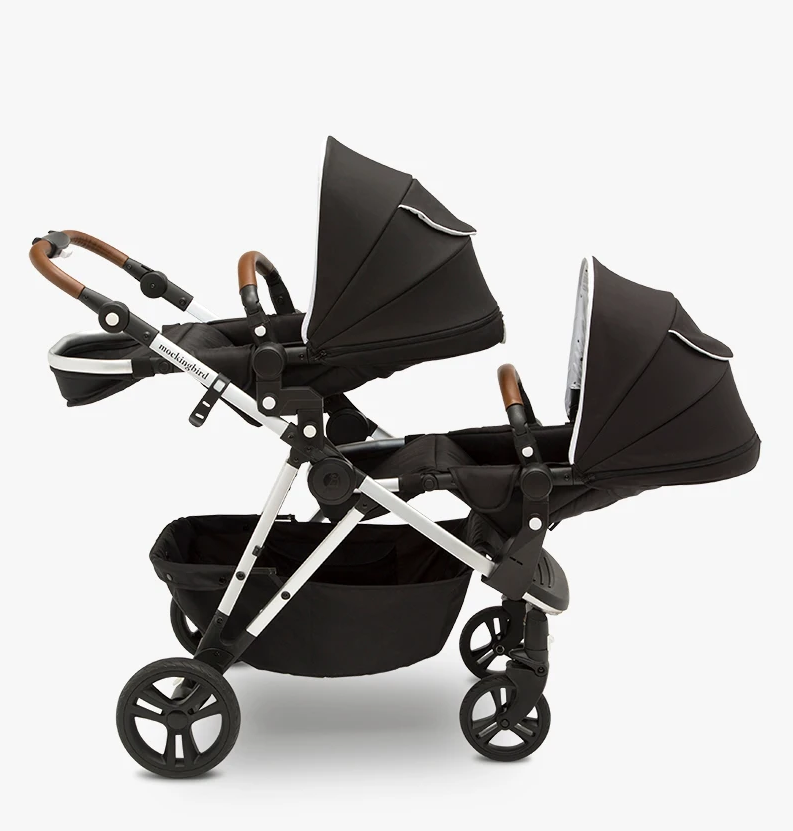 You may have heard of the glorious Mockingbird Stroller – a luxury stroller at an affordable price. 
When people think of Luxury strollers they often associate them with a hefty price tag.
But direct-to-consumer strollers are the talk of the parenting world.
The value proposition is that you get a high quality product for a much lower price because there is no middleman (i.e. a retail store) marking it up by 2x.
That is exactly what Mockingbird is: a direct-to-consumer stroller company that makes awesome luxury strollers at an awesome price.
For years the UPPABaby Vista has been the top full-size/convertible stroller in the "luxe" category, but watch out, there's new competition in town.
The Mockingbird has all the features of a high-end stroller: a suspension system with substantial wheels, a large canopy, good brakes, adjustable handlebar, generous (huge) storage basket, and a high weight capacity.
For a stroller that only costs $350 (for comparison, the UPPAbaby Vista is $899), it's an impressive accomplishment!
Key Features:
One hand fold
Rear or Forward Facing
The solo seat stroller has 5+ arrangements for one child
The double stroller has 14+ arrangements for two children
Adjustable handlebar
Large storage basket
Lots of add-ons and accessories
Bassinet option available
Fits almost every car seat with the car seat adapter
Customizable print and leather options
The Mockingbird Stroller is the complete package and is definitely a new mom favorite that we highly recommend.
Because this stroller is still fairly new to the market, you can checkout a review by real moms here on momming.com.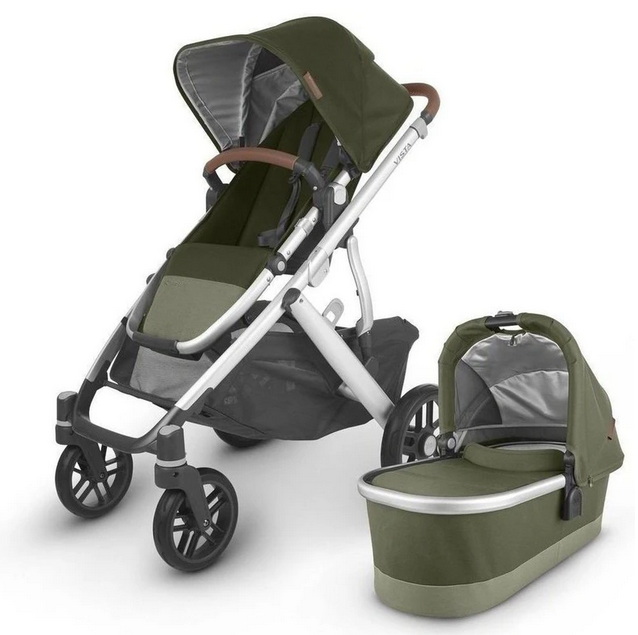 Any luxury stroller list would not be complete without the UPPAbaby Vista.
They've held the first place for best luxury stroller for quite some time now and for good reason!
With the toddler seat and bassinet included, the UPPAbaby Vista comes in at about $1000.
While it does come at a higher price, it does have an excellent reputation for style, comfort, and longevity.
Key Features:
Adjustable handlebar
UPPAbaby Car Seat (does not work with other car seats)
Easy fold
Front or rear facing seating options
The Vista V2 turns into a double stroller
All-wheel suspension
Storage basket
Add-ons and accessories available
Bugaboo Fox Complete Stroller and Bassinet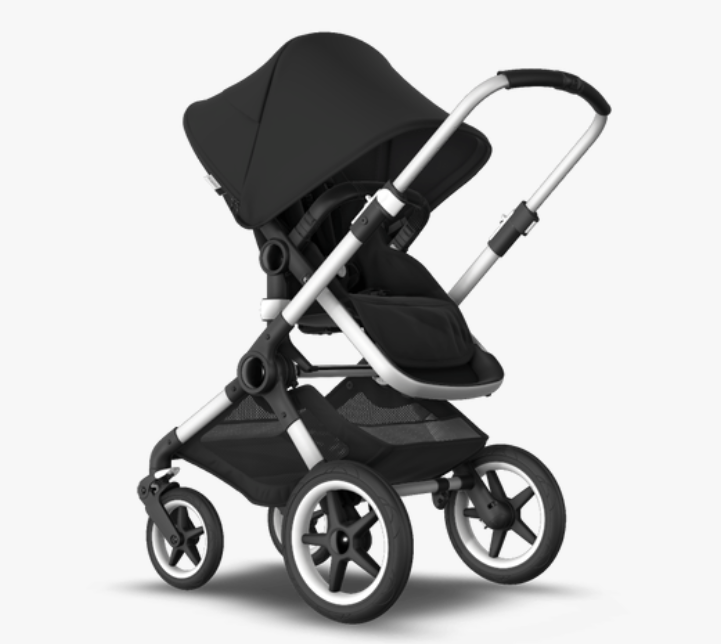 The Bugaboo line of strollers is another notable luxury stroller brand.
They are perhaps the priciest on the list but are still a great stroller if Luxe is what you are looking for and budget is not an issue.
The Bugaboo Fox is one of their more popular strollers and comes in around $1200 – $1400.
The folding is highly innovative and allows two fold types: one that brings it down to a 18″ x 24″ x 35″ self-standing fold, and an ultra-compact fold that brings the size down to about 26″ x 21″ x 8″, which is small enough to fit in a large carry-on bag.
This is ideal if you travel often with your little ones.
Key Features:
Aluminum brushed
Bassinet attachment option for newborns
Lightweight
Two fold types
Large storage basket
Big diameter wheels
Rear or forward facing seating
Large canopy
Does not convert to a double
Baby Jogger City Select LUX Stroller
Baby Jogger makes some beautiful strollers and one of our favorites is the City Select LUX.
It is one of their highest quality and most versatile models.
This stroller allows for up to 20 different combinations, extending from a single stroller to a double stroller that can be used with an infant car seat, toddler seat, and/or bassinet.
For growing families or families with multiple little ones, this is a great stroller to keep as your family grows and your needs change.
The stroller itself runs for about $600 and each additional add on costs money.
To make this a stroller system you will be investing about $1000.
For the stroller itself, it has some unique features: the wheels are no-flat rubber (foam filled) and large diameter (8″ front, 12″ rear), which is helpful for bumpier terrain.
The suspension system also helps absorb impacts, and we loved the hand-brake that can be used both as a parking brake but also a brake to help you slow down.
Key Features:
20 configuration options
Single, double, etc.
Can be used with infant car seat, bassinet, or toddler seat
Compact
Easy to maneuver
Decent size storage basket
If you are willing to spend more, then Luxury Strollers are definitely worth the cost!
They will last longer, tend to have better warranty because the brand stands behind their product, and they look fancy!
Conclusion
Our overall top pick is the Mockingbird Stroller because it gives you Luxe for Less BUT any of the choices on this list are going to make you a happy parent, and you baby will be happy too!
Price and Build quality is Unparalleled and we've happy to recommend the Mockingbird Brand as our top Pick for the Best Luxury Stroller of 2021!