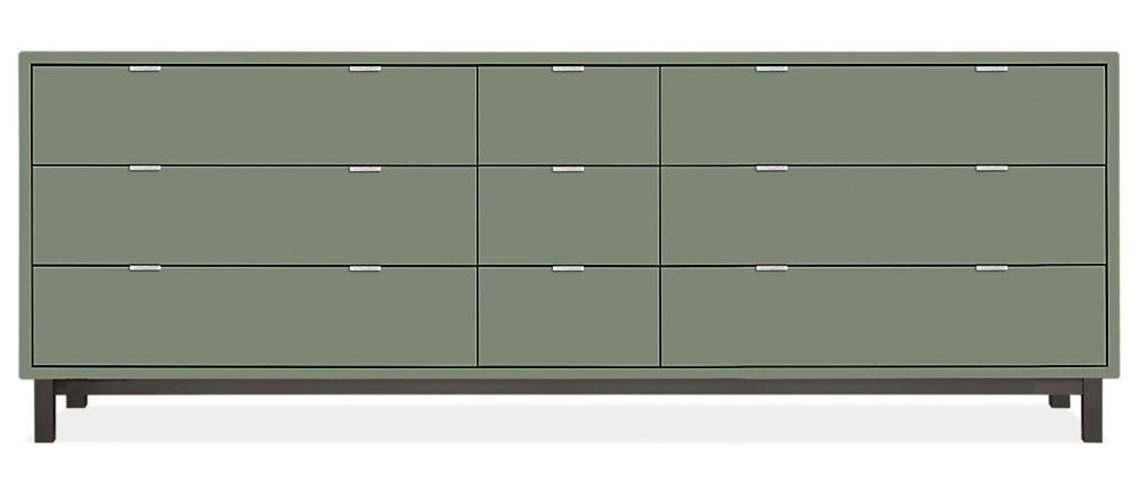 Types of Dressers (and Chest of Drawers) for Your Bedroom
Choosing a dresser seems like a very simple thing to do because you never really think much about it.
It's simply there to serve its purpose, what's the big deal, right?
Here's a secret: a dresser can actually stand out as a piece of furniture if you know how to choose the perfect style, design, and even color.
The options are endless and require a lot of time for research, scanning through dozens of websites, and even spending a lot of time going to the stores themselves to see the actual dresser itself.
The good news is that we already did a lot of the research for you so you can save a lot of time and effort.
In this article, we will show you how to select a dresser depending on the different factors such as size, dresser materials, styles, and even price.
Of course, the final decision will be yours and you have to do a bit of research yourself, especially when narrowing down the options but we want to help you narrow down the choices.
We begin by showing you the various types of design, which is probably the most significant feature of the dresser.
The design includes the size, shape, and overall appearance.
You should pick the design as carefully as possible and should be the primary basis when buying a dresser.
First things first, let's make sure we have the same understanding of what a dresser is and its main purpose.
What is a dresser?
According to the Cambridge English Dictionary, the basic technical definition of a dresser is "a piece of furniture with drawers, usually with a mirror on top, used especially for keeping clothes in".
A chest of drawers is "a piece of furniture consisting of a set of drawers in a frame, typically used for storing clothes".
However, in this day and age, the term "dresser" basically encompasses both definitions and simply refers to any furniture with drawers that you put your stuff in, mainly clothes.
And this article will adopt the modern, combined definition to keep us streamlined.
Categories and Types of Dressers
The initial and most important decision you need to make is to determine the type of design that you want.
Once you have a better understanding of what you want, then everything else you pick and choose will flow from that initial choice.
The design that you ultimately choose will be the dresser's most visible characteristic and in turn becomes a guide for the series of choices (prize, material, size) that you need to make to finalize your verdict.
Here are the main types of dressers categorized by design type, and then followed by the styles, materials, sizes, and finally, according to price.
Standard Horizontal Dresser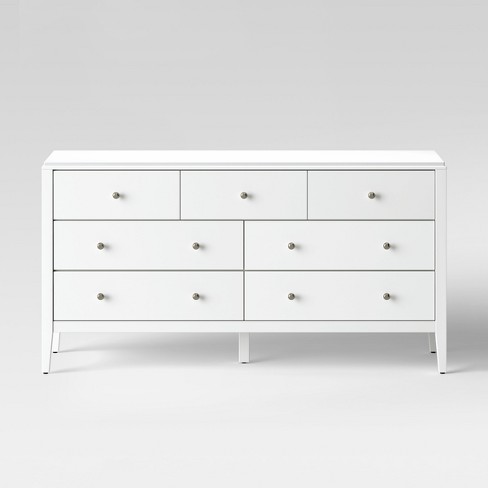 As the name itself suggests, this is the most popular form of the dresser which you can find in most homes.
This is the final evolution of its original furniture form – the chest.
These dressers are somewhat stocky in form and a little extended to the sides.
They usually contain only 2 main columns of drawers, with smaller drawers aligned to the main ones.
Standard Vertical Dresser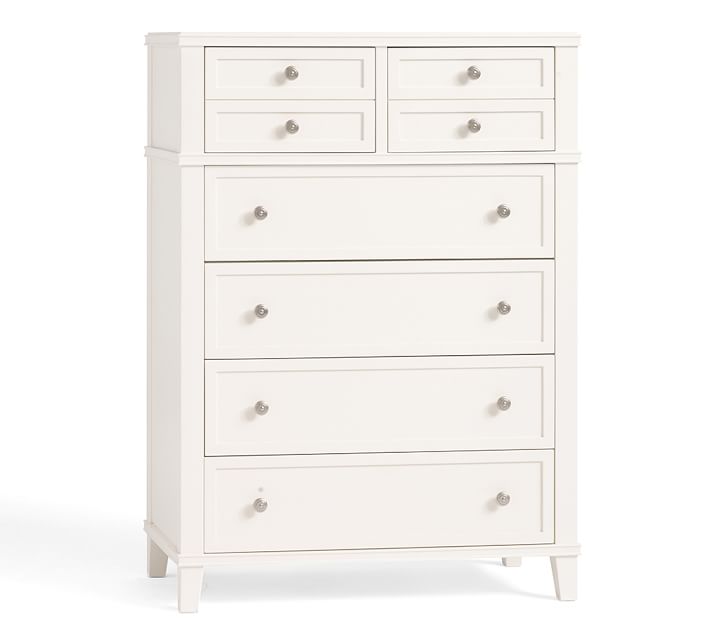 Some people call this the tallboy, simply because it's taller than the standard horizontal dressers.
They look somewhat similar except that the vertical chest is taller, hence the nickname tallboy.
The tallboy also usually has two main columns of drawers with smaller drawers integrated into the design.
Combo Dresser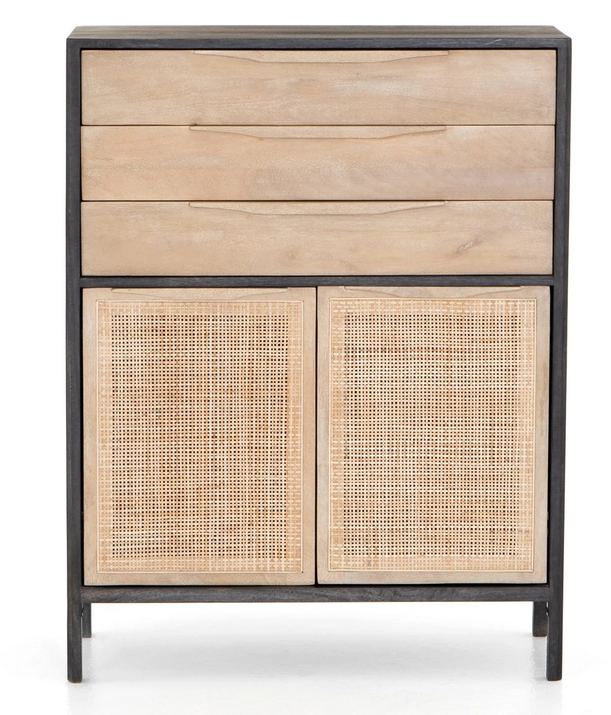 You guessed it, this dresser type is clearly a combination of the standard horizontal and vertical dressers.
The more common models of combo dressers have a full-sized standard horizontal with a half-sized vertical drawer (or a single tall cabinet) attached to it.
The obvious advantage of this design is for more storage.
Lingerie Chest / Semainier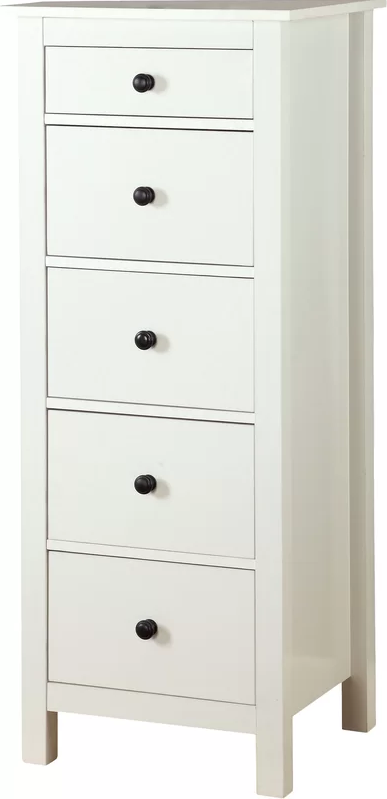 This type of dresser is unique in that traditionally it has seven drawers specifically for the seven days of the week.
This has deep and narrow drawers, and it is also fairly tall and long, as well. It is also called a semainier.
Bachelor's Chest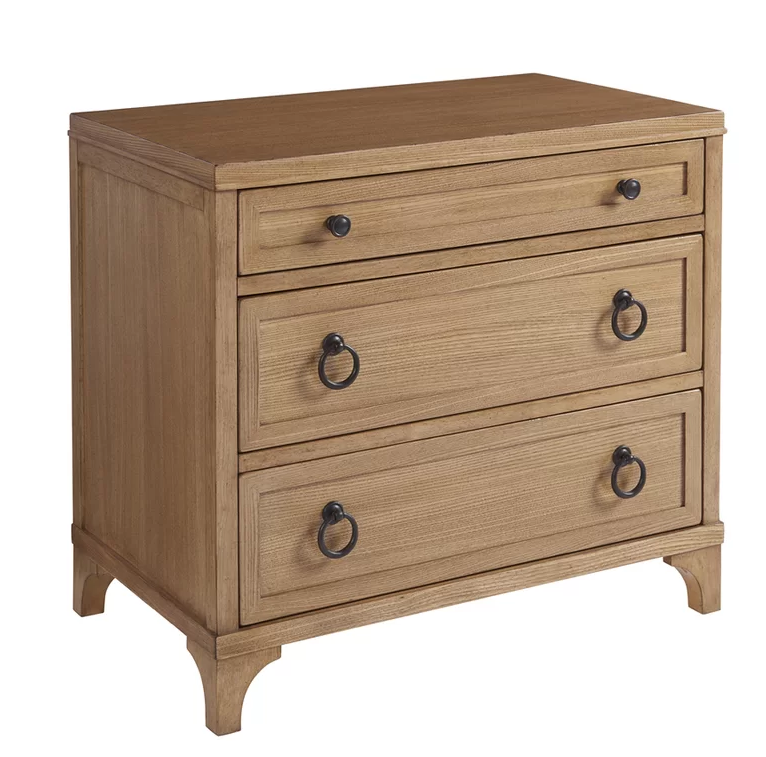 A very minimalist design with its main purpose of holding as many clothes as possible with as little division as possible.
It ordinarily only has a single column of drawers, albeit broader ones.
It looks somewhat squatty and most often has a flat dresser top for multiple purposes, most especially for writing.
Gentlemen's Chest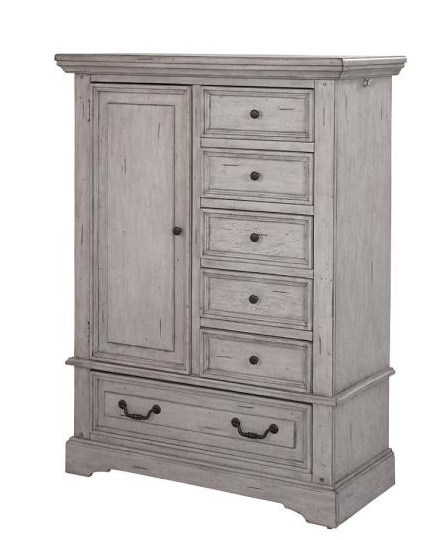 The gentlemen's chest design is a simple one-column drawer paired with a larger than the normal vertical cabinet.
The design might look similar to the combo dresser but there are many clear differences such as the height of the drawers and the size of the vertical cabinet.
The cabinet is used for hanging various types of attire such as suits, pants, and even used clothes that can still be used again.
Dresser Styles
Traditional dresser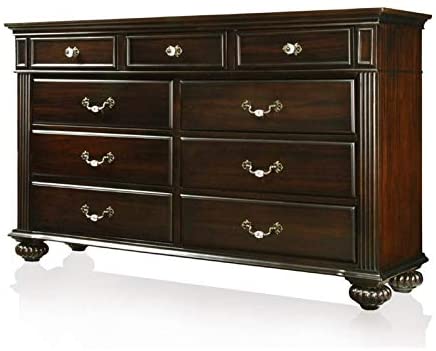 The traditional style is the most elegant and most loved of all the styles because it features an enduring and complete look with a combination of intricate wood carvings, perfectly placed adornments, and its overall general presence.
Contemporary dresser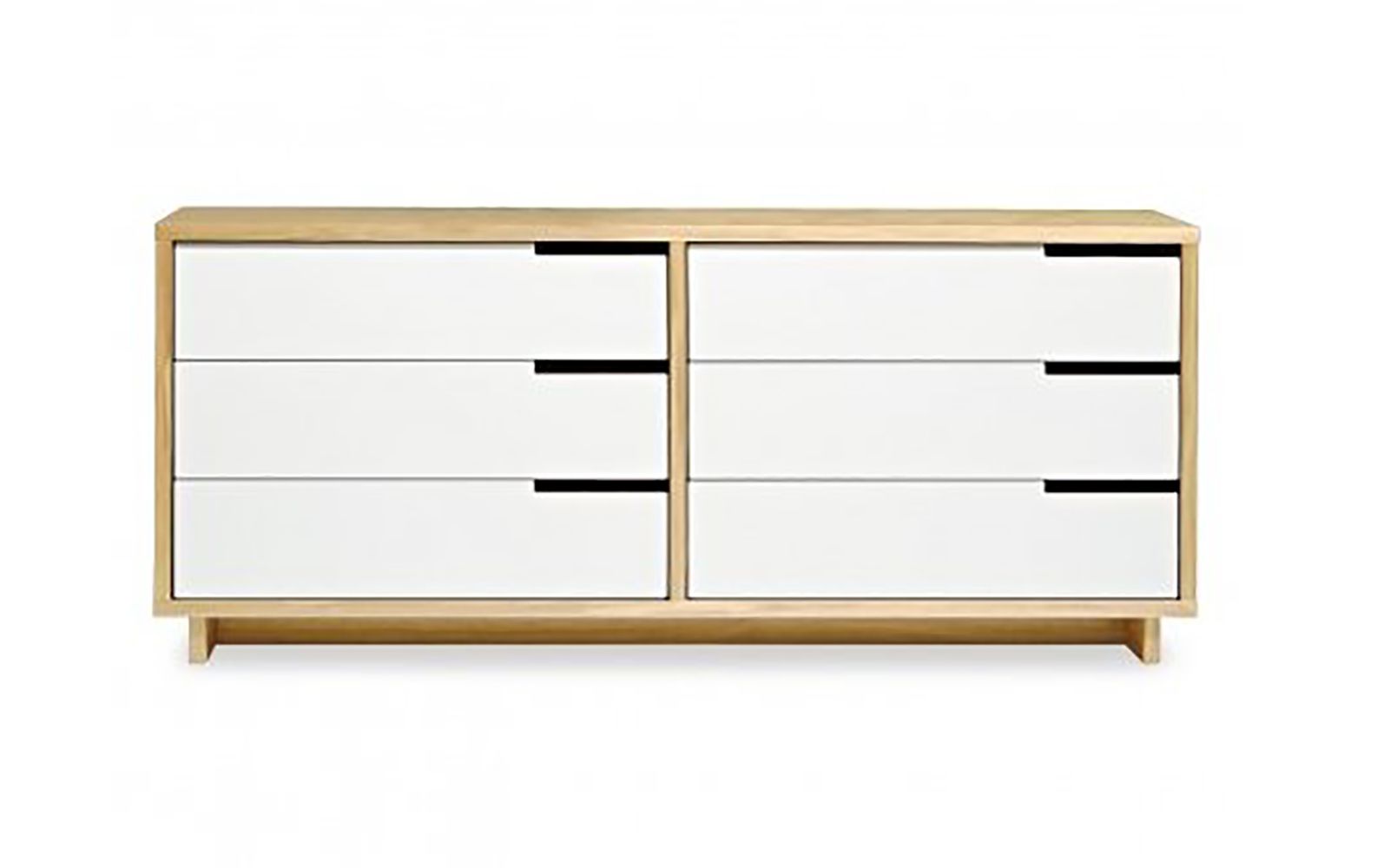 As the term suggests, this is the "present" style and design; although, this is not to be confused with the modern style which we will be explaining later, as well.
The main characteristic of this style is that there is no preceding design that this style was taken from; this is a totally new style.
Although there might be similarities to previous styles, the contemporary is a different style on its own.
Rustic dresser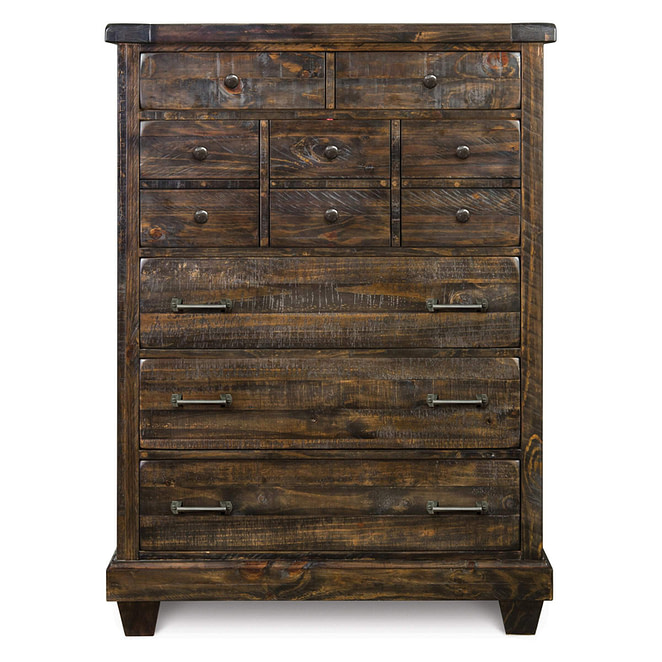 Of course, coming from the root word "rust", this style is focused on time-beaten tones, naturally worn-out textures, and the traditional homemade pieces of furniture from years past.
This style of dresser uses timeworn-looking wood, a very simplistic framework, and the metal is not anything super elegant.
Cottage dresser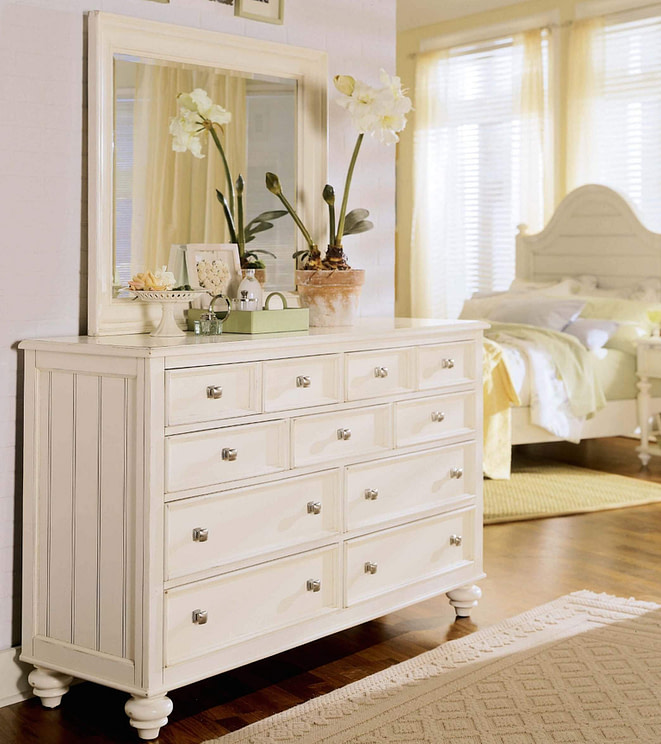 The cottage style is designed to create a warm and relaxing feeling as if you're living in the countryside.
The tones are light that fuses well with the not-so-intricately carved wood, as well as an appearance that looks like it's been used for some time.
Distressed dresser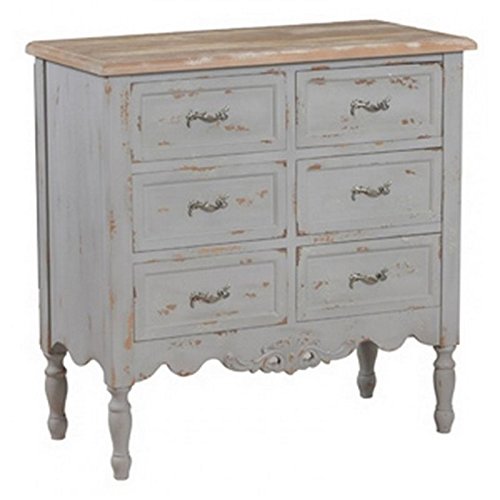 Why would anyone buy a dresser designed to look distressed?
Ironically, this type of dresser is starting to get momentum in the popularity category, most especially with owners who love DIY projects.
The distressed style is simply to make the dresser look worn out, matured, and well, distressed.
You can by a new dresser or a used dresser and do a DIY project.
Antique furniture is popular as well and can have a naturally distressed look to them.
Modern dresser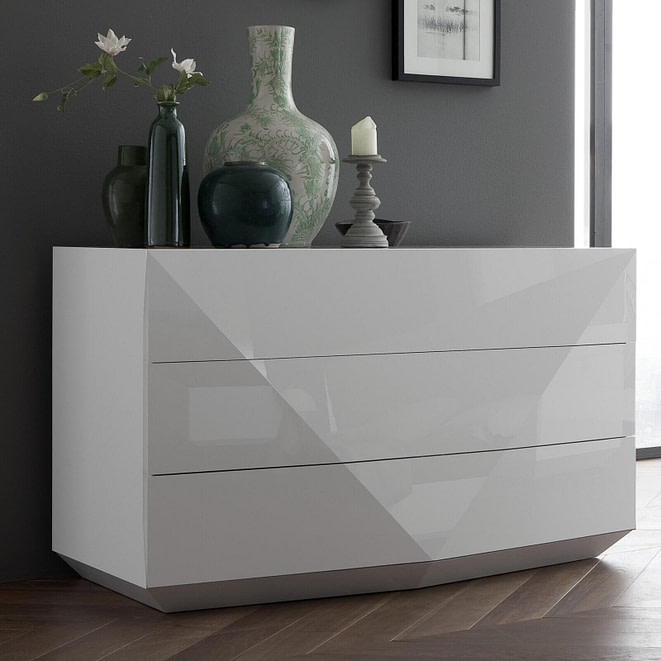 The modern style separates itself from the others in that it usually represents a very millennial, and can even be futuristic, look.
This is a minimalist generation and this dresser represents that very well.
Some modern dressers even go to the extreme end of a cutting-edge look.
Dresser Materials
As everyone probably knows, dressers are mainly made up of one main material, wood. This is what has been traditionally done and this will never change simply because wood is very abundant and is very dependable when it comes to durability. However, there are a growing number of other materials that modern manufacturers have started to adopt.
Wood dresser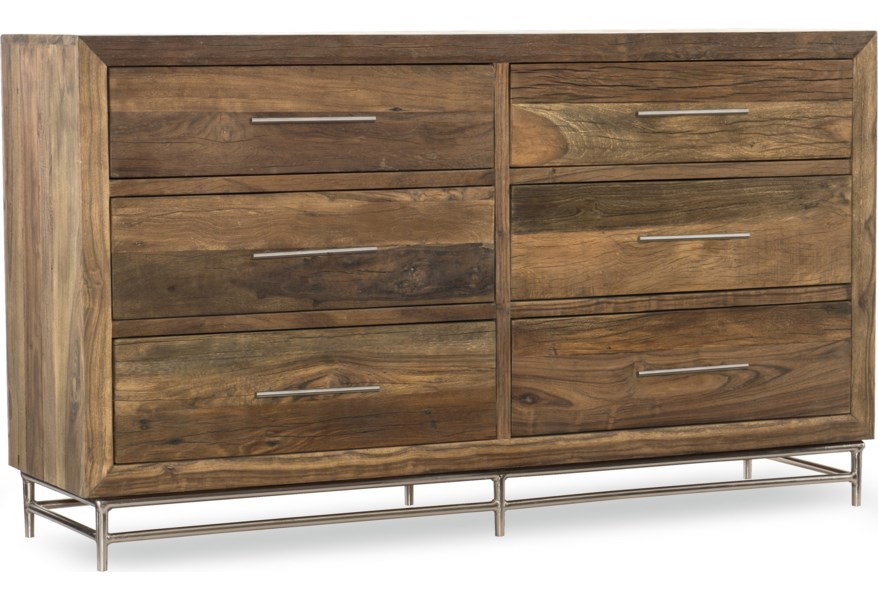 The all-time champ when it comes to dresser materials, wood has been designed and stylized through every idea that man could conceive.
And still, people choose wood as the main material more often than not.
Whether the style is traditional to rustic to modern, you can never go wrong with wood.
Metal dresser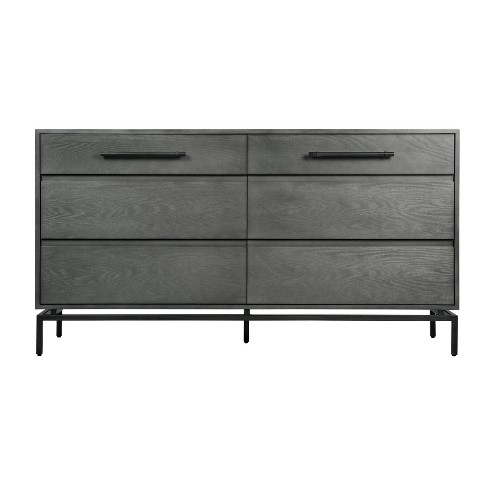 Though you might think that having metal dressers might look weird and frankly hard to open since they're made of metal, you could be wrong in both cases.
Why metal?
Well, for the sole reason that it can last almost forever.
As to the weight issue, modern technology has created metals that are so much lighter than wood.
Of course, you can get the best of both worlds and integrate wood and metal into your dresser creating something that is perfect for you.
Metal can practically be designed in such a way as to look like anything you want it to be.
Leather or fabric dresser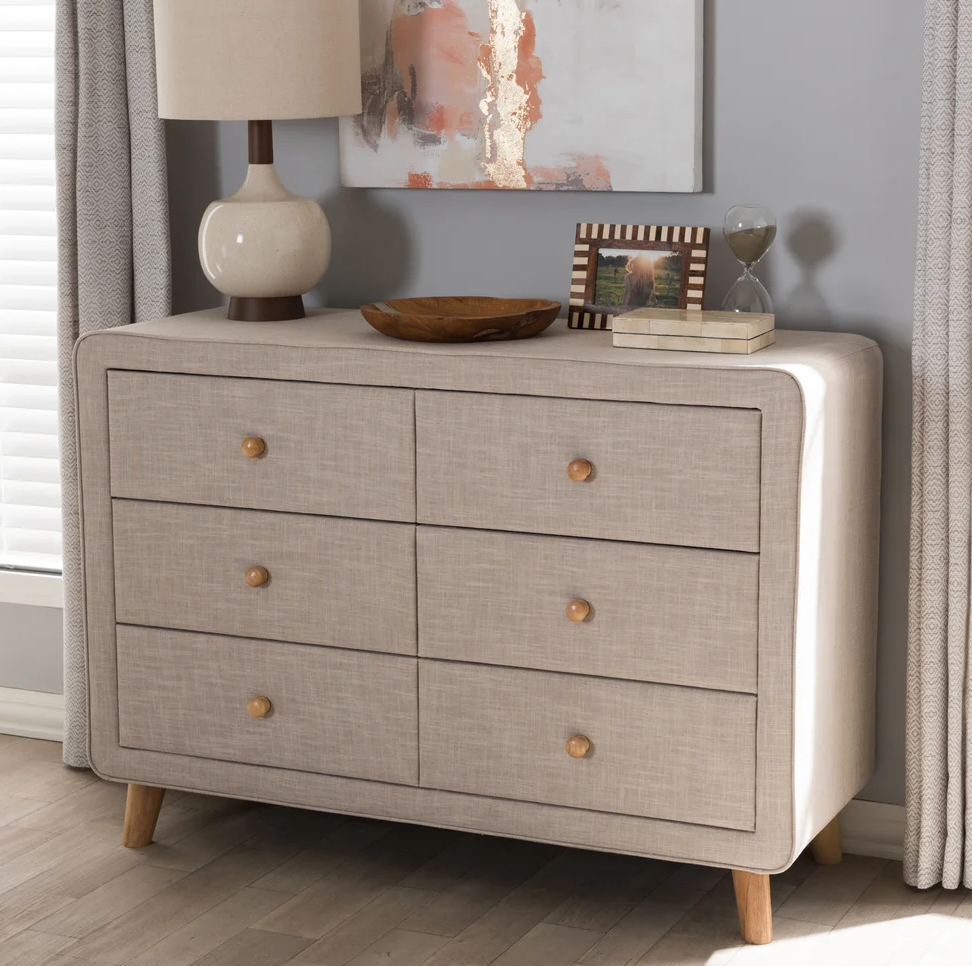 This might sound like a weird material to include in a dresser but it's not as crazy as it seems.
The main framework of the dresser is of course made up of either traditional wood or more contemporary metal.
However, leather is placed on some of the surfaces and even the sides of the dresser to give it a distinct texture and even show off a classy, upscale look.
Wicker/Rattan dresser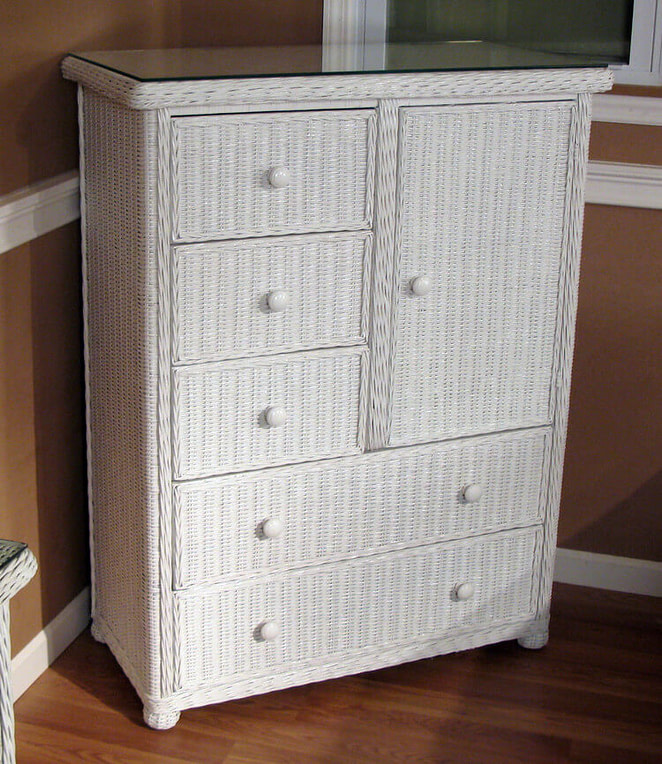 This is gaining more popularity these days because of its resistance to stains, moisture, and even liquid.
Wicker, or rattan as some people know it, is crafted from either plastic or natural components and then woven together to form a unique and usually more durable material.
This lightweight material shows up on many cottage-designed dressers and is usually combined with wood for a more essential finish.
Dressers by Size
Small Dressers
The term "small" in this context simply means a more compact design without compromising a lot of storage space; which would defeat the purpose of the dresser as storage furniture.
Listed below is a list of great ideas for small dressers.
a. Compact horizontal dressers
Delta Children Universal 6 Drawer Dresser – multiple colors available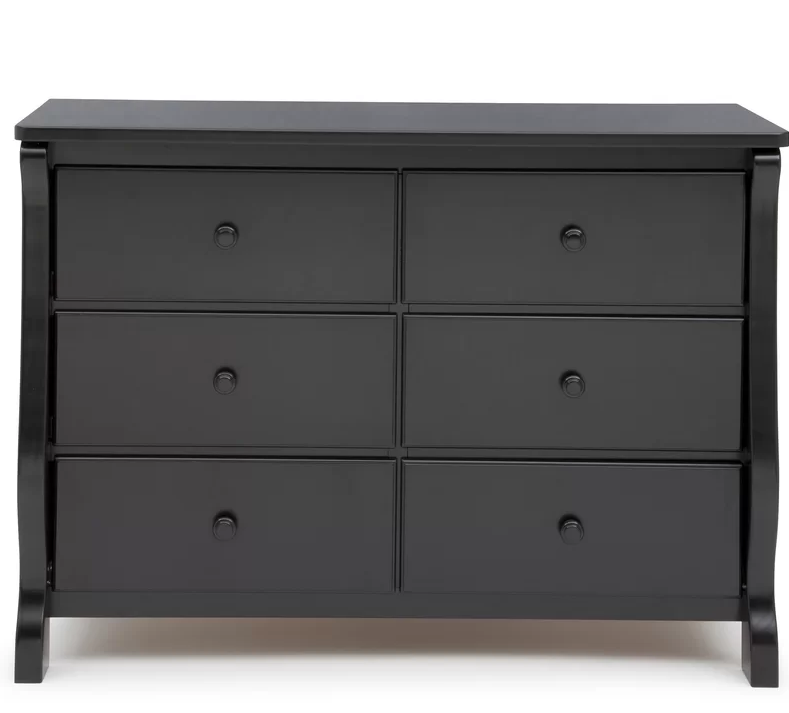 Advantages
Disadvantages
Although the frame of the dresser is easily assembled, the drawers may not be as straightforward
The dresser could have further maximized the drawer storage by utilizing the space behind it
If you're looking for something that will fit in the children's bedroom but can still provide the storage space needed, then you might want to take a look at this one.
With a unique design, this dresser will definitely stand out wherever it is placed.
Its six drawers should provide enough storage for the children's clothes.
The drawers also feel seamless as they are placed on tracks and therefore slide effortlessly.
As stated above, Delta made sure that this dresser exceeds ASTM safety standards by putting it through meticulous tests.
This is very good especially since these are built for children's bedrooms. Furthermore, they are toxic-free.
As to the dimensions, the dresser is 20.75 inches deep, 48.5 inches wide, and 34.75 inches high.
The drawers are 19.5 inches deep. The total weight is about 109 pounds, which is relatively lightweight and is easier to move around if needed.
One of the first things you notice with the Delta Children Universal 6 Drawer Dresser is that there is a unique curve design towards the bottom of the feet.
Its main purpose is for safety as it prevents the dresser from tilting forward easily to assure you that even with children around, it is still safe. The curve can also pass as a stylish design.
South Shore Rock Brook Natural Maple 6-Drawer Dresser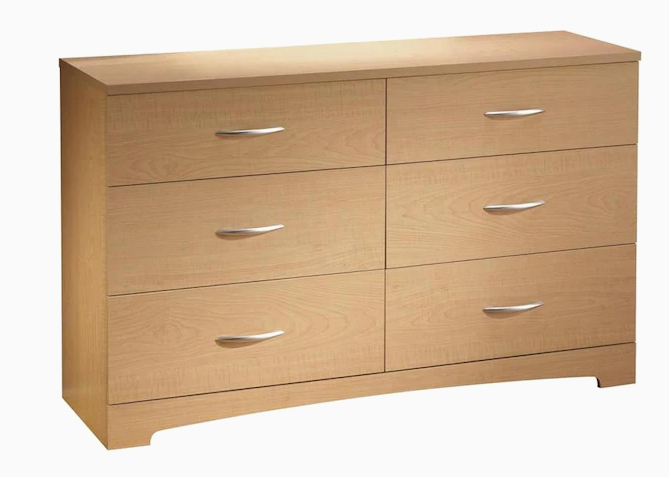 Advantages
Small enough to be able to fit into almost any vacant space
Stylish yet quite simple design
Great warranty covered by the manufacturer
Disadvantages
The mirror is an additional expense as it is not included in the package
The dresser itself is not natural maple but rather manufactured maple wood
The dimensions may not say that it's a "small dresser" but it's still borderline in the small category.
It measures 32 inches high and 52 inches wide.
However, the depth is only 16 inches. You get the standard six drawers, and each one doesn't have a knob but rather a smooth metal handle, which makes it look more elegant.
Although this dresser is called a natural maple dresser, it is not.
The South Shore Rock Brook Natural Maple 6-Drawer Dresser is made from engineered wood elements.
The durability is not the question but rather the authenticity of the maple wood.
However, the maple finish is perfectly placed on the wood and you wouldn't even know that it's not the real thing.
The mirror fits perfectly on top of the dresser and makes it look more stylish.
Unfortunately, you'll have to shell out more money to get it as it does not come with the basic package.
This dresser has a five-year warranty on the parts and repair. It also comes with a lifetime warranty on the drawer gliders.
This is a great assurance that if you break any part of the dresser, you can take it back to have it repaired.
Stork Craft Kenton 6 Drawer Universal Dresser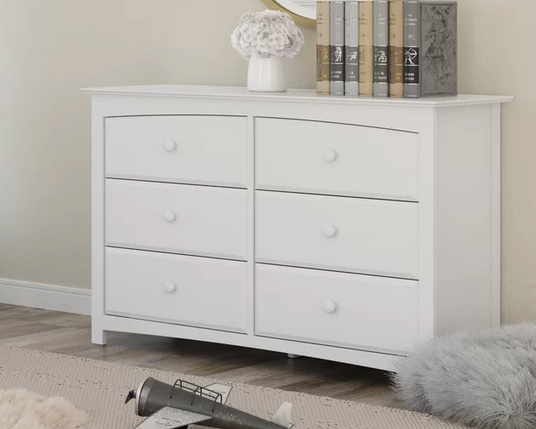 Advantages
Drawers are on tracks meaning its efficient
Wide assortment of colors available
The integration of wood and metal in the build guarantees its sturdiness
The design makes it look very upscale and bigger than it really is
Disadvantages
The finish is somewhat scratch-prone
Heavy dresser when compared to some in its category
Measuring 32.4 inches in height, 50 inches in length, and 18 inches deep, it is also on the edge of the small dresser category.
There are also six drawers to place your clothes and other stuff.
They come out through metal tracks and therefore quiet and efficient.
The dresser is available in six colors which include black, white, and even cherry.
The variety of the colors should make it quite adaptable to whatever room it is placed in.
It weighs in at just above 123 pounds; somewhat heavy for a small dresser due to the combination of metal and hardwood in the build.
Although quite heavy for a dresser, this is actually a positive as this increases the durability factor.
You can place bulky items on top of it because it can definitely handle the weight.
b. Compact Vertical Dressers
Dakota Pass 4-Drawer Chest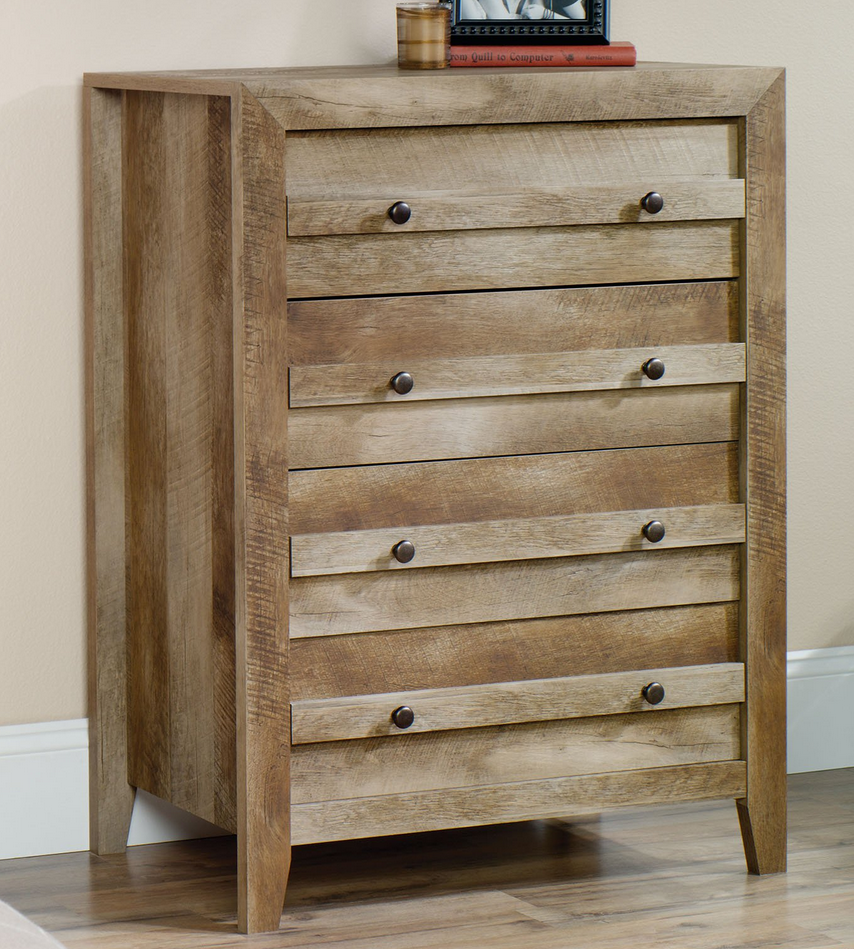 Advantages
The design looks very classic and traditional and yet elegant
Can blend in a bedroom from any era, whether traditional or contemporary
Disadvantage
Sometimes, the drawers don't come out as smooth as expected
Its dimensions are 43 inches in height, 17.5 inches deep, and 32.6 inches wide.
The four drawers are only slightly smaller than the actual depth.
The dresser weighs 109 pounds which makes it somewhat easy to move around.
However, on those days when you're not feeling so strong, you can move and twist it somewhat without fear of breaking because the legs are firm enough to handle it.
Although very traditional in its build, Dakota Pass 4-Drawer Chest also reaches out to the more modern flair and charm.
This dresser will look perfect in almost all bedrooms.
The front of the drawers has an attractive design by itself in that a wooden strip runs horizontally in the drawer's center through both knobs and all the way to the other side.
Dakota uses engineered wood to make it look like pine tar color.
But although it is not the real thing, the finish looks very real and you couldn't tell the difference unless you really examine it.
The drawers come out through standard runners although the runners are not necessarily as efficient as the other drawers on this list.
After prolonged use, they tend to get stuck, which can be very inconvenient.
This makes a great standard dresser option.
mDesign Fabric Baby 4-Drawer Dresser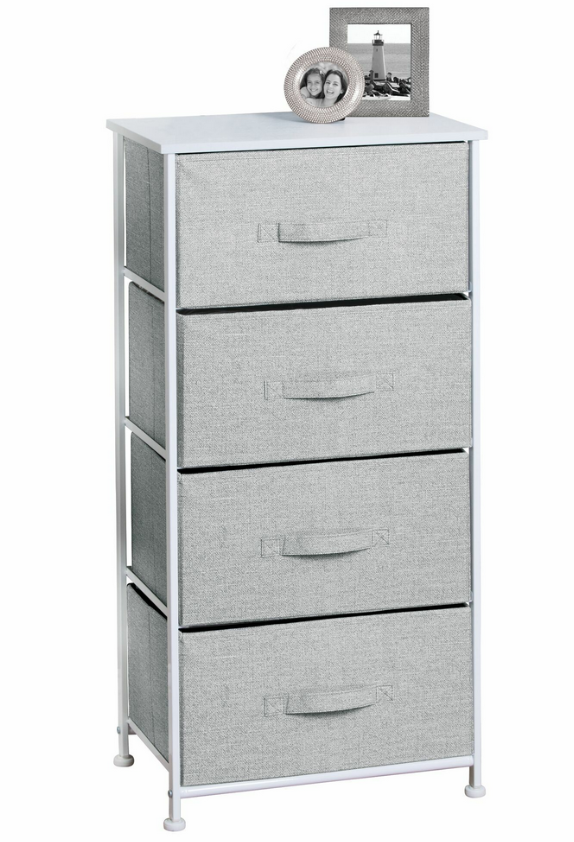 Advantages
Very safe to use for children's bedrooms because of the fabric material
Fabric drawers can stretch more than traditional drawers and therefore can provide more a bit more storage space
Can work as a bedside table or as a nightstand
Disadvantage
Prolonged use may result in faster deterioration of the fabric material compared to the wood materials
Skipping the traditional woodwork found on traditional dressers, this one uses reinforced fabric as drawers.
Although they might look less durable than the wood drawers, they are actually tougher than they look.
You can even put in more items than standard wood drawers because the fabric drawers can stretch a little without breaking.
This dresser is 37.5 inches in height, and 12.5 inches in width. This makes it one of the narrower ones you can find.
In fact, you can use this dresser and join it with other dressers to create unique combinations.
Because of its fabric drawer material, it comes in at an incredibly light 15 pounds.
You can fit the mDesign Fabric Baby 4-Drawer Dresser almost anywhere you want because it can be a piece of standalone furniture due to the style but it can also be a piece of simple corner furniture just enough to accent the others.
Although technically a "baby dresser", this can actually blend well in any room.
An additional safety advantage is that the drawers are designed with fabric outer lining.
This prevents children from hurting themselves if ever they are playing around and they hit their heads or any other part of the body when they run into the dresser.
Glendora Solid Wood Natural Stain Three Drawer Dresser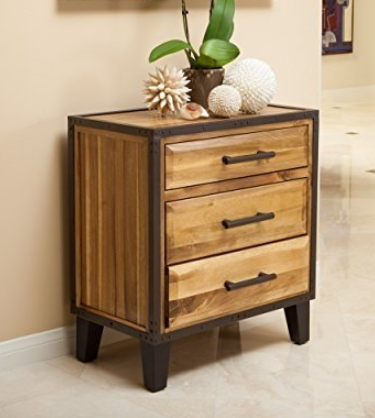 Advantages
Durable acacia wood utilized in the production
A unique industrial look and feel due to the metal framing
The natural staining is simply impressive
Disadvantages
The metal and iron naturally gives added weight and removes this from the children's bedroom dressers lineup due to safety concerns
A few people might frown on this unique combination of wood and metal as they are used to one or the other
Whereas dressers are traditionally wood, this dresser combines this natural element with metal and ironwork.
The design is fairly simple. Run a metal lining all the way throughout the edges of the naturally stained woodwork.
This dresser is sort of a rebel in the dresser lineups.
For those that want a dresser that will definitely stand out, then this is perfect for them because it is definitely not a conservative design and style.
It is 26 inches across, 29 inches high, and a tad over 15 inches deep.
Although this might not seem like a lot of space, this dresser is known more for its durability and sturdiness than its storage area.
Glendora utilizes only the highest quality acacia wood all throughout the dresser.
And the exceptional thing about this is that with the acacia's natural stain, the metal and iron framing complements it quite perfectly.
The dresser has three drawers that have their own huge handles.
Assembling it will not be a problem at all. All you need to do is put the legs in the right place and it's done.
For those that want to use this dresser as a nightstand, they can choose not to use the legs to lower the height somewhat.
Graco Brooklyn 3 Drawer Chest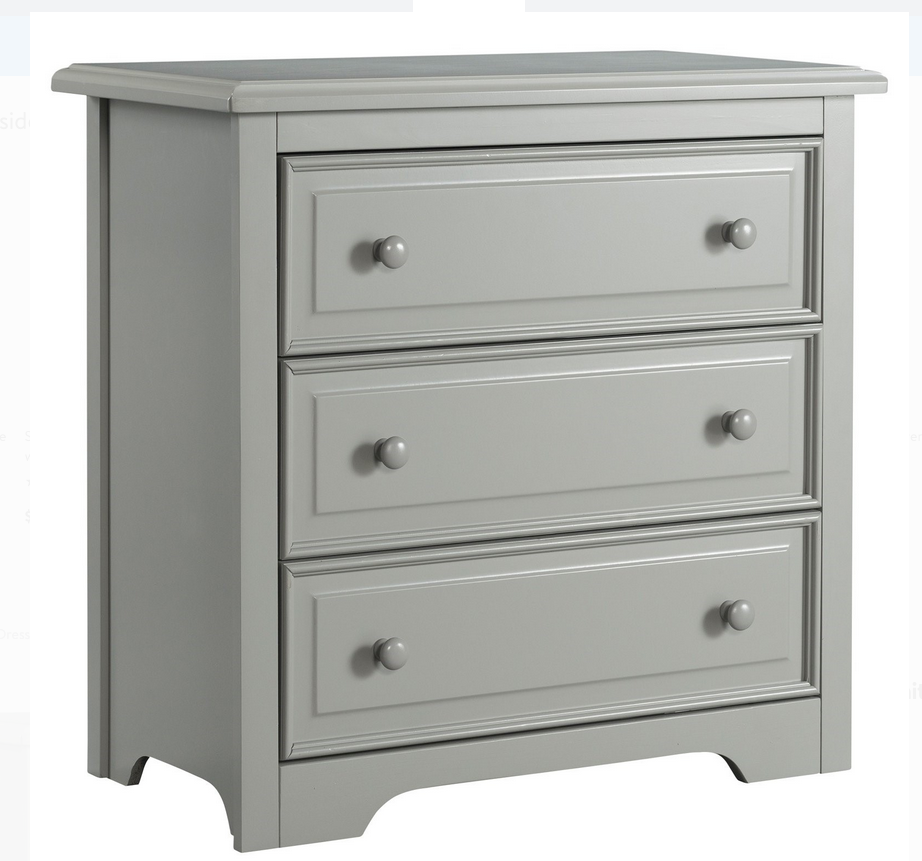 Advantages
The combination of composite wood and pine produces a very firm dresser
Safety measures installed in the drawers so you can't accidentally pull them all the way out
A combination of traditional and contemporary style with a variety of colors to choose from
Disadvantage
It's going to take some time to assemble the dresser
Although this can also be used as a standalone centerpiece, it is very compatible with almost any other wood dressers; and that is one of its strengths.
Add the fact that the Graco Brooklyn 3 Drawer Chest can be had from a choice of five colors which includes black, white, and even espresso for the coffee lover. This makes it easier to color combine it with any room of your choice.
It is shaped almost like a square (as opposed to a traditional rectangle) with its 32.68-inch height and 33.74-inch width, with an 18-inch depth.
The 75-pound weight is just right for a couple of persons to comfortably move it if needed.
The biggest plus with this dresser is the multiple safety steps installed and certified by ASTM.
An example of this safety measure is the drawers have safety stops to prevent them from totally falling off the dresser, preventing potential accidents from happening, especially with kids.
c. Compact combo dressers
South Shore Vito 5 Drawer Combo Dresser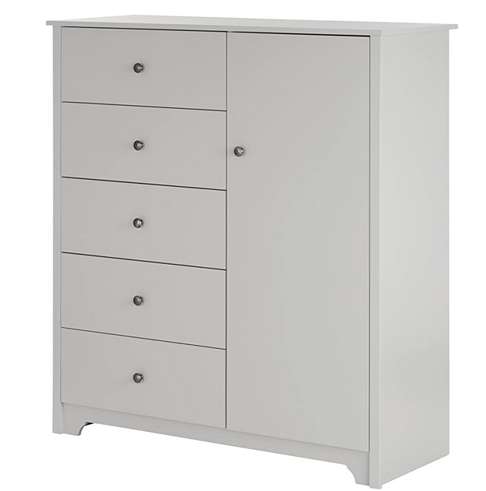 Advantages
Perfect for those who want to put a TV on top of the dresser
Storage space is more than adequate
Elegant looking but minimalists will also love this design
The unique design enables you to hang clothes on small hangers on its side cabinet
Disadvantages
The drawers are somewhat limited
Not the easiest to assemble and the manual doesn't help
South Shore is a known brand and that's the reason why this dresser is quite pricey even though it looks very simple, design-wise.
With multiple drawers (five) on one side and a cupboard/cabinet on the other, this is perfect for a combination of clothes that need to be folded and hung.
It is a dresser and armoire combo.
Both the drawers and the cabinet have a simple yet elegant metal knob.
Dimension-wise, the South Shore Vito 5 Drawer Combo Dresser is 150 pounds which makes it hard to move around without help.
It is 48.75 inches tall and 47 inches wide.
South Shore has thought about the modern customer as well. For those that want to place a TV on top of their dresser, this can pretty much carry the need.
This behemoth can easily handle a 50-inch TV or anything up to 185 pounds (that's amazing).
Plus, not only is it sturdy enough, but there is also a small hole which you can easily organize the wires and cables.
There are a few color options to choose from but the most popular is the soft grey, which is why it costs a little more than the other colors.
The price is put to good use as the storage space is pretty satisfactory.
The side cabinet has four shelves so you can categorize your outfits as well as space when you need to hang clothes.
South Shore Andover 2 Drawer Combo Dresser
Advantages
Great warranty coverage should make you feel secure
Four color varieties to choose from
Unique adjustable shelves feature
Storage capacity can be adjusted according to preference
Disadvantages
Their drawers could've been formed better
The back board is in two pieces which might compromise the durability a little bit
Dimensions include 48.75 inches in height, 33 inches in width, and about 19 inches in depth.
It's also close to 19 pounds which makes it somewhat movable with help from another person.
With a simplistic yet practical combination of two storage drawers, a few shelves, and a small cabinet on the side with multiple functionalities, this is one dresser that could fit in any bedroom.
The shelves could be used to be decorative as well if that's what you need. Or if you prefer, a small bookshelf for the book lovers.
The point is it can be multi-functional, which is great.
It originally comes in pure white although there are three other color options if you are willing to spend just a little more.
You do need to assemble the dresser but it's not as cumbersome as you might think.
They are made out of laminated manufactured wood, meaning they are easy and quite light to handle.
The five-year warranty also gives you the assurance that you have support whenever you might need it in the future
The two shelves are removable giving you the option to replace them with other decorative accessories, if preferable.
Although, it might be good to keep them where they naturally belong.
Zipcode Design Everett 3 Drawer Combo Dresser
Advantages
There are a couple of color options to choose from
Pretty easy to clean with the laminated finish
Wood comes from a sustainable forest which is good for the earth
Disadvantages
Not the easiest dresser to assemble
Some of the elements might feel cheap to the touch
This dresser looks simple and ordinary but some people actually prefer it that way.
Although small compared to the others in this list, it still gets the job done and can fit almost anywhere needed.
It can be purchased in two colors, white and cherry red.
Its dimensions are 29.9 inches in height and 44.8 inches in width. You might even mistake it for a small dresser.
The Zipcode Design Everett 3 Drawer Combo Dresser weighs only 83 pounds and is pretty portable.
You still might want two persons doing the lifting to avoid floor scratches and other potential accidents.
Its design is pretty simple. Three horizontal drawers on the one side and a cupboard/cabinet fused on the other side.
There are some design attributes those very particular people might find annoying but it is not very noticeable.
It looks more modern than traditional dressers because of the manufactured wood that is used for the main body.
The laminated finish also makes it very easy to wipe clean for a shinier look.
That being said, this dresser is PEFC certified meaning it cares for the environment throughout its materials and process.
Add in the ASTM safety certification and this is a great dresser for your master bedroom or any room in your home.
18. Large Dressers
a. Large Double Dresser
Emerald Home Dresser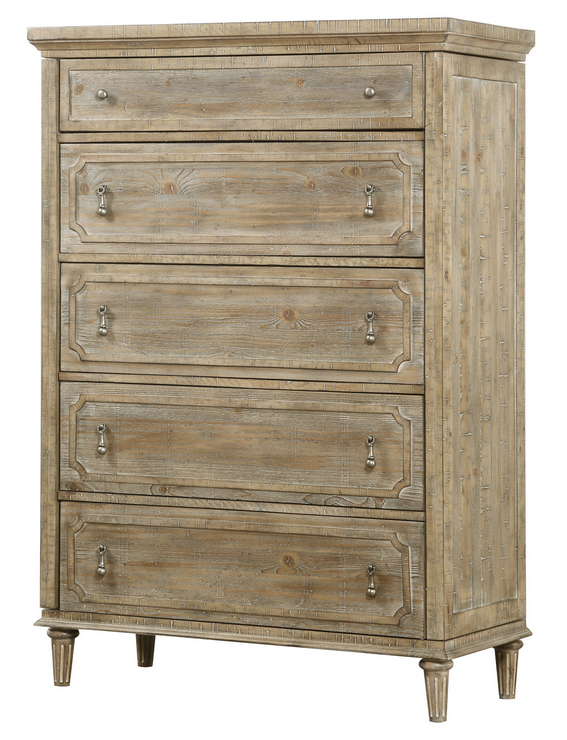 Advantages
The minimalist design is quite attractive
Purchased "as is", no assembly required
Disadvantage
Heavy and almost impossible to move without help from another person
The first one on our list of large dressers is practicality combined with minimalistic style.
The 56-inch width is quite spacious for almost anything you want to throw into it – regular clothes, towels, even the occasional extra bedsheets.
The Emerald Home Dresser is excellent for those that have limited space and need to share storage space like couples who can fit their clothes into one dresser or even for a children's bedroom where more than one kid is sharing storage for their stuff.
The drawers on the top are padded with felt to give it that elegant feel.
The drawers are also English dovetail which creates a sense of harmony in the assembly.
The base material is mostly a combination of solid pine as well as pine veneers.
Its eight spacious drawers provide the needed storage space and its natural finish looks amazing for a piece of minimalist furniture.
Its tapered legs are more or less for aesthetics as they offer no practicality in weight distribution.
The gray-toned handles though give it an appealing accent.
Barra Double Dresser
Advantages
Switchable knobs if you want to change it up
Available in a variety of colors
Disadvantages
Some reports have claimed that some dressers arrived with scratches
Also, reports have claimed that the dresser itself is prone to breakage
This dresser is elegant enough to be placed in any bedroom.
Its classic design hides the fact that there is a lot of storage that can be used with this dresser.
It has six drawers which are a bit oversized (on purpose) to give the owner leeway when it comes to storage space.
Due to its large openings, the drawers can fit almost anything that you want to store.
The Barra Double Dresser is exquisitely built with round pull knobs and streamlined edges that can fit in any generation of bedroom or any part of the house for that matter.
The drawers roll on plastic glides making it move quietly and is very effortless.
The flat large dresser top is very open to anything that you might find decorative that can accent your house or bedroom – a jewelry box, a large clock, or even a small plant placed in a pot.
This dresser is fit for any bedroom, whether for kids or adults.
The storage is quite adequate that you don't have to cram everything into one drawer.
b. Large Combo Dresser
Harbor View Dresser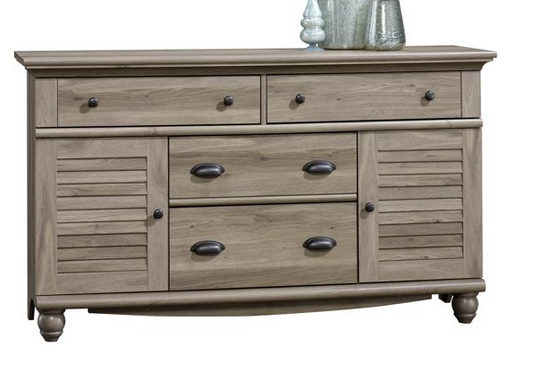 Advantage
A classic, timeless shape mainly because of its distinct lines
Disadvantage
You need to assemble the dresser yourself
Practicality is often overlooked when it comes to centerpiece furniture.
This dresser is all about practicality and class at the same time.
We tend to think of dressers as all drawers and simply jam everything in those poor storage spaces.
This dresser comes with space for stacking items so you can organize books, magazines, and even the DVD collection without compromising the space for the clothes, of course.
It comes with four drawers on runners that have soft-close technology, which basically reduces the chances of the drawers being slammed closed; a good idea for the long term.
It also includes two cabinets previously mentioned that are able to handle quite a bit of stackable items.
There are many options on the color of the finish depending on the blend that would be perfect for your dresser placement.
It has classic lines as well as semi-pointed feet that look anything but dull.
Sturdiness and durability are not an issue because it is made up of engineered wood which is intended to last a long time.
It also has an optional mirror, which you have to buy separately, but accents the dresser without taking up additional floor space.
Buford Combo Dresser
Advantages
Kudos to the manufacturer for a well-packed product during delivery
Durable and will easily last decades
Disadvantage
The dresser top is not completely flat
This large dresser is very useful for those that need lots of space for a variety of items.
With a width of 65 inches, it is a commanding presence wherever it is placed.
With nine large drawers, you will almost never run out of storage space.
Running on metal glides, the drawers offer little resistance and are easy to use especially when trying to fit bigger items.
Metal glides are also good for the long-term as they prevent the inevitable chipping that comes with non-metal glides.
An interior shelf is cleverly placed at the center of the dresser. This is where you can put items such as books, collectibles, and even personal hygiene stuff like perfume.
The overall look is casual but the rounded knobs and sleek handles make it a bit classier than the standard large dresser.
Buford Combo Dresser is also safe around children as it is almost impossible for them to move the dresser plus there is an included safety device for good measure.
c. Large Vertical Dresser
Progressive Furniture Dresser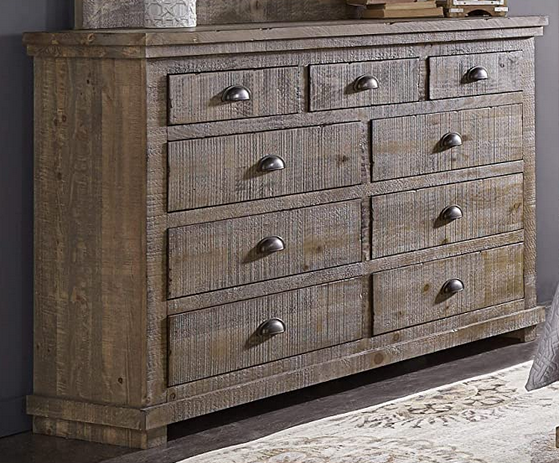 Advantage
No physical effort required as the product comes in already assembled
Disadvantage
Due to its size, it's almost impossible to move for one person
Standing 56 inches tall, this massive dresser won't be lacking for storage space.
However, although it can keep your clothes and so much more, it doesn't overwhelm the whole room that it's placed in.
The wood's dark stain is gorgeous and classy-looking. The base material is pine which makes it super strong and durable.
The small, almost-stunted, feet help the dresser look somewhat lighter than it actually is by not standing directly on the floor, which in turn makes the overall appearance less bulky.
The knobs are easy to remove and replace but it would be best to pair them with the antique style of the dresser itself.
With five huge drawers, you can put more than just clothes in these roomy sections; namely, bath towels, extra bedsheets, and even various linens. This makes it very practical to place in any bedroom.
Vito Dresser
Advantage
Available in a variety of colors
Disadvantage
The drawers are somewhat difficult to handle
Quite similar in size and shape to the dresser we just talked about.
A combination of style and practicality, this five-drawer giant can easily fit anything you put into it.
Although huge in dimensions, this is not a room-overtaker.
It will blend in with the other types of furniture surprisingly well.
This dresser has lines that reflect traditional dressers but its knobs make it appear a bit more modern.
It even comes in Pure Black, Pure White, Chocolate, and Sumptuous Cherry.
As a vertical dresser, this is much easier to find a perfect spot compared to a horizontal dresser which has a wider footprint.
If you don't have a lot of floor space but you need a lot of storage area, this might be a good dresser to look at.
Another great thing is the safety feature. It has a tip-over restraint which assures you that even when active children try to climb on it, it will not easily topple over and hurt them.
d. Large Horizontal Dresser
Imagio Home Dresser
Advantage
Full-extension drawers are much easier to handle
Disadvantage
No other color or finish option
This twelve-drawer giant looks like it can hold almost anything in your house.
However, the main purpose of the Imagio Home Dresser is simple, to organize and separate your items as much as possible.
The drawers are smaller than those on the standard ones but again the purpose is division, not raw storage space.
One drawer for socks, one for underwear, one for ties, and so on.
Oakwood comprises the main material of this dresser.
This means there will be no worry of any unnatural breakage. There is an option to add a mirror for the room that this dresser will be placed in.
Homes Styles Dresser
Advantage
Assembling the dresser is easier than most
Disadvantage
There might be some issue in cleaning under the dresser because it sits only 3.5 inches above the ground
This dresser is perfect for a bedroom that needs a bright outlook.
With a combination of large and small drawers, it can also provide the storage and organization that you need in arranging your clothes.
The large drawers can fit all your clothes, towels, and other large items.
And the smaller drawers are ideal for smaller items such as socks, underwear, and even non-clothing items.
Even though this looks like a simple countryside-style dresser, it accents a room with airy curtains and even rooms that are painted with bright colors.
f. Large Gentleman's Chest
Mattalyn Gentleman's Chest
Advantages
The style and design is unique and interesting, to say the least
Lots of storage space available
Disadvantage
Tendency to wobble slightly when completely full
This gentleman's chest has the unique characteristic of a sliding door to let you access the drawers on the top part of the dresser.
Perfect for a home with accents of a farmhouse or even country-themed.
Men will acknowledge the design, the size of the drawers, and even the overall presence of this dresser.
There is a sense of industriousness and hard work that radiates from this masterpiece.
The Mattalyn Gentleman's Chest arrives fully assembled so you don't have to spend effort and time yourself, you just have to simply enjoy.
Pulaski Gentleman's Chest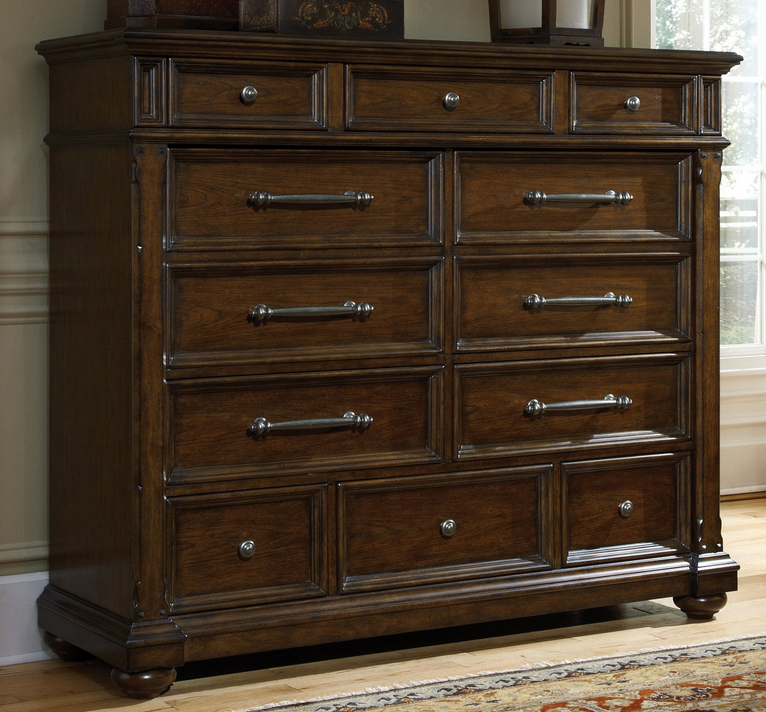 Advantages
Storage space will not be an issue
Multiple drawer sizes give organizing options
Disadvantage
Almost impossible to move around, even with the help
Let me start by saying that this dresser weighs in at 318 pounds, and that's before you start putting in the clothes and other stuff.
The Pulaski Gentleman's Chest is the biggest boy of the bunch.
Its tapered feet do their best to minimize the dresser from looking overweight, successfully we might add.
Although size does matter, this giant can also pass the style test with its elegant finish and hardware that is clearly made with detail.
Any man will be attracted to this dresser.
The drawers are joined through dovetail which makes it less susceptible to wobbling or warping.
The top drawers are perfect for watches, rings, and other personal items because there is a felt material to prevent these small objects from moving around.
Dressers By Price
We understand that we all want to get what's the cheapest one, let's be careful not to get too thrifty because this might lead to some lower quality grade materials, which leads to a shorter life span which leads us to buy another one sooner than we want to.
As with all other pieces of furniture, you have many choices which range in price from the high-ends to the mid-range, and then the cheap ones.
High-End Dresser Prices (More than $1,000)
For those that can afford it, these are the best dressers, no question about it.
Even if it is a dresser without the luxury or brand name, the materials themselves are already high-quality and therefore will last longer and function more efficiently.
Mid-Range Dresser Prices ($200 – $1,000)
For our research, the mid-range dressers range from $200 up to $1,000.
In this category, you can still have a lot of great options when it comes to choosing the style, material, and even color options if you wanted.
Cheap Dresser Prices
You can definitely buy dressers for $200 (or even less) but we would not recommend it.
The cheaper the price, the cheaper the materials they are made from.
This is not only impractical but also dangerous when it comes to safety standards.
Cheaper doesn't always mean better.