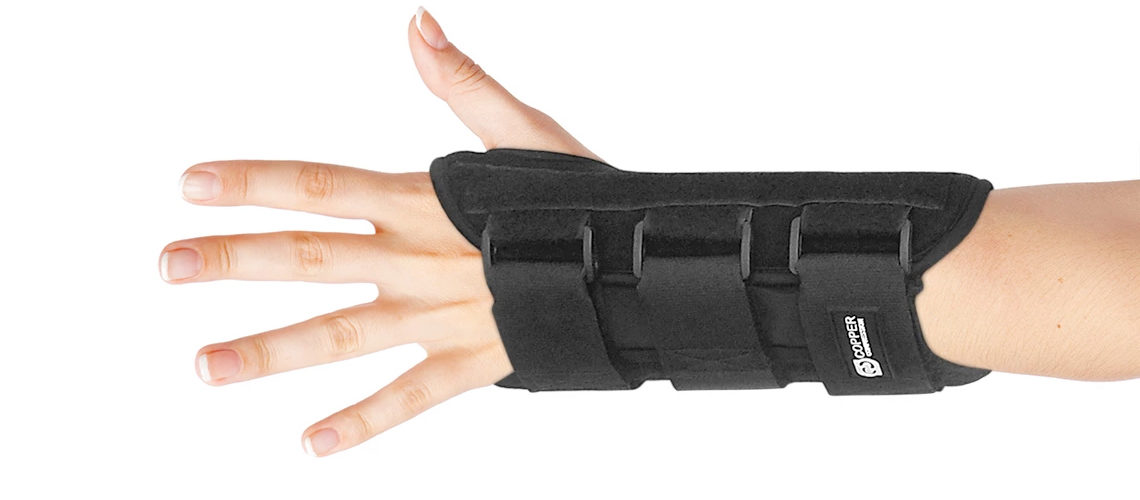 If you're dealing with carpal tunnel, you know how absolutely unpleasant this condition can be.
There are a number of different styles of braces available that can help reduce the suffering you feel from your carpal tunnel symptoms. 
Unfortunately, none of these are going to "cure" it, but they can help you get some relief and some comfort back in your life, so that's a great place to start.
Some of these braces are meant for nighttime use, others are meant to help get you through the day.
Since we're looking at a number of different styles, keep in mind that what works for you might not work for everyone else, and vice-versa, so sometimes it's a good idea to try more than one.
Here's Our Comprehensive Review of the Best Carpal Tunnel Braces of 2023:
1. AidBrace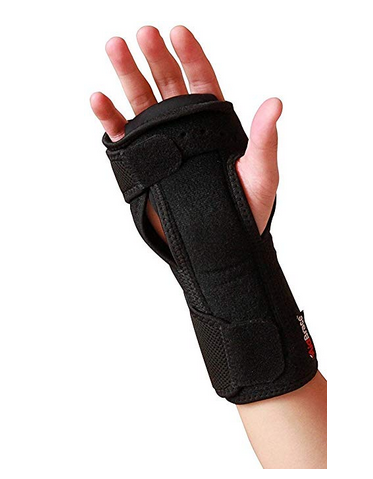 This carpal tunnel brace is intended for use at night time in particular, but you could wear it anytime. The way it's designed, it has a hole for your thumb on either your left hand or your right hand, so you can wear it on either hand.
The extra support at night is good to have because it stops you from rolling over and sleeping awkwardly on your hand, or bending it uncomfortably during the night. It's also used by people who suffer from arthritis, tendinitis, and even after having a cast removed while their hand regains its strength.
The materials used in this brace are soft and comfortable against your skin, with special cushioned beads that keep your hand and wrist in the perfect condition to heal as quickly as possible, or at the very least to get some relief.
If you find yourself waking up with sore wrists that ache, this can help. If you spend all day typing at a keyboard, playing video games, or any other combination of repetitive tasks, you could be prone to carpal tunnel. The first step is to try to reduce or eliminate those tasks, but that isn't always possible right away, so trying to mitigate the damage is the next step, and that's where something like this brace comes in handy.
It's widely considered to be one of the most comfortable wrist braces for night time, and obviously comfort is important when you're trying to sleep. If this isn't quite what you need, we've got plenty of other options for you to consider.
Key Features
Offers comfort and support during the night
Keeps your wrist in an ideal position
Works on either hand
Buy Here
2. Vive Thumb Sprint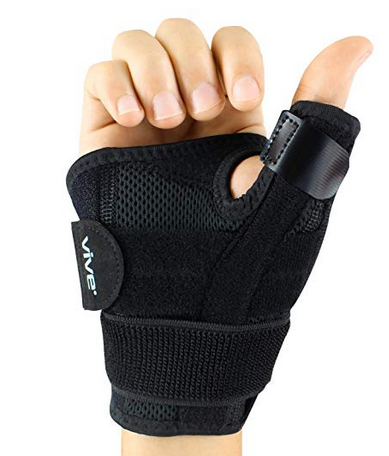 If your carpal tunnel is irritating your thumb, this thumb splint is the perfect option. It doesn't cover the wrist as much as some of the others we've looked at on this list, but once again, it's all about choosing the one that suits you and your pain needs the best. 
There are two removable metal splints that can go in around the thumb to give it extra support if you need it, like if you absolutely want to minimize any movement of your thumb at all. 
The fabric is lightweight and breathable, which is always important for gloves that you're going to be wearing for long periods of time. 
In addition to helping relive the symptoms of carpal tunnel, these gloves are also used by people who have recently had surgery, who have sprains, arthritis, and a number of other discomforts and issues. Whether you hurt yourself in athletics, or at work, or just playing games at home, it's no fun to feel immobilized, but it's a lot better than feeling pain!
Buy Here
3. Copper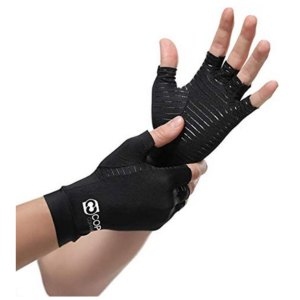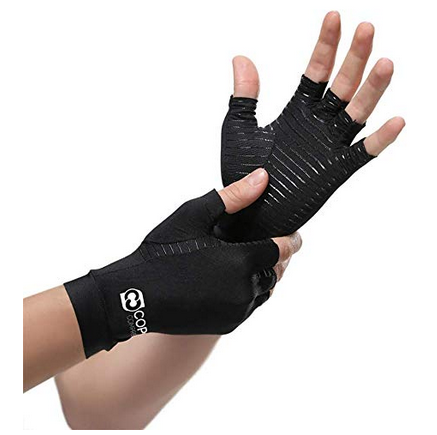 These are compression-style gloves, they'll put an added pressure/compression on your hands and wrist by fitting tightly. For some people, this can provide the relief they need. It can help for people who need to do a lot of typing for work. 
These are pretty good, depending on what you're using them for. Some people find relief for carpal tunnel, but it's not necessarily their primary function. If you're tried other styles and they didn't work great, this is a good next step to try. They're meant to fit a bit small, so they're not going to be super comfortable, especially if you're wearing them at night.
Key Features:
Compression glove
Secure fit
Can help alleviate symptoms
Buy Here
4. ComfyBrace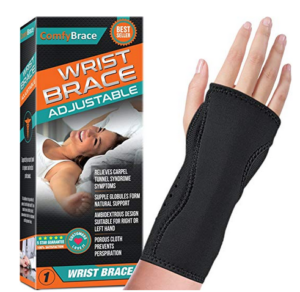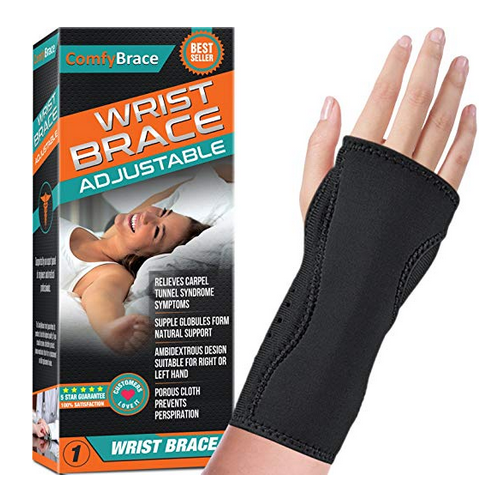 Here's another brace-style support for your wrist and hand that will help you avoid any uncomfortable movements. It's made using globules that are designed to keep your hand in the right position. It is ambidextrous so it works on either your left hand or your right hand. 
This brace has a lifetime satisfaction guarantee, which is great, because it's not necessarily the cheapest option on this list, but at least the brand is going to stand by it in case you aren't totally satisfied with your purchase. This is especially useful for this type of product, which can often involve a bit of trial and error before finding the design that's perfect for you.
Key Features
Provides great support for your wrist
Very comfortable and smart design
Sleek style
Buy Here
5. Donjoy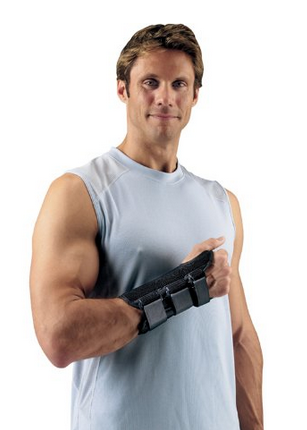 Here's a super simple, effective support. We wanted to include a more affordable option that still offers tons of support, and this is the one. People use it for helping recovery from sprains and strains because it does a very good job of keeping your wrist and hand still, and locked in place. You can wear it throughout the day, it gives you enough movement of your hand to still do all of your normal everyday tasks. 
It straps on via Velcro that you can adjust to the dimensions of your body, ensuring a proper fit and optimal performance. It's not interchangeable between the left hand and the right hand, so if you're suffering in both arms, you'll need to buy two of them.
There's an aluminium tray that you can remove, it helps keep everything much stiffer. Some people like to put it in for sleep, but to leave it out during the day, since they're less likely to inadvertently bend their wrist in an awkward way when they're awake.
Key Features
Very affordable
Removable metal tray for extra stiffness and support when needed
It's breathable so it won't make you sweat
It doesn't really have any cushioning, but it's still comfortable to wear
Buy Here
Advice For Choosing the Best Carpal Tunnel Braces
If you've made it this far, here are a very more tips and pieces of advice for you to keep in mind if you're looking for relief.
Some products have straps, and it's important not to put them on too tight. If you're preventing your blood from flowing. These braces are meant to provide you with support, but wearing them too tightly can be dangerous. The compression gloves, on the other hand, are actually meant to fit more snugly. 
If you're wearing your brace all night, or most of the day, or even just for chunks of time here and there, it's a good idea to wash them (following their unique instructions for washing with a bit of common sense), and to wash the area that they cover. If you're sweating, you'll want to wash them more often to prevent bacteria and smells from growing.
If you take good care of the best carpal tunnel wrist braces, they will take good care of you and give you some much needed relief!