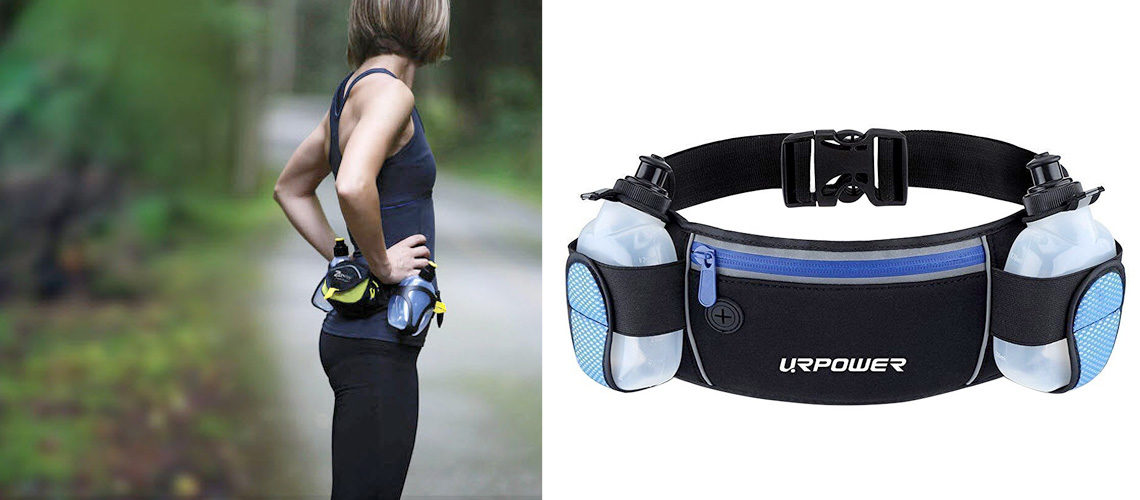 While you're out doing your usual running routine, it is important that you bring along your gear such as shirts, hats, shorts, and shoes. But you might also bring some other things like liquids, gels, music devices, smartphones, gadgets, keys, credit cards, and many others. The problem is if there's not enough space in your pocket where you can put them in. You are left with the decision to either leave them home or overstuff your pocket which will surely feel uncomfortable. But the good news is, you are not left without any alternatives.
If you badly need extra space for storage then you should get yourself familiar with the best hydration waist packs which we have listed in this guide. Each one is designed with a specific purpose in mind but all of them works for holding extra stuff. Read on to discover more about this awesome running gear and we hope to help you choose the best one that you'll carry around every time you run.
Choosing the Best Running Waist Pack
Are you thinking of buying a waist pack? If your answer is yes then you will need to be familiar with the different factors that should be considered before choosing one. Aside from its price, you will need to make sure that the one you are going to pick will work the best for your kind of needs. The other five factors are:
Storage Size – A running waist pack's purpose is to provide space to hold your belongings comfortably while you're running. The items in them can differ per runner. That is why it is important to choose the best pack for your every run. A pack that's too small or too big for you can be perfect for another runner. You just need to choose the best one that is suited for both your needs without sacrificing on comfort.
Comfort – It is easy to get a running waist pack that features big storage but it wouldn't do any good if it bounces around as you move. It's true that extra space is needed but if it comes with the price of being uncomfortable when running then it's no use at all. So after finding out how much storage space you need, you should also consider comfort. Make sure to find out about the materials used, how the waist/belt bag is adjusted, and see how well it actually sits when you wear it. What may seem as a minor irritation can become a bigger problem in the long run. This is true especially if you are into long-distance running. So be sure to choose a pack that is comfortable.
Quality – You also need to make sure that you're actually getting the quality which you paid for. A waist pack that is lower in price would probably have low-quality too. And those that have higher price tags will also be of higher quality. So be sure to put into consideration how often you run. For instance, if you are getting yourself ready for a 5K marathon, you can choose a low-cost option. But if you're currently training for a long-distance marathon then you will do great with a pricier one. The natural wear and tear that puts stress on your waist pack is something that cannot be avoided. And in the process, it will cause every material to break down which includes the fabric, buckles, and zippers. So it is wise to choose a waist pack that is of high quality all the time.
Appearance – Remember that you're going to wear the waist pack wherever you go as you run so make sure that it looks really great on you. You should choose the style that you like. There are plenty of designs that you can choose from ranging from the simple minimalistic ones to bigger and more practical packs. They also come in different colors and shapes. Pick one that has a plain look or choose one that a more fashionable look, just feel free to pick the one that really matches your taste.
Customer Service – If the waist pack that bought is coming from a company that's not recognizable then you must consider getting in touch with them. Be sure to learn about the warranty, returns, and how the company handles complaints from customers. A great company really invests its product even on after-sales aspects and one integral part of it is customer service.
2019's Top 5 Running Waist Packs:
1. Sport2People Running Belt – Best Option for Comfort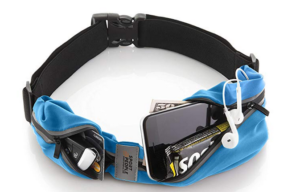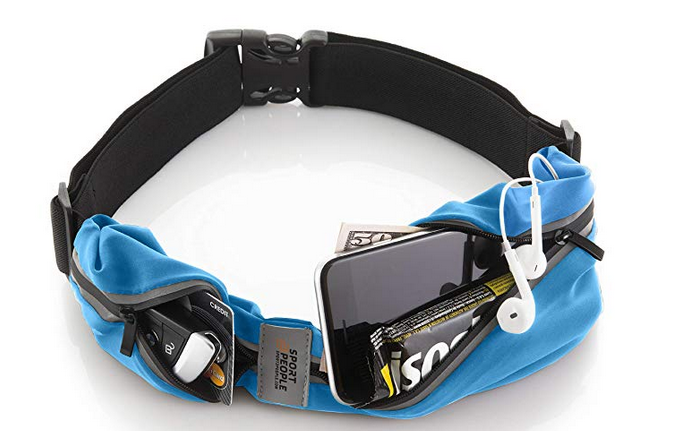 Users love the Sport2People waist pack because of its sleek design profile that offers plenty of space for stuff that will help fuel your next run. It is equipped with two pockets which are capable of holding different stuff that a runner might need. Whether it's credit cars, a small bottle of lotion, or even your running fuel, this belt is going to do it for you. Enjoy running to the tune of your favorite music with its front pocket that is designed for your gadgets and other digital stuff. This pocket gives ample room for your smartphone with an opening for headphones. Many users praise the pack for its comfortable fit on the waist and it does not tend to ride up. It's the perfect pack for those who are looking for comfort and ample space.
Pros
Comfortable and does not ride up
One size fits all
Soft but durable material
Cons
Limited color options available
Buy Here
2. URPOWER Running Belt – Best Waist Pack for Long-Distance Runners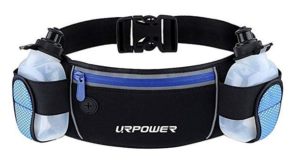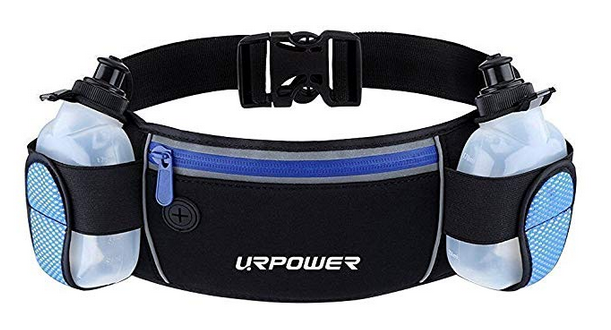 Are you ready to step up to the next level of running? Preparing for the next step is not just about the preparations, it is not just about the shoes and it's not just about the training. Yes! It's also about the stuff that you bring with you. The URPOWER belt is designed for those who take running seriously. It's equipped with a large storage pocket with 2 water bottles to keep you fueled on your run. The pocket also features an opening where the headphone wire can pass through toward your music gadget placed in it. As you run longer, your body needs to be replenished so you can keep going. This pack is designed to help you keep moving! Users praise it for its snug fit and really great price. It truly is a good value for your money.
Pros
Snug fit and comfortable to wear
Lightweight but durable construction
Large pocket room for the stuff that you need to bring while running
Waterproof and safe
The company offers a lifetime warranty
Cons
Bulkier than others and there's no feature that secures the adjustable strap
Buy Here
3. Nathan Trail Mix Hydration Running Belt – Best Trail Running Belt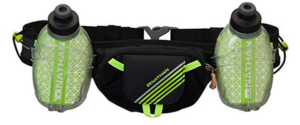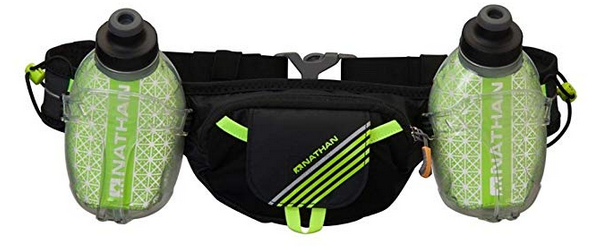 When it comes to running hydration, Nathan Sports is one of the leading names out there. Every pack that they build is of the highest quality and they couple it with passion and commitment with their customers. The Nathan Trail Mix Hydration belt is a perfect example of such commitment. It features an ergonomically shaped strap on its belt which is capable of preventing sudden bounce movements allowing smooth and comfortable movement on the trail. There's no chaffing, running, or getting your skin irritated. Most of its users say that the pack looks really good and fits really well for its carrying capacity. It's definitely a good choice if you are into trail running.
Pros
Made of high-quality durable materials
Roomy, stylish-looking pouch
Equipped with durable and adjustable elastic cords for storage
Features an external pocket on its zipper pouch
Available in multiple color options
Cons
Water bottle tops are basic
The excess belt appears when rolled-up
Quite expensive
Buy Here
4. AIKELIDA Running Belt – Durability at its Best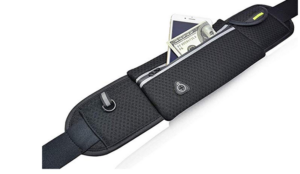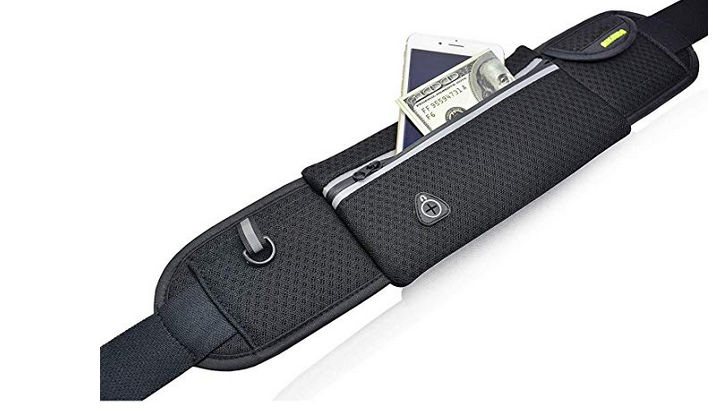 It may look a bit simple but the AIKELIDA Running Belt is one that is a lightweight fit but packs extra storage for all the stuff that you want to bring while you're running. With its unique design, the pack feels light but doesn't feel flimsy. It is durable and guaranteed to last. It combines the properties of being sleek, compact, breathable, and stylish – all the benefits that runners from every skill level will surely love. It's also got a reflective stripe that will keep you on the side of safety when you're running at night. Users love this running belt because it looks sleek while maintaining breathability and style at the same time.
Pros
Enough storage capacity on its front pocket
Durable and lightweight
Comfortable to wear and no ride ups
Pocket is equipped with a hole for the headphone wire
Cons
Too small for some users and others say that the fabric is thin
Buy Here
5. Peak Gear Water Bottle Belt – Best Hydration Belt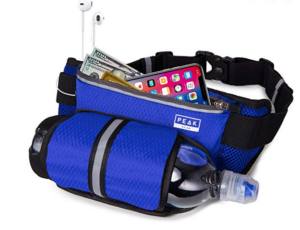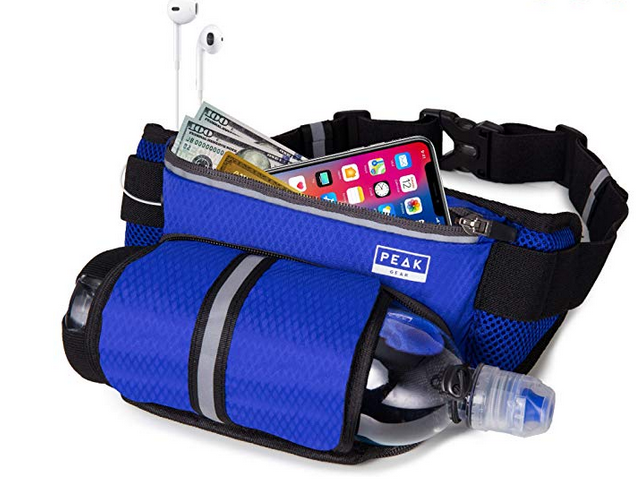 Made for both beginners and experienced runners, the Peak Gear Water Bottle Belt is one that will carry the stuff that you want to bring while running together with enough fuel (water) to keep you going. It doesn't only feature a roomy front pocket but it also has a holster that is able to hold a water bottle that is full-size. So on your next long-distance run, you can simply enter a store, get the fuel/drink that you want then place it wrapped in the holster or you can even just fill up a water bottle that you were able to bring with you. Users are all praises to the innovative holder for the water bottle that it has while being lightweight at the same time.
Pros
Features multiple pockets for your stuff
Equipped with reflective stripes for safety when running at night
Holster designed for most water bottles
Comfortable and no ride ups
Cons
The water bottle may bounce and it is a bit bulky
Buy Here
Conclusion
Now that you've got an idea about the best running belt out there, it is time to choose the one that will serve your needs when you're running. Again, be sure to consider the different factors that we've listed above and also make sure that it is perfect for your budget. Whether you're running for the purpose of exercising or you're training for a long-distance marathon, these 5 packs will help. So choose the one that fits your taste, get your preferred color and place your order today! 
Do you own a running waist bag that is of a different brand than the ones listed above? What made you decide to choose it? What features of it do you love most? We would appreciate you sharing your experience by posting it in the comments section below.