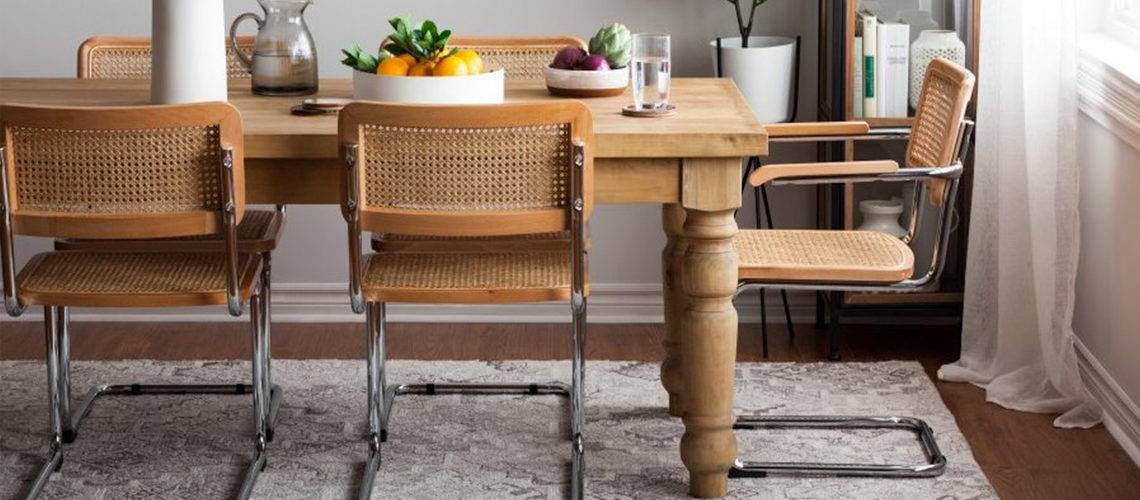 Are you tired of the looks that the normal chair has?
Do you want something that's able to take your home decoration and furnishing to the next level?
You can achieve this by using something that's out of the ordinary both in terms of design and overall looks.
You'll need to say goodbye to the usual four-legged chair and consider using something that looks unique.
And one of the most unique chair designs that you'll find in the market is called the Cesca Chair.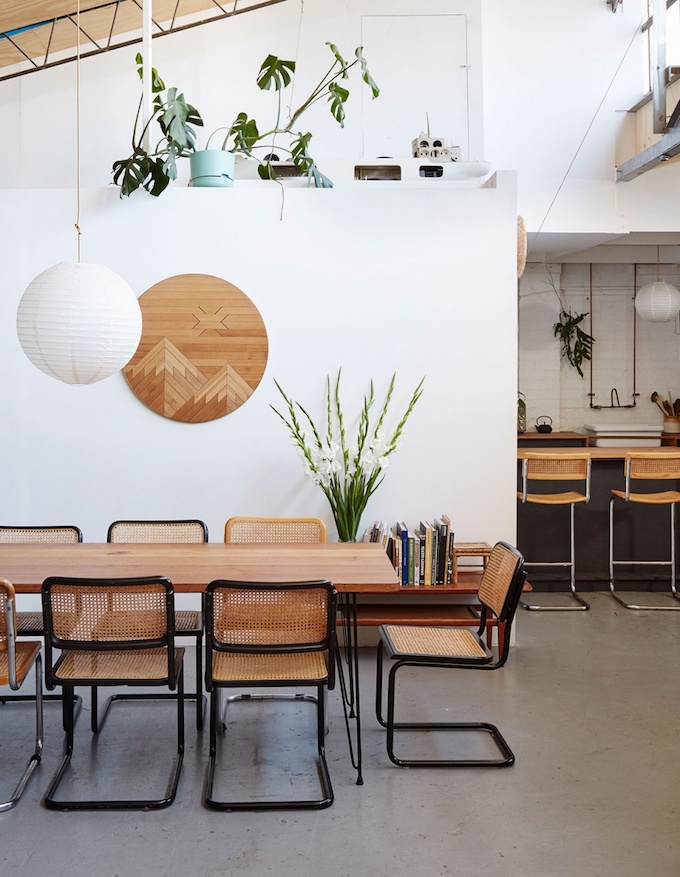 It was designed many decades ago but its timeless looks have been a hit through the years.
Some prefer the Cesca chair because of the space-saving properties that it has.
The lack of the two back legs gives way to many possibilities that are otherwise unavailable when you use the traditional four-legged chair.
And that benefit comes with some others including its unique futuristic design.
But just like the other designer chairs, the authentic Cesca Chair also costs a fortune, especially the older ones.
If it is really the chair that you want to place in a particular space in your home then there are some replicas and reproductions that you can try.
And the good news is that they're as good-looking and durable as the authentic Cesca Chair.
But before giving you the top 5 replica brands, let's first learn a bit about its history.
The Origin Of The Cesca Chair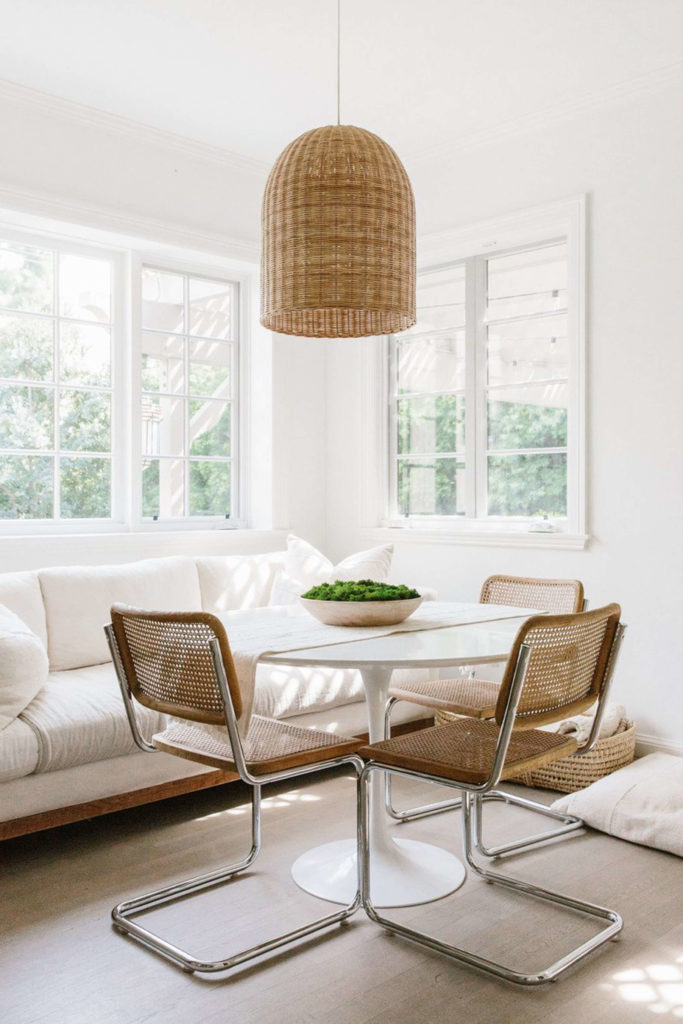 Originally designed by Marcel Breuer in 1928, the Cesca Chair is made using durable tubular steel as its frame which is a newly invented material at that time.
The name is taken from the name of his adopted daughter Francesca who was nicknamed "Cheska".
The chair was then purchased by Knoll Associates in 1968, a company that still exists today and is now known as the Knoll group.
Since the purchase, there have already been over 250,000 Cesca chairs that have been sold.
The official manufacturers who made the chair through the years were Thonet (starting in 1927), Gavina (starting in 1950), and Knoll (starting in the late 1960s).
Back in 1928, it's the first of its kind to be mass-produced which uses a new tubular-steel frame that has just been invented.
The design was somewhat successful and made the chair one of the 10 most common having a unique design.
An original one from the time it was invented is actually on display in Manhattan's Museum of Modern Art.
Cara McCarty, Associate Curator at the Department of Architecture and Design in the Museum of Modern Art refer to the chair as being one of the top 10 most important chair design in the 20th century.
The chair has a long history but it was able to preserve its popularity through the years because of how well it performed both in its mid-century looks and overall performance.
Top 5 Cesca Chairs in the Market
The Cesca chair has been a popular choice for those who are looking for a space-saving chair that looks really unique from every angle.
It is perfect for those who want to upgrade their home or office furnishing with something that's truly out of the usual.
So let's start by exploring the top 5 Cesca Chair replicas on the market:
1. Marcel Breuer Cesca Cane Chair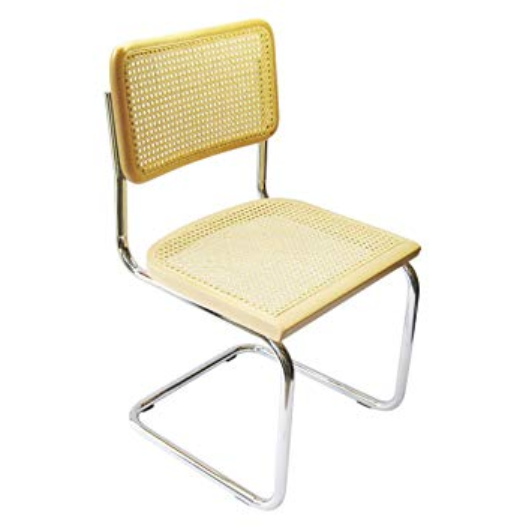 This Cesca Cane Chair is one that truly captures the original design by Marcel Breuer.
Its frame is made out of a durable stainless steel tube that's 1 inch in diameter allowing it to carry most weights.
And what I like about it is the selection of wood finishes for both the seat and the backrest material.
The Breuer Chair company is also known for its durable and stylish chairs which is why many customers patronize their products.
They have a wide selection of awesome chairs that are ready to grace your home or office so you can achieve the kind of atmosphere that you want to have.
Key Features:
The seat and backrest frame material is made of beechwood which has four different finishes: natural, walnut, honey oak, black lacquered or white with a natural cane inset panel
1-inch diameter round steel tube that is chrome-plated is used as the seat frame
Needs to be assembled and it's advised to be done by at least two persons
The chair has been made for many decades now and remains as one of the world's most popular chairs.
High-quality materials used which is nowhere comparable to the Asian imports
This chair truly captures the timeless design by the late Marcel Breuer himself.
Everything from the material of the seat frame to the type of workmanship on both the seat and the backrest, this chair truly shouts mid-century design that has remained relevant even to our modern time.
If you're looking for the classic looks of the Cesca chair then this one is going to be a perfect choice!
2. Edloe Finch Rattan Back Velvet Cushion Cesca Chair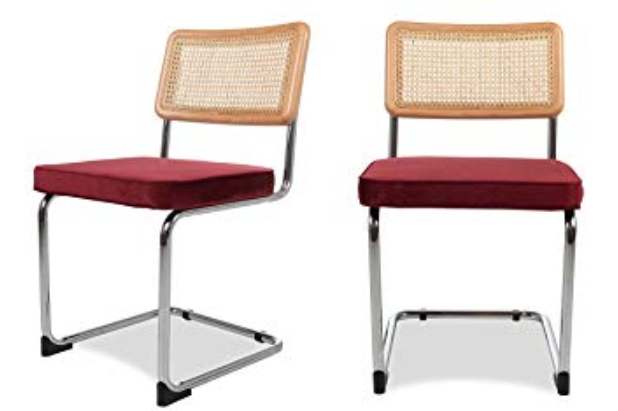 The usual rattan and wood frame seat that the Cesca Chair has is given an upgrade in the Edloe Finch chair.
You can rest more comfortably while seated on it because of the cushioned seat that it has which is upholstered using high-quality velvet fabric.
The manufacturer also made sure that the chair is durable enough to carry most weights making it perfect for your living room, lounging area, or even for your office.
Key Features:
High-quality chrome-plated heavy stainless steel tube used as its frame material
Cushion seat design upholstered using high-quality plush velvet fabric for added comfort and guaranteed skin-friendly properties
Solid elmwood used as the backseat frame along with rattan weave to ensure durability and overall beauty
Retro chic iconic modern mid-century design by Marcel Breuer which is perfect for every theme and design in your home or office
Adds a dash of nostalgia to your dining table with all the design aesthetics of the mid-century architecture being captured perfectly in each chair
The durable tubular stainless steel frame allows seaters to rock gently while enjoying a good conversation with a friend
Easy to clean and it's all thanks to the high-quality materials used in the seat and backrest sections just wipe or wash with soap and water then voila! You have a clean Cesca chair right away
Easy to assemble so you can spare yourself from many hours of putting the chair together only to find out that it's breaking apart after a few months which is true if you use the cheap brands
The manufacturer stands firmly when it comes to quality, durability and overall craftsmanship. These are the reasons why most customers are really confident with every product that this company produces
The normal retro style Cesca chair gets an instant upgrade in this awesome piece of furniture that's ready to grace the room where you want to place it.
It may not have all the design aspects of the original chair but it's always ready to deliver great performance and provide good comfort to whoever seats on it.
If it's added comfort that you want to have then this one is going to be a nice pick.
3. Marcel Breuer Cesca Cane Arm Chair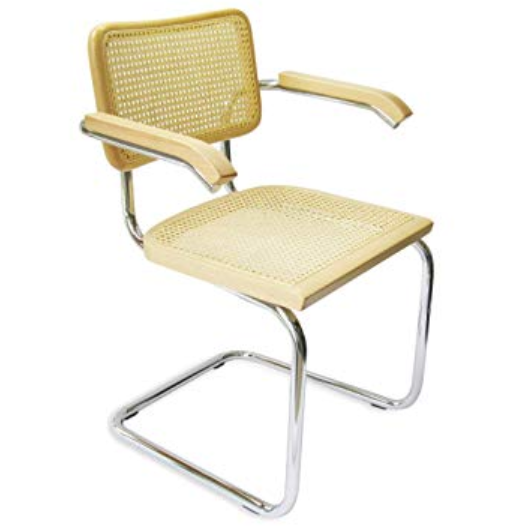 True comfort lies not just with the materials used in a particular chair but also with its overall design.
The usual Cesca chair would normally have no armrests at all but if you're looking for something that has one then you'll find the Marcel Breuer Cesca Cane Arm Chair as a perfect one to meet your preference.
Just like the other chairs by the Breuer Chair Company, this one guarantees both durability and relaxation especially with the added armrests which the other models don't have.
And even with its peculiar leg design, this chair is still capable of carrying most weights and its all thanks to the durable steel tubes that make up the frame itself.
Key Features:
Product Dimensions: 24 inches x 21 inches x 33 inches (W x D x H)
Seat Height: 18 inches
The beechwood frame for both the seat and the backrest is finished using different colors including natural, walnut, honey oak, and black or white lacquered along with natural cane inset panels
Easy assembly but I would recommend that there should be at least two persons put the chair together
Made from 100% solid Italian beechwood along with original cane seat and back
The modernistic design of the Cesca chair makes it a very popular choice for living rooms, lounging areas, reading areas and even for your modern theme office space.
The armrests that this particular brand has already spell the difference especially when it is compared with the others that I have included in this list.
So if you're looking for a Cesca chair with a twist then look no further because the Marcel Breuer Cesca Cane Arm Chair is ready to serve you anytime!
4. Best Master Side Chairs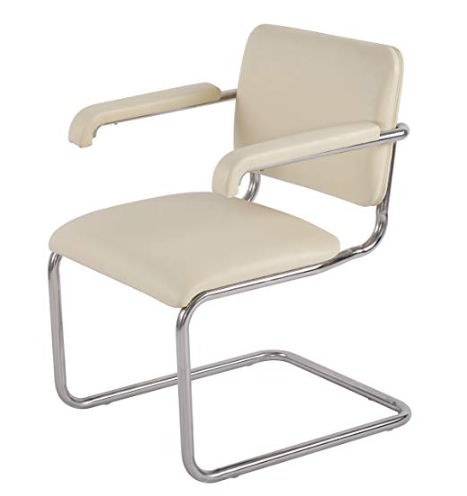 Being able to have a platform on which you can rest your weary arms and shoulders really makes a chair an awesome addition to your living room or reading area.
But those areas in your home are not the only ones where this Cesca chair can be placed.
It can also serve as a dining chair, a lounge chair, you can place it in your bedroom, or use it as an accent chair anywhere including your office.
It can even serve as a perfect chair in the waiting area if you prefer to.
The possibilities are endless and the great thing about the chair is that its overall quality and durability ensure that you can enjoy sitting on it for many, many years.
Key Features:
Dimensions: 30.81 inches x 24.57 inches x 23.01 inches (H x W x D)
Product Weight: 23.1 pounds
Seat Height: 17.16 inches
A high-quality replica of the original Cesca Chair designed and created by Marcel Breuer in 1928
 Aniline leather or Italian leather seat and backrest upholstery that's mounted on a durable ended stainless steel tube to ensure durability and make the chair capable of carrying most weights
Machined, fully welded, and tensioned stainless steel tube to achieve a smooth chrome-plated finish that's ready to impress
Works great as a leisure chair or even a dining chair so you can enjoy long hours of reading and conversations
All the materials used are 100% environment-friendly
With its high-quality materials used and the masterfully-crafted frame and upholstery, this is truly a chair that's perfect for those who are looking for a replica that closely resembles the original Cesca Chair from 1928.
5. Christopher Knight Home Arlo Cesca Arm Chair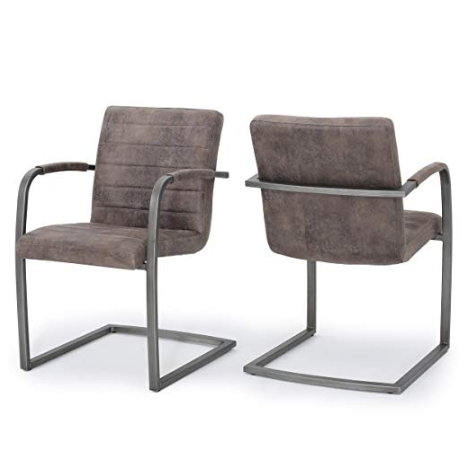 Not all of us love the original form and design of the Cesca chair and if you're one of those who are looking for a variation in terms of its the frame's construction then the Christopher Knight Home Arlo Cesca Arm Chair is going to be a perfect option!
Instead of following the bends and curves of the original Cesca chair, this one connects the legs to the armrests and welds both the seat and backrest to it creating a continues flow of the material.
And instead of using round tubes, this chair uses square ones to create an impression of modern design and aesthetics.
Dimensions: 21 inches x 19.70 inches x 33.50 inches (D x W x H)
Seat Dimensions: 16.7 inches x 18.5 inches x 19 inches (D x W x H)
Microfiber upholstery so you won't need to worry about it getting wet or accumulating moisture
Leg and Frame Material: Powder-coated, durable metal
Perfect seat for guests in your living room or for yourself if you want something comfortable to sit on while reading your favorite book
Solid construction to ensure that the chair itself can carry and support most weights
Luxurious upholstery material and soft cushion to add comfort and relaxation to the overall experience
If you're looking for a Cesca chair design variation that screams "luxury" from every angle then the Christopher Knight Home Arlo Cesca Arm Chair is one that you should definitely try!
6. Italian Made Cesca Side Chair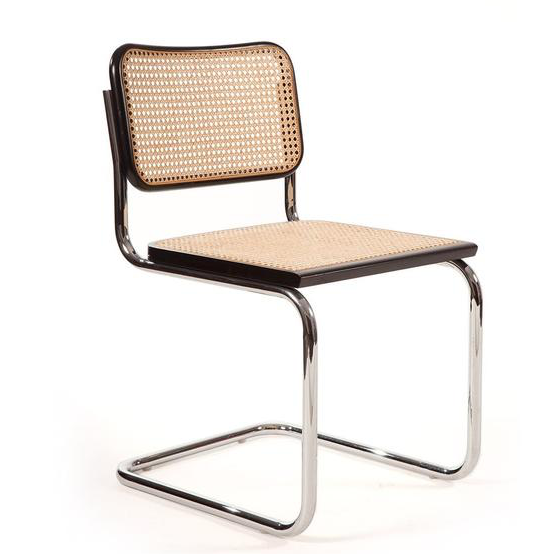 The Cesca Side Chair is inspired by classic Bauhaus designs of Marcel Breuer.
The cantilevered stainless steel design is perfect for casual dining spaces.
The perfectly balanced stainless steel frame provides sturdy support for the woven rattan seat. A durable beech veneered frame surrounds the woven rattan back and seat.
This reproduction of Marcel Breuer's classic 1930's design is made to provide design lovers with an affordable alternative without sacrificing quality.
Made of Stainless Steel, Beech Wood, Cane
Dimensions: 31.5 H x 18.5 W x 20 D
Design Inspired by Marcel Breuer
Made in Italy
A Unique Masterpiece
While most of the normal chairs out there almost look identical with each other, the Cesca chair is never the same with any of them in many aspects.
That is why it has become a design favorite and is now common in homes, hotels, and many other places where chairs are needed.
It tends to move away from the usual four-legged chair design which is a perfect design variation that helps in achieving the illusion of a floating chair.
If you're looking for something unique to add to your home then I would recommend the Cesca chair to be one of your first options!