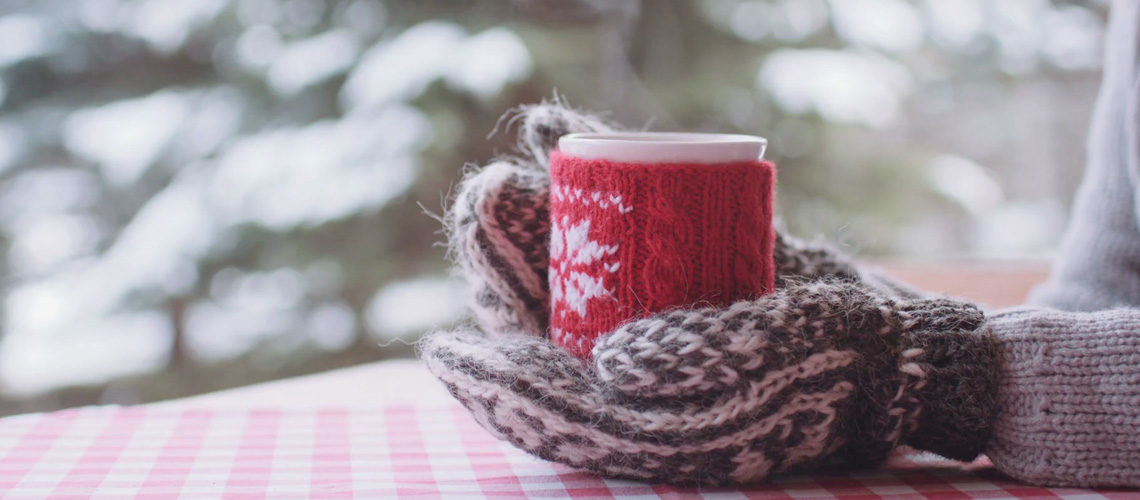 There's just something special about slipping on a great pair of woolen mittens on a cold winter's day.
Gloves are useful when you have to work outside, but they're not as warm because your fingers are isolated and can't take advantage of your body heat.
For snowball fights, going for a walk, or just keeping warm as you wait for your car to heat up, mittens can't be beat.
Wool is an incredible fabric, and everyone that spends any time in cold weather deserves to have a pair of the best wool mittens they can get their hands on.
These mittens can be costly at times, due to the high-quality often associated with wool products, but you can also find more affordable options.
In any case, you can rest assured that they'll last you a long time, keep your hands very warm, prevent heat from escaping your body, and they usually look pretty great, too.
Here are the Best 100% Wool Mittens to Keep You Warm in 2023:
1. Dachstein Woolwear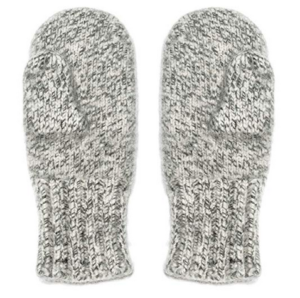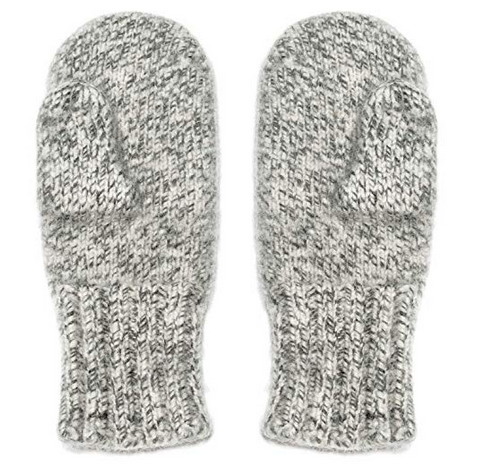 There are two main reasons that these mittens from Dachstein have made it into our number one spot on this list. First of all, they're fantastic, made from super warm and high quality Austrian boiled wool, and they're thick and durable. The first reason is the overall quality. The second reason is that they're a great value. They're less expensive than the next pair we're going to be looking at, and they got a lot of bonus points for being more accessible for that reason. 
You can hand wash these in cold water with a natural soap, and leave them to air dry. Washing machines aren't recommended. Wool is great because it can absorb a third of its own weight in water or sweat, without losing its ability to insulate and keep you warm. These have been called the warmest mittens in the world, they're made of 4-ply heavy weight wool to keep your warm, even during the coldest days and months of the year.
These are the types of mittens you buy once, and you have them for years or decades to come. They last incredibly well, not just because they're so well made and put-together, but also because they're made using such strong materials, and they're so nice that you're going to always make sure you take great care of them.
Key Features
100% Austrian boiled wool

Long cuff offers full wrist coverage

Strong material, but doesn't get itchy feeling

Boiled wool keeps the construction strong and durable

You can fold the cuffs if you want them shorter, too
Buy Here
2. Öjbro Vantfabrik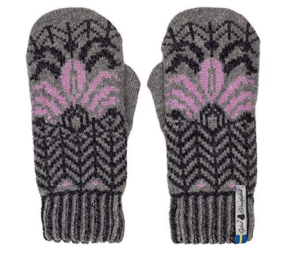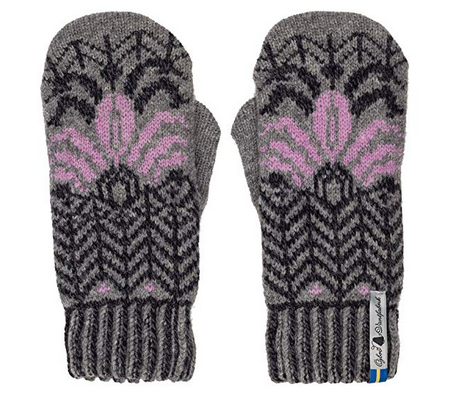 Wow. These gloves are AMAZING. They would be sitting firmly in the number one position on this list, except for the fact that the Dachstein mitts are such a good value. Overall, if money is no object, these are better – but at this price point, they aren't for everyone.
The first thing you'll notice about these Öjbro Vantfabrik wool mittens is that they come in dozens of different styles, colors, and patterns. Each one is a work of art in and of itself, and this is before we even talk about how soft or comfortable they are, let alone warm. 
These are some of the softest gloves in the world, made from amazing quality merino wool. They've been described as pillow-soft, but I've never had a pillow this soft. Even though they look fun and quirky, these gloves are serious business, and incredibly warm. They can handle the elements just fine. 
From a wild chilly breeze, to the coldest days of the year, these gloves are meant to keep you warm. They're made with four different layers, they're extra thick, and they're made with expensive fabrics so it's no wonder they cost a bit more – you're getting a lot of mitten here! 
Which color will you choose? Take a look at all of their different designs, and see which ones jump out to you! The interior is insulated, and very soft and fluffy, we can't stress enough for comfortable these gloves are. 
It's the full package. Amazing comfort, extreme durability, and incredible warmth – this is, hands down, a perfect pair of winter mittens. 
Key Features
100% Merino wool feels like a cloud

Soft insulation is fluffy and warm

Amazing quality, very well-made

The very best wool mittens if aren't taking price into account
Buy Here
3. Jack & Mary Designs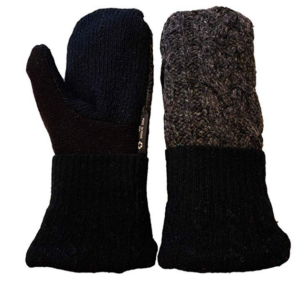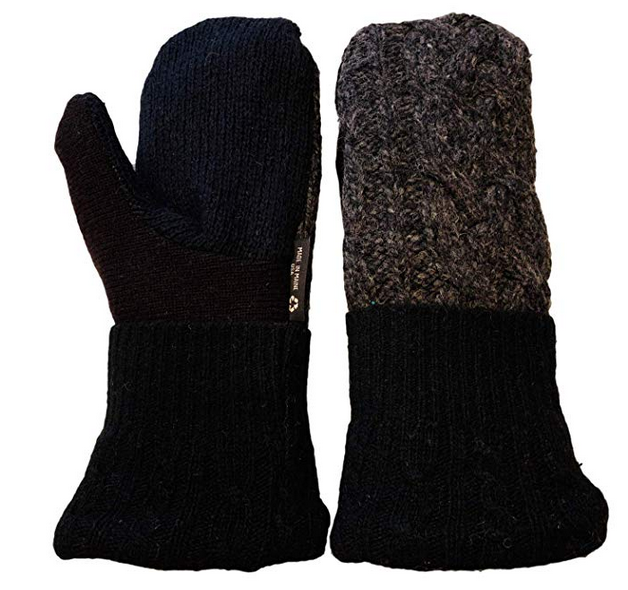 Jack & Mary have done it again! This brand specializes in eco-friendly artisan-crafted products made from recycled sweaters, and it's all made right in the United States of America. These gloves were hand-crafted, using the wool from recycled lamb's wool sweaters. How cool is that?
This means you're getting a great value, a well thought-out product, that recycles something that would have otherwise gone to waste. Somewhere out there, there's a lamb whose coat not only got made into a sweater to keep someone warm, but now it's been recycled to make a pair of very warm mittens – these are a pair of mitts that you can be proud to own.
You'd expect to spend a small fortune on these, all things considered, coming from a cute little brand that takes the time to hand-craft their wares using recycled materials, but somehow they manage to keep them relatively affordable when you factor in the quality, craftsmanship, and overall warmth. 
Each pair looks a little bit different, too, since they're using recycled wool. As such, your pair is going to be totally unique. Nobody will own the same pair of gloves that you do, and you'll get compliments on them, and it's a great ice-breaker since you can talk about Jack & Mary and the unique things they're doing to create these mittens.
Key Features
Made from recycled lamb's wool

Durable, hand-crafted, very well made

Each pair is unique and one of a kind

Eco-friendly and eco-conscious option

Fully lined with soft, warm fleece
Buy Here
4. Icewear Gilsá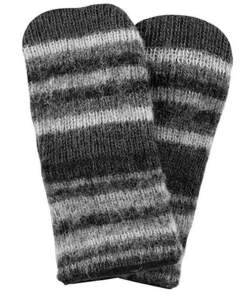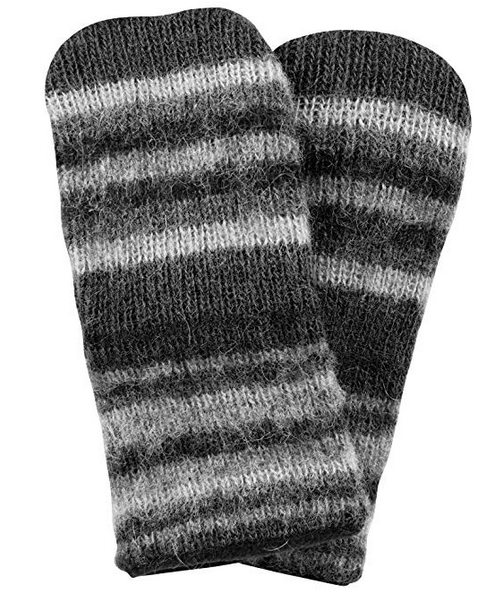 These Gilsá gloves by Icewear are fantastic. Coming all the way from Iceland and made using Icelandic wool, our international journey of wool continues! We've looked at mittens from America, Austria, and now Iceland, and we're also about to check out a pair from Ireland! All around the world, people recognize the warmth and value in a great pair of mittens. 
These mittens are made from two materials. First is, of course, 100% Icelandic wool that feels amazing, keeps your warm, and lasts a LONG time. Next up is the inner lining, which is made from a cozy and warm polyester. You can get these in a black and grey colorway, or a lighter one that looks like a slightly creamy off-white. Both options are beautiful. The white ones will show dirt a little more, so it really depends on what you're using them for, if you plan on getting them dirty or not.
Great for playing in the snow, driving in the winter, or whenever else you want to keep your hands warm, comfortable, and cozy. Also perfect for sipping coffee and tea!
Key Features
100% Icelandic wool with a soft polyester lining

They fit a bit on the larger side, so you may want to get a size down if you're in-between

Very well-made, these gloves are meant to last you a long time

They come all the way from Iceland and are perfect for day-to-day wear
Buy Here
5. Freyja Canada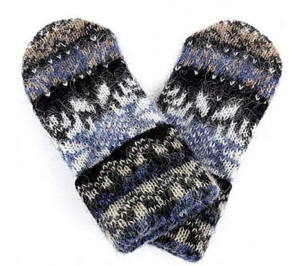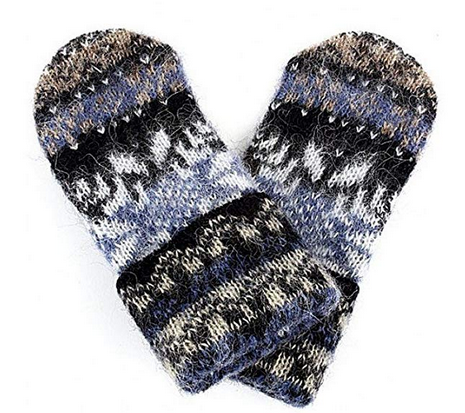 Here's another pair made from 100% Icelandic wool, except this time around they're made in Canada. Isn't it cool how international all of these wool mittens are? One thing that people can relate to all around the world is a desire to be comfortable, whether that means protection from the heat, or in his case, protection from the cold.
These wool mittens are water repellent, which is perfect for Canadian kids who love to get into snowball fights as soon as the snow gets a little slushie. They're lightweight, made with 2-ply wool, rather than some of the others we've looked at that were 4-ply. This means they won't be quite as thick or warm, but let's be real – this is still a strong, thick, and durable pair of woolen mittens – so they're going to keep you warm! But these are more of an everyday wear kind of thing, rather than someone you break out on only the coldest days of the year.
The problem with mitts that are too warm is your hands will sweat more, and you'll get uncomfortable on milder days. That's where these mittens really shine.
Key Features
Made in Canada from 100% Icelandic wool

Machine washable and water resistant

Very warm, but still great for slightly milder days when the warmest mittens would be overkill

There's even a matching hat you can get!
Buy Here
Wool Mittens Buyer's Guide

We'll keep this buying guide short and sweet.
You want to look out for how thick/heavy the gloves are, since thicker ones will keep in more heat and keep you warmer, all things being equal. 
Price is something to watch out for, too. Wool mittens definitely aren't cheap, at least for good ones, but they'll last for years and years if you take care of them, and they'll keep you the warmest, so it's something that is worth investing in.
We've featured a wide range of prices on this list, so we're sure you'll find something perfect. All of the above are different versions of the best wool mittens, just depending on what you're looking for! 
Different animals can produce wool, so that's something to consider too.
Lamb's wool is a popular choice, Merino is very high quality and soft, but sometimes softness makes them a bit more delicate.
The Freyja Canada gloves are a good example of ones that are warm, well-made, but can still be tossed into the washing machine with no worries.