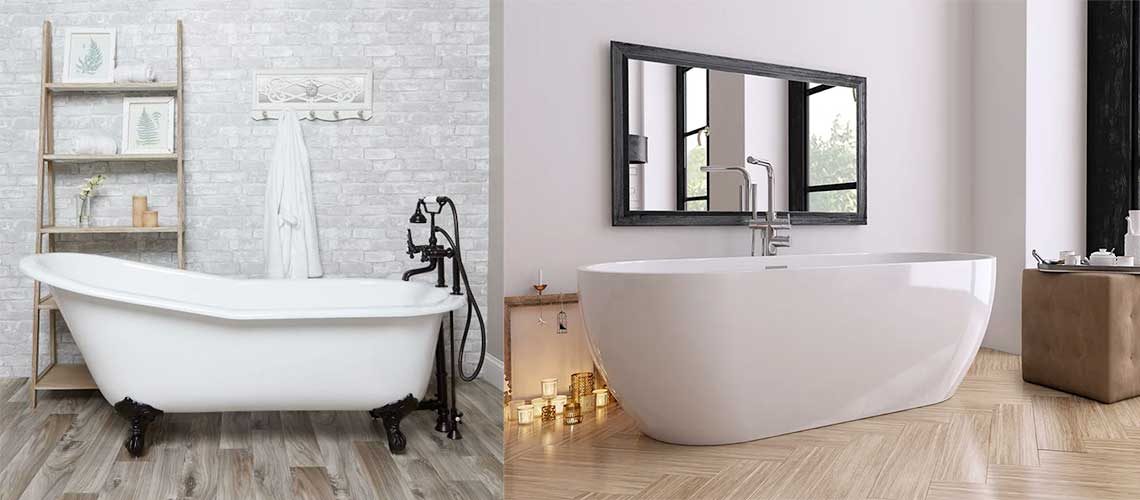 Acrylic vs. Cast Iron Bathtub: Full Comparison
Since acrylic and cast iron are both heavy-duty and elegant at the same time, people tend to use either of these two materials for their bathtubs.
They both provide an aesthetically pleasing look with their simple, clean, and fancy polished finishes.
As the popularity of these materials continues to rise, many wonder which they should use for their bathrooms. 
That's why in this post, we'll compare acrylic and cast iron tubs and discuss their qualities and attributes to help you decide which material to use in your next bathroom remodel.
Let's get started!
Acrylic Bathtubs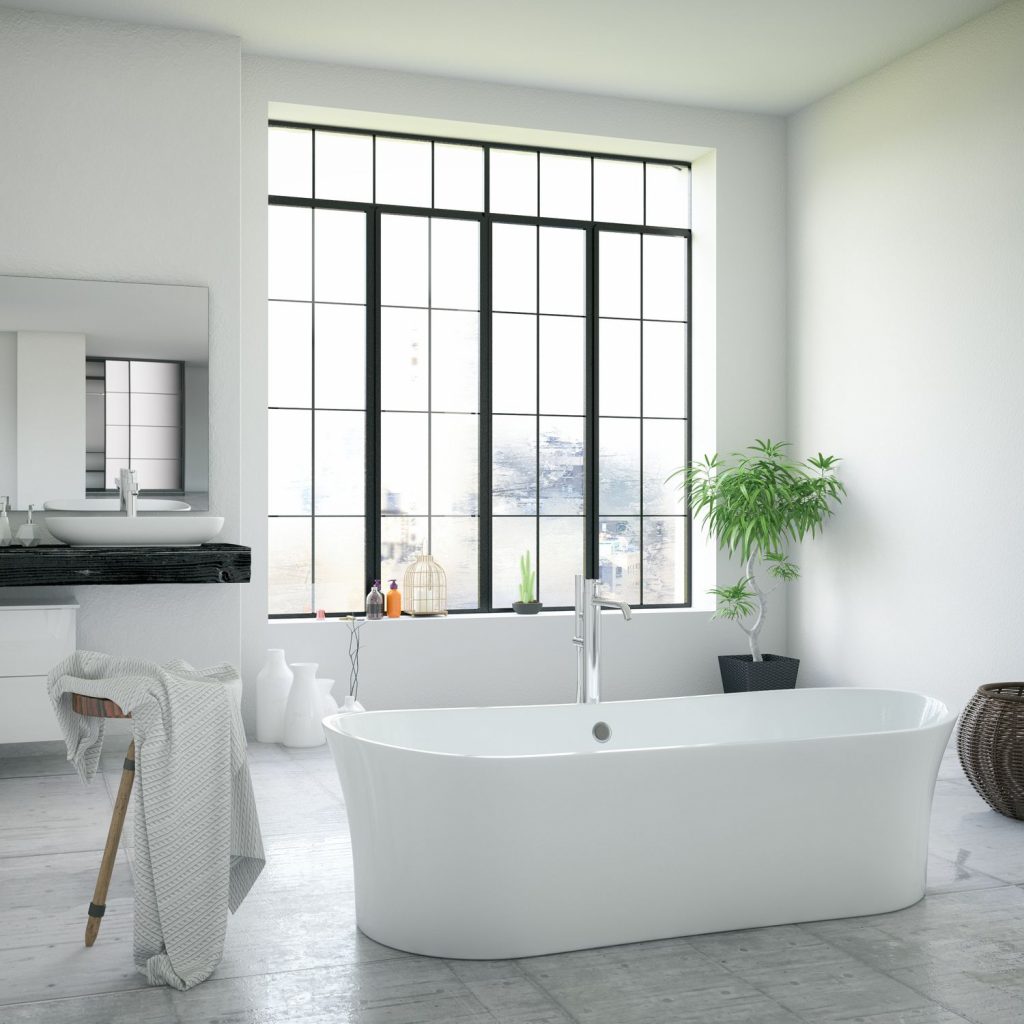 Lightweight would be the best way to describe an acrylic tub, which means it can be placed on any level of a home without additional support for the floor.
Most manufacturers use acrylic vacuum-formed sheets and sometimes add some fiberglass to make it more durable. 
Moreover, acrylic tubs come in various colors, shapes, styles, and sizes.
Since they are lighter, these tubs come at a more affordable price.
Also, these tubs are easier to maintain and fix whenever problems happen occur.

Cast Iron Tubs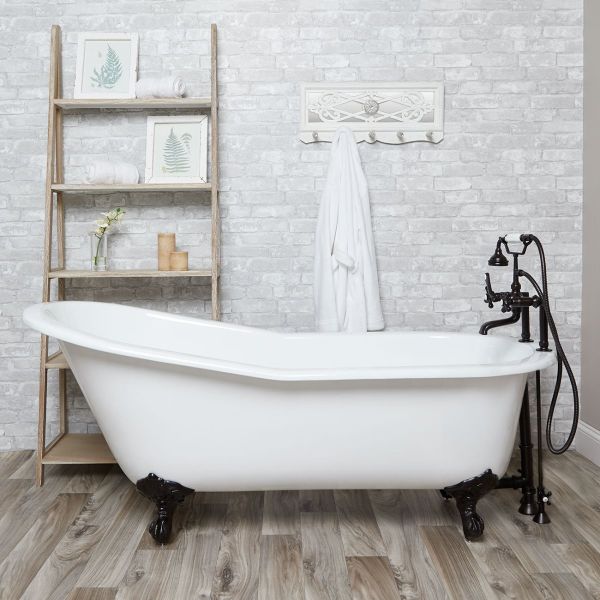 The first thing to mention about cast iron tubs is that they are extremely heavy.
Cast iron tubs are made out of melted iron ore – the metal used in these tubs provides durability and increases the lifespan of your bathtub.
Additionally, cast iron tubs can retain heat, which means you won't have to worry about enjoying a warm bath in this one.
Since cast iron tubs are made of melted iron ore and take some time to make, they are more expensive.
Regardless of their weight and price point, these tubs still sell out because of their elegant, classic look, making them a timeless piece for every bathroom.
Not to mention, they have a longer life span than acrylic tubs and will literally last for decades to come.
Unfortunately, installing this tub may required additional floor support because of its weight. 
A Brief Comparison Between Acrylic and Cast Iron Tubs
Cast iron and acrylic both have their advantages and disadvantages.
However, they are both excellent choices as materials for a bathtub.
In the end, people tend to choose which material they want based on their appearance and budget.
To help you break down your options, we've gathered some points that will make your decision-making easier.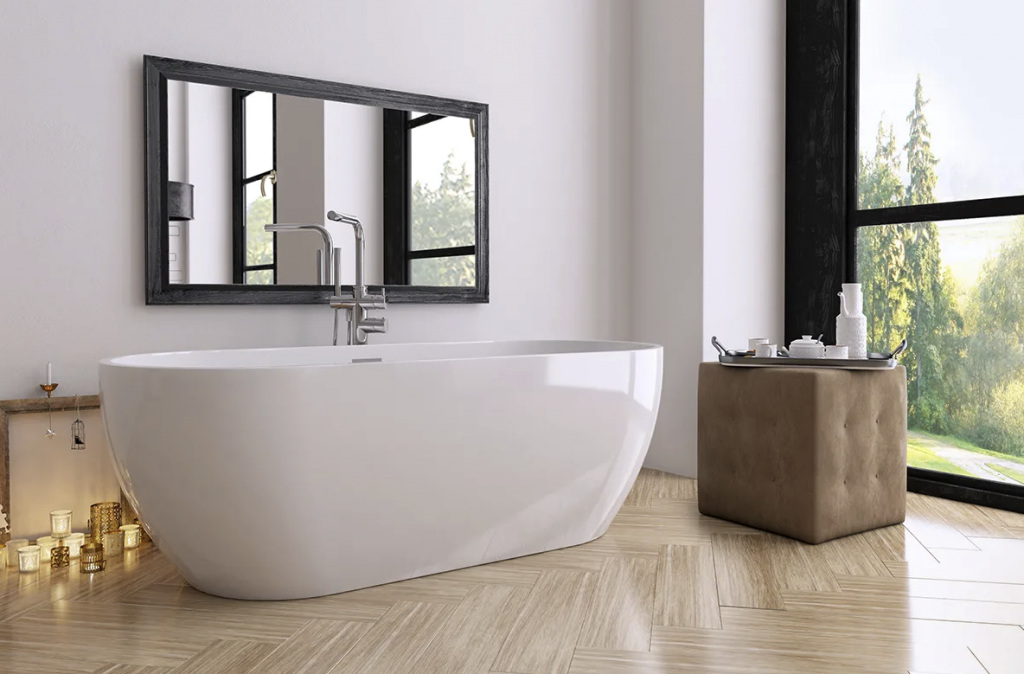 Price
If you're on a tighter budget, an acrylic bathtub is going to always be more cost effective and there are tons of affordable acrylic tubs in the market.
On the other hand, if you have the budget to spend more on the aesthetics and longevity of your tub, then buying a cast iron tub can be an option.
Just keep in mind that a cast iron tub can cost you two or four times more than acrylic. 
Moreover, the costs spent on a cast iron tub don't end on its material; the installation can cost you more because it's heavier and can be more complicated to install.
In fact, you'll need to have floor support to set it up correctly, while for acrylic tubs, you can simply install it directly without any support. 
Materials
Since acrylic tubs are made of a mix of acrylic vacuum sheets and fiberglass, they can be resistant to chipping and breaking.
Acrylic is also a flexible material, which means you can opt to have different shapes of tubs depending on your preference.
Sadly, for cast iron tubs, there are only limited choices of designs due to their base coming from melted metal.
However, its material also prevents any crack or breakage, which means your tub can last longer than you can imagine.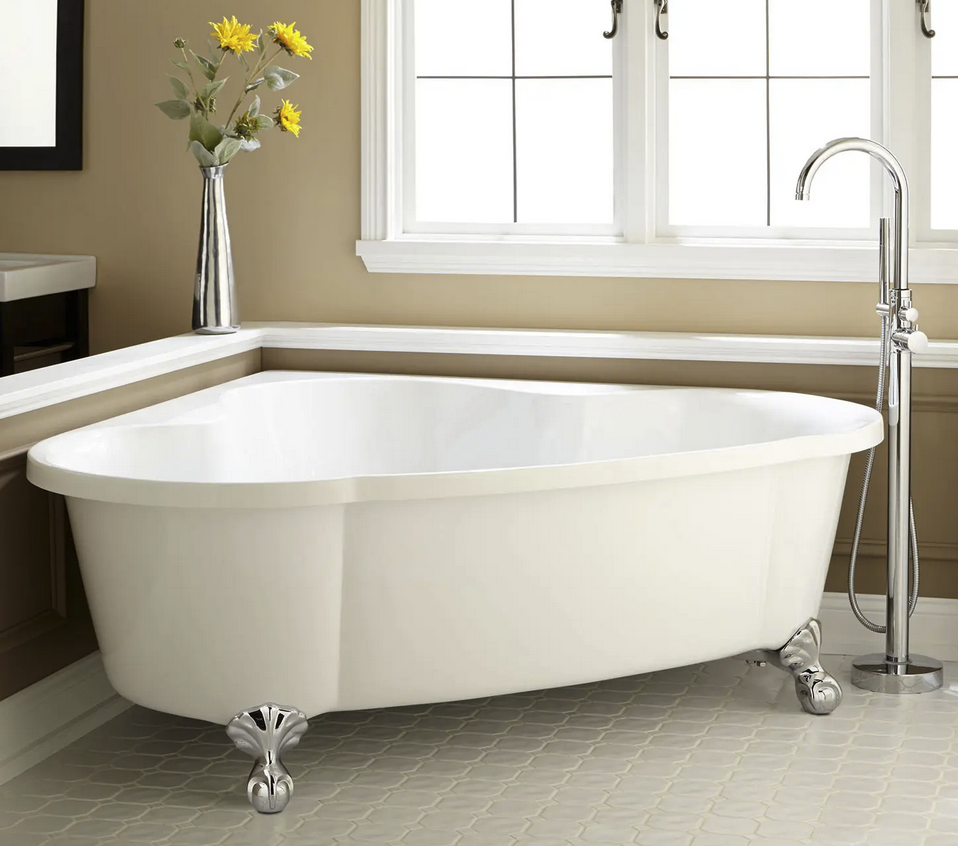 Insulation
If you enjoy warm baths, then another factor to consider is the insulation of your bathtub.
Despite its material, acrylic tubs do a great job at retaining heat, but nothing compares to the ability of  cast iron to absorb and transport heat, which will keep your baths warmer for longer.

Upkeep
In terms of up-keeping, it's evident that cast iron tubs are more durable and need less maintenance compared to acrylic ones.
But these two require the same amount of cleaning weekly with soap and water and a sponge or cloth.
And since acrylic tubs tend to stain quicker than cast iron ones, you'll have to clean them as often as you can.
What Bathtub Material Should I Go For?
If you want to customize the shape and size of your tub, opting for an acrylic tub would be perfect for you.
It's also budget-friendly, has a quick set-up process, and doesn't need additional flooring support.
However, if you want a more luxurious and long-lasting tub for your bathroom, getting a cast-iron one would be great, especially when you don't mind paying for its price. 
Cast-iron tubs also add more value to your home because they are highly desirable.