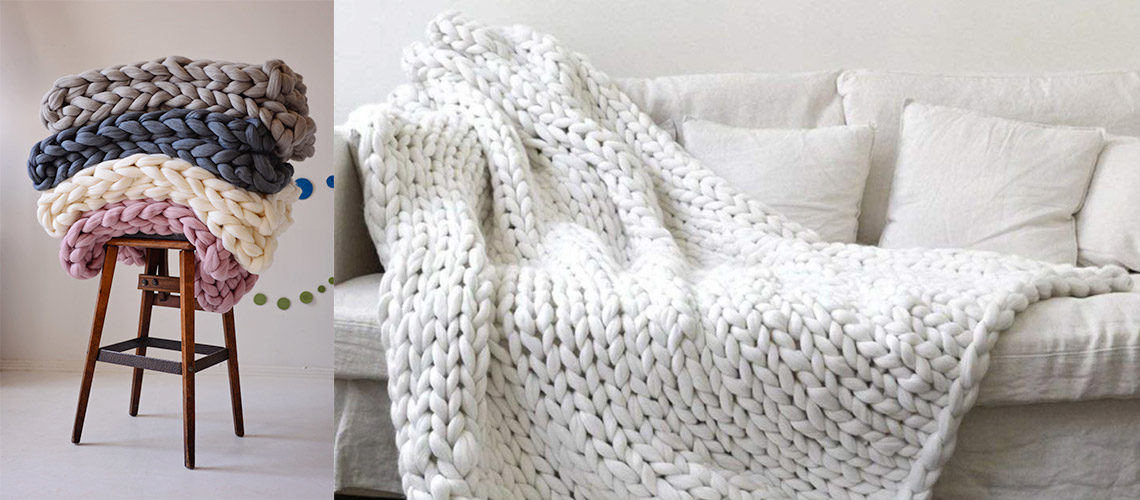 Luxurious, soft and beautiful! It is no surprise that Super Chunky Knitted Blankets are so popular.
Not only do they make a beautiful decor piece in any room, they are warm and cozy.
We have all kinds of knits here for you from wool to machine washable fabrics, higher price points as well as lower ones, all colors and sizes!
Check out these chunky knits and prepare to never leave your couch!
Here are the Best Chunky Knit Blankets of 2023:
Handmade Chunky Knit Blanket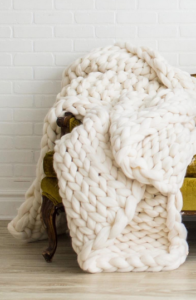 Knit with oversized, chunky stitches from unspun merino wool, this soft, warm blanket will charm any room you have it in as it delivers comfort, style and a little bit of whimsy.
Lane and Mae are known for their outstanding chunky knit wool blankets.
Made from 100% Merino wool, these blankets are naturally breathable and moisture wicking.
Choose from 12 gorgeous colors and multiple different size options.
Even though this one is a great price, the quality and craftsmanship will not disappoint. Also, keep in mind the dimensions, this is a large blanket!
EASTSURE Chunky Knit Blanket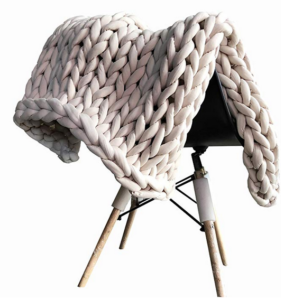 We love this Chunky Knit by EASTSURE because it is available on Amazon, which means Amazon Prime shipping, it is super soft, and it is machine washable!
The casing is made of 20% cotton + 80% polyester. The stuffing is siliconized micro hollowfibre.
The material and quality design of this blanket makes it machine washable and durable, unlike many of the wool-blend ones that are harder to wash.
Cuddle up with this cozy blanket that comes in a variety of sizes from a baby-sized blankie to a kind sized bed throw.
Because it comes in a variety of sizes, this EASTSURE chunky knit blanket makes a great baby shower gift, housewarming gift, or holiday gift.
Pottery Barn Colossal Chunky Hand-Knit Throw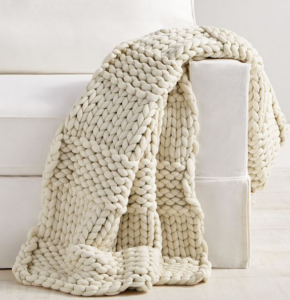 Made with 100% acrylic, wrap yourself up in the cozy comfort of this Pottery Barn Chunky Handknit Throw.
The neutral colors of this throw will surely match any room in your home.
It is also Oeko-Tex Certified meaning that it is certified as a product that is healthy for you and the environment.
This throw is 44″ W x 56″ Long and is dry clean only.
Keep an eye on this one, it usually goes on sale during the holidays!
The Citizenry Nublado Throw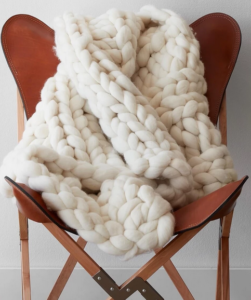 This chunky knit blanket by The Citizenry is luxuriously hand woven in Peru by The Weavers of San Pedro.
It is made from thick, 100% Peruvian Highland Unspun Wool and is looped entirely by hand.
The quality of the wool is soft and warm, not itchy or irritating to the skin.
According to their website, each throw takes an entire day to make which is pretty amazing!
This blanket comes in one color, Ivory, and two size options:
Throw Blanket: 40″ W x 50″ L
Bed Blanket: 60″ W X 90″L
Because this blanket is 100% wool, it is best cared for by spot cleaning as needed or dry clean only to keep it's gorgeous texture and appearance.
Chunky Wool Studio Merino Wool Blanket
With sizes starting at small baby blankets to King size bed throws, this gorgeous Merino Wool chunky knit comes in 14 color choices and is handmade.
If you need a specific size, they will even custom make it for you.
Each blanket is made to order by hand using arm knitting techniques.
Merino wool is a natural fiber grown by sheep. It is thinner and softer than regular wool, which makes it easy to wear on your skin.
It doesn't not cause itching or skin irritation. That is why it makes such a great material for a chunky knit!
Merino wool is soft and luxurious, natural, helps regulate body temperature, and keeps you dry and sweat free.
Just remember, Merino wool is dry clean only!
Oscar/Oliver Luca Chunky Knit Throw Blanket in Ivory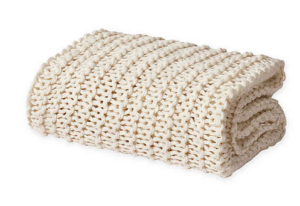 These blankets are expensive, so we wanted to include an affordable option as well but don't let the cheaper price make you believe the quality isn't there!
This soft and beautiful throw by Oscan/Oliver Luca can be conveniently found at Bed Bath & Beyond for $49.99!
With five neutral colors to choose from, this blanket is ideal for families with kids or pets.
It is machine washable and a great price, so you won't feel bad if it gets stained or dirty.
This blanket is 100% acrylic and measures at 60″ W x 50″ L.
Chunky Cable Knit Throw Blanket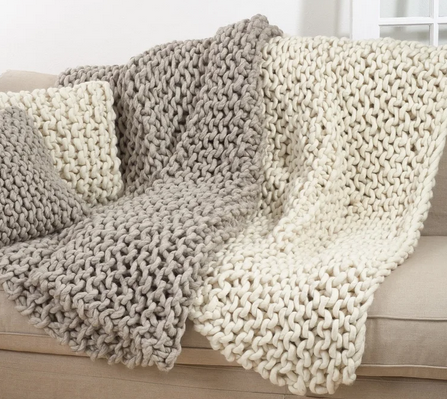 Stay cozy and comfortable with this chunky cable-knit premium wool throw blanket.
The wool construction provides extra warmth, while the chunky design allows for air circulation and unparalleled comfort.
This stylish throw looks great on a bed, sofa, or across your favorite chair.
Cheer Collection Chunky Cable Knit Throw Pillow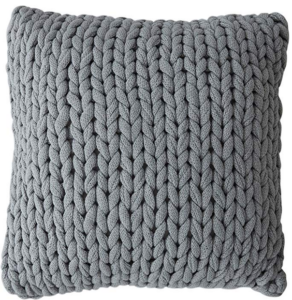 Let's add a plush Chunky Knit throw pillow, because why not!
If you are looking to cozy up your home even more, then add one of these.
These stylish 18×18 decorative throw pillows accent your bedroom or living room decor.
Choose from 4 different neutral colors!
Each pillow is hand woven and best of all, they are a great price!
With the cooler weather the Fall and Winter months bring, this is the perfect time of year to invest in one of these beautiful throw blankets!
They also make great gifts for baby showers, house warming, birthdays, Christmas and more!