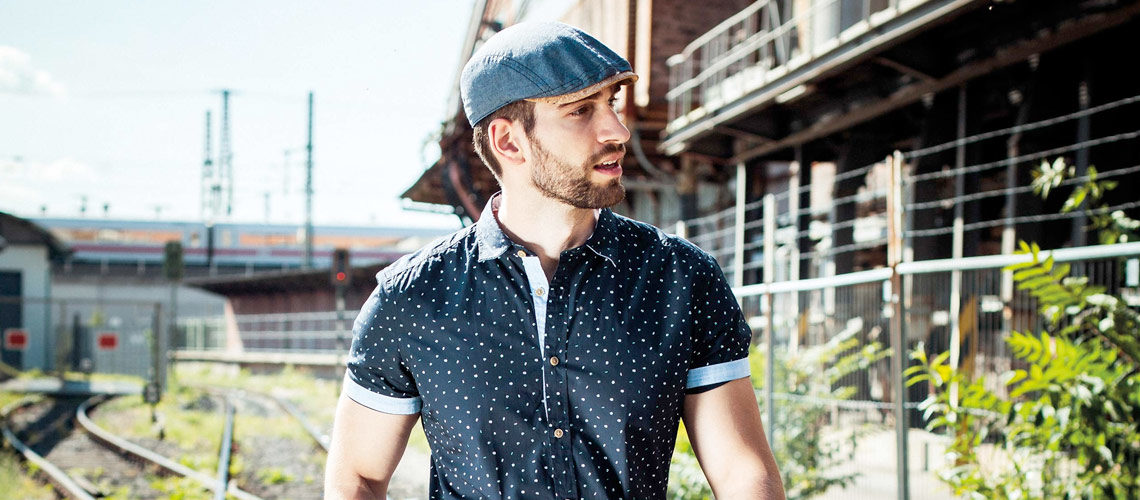 Irish hats have always been a popular fashion statement and they are among the most stylish hats available.
If you like these hats but have never purchased one, chances are you don't know which brands are the best!
In this article, you will find the Top 5 best Irish hats based on style, quality and fit.
We review the main features of each brand plus the pros and cons so that you can choose the right hat for you!
Here's the Best Irish Hats to Keep You Warm and Stylish in 2023:
Here are our top 5 picks of the Irish hats that are made of tweed:
1. John Hanly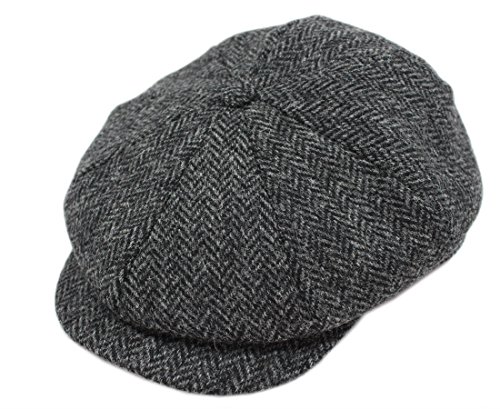 John Hanly's Irish hat is designed to provide your head with adequate warmth in the bitter cold of winter.
It is made of wool which is very soft to the touch so you won't have any awkward feeling while wearing it. It is also made to be durable so you can enjoy it for longer.
You won't experience any problem with woolen flakes that comes out of the inner stitches after being used many times as other hats and caps do.
Because of this, you can be confident that your hat will endure the test of time.
There are users of the John Hanly hat who complain that hat isn't that sturdy and it does not retain its shape but the majority likes how it fits them.
So if you want a hat that fits well and bends to the way you want it to look like then you would need to compromise in the aspect of sturdiness.
Another benefit that the hat has is that you can find the size that fits perfectly on your head because of the five (5) different sizes that are available.
The company's experience spans through four generations of Irish hat manufacturing so you can expect that you invest is going to bring the value that it deserves.
The hats are of high quality and precisely crafted for comfort, durability, and style.
The products that John Hanly produces are all of premium quality and durable. The Irish hat that they have is available in different sizes so it's perfect for every kind of user.
However, sturdiness might be an issue to some so don't expect the hat to stay in shape as you use it over the years.
Pros
Soft texture and good build
Made of 100% wool material
Effectively provides warmth to the head
Durable and guaranteed to last for years
Gives great value for the money
Cons
Sturdiness is in the middle level
Buy Here
2. Biddy Murphy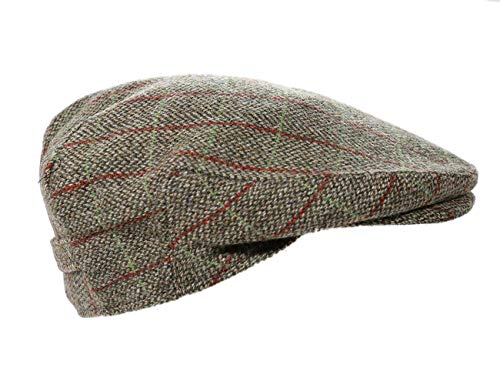 Made of Donegal Tweed, the Biddy Murphy Irish hat provides next level comfort for every user and it's also made to be durable enough to last.
It has specially designed lining that will help protect the head from the biting cold of a chilly day. There are four (4) different sizes of this hat that are available so you're sure to find the one that will fit you perfectly. 
When it comes to negative points, the Biddy Murphy hat lacks such and users just enjoy using it without any problems. So the hat can actually be a safer choice for you.
One of the features that users like is that the hat is made in Ireland so it's actually made in the country where Irish hats originated so there's really nothing less to expect from it.
Biddy Murphy, just like any other caps made by the company only has positives and little to no negatives at all.
It is made from Donegal tweed which is known to provide adequate warmth during the winter.
Pros
Comes directly from Ireland, the originator of the hat design
Stylish and comfortable
Smooth to the touch and gives warmth to the head
Made of Donegal Tweed
Cons
Still needs testing if it's really a perfect product
Buy Here
3. Mucros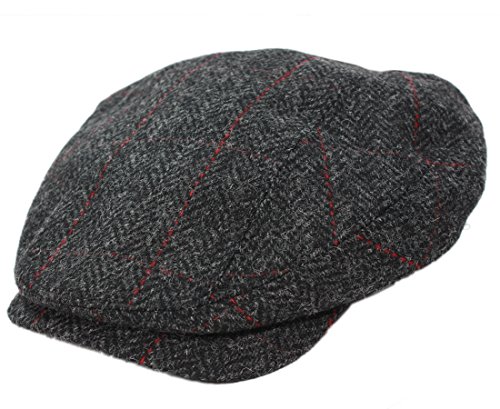 Mucros is designed to be charcoal or black in color with red lines adorning the latter giving it luxury and class which Irish hats are known for.
It is made of high-quality wool tweed which is a great material for providing comfort and warmth to the head. Additionally, the polyester lining of the hat gives it more durability.
One negative point about wool tweed hats is that you will need to have them dry cleaned when they get badly soiled.
That means that you'll be spending more on maintaining it. Mucros is available in different sizes to make sure that it fits every kind of user out there.
The elastic side caps that it has makes it sit more securely on your head.
You won't experience your head getting quashed while wearing the hat and its unisex design means that even females will be able to wear this luxurious looking Irish hat.
Mucros hats are beautiful because of the dark color schemes that it has combined with awesome patterns given by the company.
Made with high-quality wool, this hat is going to be a perfect layer of protection and warmth to the head during the cold days of winter. But choosing this hat will mean spending more money on maintenance since it requires to be washed through dry cleaning every time.
Pros
Great color combination, style, and design
Gives your head the warmth that it needs
Elastic bands on the sides make it fit better and more securely on the head
Unisex design makes it fit for every gender
Polyester lining provides better strength and durability
Cons
Needs dry cleaning so you will need to spend more on maintaining it
Buy Here
4. Hanna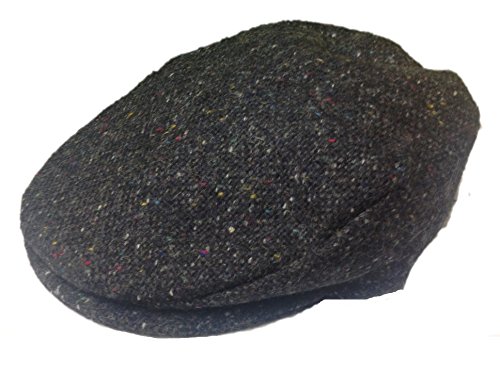 One of the things that we like about Hanna which makes it distinguished from the other brands is its handmade build and design.
A hat that is made with experienced hands is definitely better in terms of stitching and overall design. It is made of high-quality Irish wool with five (5) different sizes providing you with the freedom to choose the one that best fits your head.
The hats are made in Ireland which means that it preserves the original design to provide awesome style every single time.
One of the problems that users have reported is that the band of this hat is a bit thin.
If that isn't much of a problem to you then this hat will be a perfect head accessory with the other features that it has.
Hana provides the user with more options in styling and looks with the many colors that are available. However, they don't produce bright colors because the darker ones bring better looks of elegance and style to the users.
Moreover, they are made with high-quality Irish wool that are given different dark color styles.
The band is thinner than other brands though and there aren't light colors available with this one so if that's a problem to you then Hana won't be a perfect option.
Pros
Handcrafted for better build and style
Made of high-quality Irish wool
Available in 5 different sizes (Small, Medium, Large, X Large, and XX-Large)
Provides warmth and perfect fit
Made in Ireland, the place where these hats originated
Cons
Bright colors are not available
The hat band is thinner than other brands
Buy Here
5. Donegal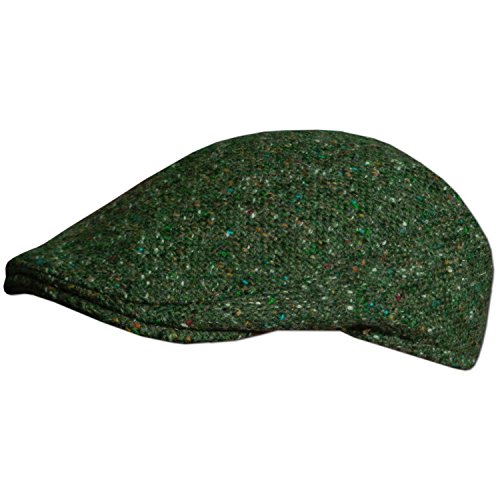 Donegal's Irish hats are made of 100% wool in the country where these hats originated, Ireland.
The Irish wool is woven to make tweed and shape it into the hat making it more durable with the material evenly distributed on along all faces and sides. There are five (5) different sizes that are available in these hats providing users with the option of choosing the best size that fits their head.
The hats are also available in other size categories giving you the option to get it for your kids as well.
One of the things that users point out to be leaning to the negative side is the absence of padding on the lining which is replaced by satin only.
So if you are looking for total protection against winter cold then Donegal hats won't be as perfect as the other brands.
Another negative point that users noticed is on the color of the hats being true to what is shown in the pictures when in an area with adequate light but looks darker when in darker areas. If the color isn't a concern to you then these hats would be great.
The quality of the materials used and the hat's overall quality is on par with the other brands so there wouldn't be any issue about that.
The availability of a variety of colors makes the hat fit for different people who are looking for certain shades and style.
Made of 100% wool, Donegal hats are made to deliver just enough warmth and comfort while taking your style to the next level. The absence of padding is a downside though so if that's what you are looking for then these hats are not a perfect choice.
Pros
Made from 100% high-quality Irish wool
Great fitting, durable, comfortable
Different colors available
Handcrafted and made in Ireland
Cons
There is no padding on the lining of these hats
Buy Here
The Basics in Choosing an Irish Hat
First of all, it's the budget that you need to put into consideration when choosing an Irish hat.
There are hats that cost more than the other. Be sure to have a clear idea of the budget that you have so you won't end up overspending on this piece of head accessory.
Next, you will need to know what color it is that you want or what occasion you'll be wearing the hat to.
Darker shades are perfect but if you are after style then you can pick brighter colors.
The material and build are important considerations as well. If you need something to protect your head from the bitter cold of winter then be sure to go for those that are made of 100% wool.
Just remember that woolen products are meant to be dry cleaned so be ready to spend more on maintenance.
Lastly, you must also make sure that the hat fits your head perfectly so choosing the right size is important.
Go to a local shop and see what size fits you well and take note of it before ordering online. Sizing charts are also available so be sure to measure your head size and find the best one on the chart which fits perfectly on your head.
These hats are a perfect way to up your style but comfort, design, looks, and budget are other considerations that you need to think about.
If you're still undecided then ask the opinion of others so you can pick the best one that will look great on you.