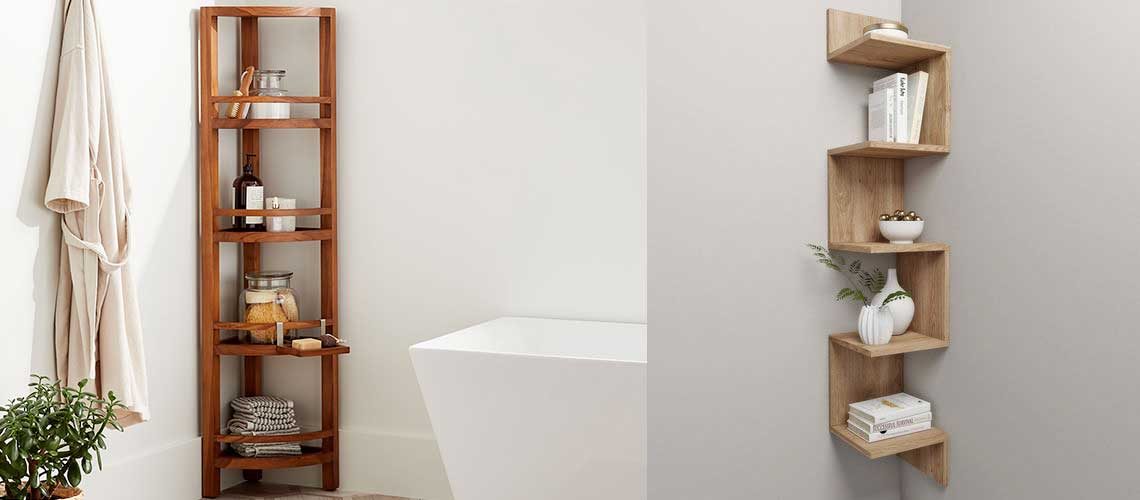 Planning or moving to a new home requires a dedicated time especially when it comes to the design and the concept making.
You don't want to just take for granted your dream house seemingly you don't care how it would look like right?
When it's your dream house, you want to get into the nitty-gritty details of it and you hope that all of it will fall into place as planned.
Of course, it all depends on the budget.
What's often overlooked in the planning phase are the corner shelves that may add some fresh look and space to your interior design.
Some may find no practical usage of it but having a corner shelf actually adds some beauty and more importantly, it gives you an additional area for display of your home décor.
This is what this article is about. We have curated the best corner shelves there are and it's your choice which you'll find fitting and suitable in your interior home layout. 
Here are the best Corner Wall Shelves for your home: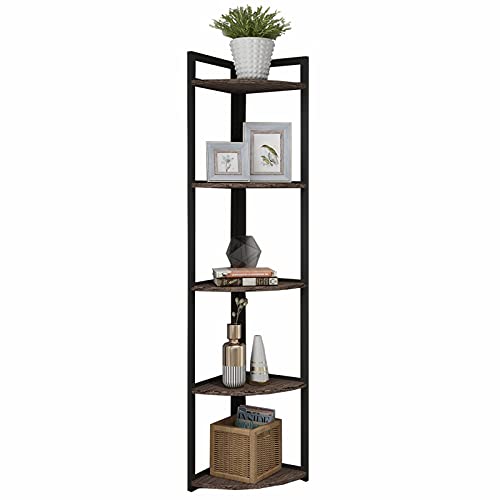 To kick off our list and in no particular order, the Superjare Industrial Corner Shelf is a perfect choice if you want to keep your cornered areas organized.
It boasts of its size which has a dimension of 11.75 x 11.75 x 58.93 inches, which can hold up a lot of items on one shelf.
It weighs 20.2 pounds which is still lightweight considering the height of the shelf. 
What reviewers love about the Superjare Industrial Corner Shelf are its stability and safe design.
It is minimalistic which allows you to space a substantial amount of space in your home layout.
It is sturdy and solid, and its minimalistic approach easily helps you mix and match the style to other furniture. You can choose from two different variations of the shelf as well!
So if on top of your head is a space-saving corner shelf that perfectly describes what you're imagining for your home design, then this might be the right choice for you!

Some may think that classy and convenience would never coexist. But the Frenchi Home Furnishing Corner Stand proves them wrong. 
Its positive and strong features include its classy style made from high-quality wood with a 5-tier rack for ample storage.
In addition, you get to pick two color options that would suit best for your interior design.
The technical details of this corner shelf would simply blow your mind as it weighs 7 pounds with a dimension of 13.4 x 13.4 x 50inches.
With its height and materials used, you get the most lightweight corner shelf for your choice. 
Another reason why this corner shelf shouldn't be left out in this list is its overall functionality and easy assembly.
Though it is a bit small compared to the others ahead of the list, it still works perfectly for its design and usage. 
There are some reviewers that complained of its sturdiness, however, it doesn't discount that its classy and rustic look still goes well with the convenience and purpose of the corner shelf.
So if you're looking at an old, classic, and rustic feel for your shelf, check this out.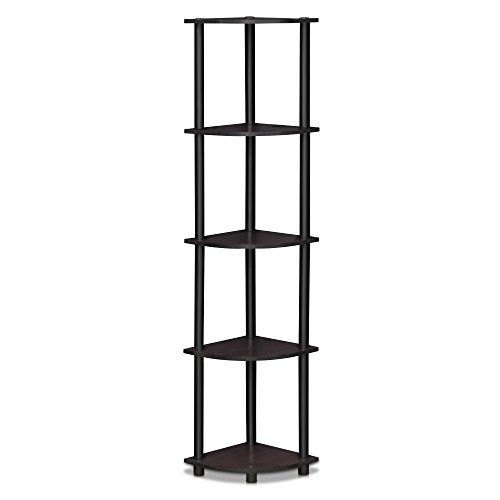 For some, convenience is always part of the equation, especially in decision-making. It is never a question and is an important factor most especially in your home layout.
This corner shelf is just the answer to that.
This simple design corner shelf is one of the most lightweight racks on the list which weighs 9 pounds only with a dimension of 11.6 x 11.6 x 57.7 inches.
Isn't that amazing? 
Though this rack looks slim, clean, and nice, some reviewers still complained about the quality of this corner shelf.
Some have pointed out the materials used for the rack where it doesn't look solid and it looks cheap. 
However, it doesn't discount that its style and design make it perfect for a new display rack on your corners.
It can still hold up to a lot of things that will still accommodate and add space for you.
So if simplicity is your priority and convenience is your choice, then pick this as the corner shelf for your home.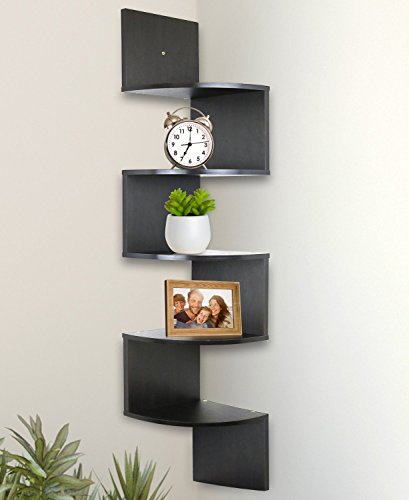 If words like beauty, durability, and functionality are what you're imagining for your corner shelf, then the Greenco Wall Mount Corner Shelves are what you should be looking into.
Because of its durability, each rack is well supported with one another giving you an assurance that keeping your items on it is well secured.
This type of shelf is wall mounted which utilizes the wall space of your house.
The shelf is made of a laminated MDF material which gives it a shiny look from afar.
It also gives you 3 colorway variations to choose from, thus giving you extra options which would complement more for your home design.
Though it is wall-mounted, it still weighs 7 pounds with a dimension of 5.5 x 8 x 8 inches.
Still a relatively lightweight corner shelf for its material and height.
What sets this corner shelf apart from others is how decorative and how well functioning it is.
With a reasonable price and decorative finish, it is proven worth every penny you spent. 
Many reviewers applaud its easy assembly but there are a few ones that criticized its material. 
Nonetheless, if you're looking for a well decorated and well-functioning corner shelf that's wall-mounted and that saves space for your home, this is the perfect shelf for you.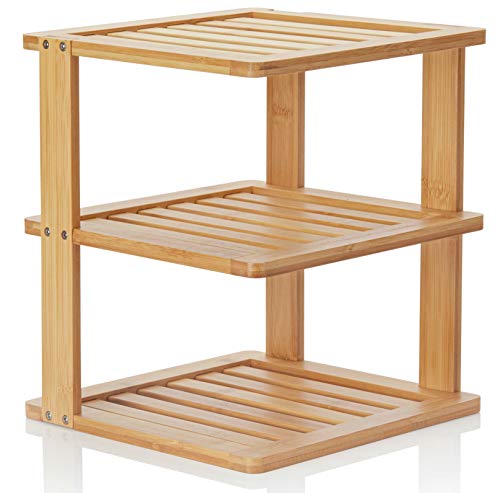 Fourth on our list is this practical, good-looking yet simple shelf that's best to keep towels, magazines, and other items.
The Beryland Bamboo Corner Shelf is as versatile as it gets as it is a multifunctional corner shelf that's used to keep a lot of things.
It is small with dimensions of 9.9 x 9.9 x 11.4 inches that only weighs 2.3 pounds. It is easy to move around because of its lightweight and height.
It also has an eco-friendly feel as the material used is bamboo.
Many reviewers give this corner shelf a two thumbs up because of its compact design and functionality.
It can be used for different purposes.
In addition, its maple finish gives it a really nice look to put right on the corner of your home.
If you're looking for a much smaller corner shelf but still proves its functionality, this is a great option for you!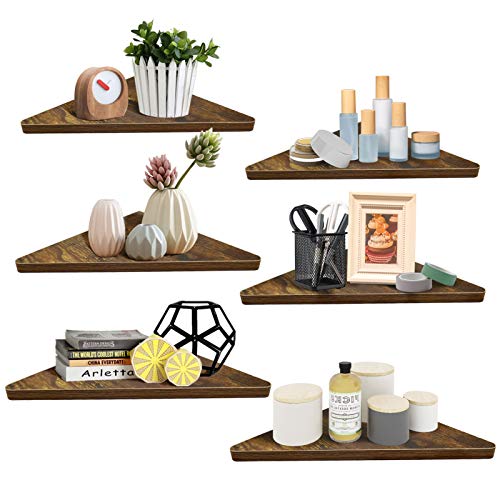 The Horlimer Floating Corner Shelves come in a set of 6, rustic design shelves that are best for your bathroom, kitchen, and even bedroom.
This shelf keeps your items secure and organized and is very convenient to use.
It is also a space saver with the shelves mounted to the wall.
The positive and strong features of this shelf are its easy installation or assembly process and the sturdy materials it is made of.
The Horlimer Floating Corner Shelves are made of a recycled composite wood which weighs 6.7 pounds and has a dimension of 12.99 x 12.99 x 2.36 inches.
Because it's a recycled material, it has no color variations to choose from but its rustic design offers a unique vibe to your home design.
There are many reviewers that give this shelf positive feedback because of its sturdiness, ease of installation, nice finish, and overall functionality and usage.
With the purposes it is designed and made for, this shelf gives you more than what you're paying for.
So if you're looking for a sturdy wall-mounted corner shelf that's convenient, this is a good choice for you!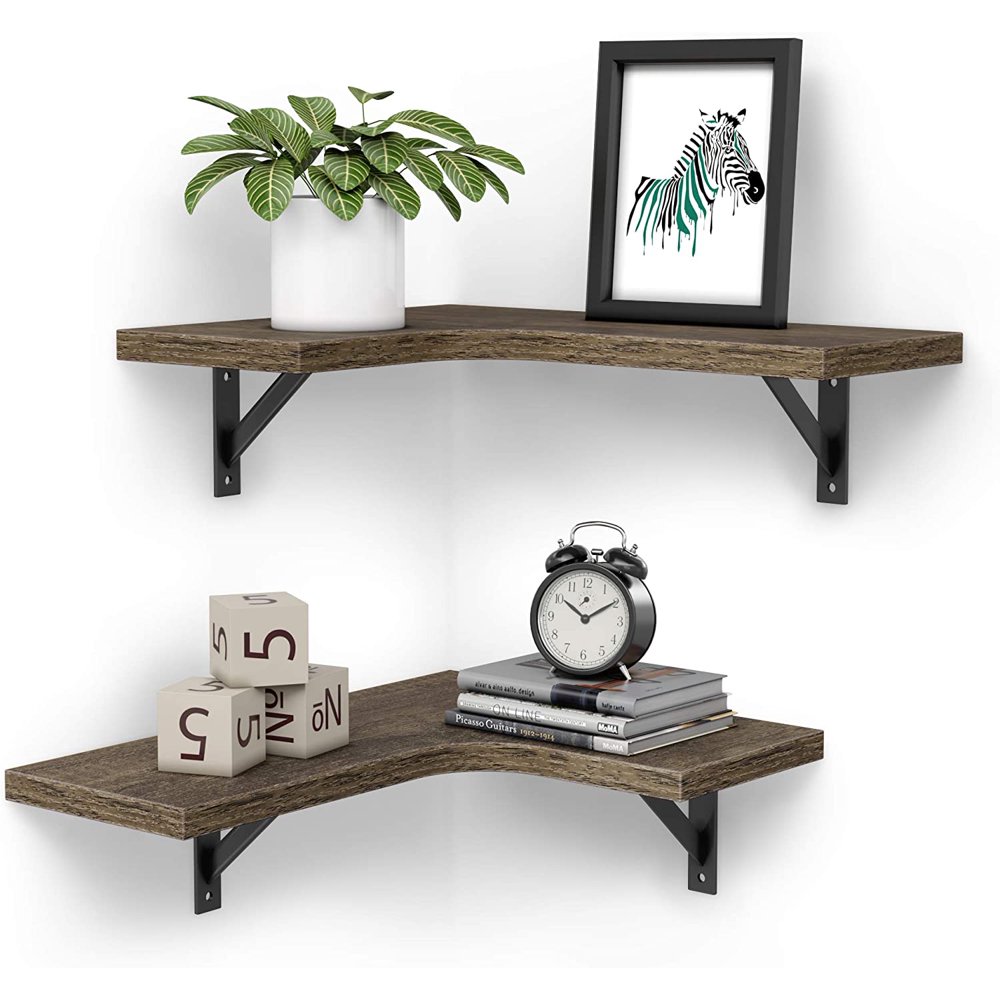 Now, we are wrapping up our list, the Homemaxs Corner Shelf cannot be left out as this sophisticated and classy corner shelf made of premium materials is a legitimate contender for the best corner shelves for home design.
It is a well thought of and creative design, with a multifunctional purpose.
This corner shelf is made of engineered wood and offers you 3 colorway variations to choose from.
While it is made of premium materials, it manages to keep it lightweight with 4.7 pounds of heaviness and a dimension of 15.7 x 11.8 x 5.9 inches of height and width.
Because of its 3 color options, it gives you enough choices to make that would fit well with your home design.
Very versatile in creativity and space.
Many reviewers applaud this type of shelf because of its convenience, creativity, and functionality.
It is also easy to set up, same as other wall mount corner shelves, but its edge is its design factor and overall convenience.
If you're looking for a creative shelf that doesn't take much space and is wall-mounted, look no further and check out the Homemaxs Corner Shelf.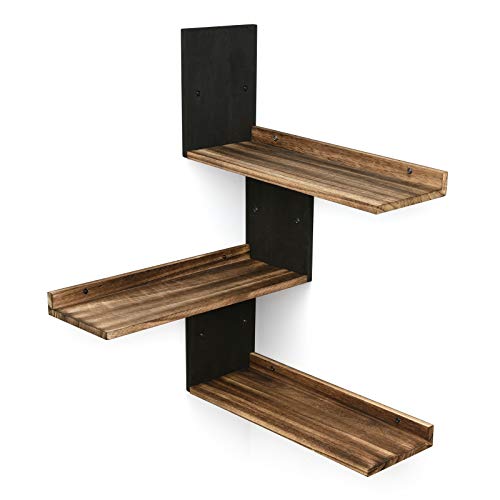 To round up our list of the best 8 corner shelves for your home design, the Miratino Corner Wall Shelves is one that we will never forget to include.
This floating corner shelf is best positioned in the bedroom and living room giving you extra space to keep your items.
If you're looking for something that would stir your creativity, this corner wall shelf is one that will tickle your creative brain.
It comes in a set of 3 with a modern and innovative design and is made of solid material.
The material used for the Miratino Corner Wall Shelf is wood which makes it very sturdy and long-lasting.
It offers 2 colorway options that would allow you to choose which would best fit your home layout. Its dimension is 16.5 x 7.36 x 2.76 inches and weighs 2.35 pounds.
The Miratino Corner Wall Shelf is a well-designed floating shelf which is has a unique and eccentric design.
With two different color options, you can pick and choose what's best for you.
Overall, this floating corner shelf has received a lot of positive feedback from its users and reviewers.
Its elegant and minimalistic design, ease of setup, and functionality give this shelf a 5-star rating. 
So if you're looking for a sturdy and stunning wall-mounted corner shelf, then the Miratino Corner Wall Shelf is for you!
With all of these in mind, we will give some answers to some frequently asked questions from different users.
FAQs
Should you consider buying a corner shelf for your home?
To begin with, if this is your dream house that you are planning for, then having a corner shelf for your home is a good investment.
Because of its space-saving feature that also adds to the overall aesthetic look of your home, you should get one.
Which is better, wall-mounted or a free-standing shelf?
This would depend on your taste and personal opinion.
The big advantage of a wall-mounted corner shelf is that it saves a substantial amount of foot area compared to the free-standing shelf.
Conversely, the smaller free-standing shelf looks good if you are a minimalist.
Can I check on the quality of the item before purchasing one?
One of the more credible ways to check the quality of the item without purchasing is by looking into Amazon and reading the reviews section.
You can take a look at the personal opinions of those that bought and used the product itself.
With that, you can base your choices and decide if what you're looking at is of good worth for your pocket and if it fits right in your budget.
However, if possible, checking out the stock in person would be best.