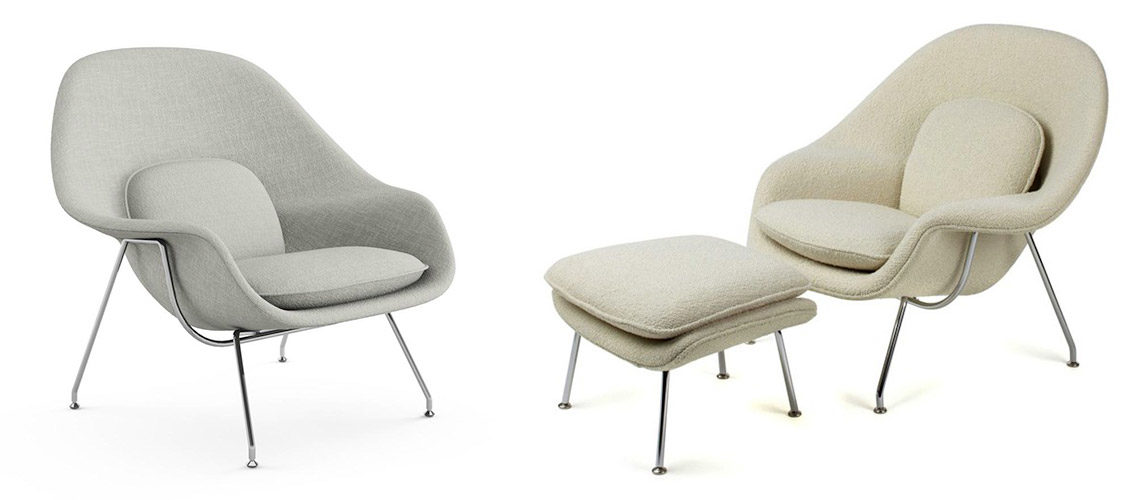 Deciding where to get iconic items that don't cost that much but still looks authentic from every angle is truly a challenge.
Furniture lovers are mostly confronted by good reviews of 'not-so-good' products reviewed by people who haven't even seen the product itself.
For instance, there's a furniture item called the Eames chair which has become the most replicated product in history. 
The sad thing is that most of these copies don't even last a few years.
It does not even come close to the original one which lasts decades.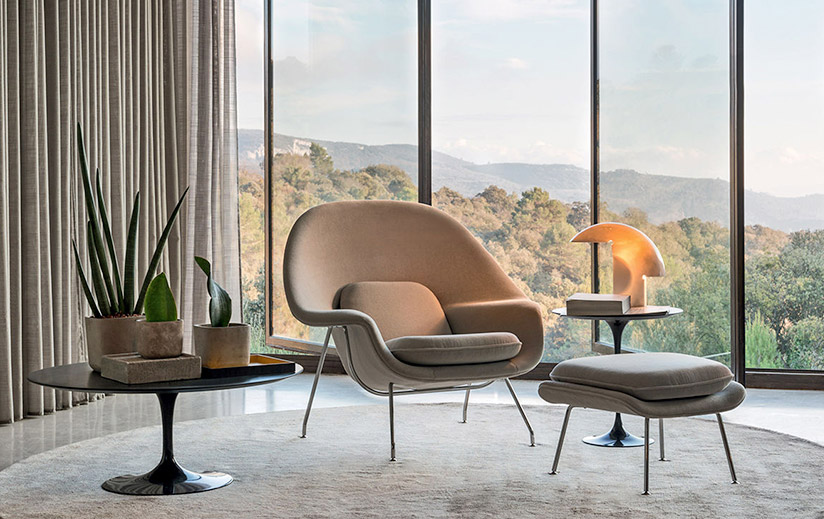 However, there still are people who are willing to spend thousands of dollars just to get a feel of luxury into their homes.
Another item that is popularly copied and reproduced is the womb chair.
That is why it is important that buyers should be careful about choosing one.
To help you in finding the best womb chair replica out there, we've listed down the 5 best products out there for you to choose from.
Here's the Best Womb Chair Replicas of 2023:
1. Manhattan Home Design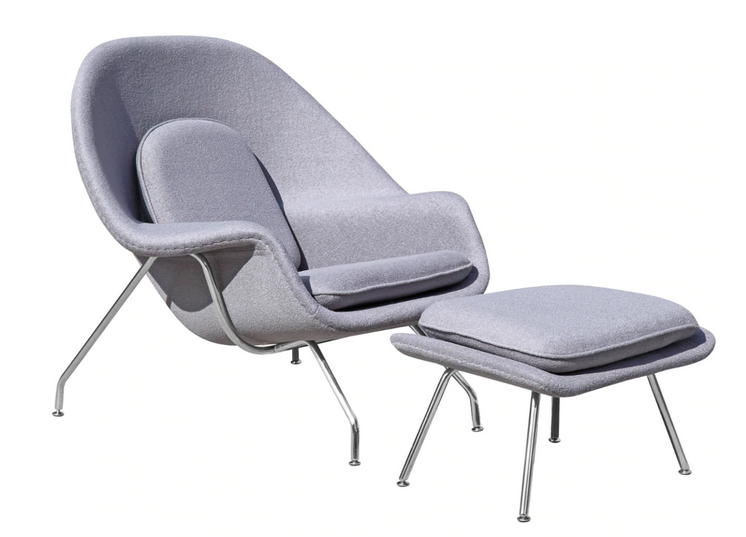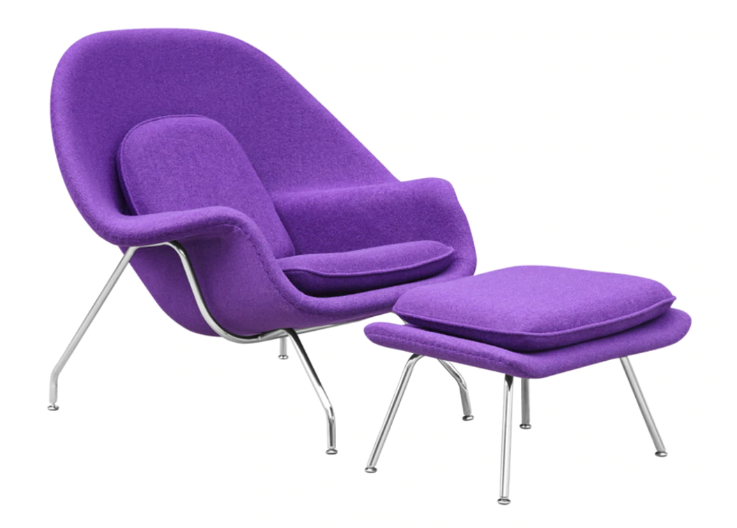 Style: Modern
Frame Material: Premium Grade Stainless Steel
Upholstery: Boucle Fabric – comes in multiple colors
Type: Lounge Chair
Brand: Manhattan Home Design
Price: $1048
The designers and craftsmen at Manhattan Home Design really know the art of creating replicas.
They may not have the same broad selection in terms of color palettes just like what the other manufacturers have but the colors that they have are really close to the original.
In fact, it would be hard to identify which one is the real thing and which one is the replica.
They deliver the chairs fully-assembled and are of the same size as the real ones. 
Even the architectural specifications are really close to the authentic product by Saarinen.
With its premium Boucle fabric upholstery (which is the same material as the original womb chair), this one is truly a value-for-money since it only costs $1048 and already features a premium-grade stainless steel frame material.
2. Mid Century Womb Chair and Ottoman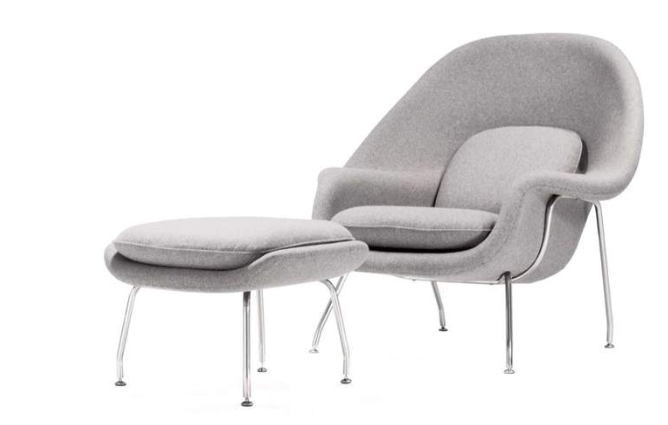 Style: Neo-Futuristic/Modern
Frame Material: Premium Grade Stainless Steel
Upholstery: Microfiber – easy to clean
Type: Lounge Chair
Brand: Design Within Reach
Price: $5966
When Florence Knoll challenged Eero Saarinen to create a chair that she could curl up in, she found the right candidate for the task.
The Womb Chair and Ottoman (1946) feature enveloping forms that continue as one of the most iconic representations of midcentury organic modernism.
Applying foam molded over a fiberglass shell created a single-piece form that perfectly facilitates a relaxed posture.
Manufactured by Knoll according to the original specifications of the designer.
Made in U.S.A.
3. Cashmere Womb Chair and Ottoman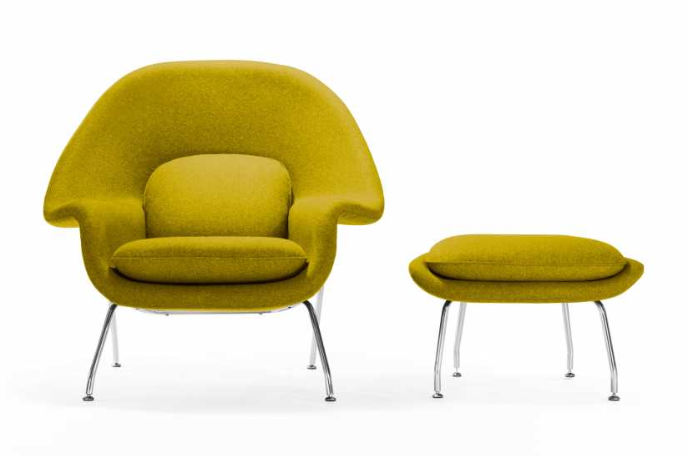 Style: Modern
Frame Material: Stainless Steel
Upholstery: Cashmere Wool – multiple colors to choose from
Type: Lounge Chair
Brand: Houzz Product
Price: $829
Another great womb chair replica that we found is via Houzz.
The original piece was created after Eero Saarinen got a request from Florence Knoll to design a chair that resembles a basket that is full of pillows.
She wanted something that she can curl up in and relax. And that was when the iconic design was born.
It has a sweeping design that has a touch of simplicity from different angles.
The movable cushions and indented armrests that it has are perfect for lounging, sitting upright, or even for slouching if you desire so.
It provides comfort and security at the same time because of the shape of its shell and it does so even without much help from the cushioning.
The replica found on Houzz comes with not only the chair, but also with the Womb Ottoman.
When it comes to the frame, you don't need to worry about it lasting only a few years because it has high-grade stainless steel that resists both flaking and chipping.
Your floor will also be protected from scratches and dents, thanks to its protective floor pads. Overall, it's a cheaper but nearly authentic alternative to the expensive originals out there!
4. Womb Chair and Ottoman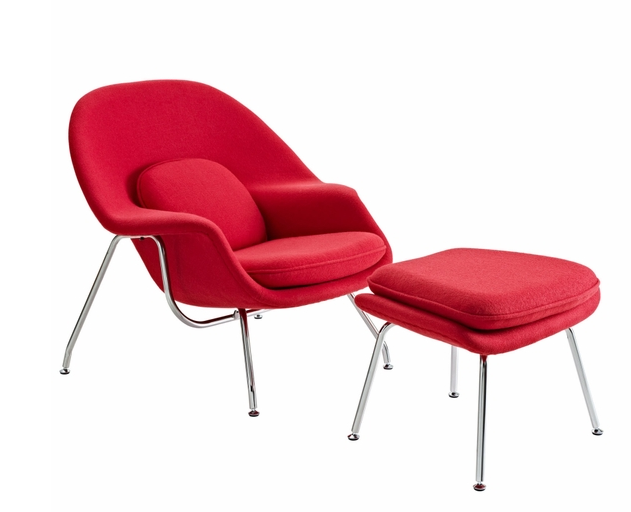 Style: Modern
Frame Material: Stainless Steel
Upholstery: Premium Cashmere Wool
Type: Lounge Chair
Brand: Kardiel
Price: $912
The Womb Lounge Chair & Ottoman by Kardiel is a wonderful set of furniture that is sure to add modern style to your living room or wherever you want to put it in.
It's got a stainless steel frame that ensures strength and durability so you can enjoy using it for longer.
What we like about it is its close resemblance to the original in terms of its architectural specifications and many other details. 
It's a high-quality replica that allows you to curl up, relax, and be comfortable while it envelops you.
With its stainless steel frame and mid-century modern design, it is sure to fit any concept or theme of interior design that you have in your home.
The materials are not cheap either as it features a premium cashmere wool and a fiberglass shell upholstered body.
We've seen plenty of womb chair replicas before but nothing really comes close to this in terms of quality, form, performance, and price!
Truly a value-for-money investment which will save you lots and give you a chance to purchase more items to be used in decorating your abode.
5. Emfurn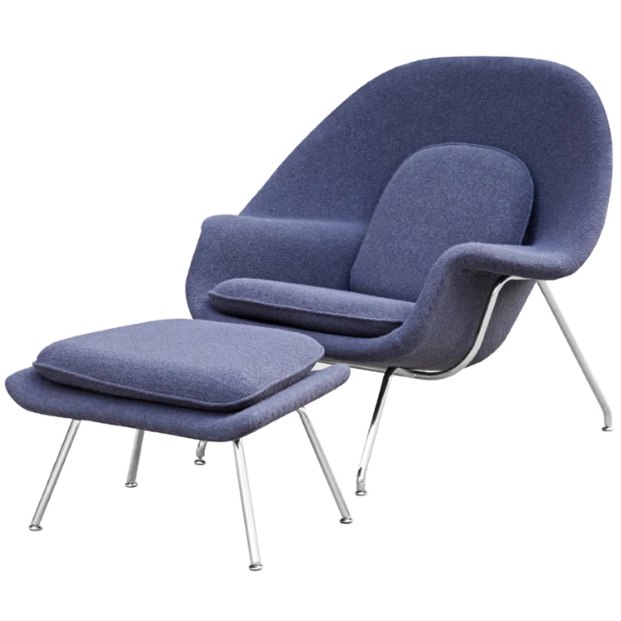 Style: Modern
Available Colors: Purple, Orange, Green, Coffee
Frame Material: Stainless Steel
Upholstery: Cashmere Wool
Type: Lounge Chair
Brand: EOE
Price: $530
EOE's womb chair replica is one that will not disappoint you.
It is inspired by the crafts of the award-winning designer Eero Saarinen and isn't short of the comfort and style that are sure to exceed your expectations.
With the durable upholstery and cushioning that it has, it provides maximum relaxation and comfort no matter where you place it in your humble abode.
It features some overstuffed pillows that provides maximum comfort with the high-quality foam that it has.
You'll also love the durable metal chrome legs and softly curved armrests that bring comfort and vintage design to its overall looks.
It truly is a perfect addition to your dining, living, or even office space.
With it, you can quickly add a place of relaxation and comfort to any room while the colors that are available add to the overall style of the theme that you chose.
For the price of only $530, you get both the womb chair and ottoman which is one of the best deals that you can find for this wonderful piece of home furnishing!
Replicas That Impress!
The common idea that people have about replicas is that they are cheap and of low quality but when it comes to womb chairs and ottomans, it isn't always the case.
Yes! There are cheap knock-offs out there but there are durable and dependable ones as well just like the brands that we've listed above.
Don't worry, all of them have different color variants that are available but be sure to check for available stocks first of the color that you want before ordering.
Womb chairs do not just add a modern touch to your home's overall theme and design but it also offers a space for relaxation and comfort no matter where you place it.
Have you found a womb chair replica that impressed you in one way or another? What brand is it and where did you purchase it from? Do you still have it now?
What can you say about its durability and overall comfort?
We searched so hard for the ones that we've listed in our top 5 and we will truly appreciate it if you can share more with your fellow readers.
Please let us know about your experience by joining the discussion in the comments section below.