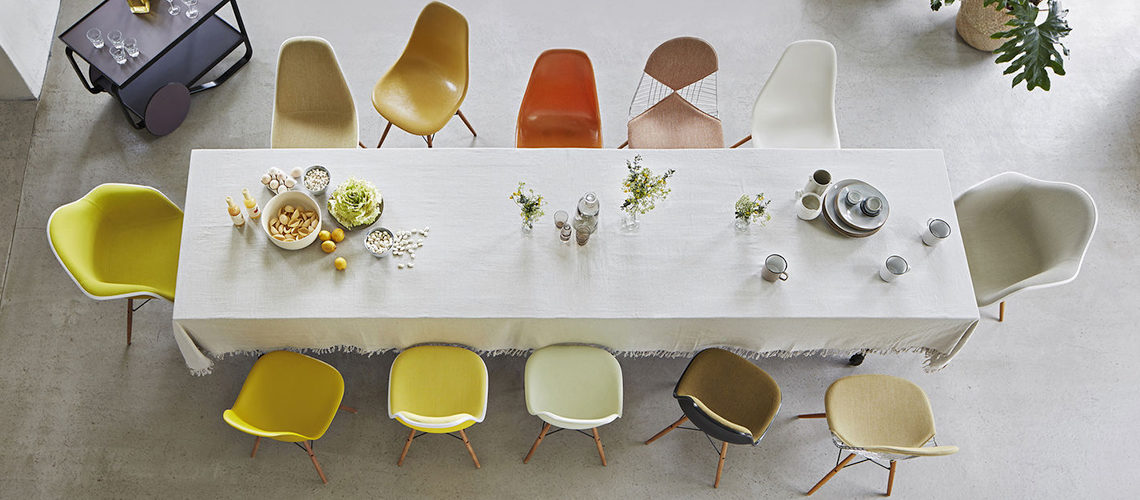 With all the hundreds of chairs that are available on the market at present, it is hard to choose the ones that offer great performance while matching the theme that you have in your home or office.
There curvy ones that have a complete set of legs (4 of them) while others like the Shell Chair only have three.
The Wassily Chair on the other hand only has two legs that rest solidly on the floor to ensure stability and overall comfort
There's not a lack of chairs out there but choosing one that fits your budget can be a challenge.
Authentic chairs cost too much and if you're on a tight budget, it can be hard to find a brand new one that costs less.
That's why it's important that you take time to search for replicas and reproductions that look and perform almost the same but cost only a fraction of the "real thing".
In my previous guides, I have given a list of replicas for different types of designer chairs on the market and this time, I'd like to continue on in that pattern by talking more about a type of chair that looks really cute and sophisticated.
It's called the DSW chair and yes, the name is an acronym.
If you're still curious about its meaning then read on as we explore all about its origin and history.
All About The DSW Chair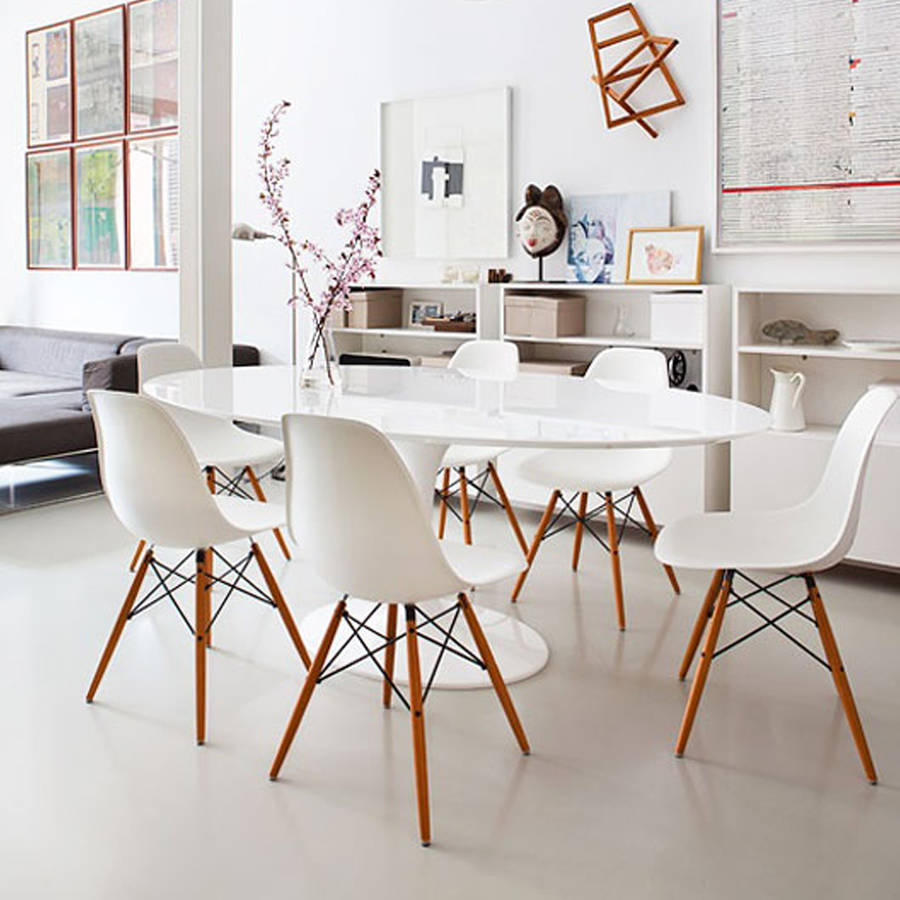 DSW Chairs are known for their cute design and unique legs that make the body look as if it's suspended and held by an interconnected slender metal frame.
In case you're still wondering what the meaning of DSW is, it's actually Dining "D" Height, Side "S" Chair, on Wood "W" base.
Today, the name DSW represents one of the furniture designs that are most recognizable in our modern time.
There's also what is called PSW which is a variant for the Pivoting "P" type of this same chair design.
The DSW has now become one of the popular types of base for a chair series and that is perhaps because it has an attractive appearance that is inclined towards the home market compared to others which seemed to have commercial applications.
But it has not always been that way as its base was actually faced with several problems with its design already reached abandonment before the mid-1950s
This is because of the weight that puts pressure through the wood legs causing it to splinter or crack before breaking.
There has been plenty of returns the first time the design came out and it was simply unacceptable that the manufacturer, Herman Miller, simply decided to put the leg base design to archive.
DSW is actually one of the original bases of the that was used in the plastic side chairs which have been released as another option along with the X-Base DSX and the Eiffel DSR four-legged eames chair.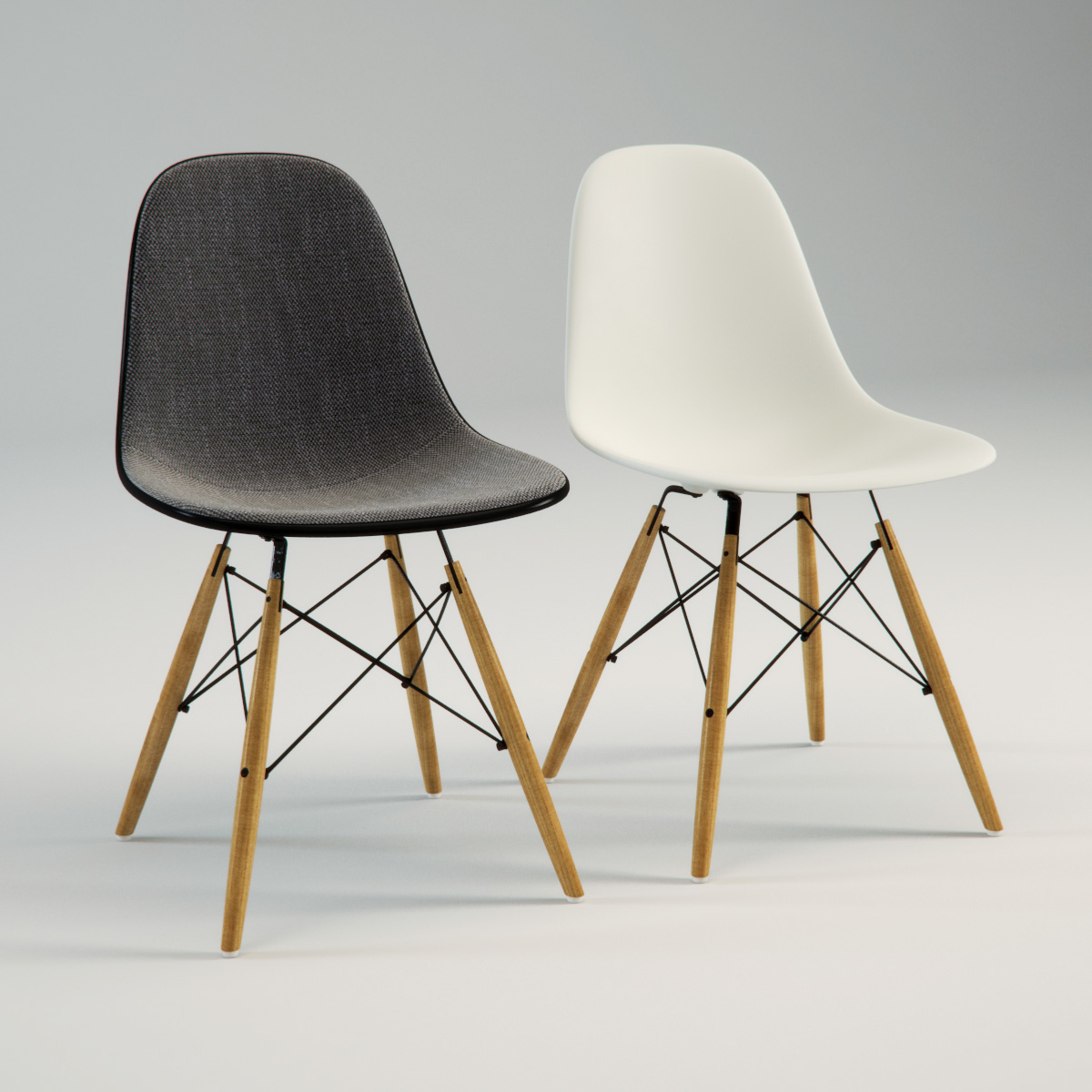 It was not until Herman Miller released the plastic chair series once again in 2001 that the new generation of the dowel-leg base chair has re-surfaced.
This new design now has metal rods that are injected through each dowel to provide more strength and stability which the old version didn't have.
Since then the DSW has become the number one favorite of a base for the plastic chair series.
There is also an armchair version which is called the Eames DAW and it too has a pivoting version called the PAW side chair version. 
An early version called the DSW-1 had a detachable upholstery choice by Alexander Girard and another which was released after 2014 which is made of fiberglass and included a full upholstered and fiberglass version for customers to choose from.
So now that we're done knowing about the history of the DSW chair, let's get into the details of the top 5 chairs that are found in the market:
Top 5 DSW Chairs on the Market
Finding a decent reproduction of a designer chair be a challenge but thankfully, there's Google that we can always ask for some recommendations.
In the case of the DSW chair, searching for it in Google will quickly return several reproductions that are available from different online shops and manufacturers and I listed down 5 of the best ones here so let's go directly to the first one:
1. Furmax Pre-Assembled Modern Style DSW Chair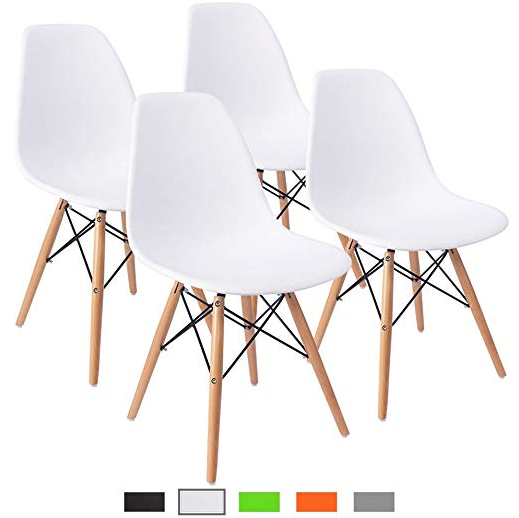 Being one of the best selling brands of DSW chair, Furmax is designed to fit the contemporary style in parties and family dining occasions.
It's a mid-century style chair that's fashionable and perfect for your kitchen and dining area.
It has the classic suspended chair look and wooden legs that make it a unique design to add to your home.
Seat Dimension: 18.1 inches x 16.7 inches (W x D)
Seat Height: 16.5 inches
Overall Dimension: 18.1 inches x 16.7 inches x 31.9 inches
Chair Weight: 7.5 pounds
Matte finish plastic seat that is designed ergonomically to provide great relaxation and comfort while dining
Sturdy and durable reinforced steel frame to ensure that it's capable of carrying most weights
Home or office worthy furniture – thanks to its mid-century modern style
Pre-assembled and lightweight so you will have less hassle moving it around
Sturdy and bend-resistant chair material
Non-toxic high-quality polypropylene material to make cleaning a lot easier
Each leg is equipped with a plastic foot to protect the floor from damage and make the chair stable in any floor condition
The Furmax Chair features an ergonomic design seat that's of the perfect height. Its curves support proper posture while sitting so you can enjoy sumptuous meals and nice conversations.
It also comes with pre-assembled legs so all you need to do is connect the seat to it using the supplied screws.
It's a perfect chair for both home and office use so if that's what you're looking for then this is going to be a perfect pick!
2. Furniwell Modern Mid-Century DSW Chair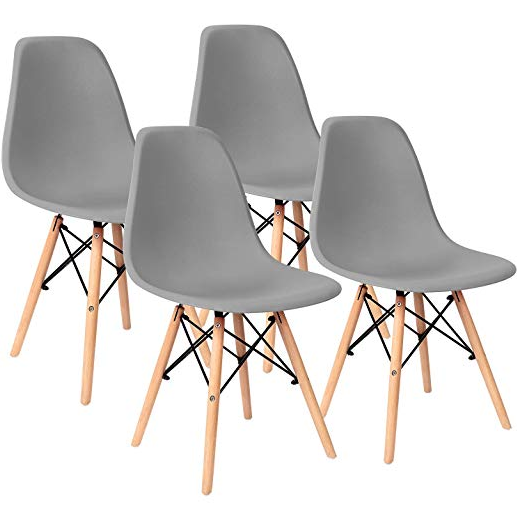 Made especially for your kitchen, dining room, or living area, the Furniwell Modern Mid-Century DSW Chair is one that will not disappoint.
The company puts quality and its customers first all the time.
With a matte seat that follows the curves of your body while you're seated, comfort and relaxation will surely be easy to achieve.
The seat is designed to rest on top of a base that is made of wooden legs angled with seat support sitting on top.
The support itself is made from slender reinforced metal that forms some X patterns. These features and properties make Furniwell the best choice if you're looking for a durable dining chair.
Key Features:
Matte finish seat that is made from durable molded plastic molded to have curves following the body's shape
Bend-resistant backrest offering support for your tired back
Ergonomically shaped design for a comfortable and relaxing seat experience
Added durability with its reinforced steel frame connected tightly with the wooden legs
A gossip-worthy style that's ready to take your home furnishing to the next level
This DSW chair set is a fitting addition to your living room, bedroom, waiting room, lobby, and even in your kitchen or dining area. It's truly a multifunctional set of awesomely styled mid-century chairs
Easy to build and assemble as the base and legs already come pre-assembled and all you need to connect is the plastic seat. It will surely save you time and energy
Made from high-quality polypropylene seat and solid beach wood legs. The sturdy stainless steel frame makes the chair more stable and have better support
The company offers a 100% full refund or you can get a new set as a replacement in case one of the chairs gets damaged within 30 days from the time it was purchased. Free replacement for defective parts is also offered in 6 months.
The great combination of style and overall looks and performance makes this chair perfect for your living room, dining area, kitchen, bedroom, lounge, your office, and wherever you want to have some touch of uniqueness.
What I personally love about this chair is its manufacturer! Yes! I admire how they assure every customer with a full 100% refund or exchange in case their product gets damaged for a certain period of time.
That to me is doing serious business with their customers good on top and not just for profit.
3. Devoko Modern Mid-Century DSW Chairs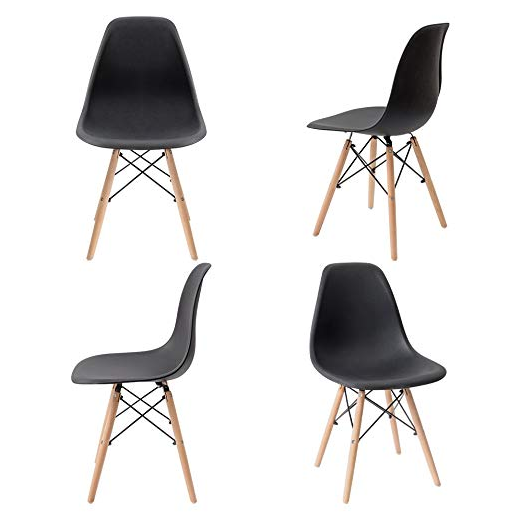 From one brand, we now jump to another top-rated DSW chair in the market.
It is the Devoko Modern Mid-Century DSW Chairs which is a masterpiece of simplicity and durability along with cute design and guaranteed performance.
Instead of using the usual white polypropylene material for its seat, the Devoko DSW Chair uses a dark gray color that perfectly blends with the wooden legs and the black seat base that's made of reinforced steel.
Key Features:
Seat Dimensions: 18 inches x 16.5 inches (L x W)
Seat Height: 16.8 inches
Overall Dimension: 18 inches x 16.5 inches x 35.5 inches (L x W x H)
Can support weight of up to 275 pounds
Comes in a set of 4 chairs that are formed and designed ergonomically so its curves perfectly accommodate the body's shape bringing an extraordinarily relaxed sitting experience
Wide range of application and use – the Devoko DSW chair is designed not only for dining rooms but also for your living area, lounge, lobby, waiting area, and even in your office. It can also serve as a centerpiece in your room or be a seat for your reading area
Easy-to-assemble because the legs already come pre-assembled. All you need to do is attach the seat to it using the supplied screws and voila! You can start enjoying the comfort and relaxation that the Devoko DSW chair offers
Solid, durable, and high-quality materials used. The legs are made out of sturdy beech wood and the seat is made out of high-quality polypropylene material. The X pattern seat frame is formed from reinforced stainless steel to ensure that the chair is stable and durable
Its dark gray color makes the Devoko DSW chair perfect for those who want to add a touch of elegance and sophistication to their home or office.
It is built with both comfort and durability in mind which is truly loved by customers who already have it.
It is built to last for years as well which makes it a wise investment for those who don't want to spend too much on a chair.
4. Giantex Modern Mid-Century DSW Arm Chair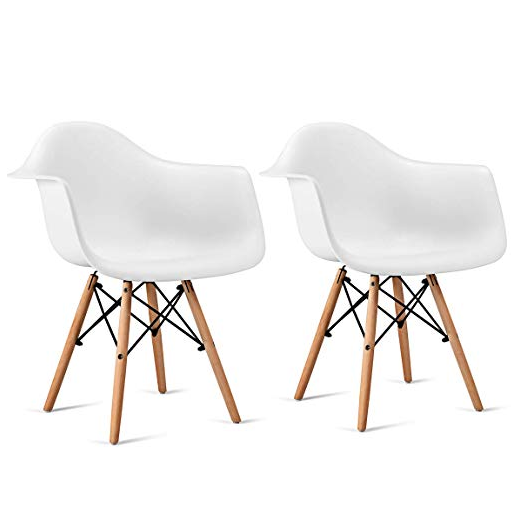 The Giantext Modern Mid-Century Arm Chair is a breath of fresh air from the usual DSW chair that you have already seen above.
While the materials used are almost the same, the form and overall design of the seat has been upgraded because of the presence of armrests.
It's a chair that's perfect for your living room, bedroom, kitchen, dining area, waiting lounge, and almost anywhere in your home or office.
Key Features:
High-quality polypropylene seat shell material that is mounted on a durable X-pattern reinforced steel frame and wooden legs
The shell is resistant to high impacts and is tough so it would last for many years of use
Sturdy natural beech wood which adds to the chair's environment-friendly aura
It can be easily assembled because the legs are pre-assembled so you will only need the supplied screws to attach the seat to the legs upon delivery
Its great mid-century modern design is sure to enhance your home or office decor in an instant. It's also a good seat solution for your balcony, dining room, or even your restaurant and dessert shop
Premium quality hardware and non-slip feet design. With the help of the cross fixation pattern of the steel seat base, the chair stays stable and firm no matter where you place it. The non-slip rubber on each leg also protects the floor from any damage
Lightweight but heavy-duty structure which is capable of supporting up to 330 pounds of weight because of the good distribution on each leg
Ergonomic back and armrest design which tries to replicate to original Eames chair in the most precise way. It helps relieve fatigue on the upper and lower back and as well as the arms and shoulders while you're seated even for long periods
If you're looking for an upgraded version of the usual DSW chair then the Giantex Modern Mid-Century DSW Arm Chair is going to be a perfect choice.
It offers a new way for you to relax and enjoy your favorite activities anywhere in your home or office.
It's also durable and is truly built to last because of the high-quality polypropylene seat that it has which is supported by crossing x pattern reinforced steel base support.
The legs, though made of wood, are all sturdy and can support most weights.
If its an upgraded look and guaranteed durability that you're looking for then this DSW chair is one that I would highly recommend.
5. Phoenix Home DSW Chair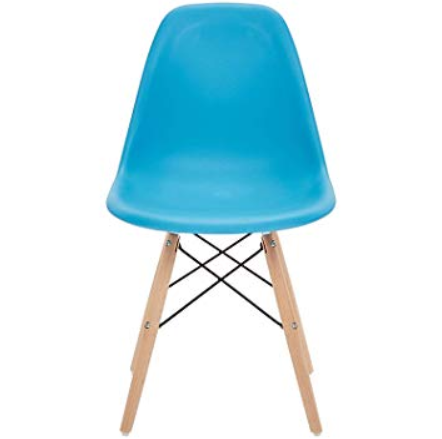 Last but definitely not the least is the Overstock Cozy Home which got an eye-catching color (although it does come in black or white too!).
Instead of the usual white, dark gray, or black color that we usually see, this Chair is made to take a lighter hue.
It's got a sky blue color seat which, just like the other DSW chairs listed above, also have the ergonomic curves which helps in relieving stress from the buttocks and as well as the upper and lower back.
The color that it has is sure to give your home, office, or even your restaurant or coffee shop a happy and relaxed vibe.
Take a seat on this awesome chair and you would definitely feel like you're being taken to the skies because of the relaxed and easy feeling that it helps one to achieve.
Key Features:
Overall Dimensions: 21 inches x 18.5 inches x 32.5 inches (L x W x H)
Mid-century modern design which is ideal for living rooms, dining rooms, waiting areas, reading areas, offices, and almost anywhere and in any place within your home, office, restaurant, or coffee shop
The plastic bucket seat is made out of durable polypropylene material which is molded to provide comfort while taking showing a vibrant blue color
Steel wire base and solid wood legs material provide stability and strength. The materials also provide an attention-grabbing color contrast from that of the chair seat bucket
Each leg is equipped with a non-slip rubber that protects your floor from scratches and dents while helping the chair remain stable in any floor type or condition
Also available in Black, Gray, and Natural/White colors
The Overstock Cozy Home DSW Chair is a piece of furniture that is capable of enhancing the overall vibe in any room where it is placed.
But aside from the looks, it's also a great chair to have if you have a light-color theme in your room that needs a touch of heavenly shade.
I love its overall build and also admire how it resembles the original DSW chair which has been invented decades ago.
If you're in search of a durable chair that really costs less then this one is going to be a "winner"!
Perfect Chairs at Perfect Prices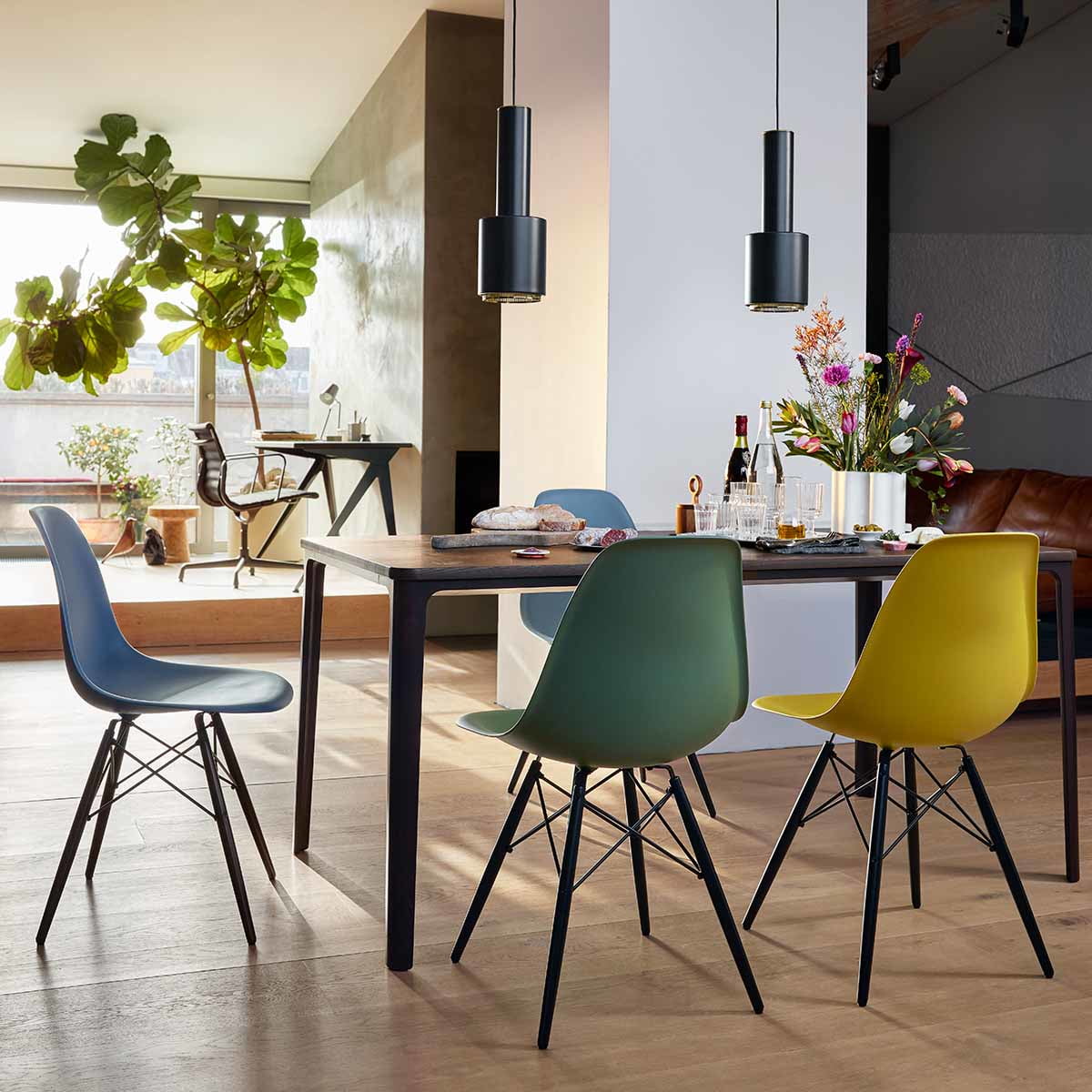 DSW chairs are perfect if you want a simple piece of furniture that does the job perfectly.
Its durable plastic seat material that is merged with wood and steel also makes a perfect representation of the merging of man-made and natural designs.
Though it has been designed decades ago, the DSW chair still is one of the top-selling chairs in the market and it's only going to continue being so.
But again, the authentic ones can be expensive that's why I have given some durable and gossip-worthy reproductions in this guide.
As you can see, you don't need to spend too much just to beautify your home.
It just takes a few hours of research and you will surely find some awesome alternatives which you wouldn't believe actually exists.
If DSW chairs are not your thing then feel free to browse through our other guides where I talk about the other types of chairs which you can find in the market.