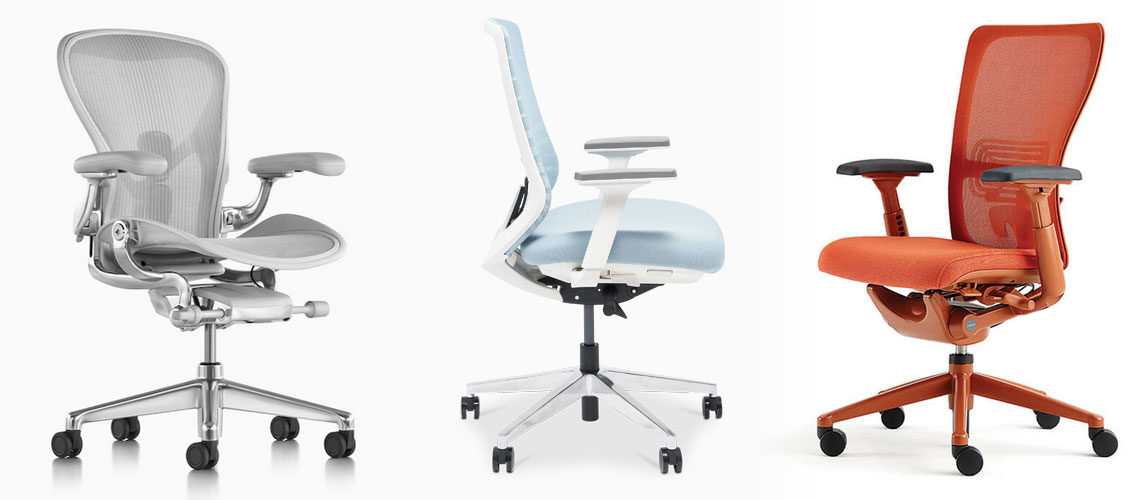 One of the most important item(s) in every office workplace is the Ergonomic Chair.
Professionals all over the world spend more time at their desk than anywhere else. 
Not having an appropriate work setup and the right seating have proven to lead to some serious health problems.
Most office professionals have realized this and have taken precautionary steps to prevent these health issues and have invested in ergonomic chairs and desks.
Ergonomic chairs are specifically designed for use in the office to reduce the pressure being experienced by several nerves in the spinal cord of someone who is sitting for long periods of time.
Not only do these chairs lessen the possibility of developing nerve and other muscular diseases, they also aid in maintaining good body posture.
Ergonomic chairs help align the head, neck, lower back, wrists, and forearms making sure that each one is in the right position reducing back pain and other musculoskeletal diseases and disorders.
In this article, we're going to talk about the top 15 ergonomic chairs that are ready to provide comfort to anyone who spends extended periods of time at a desk.
We made sure that the details are accurate to help our readers make a guided decision in buying such chairs.
Best Ergonomic Design Office Chairs Highly Recommended by Experts for 2023:
1. Herman Miller Embody  – Best Option!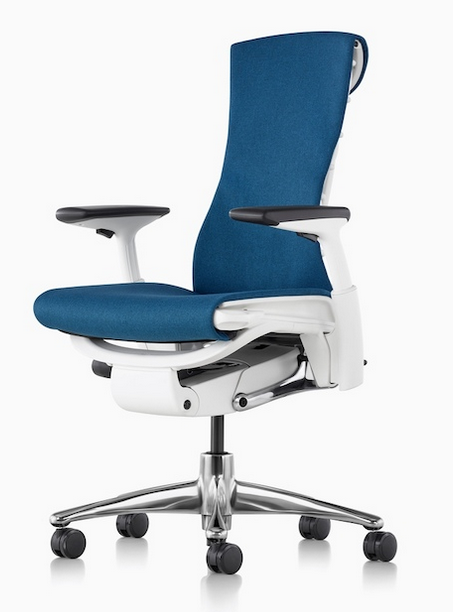 The features that it this chair includes have made this Herman Miller Embody Office Chair the top choice on our list.
It is designed by Bill Stumpf and it's been a successful chair among office goers. It helps you focus and relax while improving oxygen and blood flow.
Its unique backrest design adopts the shape of the human spine and it is attached at the back portion of the chair known as the exoskeleton.
This outside frame jives with every move and posture of the body helping you keep the correct body posture every time.
Key Features
It ensures correct alignment and posture of the spine thereby reducing pressure on the lower back portion. This helps prevent pain in the lower back
Chair covering is similar to human skin. It aids in the proper circulation of oxygen and air to help you keep cool no matter how long sit.
Every ergonomic feature like having spine compression minimized and reducing the amount of fluid lost from the discs is maintained so well by this awesome ergonomic chair.
Pros
12 years warranty provided by Herman Miller
95% recyclable and the components are made using renewable energy
The exoskeleton is designed to help reduce muscle pain and minimize or even eliminate any other physical issues related to work. It does so by keeping the correct posture and keeping the spine comfortable together with the lower back.
Cons
We don't find any cons in this ergonomic office chair. If there's any drawback then it could be the high price. But its price is definitely worth every feature that it has.
2. Steelcase Gesture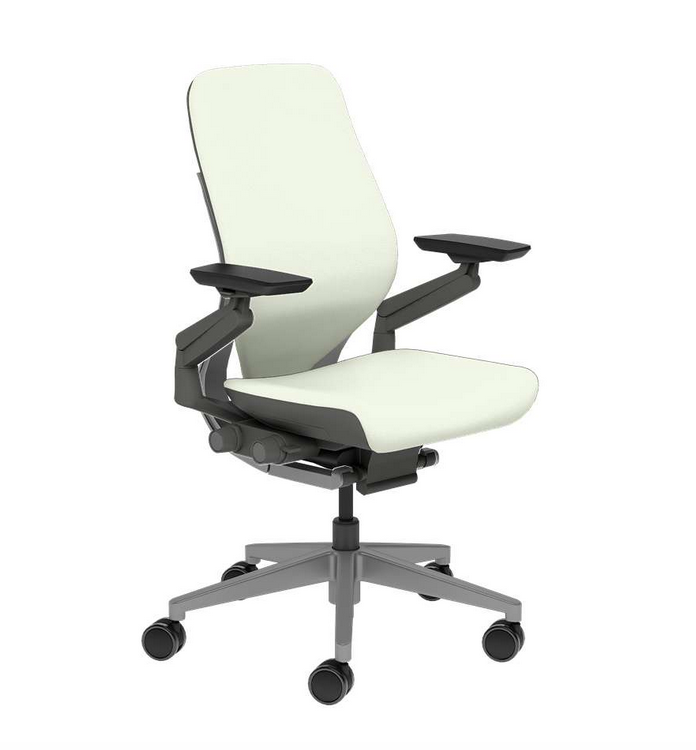 This chair has won several awards by top medical institutions because of it's great design, features and support.
The distinctions and awards it received have caused it to take the second best ergonomic chair on this list.
Key Features
The Steelcase Gesture Chair takes a unique design that adapts to every position of the body.
It's also capable of accommodating every shape and size which is why it can also be used as a reading chair that provides comfort but still has an affordable price.
The unique LiveBack Technology used by these chairs copies the movements of the body supporting the spine, neck and the lower back.
It automatically adjusts to every sitting posture in order to provide comfort and relaxation. Its armrest is adjustable so it can complement the different positions of the body.
Its height can also be adjusted to the height of your working table. Unlike other office chairs which provide limited freedom to the movements and postures of the body, this Steelcase Gesture chair provides freedom for body movement while aligning your it to lessen muscle strains and other work-related musculoskeletal diseases.
Pros
Wide variety of adjustments available
Features an armrest that swivels to a 360-degree angle giving you the freedom to adjust or align your arm any way you like.
Features an adjustable height to perfectly complement any kind of desk while providing total comfort.
Steelcase provides 100% warranty
Cons
There's no major negative point to this chair except for its higher price. It's quite deserving though because of the features that it has which works together to provide comfort.
3. Herman Miller Aeron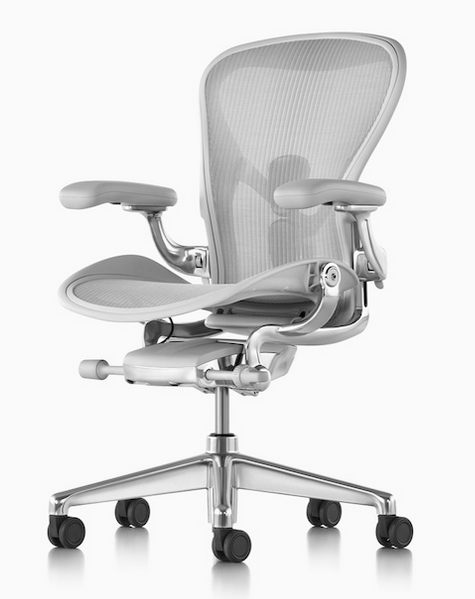 Same as the first one in our list, this chair is also designed by Bill Stumpf and is known as the first ergonomic chair that has a woven seat with a back design put in place and stuffed with soft foam cushion.
Key Features
It implies the biomorphic body principles which are the primary inspiration of its design. It reduces lower back pain effectively.
The head cushion and high back design that it has allow both the head and the body to rest in a good posture every time.
Features a high-technology mesh fabric design which is one of the best in the market. This results in a chair that is far better than the ordinary office chairs.
Pros
It genuinely reduces stress and pains of the back portion of the body with its first class Aeron technology.
Maintains proper posture with its head cushion and high back design.
Different sizes of Aeron chairs are available to accommodate every shape and size of user.
12 years warranty provided
Much more affordable
Cons
Aeron chair size charts are not always accurate.
4. Haworth Zody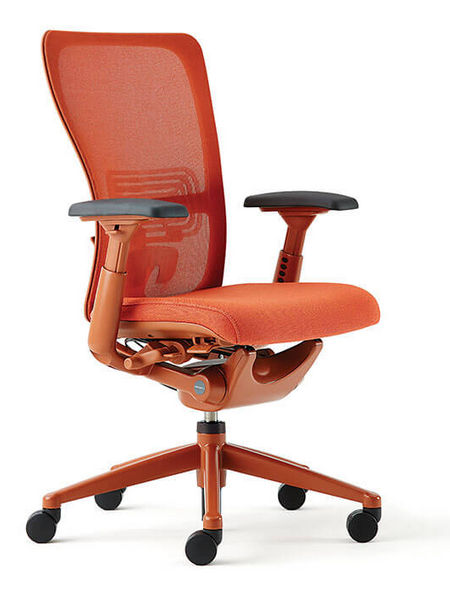 Being recommended by the American Physiotherapy Center, this famous chair has every feature that's needed to make work a lot more relaxing and less stressing.
The design of this ergonomic office chair gives more importance to functions rather than looks.
Key Features
Features a unique asymmetrical design providing a great support system that enables the reduction of pressure in the neck and lower back.
Has a pelvic pad attached helping in perfectly aligning the spinal cord and prevents diseases such as slip disc and many others.
A different headrest is available in case you want to use it in reclining position.
Available adjustments include one for the armrest (width & height), seat height and tension of the backrest.
Pros
Contains a passive pelvic pad aiding in properly aligning the spine.
Adjustable armrest width and height. Overall chair height can also be adjusted to your liking.
Features a 3-point sliding mechanism with multi-positional stops for the back. It also has a forward tilt feature.
Adjustability is tremendous that it can easily fit in any room like one that is used for board meetings or even the ordinary office room.
Cons
Arm slides tend to move very easily which can be annoying if you bump into it often.
5. Steelcase Leap Fabric Chair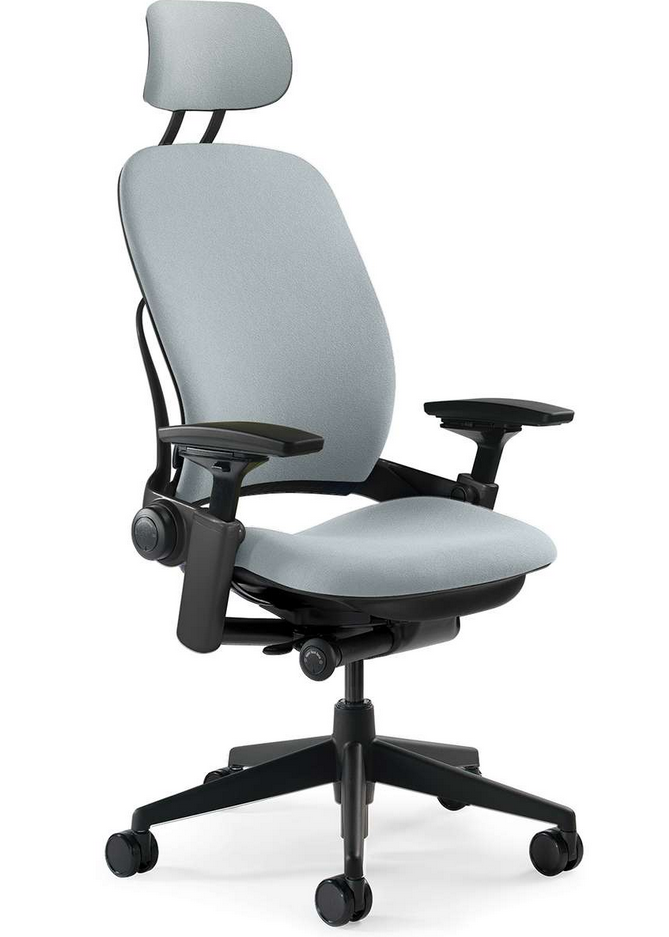 Being fifth on the rank, the Steelcase Leap Fabric Chair has a TRP that leans more towards being able to incorporate great features at a price tag that will not leave you broke.
Key Features
Also features the LiveBack technology which is unique among the other ergonomic chairs in this list. This feature ensures that it will conform to the different bodily positions that the user may take while sitting.
Effectively helps in reducing stress and pressure on the most vulnerable points of the neck, head, and spinal cord.
Comes with a gliding design that automatically adjusts to any reclining or relaxing positions. Its flexibility is one of its strong and attractive features.
User has the freedom to optimize every part and use it to his/her own benefit.
Fully adjustable width and height to match the body posture every time.
Pros
Provides great quality at an affordable price
Features recyclable parts and is made from recyclable materials as well. It is 99% environment-friendly.
No harmful emissions are used and released in the manufacturing process of this chair.
Awesome adjustability and flexibility.
Extremely comfortable. Thanks to its LiveBack Technology which works well with its gliding mechanisms in order to adapt to different postures of the body that it has to yield to.
Cons
High Pricing – The chair is extremely comfortable but it's a one-time high investment as well
Shifting of the Armrest – The armrest shifting feature is a feature that many users like but there are few who find it a bit complicated and consider it a negative feature.
6. Herman Miller Sayl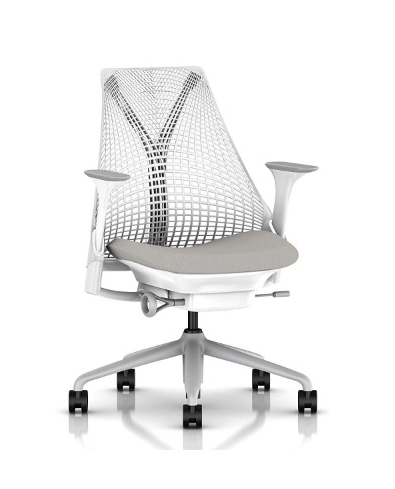 This chair by Herman Miller is one that is not only comfortable, but has a unique design making it a popular choice for design firms and creative organizations.
It is made of recycled materials and comes in different color variations.
Key Features
The Herman Miller Sayl Chair is an awesomely engineered chair. It comes in two different variations – The ArcSpan and the Y-Tower both available in different colors.
The former works by maintaining the shape and posture of the body while keeping the fabric in the correct place
The latter is a pseudo backbone design chair. It is designed to copy the normal location of the human backbone.
It is designed with the main function of stretching the fabric to provide better support.
The design takes cues from London's Golden Bridge. It accommodates all body postures while ensuring great comfort and freedom.
Pros
The unframed back design promotes better oxygen passage. It helps in keeping you cool at work with its breathable fabric material.
Features elegant looks from every angle and position
Comes with a 12-year warranty
Designed to maintain the normal body posture by promoting the right alignment of the neck and spine.
A universal favorite because of its affordable price.
Cons
Armrest tends to get eroded in time.
Because of its low price, it does not ensure the perfect quality. Most of the adjustable features that are found in high-end ergonomic chairs are not found in this model. This chair is more of a short term use one or for conference rooms, etc.
7. Serta Mid-Back Office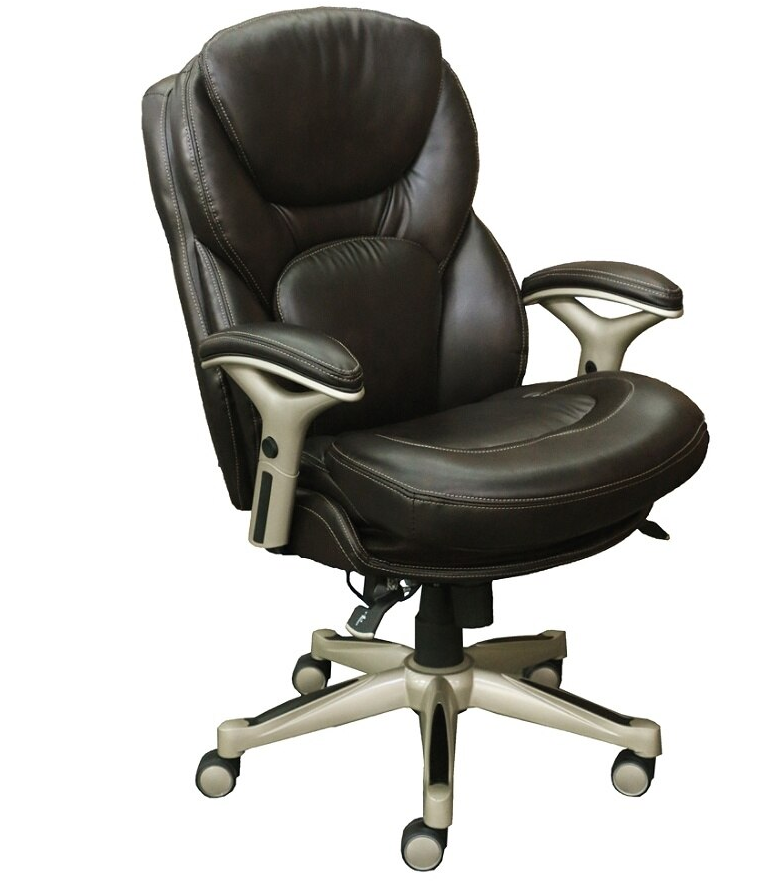 Serta is a company that is known for its mattresses but they also made an ergonomic office chair that really caught our attention.
Key Features
It features the design of some high-end cushioned ergonomic pillows which provides comfort and great support
Made with environment-friendly materials and leather that is designed with BIM lumbar pivot system for perfect support of the lumbar points.
It has a great padded armrest that complements well with the lumbar support system.
The armrest has an adjustable height design with just a push of a button.
Equipped with a tilting technology which aids in correcting postures.
Tilts the pelvis when the user tilts forward. It also keeps the back in a normal position which prevents the building up of harmful pressure in the body's vulnerable points.
Overall, the reduced formation of pressure lessens the decline of the fluids of the discs which aids in keeping a healthy spinal movement.
Pros
Made of high-class environment-friendly leather which gives a very similar feel of exclusive brands.
Equipped with tilt technology that keeps the body in great shape and posture.
Perfect comfort is provided by soft pillow design.
Adjustable design especially in the soft padded armrest.
Cons
The pneumatics is tall for use by people under five feet, four inches in height.
Not the prettiest chair to look at compared to some of the others.
Provides only 1 year of warranty.
8. Alera Elusion Swivel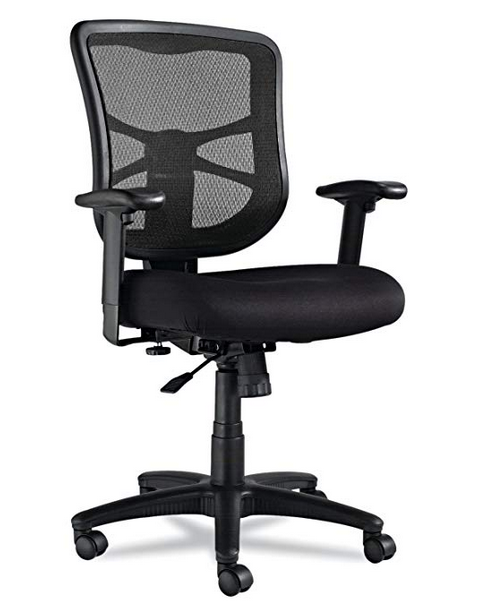 This chair is included in this list of top 15 ergonomic chairs because of its popularity as the budget friendly choice. It's got plenty of positive reviews around the internet because of its pocket-friendly price and the comfort it delivers for such an affordable price.
Key Features
Breathable fabric mesh used to provide effective cooling of the back at work.
Features a contoured seat cushion with an awesome waterfall edge wrapped with premium upholstery to minimize pressure on the legs.
Its backrest is designed to provide optimum support to help maintain proper posture and eliminate neck and back pain.
Low price but still has great tilt technology, width, and height adjustment.
Pros
Affordable price at such maximum comfort
Keeps the user cool with its fabric mesh design
Offers top-quality adjustable armrest.
Cons
Being a low-priced ergonomic chair, it lacks the high-end features and adjustable technologies that are found in the more expensive ones in this list but is still a great lower end option.
9. GM Seating White Ergonomic Leather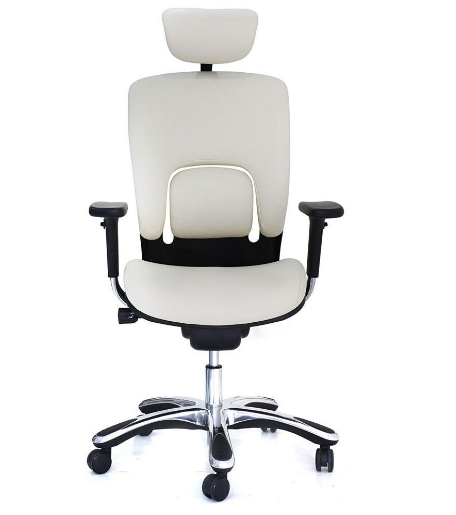 This chair employs the Ergohuman design by Ergotech. It also features a very unique design. It is made even more luxurious by the white leather and the qualities of ergonomics that it possesses.
Key Features
Equipped with tilt, seat, height, and headrest angle adjustment features.
Works perfectly for people with neck and back pain.
Uniquely designed to ensure good lumbar support with its proper lumbar support and body posture adjustment features especially in the back and neck areas.
Its armrest is designed using 3D technology which gives it perfect height and width adjustability.
Pros
Top quality leather used to ensure it looks grand.
Tilt mechanism and other adjustments available including one for seat, headrest, and armrest.
Features a unique support system for the lumbar area.
Perfect for those who are suffering from pain in the neck.
Cons
The only downside is that its costly but all the features and adjustable mechanisms that it has are definitely worth the price.
10. Flash Furniture's Mid-Back Mesh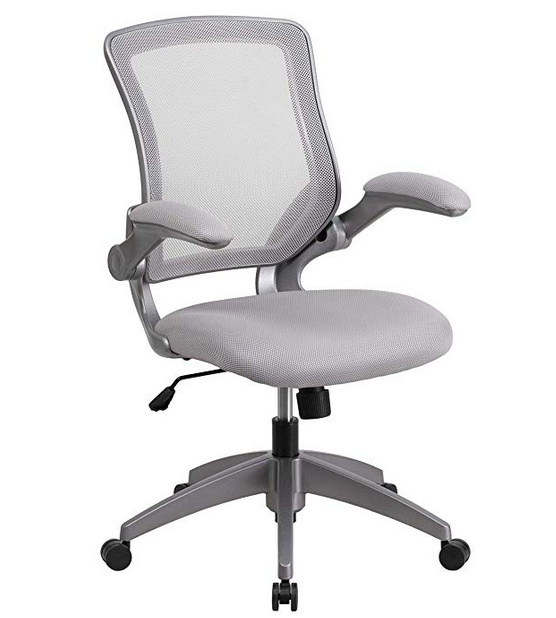 This Mid-Back Mesh Chair has received several positive reviews from its users. That's the reason why we had it included in our best office chairs list.
Key Features
This chair features a mesh that is well-contoured containing all the ergonomically adjusted features to help the user keep cool in the office.
Helps in properly adjusting the posture.
It is fitted with sturdy wheels (5 of them) to make sure that it is able to carry you and help you glide all around the office.
Extremely well-built for people who are over six inches in height.
Pros
The material used is made of heavy nylon which significantly increases its tensile strength.
Sturdy wheel facility that is able to support users of all shapes and sizes.
Breathable mesh design to help keep you cool in the office.
Comes at an extremely affordable price.
Cons
The disadvantage that this ergonomic chair has is its durability. It may not last as long as the more pricey ones.
11. Ergohuman by Eurotech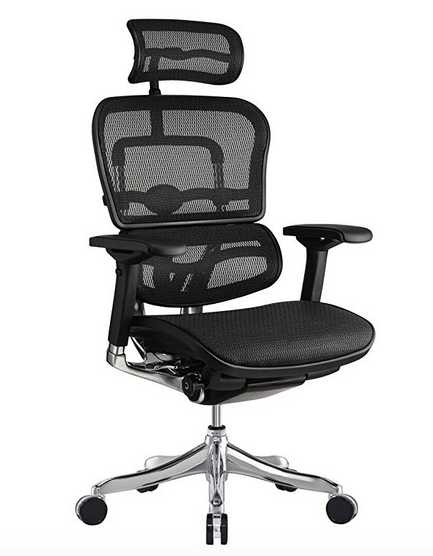 Eurotech's Ergohuman office chair is designed to have eight different adjustments for a more ergonomic form and use. It helps keep the neck and the spine to be perfectly aligned.
Key Features
Armed with different adjustments which provide good adjustable features in height together with its tilt lock and synchro tilt adjustment technology.
Tension tilt control and arm height can be adjusted as well to give seat depth and height changing options.
The headrest can be moved up and down to alight your neck to different sitting positions.
The unique curvature of the backrest perfectly matches the head and neck position.
Pros
Lumbar support technology which is contoured and made perfectly adjustable.
Pneumatic cylinders are placed in strategic locations helping the chair be raised up slowly and steadily.
Supports 8 types of ergonomic features and adjustments.
It possesses some unique features at such an affordable price.
Cons
Lots of customizable features may be a bit annoying to some users.
12. Balt Butterfly Executive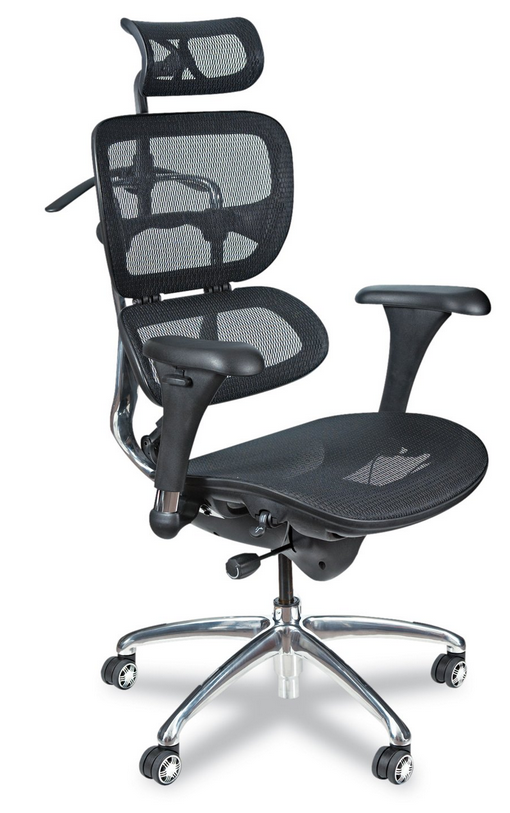 Taking the 12th spot in our list is this Balt Butterfly Executive chair which is full of ergonomic features that are all ready to deliver great results.
Key Features
Mesh back material lets air flow more freely to the back making it cool every time.
Perfectly contoured design helps maintain accurate posture.
Provides great natural support for the lumbar area keeping the head and back aligned.
Provides optimum support and comfort for the back.
The armrest can be adjusted in height with its strategically positioned pivots.
Pros
Features a stylish and fashionable design
Its contoured design perfectly aligns the body to eliminate the chances of pain and other musculoskeletal diseases from developing
Mesh design for maximum breathability and comfort.
Tilt lock feature available for keeping it in three different distinct positions.
Its headrest is designed to provide very good support to the neck.
Such a beautiful chair for an affordable price.
Cons
Unlike other brands and models, it does not have many color options. It is only available in black.
13. Leaders Executive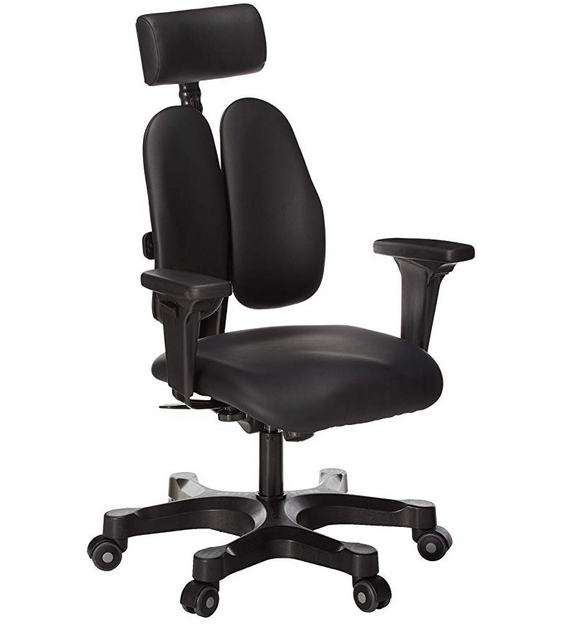 Duorest has designed their own ergonomic chair which made it to the 13th spot in our best office chairs list.
Key Features
Uniquely designed backrest composed of two fully adjustable parts to provide complete support to the neck and back.
Can fit people of any shape and size.
Features adjustable tilt tension and height. It also has a tilt lock, height, and width adjustment.
Comes with 6 sturdy wheels serving as its base.
Its ergonomic design delivers solid support to the neck and back area.
Pros
Unlike other chairs, this one provides complete support and adjusts to different shapes and sizes with its dual backrest design.
It features many adjustments to fine-tune its performance such as tilt height, width, and position.
Its wheelbase is designed to provide sturdy support to the chair.
Moderately affordable price.
Cons
The armrest is fastened and fixed to the sides with screws and only provides forward and backward adjustments.
14. Viva Office Mesh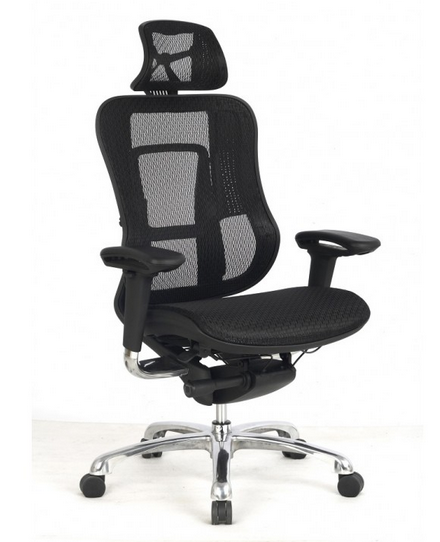 Featuring a unique blend of function, fashion, and price, the Viva Office Mesh chair is able to take one spot in our best office chairs list.
Key Features
Keeps you cool and comfortable with its mesh back design
It has a pneumatic adjustment for its height with armrests that are height-adjustable as well.
The headrest also has an adjustable tilt as well. You can align your head and body in the most comfortable position of your choosing.
Pros
The mesh back design takes the comfort factor of the chair to the next level.
It provides an awesome tilt tension adjustment which gives it a three vertical position feature.
It also provides a great lumbar support system.
Its nylon caster and nylon base design have a capacity of 250 pounds.
It's also affordable for the features that it offers.
Cons
The seat cushion is not that soft.
The headrest tends to be annoying to some users since it pushes the head forward.
People with small height will not be able to reach the headrest.
15. The Walker Adjustable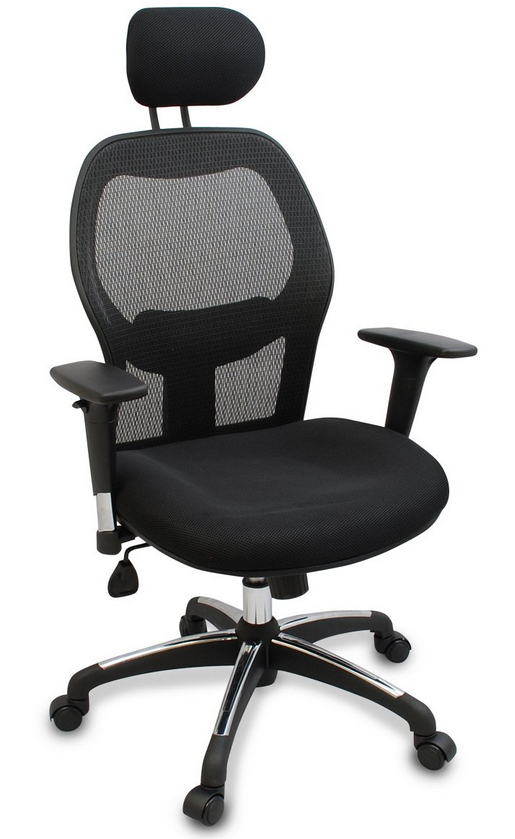 Designed by the Green Group, this chair is a comfortable one which is perfect for those office employees who can't afford the more expensive ergonomic office chairs in this list.
Key Features
360-degree swivel motion feature with five durable wheelbase.
Unique carve which supports the neck and back to lessen neck and back pain.
It has a headrest that can be adjusted to your liking.
The lumbar support, headrest, and armrest all have great adjustable designs.
Pros
It's a comfortable chair with a mesh backrest material to keep you cool at work.
The swivel motion brings a lot of physical benefits.
Provides great height and lumbar support adjustability.
It is an affordable chair loved by many users.
Cons
Users with smaller height will be annoyed by the positioning of it headrest.