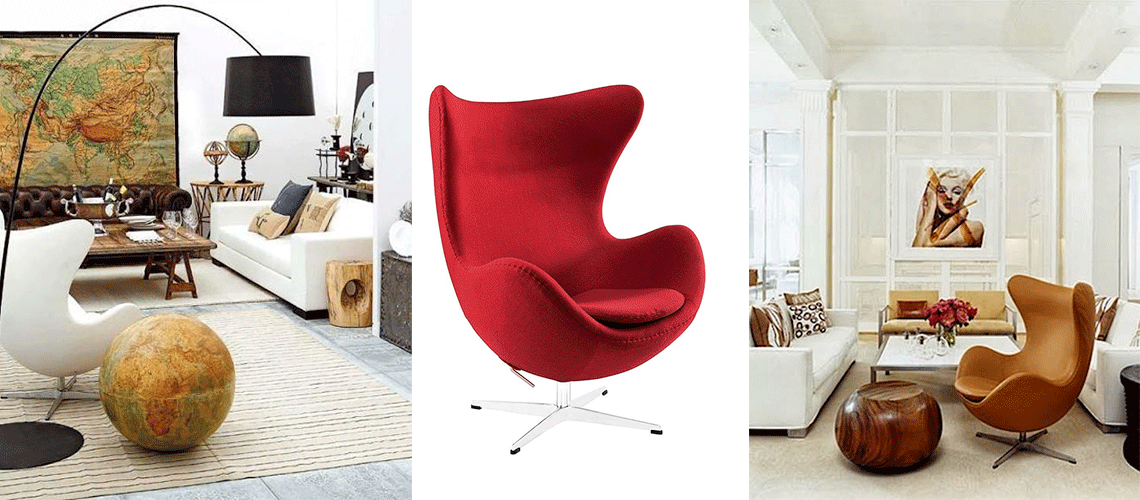 The famous original Egg Chair was first introduced by Danish furniture company Fritz Hansen, also known as Republic of Fritz Hansen.
Designers who worked for Fritz Hansen include Arne Jacobsen, Poul Kjaerholdm, Hans Wegner and Piet Hein, all notable artists during this era.
Fritz Hansen was founded in 1872, when Fritz Hansen, a Danish carpenter, founded his own furniture company and in 1915 introduced his first chair in steam bent wood.
In 1934, Fritz Hansen began his collaboration with Arne Jacobsen resulting in some of the famous, classic icons of Danish Design including the Egg Chair in 1958.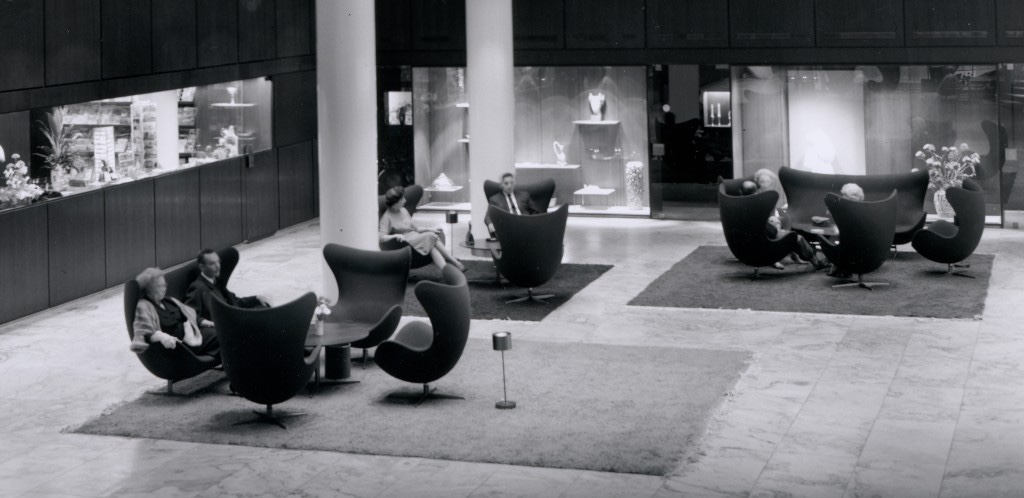 Jacobsen designed the Egg specifically for the SAS Royal hotel in Copenhagen, along with many other pieces of furniture that have now found big lives of their own outside the hostelry.
His clever pop interpretation of a traditional armchair is all curves and fluidity, soft and sexy.
The chair is a molded shell of synthetic material on an aluminum star swivel base, with a layer of cold foam covering the shell upholstered in fabric or leather.
There are several colors, prints and fabrics/leathers to choose from.
The shell is polyurethane foam with glass fiber reinforcement.
The seat carrier consists of a spindle of diameter 28 mm automate steel and an assembly plate of 5 mm steel sheet.
The base consists of a satin chromed, swivel center part of welded steel tubing (diameter 38×2 mm) and a 4-star base in injection molded aluminum. The leg ferrules are in blackgreysynthetic material.
You can still purchase an authentic Egg Chair directly from Fritz Hansen or other authorized resellers such as Design Within Reach: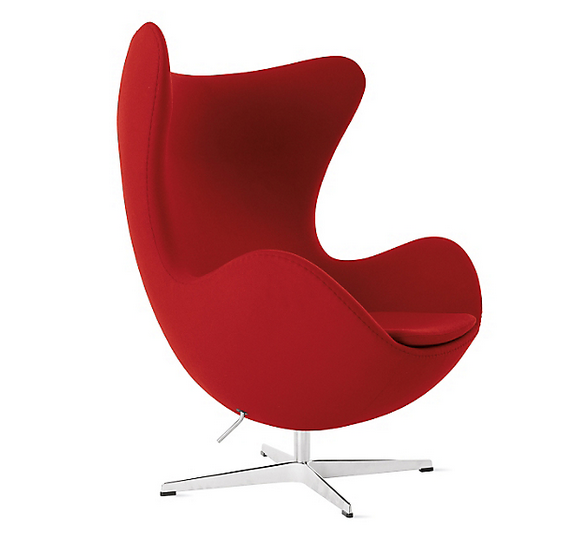 An authentic Egg Chairs runs around $8,241 USD.
For the collector and furniture enthusiast, this price may be worth the spend, but for the average person, finding a replica that is more affordable but gives you the same style might be the better option.
Up next we are going to review the Best Egg Chair replicas on the market so that you can still have this famous look of furniture in your home, but at a fraction of the price.
Here are the Best Egg Chairs (including Replicas & Reproductions):
Max Swivel Rocker Chair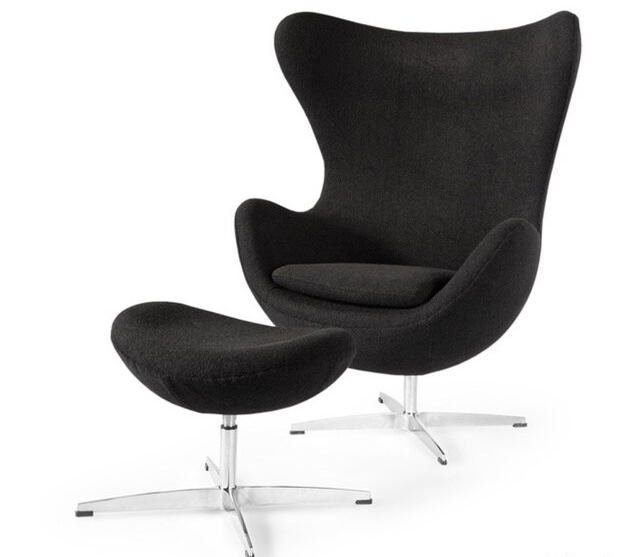 Retro flair and timeless style come together to bring you the Max Swivel Rocker Chair.
This set conjures visions of the unique designs of the 1960's that offer up a mixture of imagination and style that you will fall in love with.
The chair has an aluminum base, tilt and 360-degree swivel function, and is upholstered with tweed-felt fabric in a premium cashmere wool blend, making this a luxurious addition to any space.
Choose from several different color options.
For less than $1,000 USD, you get the chair and ottoman in a luxurious upholstery and style.
You really cannot beat this price! This is perhaps our favorite reproduction of the original Egg Chair.
Key Features:
Aluminum Base
Tweed-felt fabric in a premium cashmere wool blend
Available in white, blue, red, black, grey, green, pink, yellow, purple or orange
Hand Stitched
High density CA 117 foam
Constructed around a synthetic dimension true curvature shell
Chair Dimensions: 42.9 inches high x 31.5 inches deep x 34.6 inches wide
Ottoman Dimensions: 16.5 inches high x 15.7 inches deep x 22 inches wide
Aurelle Home Danish Classic Leather Egg Lounge Chair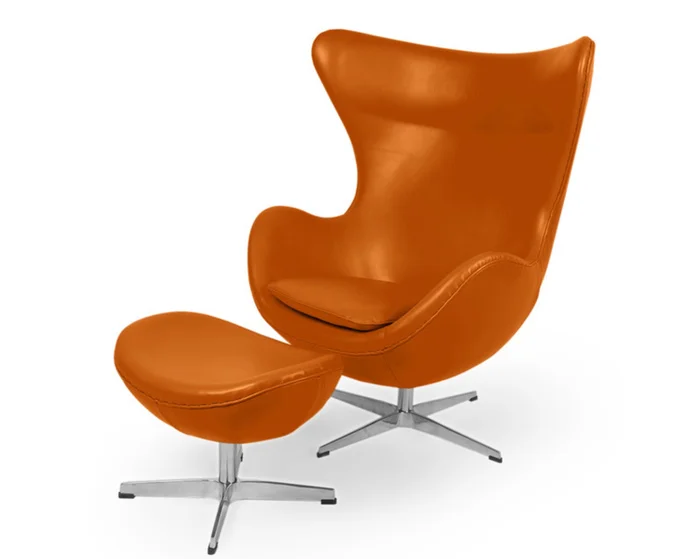 If you love the Cashmere chair we just reviewed above but want it in leather, you are in luck!
Here is the same chair, also by Kardiel, but made out of premium Aniline Leather.
Choose from Black leather, Caramel leather, or Choco Brown colors.
The Amoeba chair and ottoman are a replica of the 1958 design featuring a high wing back silhouette, an icon of the mid-century modern aesthetic.
The seat is made from a synthetic curved shell and upholstered in premium aniline leather to give your home decor luxe appeal and classic style.
Key Features:
Aluminum Base with Satin finish
100-percent genuine top grain premium soft aniline leather
Hand Sewn and Stitched
Tilt and 360 degree swivel function
Synthetic curvature shell
Smooth Contour cold pressed foam body wrap
Chair Dimensions: 42.9 inches high x 31.5 inches deep x 34.6 inches wide
Floor to seat Dimensions: 15.9 inches high
Ottoman Dimensions: 16.5 inches high x 15.7 inches deep x 22 inches wide
Kardiel Egg Chair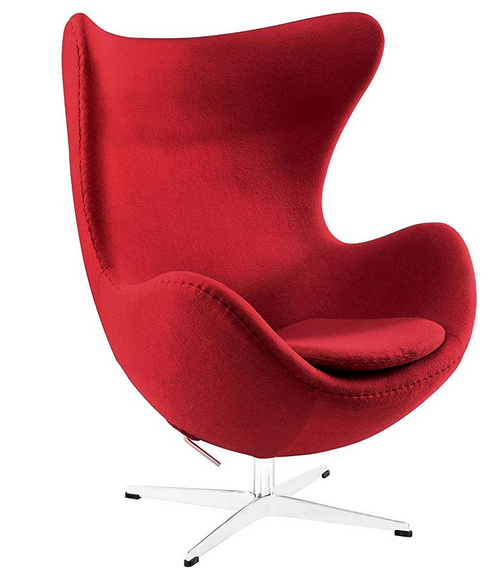 The Glove Chair provides evidence of movement in design to adapt more organic forms into our living spaces.
Designed to remind us of the natural world, this chair provides sheer comfort and relaxation.
The Modway chair comes in a wool upholstery and in this red color that the original Egg chair is noted for.
The frame is made of reinforced fiber-glass and it has a 360 degree swivel mechanism.
Add a little color to your home, office, or commercial space with this gorgeous reproduction.
Key Features:
Wool Upholstery
Aluminum rotating base
360 degree swivel mechanism
Reinforced fiberglass frame
Dimensions: 31.5 x 35 x 42 inches 
Strick & Bolton Ono Tilt-lock Egg Chair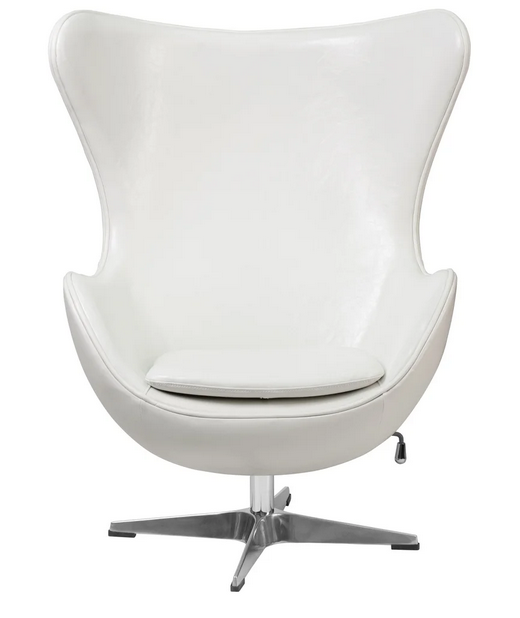 If more color options is what you want, the Strick and Bolton offers 10 fabric color options as well as several leather color options.
The egg-shaped seat features a tilt-lock mechanism that allows you to rock, recline, and swivel.
Choose from 10 colors of wool or bonded leather to pair with your retro style.
Add an eye-catching accent to your decor with this cozy cocoon chair.
Key Features:
Made of aluminum, chrome, and foam
Bonded leather or wool upholstery
Available in 10 colors
Tilt lock mechanism
Rocking/reclining motion
Swivels 360 degrees
Flared arms
Measures 43 inches high x 33.75 inches wide x 30 inches deep
Axis Faux-Fur Swivel Rocker Chair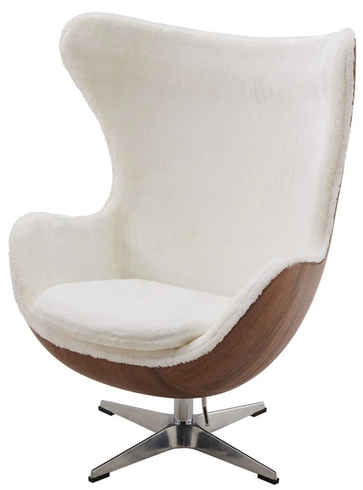 This lounge chair is considered one of the most influential furniture designs of the last century.
Sophisticated and distinguished, with its body-cradling design, the chair gives an instantly recognizable look and makes a remarkably comfortable seat.
Although this chair only comes in the faux off white color, it made the list because of it's excellent reviews and neutral color/cloth.
This chair is so plush and makes an excellent addition to any home.
Relax in style, with the chair that combines ultimate comfort and iconic style.
Key Features:
Materials: Faux fur
Color: Cream
Dimensions: 42.9 inches high x 31.5 inches deep x 34.6 inches wide
Seat dimensions: 21 inches wide x 17.5 inches deep
Floor to seat height: 15.9 inches
Carson Carrington Large Lounge Side Chair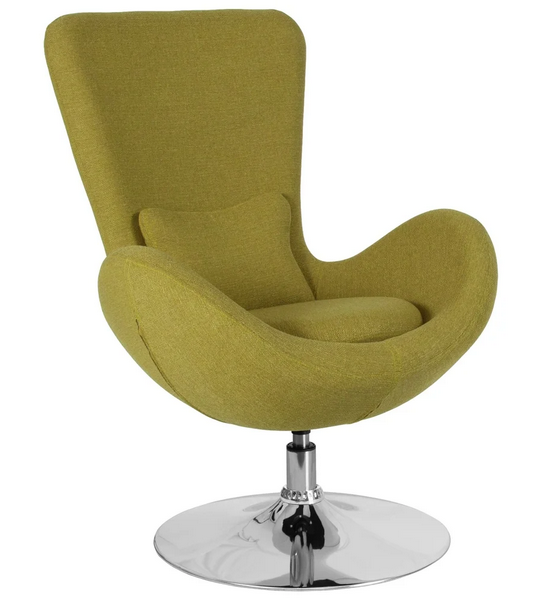 This high back reception chair will add an attractive detail to your lounge or office.
This chair is highlighted with an outer lumbar pillow that provides lower back support and a swivel seat.
Curved wing sides provide a stylish arm detail. The round chrome base features a plastic ring to protect flooring.
Guests will be charmed at the contemporary seating with the added comfort. Please your guests with stylish seating that is made for comfort.
Although the styling is a little different than the original Egg Chair design, it has the same concept and this is a budget buy.
With 11 colors to choose from, you get the same style for under $500.
Key Features:
Made out of Chrome, Fabric, Foam, Bonded Leather
Fabric is polyester
Color options: White, Blue, Red, Black, Grey, Green, Pink, Orange, Brown
Swivel mechanism
Seat dimensions: 17 inches x 20 inches
Width between arms: 30 inches
Depth from front edge of seat to where it meets the back: 30 inches
Height from floor to front edge of seat is 18 inches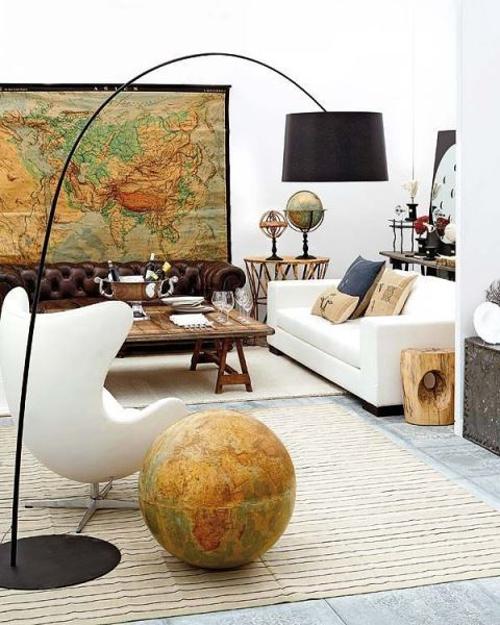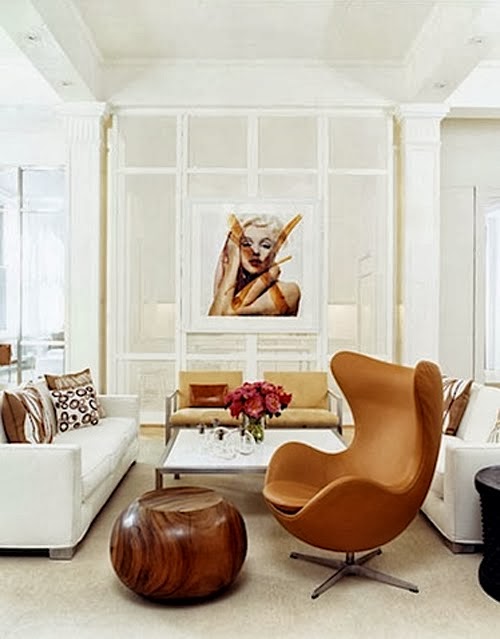 The beloved Egg chair is a true classic furniture piece that is both stylish and timeless.
You may just want to purchase an authentic Egg Chair but if you want the same style for a lower price, any of the options we have listed in this post will give you the look!
We've listed a variety of color options, fabric options, and leather options as well as price points for any budget!
If there are any other great Egg Chair replicas or reproductions that we missed, please let us know in the comments below!