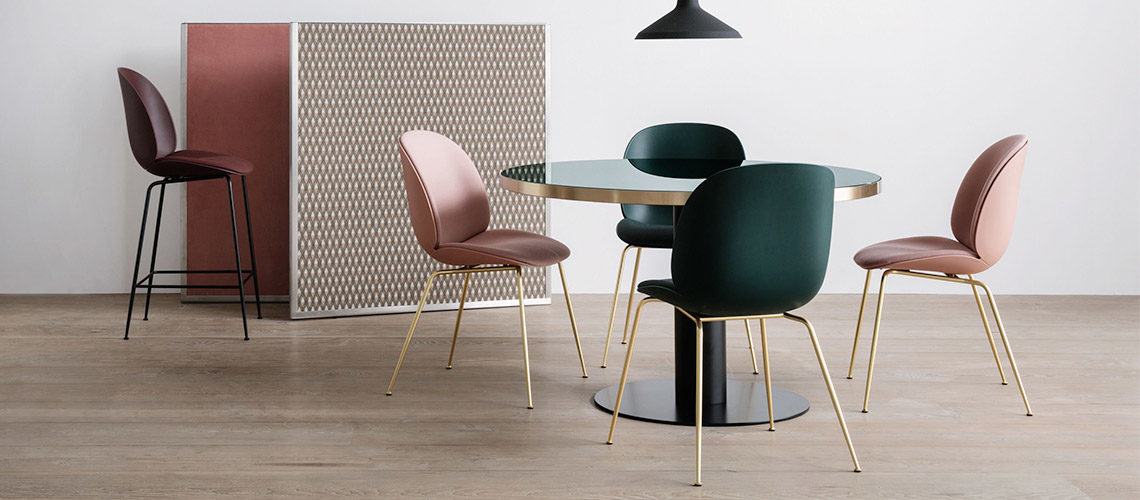 Decorating our homes isn't just about paint and curtains. It's also about furniture and other types of home furnishing.
And one of the things that people really look for when it comes to home beautification is chairs.
In my previous guides, I have given some which have been very popular.
Others like the Oxford chair by Arne Jacobsen have been around for over 50 years and are still very popular to this day.
Some of the chairs that you see today are actually inspired by designs that have been conceptualized years back and in this guide, we're going to talk about one of them.
The Gubi Beetle chair which is a common choice for most homeowners, hotels, restaurants, and more.
But before I give you the top 5 best Beetle Chair replicas on the market, let me first tell you a little bit about their origin.
The Origin of Beetle Chairs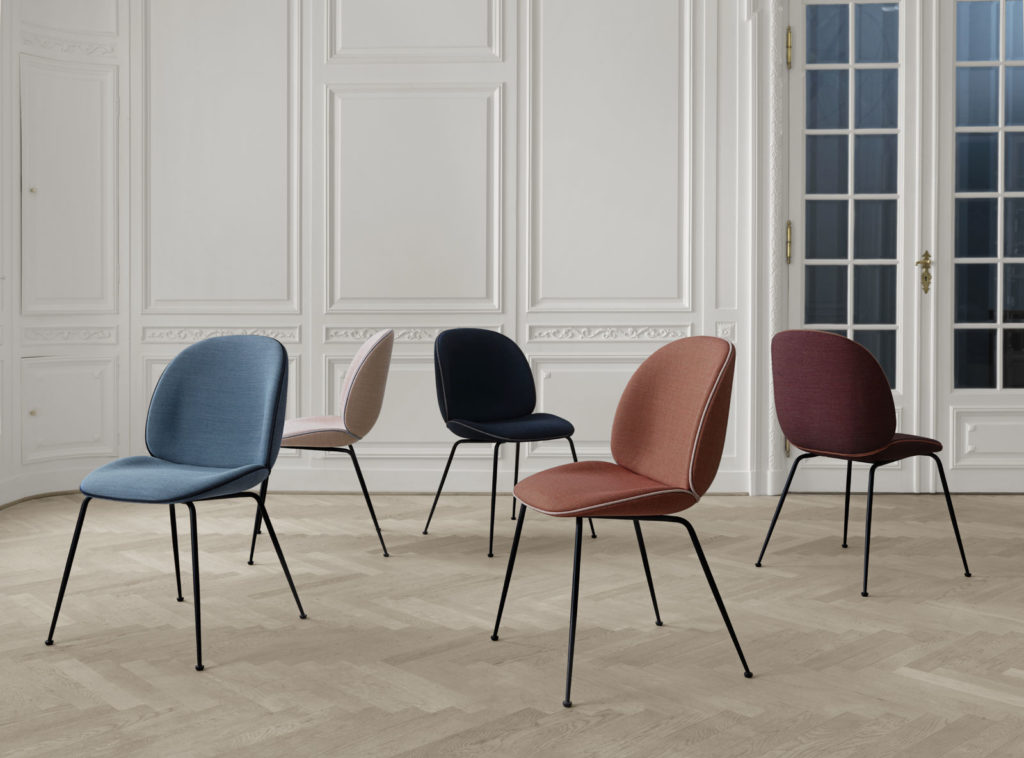 This chair was born in 2013 and is one of the youngest designs by GamFratesi.
GamFratesi, the Copenhagen-based design firm created the Beetle Chair for design company GUBI.
And as the name itself suggests, the design of the chair is actually inspired by a member of the insect family, the beetle.
GamFratesi has done a study on the anatomy of the insect and has considered everything from the aesthetics down to the movement of the insect.
The chair's design is actually a reinterpretation of the overall characteristics of the beetle including the shape, sutures, shells, and the rigid outside and soft inside parts.
It was in 2017 when the Beetle collection grew further in popularity as designs went to unlimited possibilities.
It was in this year when half-upholstered and un-upholstered seats were introduced as well as other designs which offered different base options.
The new polypropylene plastic material used on its shells gave the chair a lower price point but still had notable durability overall lighter expression.
The un-upholstered version of the beetle has easily become a popular choice and ideal solution for both formal and informal settings and spaces and it's all thanks to the wide spectrum of base options and colors that are available.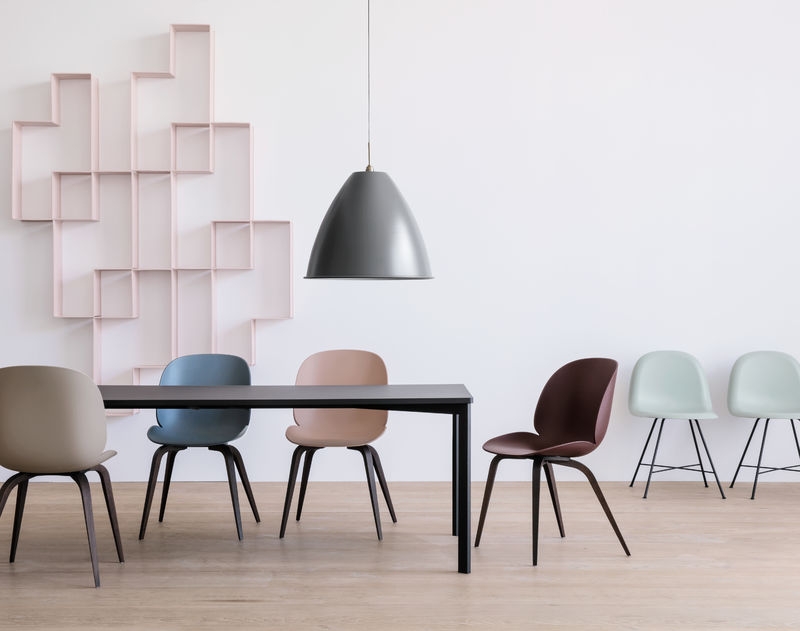 These introductions have helped the beetle to evolve and become a modular concept where customers can add partial upholstery or have it in full over time.
The legs, and as well as the color of the upholstery can also be upgraded if you want to.
This lets the beetle chair work like a living piece of furniture in your home or office as it evolves with you through every stage of your life.
At present, you'll have the freedom to choose from a variety of combinations in the base, shell, color, and fabric which is great if you want to have a personalized chair for your home or office.
You can choose between the one that is fully upholstered or just the front upholstered chair in different colors and an endless choice of leather or fabric upholstery.
There are companies that offer them as a "one-design" chair and there are those that have the modular type.
But whatever it is that you want to choose, there will always be a beetle chair for you and if you're looking for the best-priced ones, I have listed the top 5 of them below.
Top 5 Gubi Beetle Chair Replicas
Home improvement and beautification may sound simple but it becomes challenging especially if you're on a tight budget but have designer taste in decor.
Luckily, there are some pretty great reproductions of the Beetle Chair that are more affordable but still stylish and great quality!
1. GreenForest Modern Velvet Accent Beetle Chair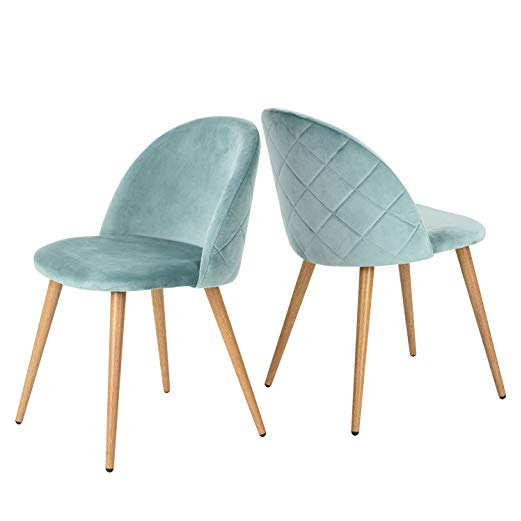 One of the best-reviewed beetle chairs in the market is the GreenForest Dining Chairs Modern Velvet Accent Leisure Sides Metal Legs Edition.
It's got smooth curved backrest that is upholstered using soft velvet cloth and durable plastic material inside.
It's a comfortable chair that perfectly fits different sections of your home such as the dining, bedroom, and living room area.
It is available in four different color variants that are all made of the same high-quality materials which are sure to match whatever theme or design that you have in the specific room where you want to put them in.
Dimensions: 17.9 inches x 19.5 inches x 30.5 inches (LxWxH)
Upholstered using high-quality soft velvet fabric that has a delicate texture and is totally comfortable. It does not cause itch and other adverse effects on the skin
Velvet cushion seat offers a fresh new texture for your dining chair. It is soft both on the seat and backrest. A new elegant seat design for your guest room, bedroom, and even your bedroom
Sold in sets of 2 side chairs with durable metal legs and a backing that is equipped with a "little radian" so your back feels comfortable every time
Legs are made of straight metal tubes with durable plastic at the bottom which serves as a support. The ends are equipped with rubber protectors which is great for sensitive floors
The chair is light but sturdy and it can carry weights of up to 250 pounds. Such a great chair even for small apartments
If you're looking for a low-priced chair that has a beautiful design, very soft texture, and one that provides seating comfort then the GreenForest Modern Velvet Accent Beetle Chair is a perfect choice.
Its sturdiness ensures long-lasting quality and use and the choice of colors which are available ensures that you'll have one that matches your room's design and theme.
2. Zomba Mid Century Modern Velvet Dining Chair – set of 2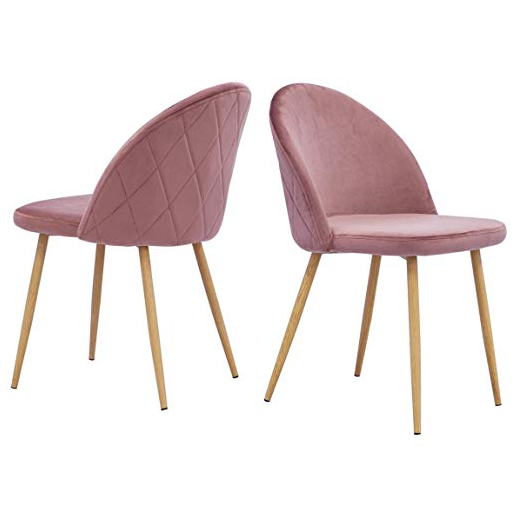 Another top-rated beetle chair that looks and works like the original ones. It's built to take a significant space in every home and is a favorite piece of furniture in the dining rooms.
But its use doesn't just end there, it can also be a perfect leisure chair which you can place in the living room or even in your bedroom.
And if you've got a reading area, this chair will also be a comfortable seat to rest your tired and weary back while enjoying your favorite book.
Dimensions: 17.3 inches x 17.5 inches x 34.25 inches (LxWxH)
Features a soft velvet upholstery material that is comfortable to the skin and has a delicate feature
Hypoallergenic fabric to ensure that you can sit comfortably without experiencing any itch and other adverse effects on your skin
Thick cushion seat material made of high-density cushion seat allowing a high comfort degree and prevents the seat from being deformed even with long exposure to weight and pressure
Ergonomic backrest design and overall form. It's got a "little radian" so it matches your body and the structure of your back. This prevents back pain and discomfort especially when you're seated on it for a very long time
A protective rubber ring at the end of each leg helps in keeping the chair stable even on slippery floors. It also makes the chair noise proof and the legs wear-resistant while protecting the floor from scratches and dents
Flexible use chair that is perfect for the living room, guest room, bedroom, study area, dining room, coffee table, and many other areas in your home
Its light pink color matches well with the wooden tone paint of the legs making it a great set of a chair for every area of your home that needs a touch of femininity.
The legs are also sturdy and durable so you can be sure that the chair itself is capable of accommodating every guest in your home.
3. CosmoLiving By Cosmopolitan Astor Dining Chair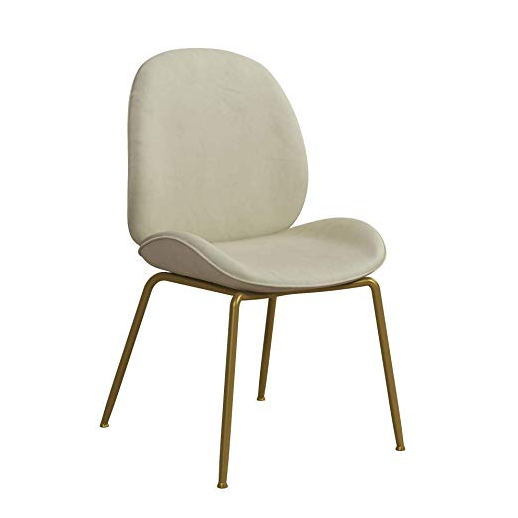 Customers love the Cosmo Living Astor Chair because of its chic design and overall comfortable feel. It's got the classy rounded shape and glamorous soft velvet upholstery that customers are looking for in a dining chair.
It's a perfect chair for your dining area or your working space at home and also works great as a leisure chair in the office.
The CosmoLiving Chair is also perfect if you want to accentuate a particular area in your home or office. 
Made of high-quality sturdy wooden frame
Supports your buns and makes you feel comfortable while seated on it
Requires very minimal assembly and wipes clean using a soft cloth
Pairs perfectly with a CosmoLiving Dining Table or any other dining table
Sturdy legs made of durable metal to ensure guaranteed weight support
A soft cushion that's made of high-density foam to ensure comfort
Rounded and curved edges on the backrest and seat offer ergonomic form and support for a painless and relaxing feel
Rich texture velvet upholstery material with vintage-looking brass metal legs
Robust wood seat frame padded with foam for guaranteed comfort
Available in dining chair and counter stool design options
Available in Black, Green, Ivory, Light Gray, Pink, and Teal color options
To those who are looking for a chair for their dining area, living area, coffee table, leisure area, study room, bedroom, or their office, the CosmoLiving beetle chair is going to be a perfect choice.
It is built with stability, durability, and overall comfort in mind.
And you can even choose from the ordinary dining chair leg design or bar stool leg design so you can pick the one that perfectly matches your intended use.
It truly is a great choice of a beetle chair that you can use for many years.
4. Mujula Accent Dining Room Chair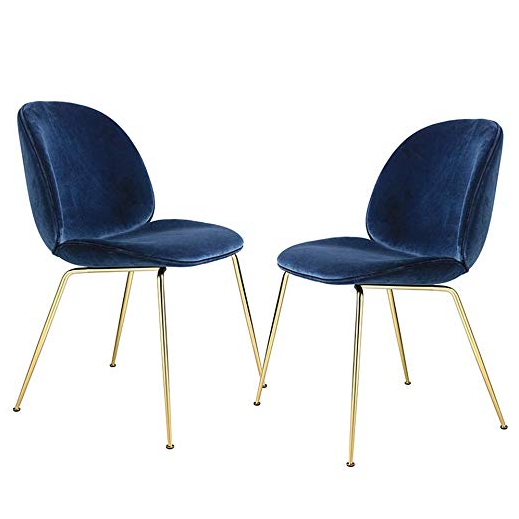 Next, we come to another brand of beetle chair that promises a sturdy weight-carrying build and a design that makes it perfect not just for the dining area but also for some other sections of your home or office.
The Mujula Accent Dining Room Chair is a sleek and comfortable piece of furniture that is designed to be used not just in dining rooms but also in living areas, leisure rooms, bedrooms, and even in the lounge area of your office.
Dimensions: 21 inches x 20.5 inches x 32.7 inches (LxWxH)
Seat Height: 18 inches
Ergonomically designed backrest and seat to ensure guaranteed comfort and style no matter where you place the chairs in
Elegant modern design with high-quality velvet fabric upholstery and high-density foam cushion
Ergonomic encircling design backrest so it better fits the human body. It's smoothly adapted form makes it perfect for long periods of being seated
Stabilized frame design that is covered with flannelette and sponge stuffing to produce fine edges. It's finished with skillful hands to produce vivid details and texture which reflects the real quality
Made of FRP stable frame with 4 durable steel legs which are painted gold for a luxurious look and feel. 
Equipped with non-slip rubber on each leg making the chair stable even on slippery surfaces. It also helps protect the floor from damage
Can be assembled very easily because it comes pre-assembled before being delivered and all you need to do is to finish it off using the 4 screws that come with every chair
The cover material is very easy to clean so you'll be assured of a quality chair that you can use for many years
Stylish overall appearance and functional use. It's a chair that will perfectly serve its purpose no matter what area of your home you place it in
Available in Blue, Gray, and Green Colors
If you're in search of a beetle chair that not only looks great but also works great in terms of overall looks, design, functionality, and performance then the Mujula Accent Dining Room Chair is going to be a perfect choice.
It is made of high-quality materials that ensure durability so you can enjoy the chair for years and years to come.
And if you want a taller version of this same beetle chair then you can choose the "Bar stool" design variation of this awesome piece of home furnishing.
5. Art Leon Velvet Soft Beetle Chair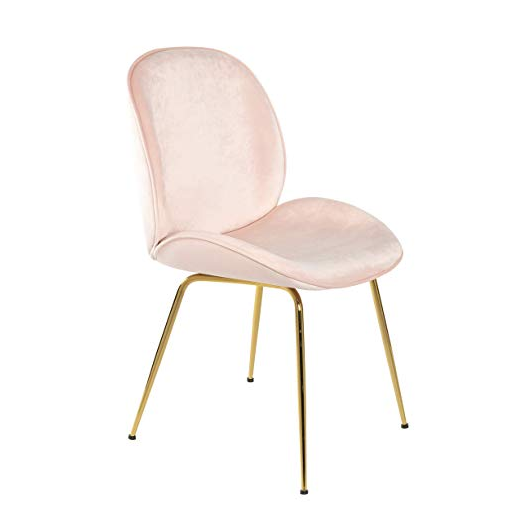 Next, we come to the last piece of the whole puzzle that will complete the top 5 best Gubi beetle chair replica and it comes in the form of the Art Leon Velvet Soft Beetle Chair.
It is designed to become an accent for your home but its use isn't restricted only to that area because the chair itself is perfect for lounging areas in offices and other parts of the home where it can perfectly serve its purpose:
Dimensions: 23.6 inches x 18.9 inches x 33.9 inches (WxDxH)
Stylish mid-century concept that is made more modern by the velvet cover material, soft high-density cushion, and a beautiful selection of colors that can match any color theme in a particular room
Skin-friendly materials that ensure overall comfort and style. You will never get itch or allergy while seating on the chair
Memory foam cushion to ensure optimum comfort and relaxation
Golden coating on each leg ensures that the color will last for up to 5 years
Awesome craftsmanship and quality. Truly a bang for your buck beetle chair
Can be used in dining rooms, study rooms, lounging areas, bedrooms, vanity rooms, and in every place where you want to place it in. It also easily adds to the overall beauty and elegance of the room itself
Supports the low and middle lumbar areas to relieve tightness and pain in the back
Available in Pink, Royal Blue, Teal Green, and Silver Gray color options
The Mujula Accent Dining Room Chair may look like a simple chair at first glance but wait until you use it and you'll surely be impressed with its quality, sturdiness, and overall performance. 
Beetle Chairs For a Better Looking Home or Office
As you can see, acquiring a beetle chair doesn't actually require you to spend that much.
All you need is a little bit of research and you will surely find some good replicas like the ones that I have shared above.
Do you have a beetle chair at home?
What brand have you purchased and what can you say about its overall quality and performance?
Please feel free to share with us your experience by posting them as comments below.
And if you found this article helpful, please share it with your friends or family who you think would also benefit from this guide.