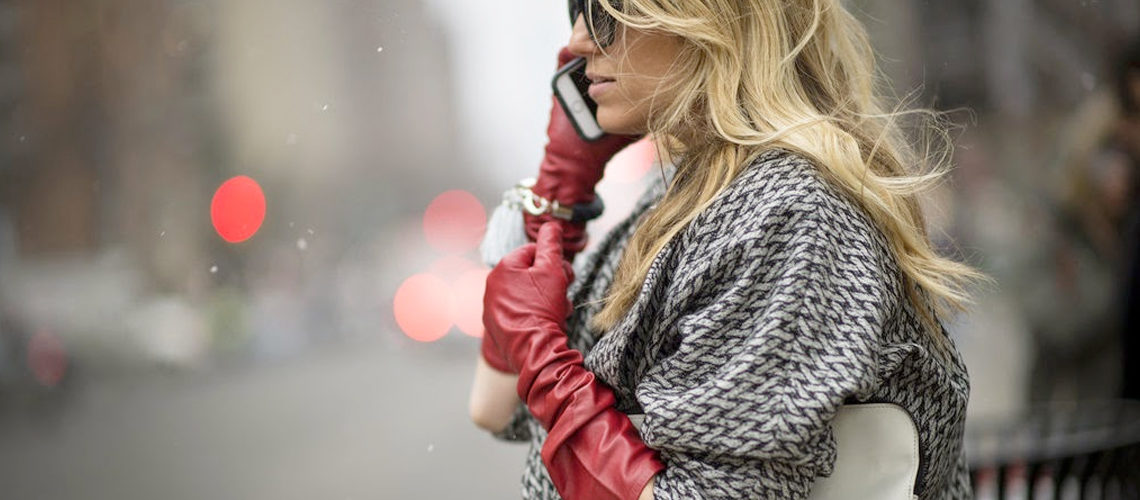 There's just something to be said about the type of woman who can pull off a look like opera gloves.
It's that cherry on top of an already classy, confident outfit. This isn't a style you see often, the gloves that run all the way up the arm, but it's also not just for opera singers, either. 
Celebrities like Kourtney Kardashian have been seen sporting this look on the streets and we are loving this trend!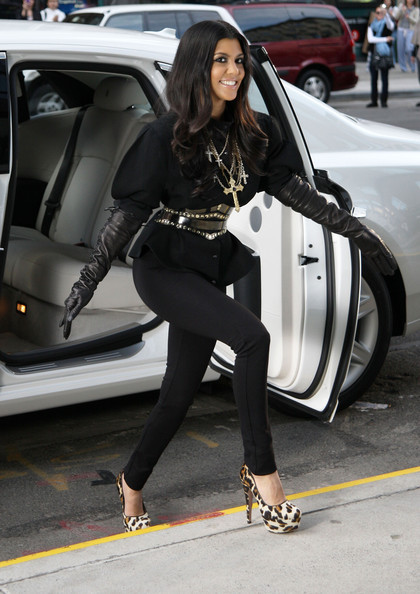 It's about having the poise, confidence, and style to pull this off, which any woman can achieve.
But having the best opera gloves is an important step. They've got to fit right, and they've got to match the look you're going for. 
Instead of going in blindly, we've curated the following selection of hand-picked opera gloves to help you find the best pair. 
Here's the Best Opera Gloves as Seen on Fashion Week in 2023:
1. Fratelli Orsini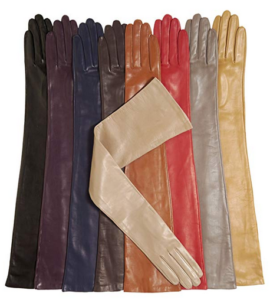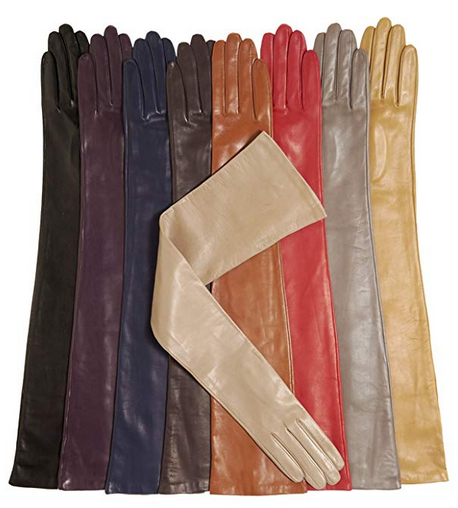 If you've followed any of our other roundups that feature gloves made from leather, you're no stranger to this brand. Fratelli Orsini makes impeccable gloves in many different styles, so it shouldn't be any big surprise to see them topping our list of the best opera gloves.
These women's gloves are absolutely gorgeous, for starters.
But they're so much more than that, too…
They're right around 23 inches long, so they'll go most of the way up the arm, obviously depending on the length of your arm.
It's worth pointing out that there aren't any wrist buttons on these opera gloves, but there are 16 buttons running the length of the arm.
These gloves do not have a lining inside of them, and there's no elasticity or stretch, so they can be a bit of to-do, but overall it's a small price to pay for the traditional glamour they evoke.
As you would expect, these Fratelli Orsini opera gloves are made in Italy, by a skilled team of craftspeople. The stitching is on-point, the style is flawless, and if you're looking for a legitimately high quality pair, these are the ones for you.
Key Features
16 buttons make it easier to wear

Made in Italy by a very skilled, experienced team

High-end luxury

Arrives flat in a sturdy box, instead of being folded up – very important!
Buy Here
2. Fioretto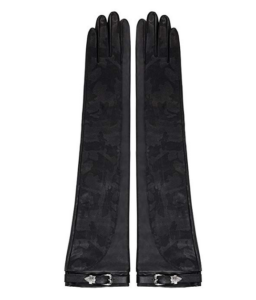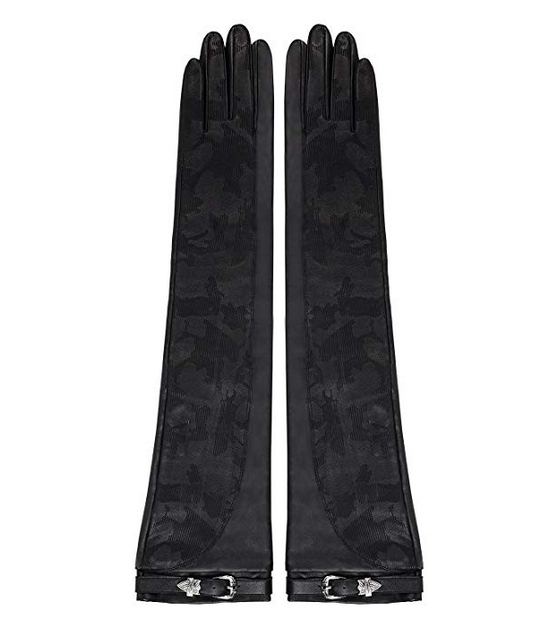 These gorgeous gloves offer a less traditional look than many of the others on this list.
They're still long, leather gloves, but more of an outlaw style.
Having said that, they're still plenty versatile and work for dressing up or dressing down, making them unique from the other gloves we've looked at.
The other gloves on our list offer a more upscale style, whereas these ones work all across the spectrum, which is pretty great! 
These Fioretto opera-style gloves have a textured pattern running the distance of the top, and a silver buckle/clasp at the opening to adjust the sizing a bit.
You can wear them past your elbow, or scrunch them a bit to fit below the elbow. Once again, versatility is the name of the game with our number 2 pick. 
Key Features
Unique textured design

Beautiful, well-made gloves

Made with a combination of Goatskin Nappa Leather and Turkish Snake Leather for an exotic combination
Buy Here
3. Ambesi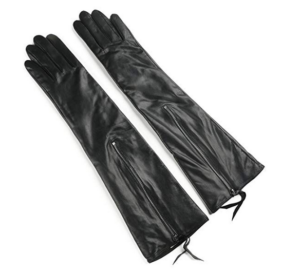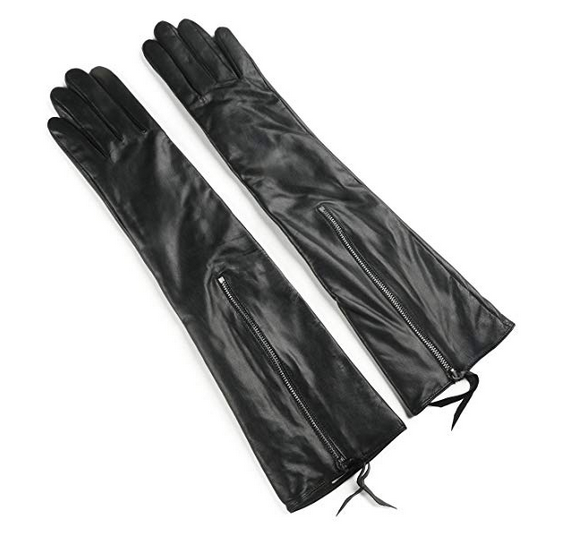 What a lovely pair of gloves! They're perfect for the winter or colder months, with an incredibly soft fleece lining that also keeps you warm.
These lambskin leather gloves are impeccably styled, with a zipper that runs the length of them to make taking them on and off a total breeze.
These are a lot dressier than the pair sitting in the #2 spot, but still less of a traditional Italian style than the gloves at the very top of the list. 
The price is right, especially if this is the style you're looking for.
Note that they'll feel a bit bulkier than the second skin style gloves, since these have a thicker, warm lining and aren't meant to hug your hands and arms quite as skin tight. The stitching is very nice, they're definitely well made. 
Key Features
Meant for colder weather

They run just past the elbow, a bit shorter than traditional opera gloves

The seams are stitched very well

They fit true to size, so make sure you double check the sizing chart and have a measuring tape handy
Buy Here
4. Warmen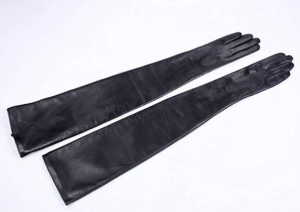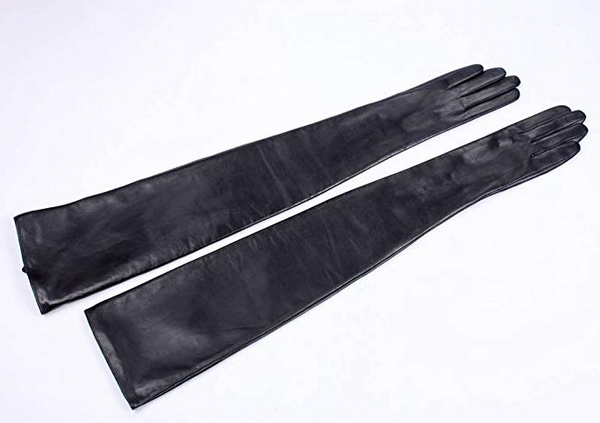 Here's a pair that's relatively affordable, lower quality than our top 3, but still a step above our final choice on the list.
It's everything a #4 pick should be.
If you're looking for something basic, don't plan on wearing them super often so you don't want to spend a lot, but you still want to ensure you're getting a high enough quality product to make it worthwhile – these Warmen opera gloves check off every single box.
These gloves are 22 inches from the opening to the fingertips, they're definitely on the longer side compared to most options out there.
They're made from nappa leather, and feel absolutely incredible to wear, they're so soft on the skin.
They have a "second skin" fit, meaning they fit very close to perfectly, when you choose the right size.
There's not a lot of slack, so they're a pretty tight fit, which is what you want from this style of glove, you want it to contour your arm and fingers perfectly. 
These lambskin gloves are one of our favorites if you take value into account, you're getting a lot for the price, even if they aren't the absolute greatest gloves compared to some that cost several times more expensive.
Key Features
Perfect mid-tier option, not over-the-top fancy but still amazing value

Made with amazing feeling leather with a very soft inside feel

22 inches long

Lining feels like silk, made from very soft jersey-like material
Buy Here
5. Bellady (Costume)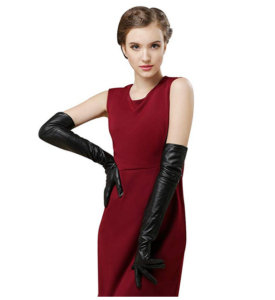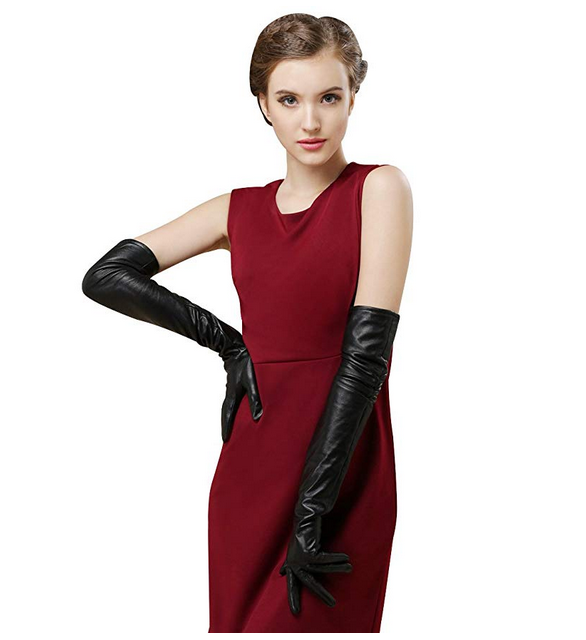 These super cheap opera gloves are perfect if you're using them as part of a costume, or just to dress up for one night, and want something a little more on the novelty side rather than a hand-sewn, high-grade leather pair from Italy, for instance.
We always try to include at least one affordable option on all of our lists, to ensure there's something for everything, and that the style you're looking for is always within reach.
These gloves are just shy of 19 inches long, with a 10 inch opening.
They don't have the same perfect, snug fit as a high-end pair will have.
You would still have to get up close and personal with them to know they're a cheaper pair, at any kind of distance it's tough to tell.
Obviously, they won't feel the same as real, top grade leather but that's okay – you don't always need the best of the best of everything, right?
Key Features
Affordable, no frills, just a simple set of gloves

Easy to put on and remove, they're a bit looser fitting than normal

They have a soft lining that also helps them slide on and off

They can be used with touchscreen devices which is always a plus
Buy Here
Opera Glove Buying Guide: What You Need To Know
Opera gloves have a lot more going on than the typical pair of gloves, so buying them isn't always as simple as finding something that'll fit and looks nice.
As such, we figured the best way to finish off this list is to arm you with the knowledge to help narrow down your options, if you're still not sure which pair you want. 
There aren't very many ways to instantly add an old-time, classic, elegant look to your formal looks.
Back in the day, the length of opera gloves was measured in buttons, even if the gloves don't have buttons on them, so keep that in mind, hearing a pair is 16 buttons long doesn't mean there are 16 buttons running the length of it. 
Opera Glove Length
The length of the glove is one of the key factors to keep in mind when you're shopping. Long opera gloves can run around 22-23 inches.
Shorter ones, typically for more petite women with shorter arms, can start around 16-17 inches. Shorter than that, and they probably aren't really opera gloves anymore. 
You want your gloves to reach somewhere around the mid-bicep, but some women prefer to wear them below the elbow instead, it really comes down to the look and style that you're looking for.
Etiquette 
As with most old fashioned clothing or accessories, there are certain bits of etiquette attached to them.
It's unlikely anyone will chew you out or judge you too harshly for not knowing this, but it's kind of fun to learn about traditions and how these were worm in the past, too…
You're supposed to put them on privately, it's bad etiquette to put them on in public

Use a cigarette holder if you're smoking (even if this makes you look like Cruella DeVille) 

Traditionally, you weren't supposed to wear rings or bracelets over your gloves

Gloves were not to be worn while drinking or playing cards

Gloves were to be removed when dancing
You'll hear differing opinions about many of the old-timey etiquette rules surrounding the best opera gloves. Our advice? D on't worry about it, do you. Make them your own, and wear them however you want to.