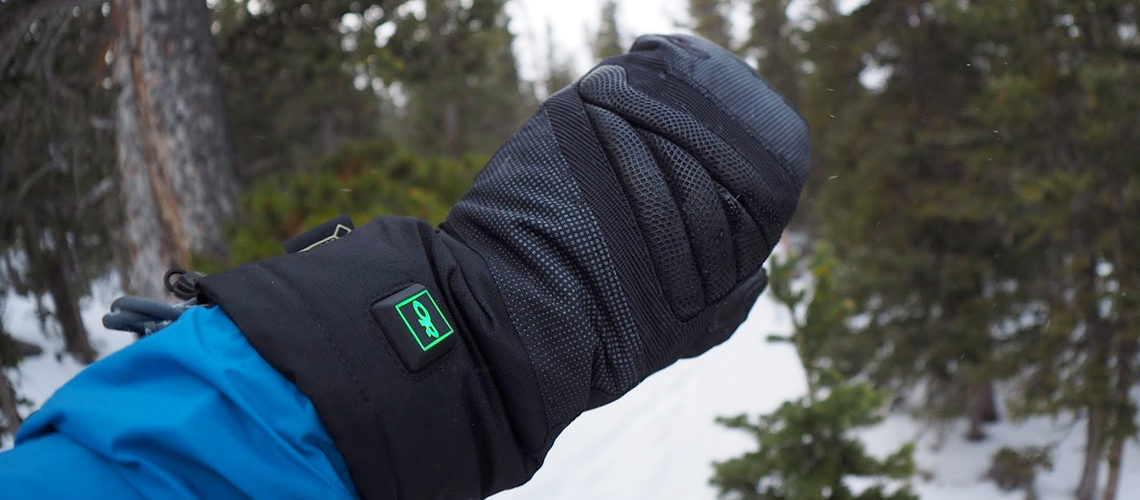 Heated mittens can help keep your hands super warm, even more so than gloves or heated gloves, because in addition to the heat generated by electricity, you're also keeping in more body heat than with gloves.
The downside is that you don't have control of each individual finger, but a lot of the time, that doesn't really matter – a mitten is just fine. 
When your goal is to keep warm above all else, and you don't need to use your fingers, then getting yourself a pair of the best heated mittens will be one of the best things you've ever done for your winter comfort.
We've checked out countless pairs of heated mittens, and in the process we've narrowed them down to a short list of the absolute very best options, and here they are.
Here are the Best Heated Mittens for Men and Women to Keep Warm in 2023:
1. Outdoor Research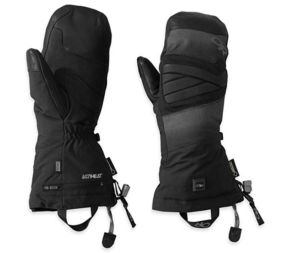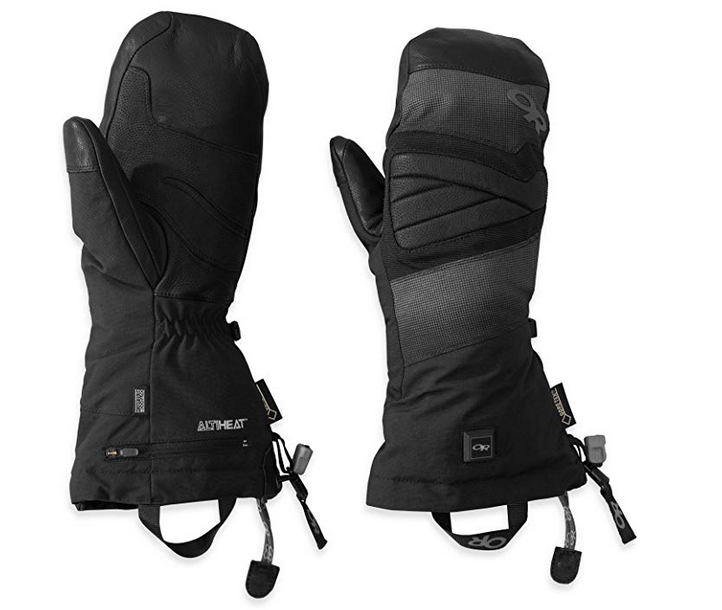 The Lucent gloves by Outdoor Research are just phenomenal. There's a reason you'll find them at the top of this, and many other lists. These are as good as it gets. They're on the pricey side, so if you're feeling a bit of sticker shock, just keep scrolling because we've got some other great options, too, and you don't necessarily need the absolute best of the best. There are plenty of good mittens with built-in heaters, and we've got four more coming right up and they're all less expensive.
Having said that, if you want to splurge on a pair of the best heated mittens, here's what you can expect from them. Outdoor Research is serving up a 100% nylon shell on these gloves, which is a common shell material for heated mittens. The insulation is made out of polyester. There's a comparable for the batteries that zips up securely to keep them in place, while also allowing them to be easily accessed for charging.
They're waterproof, lightweight, and incredibly warm. If the weather is a little bit less biting, you can always turn these off to save your battery, or pop it back on when you need a jolt of warmth. 
The wiring is in the back of the hand, so it shouldn't get in the way if you're doing work with your hands, running a dogsled, etc. 
Key Features
Expensive, and worth every penny

Top of the line heated gloves

GORE-TEX and all of it's advantages
Buy Here
2. Thermic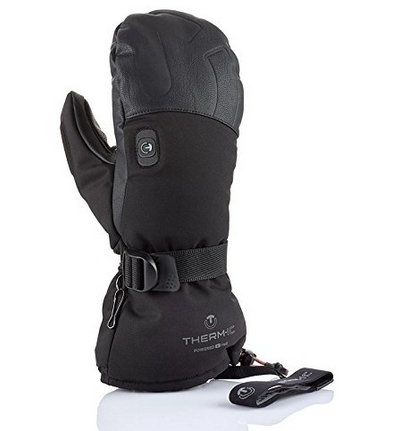 The Powerglove by Thermic is another heavy-hitter in the world of heated winter clothing. The Lithium-Ion batteries included can last for up to ten hours. If you turn them off for even 20 minutes each hour, that's nearly an entire day's use out of them in between charges, assuming you can charge them up each night, you're never going to find yourself partway through the day, working or playing, and having to stop for a charge.
The Primaloft insulation helps keep the heat you generate inside of the gloves, while keeping your hands dry and warm. The zip fastenings, cuffs, and drawstring make a secure seal under your jacket's arm, so there's no leaks of that coveted warm air that'll fill these mittens up. They warm up quickly, the battery lasts for ages, and there are three different heat settings. There's a lot to love about these gloves, if they fit your budget. If not, don't worry, we've still got three more excellent pairs coming up. 
Key Features
Lithium-Ion batteries last upwards of 10 hours between charges

Primaloft insulation keeps your warm, dry, and comfortable all day

Three heat settings and they warm up very quickly
Buy Here
3. Snow Deer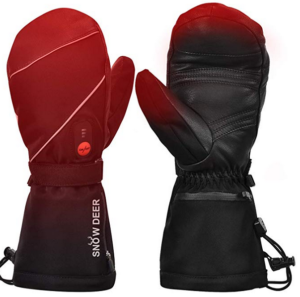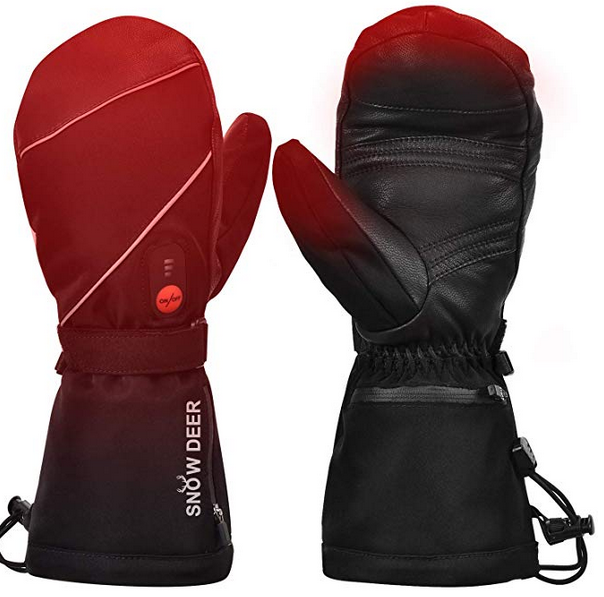 These heated ski gloves by Snow Deer are absolutely mind-boggling, because it's hard to figure out how they're able to offer such great gloves at such a fair price. These gloves are bringing an aggressive amount of quality to the table, wait until you hear what makes them so special.
First of all, they're made from sheep leather, rather than any nylon or synthetic fabrics. The sheep leather is used because it's durable, it keeps warmth in very well, and it looks great. When you're building a heater into a pair of gloves, you want to make sure they're going to last, right? 
The heating elements on these gloves cover the whole inside, from your fingertips to the front and back of your palms. This is important, because it will help you stay evenly warm. 
The palms are sheepskin, and the reverse side is polyester. There are fleece liners on the inside, and anti-slip coatings on the outside for improved grip. These are fast drying, with Velcro at the wrist, and they're very adjustable in just a moment.
Key Features
High quality heating element with great coverage

The palms and front are made from sheep's leather

Durable construction, these gloves should last you a long time

Absolutely incredible value for the price
Buy Here
4. Savior Heat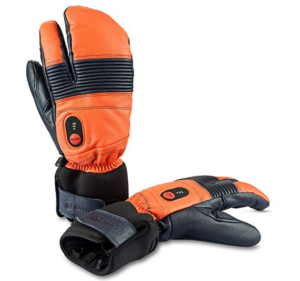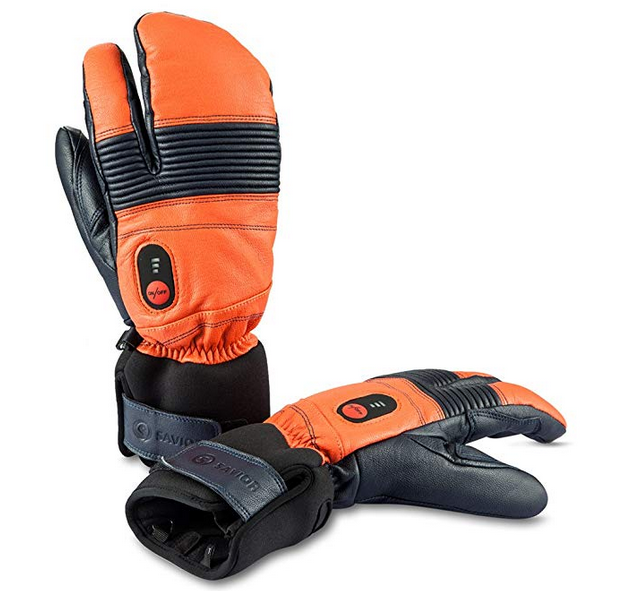 Savior Heat mittens have a unique shape compared to the others, they're kind of a mitten/glove hybrid. Your thumb has its own compartment, and so does your pointer finger. Your remaining three fingers are in their own section, like a traditional mitten. This gives you a bit more control for doing other types of activities, where a normal mitten can feel a bit limiting.
But that's not the reason they're appearing on this list, the reason they're featured here is because these mittens do a great job of keeping your hands and even your wrists/arms warm by proxy.
These gloves warm up fast enough that you'll start to feel the heat right away. The batteries take about 2 or 3 hours to fully charge, so it does take just a little bit of planning ahead, but it's well worth it when you can enjoy the outdoor weather and prevent any heat from escaping through your hands. The pearl cotton insulation on the inside is some of the best feeling we've found to date, these are a joy to wear, with a strong cuff to keep them securely in place, no matter what you're getting up to.
Key Features
A perfect middle-ground in terms of price and value, these are the best pick for a lot of people

Great for sports like skating, skiing, and other outdoor activities

Easy button on the back to turn them on and off, and to adjust to three different heat levels
Buy Here
5. Volt Resistance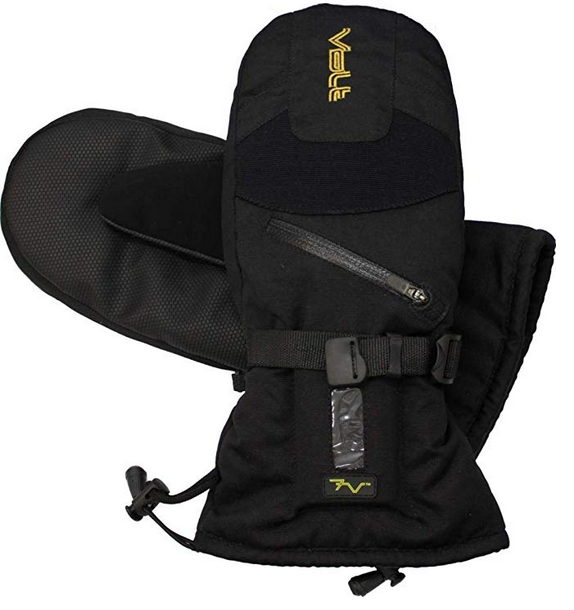 Last but not least, a pair of heated mittens from a brand called Volt Resistance. These are the least expensive option if you're looking for electric mittens, at least out of the ones we've featured. You can find some cheaper ones out there, but we'd recommend against going any less expensive than this because there's a big drop-off in quality. 
Volt Resistance isn't a brand we were familiar with before, but this product is impressive. They can last for up to 2 hours, even while on the highest setting, upwards of 150 degrees of warmth at your fingertips. If you run them less hot, they'll last longer. Also, if you turn them off when you're not as cold, and turn them back on every now and then to heat up, you'll be able to stretch the battery a little further, too.
What's nice about these gloves is that they heat the back of your hand, they heat the palm of your hand, and they even heat your thumb. That's important in colder climates, you need that whole-hand warmth. 
The palms in these gloves are made from genuine leather, and the rest of the shell is made from a very durable type of nylon that's made to last. Both glove has its own little battery in it, that can charge with an included wall charger cable.
Key Features
Durable nylon and leather construction

Very affordable but still great quality

150 degree warmth for your whole hand
Buy Here
Should You Buy Heated Mittens?
If you're going to buy heated mittens, but you can't afford the best heated mittens, is it still worth it to get a cheaper pair? Absolutely! Every pair on this list has earned a passing grade, and we're comfortable referring them.
Sometimes, there are problems with heated gloves that happen, like the heaters will stop working or there could be a minor wiring issues that stops them from working – so it's not a bad idea to choose a pair that comes with a decent warranty, just to make sure you're protected. Any reputable brand will take care of you.
If you spend time outside for work, leisure, or just to get around your city while living your life, and you're sick of dealing with super cold weather, and you'd like to stop the cold from taking over, any of these mittens will be perfect and life-changing.