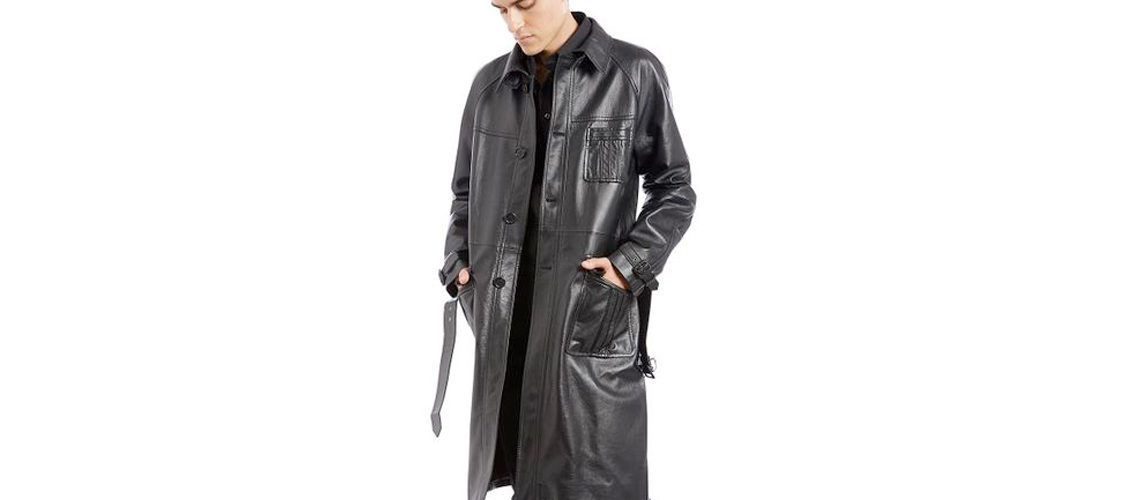 Are you the kind of person who loves the looks of the lonesome cowboy duster coupled with a hat that perfectly radiates rugged masculinity?
Or maybe you love to hit the open road with your bike while your duster is flapping in the wind.
How about getting clothed for dinner with your duster looking like 007 while escorting a beautiful woman on 5th avenue.
There's a common denominator in these scenarios and that is the leather duster!
It helps in making and shaping the man.
Here's the Best Leather Dusters of 2023 Reviewed:
To help you make the best choice of leather dusters, coats, and jackets, we've compiled a list of the 5 best ones that can be found in the market at present:
1. Overland Montgomery

For over 50 years, Overland has been giving us only the best quality leather apparel. Made entirely of leather, the Mongomery leather duster has been made with one purpose in mind – it seeks to bring out the cowboy in you.
The material is made from durable lambskin that is made to look rugged so you can get the masculine looks every time.
It's also designed to provide comfort both in the overall wearing experience and its design. 
It comes with removable leg straps, snap-front and shoulder cape that has snaps to match every alternative look and need that you might have.
You can also bring your valuable items more safely inside two pickets at the waist and the interior of the duster itself. It is 54″ long and has a dark brown color making your ready for both works and play as it looks good for wearers who want to achieve the appearance and fashion that depicts the Wild West.
It might be a bit expensive for some but you're actually paying a good investment because of its quality build, durability, excellent function and fit, and the premium leather that it's made of.
It has all the details and qualities that are found in leather wear belonging to the First-Class category.
Truly, the 5 decades of experience that the company has in creating wonderful handcrafted leather apparel is shown in this leather duster.
If you're searching for a rugged cowboy duster that is both stylish and perfect and one that protects you from the elements in different environments that you enjoy then this awesome lambskin duster is perfect for you. Once you wear it, you wouldn't want to wear any other jacket.
It is also capable of protecting you from puncture holes and this is all thanks to its durability and craftsmanship from a reputable company that has been making high-end leather apparels for over half a century now.
Wear this Montgomery duster coat and you'll surely have a boost of confidence with its stylish looks, guaranteed durability, and comfort that it offers in mobility.
It has fully lined seams and is made from authentic lambskin leather. With its removable shoulder cape, you'll be able to configure it to match your style.
It's also able to deliver protection by keeping you warm and rids you away from harmful elements brought by the weather.
Its rear gussets are 28″ long and it features removable leg straps for added protection.
Also included are snap buttons in front, two pockets on the outside and two other pockets in the inside.
There is also a throat latch that will aid in snap closing when needed. It is designed to be the last jacket that you'll ever need!
Pros
Made by a reputable company that's been making durable leather apparels for over 50 years.
Gives you the looks of the Wild West while maintaining the rugged style
Features a shoulder cape and removable leg straps
Equipped with a snap front design
Comes with 4 pockets (2 outside and 2 inside)
Keeps you warm and protected from other elements in the environment
Made of durable and high-quality lambskin leather
Cons
It's an expensive piece of leather apparel
Buy Here
2. BGSD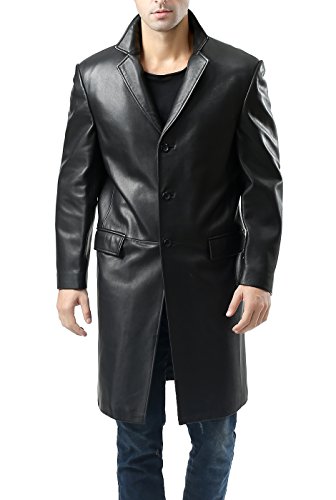 Looking for an all leather jacket that's fully lined and is all black? How about something that's designed to be knee-length?
If that is the case then you will surely love the elegance and comfort that the BGSD duster will provide. The jacket itself is a regular cut one and features three buttons that close the area from the chest toward the waist.
The jacket is also roomy both in the interior and the exterior and has pockets which got enough space to carry your valuables while still looking stylish from every angle.
 The jacket is made in the USA but the material is 100% lambskin from New Zealand so you can be sure that it provides both comfort and style with its perfect fit!
If you want to have a more traditional look and style when wearing a coat then BGSD is going to be a perfect choice.
It has more than enough space both in its interior and exterior but still provides a perfect shape and fit in case you need extra room for your stomach or chest.
With the jacket on, you will not look bulky or something.
It is important to note though that Zeeland's size charts tend to be a bit big so be sure to that you know your body's dimensions so you can enjoy wearing it fully opened or closed while still looking amazing either way.
You'll feel comfortable and always in style with the classic looks that BGSD has.
It's a regular fit for men who are looking for a long black leather jacket. It is lightweight and is ready for wearing for most of the year depending on where you live.
If you're looking for a black leather jacket/duster that is knee-length and has a classic look then this one is the best!
It has a roomy fit and features full-lining with three buttons that close the front.
It is a quality product that is made by a designer company which is popularly known for its comfortable and high-quality leather apparel. You'll never score a loss with BGSD as it gives you the perfect looks, feel and keeps you in style the whole year round.
With the inner and outer pockets that it has plus the panel vent at the back, this jacket is going to be perfect for men who are looking for a soft, durable, classic, but mean looking black leather duster coat.
Pros
Made from high-quality New Zealand Lambskin Leather
Crafted to ensure comfort and style without compromising on durability
Single split back design
Classic style with sexy black color
Soft on the inside
Price isn't too bad
Cons
Sizing runs larger than others
Buy Here
3. Smart Range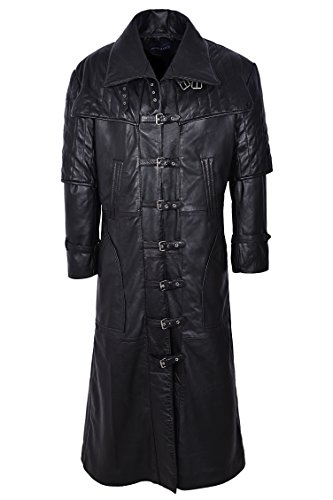 Look like the popular Vampire Hunter character named Van Helsing with this full-length, all-leather duster coat that is lined completely to match his fierce looks.
With its buckled collar design and 7 closures which also has strap buckles, you will get the comfort that you want with mobility and unrestricted movements still being available in this captain type leather duster coat with dark color.
It is made from 100% genuine sheepskin leather which is going to prove its softness and pliability while you're wearing it.
Your valuables will also be safe inside four exterior pockets and two interior pockets which feature plenty of room for storage.
You will also love the padded shoulders and arms with the slit from the bottom which makes it safer and easy to move. Look in style all the time and always be ready to combat the elements with this high-quality jacket which is designed to look good on its wearer.
Its lining and jacket aren't capable of being zipped so be sure that you're comfortable with the roomer buckle design closure that is not 100% secure but still looks fashionable to wearers who love the looks of a Gothic hero.
If you want an old-fashioned heavyweight jacket which matches the looks of a Hugh Jackman hero then this Smart Range jacket is perfect for you.
It serves well during those cold winter days experienced in Transylvania. If you're attempting the Steampunk style then this coat will also work perfectly for that.
This genuine sheepskin leather coat extends toward the knee and is heavyweight. It looks like it's created from Van Helsing movies.
It provides a layer of comfort and warmth across the shoulders and the back and both are sewn in place using a black lining.
With four roomy pockets on the outside and two on the inside, you'll easily be able to hide your vampire stakes and silver bullets.
You can also keep your treasures safe within its comfortable interior.
It's not a cheap knock-off costume but a real leather coat that will look great on any wearer whether a fan or not.
Pros
Made of 100% Lambskin Leather
Soft and Pliable texture
Durable and mean-looking
Perfect for all weather (but not freezing weather)
2 inner pockets and 4 outer ones
Buckle closure on the front and 2 buckets on the neck
Cons
Only one color available (Black)
Price is on the middle level of being expensive
Buy Here
https://www.amazon.com/Smart-Range-Captain-Helsing-Leather/dp/B00J4NPUWW
4. AllState Leather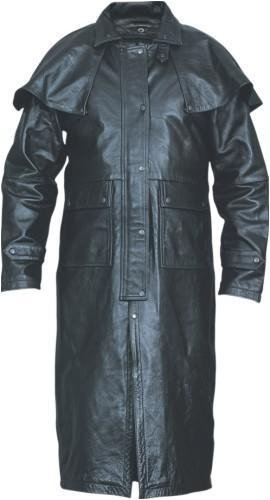 If you are looking for a coat that's made of premium buffalo leather that's designed full length then the AllState jacket is what you need. It has a zip liner attached to it and a cape that's removable to give you protection and stylish looks every time.
At the backside portion of this coat is a split up that allows you to move freely when straddling your chopper.
And with its two outer pockets which have stylish snap closures, your valuables will be much safer than any other jackets you've ever put on before. In the same way, there are two other pockets in the interior and leg straps on the inner leg to add stability.
It is available in sizes from small to 4XL and is going to be the best-looking bike duster coat you'll ever find in the market.
Just like any other purchase that you do, this one will give you a warranty to make sure that you're happy with what you bought.
It is made of real buffalo leather so it can be a bit stiff but the more times you wear it, the more it will become soft, pliable and movable.
Through the years, AllState has been praised by customers with this kind of cut. Aside from being a heavy duty biker's duster, it also gives one the tough and masculine look while feeling comfortable and warm during cold weather.
The coat is made of all buffalo leather which puts it on the high-class duster category. It looks really stylish without compromising on quality and comfort.
And since it is made of genuine buffalo leather, it's guaranteed to last for years. Its zip-out liner and removable cape make it perfect for those who want to configure the coat to match their style.
It also has a slit up design at the back so it can be worn when riding a bike.
With 2 outer pockets both containing snap closures and 2 interior ones which are roomy for your valuables, you're wearing not just a coat but also a safe!
The sports leg straps on the sides provide freedom for whatever movement or comfort that you want.
It is made by AllState Leather, the leading brand in leather apparel and biking leather and it comes with a 30-day warranty.
Pros
Heavy duty leather made of genuine buffalo hide
Zip removable liner and cape
Features leg straps for easier mobility
Comes with a 30-day warranty
Slit-up back design
Cons
It can be heavy for those who want to wear something that's lightweight
It is on the low level in terms of being expensive when compared to other brands
Buy Here
5. Van Helsing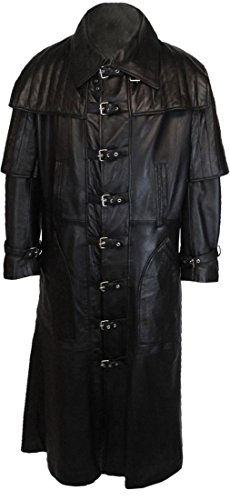 Still, another beautiful masterpiece that serves as an example of the timeless popularity of the leather duster.
It takes the full-length design just like the ones listed above and borrows the style of the legendary hunter of vampires, Van Helsing.
It is made from BLACK NAPPA sheep's leather which is known for its luxurious looks and premium quality that is satin-soft to touch.
It is soft, supple and lightweight when compared to other kinds of leather and if proper care and maintenance is done, the coat is going to last a lifetime!
Just be sure to consult the sizing chart before purchasing one so you can be sure that it fits you perfectly.
Its nine silver buckles work together in closing the front while giving it a stylish look as they extend from the collar area down towards the knee.
The coat has four pockets on its exterior and one inside. Double stitching ensures durability and strength to make you safe and warm every time.
Your shoulders will feel warm because of its undercoating that is padded and quilted with a double stitch and removable cape.
You can pick from three different lengths or you will be given the standard 54-inch coat.
You don't need to worry about how straight the coat design is. There is a back slit that is adjustable by way of snapping press studs.
Take them together for a closer fit look or unsnap them to achieve a more fluid style. The slits also allow the wearer to move more freely so they can ride a motorcycle safely and comfortably.
If you love the Romantic Gothic looks of your favorite vampire hunter hero, your overall outfit will not be complete without this form-fitting black leather riding or hunting coat that is made from genuine lambskin leather.
It ensures that you're comfortable with its soft texture and warm interior padding.
This traditional Van Helsing inspired hunting/riding long coat is available in three lengths (51 inches, 54 inches, and 57 inches). Each piece is handcrafted using Black lamb NAPPA leather which is known for its softness and durability.
Every piece of leather is inspected to ensure that it is the highest quality possible before it becomes part of the coat.
Its padded shoulder cape is removable by snaps and it has plenty of room in its pockets to make your valuables safe and secure.
The company offers 30 days of warranty.
Pros
Features a 9-buckle closure on the front
Removable shoulder cape that is quilted and stitched for guaranteed durability and comfort
Full length (available in three different sizes)
Double stitched in every connection points
It has buckles on its cuff
Cons
Expensive on the medium level in terms of its price
Buy Here
These leather dusters may have similar looks and features but there are things that a consumer needs to pay attention to such as leather type, collar, closures, cape design and overall appearance before finally picking one.
And of course, price is also a key factor that needs to be considered.
Choose the one that not just fits your body size but also your budget. Don't fall for the looks that you see on your smartphone or computer screen.
If you have time, you can visit your local apparel shop and see how one brand differs from the other.
Above all, don't forget to choose the one that looks good on you.
The last thing you want to do wrong is investing hundreds of dollars on a leather coat that won't even fit you.
So take time to look and inspect each one, fit them one after the other before making your final pick!