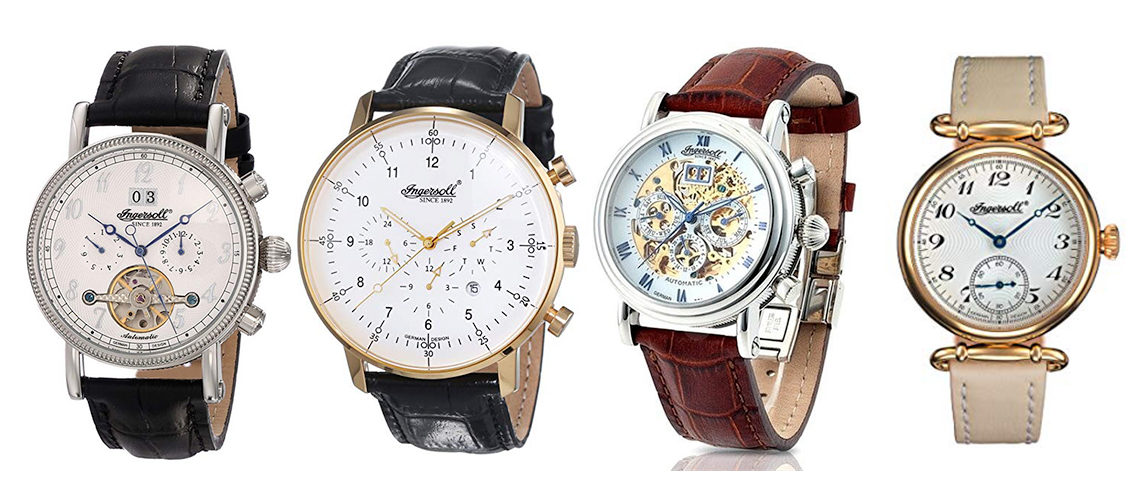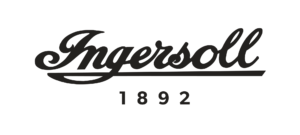 If you haven't heard of the name "Ingersoll", or the corporation "Ingersoll Watch Company", don't sweat it.
Even though Ingersoll has a history that dates all the way back to 1892, it can't compare to the popularity of such behemoths as Rolex, Omega, or even Hamilton.
Unlike some of the bigger names in the watch industry, Ingersoll's ownership has moved from one company to the next.
There are two sides to that.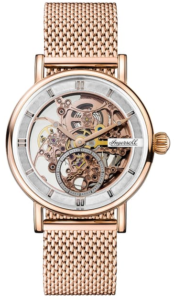 Herald Skeleton Automatic Mesh Strap Watch, 40mm
The good news is that the brand never dies as every time it transfers, a sort of evolution with the brand happens.
The bad news is that it sometimes gets a bad reputation as a weak brand because it keeps getting acquired by another bigger company.
This is really unfair as some of the bigger watch names have also been purchased or have merged with other watch companies to continue to be competitive.
Presently, Ingersoll is under the control of Zeon Watches, a branch of a Hong Kong company, Herald Group.
To Ingersoll's favor, the brand has maintained the spirit of the founders even as they try to stay relevant by reinventing itself to keep in stride with modernism.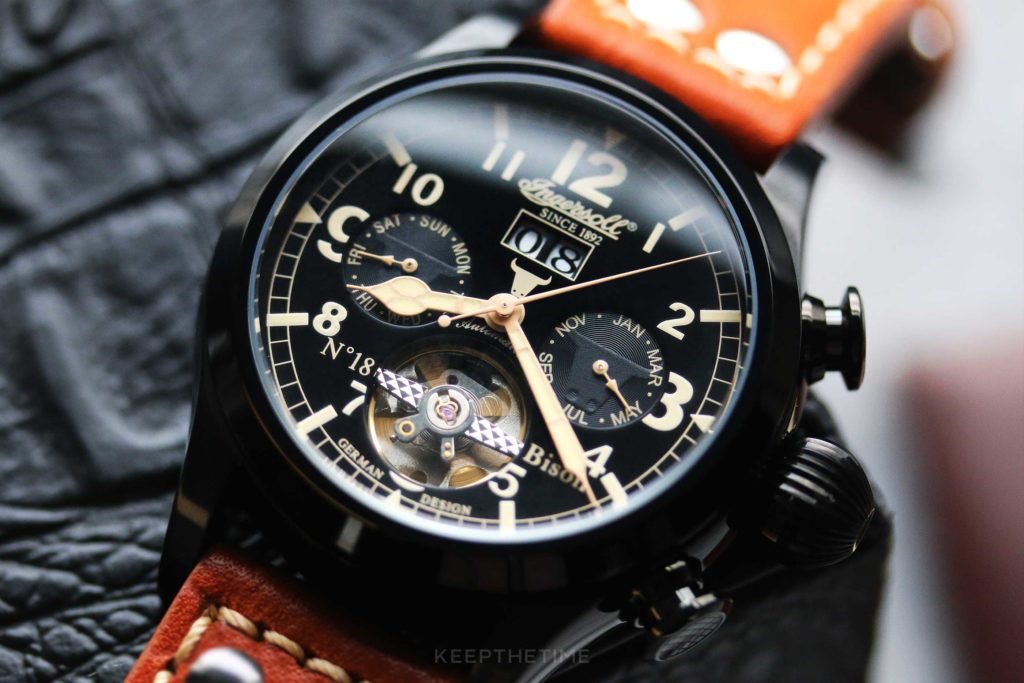 Ingersoll Watches History
The Beginnings
Interestingly, Ingersoll didn't start out as a watch company.
It wasn't even on their minds when they started a mail-order business in 1882 that was selling mostly low-cost items (i.e. rubber stamps and other similar items).
The brothers, Robert Hawley and Charles Henry Ingersoll saw a need to get into the watch business because they realized that there was a potential market for inexpensive watches and only very few options.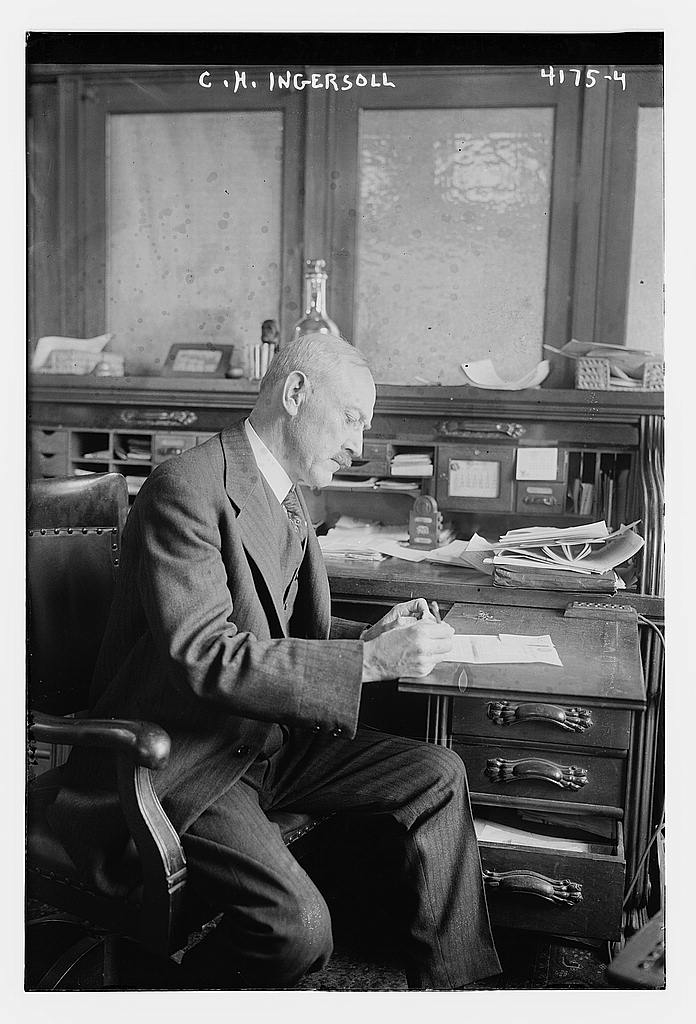 They envisioned a watch that is affordable by the standards of a regular working person.
Those days, there were only two big watch companies that were actually producing the watches that the brothers wanted – The Waterbury Clock Company and the New Haven Clock Company.
They were selling these affordable  "clock-watches" but they had a hard time getting traction with the common people and were lacking in the distribution department.
Universal, Columbus, Yankee
In 1892, only ten years after their original company started, Ingersoll ordered 10,000 watches (each one cost $0.85)  from the Waterbury Clock Company.
They then aptly named it "Universal" because they wanted the reach of their brand to be, well, universal.
As a fun fact, the Waterbury Clock Company would later be known as Timex.
The Universals would be big for today's standards but they were the perfect size for those days.
They would be hanging like pendants and their size (3 inches in diameter and 1 inch in width) was cool for that era.
And similar to a lot of watches today, they had crowns and bows and were encased in hard glass.
The slight difference with today's watches is that the crown was actually more of just aesthetics as you can't really adjust the time through it.
ou had to open the watch itself and manually move the hands using a "wheel" and a key that is included in the case.
A little tricky to say the least, but that's how they did it.
As with most startup businesses, Ingersoll only sold the Universal watches at wholesale in the beginning to at least make some profit.
But not long after that, the Universal appeared in the Ingersoll mail-order catalog and was now being sold to individual customers for $1 per piece.
During the 1892 Columbian Exposition, the Ingersoll clock-watches were now being sold at $1.50 but that didn't stop the momentum to the tune of 85,000 watches.
Because of the amazing feedback from the consumers, Ingersoll was asked to showcase their products at the Chicago World's Fair in 1893.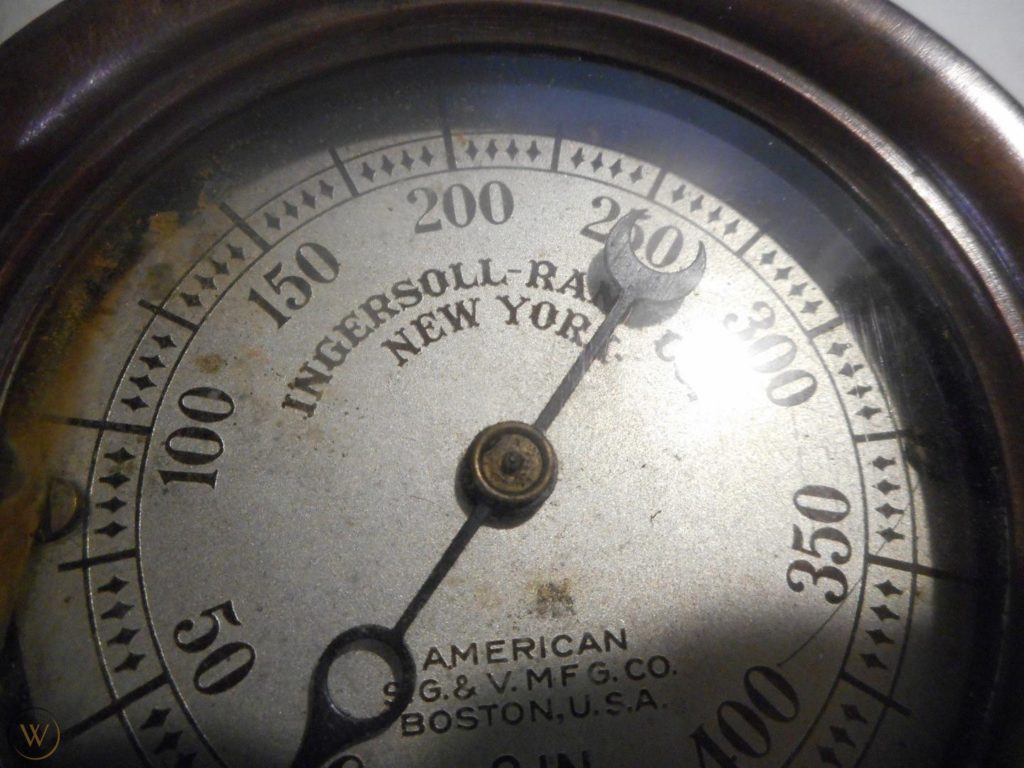 During the fair, Ingersoll released the Columbus.
It was sort of a mini-Universal clock-watch.
It was made more valuable when the World's Fair stamped it with their symbol.
To further strengthen their commitment to providing quality, affordable watches to everyone, Ingersoll produced the Yankee, the cheapest watch of its caliber.
It was also rightfully nicknamed, the "dollar watch".
To produce such a cheap quality watch that anyone can buy, Ingersoll developed the Yankee from recycled (but still very useful) parts and didn't place any jewels.
Continuing Growth
Men's Scovill Chronograph leather Strap Watch
The watches were produced from three different factories – Waterbury Clock Company (which Ingersoll had a contract with), and from two factories that Ingersoll had acquired located in Trenton, New Jersey and the other one in Waterbury (not the clock company).
One thing that made Ingersoll famous was that it was known to have created an amazingly effective delivery system and also basically "forced" the retail shops to sell their watches at the same price, wherever they may be sold.
Their output had grown to 8,000 watches per day by 1899.
Ingersoll created a slogan that said, "The watch that made the dollar famous".
And only two years later in 1901, the $1 watches by Ingersoll were in the product lineup of 10,000 dealers in mainland USA and in Canada.
European Invasion
The next logical expansion would be Europe and in 1904, Ingersoll opened a shop in London, England.
The Crown pocket watch (as in UK crown, get it?) was released there and it was sold for only 5 shillings (around $1, of course).
Ingersoll Ltd had to be created in England because of British laws and the parts of the pocket watches had to be shipped from other places.
Shortly after, a London factory was purchased and all the manufacturing was done there.
The Crown pocket watch was in full distribution mode until the 1920's when Ingersoll in America started its decline.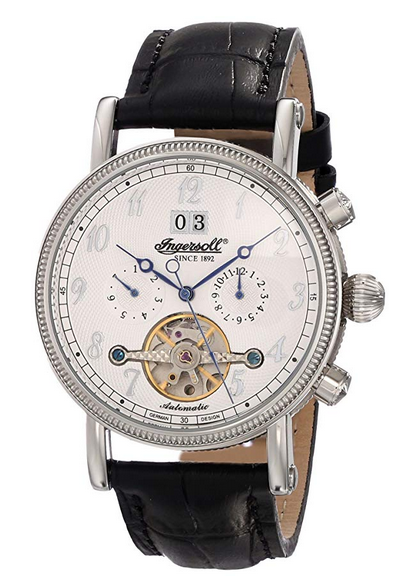 Men's Trenton Leather Strap Watch, 44mm
Design Developments
Due to the massive response of the people, Ingersoll tried to grow the empire by acquiring the Trenton Watch Company in 1908 and then the New England Watch Company (which had filed for bankruptcy in 1914).
Powered by its reputation of producing cheaper, quality watch, the company was putting out 16,000 watches every day in by 1916.
They already had 10 watch models by then but in 1917, Ingersoll released a 7-jewel watch called Reliance.
They weren't done designing yet because, in 1919, Radiloite came out.
It was revolutionary as it had a "night design" and even came with a luminous dial.
It seemed that the Ingersoll wave was not going to stop.
In the first 15 years of Ingersoll watches, more than five million units were bought by customers who were eager to own a dollar watch.
Hard Times
Unfortunately, World War I arrived and destroyed a lot of the progress that the company had achieved.
Ingersoll still had the reputation of producing great and affordable watches but because of the recession resulting from the war, people couldn't even afford a dollar watch.
Ingersoll went bankrupt in 1921.
And circumstances went full circle as the Waterbury Clock Company (the company that Ingersoll initially purchased watches from) acquired Ingersoll in 1922 for $1.5 million.
Ingersoll's England business branch, Ingersoll Ltd. was then sold by Waterbury Clock in 1930.
The board of directors jumped on the opportunity and purchased the company and it became a full British-owned firm, but still keeping the name.
Interesting note: Wristwatches made a drastic jump in reputation because of the popularity of the military field watches that were being used during World War I!
Thankfully, the creativity of the company was not lost.
Now called Ingersoll-Waterbury (admittedly not very creatively-named), they released in 1930 a watch that would've been assuredly not in the lineup when they started the company – Mickey Mouse watches. It did pretty well.
The Waterbury Clock Company underwent a massive change in 1944 and promptly renamed the firm United States Time Corporation.
Today, it is more famously recognized as the Timex Group USA.
They continued manufacturing Ingersoll products in the USA up until the 1950s.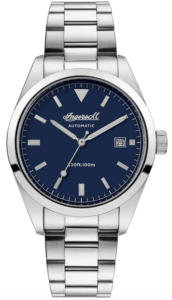 Post-World War II Europe
Now fully British-owned, Ingersoll Ltd. merged with two other companies, Vickers Armstrong and Smiths Industries Ltd. and set up a "new" company, "Anglo-Celtic Company Ltd. located in the estate of Ynyscedwyn.
The very first watch that it released was designated as caliber PY and basically had similar movement to the previous generation of Ingersoll British watches.
They named the first products of this new generation as Smiths Empire and Ingersoll Triumph.
Not surprisingly, because of the obvious lack of creativity, Ingersoll Ltd. withdrew from the merger.
After delivering watches to 60 nations and with more than 30 million watches in sales, the factory inevitably shut down.
They are most famously known as the company that produced watches with cartoon characters – Popeye, Donald Duck, Lone Ranger, Betty Boop, and the universally famous, Mickey Mouse.
Present Day Status
The Ingersoll brand still markets to more than 50 different nations and is still a fairly-known brand.
The current owners of Ingersoll watches are Zeon Watches, which is a British arm of the bigger Chinese conglomerate, the Herald Group.
Where Do They Make Ingersoll Watches?
As previously stated, Ingersoll watches were originally made in the mainland US.
However, because of the many developments of the company (change ownerships, mergers, bankruptcy), this is no longer the case.
Ingersoll watches are now being manufactured from mainland China, with automatic movements made from Shanghai and Tianjin Seagull (the world's biggest producers of mechanical watch movements).
There were a few controversies when it was found out that Ingersoll watches are now being manufactured in China, to say the least; especially the watch movements, as the Chinese were not known to have the best watch movements (when compared to European standards).
The quality has improved over the years but it is still light-years away from the high-quality standards set by the "Swiss-made" watches working around the Swiss 60% Rule.
To lessen the complaints, the finish actually looks top-notch as these are designed in Germany.
Ingersoll Reputation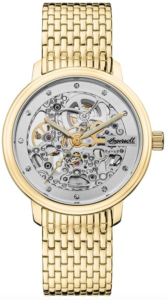 Women's Crown Skeleton Automatic Bracelet Watch
If something was established in the 1880s, it should have pretty good notoriety as high-quality and well-received.
Ingersoll is exactly that.
After producing watches that were very affordable and still excellent, the brand had the appreciation of the people.
These days, Ingersoll still carries the reputation of being dependable, durable, and yet fashionable.
They are in the price range of $100-$500; which would be considered mid-level watches.
This is similarly-priced as other mid-level watches such as Bulova.
Unfortunately, some hardcore watch enthusiasts know that Ingersoll watches used to make dollar watches (meaning they were very affordable even to the regular person) and therefore some label many of the Ingersoll models as excessive.
Some would even go so far as to call Ingersoll a "mushroom brand" or a "myth brand"; meaning these watches are sold only through the internet after being mass-produced by huge Chinese manufacturers.
Those that know better would call Ingersoll a resurrected watch company because their branches in the US and in Europe have died but they are now making a comeback.
Albeit, the quality is far less than the original because the business is being run by people whose vision doesn't concern watches but profit.
They keep the old name, Ingersoll, because of its retentive value.
In Germany, especially in airports, department stores, and other populated places, Ingersoll watches are still popular and can still be found being displayed physically.
Whatever the differing opinions are about the brand, it is still a widely-held belief that they are still producing excellent quality watches at fairly affordable prices.
Are Ingersoll Watches Still Good Quality?
Similar to the difference in opinion about their reputation, Ingersoll's quality these days also has many defenders and attackers.
The biggest controversy was the move to having Chinese movements being used in the watches.
Because of the high standards in the US and European watch industry, which Ingersoll was a part of for a long time, it was seen as a demotion when the brand decided to shift to Chinese watch movements.
And truth be told, it was a disastrous start.
It was reported that up to 50% of the watches were returned by authorized stores and retailers.
Many of the newer models needed repairs or replacements.
Over the last few years, the percentage of returns has dropped significantly as the Chinese watch movements have undoubtedly progressed.
This, in turn, led to a much better overall quality of the modern Ingersoll watches.
This has been a huge boost to the brand as the overall opinion of the watch industry has described Ingersoll as good value for your money with respectable quality and continuous improvement of movements. Many Ingersoll watches are being sold for less than $300.
The other watch brands that have comparable quality and are within the same price range would be Stuhrling, Bulova, and Fossil.
There are even Seiko and Citizen watches that would compare favorably to the price range of Ingersoll.
As these two have a better reputation when it comes to watch movements, brand popularity, and even design, it would be more beneficial to compare an Ingersoll with a Seiko, for instance.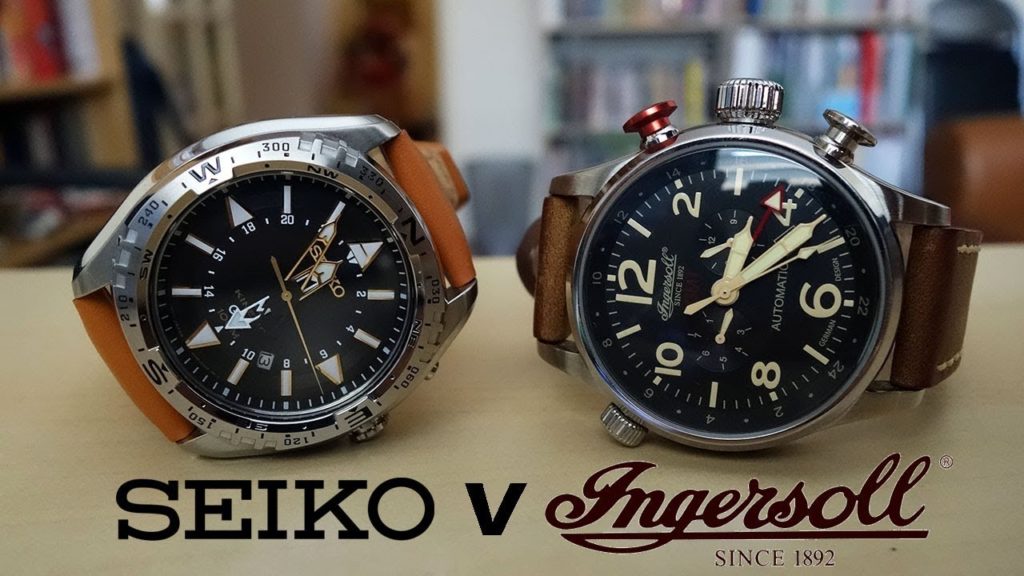 Ingersoll Warranty Policy
Because of its strong belief that a watch should last your whole life, Ingersoll watches have that a lifetime warranty, which is very rare these days.
However, the lifetime warranties are only for their 2016 Autumn/Winter lines and the succeeding watches that are produced by the company.
Previous models carry the industry-standard two-year warranty.
The warranty includes erroneous craftsmanship and flawed parts (excluding the leather strap, buckle, and battery).
If repairs are necessary, they will be done at no extra cost to the customer.
If the parts for the specific model are not available or if the watch has been irreversibly damaged while under the warranty, Ingersoll reserves the right to replace the unit with a different model within the same price range or one with comparable style.
A completed warranty certificate and the receipt as proof of purchase are needed to avail of the warranty. To see the details of the Ingersoll warranty policy, click here.
Where Can You Buy Ingersoll Watches
The most evident place to look would be through the Ingersoll official website.
Their pages are updated with new models that are coming up, models that are rated according to popularity, filter by prices, and you can even choose by category (i.e. Mickey Mouse watches).
One good thing about Ingersoll is that they offer international shipping so there would be no reason for you not to have an opportunity to own an Ingersoll.
For more information about worldwide shipping, click this link.
If you are the type of person who wants to physically see and touch the product before buying it, here is a link to the store locator for Ingersoll watches.
This will guide you to the closest authorized dealer or service center near you.
Of course, you always have the online store options.
Nordstrom Rack Has a really good selection of Ingersoll watches at affordable prices.
Amazon is one of the biggest in this industry so it would be obvious that they are carrying Ingersoll brands on their site.
eBay is another one of those large online stores; check Ingersoll watches there, as well.
The great thing with all these online stores is that you can filter or sort through the watches in every way possible.
Men's, Women's, according to prices, according to year released, and many more.
Final Words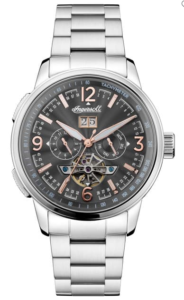 Ingersoll Automatic Bracelet Watch 47mm
With its history of multiple mergers and acquisitions and company ups and downs, Ingersoll not only has survived but, dare we say, thrived.
Usually, if a brand goes back more than 100 years, the reputation is indisputable. Unfortunately for Ingersoll, it has yet to reach that status.
Many critics are putting it down as a has-been in the watch industry.
But the fact that the brand is still existing and producing new designs, as well as being in the biggest online stores, this only proves that Ingersoll is here for the long haul.
Certainly, Ingersoll has had a long history of illustrious days, as well as not so glorious ones. One could say that this actually strengthened the brand name.
And even though Ingersoll is no longer synonymous with elite, royalty watches, the brand continues to succeed in the two things that really matter to regular people – quality and affordability. And in both criteria, Ingersoll passes with flying colors.