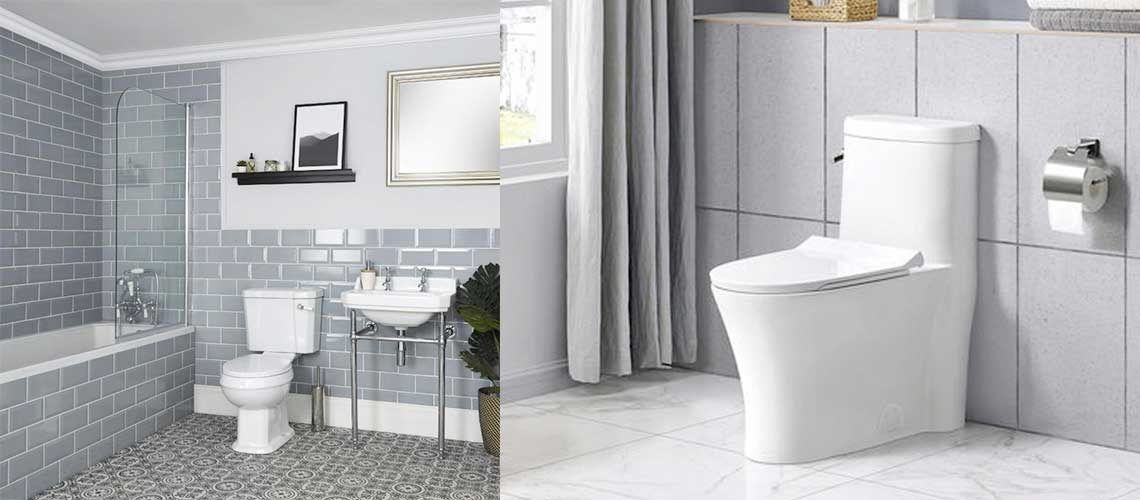 Toilets are an important part of any home.
Whether you are looking to replace an existing toilet, are in the middle of a remodel, or perhaps are building a new home – they say that the toilet, a funny way of calling it is the "throne", is the most integral part of your bathroom.
No matter where you are in your home improvement process, choosing a toilet is actually an important part of the process.

Anyone who has ever replaced a toilet knows that there isn't really a "one-size-fits-all" toilet.
In fact, toilets come in all different sizes, shapes, and styles which include a one-piece toilet or the two-piece one.
Historically, toilets had a tank and bowl joined together and some toilets are still made this way however, in the age of innovation, even toilets have advanced in their design and efficiency – making one piece toilets a popular choice. 
One piece toilets are all the rage these days and today we are going to discuss the similarities and differences between one piece and two piece toilets.
Let's outline the differences below so that you can find the perfect toilet for your bathroom.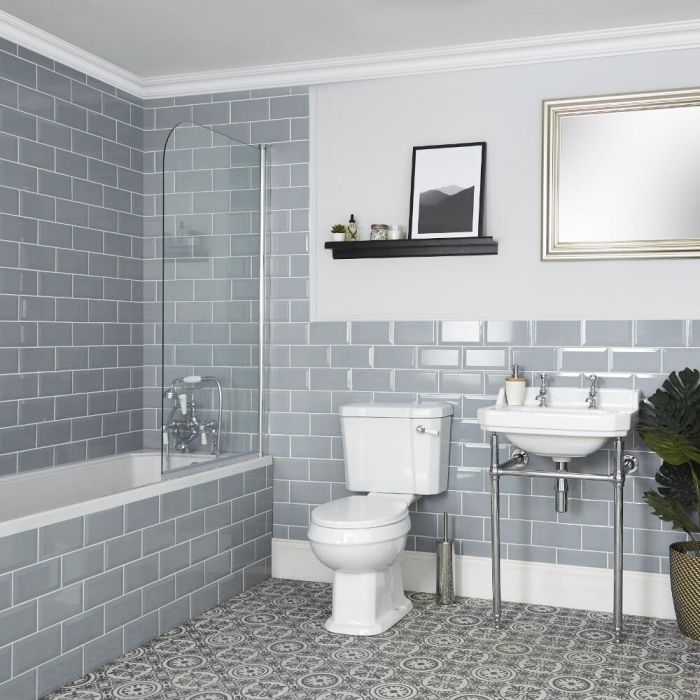 Size and Weight
One-pieced toilets generally don't take up as much space and could easily fit in smaller areas – this is due to the way manufacturers design this kind of toilet.
The tank and bowl are attached together so that the toilet requires less floor space both in front and back.
While the one-piece toilets are conducive for small areas, they have comfort height guidelines where the bowls are designed to sit at 17 inches rather than the usual 15 inches.
Two-piece toilets are manufactured in such a way that they can accommodate both comfort height and standard height, and they are very versatile when it comes to bathroom designs as well.
When choosing the right toilet, you must first take into consideration the measurement of your rough-in.
If you're thinking to yourself, "What is a rough-in?", it is the distance from the drainpipe to the wall where the toilet is situated in.
For standard sizes, the measurement is about 12 inches but there are some that are a closer distance of 10 inches and some that are further which is 14 inches rough. 
Two-piece toilets have an advantage here because they come in a larger variety of sizes and the bowl size doesn't change compared to the one-piece toilets.
The way this works is you just order an additional tank to sit on top. 
Some one-piece toilets come with a movable rough so that it can be installed to fit whatever size you have.

But if we're talking about odd-sized roughs, the best option is always the two-piece toilet.
If you are designing a new home or doing a complete remodel, then you can make sure the rough fits whatever toilet style you want.
On the aspect of weight, this is one of the main differences between the two as they go head-to-head.
Clearly, a one-piece toilet is much heavier compared to its rival.
The reason for this is a two-piece can easily be moved around because they can be disassembled or unattached from each other. 
This means you can divide the weight of the toilet compared to the one-piece where you're moving one heavy toilet because it's all in one mold.
The main disadvantage for this is one-piece toilets are considerably higher in shipment costs because moving it isn't that easy to do.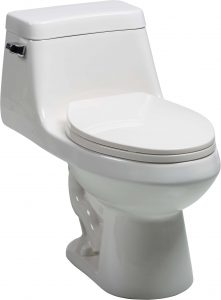 Appearance
Now that we've settled their differences on sizes and weights, there are also variations when it comes to styles.
In fact, both one-piece and two-piece toilets have a range of styles to choose from.
But, what should you choose for your bathroom?
If you're looking for a sleeker and simpler appearance, then a one-piece toilet is what you should choose. 
Some clients and designers feel that they are good for contemporary bathroom designs.
However, one-piece toilets are also known for traditional designs.
For modern bathroom designs, the styles of a two-piece toilet may suit the creative design you are looking for.
At the end of the day, it is really up to your personal preference!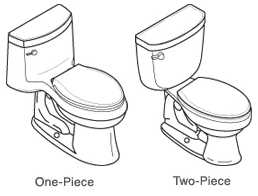 Installation
When it comes to installation, we can't really say one is better than the other.

While the two-piece toilet can be disassembled in half making it easier to move around, this kind of toilet also needs to be bolted together upon installation.
On the other hand, a one-piece toilet is much heavier and harder to move but they don't need time for assembling.
In both types, the installation of the toilet would include a ring on top of the toilet with a slight angle and twisted to the area facing the front. 
The installer then sits on the toilet to tests its durability.
The installer would lean front and back and side to side to evenly spread the weight of the toilet.
The toilet is then placed on the floor where you need to do the bolting of the toilet.
The last part is for the water line to be hooked to the bottom part of the toilet.
When the water is running and turned on, you may now fill in the reservoirs and check to see if there are any leaks or maintenance needs.
This process should usually take less than an hour, especially if this isn't your first time installing a toilet.

Costs
If you're on a tight budget, a one-piece toilet may not be the right option for you.
One-piece toilets are considerably cheaper in price despite having the same style and manufacturers. 
A new Kohler Memoirs Stately Comfort Height two-piece toilet would range around $400, while the one-piece counterpart would cost about $900.
Despite having the same flushing technology, there is a huge disparity when it comes to its price.
For standard pricing, a one-piece toilet would range from $400 to $1200 while a two-pieced one would cost roughly $150 to $600.
For most cases, the installation fee is about the same price which is $100.
For the one-piece toilet, sometimes the price is unreasonable with a cost of $500 to $1300 that includes installation fee.
For the two-piece toilet, there is a huge comparison on the price as the two-pieced toilet would range from $250 to $750 with an installation fee as well.
Maintenance
Despite the mere fact that a one-piece toilet is much more expensive, it still has a wide following because a one-piece toilet is lower maintenance.
Because of its molded shape, the one-piece toilet is also a-lot easier to clean because there are less nooks and crannies for bacteria to make a home in.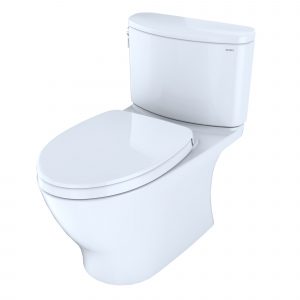 Durability
When it comes to durability, a one-piece toilet has the upper hand for this.
Because the two-piece toilet needs disassembling for it to be moved, it may cause breaking and cracking over a period of time.
This basically means that the two areas that are unattached to each other would have the tendency of breaking easily which may cause further damage and leaks.
Because one-piece toilets are molded, there is a lesser chance for the toilet bowl to break apart.
However, if the china material breaks in the tank session, you have to replace the entire toilet.
If the china cracks are shown in the two-piece toilets, they are easily replaced.
Flushing Power and Efficiency
Both types of toilets have a different range for flushing technology from flappers to towers.
Also, both kinds have low-flow water features, which use as little as one gallon per flush so as not to be wasting water.
When deciding on a toilet, you will want to look at the flushing power and efficiency of each one because they are all unique.
Resale Value
As far as resale value is concerned, neither of these toilet styles play a big role in the resale value of a home.
But, if you have a working toilet, it keeps the value of a home intact.
What's most important is you have a working toilet – whether it is a one-piece or a two-piece doesn't really matter.
Styles don't really matter as much if the toilet in your home isn't functioning. 
Top Toilet Picks
If you visit the home appliance store now, it is to no surprise that you'll find a range of different kinds of toilets with different variations of one-piece and two-piece.
Different brands, styles, sizes, and prices as well.
Below, we will list down our top picks for both kinds so that you'll know what kind of toilet fits your budget and home bathroom design.
One-Piece Toilets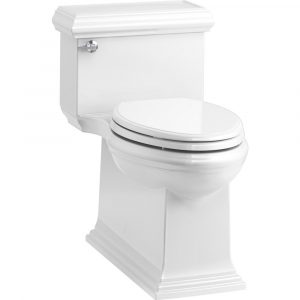 The Kohler Memoirs One-Piece Elongated toilet features an outward stylish look giving your bathroom design a more cohesive look.
By the name itself, it is elongated but it is also a comfortable height which makes this toilet comfortable and easy to use. 
It is also eco-friendly, saving tons of gallons of water as it only uses 1.28 gallons of water per flush.
The last and most unique feature of this toilet which sets itself apart from others is its one-flush Aqua Piston Technology.
This technology allows everything inside your toilet to go straight down the drain.
No matter how full or stacked your toilet is, it doesn't matter for Kohler's as it relies so much on its brand new flush technology system.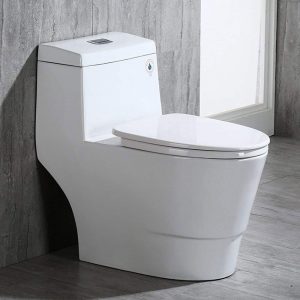 If you're thinking about your budget yet still want to splurge on a toilet for your bathroom, the best value for your buck one-piece toilet is the Woodbridge Dual Flush Elongated.
It is a low-profile toilet with a comfortable height seat and is elongated in its form. 
In addition, its dual-flush technology system allows you to save water as it uses a little amount of it, making this toilet an eco-friendly option as well.
The back design of the toilet is also skirted which makes it easier for you to clean your bathroom. Its style is sleek and simple making it a perfect fit for contemporary bathroom designs.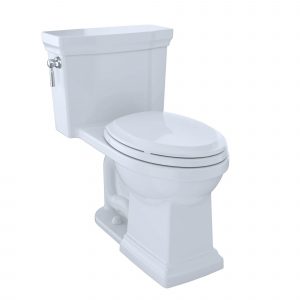 Hard to take out of this list is the Toto Promenade II One-Piece Elongated toilet.
The style features classic lines which make it flexible for both traditional and modern bathroom designs.
It is also eco-friendly as it uses 1.28 gallons of water per flush.
Its tornado flush system also helps clean your bowl and you don't have to worry about its elongated seat and height as it uses a universal standard height which makes it easy and comfortable to use.
Two-Piece Toilets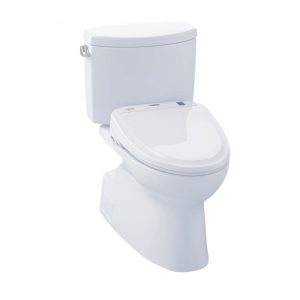 Hands down – this toilet has everything that you want to have in a toilet.
Style and design with a skirted back portion still making it easy to clean.
Its interior is also fully glazed and smooth accompanied by Toto's very own tornado flush technology.
The smooth trapway inside ensures that your toilet never clogs and holds up.
The best part is it includes a bidet toilet feature which has an easy clean nozzle and other interesting features in its settings.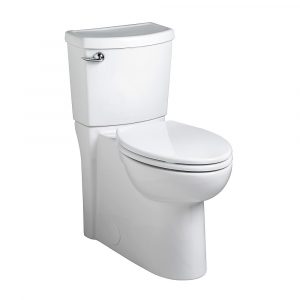 The American Standard Cadet has been around for years, even decades and finally, it has already been given a well-deserved upgrade.
Quite similar to others, it has a skirted background which makes it easy to clean and flushes 1.28 gallons of water that allows you to save tons of water per flush.
The upgrade features its power wash flush system which helps scrub the bowl every flush and has a fully glazed trapway that ensures that your toilet doesn't clog.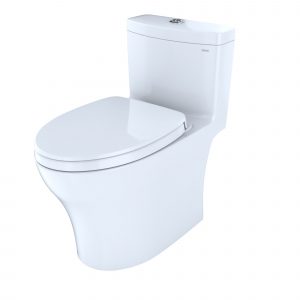 To round up this list of our top picks, the Toto Aquia IV is well-deserved to be in this as it is eco-friendly and also has dual-flush technology.
It has a concealed trapway and it includes all of Toto's easy and powerful cleaning system like its tornado flush technology.
Like others, it is fully glazed in its trapway preventing clogs and it also has an elongated and self-closing seat for comfortable use.