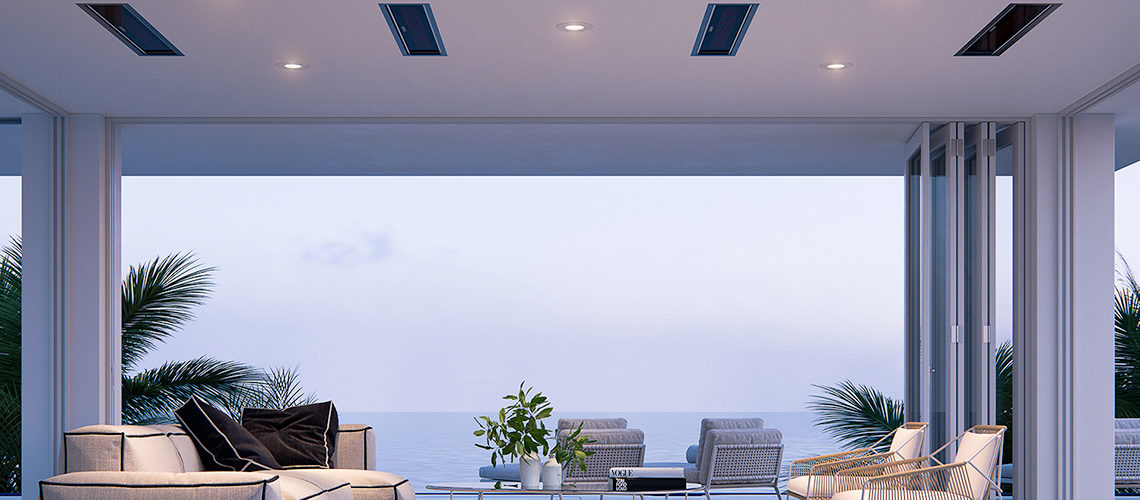 If you have available wall or ceiling space and don't want to sacrifice floor space, mounted electric patio heaters might be the answer for you.
They take up very little space and will remove the chill from cool days and nights.
Electric patio heaters have become increasingly popular for several different reasons including:
They lack harmful emissions.
They don't require ignition components such as valves or burners or other moving parts. They simply get plugged in and turn on with a remote or switch.
They work even in the coolest climates where gas heaters might struggle to keep up.
Gas models can't be flush-mounted but electric ones can
Some of the benefits of using electric overhead patio heaters are:
Convert up to 98% of energy to heat
Safe for indoor and outdoor use
Don't produce flames, toxic smoke, emissions, or greenhouse gases
Produce radiant heat to warm people and objects, rather than the air
Heat can be controlled easily with remote or wall-switch
Zone heating and smart home integration
Large range of sizes – small and portable to industrial-sized
Can be professionally installed for permanent use
Easy to set up, maintain, and clean
Less expensive than propane
As you can see, there are many reasons why using electric patio heaters is increasingly popular.
In this article we are going to cover the best of the best so that you can find the right one for your space.
Let's get started!
Here are the Best Overhead and Hanging Electric Patio Heaters:
Infratech WD Series 6000 Watt 240V Electric Infrared Quartz Patio Space Heater

The Infratech WD-Series Patio Heater is a popular choice.
It is reliable, sleek and is a more energy efficient option than equal price gas heaters.
What we love about this heater is that you have multiple installation options giving you more placement options.
The Infratech uses infrared radiant heat to warm the area instead of the surrounding air.
These electric models produce zero greenhouse emissions or ultraviolet light.
Key Features:
6000 Watts, can warm up to a 110 square foot area
Infrared heater warms people and objects instead of air
Many installation options available
Duplex switch can be installed for half-power option
Sleek and streamlined design
Optional use for outdoor or indoor
Produces a pleasing glow instead of obnoxious light
Made of durable stainless steel and produced in the USA
Bromic Tungsten Smart-Heat™ Electric Outdoor Heater 4000W 240V – Black BH0420032

The Bromic Tungsten Smart-Heat is a weather resistant, stainless steel model that offers reliable heating and quality that lasts.
The mesh screen and spectral reflector radiates heat and maximizes performance with infrared energy while emitting a soft amber glow.
This electric heater can be wall or ceiling mount and has a simple bracket adjustment  that provides directional spot heating and alters heat coverage.
The heater has a corrosion-resistant, high temperature coating, and a tamper-proof electrical wiring enclosure to help extend its life and quality.
Key Features:
6000 Watts, heats up to 160 square feet
Adjustable bracket for directional spot heating
Made of weather-resistant stainless steel
Frosted heating element tubes reduce glare
Emits high heat and a nice amber glow
Can be wired into smart system controls for custom heating
Optional commercial or residential installations
RADtec Slimline Zero Light Infared Heater 83″ 3200 Watt

Extend the outdoor season with the warmth of an eRAD zero-light heater.
Perfect for covered spaces both outdoors and indoors like terraces, patios, gazebos, balconies, sun rooms, restaurants, bars, garages and many other settings.
This unit is energy efficient and environmentally friendly with no harmful emissions or odors.
eRAD uses industry leading carbon heating element with an operational lifetime of 30,000 hrs.
That's 20 yrs of use at 4 hours a day!!
Key Features:
3200 Watts, heats up to 70 square feet
Includes handheld remote control and mounting brackets
Water resistant
Made of durable and rust-resistant, anodized aluminum alloy
Evenly distributes heat across coverage area
Cycle through preset heat and timer setting using the included remote
Nearly 100% efficiency
Optional commercial or residential installations
Heatstrip Mini 1500 Watt Electric Mounted Patio Heater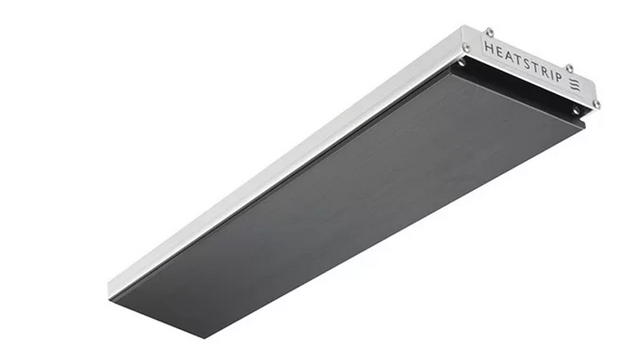 If you are looking for something a little smaller for a smaller outdoor space, the mini Heatstrip is a great option.
Heatstrip is a medium wave length electric heater and radiates a gentle even heat that feels like a warm summer's day.
It is made from durable, corrosion resistant alloy and marine grade stainless steel. It can withstand rain, sunshine and dust.
It is designed to survive in the harsh outdoor environment without the need for weather shields.
Heatstrip stays the same color when it is ON.
Unlike other patio heaters, Heatstrip USA doesn't glow red when operating, meaning there is no change to the ambiance of the area.
Key Features:
Remote control
Cover included
Comes with standard brackets to mount on wall or ceiling, either straight or on angle
Outdoor use
IP55 rated
UL and CSA approved
Manufacturer provides 12 months warranty
Power source: Hardwired
1,500 Watt Electric Radiant Ceiling Mounted Heater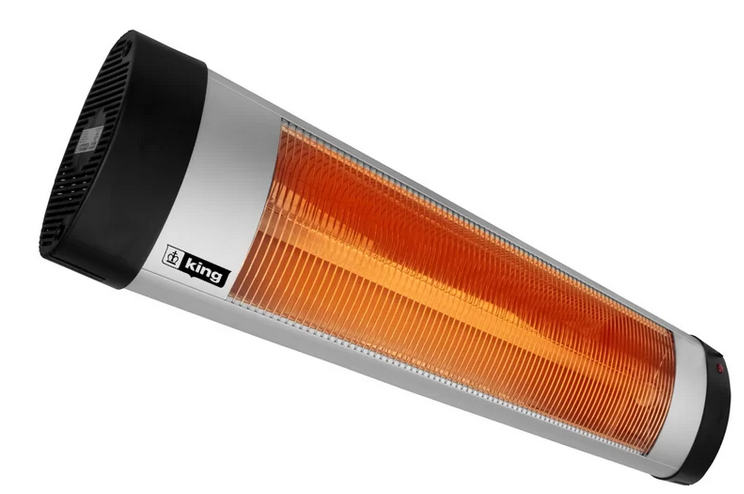 If you are looking for an affordable option for home use in a smaller space, the King Electric heater is a good option.
The infrared quartz heater has the ability to transfer heat to a person or object without heating the surrounding air.
The product is commonly used for indoor or outdoor covered spaces spot heating.
Perfect for garages, covered patios, or workshops.
The universal wall and ceiling mounting bracket are easy to install and the angle is adjustable to suit your needs.
Keep in mind though that this is a great affordable option but won't give you the same output as some of the more expensive units mentioned above.
This is simply an affordable option for a small space but it will do the trick!
Key Features:
Overheat protection
Durable extruded aluminum housing
Wall or ceiling mount bracket included
BTU Output: 5118 BTU
Wattage: 1500 Watt
Auto shut off included