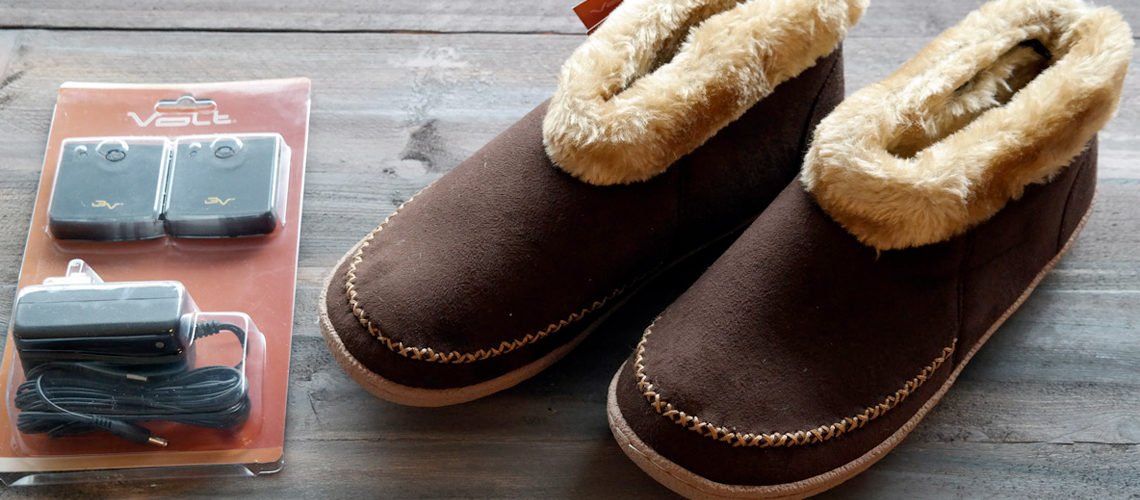 Now that winter is fast approaching, it's about time for you to start exploring the warmest gear that will keep you toasted even through the bitter cold of the season.
And one of the things that most of us need especially when we're at home are slippers that provide the much-needed heat when it's almost zero outside.
Below, we've listed the 6 best-heated slippers for both home and office which you can give yourself as a gift this upcoming holiday/winter season.
Have you ever been in a situation at the office where you think your boss is just too cheap for not turning the heat up to the right level and your toes are already freezing?
Or almost all of the people at home like it cold except you?
I experience that a lot of times and on the bitter cold days of the winter, this can easily turn into a frustration.
But worry no more because there are some heated slippers out there that were invented just for you and they're sure to save the day!
Our team has performed some research and shortlisted some 6 best-heated slippers out there with some links of where you can buy them.
You don't have to worry about how it looks because all of them can be worn at home, at the office or even outside of the home when needed.
First of all, I want to make it clear that when it comes to the best-heated slippers, there are those that are made by Volt and then there are the others.
The point that I'm trying to drive in is that Volt produces the best so far and they are way ahead of the others.
If you're looking for comfort and quality then you should choose something that has the "Volt" brand on it.
They're at the top in the heated clothing business and the same is true when it comes to heated slippers. 
That is the reason why we have listed three of their slippers on this list so without further ado, let's start with the first one:
Here are the Best Heated Slippers of 2023:
1. Volt Heat Smart Slippers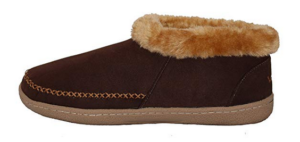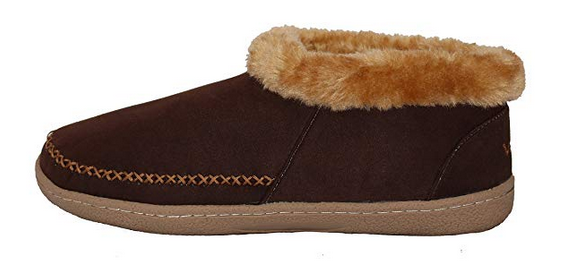 This is probably one of the most loved heated slippers out there and it's simply amazing.
It's got a pretty sole which can be used outdoor but the appearance isn't that appealing for the outdoor setting. But for indoor use, it's going to work perfectly. So comfy, so warm, and so soft but that's not the best part yet. 
The best feature that users love is its "Smart" system which provides heat to your feet. It knows when your feet are getting cold or warm then it automatically adjusts to that temperature.
You won't need to press any button and there are no remotes at all. It just regulates the temperature for you. 
I was a bit skeptical about this technology at first.
I wasn't really sure if it would work but I gave it a try and voila! It was able to meet all my expectations.
It impressed me in every way possible! They've got similar batteries as the indoor/outdoor slippers from Volt so you can expect it to work at similar times for both charging and heating.
They come in sizes for both men and women and are available in navy, gray and brown colors.
You really can't go wrong with these slippers.
Buy Here
2. Volt Heat III Gen Indoor/Outdoor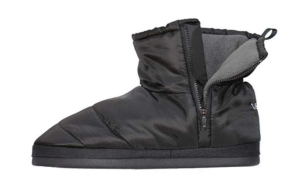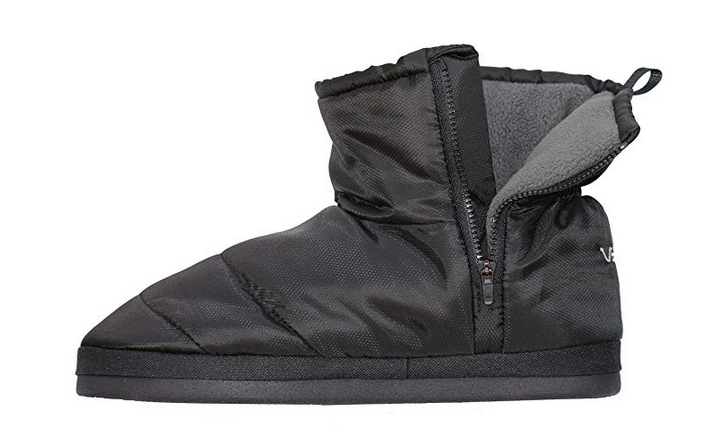 Volt creates products that really work great. They even have a heated glove which I was able to try and it worked perfectly!
The Volt Heat III are unisex slippers which are available in all sizes and in three color options which are Purple, Black, and Grey. They've got good, decent sole which makes them perfect for the great outdoors even when it's almost zero.
Just like the other slippers made by Volt, the Heat III is powered by two batteries that are the lithium-ion type.
These batteries need to be charged on a regular basis.
Though having to charge them may seem a bit of an inconvenience, it's actually nice because a single charge will last for up to 10 hours which means that it should last a day at work.
Heat III is more robust than others so it will not be only for home or office but also for other outdoor things that you love doing like wearing it after you're done skiing.
It is also perfect for driving in the cold of winter because of the good sole that it has in case your feet tend to get cold quickly.
These shoes might not be too fleecy or fluffy like the other ones listed below but the materials which were used in it are more versatile and it's definitely sturdy and of high quality.
Buy Here
3. Volt Heated Slippers Gen IV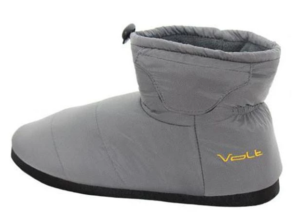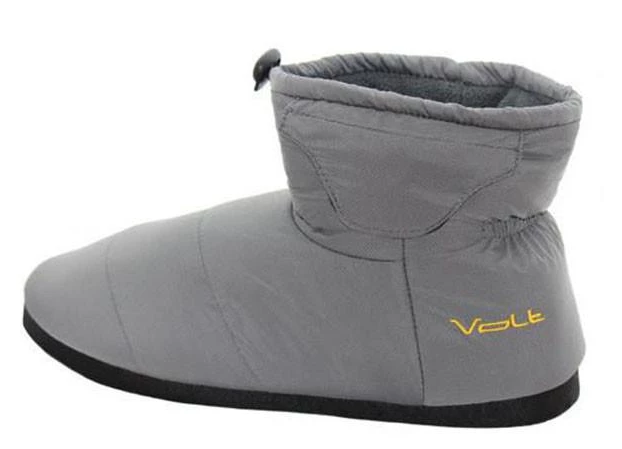 The newest model which was released in September of last year, the Volt Gen IV heated slippers has features that make it different from the Gen III.
The first feature is the zipper which extends from the top all the way to the soles along the side. This is an awesome feature because it makes the slippers easy to put on and take off. 
A pull tab that is made of nylon is also available on the back which assists in easy wearing and taking off when the need arises.
One of the complaints that customers have about the Gen III slippers is that they're hard to put on and take off so, in the Gen IV, Volt made sire that this problem is addressed.
It comes in both purple and black colors and comes in sizes for both men and women.
The soles are designed to be pretty significant so it's extremely versatile to make it perfect for use in both indoor and outdoor settings.
It is not only meant to be used indoors but also for other outdoor activities like driving, camping, light walking, airplanes, and even sleeping.
They come two batteries that are rated at 3.7V and a remote that will help controlling heat a lot easier.
Using the remote, you'll be able to adjust the heat settings between low, medium, and high so you can enjoy the warmth that you need for every type of cold situation. 
If you're asking about the run time, you can expect 7 hours of warmth for the Low heat settings, 5 hours for the Medium, and 3 hours for High.
They're all great times especially when the size of the batteries are factored in.
I've been able to use other heated slippers with bulkier batteries but none of them survived as long as the Volt Heat Gen IV's.
That's the reason why this is our favorite heated slipper so far.
Buy Here
4. ValueRays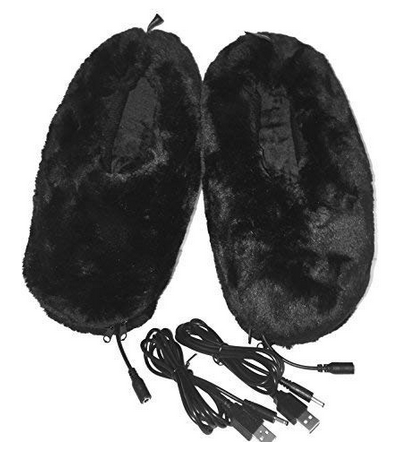 These ValueRays slippers are capable of being powered via USB.
They're one of the top-selling heated slippers at present and it's not surprising because it really works as advertised and it does so to the smallest detail. The slippers have soft and fluffy inside to provide optimum comfort to the user. 
But what I like most is its two heat settings which provide nice and sot warmth perfect for those cold winter days.
Its low setting is probably what you're going to use more often while the high settings will get you started in the morning as it effectively gets your feet feeling toasty warm.
After being on the high setting for about 10 minutes, I found that switching it to the low setting is already sufficient for the long term.
They're powered via a regular USB plug so you'll need to have them plugged in so it can produce heat for your feet. Some users say that this is both good and bad.
Good because they can last the whole day and you don't need to worry about its juice running out and bad because you will only have the heat that you need when you're near an outlet or a computer.
Thankfully, there are mobile power banks now that you can use. Its power cords can be unplugged so you don't have to take it off when you want to get up from your couch or desk.
This way, the cords will not be flopping around when you need to get up and walk using the slippers.
Buy Here
5. ObboMed Slippers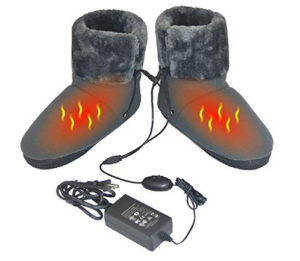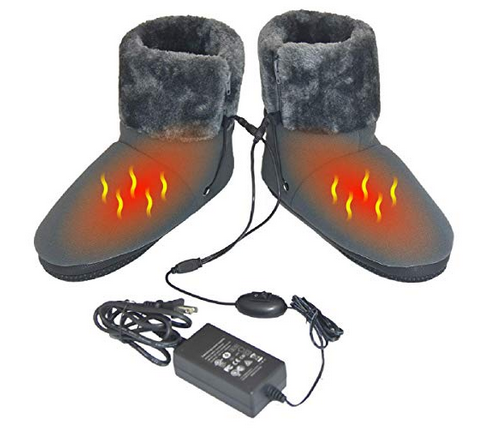 This slipper doesn't have the stiff sole like other brands do have which is why it is more comfortable.
But the downside is that you can't wear it outside because the sole is made of synthetic fluff alone.
They come in different sizes for both men and women but there's only gray color available for this model.
Just like the previous one above, it's only powered using a USB cord which can also be unplugged so you can use it around the house.
They're really a great choice if it's the comfort that you're looking for.
They literally just hug the feet and keep it extremely warm even when unplugged.
Quality-wise, it seems good and I think they would stand the test of time judging from the price which is a bit higher than the ValueRays model
Buy Here
Conclusion
There you have it, the top 6 best-heated slippers that you can find in the market at present but of course, that's according to my opinion.
You might have tried another brand or model and found it to work perfectly as well so feel free to share your experience in the comments section below.
Remember that having your feet warmed can spell the difference between a good day and a bad one.
Heating your feet and keeping it toasty during the bitter cold days of winter is also a secret to a healthy body all-season long.
While heated slippers are a great option, you can also try other stuff like heated insoles which work for every pair of shoes or boots that you might have. 
Most of these insoles are powered by batteries so you can go outdoors in your favorite pair of shoes while feeling comfortably warmed by them on the inside.
There are others that are designed for motorcycle riders too and are powered via the vehicle's batteries. Check out our best-heated insoles review to find the one which will best serve your needs.
The winter sure can be freezing cold but with heated slippers and insoles on, you will not be afraid to go on your regular chores at home or in the office because you're confident that your feet are warmed all the time.
You'll also stay in-style with them since they're designed to match every kind of winter outfit that is hanging in your closet.