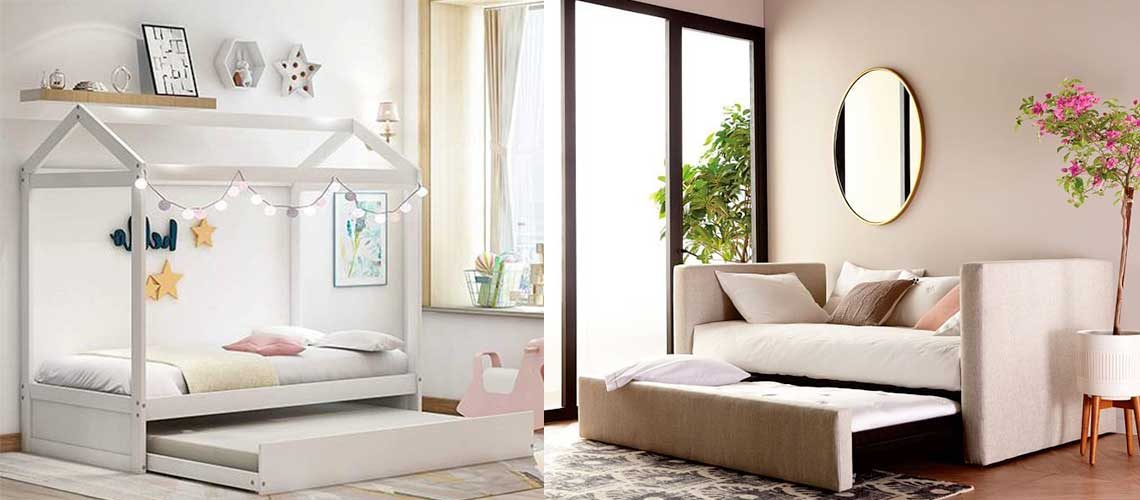 Trundle beds have always been a popular choice because they are versatile and practical, but also save space!
Trundle beds are a somewhat new innovation of beds where users are allowed to fit two beds into a small place.
If you wonder how is it possible to fit two beds in a single space, it's because the additional bed can be tucked underneath the standard bed when it is not used.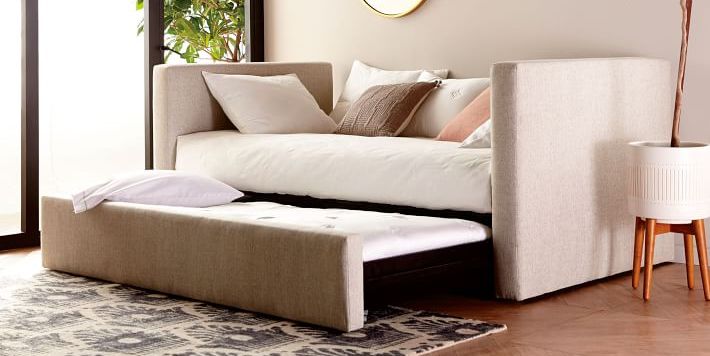 Trundle beds, moreover, come in many different sizes, colors, and styles.
They are more appealing to teenagers or children who want an extra bed in their room in case their classmates or friends want to sleep over for a game night or even for study night.
Trundle beds could also be a good choice for adults who don't have enough space for a guest bedroom in their home.
So, if you're looking for trundle beds for yourself or for your children, or just a curious and explorative buyer, you have come to the right place!
This article will go over four of the best trundle beds that are available in the market today!
This article will also guide you into choosing what trundle beds suit your home well by discussing the price, design, and some important factors to consider when purchasing a trundle bed.
Our Top Trundle Bed Picks of 2021:
Novogratz Bright Pop Metal Daybed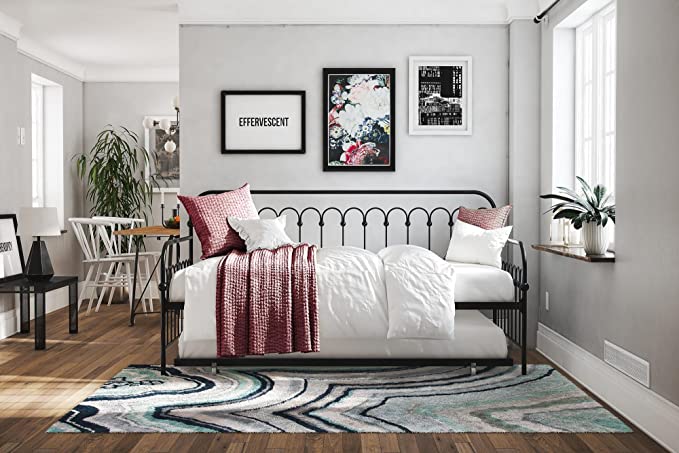 Novogratz Bright Pop Metal Daybed is best for children who love reading or playing on their daybed, kids who like their friends to come over and have a sleepover with them, or even individuals who are tight on their budget.
This trundle bed has metal frames with rails on the side and it also has two locking casters which anchor the trundle bed in place.
And the nice thing about it is that it can be used as either a bed or a sofa.
Cool, right?
One of the features of this trundle bed is its rounded frame.
Novagratz Bright Pop Metal Daybed has multiple colors available to suit whatever bedroom style and preferences you have!
Aside from that, this trundle bed is truly an ideal daybed for children's rooms or guest bedrooms because it is very versatile.
During the day, you can use it as a seating accommodation for your friends or family.
And during the night, you can pull the extra bed out and use it as an additional bed space for your friends and family to sleep on.
To help keep the bed in place, Novogratz Bright Pop Metal Daybed has four casters as its locking mechanism in which the trundle slides.
There are also steel slays which allow airflow under the mattress.
Both the trundle bed and the daybed can house twin mattresses.
However, the trundle bed can only accommodate a mattress of up to 8 inches in thickness.
The daybed can hold up to 400 pounds of weight capacity, while the trundle bed can accommodate up to 225 pounds of weight.
This trundle bed ships in one box and requires assembly.
They also have a 90-day return policy in case there are any problems with the product that was shipped to you.
Bedz King Trundle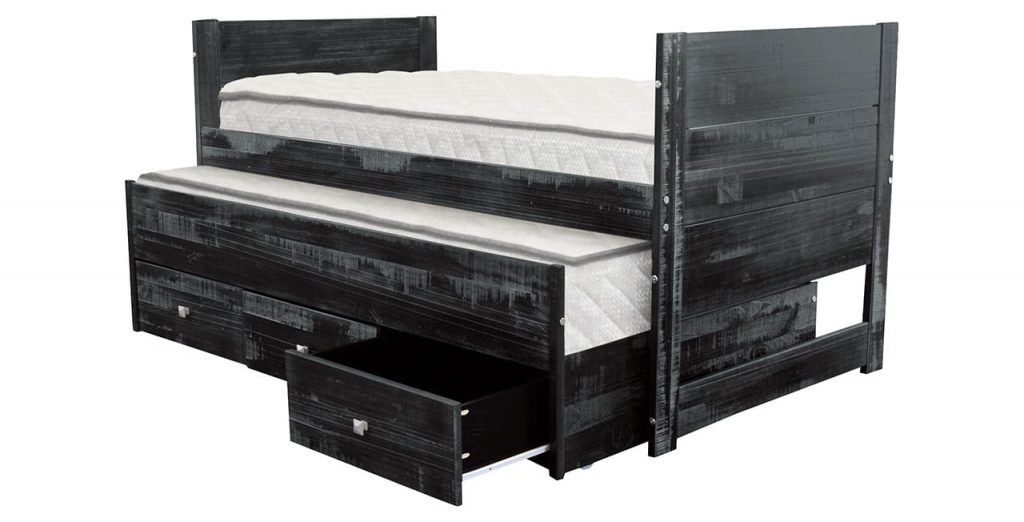 Coming in the number two spot is the Bedz King Trundle.
This bed is best for children or even adults who require more storage space.
This trundle is also best for individuals who are shopping for beds for their guest bedroom.
One of the best features of this trundle bed is its reclaimed Bohemian-style wood finish and its three storage drawers located below the bottom of the trundle bed.
The design of King Trundle is subtle enough to be hidden when it's not in use.
It's almost like it's not there but still somewhat noticeable.
Not only that, Bedz King Trundle comes in a variety of colors such as black, yellow, gray, brown, weathered blue, or rustic white.
You can expect that this pine-made trundle bed is unique because they are individually finished.
You can place this bed on either side of the room because the main bed has a foot-board and a headboard but has no side rails.
Aside from the fact that this bed rolls out on casters, this trundle is also designed to help keep the trundle out of sight when not in use (during the day) and also to keep the dust away.
The additional three drawers built below the trundle are what make it even more useful!
Who doesn't want additional space for their excess clothing or bedding?
Or even an extra storage space for their toys or some important stuff?
This trundle bed is a must-have!
The Bedz King Trundle requires assembly, as well.
This trundle bed also comes with a 30-day return policy and a 90-day warranty in case there are missing parts or damaged parts.
Euroco Beach House Trundle Bed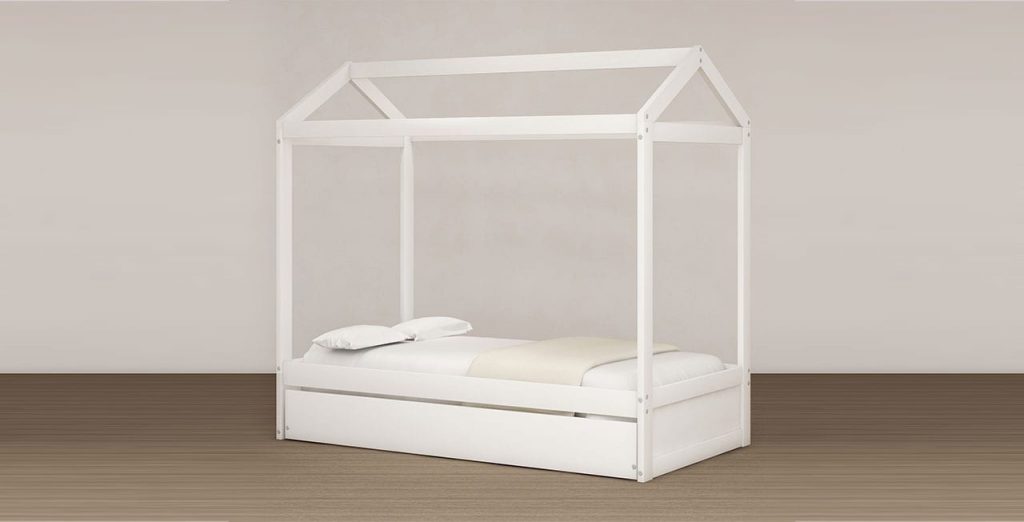 The Euroco Beach House Trundle Bed is best for children who like their friends to sleep over, or those young siblings who share a room small enough to fit two large beds.
This trundle bed is also a good choice for kids who like to decorate and design their own bedroom.
One of the highlights of Euroco Beach House Trundle Bed is its white wooden frame and built-in playhouse roof, which is perfect for youngsters who like to feel like they are sleeping in their own fairy tale castle.
The built-in playhouse roof has a minimalist design that can be decorated with curtains or hanging stuffed toys, according to your child's desires!
Not only that, the trundle of Euroco Becah House Bed is not secured to the main bed frame, so, its trundle bed could easily be separated and be put elsewhere in the room for more flexible arrangements.
This makes The Euroco Bed more adaptable and versatile compared to other trundle beds!
Also, this trundle bed has wheels that allow it to smoothly roll out from under the bed.
It can hold two twin-size mattresses.
The main bed can accommodate mattresses with a thickness between 8 to 10 inches while the trundle bed can fit a mattress that is 6 inches thick.
The Euroco Beach House Bed is designed to be an all-wood construction that can be easily assembled.
The main bed can carry up to 400 pounds of weight and the trundle bed has a weight capacity of approximately 275 pounds.
Those who would like to purchase the bed have a 90-day return policy and can file for a refund in case there are missing parts or they are not satisfied with the product.
Enyopro Trundle Bed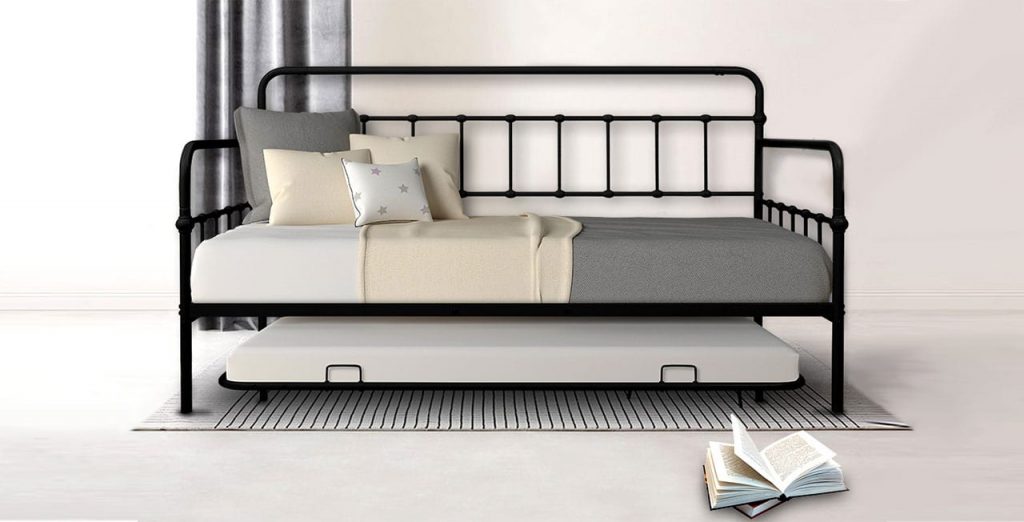 The last (but not the least) trundle bed on this list is the budget-friendly Enyopro Trundle Bed.
This trundle bed is perfect for shoppers that are planning to use the bed as a sofa, and for individuals who want to maximize their space for a seat during the day and a bed during nighttime, while still being on a budget at the same time.
The Enyopro Trundle Bed comes with the basic black, brown, and white color with a durable build and a contemporary design.
This trundle bed has both an armrest and a backrest which makes it perfect to function as a sofa during the day or whenever it is necessary.
Hence, you can place it in your common area or your guest room. Either way, it's still functional and practical!
Both the main bed and the trundle bed can hold twin-size mattresses with a thickness between 6 inches to 8 inches.
In addition to that, the trundle frame is supported by casters to easily roll them in and out.
These casters can also be locked to prevent the bed from sliding unintentionally.
However, unlike most trundle beds available in the market, both the regular bed and the trundle bed together can only hold up to 400 pounds of weight capacity since it is constructed with a robust steel frame.
But other than that, this trundle bed by Enyopro is best for adults who are looking for a versatile product.
The bed can be assembled easily.
It also comes with a 30-day return policy if you ever change your mind.
Trundle Bed Summary
FAQs (Frequently Asked Questions)
What is a Trundle Bed?
Trundle beds are designed specifically for two-in-one use.
These innovative beds allow individuals to add an additional bed to their place without compromising the space.
The trundle may be sold nested within the main standard bed or it can be sold individually.
Trundle beds in the market have two bed frames, one for the trundle and one for the standard bed.
Most trundle beds available in the market are incorporated with a simple or classic design with a variation of style, size, and colors.
These beds allow the trundle to slide in and out from beneath the main bed when not in use in order to maximize the floor space.
Trundle beds are usually twin-sized because they are designed to save space.
In order to keep the pull-out mechanism running smoothly, the trundle usually requires thinner mattresses.
The standard thickness for trundle bed mattresses is around 8 to 10 inches thick.
Before purchasing, it is always important to check the size and thickness requirements so that your mattress would be compatible with the trundle bed of your dreams.
There are different styles of trundle beds that fit according to the shopper's individual needs.
There is what we call a captain bed and a trundle drawer.
A captain bed has a trundle bed as well as integrated drawers while trundle drawers are designed to be pulled in and out beneath the bed in a closed compartment.
A daybed, on the other hand, is designed to be a couch during the day, and an extra bed during the night, with three raised sides.
Pop-up trundles are composed of a collapsible metal frame to easily store them when they are not in use, and trundle-only models may or may not be paired with a standard or regular bed.
How do You Choose the Right Trundle Bed?
Choosing a trundle bed is like choosing an important character for your home because it is where you mostly rest, sleep or even enjoy a good conversation with your friends and family.
There are a variety of trundle bed options available for you to choose from in terms of color, design, style, and size.
But in order to choose the best trundle bed out there would mostly depend on what you need as an individual, and of course, your preference.


What Do You Look For in a Trundle Bed?
With such a massive number of trundle bed models available in the market, choosing the perfect trundle bed for you can sometimes be overwhelming.
And it's hard to narrow down your choices especially if you're still indecisive about your choices.
But, worry not, because this article has done in-depth research in order to guide you on what factors you should take into account while looking for the trundle bed of your dreams!
When choosing the best trundle bed for you, the first thing you should do is to know what size for your trundle bed you prefer.
It is also important to consider your budget, and the design, color, and type of materials you want your trundle bed to have.
Lastly, it is good to understand how you intend to use your trundle bed and where you want to place it to clearly have a concrete standard of your preferred trundle.
Bed Size
Most likely, you'll be purchasing the trundle for different sleepers.
Having an idea of who sleeps in the trundle can help you pick the perfect size for it.
If a child is the anticipated use of the trundle bed, he/she may only need a twin-size trundle bed to house his/her sleepovers.
If the bed, however, is intended for adult sleepers, then, it might need to be a little bigger and larger.
It is also important to take note of the room space when choosing an adequate size trundle bed for you or your kids.
Quality Materials
If the trundle bed is intended to be used as a daybed, a couch, or a play area, it is important to choose the materials incorporated in the bed as it is frequently used.
A bed frame made of durable metal and quality wood can help withstand frequent sliding and moving, increasing the trundle bed's lifespan.
Mattress Compatibility
Most trundle beds usually require a thinner-sized mattress so they can fit under the main bed frame smoothly and easily.
Consider checking the height and size requirements before purchasing your trundle bed if it doesn't come with a mattress.
All-foam mattresses can provide a balance of both size and comfort as they tend to have the thinnest profile.
Movement
The type of floor where you place your trundle bed plays a large role in choosing the best sliding mechanism for your trundle.
Free-floating trundles can complement all floor types. However, the users should be aware of not scratching their floors when they pull the mattress.
For hardwood floors, rails can be a good option. You might also need to secure wheel looks to help keep the trundle in place.
A trundle with bigger wheels, on the other hand, is best suited for carpeted floors to easily slide the trundle in and out when necessary.
Style
It is a well-known advantage of a trundle bed to be hidden under the main bed when not in use.
However, a part of the trundle is still visible even when it is hidden, so it's important to choose a trundle model that suits well with your room design and decoration.
There is a wide selection of colors and styles to choose from.
Price
The price of a trundle bed depends on the quality of the materials and its style.
Synthetic and plastic board trundle beds usually cost less but are also less durable compared to wooden trundle beds.
Wooden trundle beds are more costly, but they are guaranteed to be sturdy and stylish.
Metal frames, on the other hand, are a more affordable option if you want durable trundle beds.
They can be easily moved from one place to another, but they are also prone to noise.
Ease of Assembly
Most trundle beds are required to be assembled.
Some are easy to set up, but there are also some styles that require a complex assembly process.
So before purchasing your trundle bed, it is good to check the manufacturer's manual first.
If you're not confident about putting the bed together, consider paying for an in-home set-up.
Pop-up trundles don't need to be attached to the principal bed frame, so it is easier to assemble them.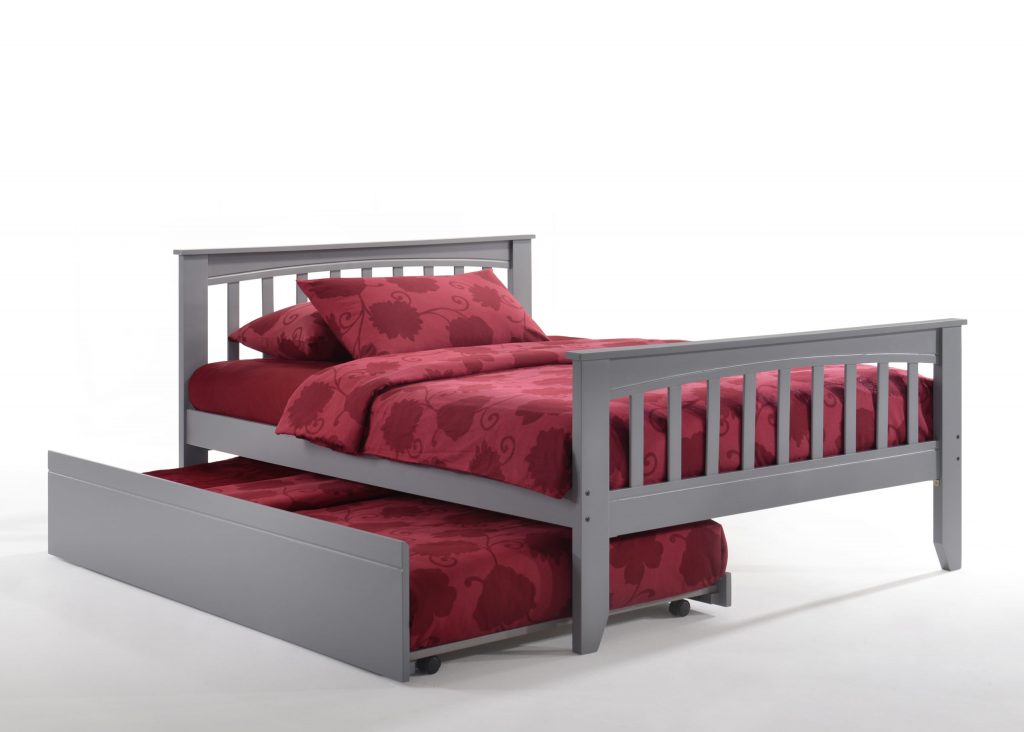 Why Would I Want a Trundle Bed?
Versatility
Trundle beds are designed to be versatile, as they can be used during daytime or nighttime.
Some models can be placed in the common areas of your house because it is styled to be a couch during the day, and an extra bed space when you have guests who want to sleep over.
Child-Friendly Design
If your kids want their friends to come over and sleep with them, a trundle bed is the best choice because your children can house some sleepovers without you having to worry about purchasing a second bed.
Trundle beds are truly appealing for children.
They are as fun as having bunk beds, creating a fun and playful experience for your child.
Space Saver
Trundle beds are designed to fit two beds in a single place, maximizing the space in your room or house.
Some trundle bed models also come with additional drawers incorporated on the frame itself, making room for additional storage space.
Affordability
Buying trundle beds will really cost you less than buying two separate bed frames.
It's cheaper and also more versatile!
Safety
In terms of safety, trundle beds are safer than bunk beds or loft beds because trundles are located close to the ground.
Hence, the risk of your children falling from trundle beds is much lesser compared to beds with higher frame models.
This makes trundle beds more appealing and suitable for children and kids.
Comfort
Since trundle beds are suitable for different types of mattresses, you can select which mattress you find most comfortable with and place it in your trundle.
Trundle beds are not only comfortable, but they are also a good balance between durable unlike air mattresses, futons, or any alternative bedding solutions.