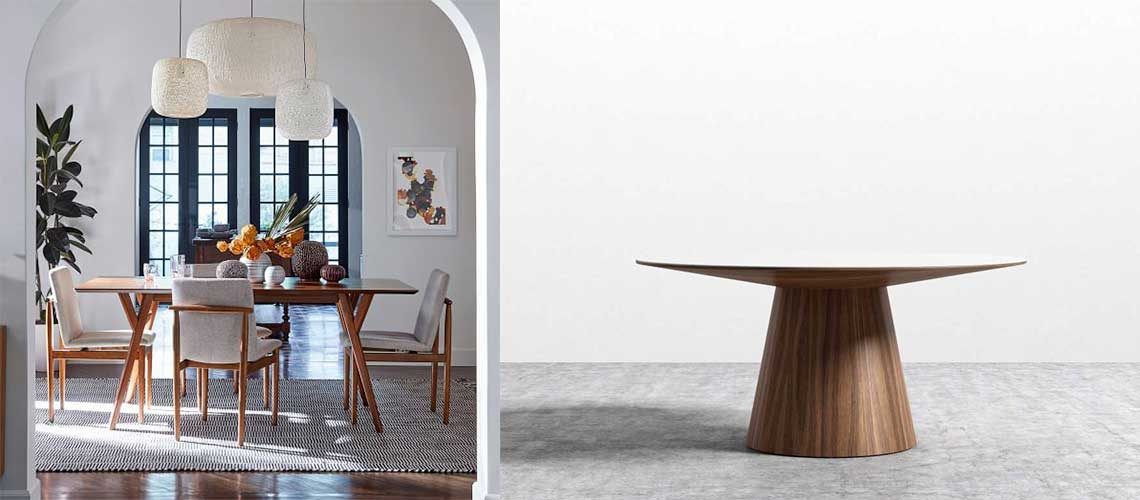 Types of Dining Room Tables
When purchasing a new dining table, there are several things to consider – like the size of your dining room, the shape of the room, and the style of table you want to have.
Having the right dining table for your space creates a beautiful and inviting dining room area where family, friends, and guests can share memories and quality time.
The dining table is one of the most important decisions when decorating a home since it will be where you most likely entertain and host holiday meals, birthday celebrations, and more.
You will want the space to not only be functional, but pleasant to look at and spend time in.
With so many options and styles, deciding on what to buy is never easy.
In today's post, we will be sharing an extensive Dining Room Table Shopping Guide loaded with tips and suggestions.
We will explore 29 Types of Dining Room Tables that are commonly used in homes today.
This article is here to help guide you with a step-by-step process as you search for the perfect dining room table for your home.
We will be covering dining room styles, shapes, and also materials that these tables are made from.
Knowing all of these things will help you choose the right size and shape for your space – while keeping your personal style and touch.
Read on to recognize examples and basic explanations of each important characteristic that you'll come across in choosing and acquiring a table of your choice.
This is a major decision so make sure to do your due diligence and don't rush into thinking that it really doesn't matter, because it really does. 
So, with an open mind, let' start choosing the dining table that is a perfect fit for your lifestyle and make your home as ideal as can be.
Table Shape
In general, the shape of your table should be considered first because it needs to fit the shape of your dining room. 
If you have a square dining room, a round dining table may be the best use of the space.
For rectangular dining rooms, rectangular dining tables are ideal.
The moment you decide on the shape, the materials and style will follow suit.
Here are a few examples of each shape that emphasizes multiple variations of each category.
1. Rectangular
And being the "most used shape" gives a great sense of normalcy that touches every corner of the room.
This gives a wide range of styles of tables that you can pick to complement what's inside your home.
2 . Square
This design is the simplest of all the tables.
There are four legs, at halfway point from each other.
These are the perfect choice for four diners and also ideal for dense spaces.
Our next square table design has features like a glossy white surface which also has an ultra-minimalist design that gives an ideal way to brighten up the place.
3. Round
This second round table will give you a very homey yet unique feel with an all-wood example with a built-in central lazy Susan.
Lazy susans are great for larger round tables and makes it easier for guests to reach items in the center of the table.
4. Oval
The second oval table example is a contemporary minimalist design with wire-frame legs underneath a narrow, long body.
This style gives guests more leg room and it gives you more flexibility on the types of chairs you can choose to go with the table.
5. Freeform
This category contains any type of table that does not fit any standard shapes.
The first example will be a rotated L-shape with a pair of standard legs supporting a full slab.
Tabletop Material
The tabletop is the most direct and most often used part where you'll connect with your dining table.
Arguably, this is the most important component of any table's construction.
If you find the ideal tabletop, you won't even need a tablecloth to have good aesthetics.
However, there are still designs that are holistic which means the same material is used for the whole table.
Other style tables utilize different top materials from the frame build so we'll focus on these types of tables for this article.
6.Wood
Still, you can use this as functional storage as well.
It totally depends on you.
Shop popular wood dining table styles here.
7. Glass
They give a feeling that the dining room is bigger than it actually is.
It will give more visual space to any room and is also provides a modern surface that seemingly interacts.
This model table is placed on top of a graphite X-shaped frame:
8. Laminate
There are many models of this type of dining table; one of the more distinctive is the white PVC laminated table with a notable chrome ring frame.
9. Metal
The material is strong, stain-proof, and feels premium to the touch.
It can blend well with most industrial or modern-styled areas.
10. Marble
Marble is usually considered to automatically be a countertop in homes but it can also be seen quite frequently in specific luxurious dining table models.  
Marble tabletops give out a heavy textural exterior that is easy to clean but yet very appealing to the eyes.
Tile is one of the uncommon tabletop types since it requires the use of regular tiles.
Whether you want it to be used as art-specific or even across the entire table area (usually framed in wood), they can still work for many settings.
Table Style
Probably the most overlooked aspect that needs to be considered when shopping for a new dining table is the table style.
You would think that this would come naturally but it really doesn't.
Here are a few options for you to choose from and hopefully you find one which speaks to your type of style.
12. Traditional
Elegant wood that is carved carefully and textures that are detailed.
Basically, this style is timeless and has a direct impact.
13.Modern
The modern style brings forth a distinguished mixture of convenience and beauty.
This style has precise lines and sharp angles that highlight certain areas.
This table gives any dining room a breath of fresh air because of its small design.
14.Rustic
Popular in giving a taste of "back to nature" approach such as cabins and cottages.
Our feature example has a rounded log-styles frame beneath a subtle edged flat tabletop.
15. Industrial
Of course, it also offers a serious approach.
Our example table shows a crossed I-beam frame and natural wood tabletop.
16. Shaker
Our example table is made of a natural hardwood color that highlights the rectangular construction, basic simple lines, and comes with a set of dining room chairs.
17. Contemporary
This type of table is found in every type of material and shape layout.
Our sample table shows white circular construction from the tabletop all the way down to the foundation.
Seating Capacity
Dining room table capacity points out how many individuals can pleasantly enjoy sitting at the table.
When talking about seating capacity, it ranges considerably so in this next section we will talk about the seating capacity of different tables.
18. 2 Person Dining Table
19. 4 People
4-person dining room table in the formal dining room.
20. 6 People
21. 8 People
22. 10+ People
Types Of Dining Table Bases
Dining table with 4 simple legs.
4-leg trestle hybrid dining table.
4 legged dining room table with support beams.
4-legged dining table with cross beams.
Pedestal base dining room table.
Custom modern pedestal base dining room table.
Trestle-base dining room table.
Cross leg dining room table base.
Sawhorse base dining room table.
Types of Table Tops
Slab top: Best for those who need lots of legroom.
There's only a basic frame as the foundation – no drop-downs or under tops. 
Drop top: Lesser legroom than slab top but more durable as the frame is built directly under the tabletop for a sturdier base.
Types of Table Legs
These are the most popular types of table legs.
Although some people might want to be more "creative", these three stand out.
Take note that this doesn't include types of straight legs – whether it is a straight round or straight square – as it is a separate category in and of itself.
3 types of table legs: Spindle, Tapered, and Cabriole
FREQUENTLY ASKED QUESTIONS:
Below are the questions commonly asked about dining room tables.
What are the materials being used for all the dining from tables?
These are the commonly used different materials used for dining room tables.
Wood is the most natural material being used for dining room tables. Basically, you can choose from a diverse group of wood, because each kind of wood has its own particular trait. If you want a dining room table that lasts for many years, then I highly recommend a table that is made of wood.
Glass tables are also very widely sought after. Certain glass tables are usually being displayed in showrooms. The pedestals or bases can be made out of wood, marble, or even metal. For a really classy and elegant look, the table can be made entirely out of glass. However, this may not be a good idea if you have children or teens running around the house as this table is very fragile.
Metal dining room tables are fast gaining popularity most especially with people who really like creating industrial decorations. These tables are so tough and very firm and will last a long time.
For those looking for more expensive options, marble, granite, and onyx dining room tables are the ones you are targeting. Each material holds individual complex details that mark up their value.
Synthetic and laminate tables are the other end of the price spectrum as they are on the cheaper side of the market. If you want a  long-lasting dining room table that can imitate the look of more expensive table types, then synthetic and laminate dining tables should two of your top options.
Typically, how long are regular dining tables?
There are so many different types and designs that it would be most reasonable to decide first what kind of dining table you are planning to get.
After that, then you have a good idea of the length of each specific style.
Also, consider the table-space you have at home, or even what shape or design you prefer.
If you have a smaller dining area then we recommend square tables.
Rectangle tables are also very popular, though not too far behind are oval and round-shaped dining room tables.
Usually, square tables are most comfortable for a four-person setting.
Although, there are rare square tables that can fit more than four persons.
Square tables are normally between 36 inches to 44 for each side.
The most frequently used type of dining room table is the rectangle table.
They are usually four to six-seater but can be designed or found to fit more seats.
The regular lengths of rectangular tables would range from 48 inches for a table adequate enough to cater to four people, 60 inches to seat six individuals comfortably, and lastly, 78 inches long which is more than sufficient to seat eight people.
There are also oval tables that would basically measure about the same as a rectangle table except that they don't have any corners.
This type of table is measured by its diameter. 
An oval table good for four people would be 36 to 44 inches in diameter.
A six-seater would measure up to 54 inches and seating for eight individuals would go ranging 55 inches and up.
In any other different type of table, measure the borders of the table to make sure that you have about two feet of space on each seat.
How tall are traditional dining room tables?
Almost all of the dining room tables will be from 28 to 30 inches tall as this is the industry standard although you won't find it really hard to find taller ones. 
There are tables that measure 36 inches high and these are called counter-height tables.
Bar-height dining room tables are 42 inches tall.
Of course, chairs and stools with the appropriate height are a must to accommodate the taller tables.
What is the width of a regular dining room table?
As was mentioned in the article, much of it depends on the table type.
Logically, a square dining room table would have the same length and width.
Measurements ranging from 36 to 40 inches wide for rectangle and oval tables are quite common.
And for round tables, the width totally depends on the size of the table you are getting.
Are there dining tables available for rent?
Yes, you may get a dining table for temporary use on a rental basis (for as long as you want to be eating out of a rented dining table).
You can actually save a lot of money with this approach. 
Since getting a dining table takes a tremendous amount of investment, you can rent dining tables in the meantime, getting them from the newer small businesses until you can save enough to get one for yourself.
Can I recycle my dining room table?
Yes and no.
It depends on what the dining room tables are made out of.
Tables that have some type of damaged varnish or stain cannot be recycled.
Although, tables that are made of wood can sometimes be cleaned up and reused. 
Generally, metal, marble, granite, glass, and onyx tables can all be recycled.
Even newer synthetic and laminate tables can also be recycled, not just the traditional ones.
However, the older ones may contain chemicals that can't be safely dissolved or reused.
During a buffet, should my dining room tables be a match?
Logically, all dining room furniture should match.
It can all depend on whether you are having a large group, buffet type of gathering, or just a simple dinner but with a buffet type of setup. 
It's not unusual to see dining rooms with a buffet that accents or offsets the table.
There are also times that the buffet can even be the center of attraction of the whole dining room.
Can I refinish my dining room table?
The short answer, it all depends on the table material that is being used.
For instance, wood tables can be refinished if it is still solid and in good condition.
Metal and glass tables oftentimes are resurfaced especially if they have a scratch on a certain part of the table. 
Meanwhile, granite, marble, and onyx tables can sometimes be fixed if there are minor dents and damages.
However, laminate and synthetic tables should be replaced once they show big signs of wear and tear. Don't attempt to refinish them. It will be a waste of time.
Is it possible to re-stain dining room tables?
Yes, it is.
In many cases that the wood itself is still in good shape and adequate condition, you can sand it, remove the old stain, and then re stain with practically any shade of the color you want.
In fact, an ideal way to extend the life of an old wooden table is to re-stain it.
How can I recognize a dining room table leaf?
You will know what a dining room table leaf is when you pull it apart at each end.
These tables are able to lengthen to have more seating space.
One or both edges of the table are designed to be pulled apart creating more legroom.