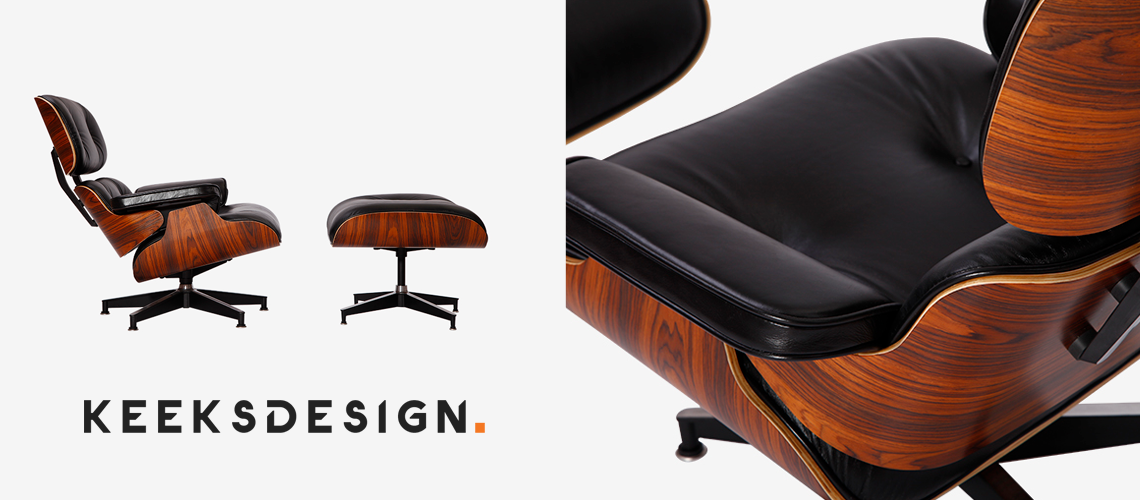 Keeks Design Eames Lounge Chair & Ottoman Replica Review
Since its debut in 1956, the Eames Lounge Chair and Ottoman has become one of the most famous and iconic furniture pieces of all time.
Each part of this outstanding piece took years to design and develop and has left an impression that has lasted through the years.
This chair continues to be highly sought after and that is why there are several reproductions on the market.
Our goal is to bring you the best reproductions and today we are going to review the Emma Lounge Chair and Ottoman by Keeks Design.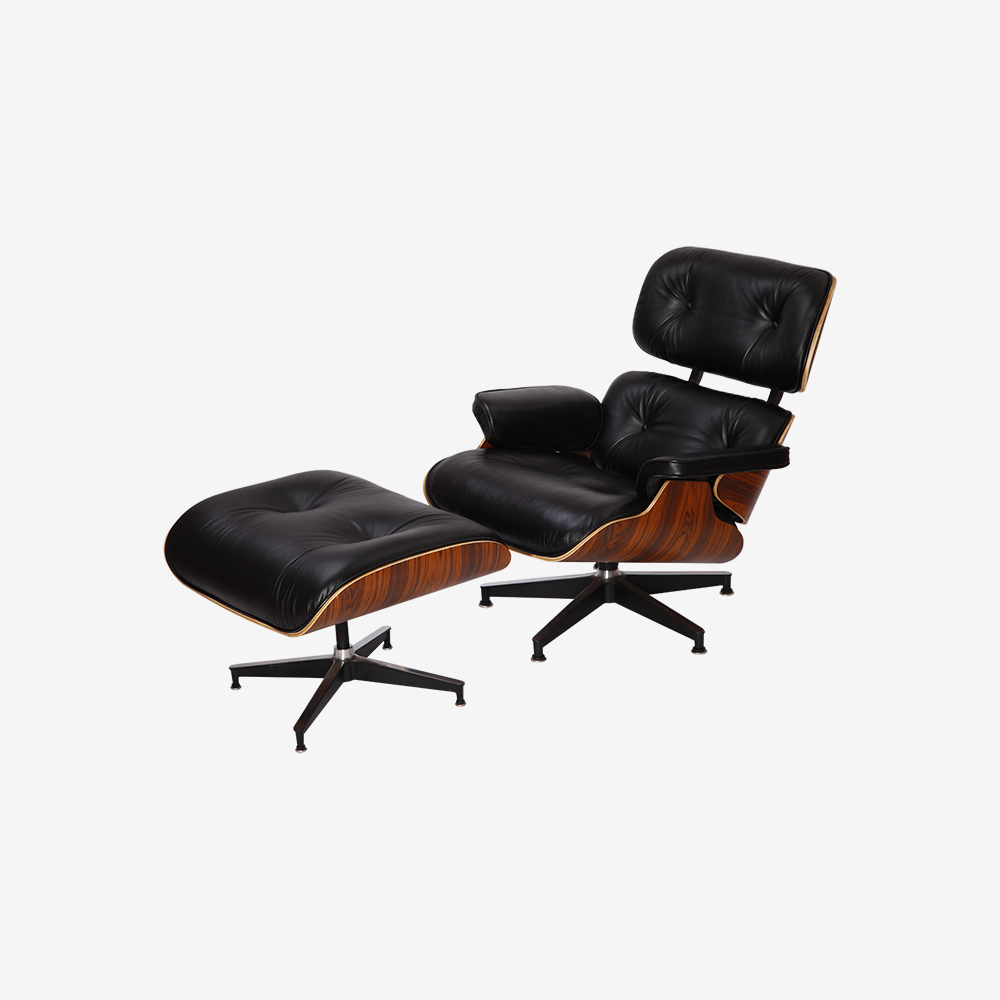 There are many reproductions out there but few that bring a craftsmanship that is close to the original, at a great value.
The Keeks Design Emma Lounge Chair and Ottoman is handcrafted and carefully manufactured to bring you a gorgeous reproduction at an affordable price – without jeopardizing design and quality.
This reproduction is designed with the same dimensions as the original Eames Lounge Chair and is upholstered with 100% full-grain aniline leather imported from Italy, which is the highest grade and most expensive leather available.
The chair is molded with a 7-ply layer of real wood grain veneer shell that is kiln dried to prevent warping or cracking.
You have three color options for the wood grain veneer – palisander, walnut, or oak.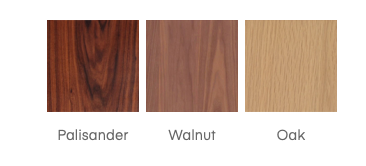 The leather comes in black, vintage brown, brown, or white and you can choose from seven total combinations of wood and leather as seen below:
The supportive base of this chair and ottoman is made of black die-cast aluminum and back braces with a polished bright aluminum trim.
Just like the original, the chair features a swivel mechanism and 15 degree perma-tilt base with rubber shocks.
To add to the beauty and value this chair has, they offer free shipping and 3-year warranty!
Key Features
Price: $1,395
Chair Dimensions: 32.3″L x 34.4″W x 32.9″H
Ottoman Dimensions: 26″L x 21.2″W x 17″ H
Real Wood Grain Veneer Shell comes in three color options: Palisander, Walnut, or Oak
100% Full-Grain Aniline Leather Imported from Italy comes in black, brown, vintage brown or white
Black die-cast Aluminum base and back braces with Polished Bright Aluminum Trim
Rubber Shock Mounts underneath armrests
Removable Cushions with Clip System
PU-Injected Foam
Swivel mechanism with 15-degree Perma-tilt base
Classic Flower creases created by Buttons
3-year Manufacturer Warranty
Free Shipping
All Colors and Variations can be seen on their Main EMMA Lounge Chair page below:
https://www.keeksdesign.com/product-category/collection/eames-lounge-chair-replica/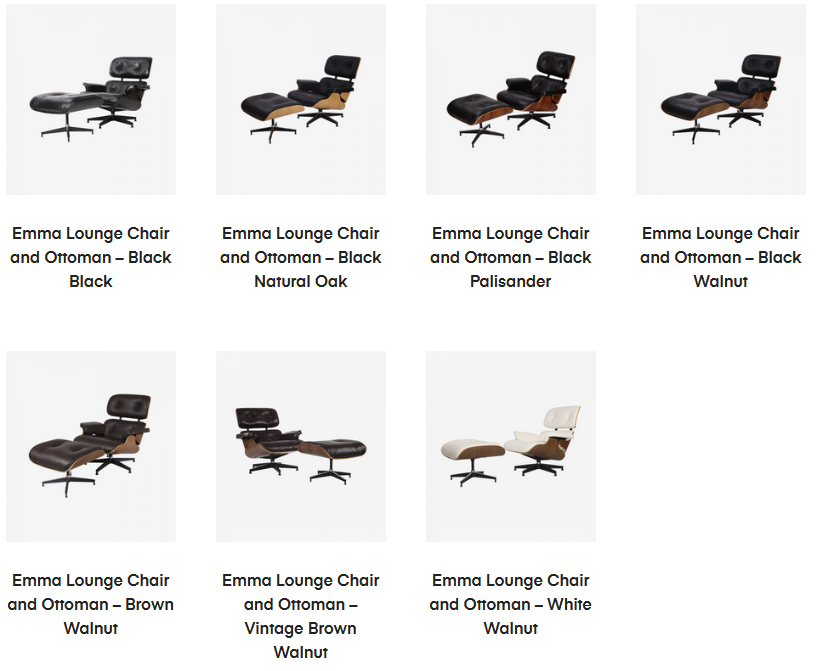 Customer Reviews
Keeks Design is known for having excellent customer service, reliable FREE shipping, and they offer 3 Year warranty on all their pieces.
They have a hand selected collection of only the finest, most popular Mid Century Modern Classics.
Each furniture piece is handcrafted and designed to the originals so that you get a gorgeous reproduction at a more affordable price – without sacrificing quality.
Here is what a few customers had to say about the Emma Lounge Chair and Ottoman:
"I am so happy with my purchase. The leather quality is better than any other inferior reproductions in the market. Great value for the price!"
"Great quality and fast shipping! My husband loves this lounge chair."
"We have sat on the original Eames lounge chair and are so glad we bought this one. Feels and sits just like the original!"
"Highly recommended and the customer service is superb."
Conclusion
Everything you see here comes at a very fair price of $1,395.00 which is very competitive to other top Eames Chair Reproductions.
What we love about the Emma Lounge Chair and Ottoman is that you can select your color combo to customize a chair that fits perfectly with your space – whether it be at home or at the office.
This chair is timeless and will bring you years of style, use and comfort.
Click on the image below to see more details and where to buy this product!