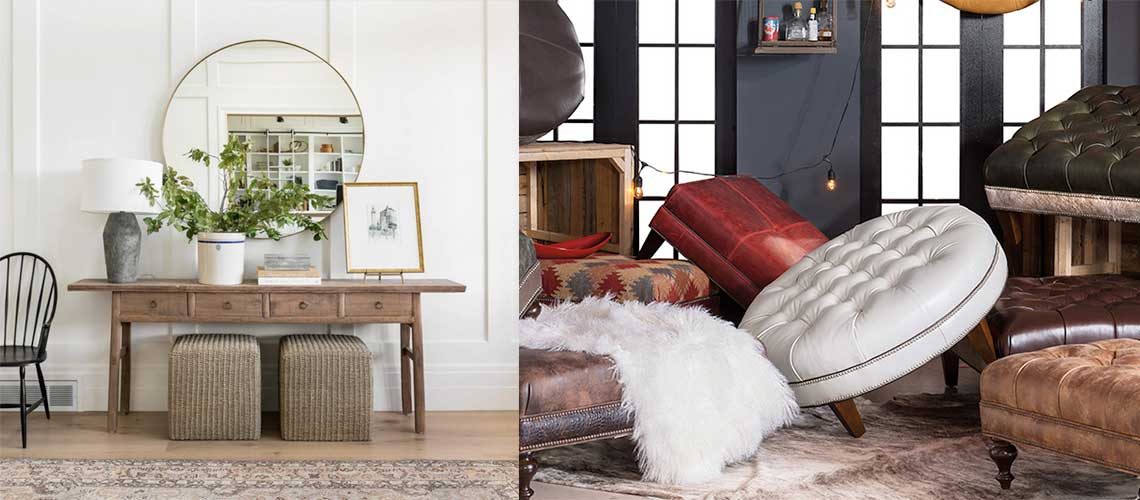 Types of Ottomans
Ottomans are an amazingly unique and functional piece of furniture that come in a wide variety of sizes, frameworks, and even styles to choose from.
The best ottomans are the ones that combine different important elements such as storage space, built in shelving, or that serve as a coffee table and footrest.

This article will hopefully serve as an extensive guide for us to explore the different types of ottomans and where to find the styles you love.

First, we will discuss the entire design, showcasing the four fundamental types of ottoman that you'll see.
Then we will tackle its scope, particularly in shapes and sizes.

With this, we can identify its position, usage, and value aesthetically.
Essentially, since utility is as vital as its physical features, we have included a specific section for storage, for you to be fully aware of the perks in choosing an ottoman with storage.
Let's get started!
Design
The design of your ottoman is a great place to start because you want the ottoman to compliment your existing decor style, not stand out like a sore thumb.

Here are the more common ottoman designs to give you an idea of the different styles you can look at:

Standard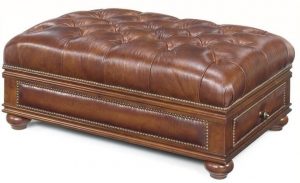 Basically, a standard ottoman design emphasizes buffered corners over a firm base that can be either square or rectangular shape.
It can come in a variety of materials like leather, cloth, or synthetic upholstery.
ottoman is fashioned in order to provide the fundamental service with elegance and type.
Pouf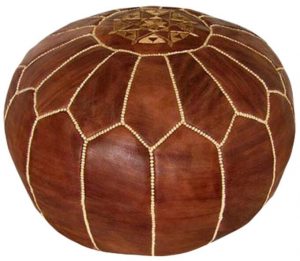 A pouf ottoman simply refers to its "puffed" construction.
Pouf ottomans are not always round – they are just designed with a softer interior and no solid structure. 

Coincidentally, the term has been used to also mean bean bag ottomans because they both lack solid structure.

Cocktail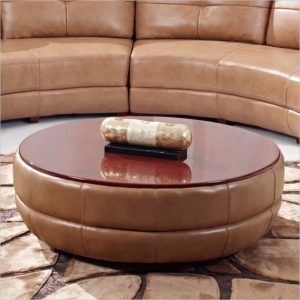 This type of ottoman is also called the coffee table ottoman.
Its remarkable feature is a table-like top wherein food and beverages can be positioned.
Other designs contain a reversible gentle top, containing a firm table on the other end.
Thus, there are also models that have trays that are ideally perfect for the surface.
Cube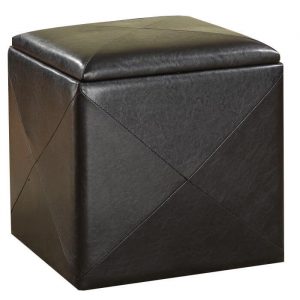 This variety of ottoman has become widely known throughout these recent years.
Its geometric shape enables similar ottomans to be organized, settled, and re-utilized freely.
In addition, these can be acquired in cloth as well as in leather types.
The cube ottoman frequently contains a hidden storage area under its cover.
Shape
Now that you have perhaps chosen a design that you like, lets discuss the different shapes that ottomans come in.

Shapes greatly contribute as to where and how you will situate your ottoman.
Wider designs can be easily put in front of the sofa in lieu of a coffee table or perhaps next to a coffee table.
Some larger rounded types can serve as the conversation centerpiece by setting up several chairs around them.
Smaller styles can be used under console tables in entry ways or near the foot of a bed or lounge seat.
The shape really depends on your space and how you want the ottoman to be used.
Square
Ottomans commonly appear in the form of squares and rectangles.
Square ottomans work well with sectionals or in symmetrical rooms.

You can create a more even room flow around a square ottoman.
Square ottomans are also great in the center of a large walk-in closet and can be used to sit and put shoes on or to provide extra storage if you choose a square ottoman with built in storage capabilities.
Small square ottomans are commonly tucked under entry console tables as a decor piece but also as a functional place to sit and put shoes on or remove shoes.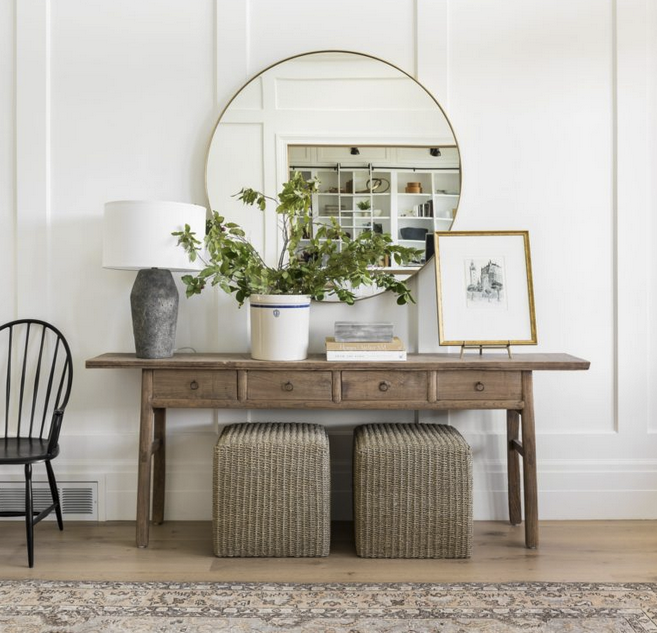 Rectangle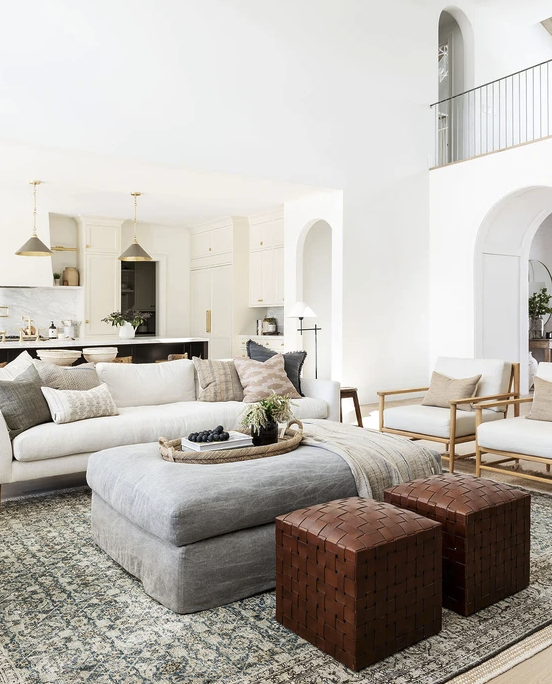 A rectangle shaped ottoman is great for larger areas and provide ample space for the feet to rest.
For added storage, choose a rectangle ottoman that can store family games, throw blankets, etc.
Standard cushion top or cocktail style common are examples of these.
They are great for larger living spaces and provide both comfort and practicality.
Round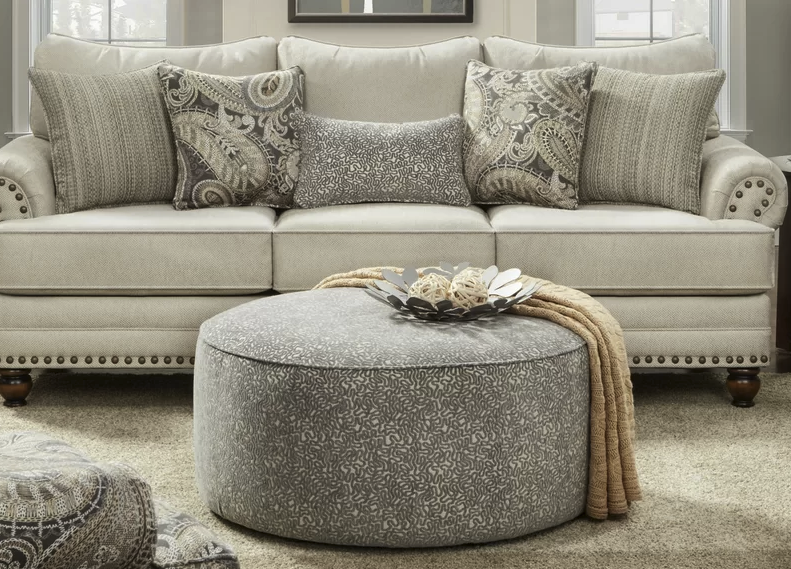 Round ottomans often differ in size, starting from a basic puff model for an individual, to extending designs that serve as centerpieces in an ornamental group of furniture.
The shape is popular because it can be used in various living room arrangements.
The rounded shape is a space saver as well.
Oval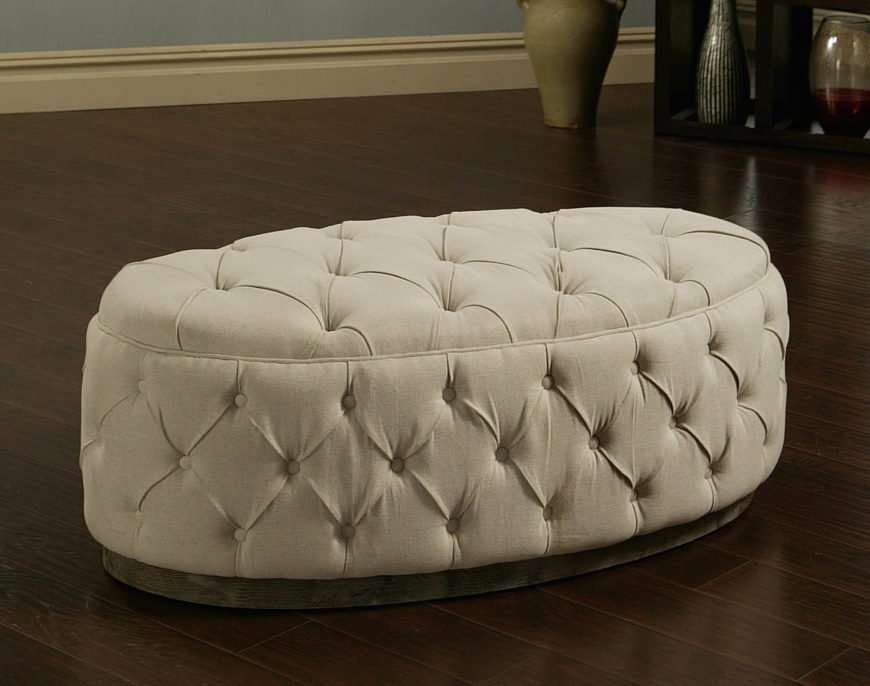 An oval ottoman sets an atmosphere of elegance.
With their capacity to accommodate more than an individual at a time, they are also useful and alluring in terms of their appearance.
Novelty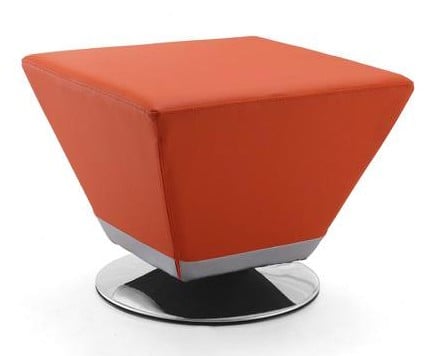 Novelty ottomans come in all shapes, colors, textures and styles.

These types of ottomans can be custom made or can be found online.
Novelty ottomans are usually unique, have odd shapes and colors, and are meant to be more of a statement piece.
Here are a few examples: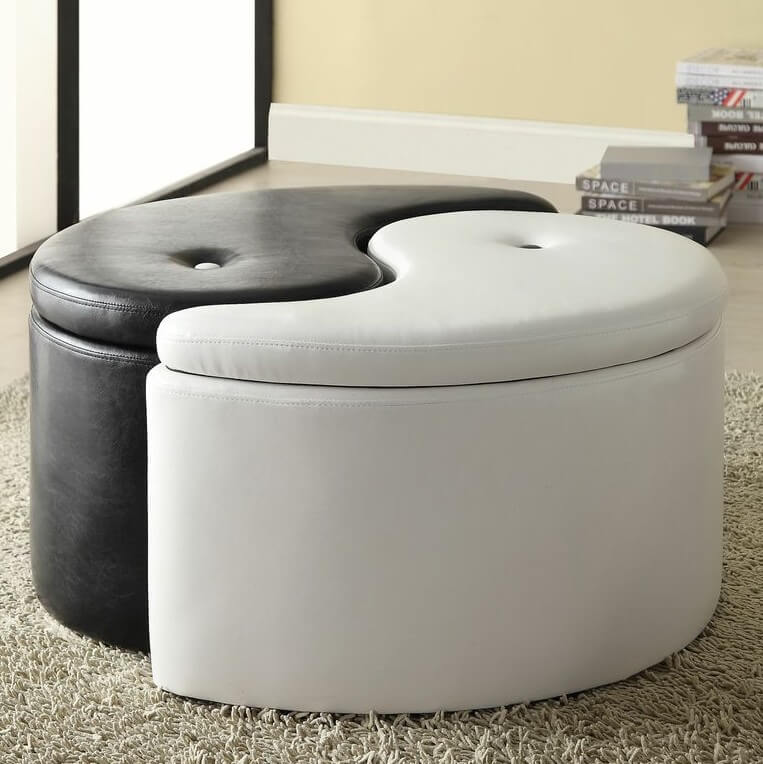 This yin and yang ottoman is actually two pieces that comes apart.

By uniting to produce a perfect circle, but yet able to separate its distinguishable features has drawn many recent consumers' attention and interest.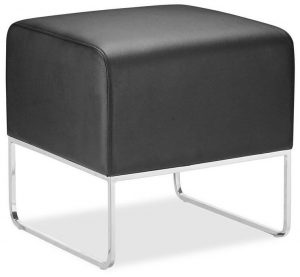 With an elevated metal structure as the legs, this unconventional model of ottoman appeals to contemporary and eccentric types of consumers.
Though, old-school traditionalists may also find this design somewhat of a good compromise.
Upholstery
Up next we are going to talk about the different types of upholstery used for ottomans.

The texture and style of your ottoman are a big factor in determining the ideal place where to place your ottoman.
Fabric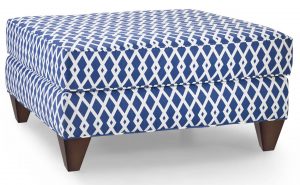 Fabric ottomans are great if you want more flexibility with the colors and look of your ottoman. Fabrics come in all kinds of colors and textures.

With the accessibility of a dynamic range of colors, designs, and prints, a fabric ottoman can be suitable for almost every area.
Leather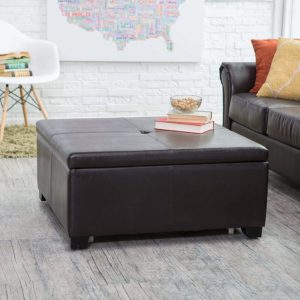 Leather upholstery is always an excellent choice.
It provides an elegant atmosphere of texture and style to any area of your living room or bedroom.
This appears usually in brown, yet is also available in black.
Leather ottomans are built in a broad range of design and size that is appropriate for any area that you want to place it in and best of all, they are durable.

Velvet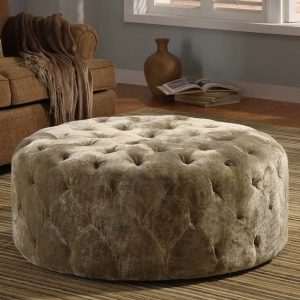 Velvet can enhance the textural features of your furniture that are not available to any other material.
It is usually in sophisticated, elegant designs and a velvet-upholstered ottoman can uniquely set an incredible atmosphere.
Whether in a public room or sitting quietly in private rooms, depending on its environment, the velvet ottoman is the classiest choice here.
Suede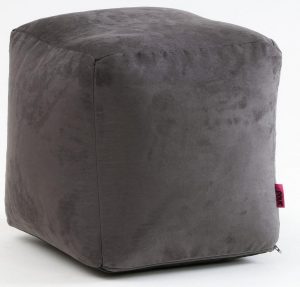 Suede possesses an uncommon texture and sense of feel that is unique.
Having its appearance slightly change in shape when buffed to different sizes, its tone is lively and always seems to be brand-new.
Although this is not the most natural ottoman upholstery, the suede ottoman is considered as one of the most plushy.
Rattan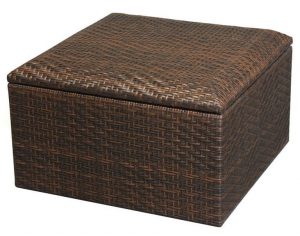 Rattan refers to a material woven that commonly appears in the patio or any other outside area of the home.
However, this has not stopped many homes to create more exciting living rooms by adding the rattan ottoman to the inside of their houses.
It's a firm, life-proof material that can be both seemingly weightless and yet surprisingly strong.
Tufted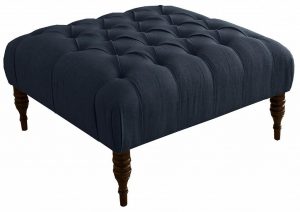 The button-tufted model conveys a specific, elegant appearance to any fabric or cushioned furniture.
Almost royalty-like in look and feel, this is one of those ottomans where you don't buy for the utilization but for decorative purposes.
Storage
The last factor to look for when buying an ottoman is the storage section.
If you love to experience additional usefulness for your ottoman, and not settle for its common usage as an item of convenient furniture, then storage space is essential for you.
These sections are designed in a variety of fabrications and here are some examples of them.
Open Lid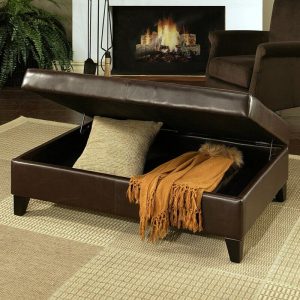 A hinged lid ottoman or "lifted-off" lid is the most common example of an ottoman storage area opening.
Drawer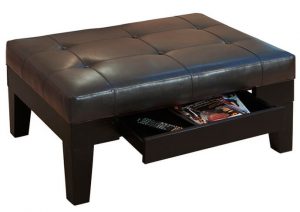 An ottoman with a drawer can be an ideally clever furniture pairing as this enables the storage section to be inconspicuous yet useful.
Interestingly, the drawer can be situated on an ottoman with thin elevated legs, and so not demanding bigger ottomans to have these drawers.
These are ideal to put your TV remote controls and other smaller, regular living room items in.
Nested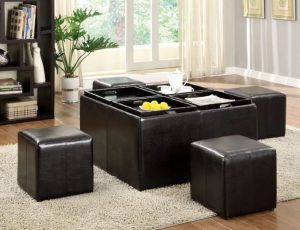 Nested ottomans integrate various functional categories of different models, including their storage capability, structure, and flexibility of position.
Designs similar to the photo above enable a larger storage area because instead of just one area there are two or four.
You can also use this ottoman combined for tablet dining as well as separate multiples pieces that you can use for seating.
Creatively, the smaller pieces can be easily hidden when not needed during everyday daily use.