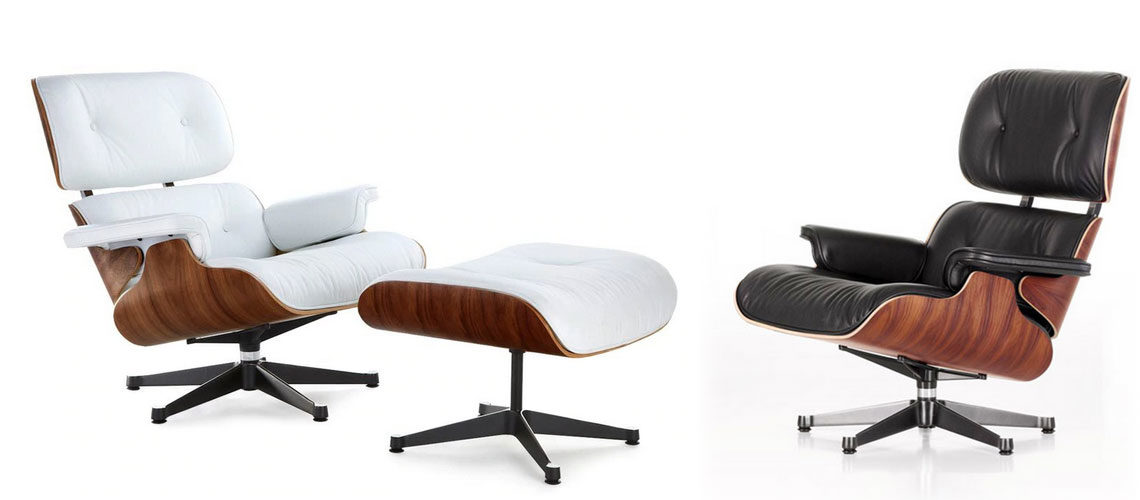 The Eames Lounge Chair has become an icon for furniture enthusiasts and interior designers. It is featured in museums and popular shows such as Mad Men.
It truly is an icon of American Design and boasts a price tag of $5,000 or more!
Since its debut in 1965, this chair has remained just as popular and sought after.
Many companies have tried to replicate this magnificent chair but have failed because of the lack of detail and quality.
However, there are still a few Eames Chair replicas on the market that get pretty darn close to the original.
In this guide we took the top 4 Eames Chair replicas and reviewed them so that you can get a high quality Eames replica wiohtout waisting your money on a bad replica.
Here's the Best Eames Chair Replicas on the Market for 2020:
1. Manhattan Home Design Classic Lounge Chair & Ottomon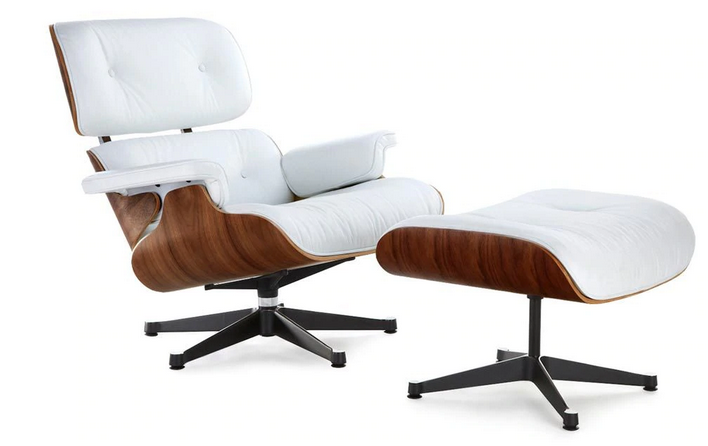 The Manhattan Home Design Eames Lounge Chair replica is the best budget buy reproduction you can find.
For the price, you simply won't find a replica that matches this closely to the original.
The main reason that this chair is cheaper than the other top choice replica's is that they use "top aniline leather" rather than "full-grain" aniline leather.
Nonetheless, this chair is sturdy, still has the same measurements as the original and to the naked eye of most people, they won't know the difference unless they are true Eames enthusiasts.
Key Features
Upholstered in your choice of top-grain eco-leather, premium Italian leather, and full grain aniline leather imported from Italy.
Braided thread used with Lockstitch (stitch type #301) ensures piping stays in place and seams are long lasting
Plywood veneer is FAS American Timber
Veneer is finished with a final application of Italian Lacquer
PU-injected memory foam cushions are wrapped with a synthetic silk
Removable cushions
360 degree swivell
Standard Vitra-style cast base and back braces come in powder-coated black with a high polish bright aluminum trim.
Price:
$994.00
Buy Here:
2. Decorific NYC Replica Lounge Chair & Ottoman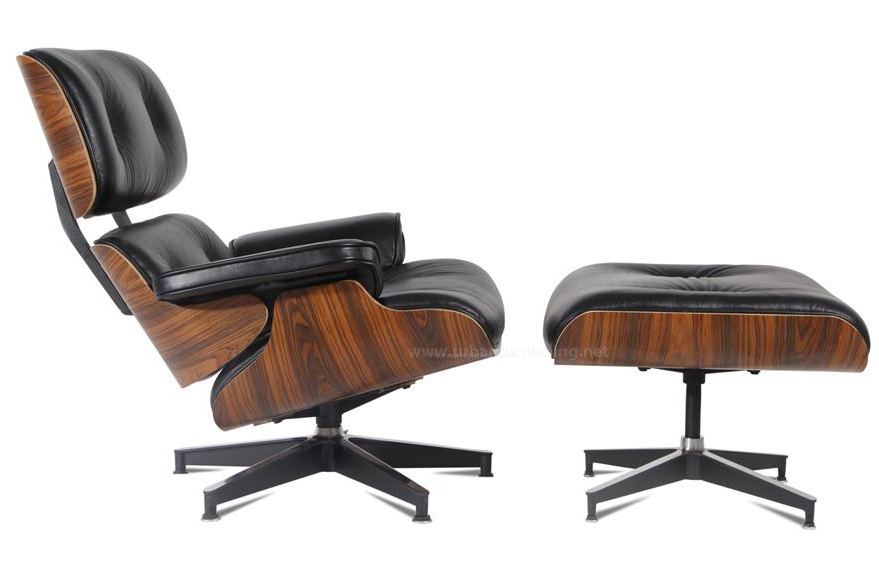 This chair might possibly be one of the closest Eames Chair Replica on the market.
The quality is superb, the leather is imported from Italy and is 100% Aniline leather, and the wood finishes are of the same color.
This chair and ottoman are built with the same dimensions as the original and backed by a 3-year manufacturer warranty.
You are basically buying the Eames chair but at a fraction of the price and with Free shipping via Amazon!
Key Features:
100% ful-grain Aniline Leather imported from Italy.
Rubber Schock Mounts
Black die-cast Aluminum base and back braces with high polished bright aluminum trim
Built in Swivel mechanism with a 15 degree perma-tilt base
Removable Cushions
Both side Veneer finishes
High Resilience PU-Injected Foam
Deep buttons creating the classic flower crease
3 year-manufacturer warranty
Price:
$1,059
Buy Here:
3. EModern Furniture Lounge Chair and Ottoman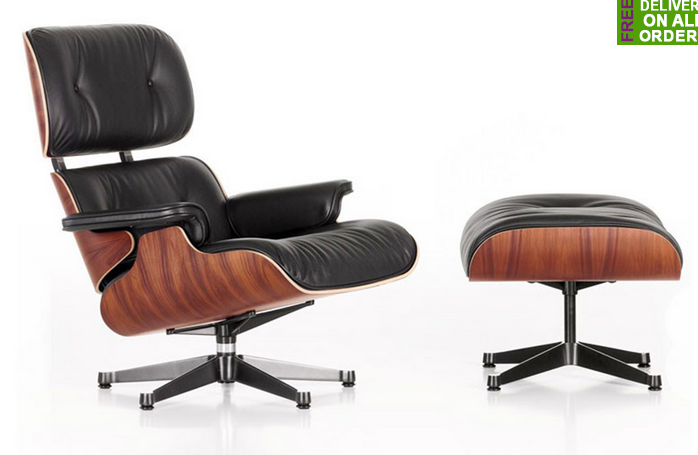 EModern makes another popular Eames Chair Replica at an affordable price!
This reproduction is produced with layers of molded plywood, coated with laminated wood shells and upholstered in either top grain, aniline, vintage, and cowhide leather in a variety of colors, combined with a choice of high-quality woods.
This is a pretty amazing reproduction if you are on a budget!
Key Features:
Several different color combinations to choose from: upholstered in your choice of Top Grain, Aniline, Vintage, and Cowhide Leather
100% Italian Leather
Die-cast aluminum braces and base
Plywood veneer is FAS American Timber.
Braided thread used with Lockstitch (stitch type #301) ensures piping stays in place and seams are long lasting
The Eames lounge chair replica is a Vitra replica
This item is shipped fully assembled
Price:
$579
Buy Here:
4. Soho Modern Style Premium Reproduction Lounge Chair and Ottoman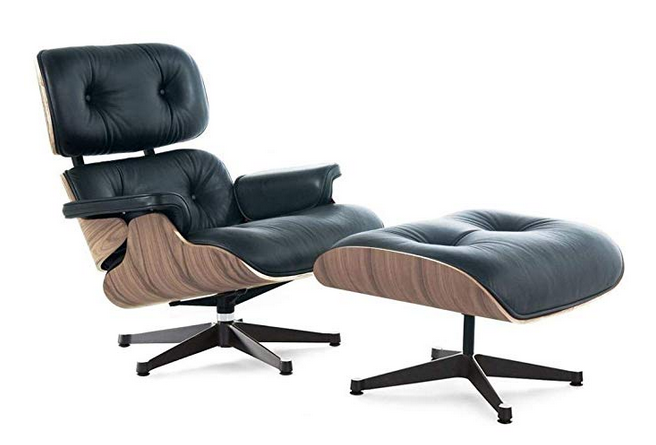 The Soho Modern Style Reproduction Eames chair is another top choice for those looking to purchase this chair.
You can choose a few different options such as 100% Aniline leather, Faux Leather or Italian Leather, depending on your preference and budget.
Obviously the Aniline leather is more expensive but will give you the most authentic look.
Soho Modern Style is known for their fast shipping and great customer support which is a plus.
Key Features
Manufactured with the Highest-Grade Aniline Leather sourced exclusively from Italy

FAS certified: genuine Hardwood Lumber (From sustainable Brazilian, US and Canadian supply)

Removable cushions

High density modular cushions

Concealed zipper for ease of reupholstering

Stainless Steel Base – Identical to the original, built upon the robust Five-Point Style foundation

Same specifications and manufacturing process as the original chair
Price:
$1,299.00
Buy Here:
Conclusion
Whichever option you choose from the above list won't disappoint.
The most expensive options are going to give you the closest match to the Authentic Eames Chair but, even the budget friendly option is going to give you an excellent chair.
It just all depends on your budget and how much you care about having an exact replica