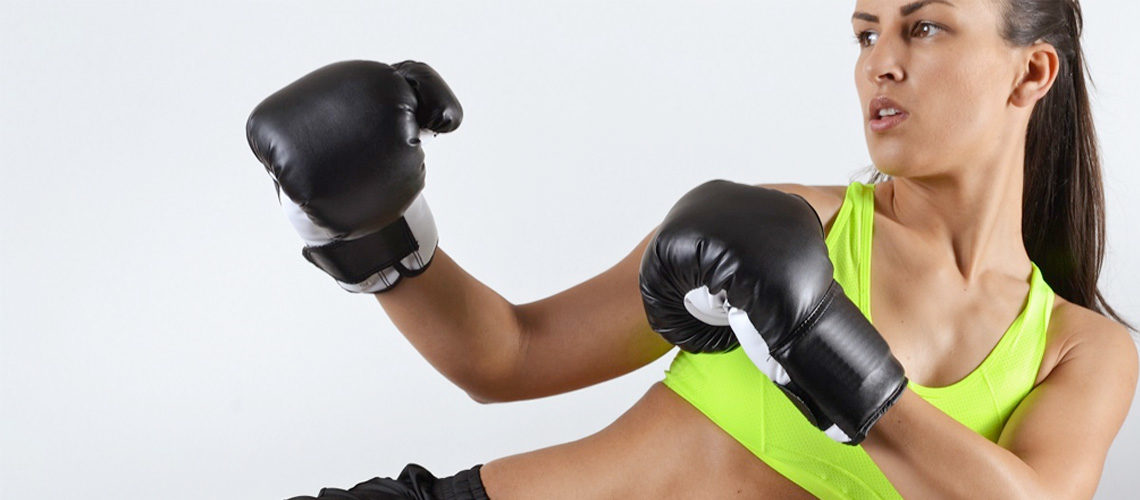 Kickboxing, like any martial art, has its own set of padding, equipment, and training gear that'll help you take your game to the next level.
Whether you're someone who is just training for fun, or you're looking to get in the ring and spar, and maybe even compete at a higher level… then you're more or less going to dedicate your life to the martial arts.
Part of that dedication involves ensuring that you've got the right equipment to protect you, and to protect the people that you're training with, too.
There are a number of different styles of gloves that people like to use for practicing and training kickboxing and Muay Thai.
The type of glove you choose will depend on your goals, what you're doing this for, and personal preference.
Some of the gloves we're about to feature are MMA-style, whereas others are more traditional boxing gloves.
Don't forget: You'll also want to grab a pair of the best hand wraps.
Here's the Best Kickboxing Gloves of 2023 for Men and Women:

1. Top King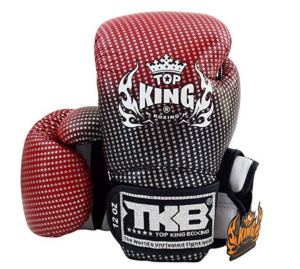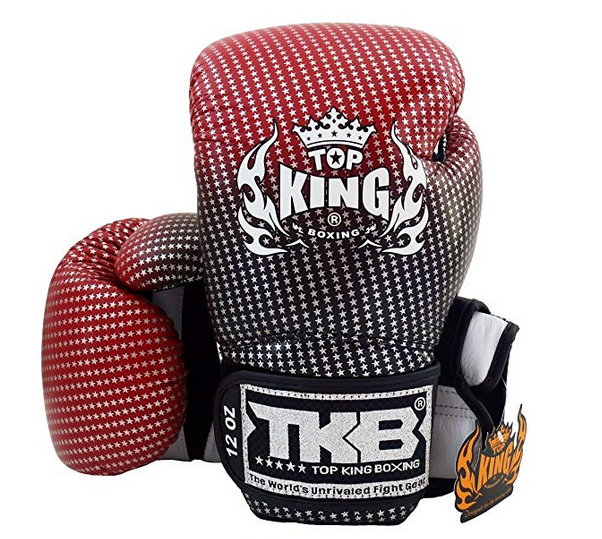 This flashy pair of Muay Thai kickboxing gloves will definitely have you standing out from the crowd.
They're available in around 20 different colors, and come straight from Thailand where they're made by hand. This is the real deal if you're looking for something authentic, but still affordable, and obviously super high quality. 
If you're looking for 10, 12, 14, or 16oz kickboxing gloves, and these appeal to you, you can pretty much stop looking right now because it doesn't get much better than this.
If you have any issues with them, there's a service center in the United States so you don't have to ship them all the way back to Thailand or anything like that.
If you're nervous to buy gloves online without trying them on first, don't be. 
A lot of people have tried these, and a lot of people swear by them, from amateurs who train for exercise to professionals who put their life on the line when they step in the ring to give it their all. 
These gloves do a good job of keeping your hands relatively cool, at least as much as you can expect from big boxing gloves like these.
Made from really high quality leather, it'll be quite a while before you see them starting to crack, and you'll have gotten tons and tons of work out of them at that point, anyways.
It's really hard to go wrong with these, so grab the weight you're looking for, and the color that appeals to you the most, and get going, you'll be happy with your choice.
If you're looking for something a little different, it's all good, we've got plenty more to check out…
Key Features
Hand-made in Thailand by kickboxing experts

Available in a number of sizes/weights

Good enough for professionals
Buy Here
2. Fairtex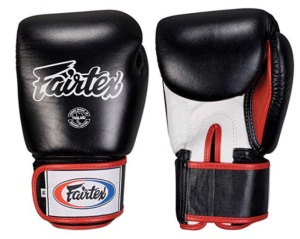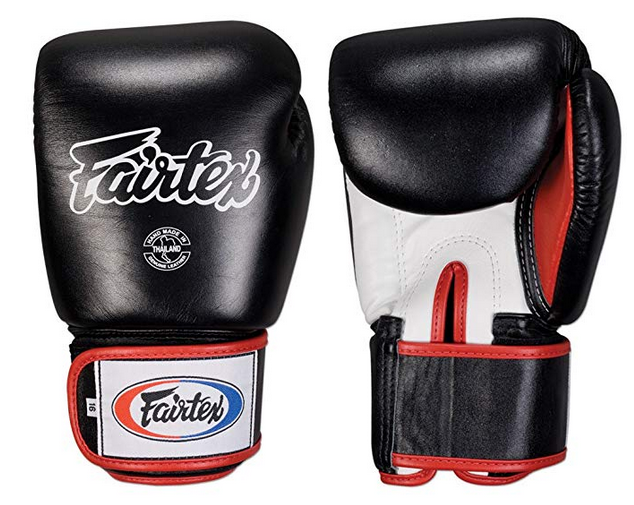 Fairtex makes amazing gloves, no matter what sport you're training. Their sparring gloves for kickboxers are a revelation.
The price is super fair, and like our #1 option above, these are also handmade in Thailand by experts, and this brand also has a service center in America to serve you faster.
These gloves have straps that fasten in place using a very strong Velcro so they're never going to slip off, they're never going to interrupt your training session.
These come in sizes ranging from 8oz all the way to 18oz, and these also come in a number of different colors and patterns so you can see which one suits your style and personality.
Maybe black or red to hide stains, or white so that they'll keep strains from previous battles? That's up to you.
These gloves are very well made, we can't say enough good things about them, so hopefully having them comfortably situated in our top three will speak for itself.
Key Features
Made in Thailand by hand

Available in tons of different colors

Strong Velcro fastens them around the wrist

They come in a number of sizes

Perfect for sparring
Buy Here
3. Hayabusa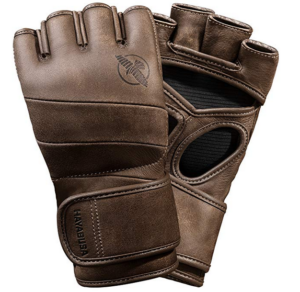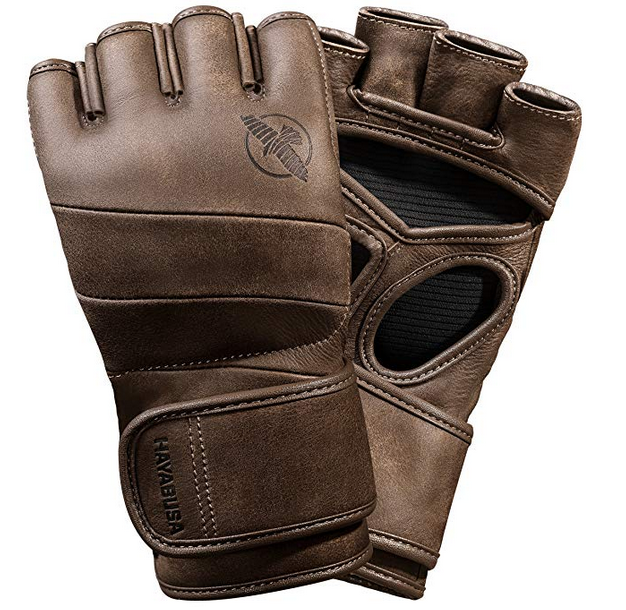 Some people like to train kickboxing with lighter gloves, and if you're looking for lighter striking gloves, then a great pair of MMA gloves are going to be your best bet.
It's not what you're wear to compete in, but your training partner may appreciate getting decked with little 4oz gloves rather than a big pair of 18oz gloves.
Lighter gloves mean you'll be able to throw strikes more quickly, but without necessarily having the same power/impact, the extra ounces on heavier gloves give your shots a lot more oomph when they hit. 
It's a personal preference thing, if you're training kickboxing as a means to get into MMA, then being more comfortable with these gloves is a good move.
If you're planning to stick entirely to boxing, then you may want to use boxing-style gloves instead.
Either way, these Kanpeki gloves from Hayabusa are absolutely stunning, fantastic quality, and they have this awesome rugged feel to them, too.
Made with great attention to detail and craftsmanship, these gloves will last you for a very long time, even when you're using them to train hard on a daily basis.
They're pre-curved slightly, so your hands won't get fatigued as easily in tough sparring sessions, and the design of the palm allows you to practice grappling, if you're into that sort of thing.
Key Features
Pre-curved for an instant great fit

Dual-X closure design gives amazing hand and wrist support

Stunning and rugged looking gloves are both classy and gritty at the same time
Buy Here
4. Twins Special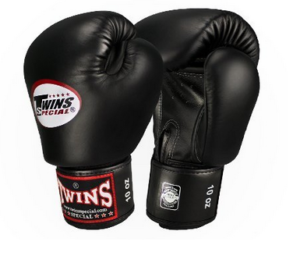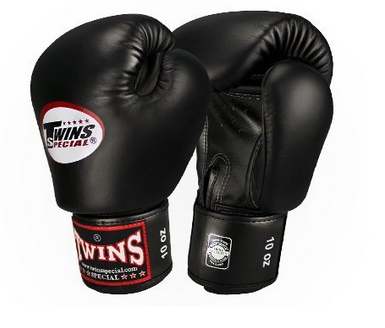 There's a reason that Twins is yet another legendary brand when it comes to combat sports.
They've sold countless pairs of gloves over the years, and that means there are countless people in gyms right now smashing these into punching bags, and into the faces of their competitors.
They come in three different colors, and five sizes, from 10oz to 18oz, in 2 oz increments.
They're held on by very strong Velcro. The stitching is on point, and these are also made in Thailand. They're moderately priced, it's certainly a fair rate for such a high quality pair of gloves.
Twins recommends using the 8 and 10oz gloves for competition, or training on the bag. They recommend the 12, 14 and 16 for general training and sparring.
They recommend the largest 18oz gloves for a more vigorous and intense workout. When you train in heavy gloves, the lighter ones you use in sparring will feel even lighter, giving you more power. 
Key Features
Made in Thailand

Available in tons of sizes and three colors

Strong and durable stitching and leather, very high quality across the board
Buy Here
5. RDX Elite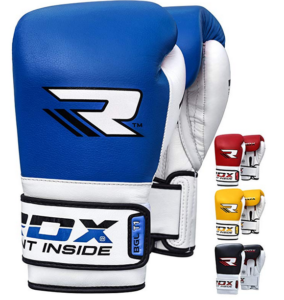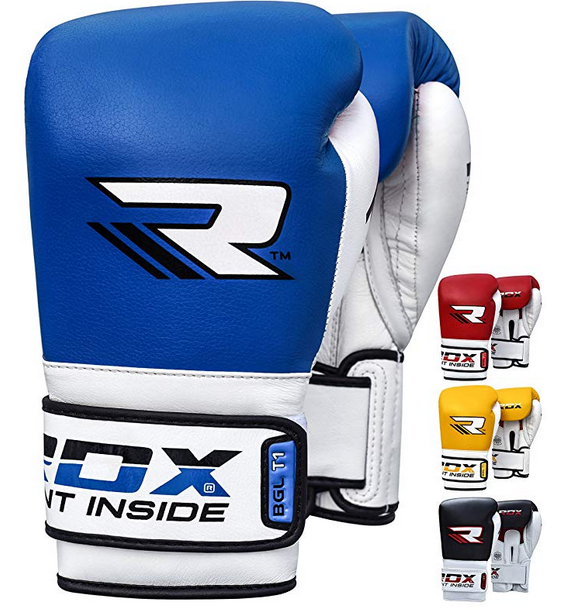 Let's wrap up this roundup with a great pair of leather kickboxing gloves that are great for sparring, fighting, hitting the bag, whatever you want to get up to in the gym.
Made from 100% full grain cowhide leather, these are super durable. The stitching is near-perfect, which is honestly more than you can usually expect from gloves in this price range.
This is our "bargain" option, for people who don't really need anything too fancy, but still want to train hard and want something that's a lot better than entry-level. These are affordable, but they're definitely not cheap-feeling.
The nylon mesh wicks away your body's sweat, which helps keep these gloves from smelling nasty, and also helps keep your hands from getting wet and clammy during longer sessions.
Dry hands are happy hands. The knuckles on these gloves have a special layer of gel padding in them to help absorb impact and reduce strain on your hands.
Key Features
Gel protection in the knuckles

Available in black, yellow, and red

100% authentic cowhide leather

Great stitch work
Buy Here
Thoughts on Choosing The Best Kickboxing Gloves
At the risk of sounding like a broken record, it's all about evaluating your own situation and needs.
Are you pro or semi-pro?
Are you just looking to throw some punches at the bag in the gym in between cardio workouts?
Are you somewhere in between?
What's your budget?
How often are you going to be using them?
These are all things to consider.
The more you'll be using them, and the harder you'll be training should both push you towards getting better, and more expensive gloves.
If you're more casual and more into this for the fitness, then you really don't need to spend a fortune.
Stick to any of the less expensive gloves on this list and you'll still be thrilled with whichever ones you choose.