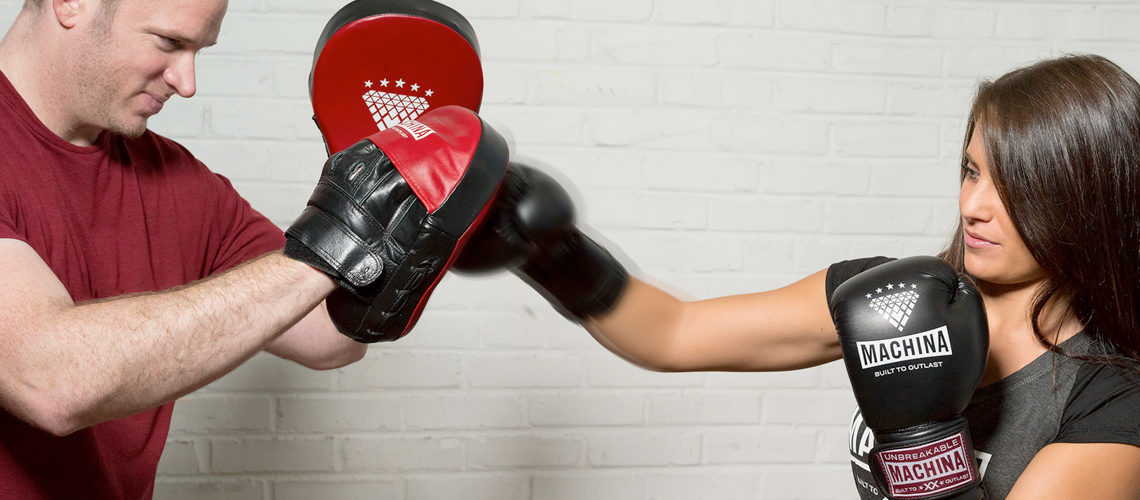 For every incredible split-second KO highlight you see in a boxing match, there were thousands and thousands of hours put in at the gym to achieve that. There's no overnight sensations, there's no shortcut, it takes a ton of hardwork and effort.
Boxing gyms are notorious for being no-frills, hardcore places where toughness and sacrifice is the only currency that really matters. As such, some people are just as happy hitting an old sack of potatoes than a new punching bag. 
Nonetheless, having good quality equipment and gear can absolutely make a difference in one's career trajectory. If you're super serious about your training, or you're just boxing for fitness and fun, or to compete in small local burners, we want you to be training as effectively as possible, and a big part of that means choosing the right equipment. 
Having the right coach and the right environment is also important. If you're just boxing for fun, you don't want to be in there as a sacrificial lamb being fed to future pros, but we're not talking about choosing gyms or teachers today, so let's stick to helping you pick out the very best boxing focus mitts to get the most out of your sessions. 
Here's the Best Boxing Focus Mitts for Training in 2023:
1. Fairtex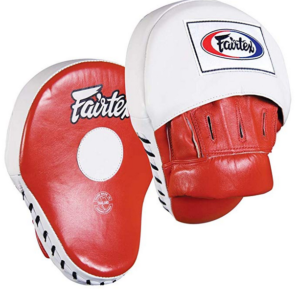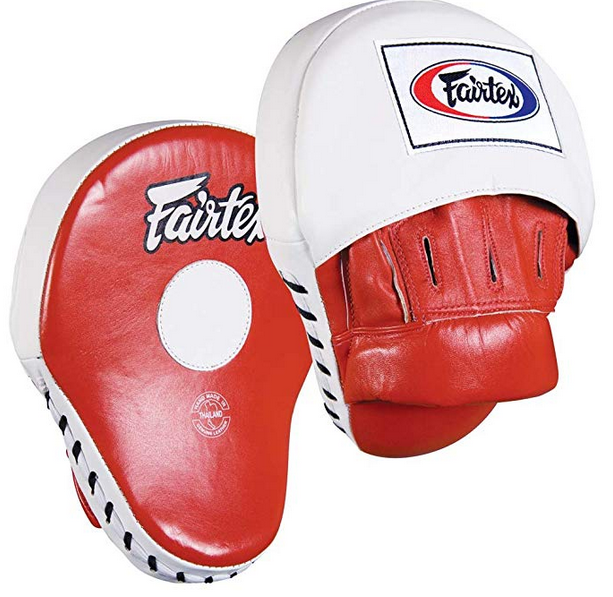 Here's yet another excellent product by Fairtex sitting proudly at the top of our list. This brand makes high-quality gear for boxers, with consistent quality, that's beloved in gyms all around the world, so it's not surprising that they'd be featured again. Before we even started comparing the best boxing focus mitts, we had a strong feeling these would find their way into the top three at the very list, and here they are at the very top. 
These Fairtex focus mitts are very well-made, in fact they're made by hand all the way in Thailand. If you know anything about combat sports, and striking in particular, you know that Thailand is a mecca. Athletes travel from all around the world to spend time training with the masters in Thailand, and that same work ethic and ingenuity and experience goes into every single pair of these mitts.
The leather here is strong, top quality, so these mitts will last and last. Go ahead, try to wear them out. You'll be at it for a while, especially since these have special padding on the inside to ensure that your training partner is staying comfortable and aborting your shots for as long as you can throw them.
Key Features
The best quality, most durable, highest-end mitts on this list

Hand-made in Thailand, the Mecca of striking

Extra padding on the interior to keep your training partner happy

They'll eat anything you can throw at them
Buy Here
2. RDX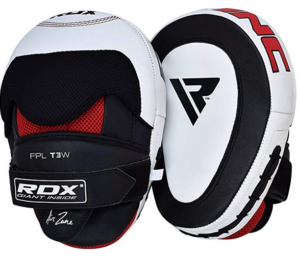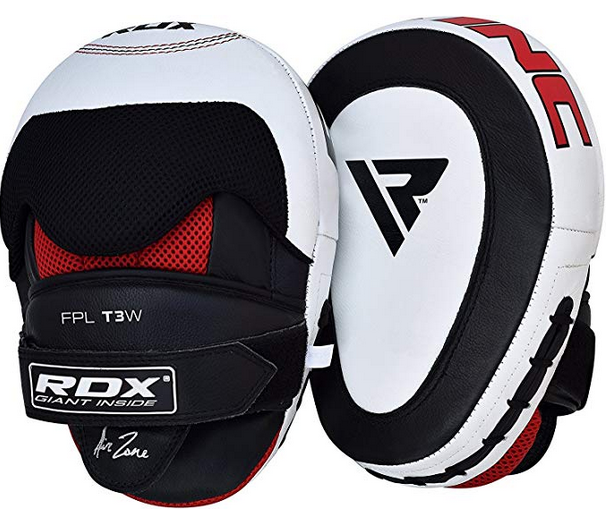 If the Fairtex mitts in the number one spot are like a time-tested classic, these ones here are the more modern take. Trainers love these pads due to the comfortable curve to them, the padding that's made from light foam yet still manages to absorb a ton of impact with each strike, the great fit and stability, and breathable mesh on the back so hands don't overheat.
These mitts have special perforations for added breathability and comfort for your trainer. If you are the trainer reading this, you'll love these mitts. The Maya Hide construction is very strong, it's hard to imagine wearing out a pair of these anytime soon. 
There are internal finger compartments and straps that help keep these gloves in place, which is super important for protecting both the trainer as well as the athlete. Having a finger slip out of place, or having the whole pad slip, can lead to big problems in the heat of a hard training session.
Key Features
Very high quality Maya Hide, modern design and features

Made with trainers in mind for both protection and comfort alike

Perforations allow added airflow

Light foam does an amazing job of absorbing impact and preventing fatigue
Buy Here
3. Pro Impact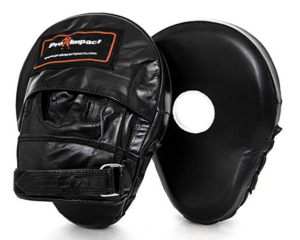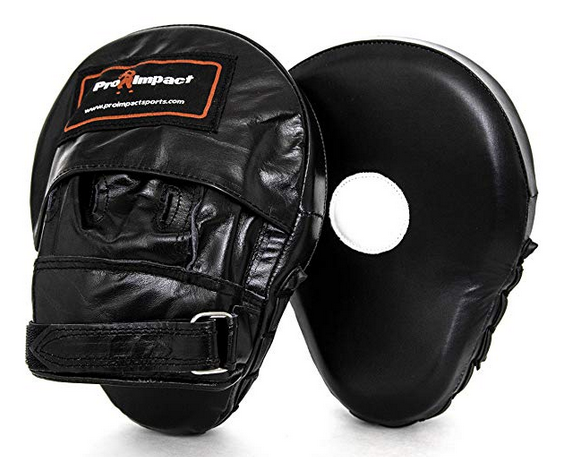 Here's another option, it more or less combines the style and sensibility of the first two pairs we've looked at into one. They're made from durable leather that has been engineered to resist scratches, which often turn into cracks, which shorten the life of your gear drastically – so these will last a long time.
These were designed to have about a third more padding than a typical pair, so they can absorb a great amount of impact and shock with each punch, so that you can keep the training sessions going longer. It's important that the fighter gets tired out before the trainer, because in a real boxing match, it's all about digging deep and ignoring fatigue. The harder you train, the easier the fight will be.
Every boxing gym should have a pair of these, or at least a pair like them. A good pair of focus mitts is the bread and butter of training, and the best focus mitts will ensure that you're spending more time training and improving, and less time fussing around. Your time with a trainer is limited, so make the most of it. 
Key Features
Sweat resistant lining keeps your hands feeling fresh and odorless

More than a third more padding than usual gloves

Hook and loop closure keeps them securely in place

Center dot acts as a target to hit the perfect spot of impact
Buy Here
4. Meister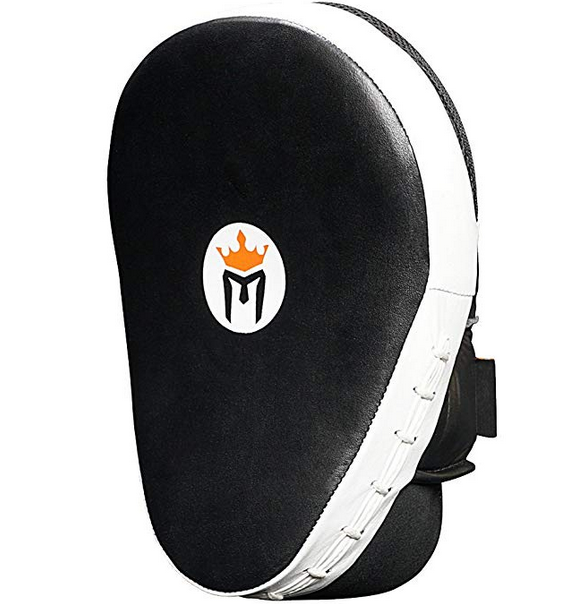 These mitts are made with cowhide leather, and it's thick, so you know they can take a beating and they won't degrade or start to fall apart anytime soon. The pads themselves are two inches thick on each glove, so they offer ample support. 
There's a large padding on the wrist area for extra support and to absorb additional impact. These mitts have a Meister logo in the middle which acts as a target, identifying the perfect button to aim your strikes towards, and improving accuracy when that button becomes the chin of your opponent.
They're a little on the heavier side, due to the extra padding and support, so there's a trade-off there. If you're putting in quick and hard fast-paced sessions, where the training isn't going to be standing there holding these for twenty minutes or more, then the extra weight won't really matter and the padding will come in very useful. For slower, less hard-hitting or longer-lasting sessions, the trainer's arms will probably start to get tired, so it just depends on what type of work you're putting in. 
Key Features
Made with strong cowhide

A great mid-tier option

Tons of padding (at the cost of extra weight)

A very gentle curve to them for optimal punching surface and trainer protection
Buy Here
5. Emrah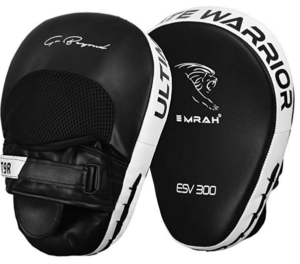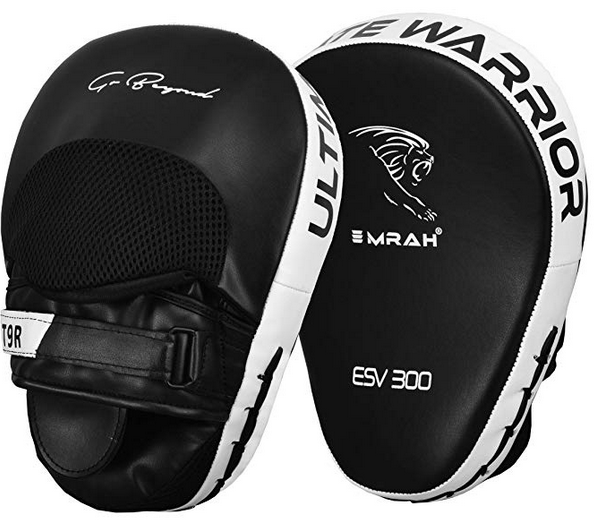 As is tradition, we've saved the fifth spot for the best cheap focus mitts. When you get into the territory of any mitts that are less expensive than these ones, it's really not worth it, they're not even worth buying. 
But these mitts from Emrah are surprisingly decent considering they're a fifth the price of our top choice, and also nearly half the price of our number four option. You wouldn't expect a ton from these, and while they aren't on the same level as the others on this list, they're still more than good enough for some casual training and anyone who needs to save a few bucks.
One of the perks of using lighter and less expensive materials, and maybe having a bit less padding than others, is that these are a lot lighter – they're extremely lightweight, so they can be held up by a trainer for longer periods of time.
At this price point, you might expect to one get one mitt, but you actually still get the full pair of two. What you're missing out here is a notable brand name, some of the quality you'd get from high-end handmade mitts, the materials are not as durable or high-quality, but they're still a padded training mitt and there's really only so much that these mitts need to do, so if you end up with these ones, you've still got a great pair. 
Key Features
The most affordable option that's worth buying

Surprisingly decent

There are trainers who swear by these

Simple, and you don't need to worry about taking super great care of them
Buy Here

Tips for Buying The Best Focus Mitts for Boxing
Make sure your trainer likes to hold them, that's what matters most. If you're the trainer, and you want to be holding lighter pads ,you'll probably have to pay a little bit more to get ones that can block the shots as well as a heavier set of the best focus mitts.