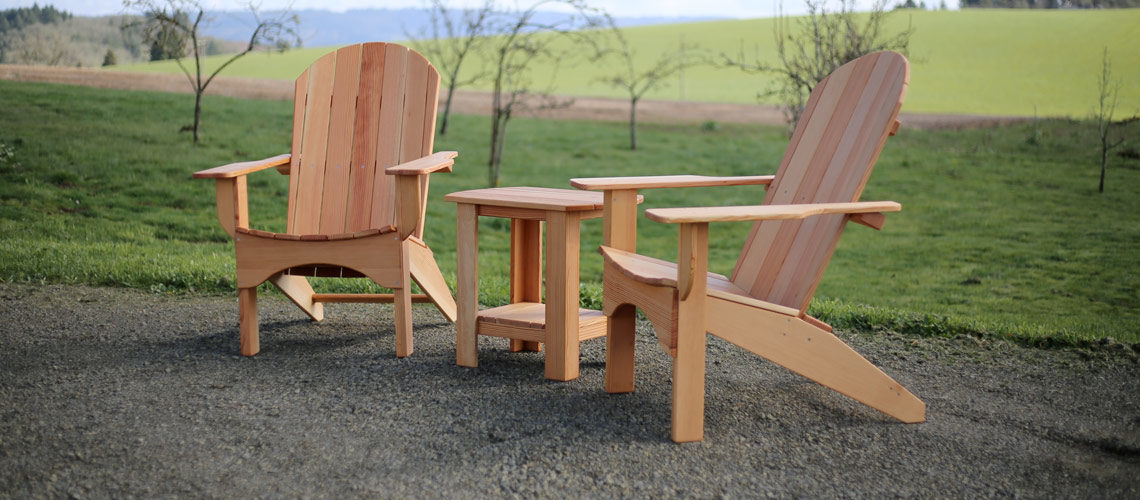 Adirondack chairs used to be called "Westport Plank Chairs" and were renowned for their beautiful shapes with classic looks and silhouettes of slatted wood.
The first Adirondack chair was designed by Thomas Lee while vacationing in Westport, New York in 1903.
Needing at outdoor chair for his summer home, he designed and built these chairs for his family to enjoy.
In 1905, he offered his unique design to a friend by the name of Harry Bunnell who needed a summer income.
Harry began selling the chairs locally and after noticing they were gaining popularity in his community, he noticed a commercial potential for the design, so he filed for and received a patent.
For the next 20 years, Harry commercially manufactured these chairs and they have been popular ever since.
Through the years, I have personally had and enjoyed my share of Adirondack chairs that have placed me in a position to guide other buyers in choosing the right one to match their needs.
If you also love these chairs and are considering buying one, or two or more, we have you covered!
Here's the Best Adirondack Chairs of 2023:
1. Highwood Hamilton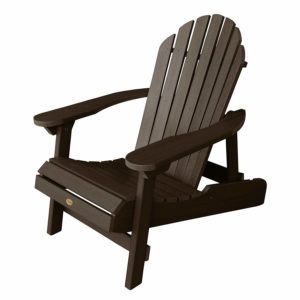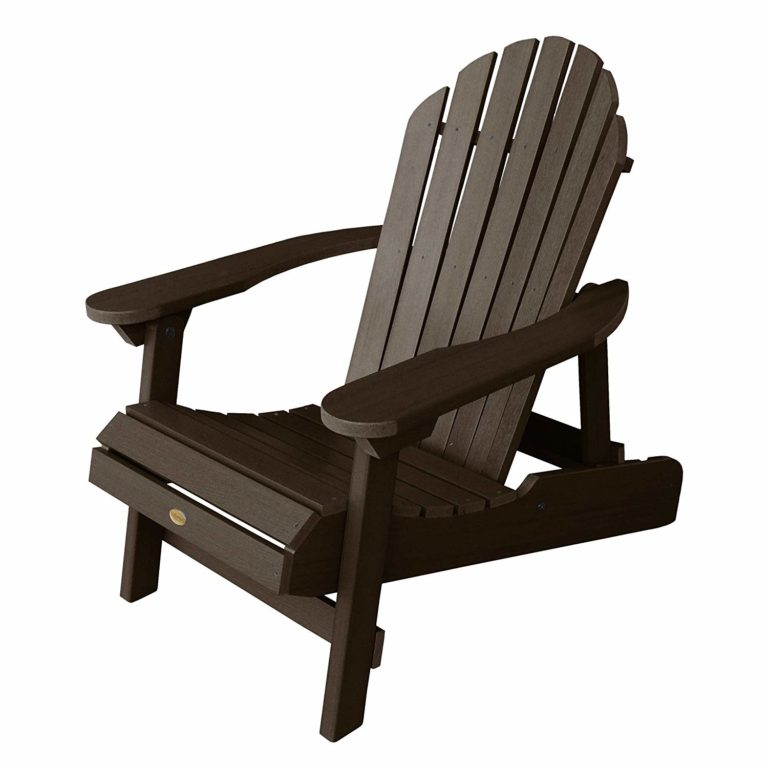 Modern features and classic design converge to form this amazing product from Highwood.
It's created with the best interest of the environment in mind which is why it only uses synthetic wood which is shaped precisely to fit together and form a relaxing seat.
And if you need to relax, its reclining position feature is going to support your back effectively to bring the comfort that you need every single time. 
It's a perfect chair for reading for long hours. And though it's 20 inches wide and 9.5 inches tall, it still folds very easily so you can move it around the house quickly and comfortably.
It's also compact enough to be transported or stored without any problem. Its backrest is curved backward so it can help you relax especially at times when you badly need rest. Let's get into the key features that this chair has.
Key Features:
Easy to clean surface
Doesn't need painting or staining for it to look good
Maintains its texture and color
Repels grime and dirt
Does not absorb moisture.
Buy Here:
2. Polywood Classic Folding Chair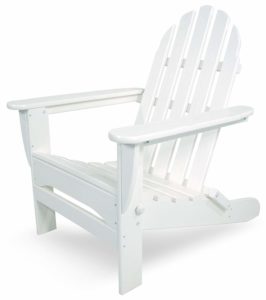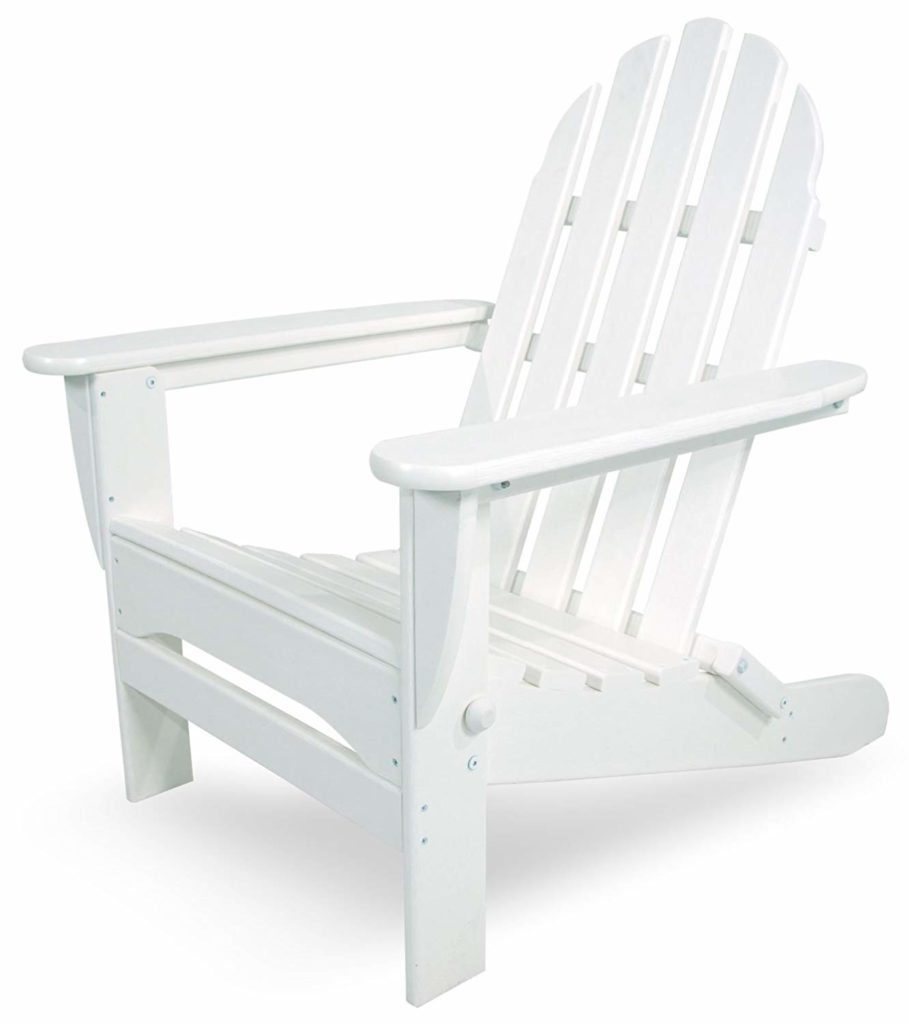 Once you sit on the Polywood Classic Folding Adirondack, you will quickly feel how blessed it is with specs that make it one of the best chairs for relaxation and fun.
It works perfectly for all weather which means that no matter what the climate is, it's going to withstand extremes preserving the durability of its wood and protecting it from cracks, chips, splinters, peels, or even rot.
With its UV protection and fade-resistant paint, it is able to maintain its looks which add charm to your setup outdoors. And it's marine grade material is guaranteed to combat corrosion. Need to know more?
Here are additional features that this chair has.
Key Features:
Made of eco-friendly materials
Durable and weatherproof
Contoured form seat
Easy to clean and maintain
Minimal assembly required
Can be folded flat so it can be stored and transported easily
Buy Here:
3. Trex Outdoor Furniture Cape Cod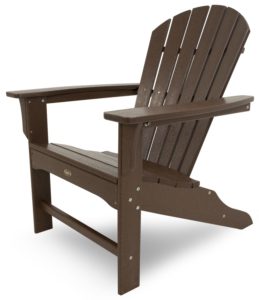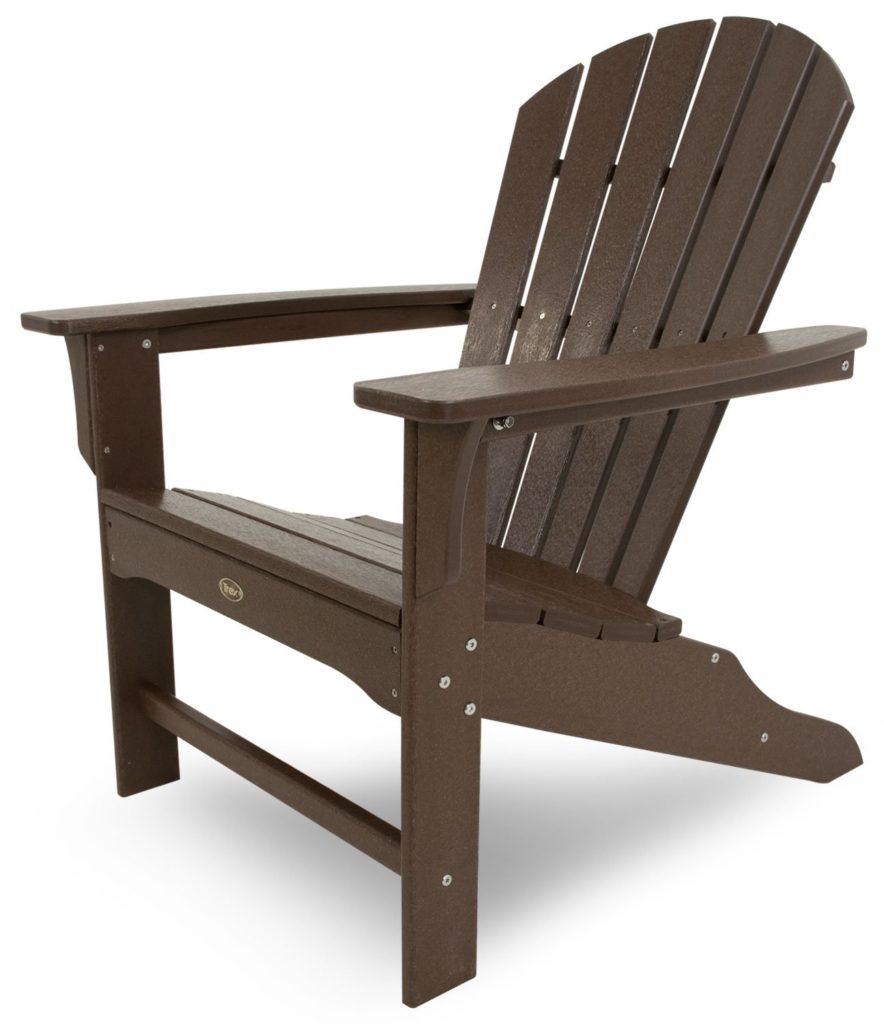 The Polywood Adirondack furniture is one that is of high-quality and its sure not to disappoint you.
It is made by Trex Outdoor Furniture using only the most durable Polywood lubber. The chair itself can withstand snow, sun, strong coastal winds, chlorine and other elements brought by the changing weather.
And with its backrest that's contoured to match the sitting position, you'll surely be able to rest on it for longer hours.
It features a 16-inch seat height with an elegant cape cod design. It also is very easy to clean. To learn more about this awesome chair, here's a list of its other key features.
Key Features:
Marine-grade materials used to ensure that it is durable
Minimizes fading with its surface that inhibits that sun's UV rays
Made of high-quality HDPE lumber
Available in different colors
Foldable for easy storage and transport
Buy Here:
4. Plant Theatre Folding Hardwood Chair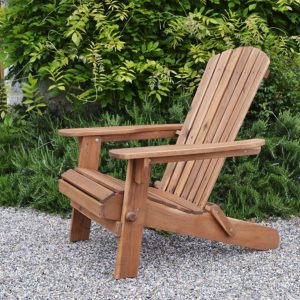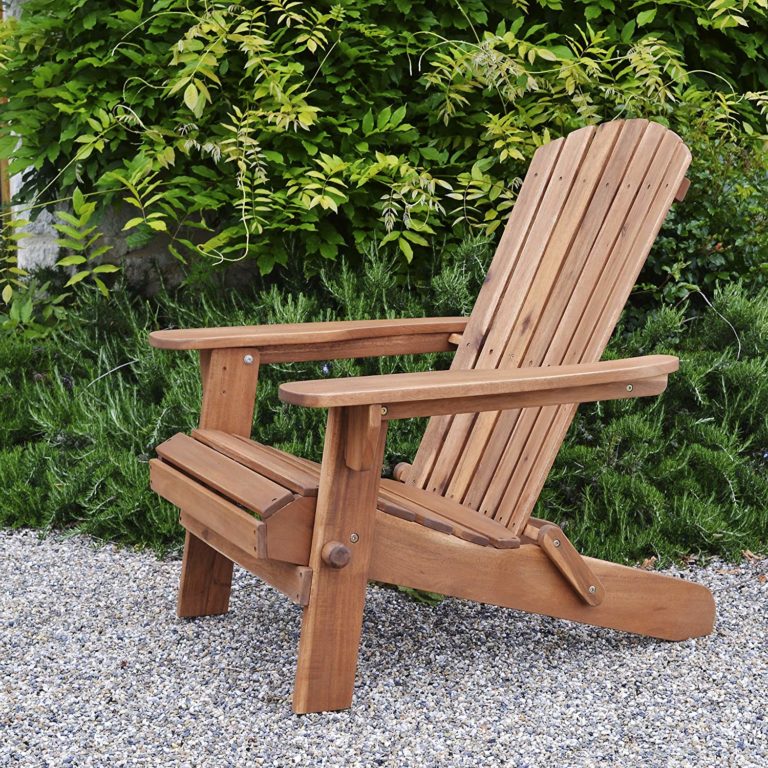 This list would not be complete without the Adirondack Folding Hardwood Chair by Plant Theatre.
It's one of the most comfortable chairs out there which is guaranteed to provide comfort when you're relaxing outdoors. With its extra-wide arms and the stunning looks that it has, you will surely look good sitting and relaxing on it while having your books or drinks lying comfortably on the armrests.
The chair is made of high-quality wood which is made with precision to create an elegant-looking outdoor furnishing. I love its fan-slatted back design which matches the slanted seat perfectly. Overall, the chair combines great design, durability, and comfort which makes the outdoors a lot more enjoyable to stay in. Here are some of the extra features that set it apart from its competitors.
Key Features:
Excellent finish and beautiful design
Stained and oiled to achieve resistance to dirt and stains
Made of Acacia Hardwood obtained from sustainable sources
Easy to maintain and assemble
Easy to store and transport
Buy Here:
5. Lifetime Faux Wood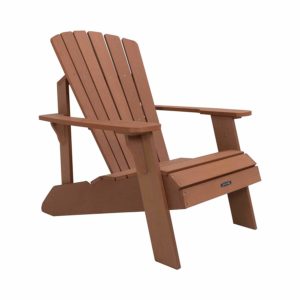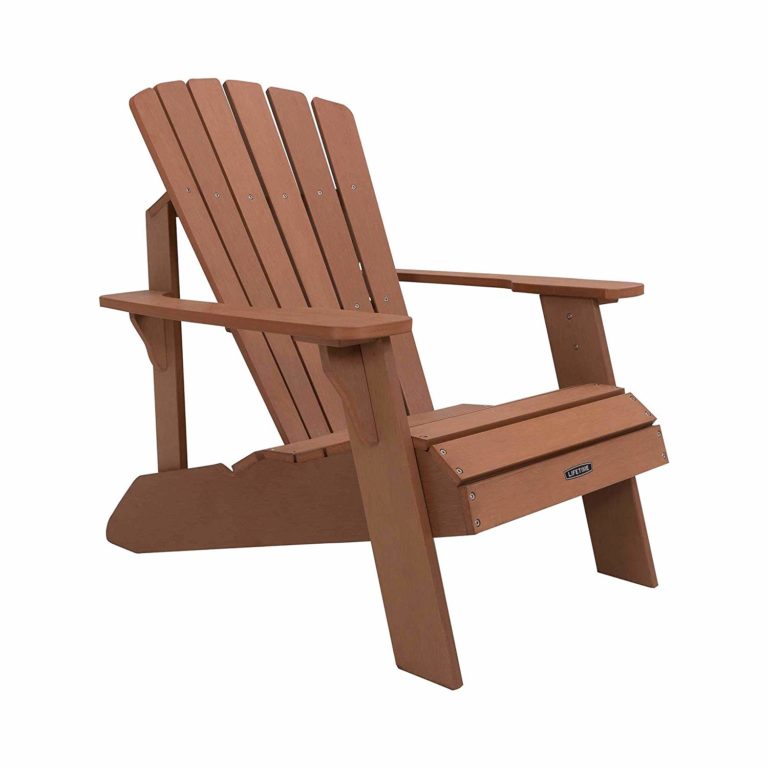 From the name itself, this chair is designed to have the durability which can last your entire lifetime. If you already have a cheap Adirondack chair which is already falling apart, it is time to make an upgrade to this Lifetime Faux Wood Adirondack Chair. Take it to the test and you'll surely love the comfort and relaxation that it offers compared to its competitors.
It is made using weather and stain-resistant simulated wood which has UV protection to protect it from peels, chips, and cracks. But aside from the things that are mentioned above, here are some other key features that it has.
Key Features:
Durable and weather-resistant
Requires very little to no maintenance at all
Easy-to-clean
Resists stains and maintains its color even with prolonged sun exposure
Buy Here:
Invest on the Best for Your Outdoor Furnishing
Adirondack chairs have been a popular choice of outdoor furnishing for a long time and have become a part of the American Home.
Add only the best chairs to transform your boring and dull outdoor landscape into one that's ready to provide a place of relaxation, comfort, and fun to the whole family.
Our selection of the top 5 Adirondack chairs is going to help you achieve that.
Adding them to your home's outdoor will surely make a great difference which every member of the family will surely love.
Not able to buy one from your nearest home furnishing shop? No problem! You can get one online! And if you know of an Adirondack chair brand which has worked and lasted long in your lawn, share it with us by joining the discussion in the comments section below.