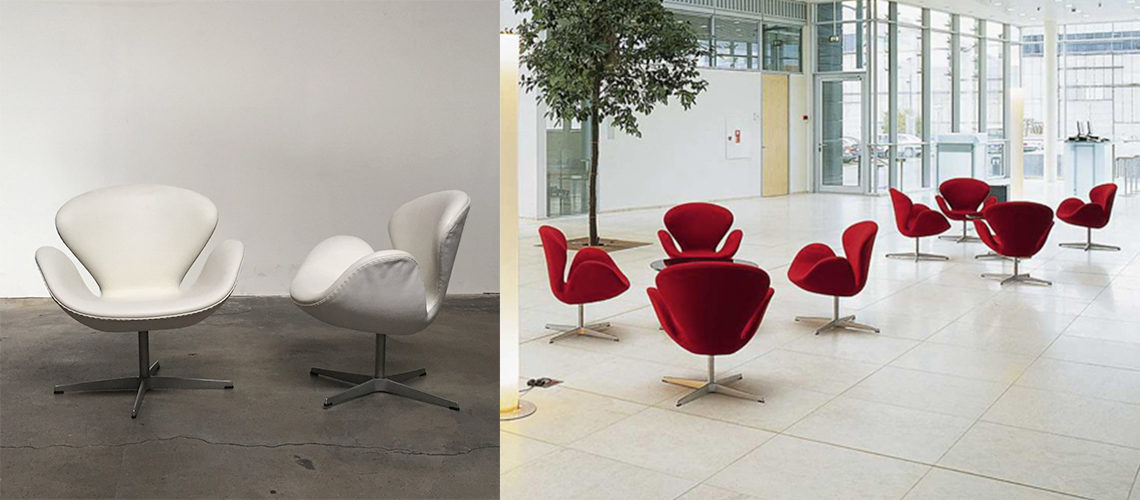 Through the years, thousands if not millions have been captivated by the chair designs done by Danish designer and architect Arne Jacobsen.
Most of his creations are still popular even in our time.
I have reviewed some of his most popular designs in my previous guides but, there still remain a handful that you surely don't want to miss.
From office chairs like the Oxford down to his other designs that are meant to be used in living rooms, bedrooms, and lounge areas, Arne Jacobsen's designs have already conquered homes and offices around the world.
But we're still far from done in exploring these timeless designs and in this guide, we're going to discover another one called "the Swan".
The Origin Of The Swan Chair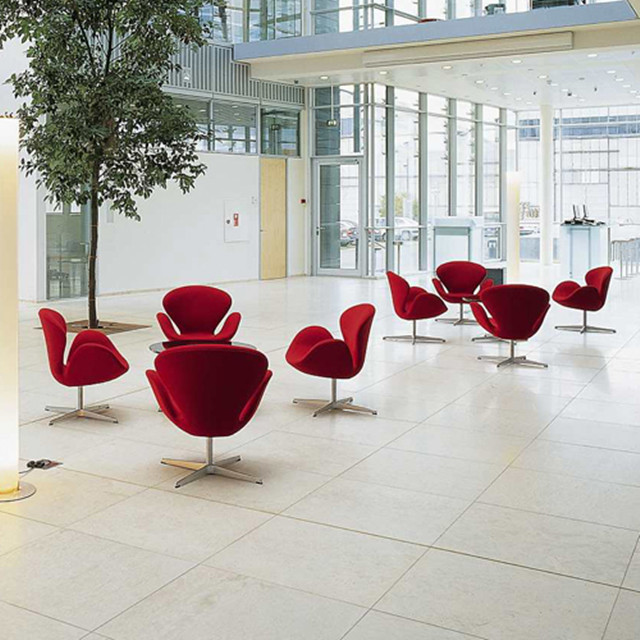 The Swan is a chair and a couch in one and as its name itself suggests, it's inspired by the shape of the swan.
It's a design made by the renowned Danish architect and furniture designer Arne Jacobsen who made it in 1958 for Radisson SAS Royal Hotel located in Copenhagen.
It is made by the Danish Furniture Manufacturer Republic of Fritz Hansen.
Jacobsen also made the Egg chair and other furniture designs along with the Swan but much of those were not put into mass-production such as the Drop for instance.
However, the Swan remained in production even to our time and continues to dominate houses, hotels, offices, and many other places that need a comfortable chair to sit on.
The Swan was not only used for the SAS Royal Hotel but also for other projects that he worked on like the Danmarks National Bank and others.
The Swan is made using several types of leather and fabric upholstery choices and its base is always shaped like a start and is made from satin-polished aluminum.
Top 5 Swan Chair Replica In The Market
If you're currently in search of an elegant chair that's ready to take your home's overall looks to the next level then it's the swan chair that you really need.
As I have already mentioned earlier, it's a chair and a couch in one which is is why it has become one of my favorites.
Through the years, the Swan chair has been a staple in homes, hotels, and even in offices and it continues to be one of the most popular chairs by the late Arne Jacobsen.
But the authentic ones can be very rare and therefore, expensive.
That's why in this guide, I am going to share the top 5 swan chair reproductions and replicas on the market.
So without further ado, let's go to the first one:
1. Kmax Faux Fur Vanity Swan Chair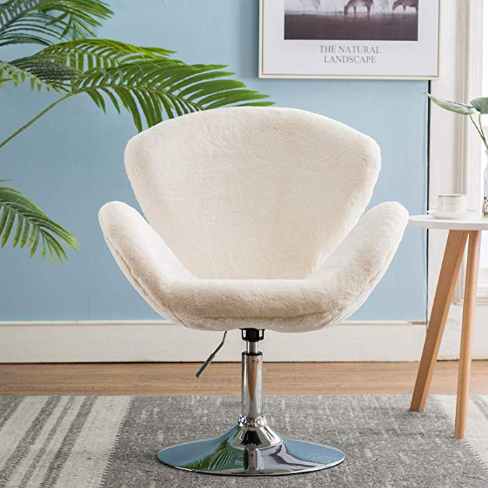 A swan chair with a twist that most users really love.
The Kmax Swan Chair is not your ordinary smooth fabric or leather upholstery chair because it's got a super soft faux fur plush finish.
And instead of having a star pattern leg, this one has a solid circular base made out of durable stainless steel with satin chrome finish.
Its adjustable height also makes it perfect as a vanity chair or on that would grace your living room, reading area, and wherever you want to place it within your home.
Key Features:
Dimensions: 30.1 inches x 28.4 inches x 16.1 inches (L x W x H)
Item Weight: 22.7 pounds
Designed with all the ergonomic aspects needed to make it a comfortable chair to sit on whenever you want some relaxation. Its curves stick with the human curves to help reduce pain in the upper and lower back sections of the body.
Beautiful modern chic design with its Faux fur fabric upholstery. The material has some soft and smooth hair that positively stimulates the skin.
A perfect chair for living room, vanity area, bedroom, reception, dorm, office, and anywhere it is that you want to add a touch of elegance and sophistication to.
Large size chair which can serve as an accent piece of furniture in a particular room. The seat is 26.8 inches wide, an extremely wide space that looks like a throne
Large and very stable chassis that can carry up to 300 pounds
The height of the seat is adjustable from 18 to 21 inches so you can get it to the exact height which is most comfortable to you
A beautiful vanity chair which can be given as a gift for ladies and girls. There's very minimal assembly required for this swan chair model
The modern design that this chair has along with the touch of feminity and soft elegance makes it a great choice for those who want to add an accent chair in any room.
The materials used are durable so you can be sure that the chair will last many years of use.
It's a perfect pick for those who want to have a swan chair that offers a twist in design and other aspects.
2. Ceets Raspberry Accent Swan Chair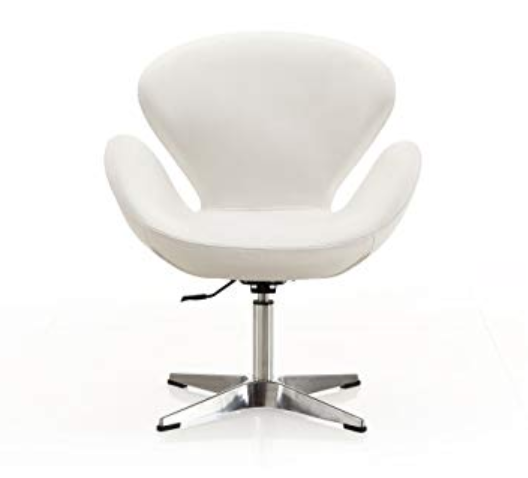 The high-quality and sophisticated mid-century design of the Ceets Raspberry Accent Swan Chair is something that you surely don't want to miss.
Inspired by the mid-century design by the Danish designer and architect Arne Jacobsen, this chair truly depicts a sculptural masterpiece that's ready to provide the much-needed comfort and relaxation, things that every one of us looks for after a busy workday.
The ergonomic design and smooth curves that the swan chair has work together in reducing pain and stiffness in the upper and lower back while you are seated on it.
The artificial leather upholstery and sturdy satin-finish steel frame materials that it has also ensure durability even with long-term use. 
Key Features:
Chair Dimensions: 28.7 inches x 24.8 inches x 39.4 inches (L x W x H)
Item Weight: 28 pounds
Manufacturer's Warranty Available
Durable start base metal frame with rubber floor protection pads on each leg so the chair stays stable and your floor stays in pristine condition
Smooth height adjustment using hydraulic lift technology
Works as a perfect accent seat in the living room, bedroom, reading area, or even in the office
Swivel chair design so you can face wherever you want while seated on it
Available in White, Black, Blue, Green, Yellow, and Red color variants
Unique looks that depict mid-century modernism while preserving great functionality and use
The Raspberry Swan Chair is truly a unique chair that is ready to take your home furnishing and design to the next level of awesomeness.
It's got the modern looks and comfortable seat design that's ready to impress guests every time.
The durability of the materials that are used in each piece of this furniture also ensures long-term use which is perfect for those who want to enjoy the value of the money they spend.
Truly a great option for practicality and overall functionality
3. Hand Hammered Aluminum Mid Century Swan Chair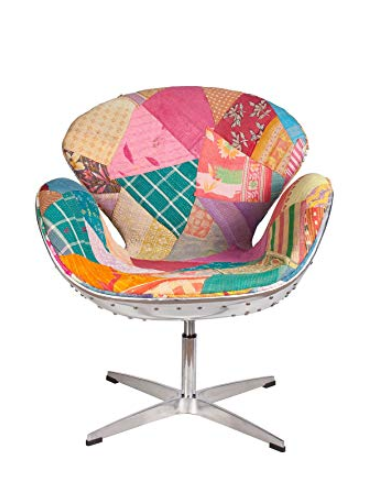 Beauty and strength merge together in this awesome piece of furniture that is ready to add elegance and sophistication to your home.
The seat frame itself is made out of the hand-hammered aluminum plate with a stitched fabric upholstery that features unique patterns.
Every piece of it is truly a masterpiece that is ready to adorn any room that you want to have an accent chair in.
It's also a premium chair that incorporates modern art with it while preserving the mid-century architecture and design by Arne Jacobsen himself.
Thick leather straps support the seat and back that's made of stainless steel making it a durable chair that can carry most weights.
Cushioning is another aspect that the manufacturer focused on that's why they used a visco-elastic foam material for overall comfort.
Key Features:
Chair Dimensions: 27.6 inches x 26.8 inches x 29.9 inches (L x W x H)
Shipping Weight: 80 pounds
A high-quality and beautiful artistic piece of furniture that is perfect for your home or office
Extremely comfortable cushion and upholstery material while paying careful attention to the original design
Uses exquisite patterns that are sure to catch attention no matter where the chair is placed
Exposed steel screws join together the aluminum sheets that serve as the chair's outer shell giving the accent chair a tough look that perfectly complements with its beautifully soft inner cushion
Seamless cushion corners which are made with strict attention to detail
Hand-made Kantha Stitched fabric upholstery that provides original, unique, and one of a kind pattern for every chair
Matte finish aluminum with a lightly distressed vintage look. There are also some small scratches, dents, and nicks that were intentionally done to add uniqueness and overall character to the outer shell.
The metal outer shell and unique artistic patterns of this swan chair reproduction clearly set it apart from the rest.
It preserves the overall form and structure of the original swan chair but uses different materials to make a statement.
It still has the X/star-pattern base that keeps it stable and each leg is equipped with rubber pads to make it stable in any floor condition.
It's the perfect choice of a chair for those who love an attractive color theme with a touch of toughness from every angle.
4. Mid Century Modern Classic Leather Swan Chair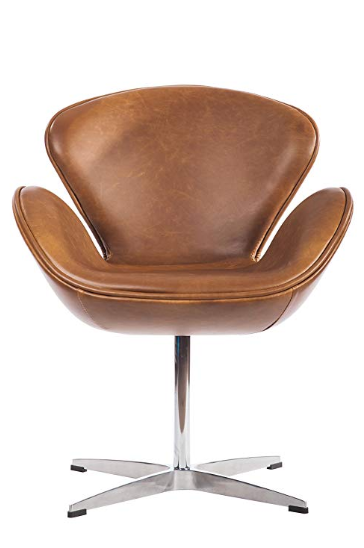 The classic mid-century chair design by Arne Jacobsen is resurrected in this Mid Century Modern Classic Swan Chair reproduction.
It closely resembles the original one with its high-quality brown PU leather upholstery, satin-finish stainless steel base, and sturdy seat support. The X-base design is also perfectly captured along with the rubber floor-protection and anti-slip pads that each leg has. 
It is truly a piece of modern art that refuses to go obsolete and it's all thanks to the timeless design by the Danish architect and designer, Arne Jacobsen. And aside from good looks, durability, and masterful craftsmanship, this chair also offers guaranteed comfort with its visco-elastic cushioning material that lines the already ergonomically formed seat.
Dimensions: 27.6 inches x 26.8 inches x 29.9 inches (L x W x H)
Smooth PU leather upholstery with visco-elastic cushion foam that's ready to provide comfort and relaxation every time
Copies the original design so well, you would think it's the real and authentic swan chair that's been designed by Arne Jacobsen
Solid satin-finish stainless steel base and seat support for guaranteed durability so the chair can carry most weights
Highly-resilient and multi-density foam cushion to provide comfort and relaxation to whoever sits on the chair
Luxurious looks and feel created by its high-quality brown PU leather upholstery that's stitched skillfully to create a flawless and seamless masterpiece
Professional styling that is ideal for your home or office, thanks to its sleek design and the elegant overall form
If it's a classic design swan chair that you're looking for then the Mid Century Modern Classic Swan Chair is going to be a perfect choice.
It offers looks that are closest to the original swan chair that's been designed by Arne Jacobsen but it doesn't cost that much of course.
In fact, it's price is only a fraction of the original swan chair which makes it perfect for those who are looking to add a mid-century design to their home or office without spending too much and hurting their bank to do so.
5. International Design USA Adjustable Swan Leisure Chair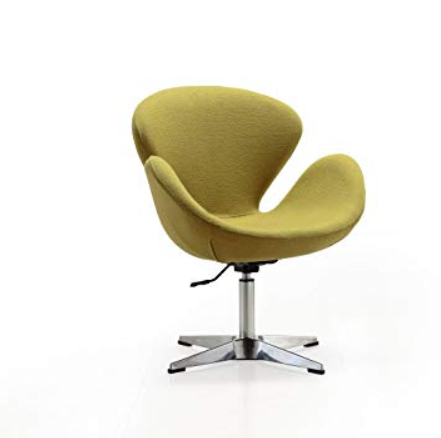 Now, we come to the last item on this list but definitely not least. It's the International Design USA Swan Chair that has a twist from the normal fixed height design.
This one provides more opportunity for its users to get the comfort and relaxation that they want to feel and its all thanks to its adjustable height.
The ergonomic shape of the seat's backrest and armrests also contribute to its good overall performance.
If you've got a retro style living room, reading area, bedroom, lounge area, or even in your office then the mid-century modern design of this chair is going to be a perfect style to incorporate.
Key Features:
Chair Dimensions: 25 inches x 27 inches x 33.4 inches (L x W x H)
Assembled Height: 33.5 inches
Assembled Width: 27 inches
Assembled Depth: 24 inches
High-style and chic design which is hard to ignore making the chair perfect accent furniture at home or in the office
Specifically designed for comfort while maintaining a profile that is unobtrusive from every angle
Sturdy steel base that has a satin chrome finish for guaranteed durability and long-term use
Closely copies  the sculptural masterpiece of mid-century design
Built for style, comfort, and function. The adjustable height that it has allows the user to choose the  most comfortable seating position
Non-slip rubber pads on each leg base to prevent damage on the floor while maintaining the stability of the chair in any floor condition
Perfect for weekend binge-watching, cocktail dinners, and other uses that you can think of
Plush wool blend upholstery and 360-degree swivel so you can easily face whatever direction that you want
It can carry up to 300 pounds of weight while maintaining only 30.8 pounds of overall product weight
High-quality construction with an "Always Cool" throwback style
All tools are included for easy assembly very easy to put together so you can be spared from the stress of having to build something that's complicated
The green color of this swan chair makes it a relaxing piece of furniture not just to the body but also to the eyes.
It also brings a timeless piece of overall form that never gets old and blends very well even with the modern concepts of home design and architecture. If it's a simple yet trendy look that you're looking to add to your home or office then this chair is going to be a perfect choice.
A Comfortable and Stylish Piece of Mid-Century Design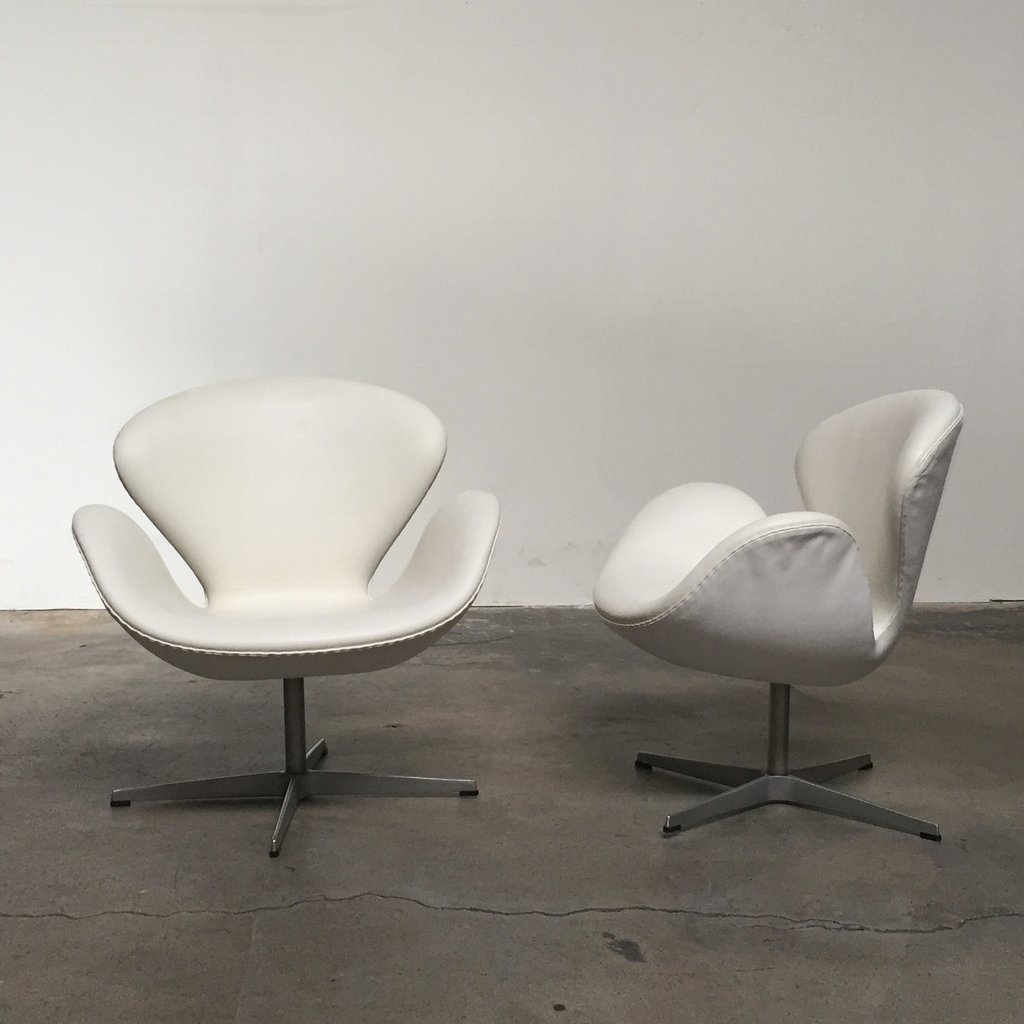 As you can see, the swan chair is truly a masterpiece from many decades back but is still relevant even to our modern era.
Its well-defined form and ergonomic curves make it a comfortable piece of furniture to sit on especially when you're looking for great relaxation after a long day's work.
Have you tried sitting on a swan chair before or do you have one at home?
How comfortable were you with it and what brand did you use? Please feel free to share your experience in the comments section below.