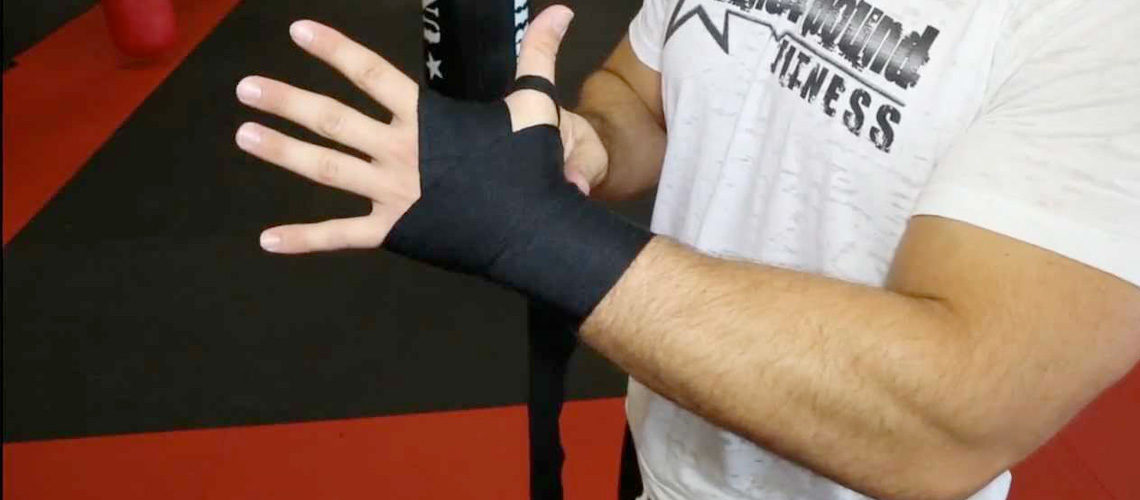 If you're going to be out there throwing leather, you need to ensure you've got the best hand wraps on the market.
A lot of the best gloves we feature on this site are for fashion, or very light function, but hand wraps are a whole other story…
Wraps protect your hands from injury when you're training martial arts, whether it's boxing, MMA, or another style of fighting altogether.
This is an essential piece of gear, and it's usually covered by a glove anyways, so the style or fashion of it doesn't matter whatsoever.
There are so many different hand wraps to choose from, it seems like every major or minor combat sports brand has their own. A lot of them are similar, it's just a popular brand stamping their logo on it to fill out their shops even when it's not a focus of theirs, but there are also a handful of companies who take their hand wrap offerings very seriously and aim to make incredible, innovative products. 
With that out of the way, let's take a look at some of the best options to choose from.
If you're in a hurry or just don't really care to do in-depth research, just grab any one of these wraps, because they're all excellent products.
But if you want to dig a bit deeper, we've got you covered for that, too…
Here's the Best Boxing and Kickboxing Hand Wraps of 2023 for Better Performance:
1. Hayabusa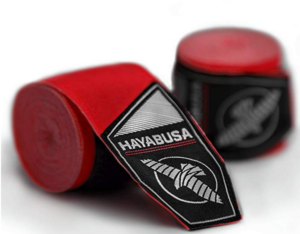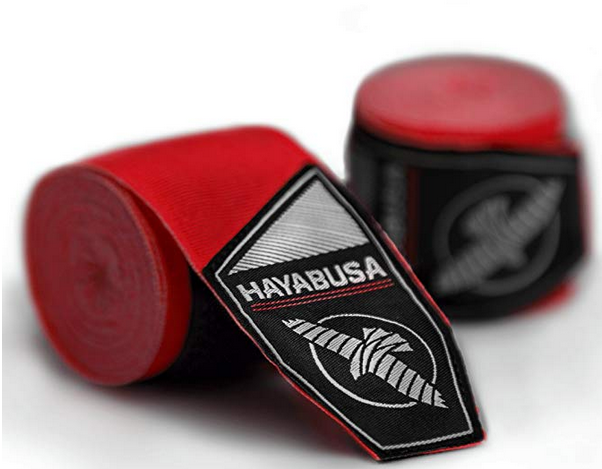 Hayabusa is a reputable and established brand in the world of combat sports, and their best hand wraps are no exception to that.
They make all sorts of gear, from Gis and other training clothing, gloves, and even punching bags.
You could gear-up entirely with Hayabusa and be in really good shape, but if you're just looking for wraps, theirs are some of the very best on the market.
At this price point, they're a little more than some, but still cheaper than others, and you would be hard-pressed to find a better quality pair.
PROS
Great brand

Great stitching quality

Fabric feels comfortable but strong

Protects your hands from injury or strain
CONS
On the more expensive side for something simple like wraps, but worth every penny and more

There's nothing else that's wrong with these, they're perfect
BUY HERE
2. RDX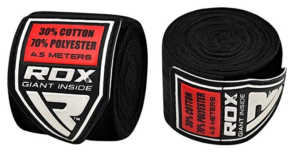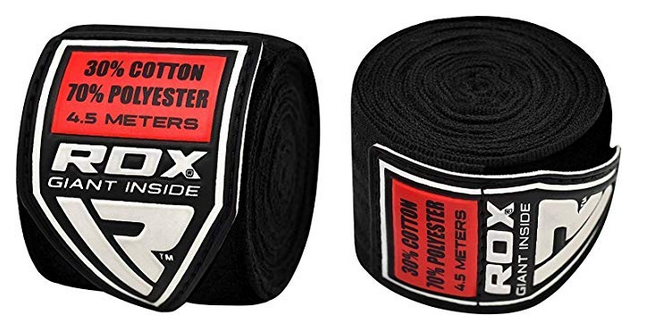 These wraps are right up there with Hayabusa's offering, both sets stand head and shoulders above their peers, and you can't go wrong with either one.
Honestly, if you aren't on a tight budget, you should just buy both of our top 2 picks and use the ones that feel better for you. 
These are made from 30% cotton and 70% polyester, using carbon fiber fabrics for durability and to ensure these will last you very, very long time. The woven material is thick, but still has some breathability to wick sweat and stop your hands from overheating too quickly.
The hook and loop closure makes them easy to secure, quick to put on and off, and overall just provides less hassle which is always good.
They're about 5cm wide, and 4.5 meters long, so you'll have more than enough support to let some haymakers fly without worrying about the consequences. 
PROS
Extremely well-made

Incredibly quality materials 

Super easy to use, flawlessly designed and engineered
CONS
Once again, they're basically perfect, just a bit more expensive than others but well worth the price

BUY HERE
3. Sanabul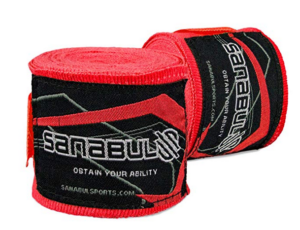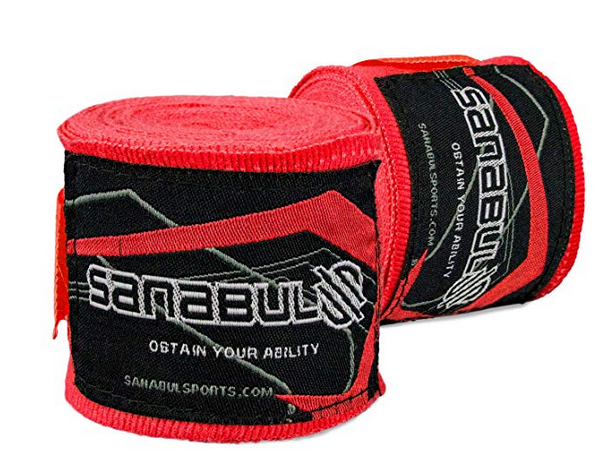 When the first two options are practically perfect hand wraps, it can be tough to follow that up in the third slot, but Sanabul knows what they are and where they fit into the market.
These wraps are a step below the first two in terms of overall quality, but they're also about half the price, so you can decide how important that is to you.
They use velcro to fasten together, which adds a little extra bulk but is handy for beginners who don't know how to properly wrap their hands perfectly yet.
They're semi-elastic, but still have a reasonable amount of breathability. They come in a bunch of different colors, and can help make your training sessions safer while putting less strain on your hands. 
Sanabul makes all sorts of different gear for combat sports, none of it is really top of the line stuff, but it's all in that "good enough for beginner to intermediate category when you're looking to save a few bucks".
There's nothing wrong with that, as long as you have reasonable expectations going into it, you'll get some excellent value here.
PROS
Great value

Easy velcro fastening

Very affordable
CONS
The velcro adds some unnecessary bulk to them, can get fabric stuck in it, but good for beginners

Not the highest quality around, but still great value
BUY HERE
4. Fairtex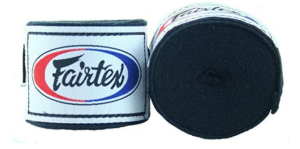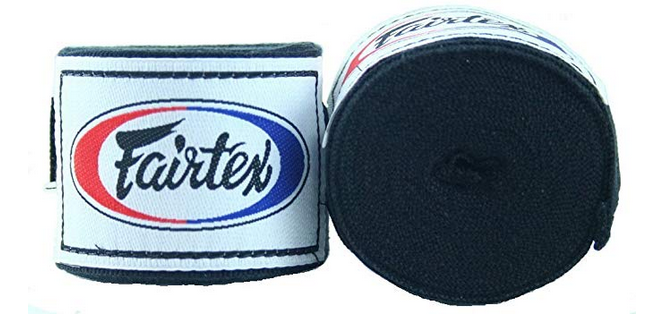 These are made from an elastic cotton material, so you need to be careful to not put them on too tightly to cut off all of your circulation.
This also makes them a bit less breathable when you're wrapped up, which means your hands will get hotter and sweatier.
They offer adequate wrist support, they're competitively priced, and the elasticity makes them a bit more forgiving for beginners.
It can be tempting to just skip wraps sometimes, so having ones that are easy and quick to wrap yourself up with is a big plus.
PROS
Affordable

Stretchy fabric

Easy to use
CONS
Not very breathable, causes your hands to get very hot quickly 
BUY HERE
5. Everlast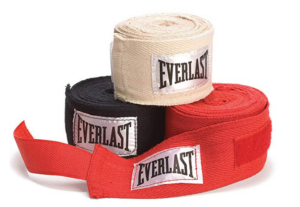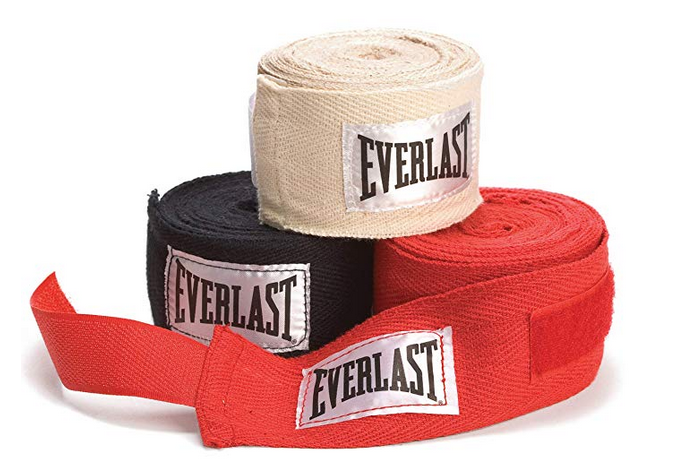 This is about as basic as it gets, but there's nothing wrong with that. If Rocky himself was getting wrapped in a dank, stinky boxing gym in Philly, he'd probably be using these.
You get three in the pack, which is nice, because you'll have some spares and you won't have to treat them as precious.
If you're competitive, these are not going to be your best bet. We'll be totally upfront about it, these are cheaper wraps for a reason.
They don't feel incredible, they're a bit too short for beginners who haven't mastered their wrapping style yet, and they're in 5th position for a reason.
If you're starting out, and just need something, these are going to get the job done, but they're far from perfect. 
Nonetheless, when you factor in the price, they're a decent choice.
If a family has a few kids getting interested in martial arts, these are a good place to start, but just keep in mind that you'll likely want to replace them at some point down the road with something better.
If your kids are like mine, they love trying new activities all the time, but can quickly lose interest, so sometimes I stick with more affordable gear just in case they end up going to a few classes and then deciding they want to play guitar or become ant farmers.
PROS
Affordable

Good value with the three pack

Gets the job done

Thumb loop to help you wrap yourself
CONS
Could be longer for adults who want to use them, better suited for smaller hands

Not the best quality out there, leaves a lot to be desired, these are definitely a budget option
BUY HERE
Hand Wraps Buying Guide
When you want to buy hand wraps online, the biggest obstacle is that you can't feel the fabric, but you can still tell a lot about the quality without feeling it.
One tell-tale trait is to look at the quality of the stitching. If there's a logo sewn on, does it have a bunch of loose thread, is stitching all over the place?
This could be a sign that the brand is buying up tons of cheap wraps, tossing their logo on it, and charging a ton more. 
It's okay for brands to not manufacture every single product they sell, but if they can't even stitch their logo on cleanly, do you really want to bet that they're sourcing the highest quality wraps, or is it much more likely that they'd cut corners there, too? 
A few loose stitches near the logo isn't the be all and end all, but it definitely paints the picture of what you can expect from that brand.