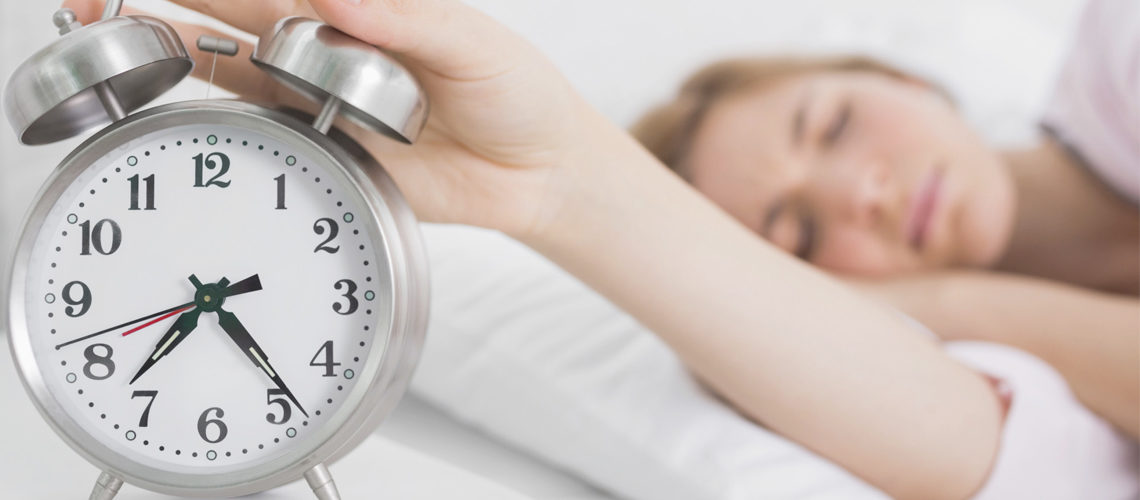 Most people have a hard time getting out of bed in the morning.
Let's face it, no one loves being woken up by an alarm clock and many of us end up hitting the snooze button several times before actually crawling out of bed.
If this sounds like you and your phone alarm just isn't doing the job in repeatedly waking you through each snooze, then this article is for you!
In this guide, we're going to help you choose among the best alarm clocks out there that are specially designed for heavy sleepers and snoozers.
We also included other types of alarm clocks that work very well in waking you up every single time. Yes!
We've made sure that you're going to get an alarm clock that really works by picking the 10 best models on the Internet today!
Here's the Best Alarm Clocks of 2023:
Below, we've rounded up the best clocks that are known for doing a great job of waking you up on time.
1. Electrohome EAAC601 Projection Alarm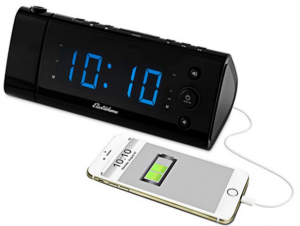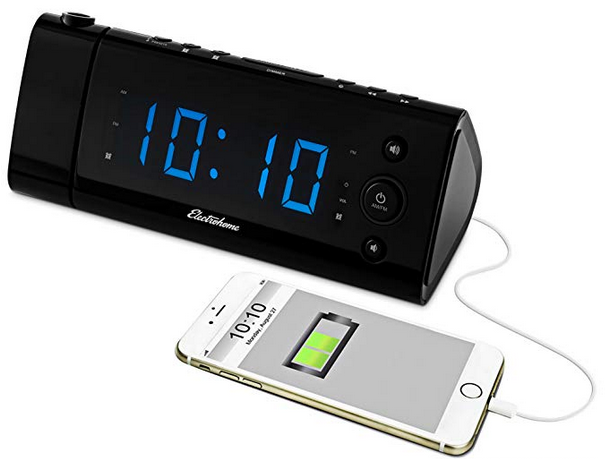 There's nothing that looks better than having time blasted on one of the walls of your bedroom showing the time, day and even temperature in a clear LED Display.
It's the perfect clock that will give you the feeling of "Crap, I'm going to be late!" Alarm clocks like the Electrohome EAAC601 Projection Alarm are just awesome!
This model, for instance, isn't just your ordinary electric alarm clock because it's got an advanced SelfSet technology which will take care of adjusting the date and time for you.
You no longer need to worry about being haunted by Benjamin Franklin's Daylight Savings time ghost.
Key Features:
180-Degrees swivel wall projection
Adjusts automatically to Daylight Savings Time
Blue color Ultra Bright LCD display that is able to wake you up better
Specifications:
Weight: 2 lbs
Brand: Electrohome
Model: EAAC601
Buy Here
2. Sonic Alert Sonic Bomb Alarm Clock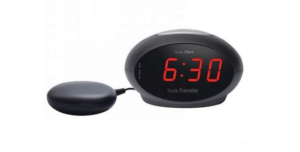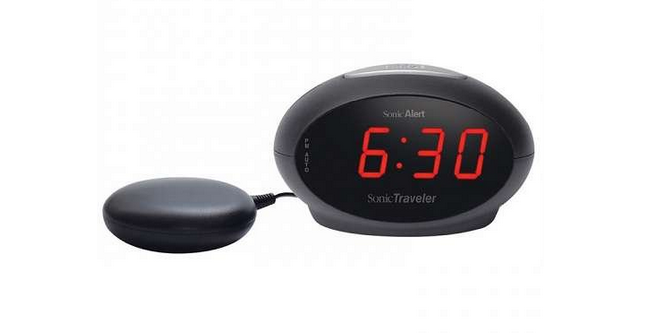 This one isn't just for the old sleeper type because it's capable of ensuring that you're awake on time every time.
Sonic Alert, as its name suggests, features an alarm that is seriously powerful, it can even shake your bed t ensure that you get out of it on time.
It features a large LCD screen that is colored red so you'll have a very noticeable light flashing while the bed is rumbling and you hear a loud sound that's urging you to get up!
But don't worry, it isn't the first stage of the end of the world, it's just your alarm clock telling you to get up for work and make sure that you look alive!
Key Features:
Produces the perfect alarm sound with its volume + tone adjustment
Equipped with a powerful bed shaker feature that can surely wake you up
Features a snooze defuser for easier control of the alarm
Specifications:
Weight: 1.61 lbs
Brand: Sonic Alert
Model: SBB500SS
Buy Here:
3. AmazonBasics Small Digital Alarm Clock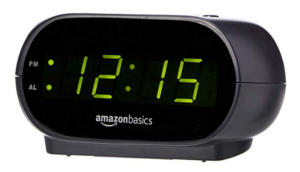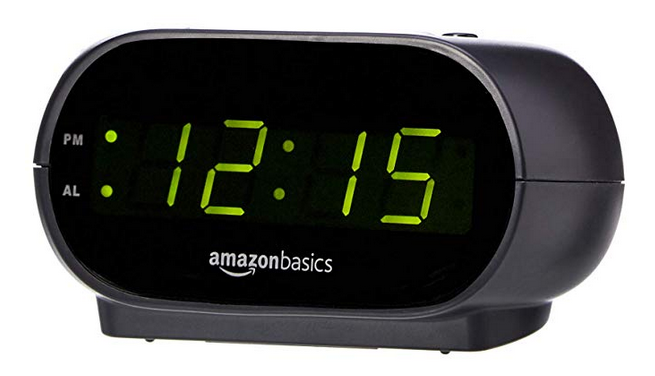 You're going to wake up on time every time with the help of this AmazonBasics digital alarm clock.
It's got a compact design and basic nature of this clock will mean that it's ideal for your home or even in your car while you're on a road trip.
It features a 0.7-inch LED display that is of green color to ensure that you see things clearly at a single glance. Yes! This alarm clock is going to keep you updated of the time even if you're still feeling sleepy.
It features a nightlight function and as well as a battery backup so you can be sure that the alarm still goes off even when the power cuts out.
It's going to ensure that you're enjoying a restful sleep without being worried about waking up late. If you need a little more time in bed then you can simply use the snooze function and you're sure to wake up on the time that you want feeling refreshed every time.
Key Features:
Portable design
Equipped with a repeating snooze function
Features a backup power so it works even on a power outage
Nightlight function so it is visible even in the dark
Specifications:
Weight: 8.2 oz
Brand: AmazonBasics
Model: AB20
Buy Here
4. CubieBlue Charging Bluetooth Speaker (Alarm Clock)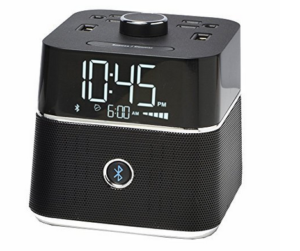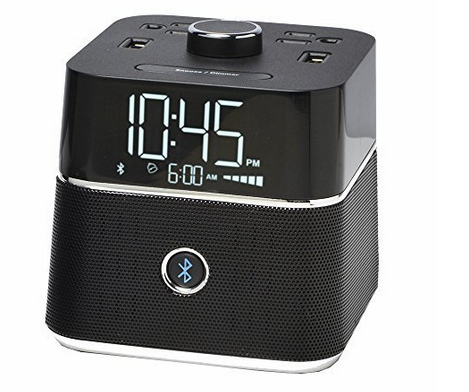 It may look like a gadget from the Star Wars movie but this alarm clock gets the job done every time.
You can charge both your tablet and phone at the same time using the two power outlets that it has plus the two available USB ports for guaranteed convenience.
And the alarm clock feature that it has is very simple and it's also capable of playing your music via Bluetooth.
The CubieBlue also has a built-in surge protector so you will not have any problem in base an electric storm hits your place.
This alarm clock will still work after you throw it across the room. That's how sturdy it is.
Key Features
Equipped with a built-in surge protection
Two USB ports for charging both your phone and tablet at the same time
Features a Bluetooth music player so you can use your music as an alarm in the morning
Specification:
Weight: 2.7 pounds

BrandStand

BPEBL
Buy Here
5. AcuRiteIntelli-Time Alarm Clock with USB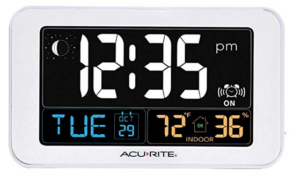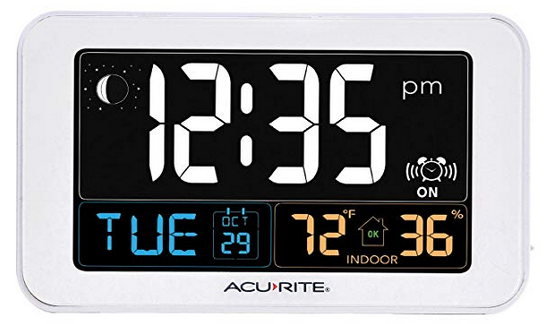 An alarm clock that also works as a weather monitor, that's what the Intelli-Time alarm clock by AcuRite is all about.
The alarm sounds in a two-minute period with an increasing volume pattern so you'll wake up on time in a peaceful manner.
And if you're having a shortage of power outlets, this alarm clock is equipped with a USB charger so you can recharge your smartphone or any other compatible device.
But that's not all, this clock also features an illuminated color display along with auto-dimming brightness for eye-comfort when its dark.
You will also love how it displays the humidity and temperature indoors while its backup battery power ensures that you're having a time display and alarm even through power outages.
It's truly a smart device that's also lightweight and you can put it inside your overnight bag or your nightstand.
It offers a gentle but effective way of waking you up without taking much of your valuable space.
Key Features:
Equipped with an Illuminated color display
Alarm sound gently increases over a span of two minutes
Features a USB charging port which is compatible with smartphones
Built-in humidity and temperature sensors
Specifications:
Weight: 0.16 oz
Brand: AcuRite

Model: 13040CA
Buy Here
6. Philips Wake-Up Light Alarm Clock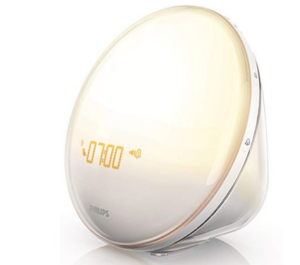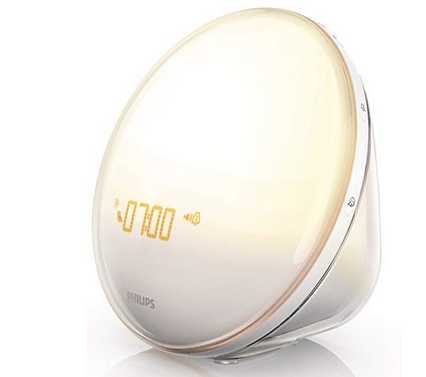 This alarm clock is not like the other ones that you have already seen.
It even claims to do some things which other alarm clocks are not able to do.
But you need to spend some serious money to get its unique sleep-enhancing and energy-saving benefits while improving your overall well-being.
It might cost more than the other ones in this list but its a great investment! It is actually a lamp that is designed to perform light therapy and is capable of producing a sunrise alarm.
It is the top-selling alarm clock by Philips and looking at its unique features, it is easy to see why.
Only Philips has this technology of wake-up lights that are guaranteed to wake you up feeling refreshed in the morning and it's not just a baseless claim because it is actually clinically proven.
With its natural wake-up technology, you're sure to feel good in the morning. You just need to set the time when you want to wake up and the alarm will allow a gentle sunrise effect to get you in the mood for the day.
Thirty minutes before your set wake up time, the alarm will produce a very gentle light which gradually increases in brightness so you can wake up in naturally in the best way.
The great thing that we love about it is the option where you can personalize the light settings which allows the adjustment of dimming levels so you can sleep better.
It is also equipped with a snooze function which we're sure you'll be needing most.
Key Features:
Equipped with Light Therapy technology that allows for a natural wake up call
Features a snooze functionality
Best-selling wake-up alarm by Philips
With 5 wake-up call choices and FM Radio
Allows light settings personalization
Specifications:
Weight: 3.8 lbs
Brand: Philips
Model: HF3520/60
Buy Here
7. Sony ICFC1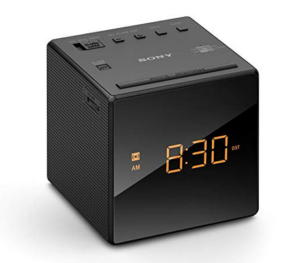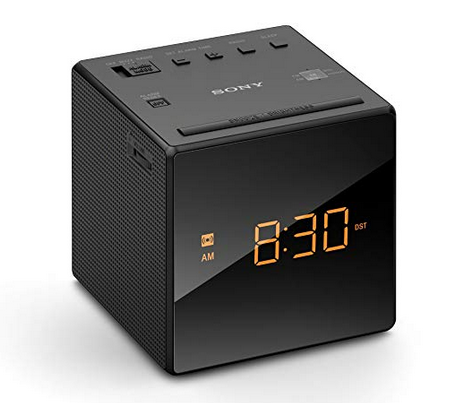 Sony never fails to make great products just like this little cube alarm clock which packs a lot of features in its compact body.
It's the perfect clock if you want to use minimalist design in your room. Though it costs less, it's got a lot of features which you'll surely love.
And Sony is able to implement all these while keeping the product's nature intact. Being an alarm clock, it is supposed to wake you up at the right time and it is going to do that!
It is also equipped with a backup battery which ensures that you can continue keeping time and be woke up by the alarm even when there's a power interruption during natural calamities.
This cube is also equipped with 10 radio station buttons that can be programmed.
Key Features:
Minimalist cube design
Comes with a Blackout contingency backup battery
Helps eliminate grogginess with its gradual wake up feature
Specification:
Weight: 1.1 lbs
Brand: Sony
Model ICFC1BLACK
Buy Here
8. Peakeep Twin Bell Stereoscopic Clock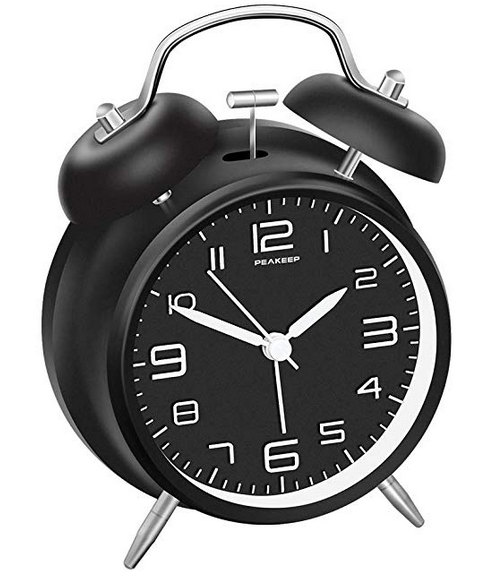 Remember the time when digital stuff wasn't invented yet? We don't remember anything about that time either.
But there still are products that have been tested by time which are still being used today. And one of them is the traditional dual-bell alarm clock.
Its hands produce very minimal sound while you're sleeping but when it's time to buzz, it's going to sound like your mom when it's time to wake up!
If you're like me who is easily bothered by flashing LED especially when the lights are off then the Peakeep Twin Bell Stereoscopic Clock is going to be a perfect choice.
It features a stereoscopic dial face backlight which can be activated in a simple touch of the button so you can easily check the time even when it's dark.
Peakeep may look vintage but it's guaranteed to wake you up every single time!
Buy Here
9. Philips Wake-Up HF3505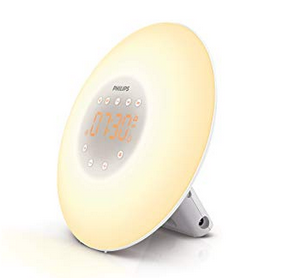 Most of us have surely experienced getting up in the morning and after drawing the blinds, we soon discover that it's already sunny and we're already late!
Well, that's exactly what the Philips Wake-Up alarm clock is going to do aside from the fact that it's going to wake you with its sound.
Philips made sure that a yellow and white light is incorporated into this sunrise-simulating alarm clock light.
And it's the only alarm clock + lamp out there that is guaranteed to help you sleep better than get up the next day feeling refreshed.
This all-time America's favorite retailer has again accomplished something awesome by making a lamp and alarm clock in one package.
It will surely be able to wake you up every time!
Key Features
Equipped with light therapy function for a unique waking-up experience every time
10 Brightness settings available for its Long-lasting LED screen
You can wake up and feel refreshed and alert with its unique light and sound alarm feature
Specification:
Weight: 1.19 lbs
 Brand: Philips
Model HF3505
Buy Here
10. iHome Bluetooth Color Changing Alarm Clock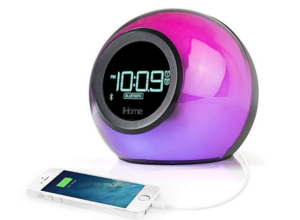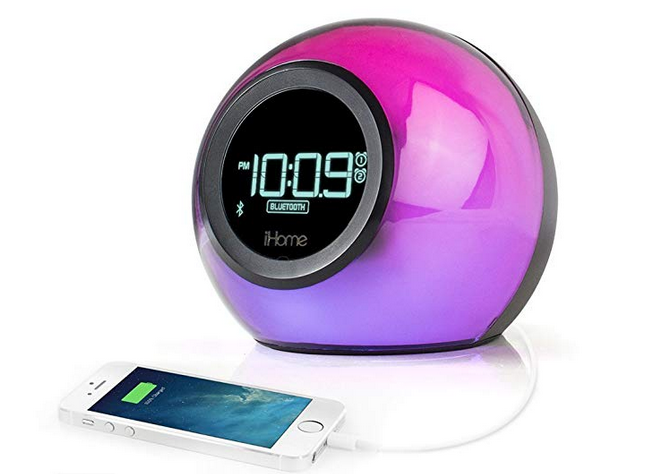 If you find something that has the iHome name on it, you know it's something that has some flashy detail to it.
And this Bluetooth Color Changing Alarm clock does not just the job of waking you up but also even ending a call in the touch of a button.
It's got five LED color settings making it great for those who love putting color into their bedroom. Is your smartphone battery dying but you don't want to go and find the charger?
Don't worry because this alarm clock is ready to get it charged while you sleep.
The perfect alarm clock that you're looking for is here and if you've got other iHome items then this one is going to complete your collection.
Key Features:
Equipped with a plug-in USB charger
Hands-free phone conversations are made possible with its Talk/End button
Color changing LEDs (five colors) activated by touch
Specifications:
Weight: 2.93 lbs
Brand: iHome
IBT29
Buy Here:
Wake Up Faster with the Right Gear
Sleeping is one of the most studied processes in humans. There's never a shortage of research and tests going on about it.
But no matter what these research reveal, it is important that you train yourself to wake up on time.
All of us experience those lazy days when we snooze our alarm clocks until they almost break but with the gears we've shared above, your snooze and delay alarm problem will surely be a thing of the past.
Are you using an alarm clock to wake you up in the morning?
What brand is it and how well does it work in getting you up on time?
Share your experiences and brand recommendations with us by joining the discussion in the comments section below.