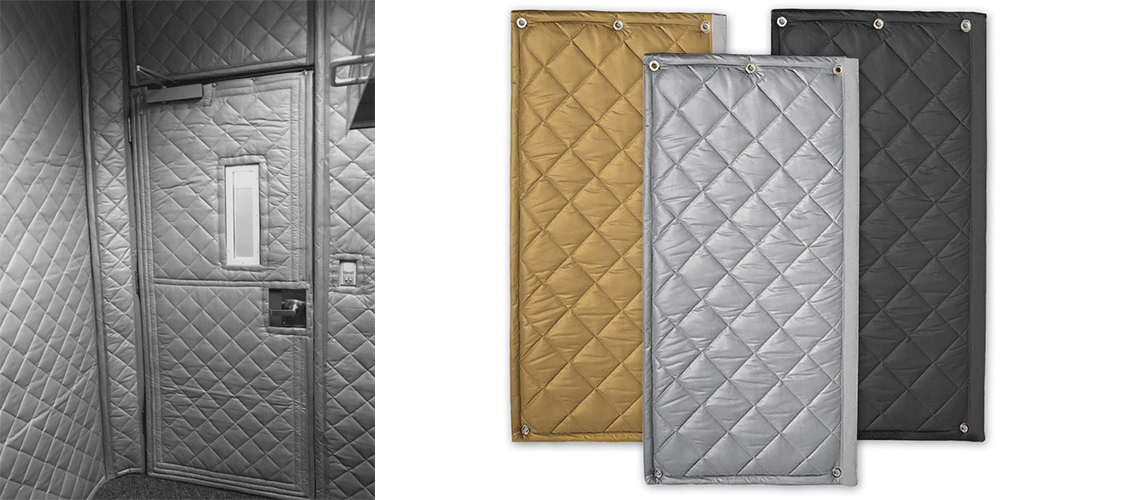 Have you ever thought of making your own recording studio or starting a YouTube Channel but you don't want to disturb your neighbors?
Or do you have neighbors that are too loud, you just want to relocate to another planet just to get rid of the noise?
If your answer is "Yes" to all of these questions, then you definitely need a simple tool that will help you get rid of too much noise.
You're actually in the market for what is called "Soundproof Blankets"!
But I know the sort of questions that will immediately enter your mind.
Questions like "What exactly are soundproof blankets?" and "What type of soundproof blanket should I buy" are the typical questions that went into my mind the first time I thought I needed some soundproofing in my room.
Thankfully, with painstaking research and willingness to listen to customer reviews, I was able to find the top brands in this growing market.
And to help shorten your agony, I decided to write this buying guide to aid you in picking the best one in terms of price and overall performance. 
Here's the Best Soundproof Blankets of 2023:
Now that we're done learning some basic stuff regarding soundproof blankets, it is time to get into the details of the top 5 products that I was able to find in the market.
1. Cheap Cheap Moving Boxes Deluxe Moving Blankets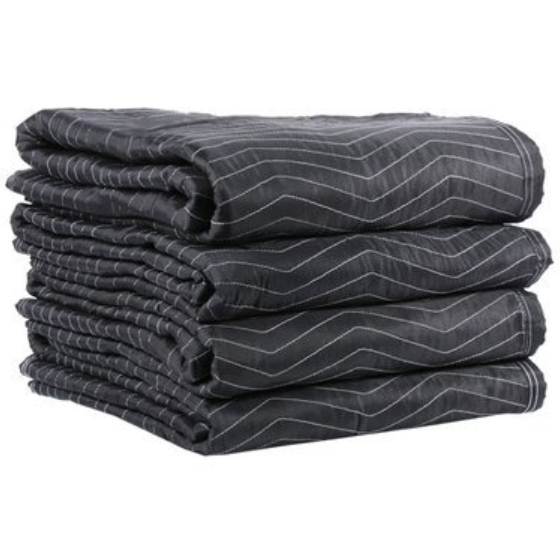 Most people are knowledgeable about the use of moving blankets.
It actually assists in making mobility more comfortable as it prevents items from bumping, shifting, and dislodging while on transport at the back of a pickup or a truck.
This prevents damage, dents, and scratches on certain items like furniture and even protects the vehicle itself.
This is one of the primary uses of moving blankets but did you know that some brands also double as soundproofing sheets?
That's precisely the case of the blankets made by Cheap Cheap Moving Boxes!
Made using high-quality polyester material that is woven so sound bounces off
Can be layered to amplify the sound-blocking ability
Easy to clean and machine washable
Cheaper price compared to other soundproof blankets
The blanket itself is heavy and thick and you may not believe it but one individual blanket alone can weigh up to almost 4 pounds.
This weight alone can definitely help in absorbing noise coming from the outside since sound is going to have a hard time traveling through the thick layer.
But this also means that hanging the blanket would be a hard thing to accomplish.
And the issue is even worsened by the fact that the blanket doesn't have grommets at all.
So you will be left to look for something that's strong enough to get them mounted to your door.
Another downside is its drab color and weak stitching which makes the blanket look untidy even after it is washed.
It also causes durability issues to the blanket itself, if not handled with care.
Overall, this blanket is pretty good if it is soundproofing that you want to do even if it's not their real purpose.
Though they're heavy and a bit flimsy, the Cheap Cheap Moving Boxes is a blanket that can deliver the soundproofing ability that you're looking for.
2. US Cargo Control Moving Blankets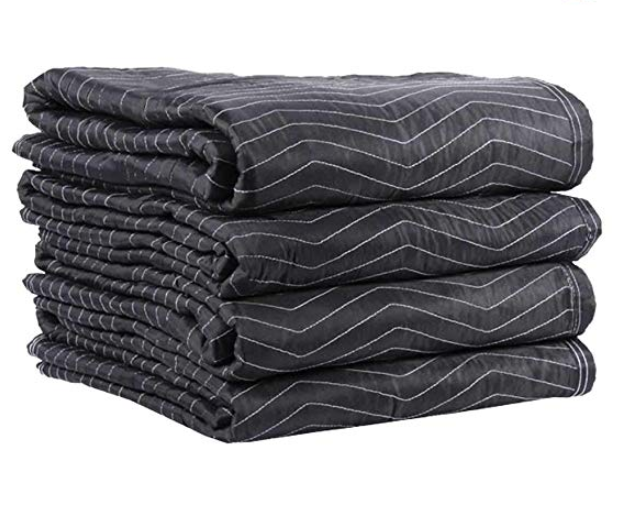 As you have already learned above, the thicker and heavier the soundproof blanket is, the more ability would it have in canceling sound.
And if this is what you're looking for then there's nothing that's thicker and heavier than the US Cargo Control Moving Blankets.
Stuffed with recycled and eco-friendly cotton filler that filters sound as it muffles the sound waves with its fibers
Every padding is stitched within the blanket forming multiple layers which give this beast the weight of up to eight pounds
Absorbs more sound waves from the outside – perfect for studio, home, or as protection to excess noise coming from appliances
Durable zig-zag stitch and high-quality materials used
Perfect for kids and pets who love to rip things apart
But just like the first item in this list, the US Cargo Control Moving Blanket also has a few drawbacks especially on the aspect of its size.
Its heavy 8-pound weight makes it really hard to hang them without putting grommets within the blanket first.
This also makes the blanket hard to wash and dry using normal methods.
Moreover, some users have found the blanket to emit some kind of an odor that they describe to be fairly unpleasant to the nose but it's something that we seldom hear about.
But overall, this is a great multi-purpose blanket that combines soundproofing, durability, and functionality in one awesome blanket.
3. Big Boxer Grommeted Industrial Blanket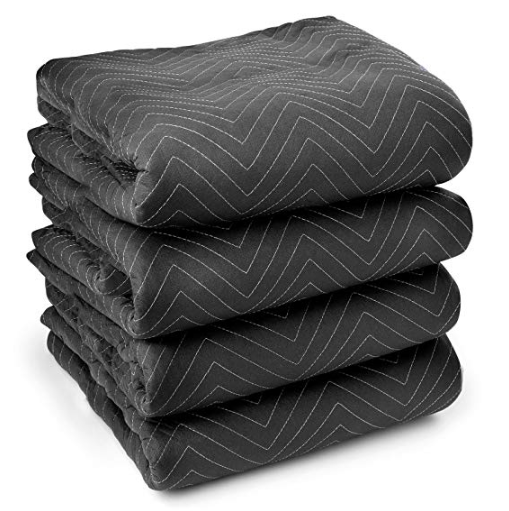 At the price of around $15 right off the bat, the Big Boxer Grommeted Industrial Blanket is something that is priced at a lower level compared to the others.
But one thing that you should remember is that this price is only for ONE blanket alone.
So if you have a bigger space to cover then you should be ready to shell out a relatively bigger amount.
Pretty decent size at 78″ x 72″
Blocks sound effectively even those that come from appliances like a dishwasher for instance
Features a reinforced heavy-duty grommet in every 9 inches of the blanket's surface
Easy to hang and move around when used with a curtain rod – Perfect for hanging inside a room
Made using cotton and non-woven polyester that are double stitched
Weighs around 5 pounds for every blanket – blocks sounds more effectively
If the price is something that you won't complain about then the Big Boxer Grommeted Industrial Blanket is a quality soundproof blanket of choice.
Its grommeted design sets it higher than the others because of the fact that it is easier to hang especially if the room already has some curtain rods that can hold it.
4. Sure-Max Heavy-Duty Moving Packing Blankets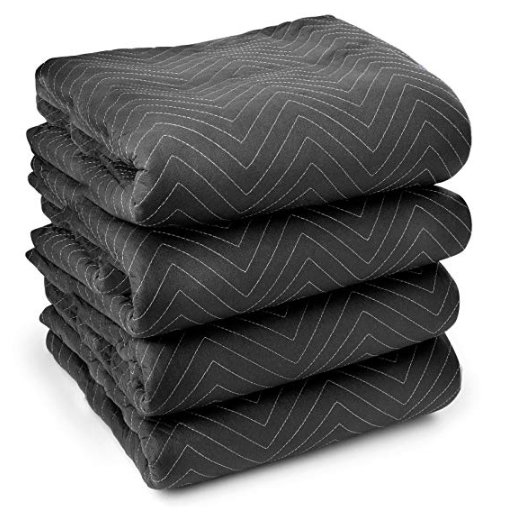 If you're looking for a good deal but still get good quality and performance in your very first soundproof blanket then the Sure-Max Heavy-Duty Moving Packing Blanket is going to offer that.
It's going to give you all the things that a soundproof blanket is supposed to offer without causing you to spend a good chunk of cash.
Costs under $40 for a pack of 12 blankets – truly a value for money compared to the other blankets in this list
One pack gives you enough soundproof blanket to cover an entire space where you want to use them
Made of double-sided construction of high-grade materials and cotton
Protects noise from passing through every side with its double-sided design
Provides insulation against outside elements and sound
Comes in black color with a blue trim around the edges which looks great in every environment that you hang them in
Because of its cheap price, you might find these blankets a little bit lacking in terms of quality.
Some customers found it fragile at some point especially on issues of loose threads and tearing after being washed.
The blanket is also said to emit a strong a little bit musky smell so washing is important after taking it out of the package.
But for its price, the Sure-Max Heavy-Duty Moving Packing Blankets is definitely worth every buck.
If you don't mind the smell (which can actually be removed by washing) then this soundproof blanket set will be perfect especially for those who are in a tight budget.
5. Audimute Absorption Sheets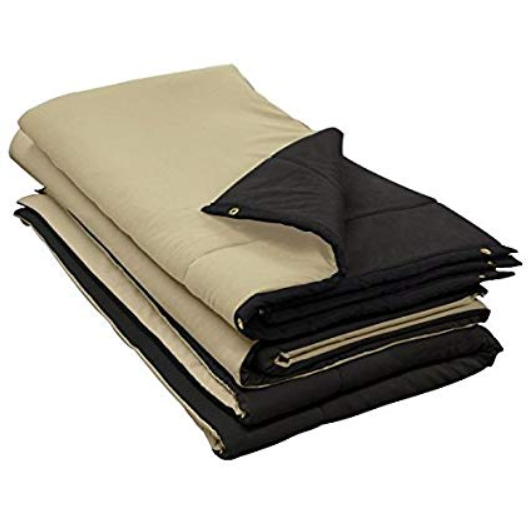 If you're wanting to build a studio that is capable of creating audio on the professional-grade then you will need some soundproof blankets that is capable of living up to the task.
And for this, you will find it hard finding something that comes close to the performance of the Audimute Absorption Sheets which is sold exclusively via the Audimute official website.
Expensive type (almost $300 for 4 blankets) but delivers professional-grade sound-canceling
The blanket is capable of blocking mid and high range noises for up to 65%, a value that is way higher than what most moving blankets can achieve and also higher than what other high-end soundproof blankets can get
Perfect for blocking even the harshest noise that comes from the surroundings
Works great for aspiring musicians as it reflects sound back to create great acoustics
Achieves the cleanest feedback on the sounds that you play and aids in getting recordings that are crystal clear
Made using recycled materials – perfect for those who want to be Eco-friendly
Made from wool polyester coming from recycled materials to guarantee that the blanket itself is natural and safe
The downside to this aside from the price is that it may become somewhat a fire hazard because of the fact that they are not made of fireproof materials in the "Class A" category.
This means that they can pose a potential danger if exposed near open flames or used in hot spaces.
So if you're somewhat a careless type of person then the issue on fire safety should be of utmost concern.
But if you're the careful type who's wanting to achieve high-grade soundproofing and price is not an issue at all then the Audimute Absorption Sheets will give you the sound protection that you need in order to achieve audio that is clear as water – something that you've always wanted!
What are Soundproof Blankets Used for?
The simple answer is almost everything!
Soundproof blankets have a wide range of styles and use and it all depends on the one who's using it.
These blankets can be used for soundproofing a studio so your artistic endeavors would advance or it can also serve as a sound barrier for your busy workshop.
Soundproof blankets can also help in blocking noise that comes from the street or that which comes from a loud neighborhood.
Soundproof blankets are also called "studio blankets" and they are often used in soundproofing rooms inside houses so they can be turned into studios.
This is once again ideal for video recorders, streamers, and musicians.
The materials and styles of these blankets largely depend on the type of effect that you're going to enjoy.
For instance, the thicker but cheap ones are very useful when you're trying to get rid of the higher decibel noises while those quilted acoustic blankets have the tendency of lowering the tones on the bass level.
Most manufacturers use polyester material and fiberglass in their soundproof blankets allowing the absorption or bouncing off of sound while giving some insulation to the room where you place it.
Do They Really Block Sound?
If you haven't tried using soundproof blankets yet then you might be doubting up until this point.
Do soundproof blankets really block sound?
The answer is yes!
There are a variety of applications, situations, and places where you can use soundproof blankets and in case you want to know each of them, here's a brief list for your reference:
Home Studio

Making a Quiet Home

Study Space

Warehouses

Insulating Home Appliances
While it's a fact that these blankets will not absorb 100% of the noise just like any other noise-canceling technologies, applications, and equipment out there, soundproof blankets are still capable of lowering the intensity of noise.
They muffle so they can become more manageable and the change that they bring is very noticeable. The sound bounces off the blankets and can therefore be reduced to up to 80% in some cases.
If you want to get better results, you can try pairing soundproof blankets with other products for noise-canceling such as soundproof curtains. This will make your working space or your home a lot more silent and quiet.
Things To Consider When Choosing a Soundproof Blanket To Purchase
Aside from the price, there are a some other factors that you need to consider when choosing a soundproof blanket for your project.
I have listed and explained each one of them below:
Design
As I have already pointed out briefly in the earlier part of this guide, there are many different designs of soundproof blankets and each of them possess their own amount of capability in canceling noise.
So in this aspect, the design that you need to look for should actually be based on your needs and the location where you'll use the blankets.
For instance, if you need it for your work space where you want as little noise as you can possibly achieve then you'll need to choose a blanket that possesses some acoustic capability.
These types of soundproof blankets are capable of blocking sounds on the lowest tones.
If it's for your entire home so you can sleep or study well then you can go for the cheaper moving blankets as they won't cost you a big chunk of money but still offer a decent soundproofing performance.
You can also choose the quilted design if you need something that absorbs not just the noise that comes from your surroundings but also the elements like temperature for instance.
Non-quilted design blankets on the other hand can still provide noise-canceling capabilities but cost much less overall.
Moreover, if there's a particular part of your room or house that you want to soundproof such as a door for instance then you will need to look for soundproof blankets that are designed for doors because they will fit perfectly and get the job done for you!
Thickness
Next, you'll need to consider the thickness of the blanket itself.
The thicker the blanket is, the more noise it's going to absorb since there will be more layers where the sound would need to pass through before it enters the room.
So be sure to choose a thicker soundproof blanket for most of your soundproofing needs.
Just be watchful of the weight though because thick and heavy blankets are more challenging to hang around the room.
Price
Of course, price really matters and when it comes to acoustic blankets, choosing the cheaper is not always a good idea.
In general, cheaper blankets would definitely have worse sound-absorption.
With that being said, there still are some cheaper soundproof blankets that offer a good noise-canceling capability and these you need to keep in your short list.
But if you have the budget then I would advice that you go for the pricier ones which both perform well and provide good durability for long lasting use.
Grommets
Sound blankets are mostly hang so you will need the help of grommets to achieve this.
Not all soundproof blankets have grommets so of you are going to use the blankets on rods and walls then definitely go for those that have it.
Grommets make soundproof blankets a lot easier to hang up and manage since it makes them slide easily on a rod where they are placed.
If you decide on purchasing soundproof blankets that don't have grommets then be sure to at least learn how you can install them yourself.
I would recommend that you get sturdy type iron grommets which can provide adequate support to the weight of the soundproof blanket itself.
The rod or hook which will hold the blanket should also be strong and sturdy.
Conclusion
There you have it, everything that you need to know about soundproof blankets and where you can purchase them.
Most moving blankets are available in online marketplaces like Amazon for instance while some professional acoustic blankets are sold exclusively by the company. 
When looking for your first soundproof blanket, don't get the first one that comes out of the search results since most of them are actually paid promotions which don't have the best deal or offer in terms of price.
Go to the marketplace itself and try doing a search so you can compare prices and get the one which offers the best price!