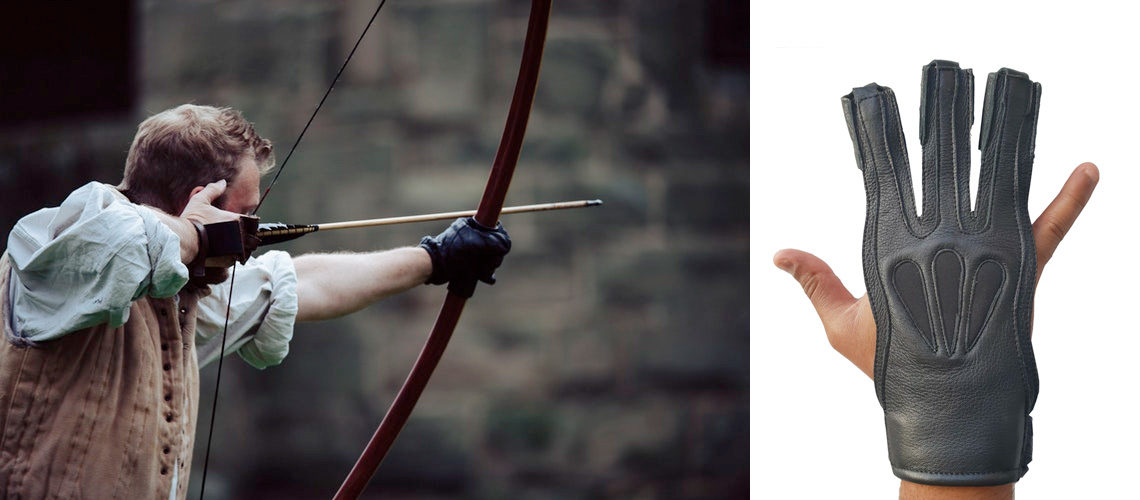 Archery gloves are unique compared to any other types of gloves, they typically only have fingertips on three fingers, some fabric in the palm area, a strap that goes around your wrist, and that's about it.
We're going to be looking at some super high quality gloves here that are easily rated among the best archery gloves in the world, but we're also going to be taking a look at one or two budget options as well, that still get the job done even when you're on a tight budget.
The higher up on the list, the better the glove is. 
The lower ranked options on this top five are still fantastic choices, but they're just more on the value side.
Generally speaking, most archery gloves are pretty inexpensive either way, so the difference between a very highly rated pair, and a more budget option, is usually just a few bucks.
Makes sense?
Alright, let's get right to it.
Here are the Best Archery Gloves of 2023 for Hunting, Gaming, and More:
1. ArcheryMax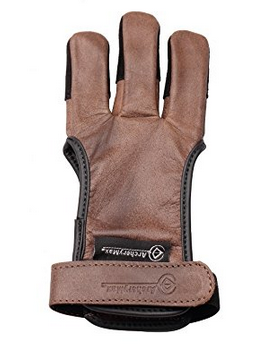 If you're in the market for a pair of the best archery gloves and you want to get the search over with right now, this is the pair to buy.
You can't go wrong with these, there's a reason there's the top choice. They're made out of cow's leather for extreme durability, but also a soft and comfortable feel.
It's a higher grade of leather than you would expect at this price point. 
There's a special layer of leather on the fingertips of these gloves for perfect sensitivity.
It's important to be able to feel the string, and these gloves offer you protection, comfort, and an excellent string-feel.
The Velcro strap is easily adjustable so you don't have to fuss around at all trying to put these gloves on or off, and they come in four different sizes so it's also very easy to find a good fit.
ArcheryMax has hit a bullseye with these gloves, there's no two ways about it. 
The secret is in the leather that manages to be very durable, while also staying soft and thin. It's a win. 
Key Features
Fingertips engineered for great sensitivity of the string

Made from amazing quality leather

Very durable

Soft and thin for comfort and accuracy
Buy Here
2. October Mountain Products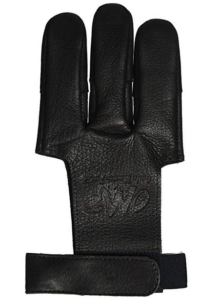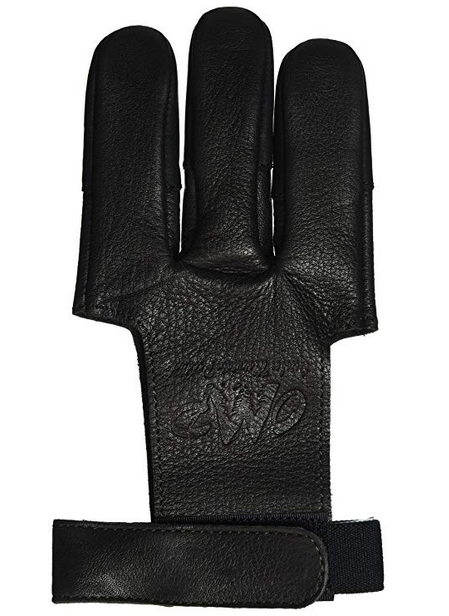 October Mountain Products has produced an absolutely gorgeous, incredibly comfortable, and very durable archery glove that really stands out from the pack.
It's made from a premium and durable cowhide, while still managing to be soft and comfortable to wear for as long as your shoulders can hold out.
Each of the three fingers have reinforced tips that allow you to feel what you're doing. The closure is made from Velcro, and the stitching is impressive.
This is undeniably a very well-made product from a brand that's clearly thoughtful and diligent in delivering one of the best archery gloves we've come across thus far. 
OMP and ArcheryMax could easily both be tied for the number one spot, neither one really stands out as being BETTER than the other, they're different, and they bring different things to the table.
Try both if you can.
Key Features
An incredible glove

Very premium feel

Well-made, clean stitching, thoughtful design
Buy Here
3. Allness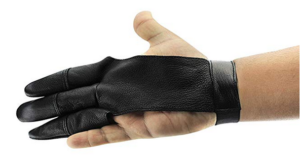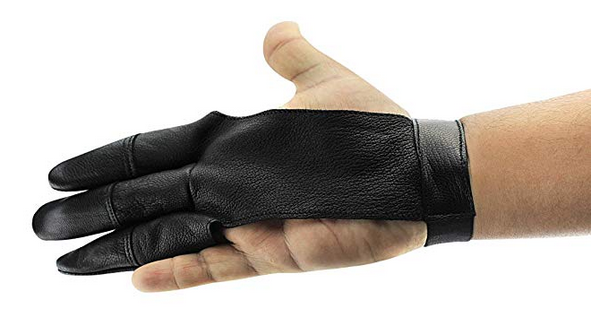 This 3-finger archery glove by the brand Allness is super highly rated, made from genuine leather, with a number of other important features that matter to archers of all skill levels. 
The tips are reinforced, which will help to improve the longevity of these gloves and will ensure that they'll last you a very long time.
It's a bit thinner than some of the other options out there, and for a good reason.
It's designed to give you a better feel of the string, to really bring you closer to the bow.
This leads to a more visceral archery experience, whereas thicker gloves can leave some people feeling a bit more disconnected.
It's a subtle thing, but when you've been doing archery for long enough, you can feel every little subtle difference.
The design itself is quite simple, but also effective.
There's a strap for your wrist that connects via Velcro, of course the extra layer on the fingertips, and thinner leather in the palm area.
These are our number one pick, grab yourself a pair and find out why!
At this price, it makes sense to try a couple of different styles to see for yourself which ones you like the best, and this is a great starting point.
Key Features
Great sensitivity so you can feel the subtleties of the string

Reinforced tips for longevity

Smooth release

Velcro strap
Buy Here
4. Krayney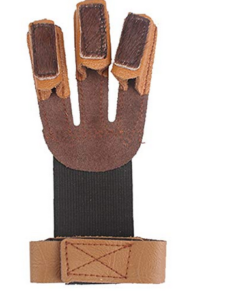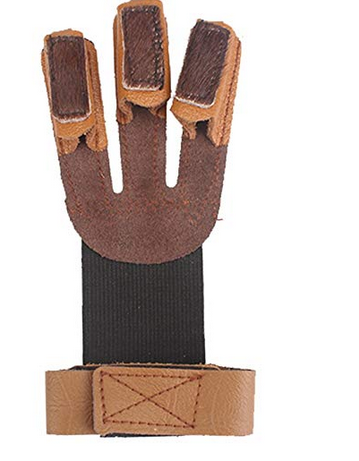 These leather archery gloves are made from a few different types of leather.
Be warned that they do run a bit small, the youth size is great for kids but the adult size will be too small for any adults who have larger hands.
If you have small to medium size hands as an adult, these should be just fine.
The style looks a bit janky or almost "home-made" or hand-sewn, but the quality is still good, if you're not super concerned about how it looks.
The priority here is on performance, and that's where these gloves really shine, so who cares how they look?
There's an adjustable wrist strap with an elastic insert to help with a comfortable fit.
These help protect your fingers with an added layer of thick leather, and horsehair to ensure a smooth release of your arrows.
The leather they use is very durable where it needs to be very durable, and it's softer in the places that benefit from a smoother, softer leather. It's very well designed and thought-out in that sense.
These are excellent for hunting, or just target practice.
The protection they afford you means you'll be able to fire more arrows before you start to get sore.
Those extra shots are going to improve your practice sessions, which will improve your accuracy over time.
Key Features
Durable and well-made

Uses horsehair

Great for practice or for hunting

Well thought-out design is highly optimized
Buy Here
5. NEET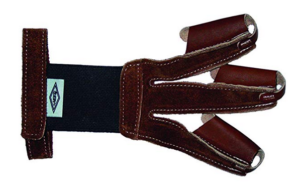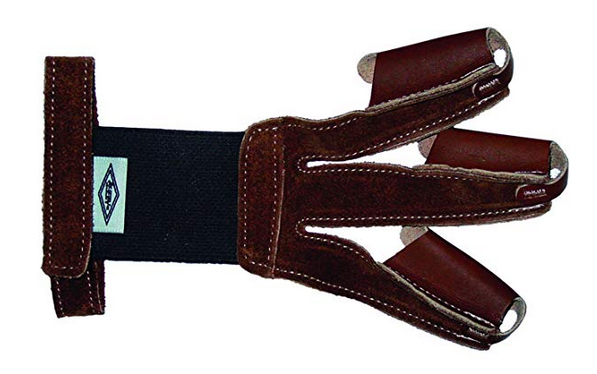 This pair is similar to the previous ones by Krayney, but with some distinct differences.
They're a little bit slicker looking, but they don't offer as much protection.
We're including them for anyone who wants to make that trade-off.
The back is made from elastic to help get a great fit.
The stitching feels high quality and like these archery gloves will last for a long time.
These gloves are easy to take on and off due to the Velcro strap, and the leather on the tips is nice and smooth for a clean release when you let go of the string. 
This is a no-frills, simple archery glove that gets the job done. There's really not a ton more to say about it, we like it a lot, and it's great for experienced archers.
Key Features
Stylish and strong glove

Great design

Incredible value
Buy Here
Considerations When Buying The Best Archery Gloves
Whether you're just starting out, or you've been shooting bows and arrows for a while now, you're probably looking for ways to improve the overall experience, and few accessories can do that like a great glove can.
The really great thing about archery gloves is that most of them are very affordable, and you only need a glove for one hand.
An arm guard is good to have too, and obviously a high-quality bow is going to be the biggest factor in your experience, but gloves matter a lot.
They're so important, in fact, that we recommend buying several pairs if you can.
They feel different, they fit slightly differently, so the best thing you can do is to try them out for yourself.
It never hurts to have spares, and it's worth it to be able to feel the different options for yourself.