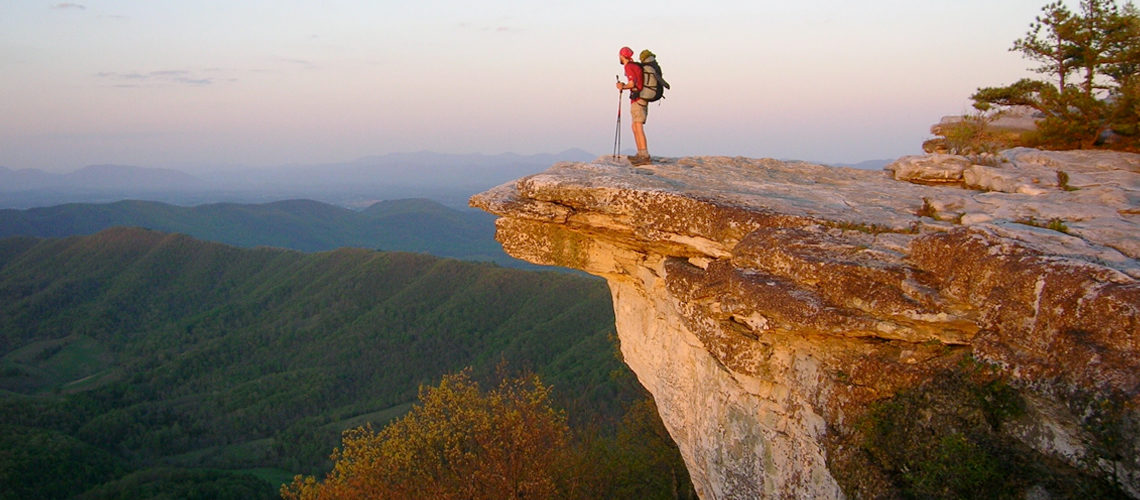 Having the best gloves for whatever situation you're in is crucial. If you're playing football, you'll want football gloves. If you're golfing, you'll want golf gloves. If you're going for a hike, the answer isn't quite as straight forward…
The best hiking gloves for your hike will depend entirely on where you're hiking, what the temperature is, if you're limited in size and weight that you can carry, and a handful of other factors.
If you're going to be hiking through a frozen tundra, you'll want some gloves that can handle extreme cold.
If you're just going for a quick hike for an hour or two on a pleasant day, then a lighter pair of hiking gloves will be great.
We've put together a list of five of the best hiking gloves in the world, but what's most important is choosing the pair that suits where and when you'll be hiking.
Here are the Best Hiking Gloves of 2023:
1. Black Diamond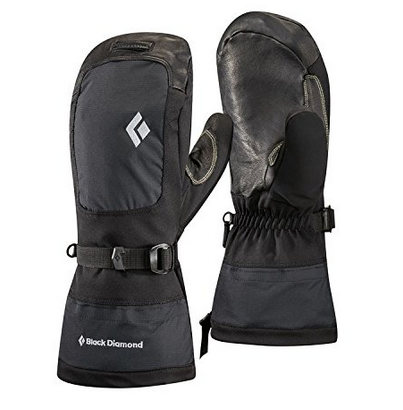 Let's start off with an incredible set of winter hiking gloves. It goes without saying that these are ideally meant for very harsh conditions, like hiking in the winter. They're very durable and strong, and you'll be able to get a good grip on your trekking poles.
The shell on these mitts is made from nylon and spandex. The lining is made from 100% polyester and it does a great job of insulating. The palm area is made from goat skin, which further adds durability and protection for your hands.
Having some type of hand protection can be useful, especially if you're on difficult terrain, like slippery ice that could cause you to fall. It's not just about protection you from the cold weather, but also from other dangers of your environment.
The liner inside is removable, so if y our hands start to get too warm, you can just take out the insulation and still enjoy the protection of the outer shell.
These gloves are lightweight and can handle whatever you can throw at them. To top it all off, they also have great waterproofing to protect from rain, snow, or whatever else you may stumble upon.
Key Features
Pull-on closure keeps them sealed
Very good insulation
Removable liner for versatility
Buy Here
2. Columbia Thermarator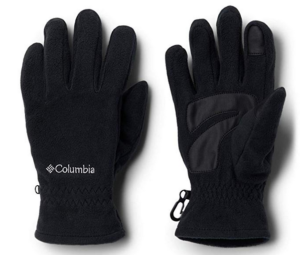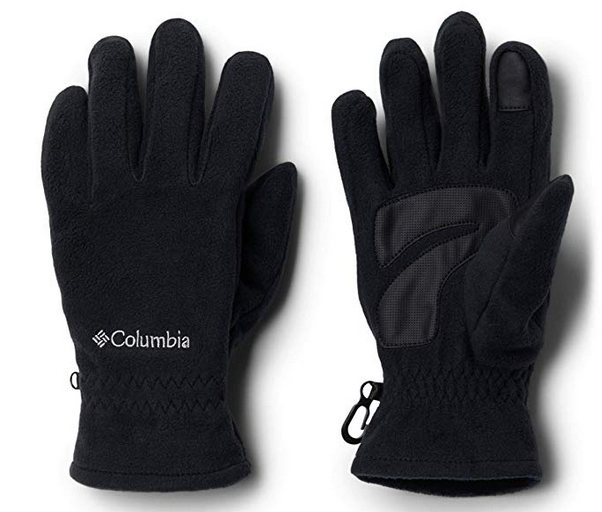 The Thermarator gloves by Colombia are a much more light-weight option than our number one pick above. These gloves have a special omni-heat reflective tech that helps regulate the temperate while still allowing them to breathe.
The wrists are adjustable with elastic, it's nothing super heavy duty but it does a good enough job of helping to keep the warmth in. The palms have abrasion-resistant technology in them, and the fingertips of these gloves are compatible with touchscreens. 
When you need some warmth in colder months, but you aren't going on an Arctic expedition where you'll need protection from extreme cold, a pair like this is perfect. They're warm enough to keep you toasty in less-extreme cold weather, and don't take up a lot of space.
You can grab these in black, granite, and a very nice looking blue color. These come highly recommended for a "standard" glove for chilly weather hikes.
Buy Here
3. Kinco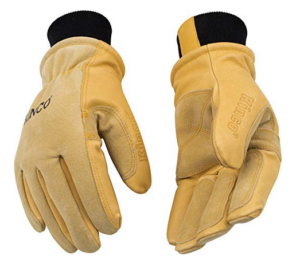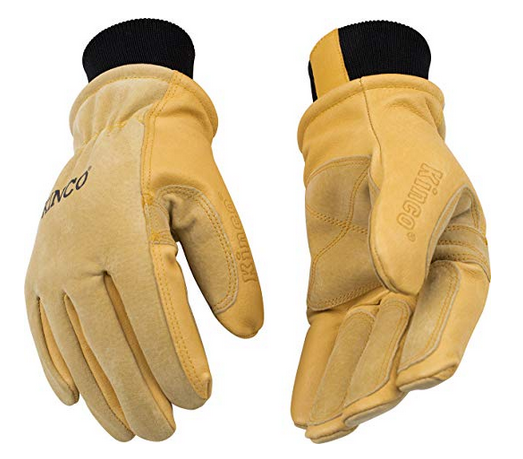 These extremely heavy-duty and durable ski gloves are just as fitted for a long hike as they are for taking on the slopes. If you're using trekking poles, a walking stick, or just a strong piece of branch you found along the hike, these are great. They're on the warmer side, too, but still good for regular days. They'll be too hot in the summer, but we'll be checking out some lighter summer hiking gloves up next, so stay tuned if that's what you're in the market for.
These Kinco gloves are made with very strong and durable pigskin, along with cowhide. They have a thermal lining to keep warmth in on cold days. They're waterproof, too.
These gloves have an extra layer of leather on the fingers and palms for extra grip and protection, but the size small ones don't have that (they're too small, it would cut into the movement too much, you would lose dexterity.) 
Key Features
Made from pigskin and cowhide
Extra protection on the fingers and palm area on sized M and L
Thermal lining
Buy Here
4. Sealskinz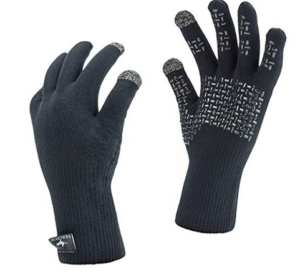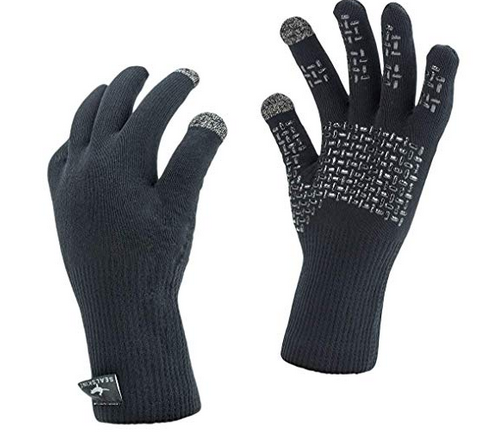 Here's another pair of gloves that falls more on the light-duty, casual side. The nice thing here is that they give you a ton of grip, which can be great if you're carrying gear, or a walking stick, or whatever. They're not overly warm, being on the lighter side, but they're still made with super soft and comfortable merino wool.
The palm grips are commonly used for holding cellphones, which might not be the best thing to be doing on a hike, but it's still better than dropping your phone. You'll be able to easily hold onto your phone, even if your hands are a bit sweaty, for taking videos and photos on the hike, which is a great way to hold onto memories.
These gloves protect you from water, wind, and cold… but they're also breathable so they'll keep your hands comfortable. The silicone grips are what really make these stand out beyond just a normal pair of gloves. The gauntlet cuffs can be folded up, or worm for a little extra protection around your upper wrists.
Key Features
Very grippy palm
Waterproof
Windproof
Large gauntlet cuffs
Buy Here
5. Marmot
The power stretch glove by Marmot is made from stretchy polyester called PolartechPower, and elastane. These gloves are often worn underneath another pair of gloves for extra warmth, but for hikers, they're perfect to wear just on their own. They have clips on the side so you can attach them to your hiking backpack or your belt without taking up and extra space in your bag, so these are great for long, multi-day, very serious hikes, as well as shorter walks around the park.
They have very good wicking of moisture, and great grips on the fingertips. All around, these are fantastic gloves, especially for milder conditions.
Key Features
Suitable on their own or with a larger glove or mitt on top
Great for most weather conditions
Handy clips for carrying
Buy Here
Buying the Best Hiking Gloves
We have many other helpful glove guides available, so if you're going to be hiking in the winter and you want to check out a ton of options for winter gloves, make sure you visit our relevant guides. If you're looking for lighter gloves, you could check out cycling gloves or even football gloves (They often have grip on the palm for catching the ball, similar to the grip you'd want for holding a trekking pole).
Another popular type of gloves to use for hiking are tactical gloves, they often have tons of protection, so if you're on a particularly rough hike, they'll help protect your hands better than any other type of glove.