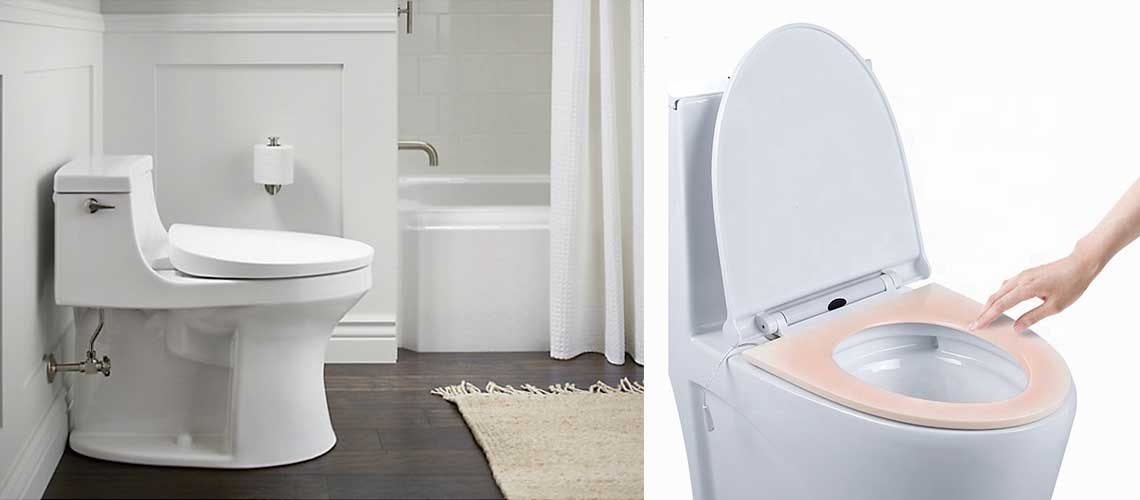 Searching for the finest heated toilet seat for your family can be a game-changer.
With this simple, quick, and reasonably inexpensive improvement, to be honest, by the end of this post you will wonder why you didn't add this equipment to your household a long time ago.
Toilets can be uncomfortably chilly in the winter months and even in the summer when the air conditioner is blasting.

And despite the fact that we aren't in the 1920's anymore and have central heating in our homes, our toilet seats can still be cold in the middle of the night.
That's why the invention of a heated toilet seat is remarkable, as it is one of the most excellent bathroom modifications technology has ever made.
And today, we'll review the best-heated toilet seats in the market to assist you in your search.
Things to Think About Before Purchasing a Heated Toilet Seat
Although heated toilet seats are a game-changer in bathroom comfort, there are a few things to consider.
There are undoubtedly specific options that are superior to others, as well as some features that may improve it even further!
Shape.

 Toilets are usually circular or elongated. While it is technically possible to place an extended seat on a round toilet (and vice versa), it is best to identify which type you require before placing your order. A well-fitting toilet seat will significantly improve your comfort.

Modifiable Temperature Settings.

Some heated toilet seats have a single temperature setting, which is advantageous over not having a heated toilet seat. However, having an adjustable heat setting makes it even better. The temperature can then be set to be lower during the warmer months and higher during the cooler months.

Bidet Styles.

 Many heated toilet seats include bidet capabilities that you may not have considered. Warm water washing, various spray patterns, heated air drying, and eco-friendliness; these toilet fixtures are worth considering.

Nightlight.

Two of the options listed below include a built-in nightlight. No more fumbling about in the dark in search of a toilet. A soft, shining nightlight will aid in your navigation; no more squinting as you turn on the light in the middle of the night!

Requirements for Plug-Ins.

 Many heated toilet seats require an electrical outlet to work. It is feasible to use an extension cord for this, but before ordering, make sure you understand whether it needs to be plugged in and how you will manage that.
Best Heated Toilet Seats You Can Choose From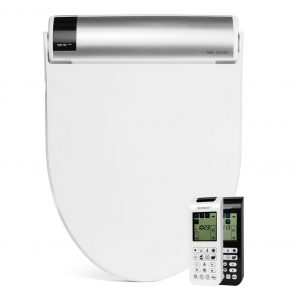 Main Features:
3 IN 1 STAINLESS STEEL NOZZLE – it provides posterior, feminine, and vortex washes and also promotes hygiene.

SMART SEAT-SMART DECISION – this recliner has an easy-to-use heated seat that is comfort-adjustable, as well as a water and slower-closing lid

ECO FRIENDLY- this model has an Energy Save Mode, which decreases the amount of electricity and toilet paper used

FEEL THE DIFFERENCE – enhanced with oscillating wide-clean bubble infusion message technology 

HYBRID HEATING TECHNOLOGY – delivers constant warm water during your time at the toilet
What's To Like: 
heated seat settings with heat-adjustment

the lidded cap closes slowly

wash nozzles in the posterior and feminine areas

Allows direct, rapid drying
The benefits of having a bidet toilet seat compared to having a heated toilet seat are certain, without question.
While switching out one version of an item for another, we're great fans of considering all the possibilities.
Additionally, we wanted to showcase the various options for toilet seat replacement if you're thinking about switching seats.
To ensure there is no slamming when using the toilet, this bidet toilet seat has an adjustable heat setting and a delayed closure lid.
Along with warm water, front and rear wash nozzles are included. Following that is a dryer.
The reward is well worth it.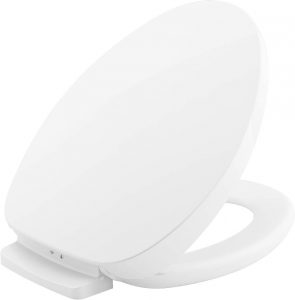 Main Features:
There are three temperature settings: low, medium, and high on a heated toilet seat.

Dual-LED lighting gives helpful illumination when the lid is down and task-specific illumination when the lid is up.

When you set the nightlight manually, you can choose between two color schemes and two brightness levels.

The hidden cord gives the appearance of a cleaner design.

Tight-Seal lid softly and silently shuts without a loud thud

The Quick-Release Hinges feature allows the seat to be detached from the toilet for easy cleaning and replacement.
What's To Like: 
heated loungers

customizable night light with three settings

a tight-fitting cover

leak-proof and easily cleaned
The unique modern design that sets this heated toilet seat apart from other toilet seats is sleek appearance.
This design will also make it easy to incorporate into the newest bathroom renovation, which will supply a nice sense of warmth and comfort in the process.
The seat can work optimally in all seasons thanks to three heat settings that may be adjusted.
It should be set to low throughout the summer months and then gradually increased when the fall and winter months approach.
It has three lighting modes; the nightlight illuminates your path and won't leave you in the dark.
Game-changer hinges in toilets are offered as a quick-release mechanism.
It is much easier to keep your house tidy when there are no crannies and nooks to clean.
Just peel it off and wipe the underneath!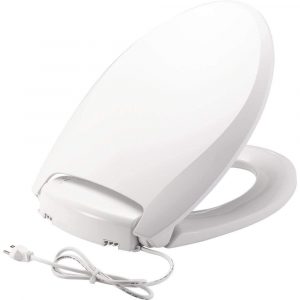 Main Features:
3 different settings.

 a warming seat with 3 temperature settings for different levels of comfort

SOFT LED LIGHT:

 A built-in blue LED night light that makes the bathroom feel more welcoming by lighting it with a soft, comforting glow

No slamming

. The seat closes gently and silently with a tap to protect people from getting fingers pinched.

Enough of the wiggling!

 If your Seat is bolted down with the STA-TITE fastening System, it will never come loose.

Installs with a simple snap.

 With a simple wrench, you can install the STA-TITE Seat Fastening System.

LESS DANGEROUS:

 Super Grip Bumpers keep the toilet seat from moving.
What's To Like:
3 Temperature Settings

Soft Close Lid

Night Light

Stability Grips
New to the heated toilet seat market, this heated toilet seat provides even another wonderful option.
You'll find three options for the temperature, all of which are geared toward helping you withstand extreme winter conditions.
While the nightlight and soft-close lid make it easier to use the bathroom in the middle of the night, they also enable stealth movement from one location to another.
The stability grips are also included on this toilet seat.
There is no more slipping and sliding when you are seated on the toilet.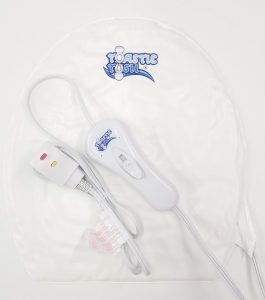 Main Features: 
A special heating pad

 is attached to the underside of the existing toilet seat lid, which is easier and more convenient to use.

When the lid is closed

, it transfers warmth to the seat (you do not sit on the pad).

Safe:

 Is UL & CSA approved. Is equipped with a GFCI plug and an 8-foot wire.

Extremely easy to clean

 Dry plastic.

Three distinct temperature settings

.
What's To Like:
Modern design

No need to change the existing toilet seat

Three temperature options

Convenient to clean
The toilet seat heater is the best feature of this device because it is compatible with any toilet which does not require you to replace your old toilet seat anymore – what a steal!
The heating pad is also stuck to the underside of the toilet seat lid using the included strips of velcro.
While its heating pad is in touch with the toilet seat, it is also kept heated by the cover while it's closed.
Additionally, this heated toilet seat has three temperature options like other heated toilet seat alternatives.
That's why it is important to bear in mind that the heating pad is placed on the bottom of the lid, which will cause it to heat your back as you sit.
While it gets quite warm on the front of the seat when the temperature is cranked up, some customers have claimed that the hottest setting is still slightly uncomfortable on the behind.
For some reason, the sweet spot seems to be around the middle setting.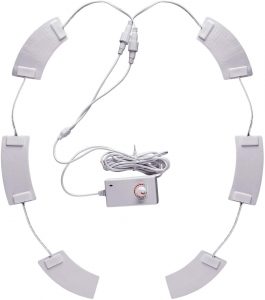 Main Features: 
Beneficial heating effec

t — You can control the temperature you are most comfortable with

High efficiency:

 heated quickly and evenly The entire toilet lid is powered, and then it may be swiftly heated and adjusted to your preferred temperature.

Safe and reliable power

 with low power consumption, low voltage, and waterproof design, no risk of getting electrocuted in the shower.

THE INSTALLATION IS EASY
What's To Like:
Can be placed on an existing toilet seat

Affordable toilet seat heating option

Numerous heat settings
When speaking frankly, I'm not convinced about the design of this heating a toilet seat method.
It might seem a bit basic to put heating pads under the toilet seat.
The point is, it works!
The heating pads function just as they should, and the complete range of temperature settings is possible via manual control.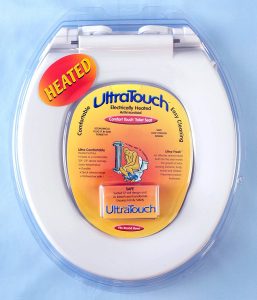 Main Features: 
Has a 

strong and long-lasting makeup

Comes with a

 patent-pending seating surface

 with ultra-comfortable padding

Economic

: It uses 12 watts of electricity, which is less than the typical office uses. One lightbulb's power is equal to only one-fifth the power of a 60-watt lightbulb.

Family safety is assured

 with the sealed 12-volt construction and UL-approved transformer.

An 

antimicrobial agent is built-in
What's To Like:
Convenient, secure design

Low power usage

Comfortable layout
This choice would be one of everyone's favorite since it's basic, but it gets the job done.
It's a great warm toilet seat to help on those cold winter nights when you don't want to sit on the toilet.
All you have to do is plug it in (if necessary, use an extension cord) and let it heat the seat up to a pleasant temperature.
Comfort design is never simpler.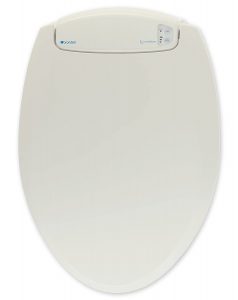 Main Features: 
PROFICIENT AND WARM: 

Bid goodbye to a frigid toilet seat, and give yourself a favor by investing in a seat that's pleasant and warm. The LumaWarm features four different heat settings, which means you can use it year-round.

This bathroom 

nightlight casts a soothing blue glow

 to light your way when you go on your midnight bathroom excursion.

Easy to close seat and lid,

 have an ergonomic seat, and provide intuitive controls

FAST AND EASY INSTALLATION:

 Just replace your toilet seat with the LumaWarm, and you're ready to go. You don't need a plumber or any tools.
What's To Like:
Four temperature options

Slow close lid

Nightlight

Fast heating
The LumaWarm offers four temperature settings so that everyone in your family can have their ideal heat setting.
Low to "high" ranges from allowing you to ignore the heat to wrapping you in a cocoon of warmth on the coldest of days.
While it may not seem like a big deal, the toilet seat can be left on to heat up quickly, or it can be switched on to be ready just before use to save energy.
To be honest, the most important thing about the seat heater is the fact that it has a nightlight, although the nightlight is really useful too.
This soothing blue glow in the middle of the night will help you find your way without turning on a bright light.
This is similar to you hardly ever needing to get up at night anymore.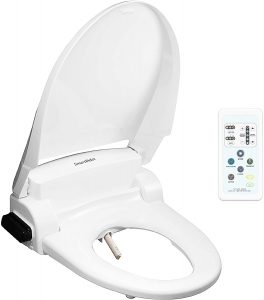 Main Features: 
Sturdy backrests

 and water for the comfort of the rider.

Elegant and lightweight design.

The 

child wash option

 is available.

The 

availability of multiple water pressure

 and spray pattern settings

The 

Control Panel

 is conveniently attached.
What's To Like:
Warmed seat

Heated water with a variety of spray patterns

Heated air dryer

Control panel
You can also upgrade to a heated toilet seat if you're planning to replace your toilet seat. Leveling up means getting a bidet.
We were able to put the SmartBidet on our list of the best electric bidet toilet seats since it is the same price as its competitors.
These bidet features—the heated water spray, adjustable water pressure, adjustable water direction (front and rear), a child wash setting, and a soft closing seat—set this product apart from other heated toilet seats.
When it comes to heated toilet seats, it is clearly the King of Kings.
Reasons Why You Should Invest In Heated Toilet Seat
Have worry-free chill winter nights!

 You're certainly right to underline how significant it is to have a warm toilet seat in the wintertime. Comfortable, warm, and appealing toilet seats lure you out of bed, and before you are fully awake, you are already back in your bed.

Suffer no more and relieve your arthritis pains.

 Stiffness and discomfort caused by the cold may accompany arthritic hips when sitting on a chilly toilet seat. That stiffness may be relieved if you have a place to sit where you can get warm. This may help you get up and continue with your day.

Save money on your heating bill.

 Toilet seats that are preheated can help lower the temperature of the bathroom, reducing your heating costs. Toasty toilet seats help people keep their basements and garages heated even when the rest of the house is not.
Frequently Asked Questions
Should there be an electrical outlet near the toilet seat? 
To be honest, having an electrical outlet located near the toilet can be beneficial for comfort and convenience.
However, you can also go around by plugging your in electric heated toilet seat with a small extension cord than having an actual electrical outlet nearby.
Are heated toilet seats worth the money? 
Yes, they are. Compared to any other quality toilet seat, a decent quality heated toilet seat, like the Kohler one, is not that pricey which means you don't really have to spend a lot for this add-on.
Also, heated toilet seats are worthwhile if you're looking to make a move.
But think first about whether you would appreciate a heated toilet seat during the winter months or not before investing in one.
If your toilet is circular or elongated, how do you know?
Getting the properly shaped toilet seat positioned appropriately is necessary in order to get it to fit your toilet just right. It's quite simple.
Check the length of the toilet bowl from the center of the toilet seat bolt holes located on the back of the toilet, to the front edge of the toilet bowl.
The toilet bowls are generally between 16.5 and 17 inches in diameter.
Toilet bowls are around 18.5 inches long.
It is as basic as that.
How much electricity does a heated toilet seat use?
Generally speaking, heated toilet seats don't use much energy.
However, bidet models consume more electricity than simpler heated toilet seats.
Should I buy a heated toilet seat with an adjustable temperature option? 
Honestly, this factor depends on where you reside.
If you live in an area with moderate temperature throughout the year, this may not be a must for you.
For moderate temperatures throughout the year, you should use a single heat setting.
Leave it alone and it will remain that way.
Adjustable heat settings work best when the winter and summer temperatures are reasonable.
You can adjust the temperature setting to be warmer in the winter and then decrease it as the weather warms up.