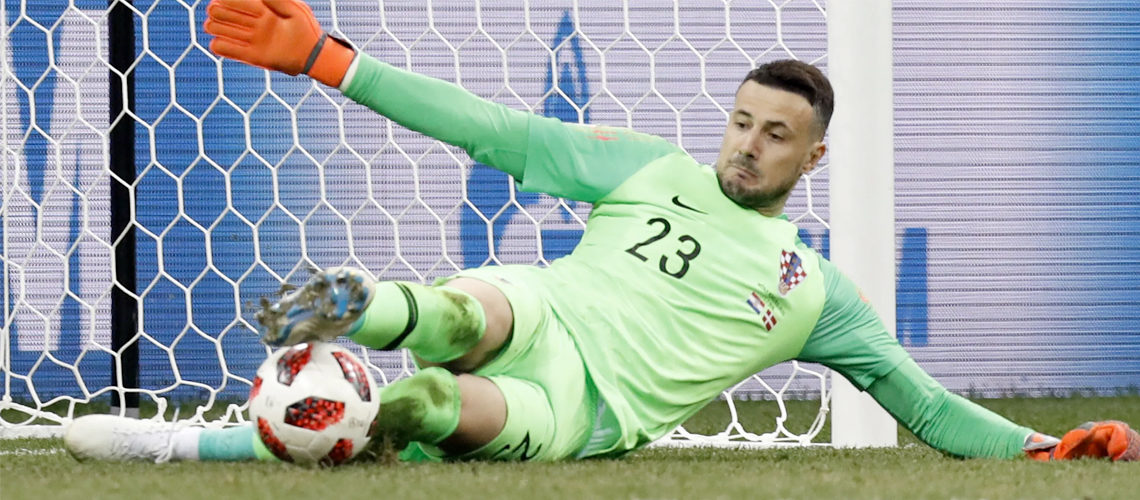 Goalies in soccer have a lot of pressure on them. Every position is important, but the goalie is the last line of defense. The goalie isn't going to be putting up any points on the board, but they're responsible for keeping the opponents points off the scoreboard. 
The goalie is also like the general, leading the team, keeping them motivated. A bad goal slipping through can quickly deflate a team, and a huge save can cause everyone else to step it up and take it to another level.
The major distinction is that the goalie is allowed to use their hands, while no other player can, but we're not here to teach basic rules of soccer, we're here to tell you about the best soccer goalie gloves on the market, to help you make more saves, and feel more comfortable while doing it.
Beyond just keeping the ball out of the net, a good pair of goalie gloves will also offer protection, and some added benefits, too. Let's check out the best options, what makes them unique, and who each glove is best for. Which gloves are best for you? Let's find out…
Here's 2023's Best Soccer Goalie Gloves with Finger Protection:
1. ExoShield Gladiator Pro 2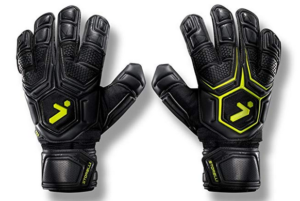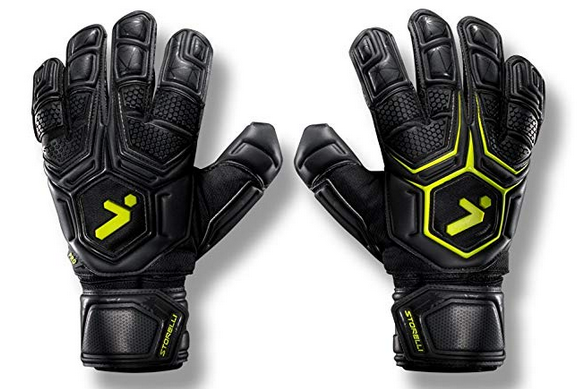 These gloves are made by the brand Storelli. They come in two different versions. One version has removable finger saves, and the other version does not. These are fantastic goalkeeper gloves, and you're about to understand why… but to truly understand why, you need to try on a pair for yourself, so hopefully you'll have the opportunity to do that someday soon. 
These gloves are on-par with professional gloves, so they're for players who are competitive and happy to invest in their efforts. The way they're designed gives you tons of padding and protection, but also incredible grip. The grip is made from German latex, and the rest of the gloves are made from a combination of polyester and spandex, and nylon.
When you're playing at a higher level, your opponents are going to be able to kick a lot harder, so you need great reaction time and a glove that can handle the heavy impact of a strong shot. These gloves fit the bill. Despite the protection they offer, these gloves don't feel very heavy when you're wearing them, so you still have all of your speed and control.
Key Features:
Very well-made to professional soccer player standards

Still accessible enough for any serious player to use, not just pros

They have a more muted design than most gloves

Our easy choice as the best goalkeeper gloves for soccer
Buy Here
2. Ace Trans Fingersave Pro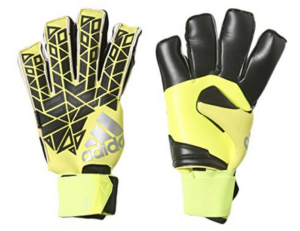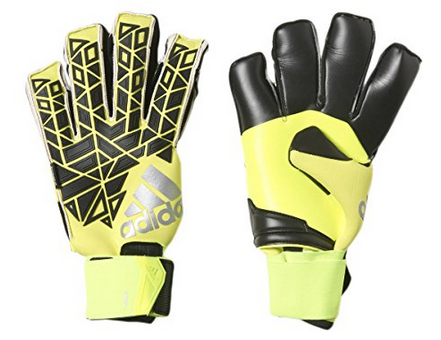 Adidas is synonymous with soccer, and so it shouldn't come as a big surprise to see them occupying a spot near the top. When it comes to sports equipment, Adidas definitely has different tiers. They have some pretty standard, generic, or even cheap stuff that's not great – and in some cases it's actually overpriced since you're just paying for their brand to be slapped on some so-so equipment. But in other cases, in the higher-end of the spectrum, Adidas makes some great gear, and these gloves definitely fall into this second category. 
These gloves take advantage of a lot of Adidas research and development, including their Evo Zone Technology which was created to help you keep control when you're trying to catch the ball. 
They come in a yellow and black color scheme, and are definitely up to pro standards. These are considering among the higher tier of Adidas offerings, but also for soccer goalie gloves in general. 
When it comes to protection, the finger-saves work great, so these gloves can help you or the soccer player in your life to avoid injuries. Nothing's going to put a damper on your season and slow down your progress compared to your peers like an untimely injury, so small and avoidable finger injuries are so frustrating! Gloves like these give you better protection than certain other unnamed brands (that aren't featured on this list, of course). 
Key Features
Special Adidas technology helps you catch rogue shots

Finger-save works great, offers the protection you need

It fits closely and snug, but is still cut ion a way that gives you plenty of opportunity to make contact with the ball
Buy Here
3. Under Armour Desafio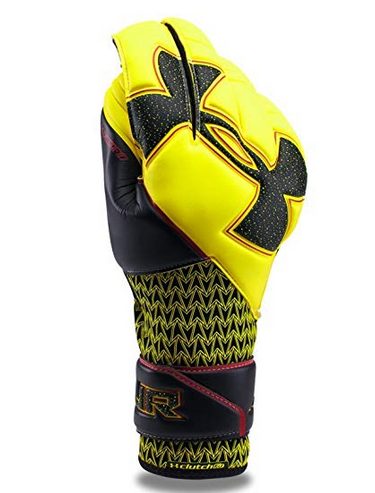 It's remarkable how many sports that Under Armour has managed to creep into. By offering quality products that are designed with athletes in mind, and delivering great value each time, it's no surprise that so many people are loyal to this brand, from shoes, to clothing, to protective gear, all the way to the gloves on their hands.
These gloves come in a high-visibility yellow color, and a more muted teal. Both look great, and have the UA logo displayed largely on the reverse of the palms. The palms themselves have ample padding to protect your hands from real heater shots, so even on a deep subconscious level, your brain won't hesitate for a split second to get in front of the ball and make a huge save.
The trademarked Internal Armour feature is an extra "spine" of sorts, extra reinforcement in the skeleton of the glove, to give you added stability to help block shots without hurting your hands. The wrist locking mechanism is called ClutchFit, and it means the sleeve of these gloves will actually mold to your wrist's shape after you strap them on, giving you a ton of extra stability, comfort, and control – three things every goalie needs to hit peak performance.
Key Features
A modern glove with some high-tech benefits like ClutchFit and Internal Armour

The strapping systems gives added support to your wrists and your thumbs

There's 4mm of amazing quality padding that performs like it's much thicker than that

Despite all of this, they're still lightweight and easy to maneuver in 
Buy Here
4. Renegade GK Fury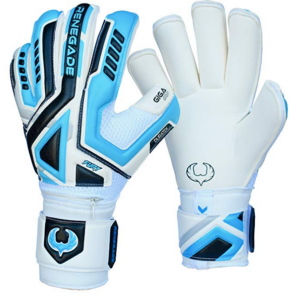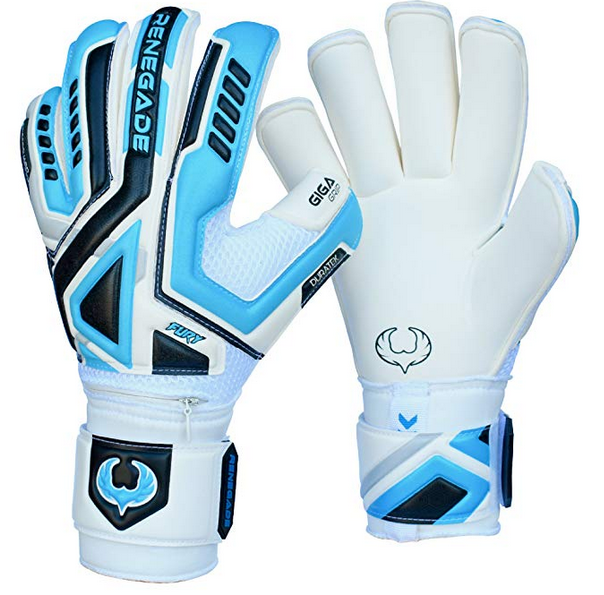 The final two pairs of gloves for goalies that we're looking at are more on the affordable side, since not everyone can spend a lot on their goaltender gloves – and that's alright, you can still get a great pair at a lower price. You may not get all of the latest fancy technology and a huge brand name on it, it may not be made with the latest textiles, but at the end of the day – these last two gloves are still going to do what they're meant to do, which is to help you protect the net at all costs.
These gloves offer excellent safety and protection for the goalkeeper, with removable finger-saves that can't bend backwards. The palms have excellent latex for impact protection, same goes for the backhand. The wrist strap is also very strong and sturdy, which keeps these gloves in place and further helps prevent injuries.
These gloves are all about value, coming in at a very fair price, while still meeting the high standards of people who have been playing the game for their entire lives, or absolute beginners who are stepping into the crease for the first time. 
Renegade GK strongly encourages you to reach out if you have any problems, they have a 100% satisfaction guarantee and they take it very seriously.
Key Features
A perfect mid-tier option that honestly comes pretty close to the pro-grade gloves in many categories

Well-made, built to last

Amazing value for the price, even compared to more expensive gloves

Unique finger save technology won't bend backwards
Buy Here
5. Blok-IT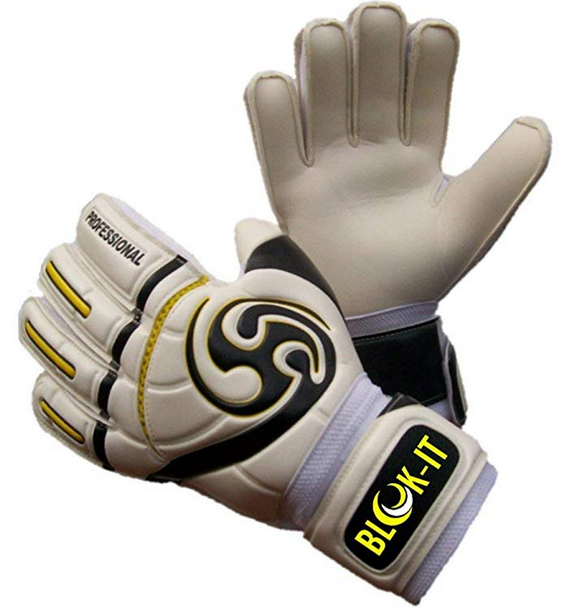 Let's wrap this up with a very capable pair of gloves that are also the least expensive option on this list. These are for people who obviously want a great pair of gloves, but don't want to spend a fortune, and don't need the absolute latest, greatest, or best. If you fall into the "good enough is good enough" category, you'll be pleased to know that these gloves far exceed "good enough", without a big price tag – perfect! 
The Blok-IT goalkeeper gloves come in 5 different colors and a handful of sizes. They have great padding, excellent wrist-support with a strong strap. 
These obviously don't feel as perfect as the higher ranked gloves that cost several times more, but they're still a lot better than most gloves on the market. You can tell a lot of thought went into these, including how to keep the price low while still delivering a very capable pair of soccer goalie gloves.
They don't have the same advanced grip technology as some, but you'll still probably be surprised how decent these are. If nothing else, it's not a bad idea to grab them to have around as a backup/spare pair, or something to use during practices if you want to keep your best gloves clean and nice for games.
Key Features
Extremely affordable, but still pretty decent quality with some important features

Safety and protection to help avoid injuries

Secure wrist-strap keeps them in place

Tons of padding

A no-frills option that will exceed your expectations
Buy Here