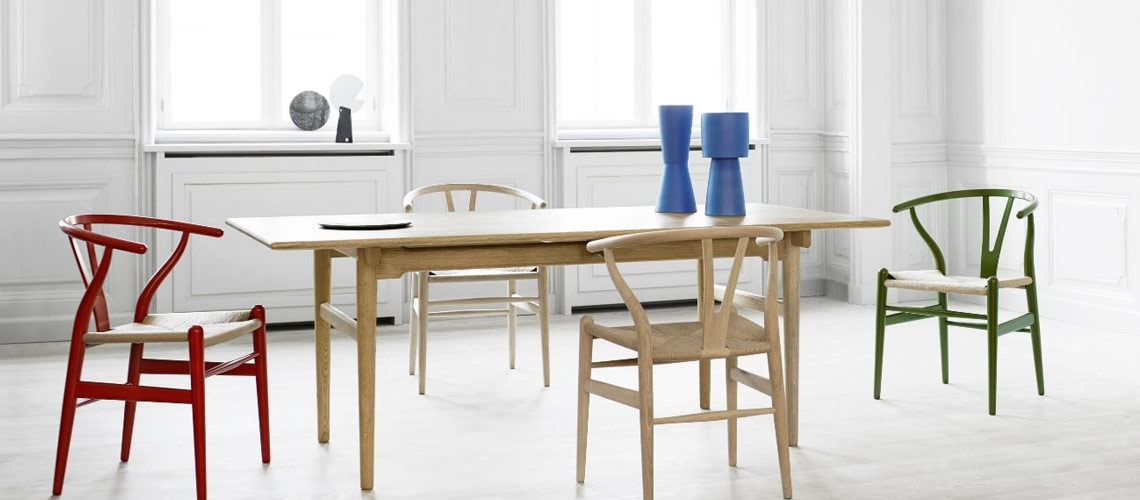 Danish designer Hans Wegner first introduced the beloved Wishbone Chair in 1949 in collaboration with Carl Hansen.
Hans Wegner was a world-renowned Danish furniture designer who designed and produced high quality and thoughtful work.
He was one of the major contributors to what we now call "Danish Design."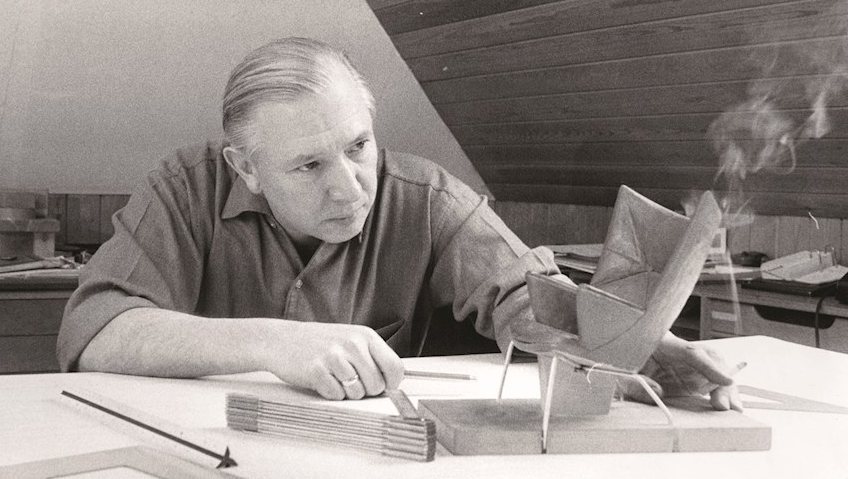 His style is often described as Organic and Functional, a modernist.
Though he started his career as a cabinet maker, in his lifetime he designed over 500 different chairs, 100 of which were put into mass production, including the Wishbone chair.
Comprising a steam-bent solid wood frame and a seat handwoven from paper cord, the sculptural Wishbone is made to last for generations and offers outstanding sitting comfort, with or without this optional leather seat cushion.
This chair quickly became Wegner's best selling piece and still remains just as popular to this day.
The natural tones and curves of this chair has made it an easy item to decorate with and a timeless classic.
The constant demand for this chair has kept it in production since its original release in 1949.
An authentic Wishbown Chair will cost you anywhere from $655 – $1,205 but there are some really great reproductions out there nowadays for those that can't or don't want to spend $655+ for one chair.
Some things to look for when choosing a reproduction of the wishbone chair are the beech wood and the weaved seating.
You want to choose chairs that are made out of solid wood and a strong weave so that they last you a long time.
Here are the Best Wishbone Chair Reproductions on the Market for 2023:
Amazon Brand – Stone & Beam Wishbone Chair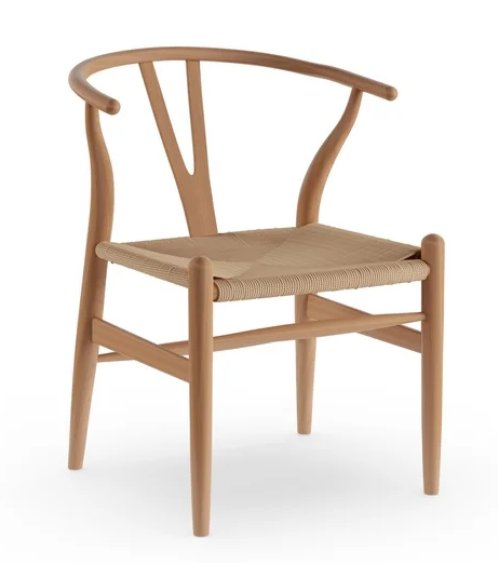 This reproduction caught our attention because of it's numerous positive reviews.
Reviewers boast about the solid wood frame, close match to the original, and amazing price of $251 for TWO chairs.
We would rate this our Best Overall Value because it is not only priced fairly, but the quality exceeds the price tag.
Even better, it can be found on Overstock.com with free shipping!
*Note that this chair only comes in the natural color pictured here. If you want different color options, read our next top picks.
Key Features:
Consumer popular choice
No assembly required
Made of beech wood and hemp
Natural finish
Sturdy hemp seat
200 pound weight capacity
Price:
$251 for TWO Chairs
Buy Here:
Hans Wegner Wishbone Style Woven Seat Chair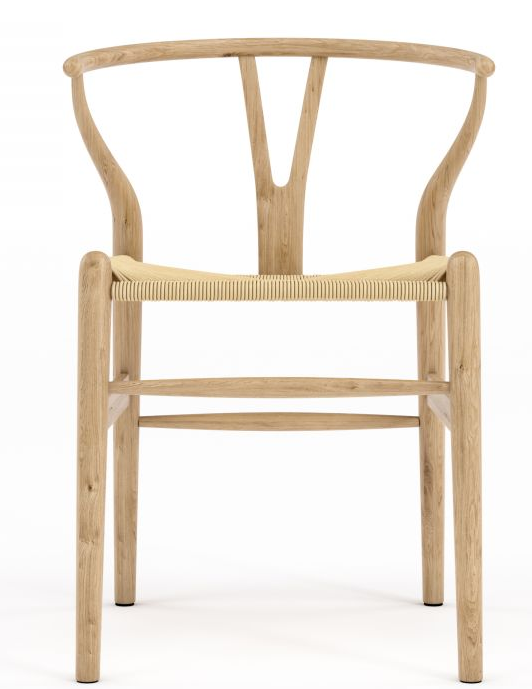 Another great reproduction, this wishbone chair is moderately priced but gives you the option to return in-store if you are not pleased with your online purchase.
This chair is great quality and gives you the replica wishbone chair you are looking for.
Key Features:
Solid Wood Frame
Woven cord seating surface
2 year warranty available
No assembly required
Price:
$229/chair
Buy Here:
Poly and Bark Weave Chair in Natural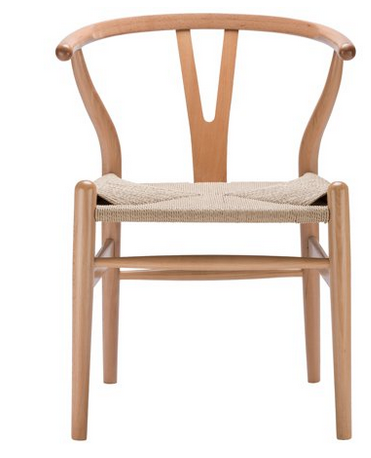 Another great option is the Poly and Bark Weave Chair in Natural and this is for the "weary" buyer.
This chair doesn't have a lot of reviews and is fairly new on the market but it comes from WalMart which means if you aren't satisfied or you don't like how it fits your space, you can easily return it to any WalMart location.
If you have been eyeballing this chair but aren't 100% sure, this is a risk free way to "try it before you buy it."
If you don't like it, you can forgo the shipping hassles and return in store.
The reviews are positive and we are convinced this chair will be a great option.
Key Features:
Solid Wood Frame
Rope Woven Seat
Arrives Fully Assembled
Price:
$132.99/chair
Buy Here:
Modway Amish Dining Wood Armchair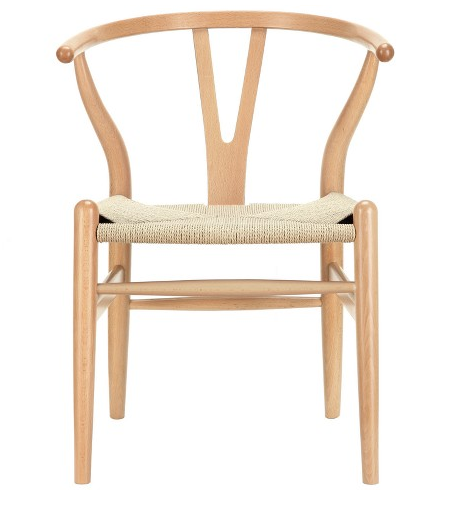 Another notable reproduction is the Modway Amish Natural Dining Wood Armchair.
Modway has many great reproductions of furniture from this specific era and they are known for great quality and customer service.
This reproduction also makes the list for all of our eco-friendly consumers.
It comes in a variety of color options and is made of solid beech wood. If you are conscious about where and how items are made, then this is a great option for you at still, a reasonable price.
Key Features:
Four color options: natural, walnut, black, and white
Durable paper rope seat
Solid beech wood frame
Fully assembled
Eco-friendly
Price:
$145/chair
Buy Here:
Amazon Wishbone Chair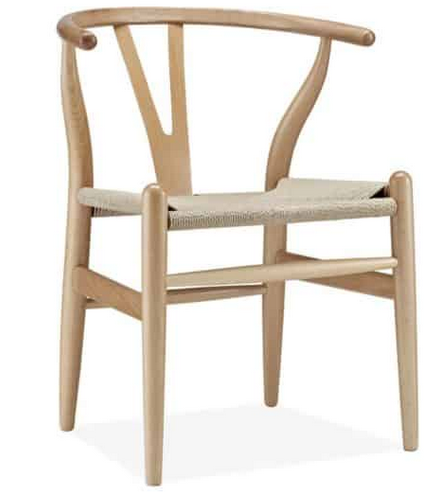 This set of four Amazon Wishbone Chair reproduction is a value buy but still has great reviews from happy consumers.
With 4 colors combinations to choose from and free shipping, you can get a set of for at $125 a piece.
The chair is made of solid wood and 100% natural paper cord for the seating.
Key Features:
100% natural paper cord for seating
Real Wood frame
Multiple colors to choose from
Inspired by Hans Wegner
Handmade premium quality
Arrives fully assembled
Price:
$499 for Four Seats
Buy Here:
Conclusion
The Wishbone Chair is perhaps Wegner's most celebrated work.
The design became a near-instant success and while Wegner would go on to create many more classic pieces, the Wishbone Chair remains his most recognizable.
The chair is an icon of the high quality craftsmanship, attention to detail and construction, generous proportions, comfort, and textually pleasing materials.
Thanks to the original design and great reproductions, you can now bring this iconic chair into your own home and for a reasonable price!
Any of the above options will provide the sleek and timeless design of the original Wishbone Chair.