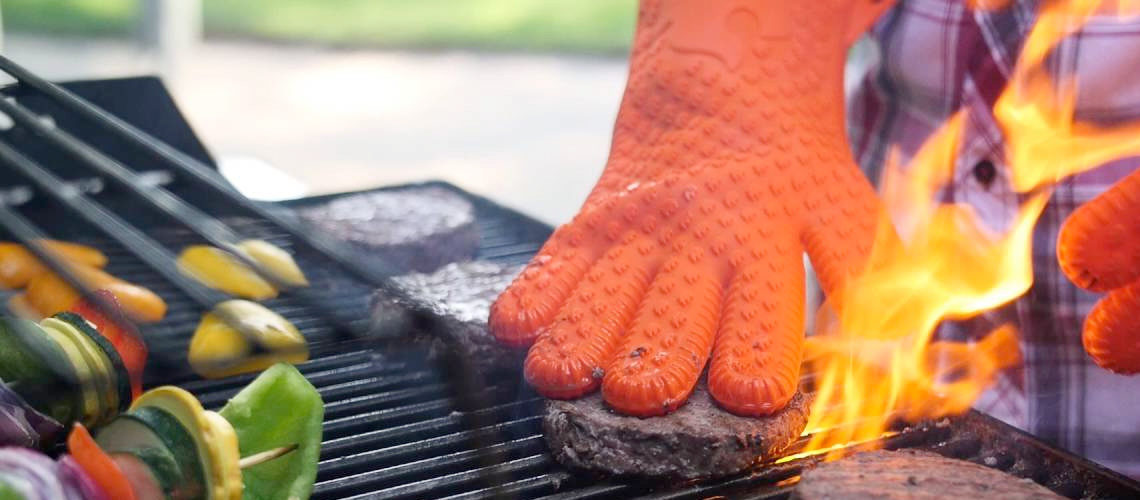 There's nothing like standing in front of the grill and working your magic on a nice summer day. Whether you're using a charcoal grill, propane, natural gas, or even cooking on an open fire… it gets hot. 
If you've ever burnt yourself while holding the lid of a kettle grill, or while trying to empty a chimney into the grill, or any of the other countless ways that people hurt themselves BBQ'ing, then you know how unpleasant it can be and what a damper it can put on an otherwise perfect day.
That's why every serious grill enthusiast needs to own a pair of the best heat resistant BBQ gloves, and we've taken out all the guesswork from choosing the right pair for you. 
Here's the Best Heat Resistant BBQ Gloves on the Market in 2023:
1. Rapicca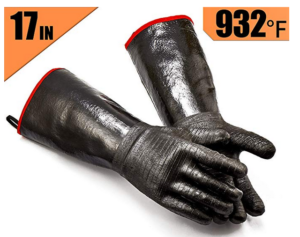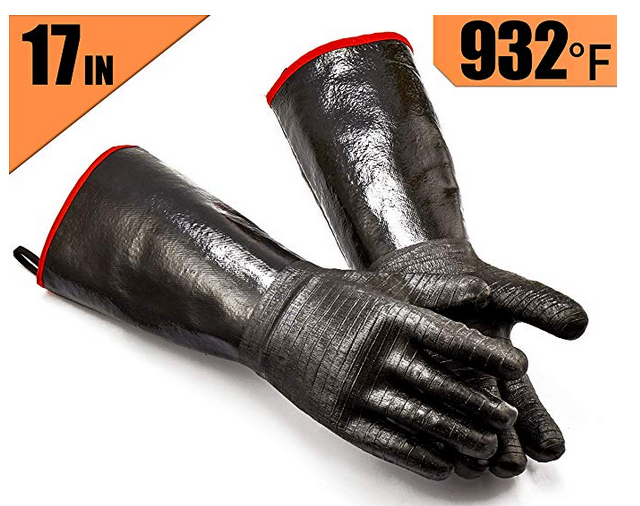 There's a lot to love about these gloves, and some very good reasons that they're at the very top of the list. Even if you're not grilling in a big pit, these still come in very handy. Kettle-grillers will love these because they protect your wrists and arms (They're 17 inches long), and because they're rated for nearly 1000 degrees Fahrenheit (932 degrees, to be precise.) 
The long sleeves are great, but the design of the palms is another great feature that sets these gloves above the rest. The texturing on the palms helps you to keep your grip on whatever you're holding, whether it's a giant brisket or just a simple pair of tongs. 
The five finger design gives you ultimate control over whatever you're cooking. These gloves are flame-resistant, with multiple layers of cotton liner for added comfort. Speaking of comfort, they'll probably feel a bit stiff at first, but don't worry – it doesn't take long to break them in, and for them to loosen up. Using them a couple of times should do the trick. Between wearing them, and some exposure to heat, it won't take long to break them in.
Beyond grilling, these gloves have been used for everything from making yarn, to deep frying turkeys in the backyard, to working in a septic tank, and so much more. Obviously you'd want a second pair if you plan on using them in the tank, though…
Key Features
Very versatile

17 inches long for extra protection

Comfortable inner-lining

Supreme control over your food and your tools

Flame-resistant with FDA-approved neoprene coating
Buy Here
2. Ekogrips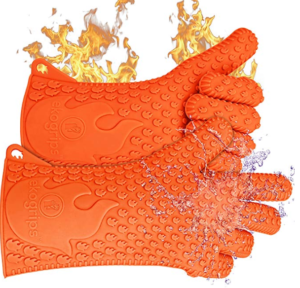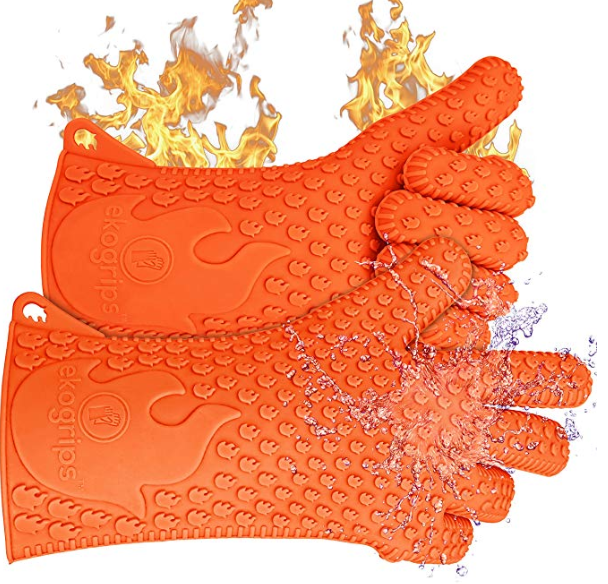 Ekogrips BBQ gloves by Jolly Green Products are different than the other gloves on this list. First of all, they're made from silicone, instead of fabrics and other materials. Silicone is super easy to clean, it won't absorb water, it won't absorb sauces from the meat you're cooking, it won't get stained permanently, it won't rip, it's totally water-proof and smell-proof… all of these are very good traits to have in a BBQ glove!
They're heat resistant up to 425 degrees, so it's worth pointing out that these can't handle quite as hot as some of the other gloves on this list, others can handle twice as hot. For backyard BBQing, taking food out of your over, etc – you'll be fine with 425 degrees, just don't leave your arms sitting on a flame, resting on a log, etc. 
The silicone used in these gloves is safe, BPA-free and FDA approved. There's reinforced finger webbing to keep these gloves in good shape without any rips or tears, there's also elevated grips all over them so you've always got a good handle on whatever you're holding, and if something does happen to them – you don't have to worry – they'll just send you another pair. You don't even need to mail in your first pair, they trust you and want to earn your business. That's always nice to see from a brand, to treat customers like honest people instead of crooks. 
This pair comes in an XXL size, a size that's somewhere in between L and XL, and finally a "one size fits most" size that's the perfect fit for most people. Due to the type of glove, you don't really need something that fits perfectly, it's not like we're talking about the
best driving gloves
here. 
Key Features
Heat resistant up to 425 degrees Fahrenheit

Non-slip pattern gives you excellent grip

The default size fits most hands comfortably

100% waterproof, stain-proof, smell-proof, rip-proof 

Lifetime warranty is hassle-free, just let them know you're having a problem and they'll send you a new pair
Buy Here
3. Grill Heat Aid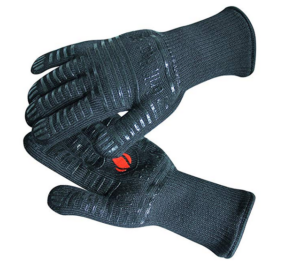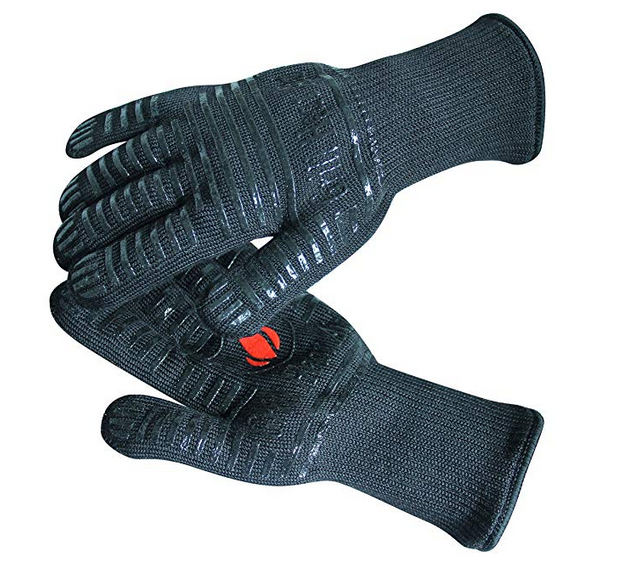 This is a pretty standard pair of BBQ gloves, all things considered, and there's nothing wrong with that. They're on the shorter side, but still offer some protection for your upper wrist along with your whole hands.
These gloves are made with high-quality aramid fabric that's known for its performance and heat resistance. They come in wither "one size fits all" or "small to medium", so if you have smaller hands, stick to the S/M and if you have medium to larger hands, go with the one size fits all and you'll be all set.
A lot of BBQ glove brands have very friendly refund policies and warranties, and these ones follow the trend. If you don't love them, then Grill Heat Aid will give you your money back – easy. These can be used outdoors, obviously, but they're also great to have in the kitchen. They can resist heat up to 932 degrees fahrenheit, so you can basically carry around flaming logs and you're all good (but we don't recommend doing that.) 
Key Features
High-performance gloves with strong heat resistance rating

Excellent grip gives you full control

Simple but slick design doesn't stand out but still looks good

Comfortable and fits most people

Very versatile, many uses around the home and yard
Buy Here
4. BlueFire Pro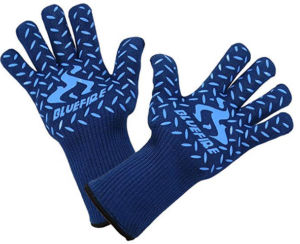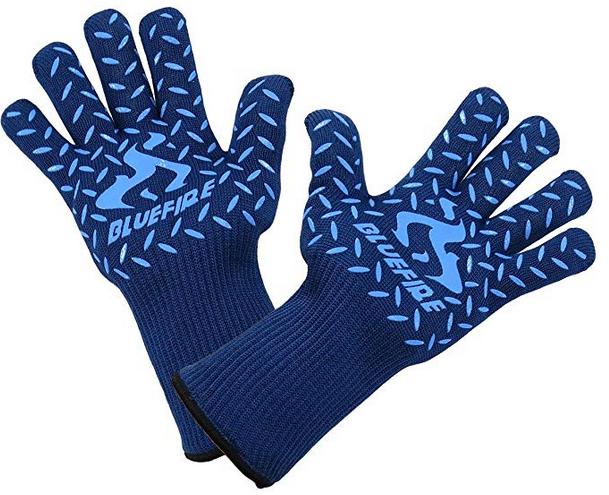 These gloves are yet another pair that are very versatile. People use them with their komodo grills, and even for welding. They offer protection for your hands, wrists, and part of your forearms, which puts them in the upper-echelon of gloves in terms of using them for a lot of different tasks.
A great pair of heat resistant gloves aren't just for BBQing, this is the type of product that you can purchase once and use for lots of things, as long as you pick the right pair. Because of that, it's worth buying a great pair, and these gloves by Bluefire definitely fit the bill. There's a reason they're called Pro.
Not only do they offer fantastic heat resistance up to 932 degrees, they're also cut resistant. They're made using kevlar, aramid, nomex, and silicone. It's a perfect combination for strength, function, and versatility. 
Key Features
These gloves can do a lot of different things, and they do all of them very well

Fantastic silicone grip with forearm protection

Cut-resistant as well as flame resistant
Buy Here
5. Grill Beast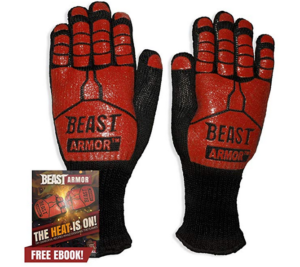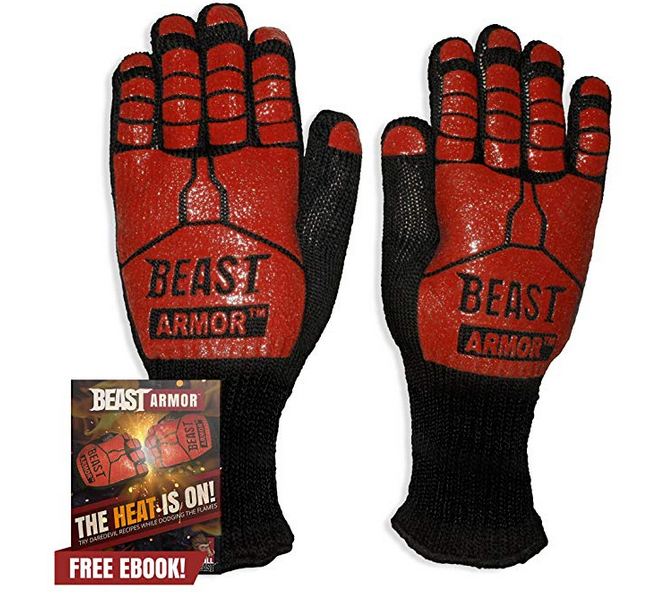 Here's the deal with these Beast Armor gloves from Grill Beast, people either love the style of them, or they hate it. It can seem like a bit of a gimmick at first, but they're actually really good gloves, at a great price, that get a lot of things right. If the in-your-face branding isn't your favorite, they're still worth considering despite that, that's how good they are. 
Two great features are the money back guarantee, and the life time warranty. These gloves cost a fair amount less than many of the other options out there, and they have some nice features and benefits that you won't even find with some of the more costly gloves…
In addition to the warranty and guarantee, these gloves also come with access to an eBook that you can download for free. The book comes with some recipes, some tips on grilling, and more. It's not going to be winning any literary awards, but it's a nice little bonus none the less, you can flip through it on your phone or your kindle while waiting for the grill to warm up. 
These gloves are very heat resistant, so they're great for all types of cooking. They don't have full wrist and forearm protection, but they still offer up more wrist covering than most BBQ gloves do, so that's another huge plus.
Overall, these aren't the greatest gloves in the world, but they're very capable, and they're definitely worth more than they cost – so this is a perfect value option to sneak in at the end of our list. You really aren't missing out on much if you choose these over another pair, even if you run into trouble years from now you're covered with the warranty.
Key Features
Strong rubber grip adds to the overall aesthetic

Can handle extreme levels of heat

One size fits all design

100% money-back guarantee and a lifetime warranty

Free eBook with grilling tips, recipes, and more
Buy Here
Any of the options listed above will work well for protecting you from the heat of barbecuing!
If you aren't sure which one to pick, just remember, all of the listed stores above include free shipping and returns.
If you aren't satisfied just box it back up and ship it back, but we have a feeling you won't need to do that!