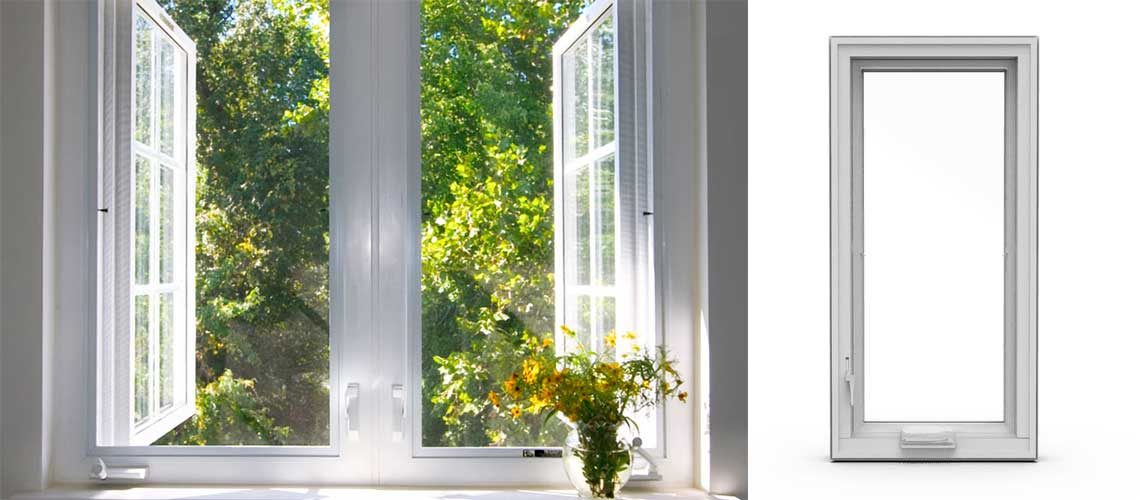 Types of Windows – Here's Every Window Type & Style!
Knowing the different varieties of windows is something to consider if you have an upcoming home build or remodel project in mind.

In this post we are going to discuss 27 types of windows, how they function, and how they are used so that you are prepared to make the right decision.

But first, lets talk about the signs to look for when deciding whether you need to replace a window or not.

When to replace your windows
The seasonal effect of temperature is more significant in the summer, and in the winter, the effects of temperature are balanced.
This scenario could be a sign of condensation, mold, or rot on the surface of your windows.
If your windows constantly have condensation or signs of mold of rot, these are all signs that the windows most likely need to be replaced.
You can identify window rot by simply using a sharp tool to pierce the wood surrounding your window. If the sharp tool esily penetrates the wood, that means the wood is soft and rotting.
It is also essential to replace window panes or casings that have any visible fractures.
Your window seals have failed if you notice condensation on the windows or between the window panes.
And if your windows have ceased functioning correctly, then that is another sign that they need to be replaced.

In the average case, expect to replace your windows every 20 years.
Here is a quick checklist of things to look for when deciding if a window needs to be replaced or not:
Condensation
Presence of mold
Presence of rotting wood
Visible fractures in the wood or cracks in the glass
Windows no longer open or close correctly
Windows are leaking
Window frames are bowing
Here is our Guide to the 27 different Types of Windows:
1. Single Hung Window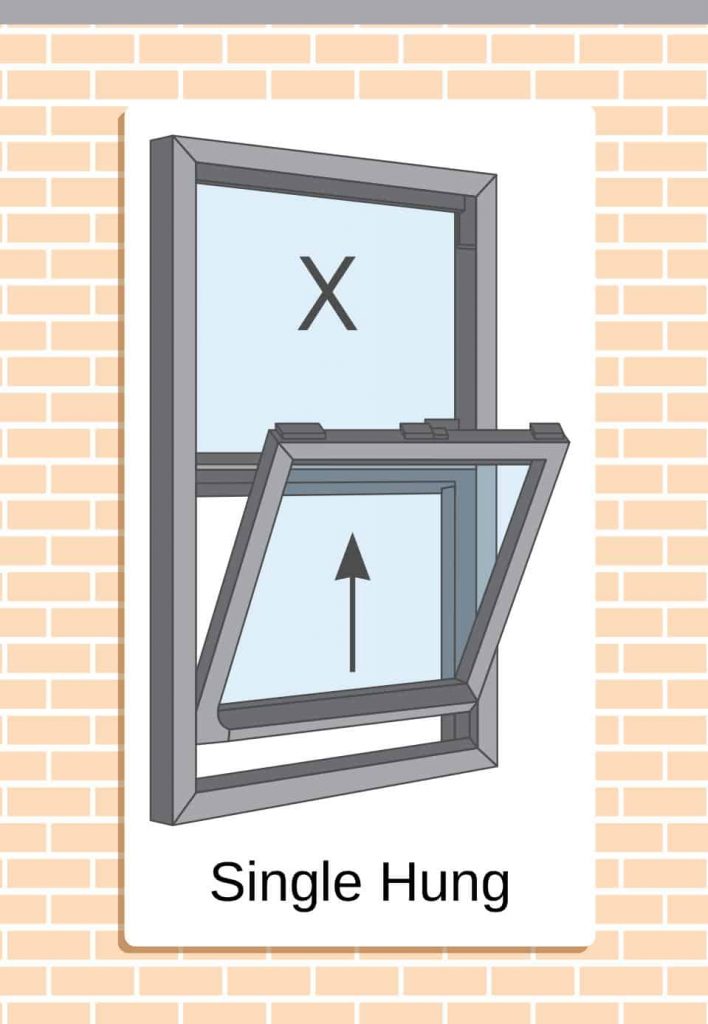 Single-hung windows are a classic and enduring design.
They are activated by adjusting the bottom sash.
Due to the fact that this type of window does not open outward, it is ideal for windows that face pathways, streets, and other narrow spaces.
Pros:
Installation is simple and ideal for small outdoor spaces.


Affordable and easily fits into any home design that is energy efficient (less heat-loss)
​Cons:
Because only the lower stash is functional, this type of window requires external cleaning.

Ventilation may be restricted to a great extent.
Cost range: $100-$250 and greater
2. Double Hung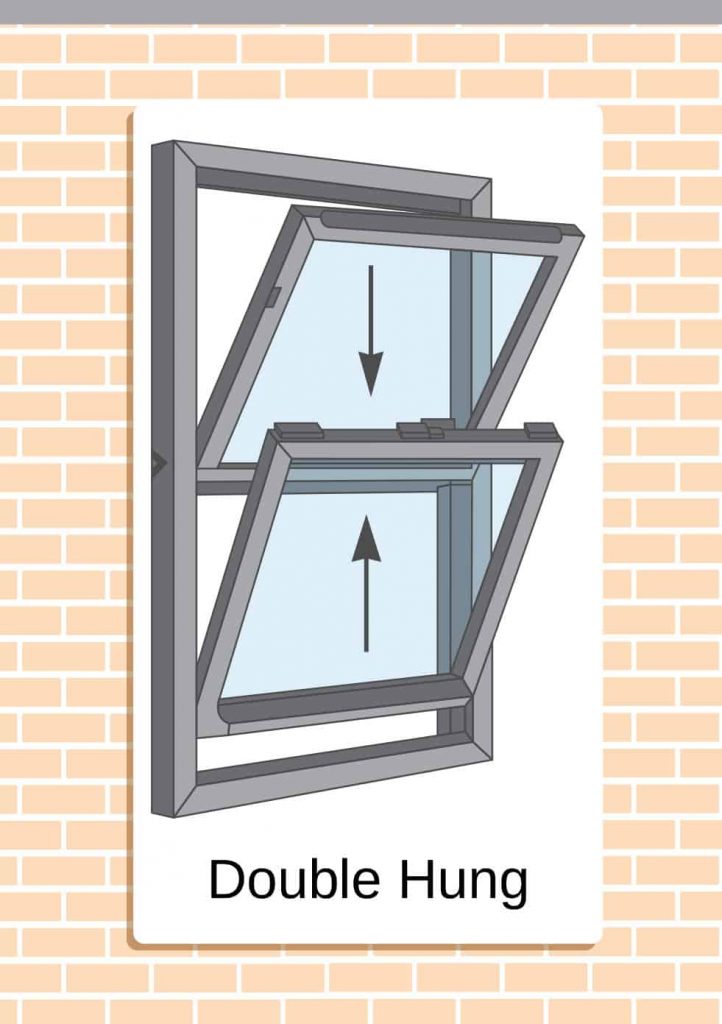 The double-hung window is by far the most common window type in American homes due to its practicality and functionality.
Pros:
You can own an ultra-affordable home that fits almost any architectural style.

The upper and lower cache chambers are accessed via movable slats, which allows for ventilation.

It is also ideal for narrow spaces in outdoor areas.

Affordable.

Energy-efficient
Cons:
Inadequate ventilation

Certain types of windows have a lower level of airtightness than others on the market.
Cost range: between $200 and $350
3. Oriel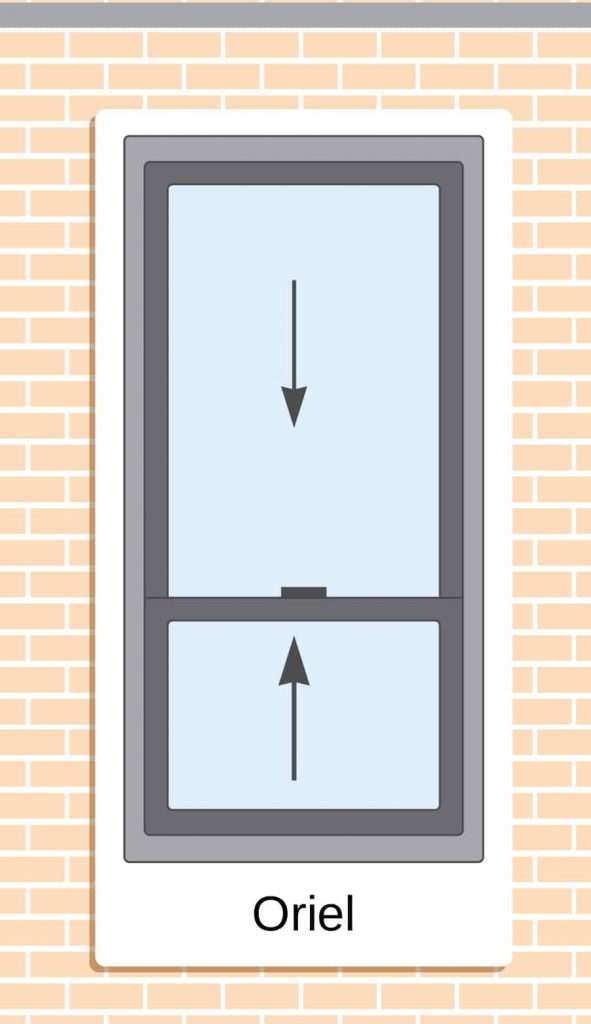 The oriel is a style of bay window that is frequently used on upper floors/stories and is supported by brackets, corbels, or similar elements.
This type of window style increases the exterior area of the room.
Pros:
Elegance and ornamentation are emphasized.

It increases the amount of natural light in the room.

It provides a 360-degree panorama of the exterior.

As with all other bay window styles, it increases the amount of space in a room.

It enhances the appearance of your residence.
Cons:
It is not recommended for those who dislike the "additional sunlight" in their rooms.

Window decorations must be customized, which means they are expensive.

Treatments for the windows can be costly.

It is possible to incur expenses.
Cost range: $1000 and go up from there.
4. Cottage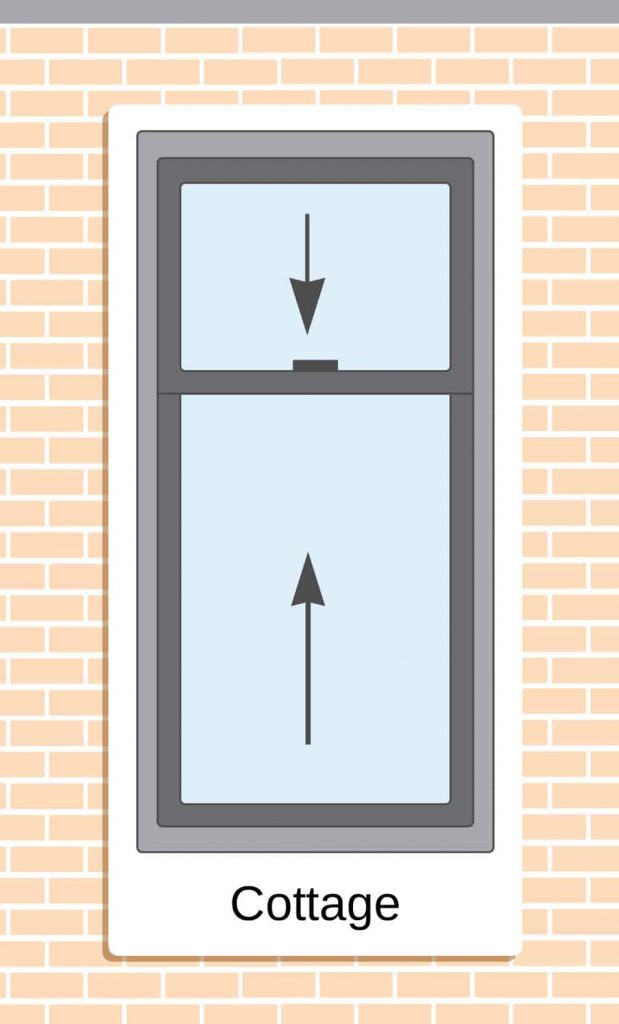 A cottage window's lower (batter) pane is shorter than the upper (batter) pane.
Front window type is another way to describe it.
The other windows are virtually identical, except for their size, as far as features and characteristics are concerned.
The style is referred to as "Georgian" or "Tudor."
Pros:
This typeface features a classic design that will not date.

Affordable.

Low-maintenance.

Energy-saving.

It can be modified to fit various home designs and makes a great complement to the traditional look.
Cons:
Since the upper portion of the window is smaller, this type of window is trickier to keep clean than a double-hung window.
Cost range: $400 or more.
5. Two-Panel Slider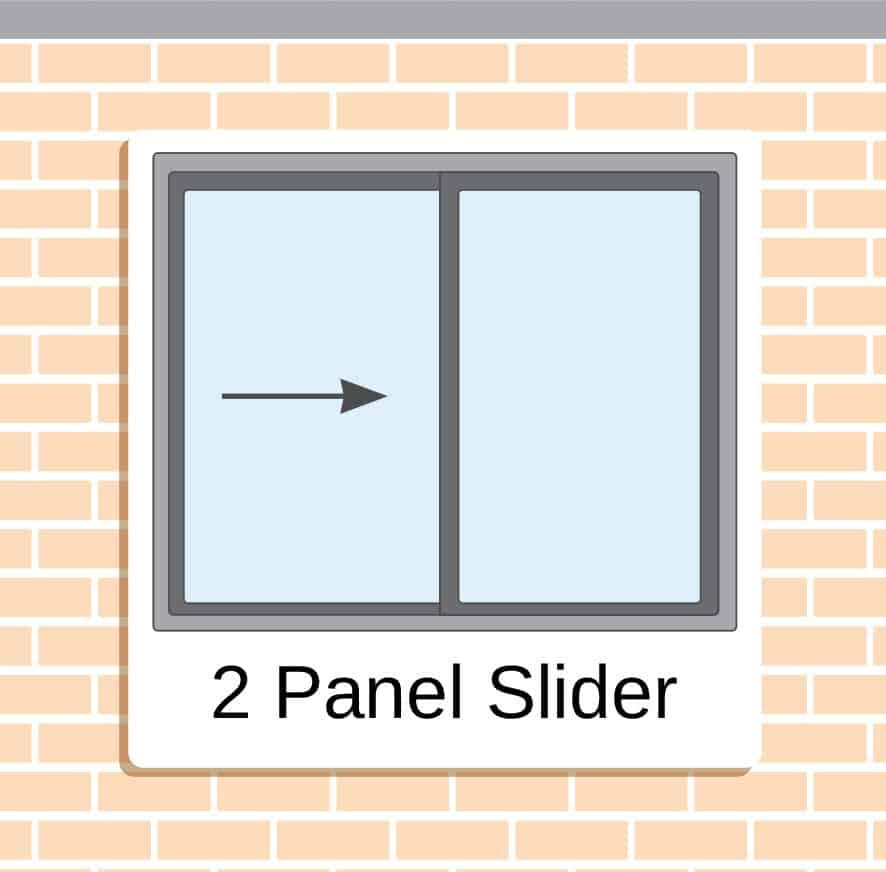 In general, sliding windows can be divided into two panels.
This device features two panels to provide room ventilation: one that slides left and one that slides right.
Pros:
Affordable.

This plugin is straightforward to use.

Low-maintenance.

It was constructed to withstand the rigors of narrow exterior areas.

It combines traditional and contemporary architectural styles

Energy-efficient.

Durable and long-lasting.
Cons:
Cleaning the exterior of these windows is challenging because they do not swivel in or out.
Cost range: Between $250 and $300
6. Three-Panel Slider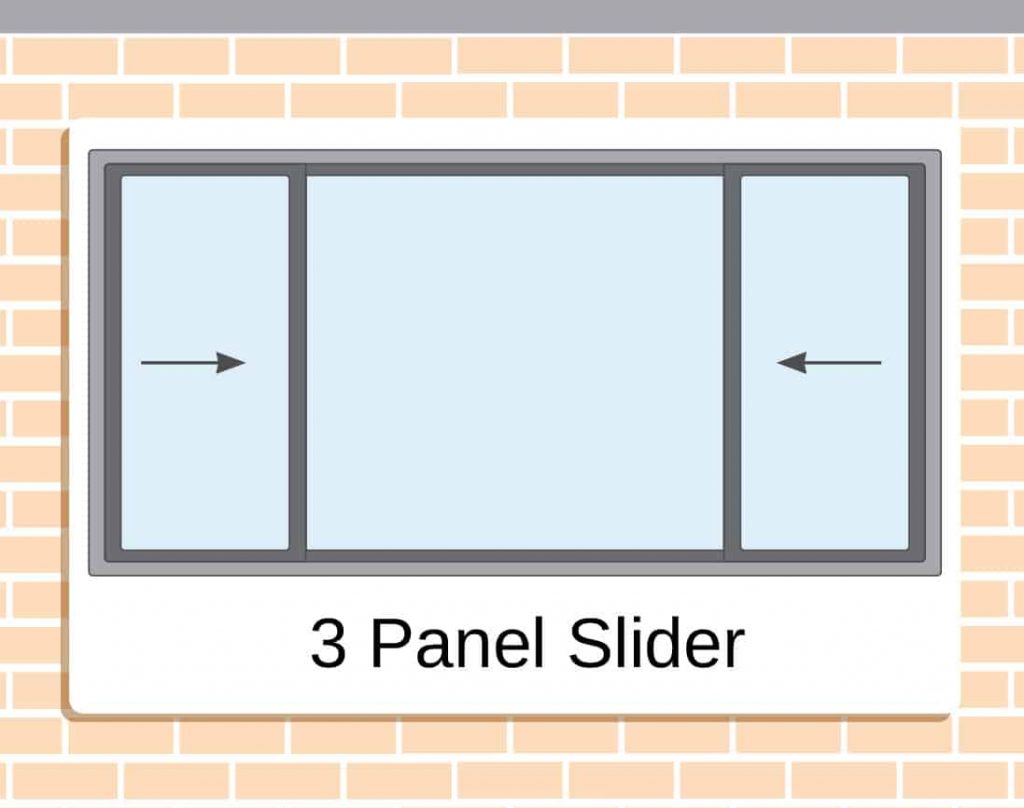 Because this sliding window is more comprehensive than a 2-panel slider, it allows you to get a panoramic view of the scenery beyond the sliding window.
One of the three side panels on the three-panel slider is fixed, while the other two are adjustable to move from side to side.
Pros and Cons:
When you look at everything from the perspective of the larger working space, the 2-panel slider has all of the advantages and disadvantages as far as simplicity, maintenance, and affordability.
Cost range: You pay anywhere from $300 to $500 depending on the materials used and the durability of the product.
7. Picture Window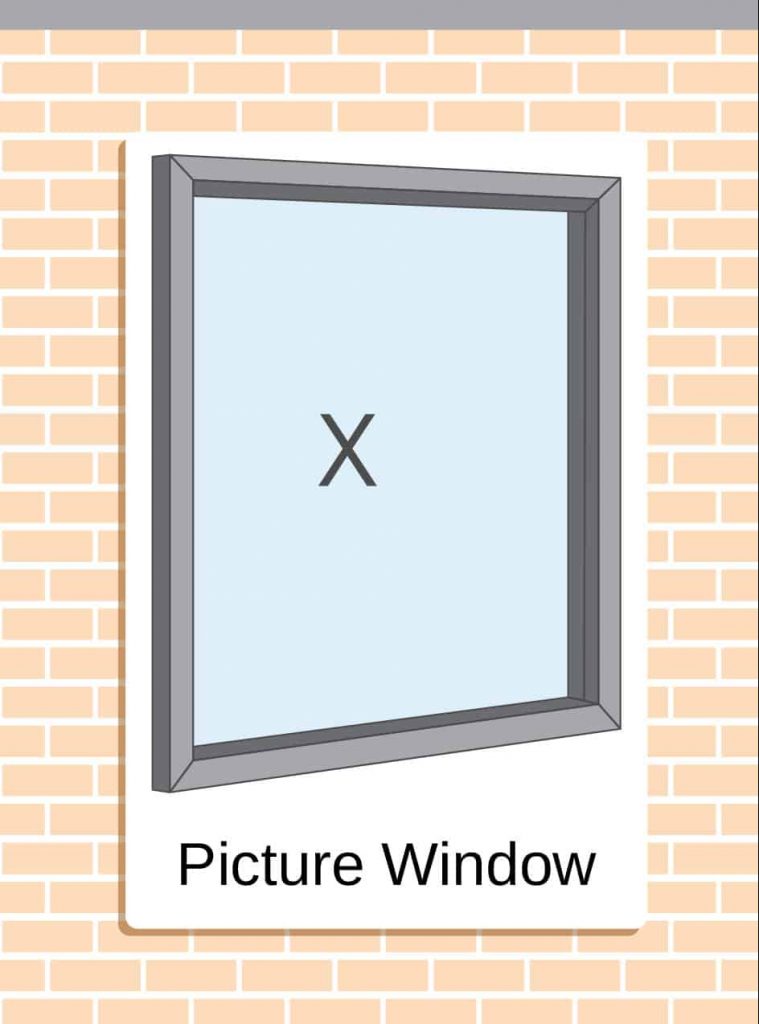 Due to the fact that it is fixed, the picture window is one of the most unique types of windows (can not be manipulated).
It is simply a glass windowpane that serves the primary function of framing an exterior view–much like a picture frame, hence the term "picture window."
Although this is not a very common type of image, it is frequently seen in homes with vaulted ceilings.
Pros:
Affordable.

Low Upkeep.

Installation is simple.

The most energy-efficient window type available.

There is no need for curtains or blinds to enjoy the magnificent outside view.
Cons:
Cost range: $250-$650
8. Deadlites – Sash-Only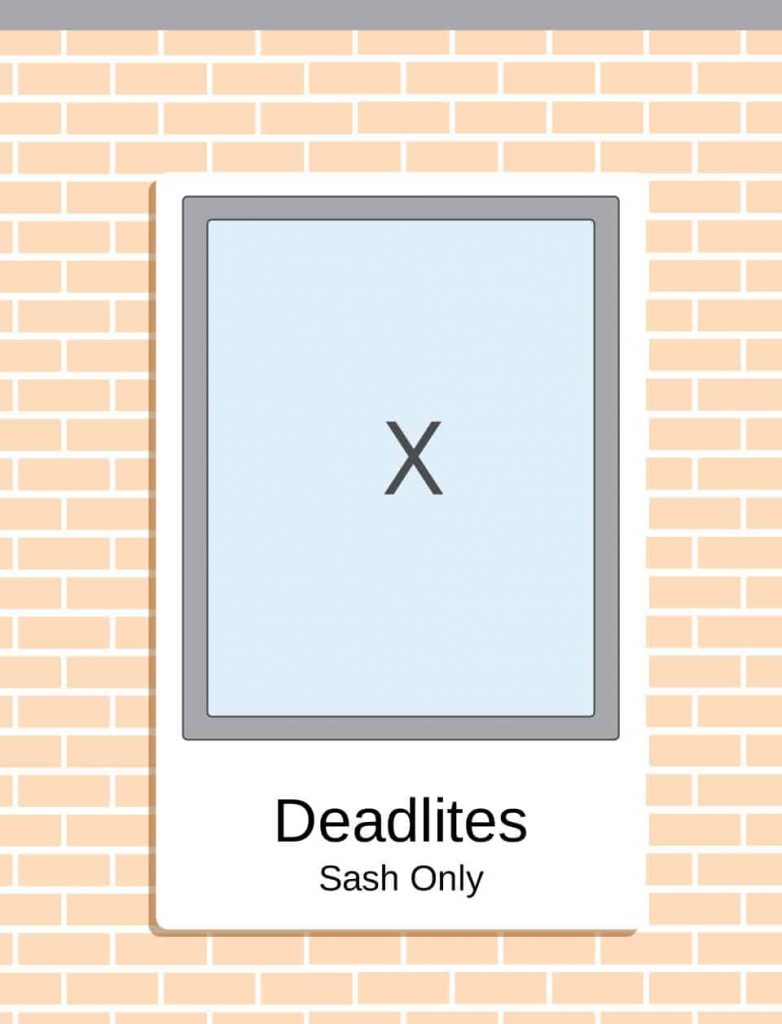 Many people interchangeably refer to deadlites as picture windows.
To be sure, they are nearly identical in terms of features and characteristics.
The only distinction between the two is that picture windows have frames similar to regular windows, whereas deadlites are "stand-alone" or have only one sash (of a window).
This fact means that DIY stained glass windows lack a primary frame.
Pros:
Because it only has one sash, it is a very affordable type of window.

As is the case with picture windows, they are extremely energy efficient.

Other benefits are similar to those of picture windows.
Cons:
Comparable to the picture window type. 
Cost range: $150-$500
9. Hopper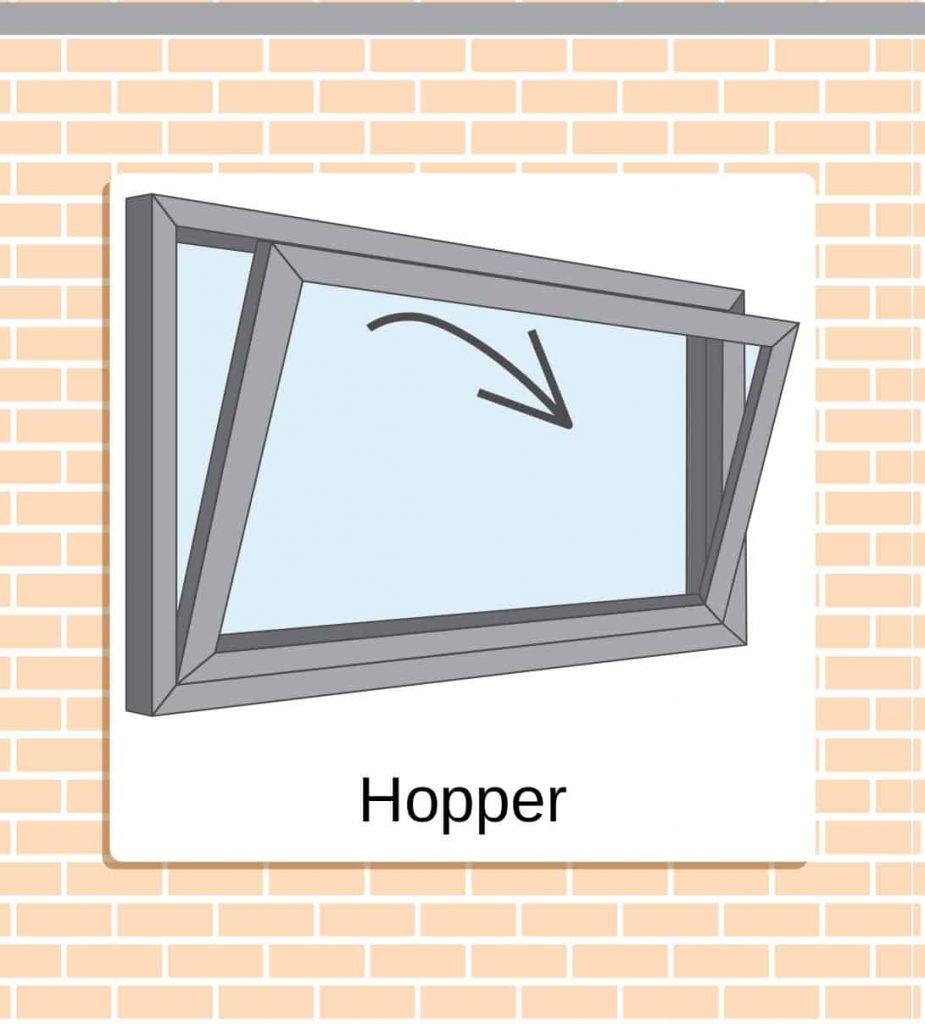 This type of casement window, which opens vertically inwards, is commonly known as a hopper window.
Hoppers, which are usually rectangles with a horizontal orientation, are attached to the bottom of the window, making it possible to tilt the window open from the top.
Pros:
Convenient to use and maintain.

Energy-efficient.

Great insulating value

Advantageous for small outside spaces as it opens the house inward.

More accessible and less time-consuming.
Cons:
Often limits the available room space (opens inwards).

Potential for water intrusion.

Limits personal privacy.
Cost range: $100-$600
10. Casement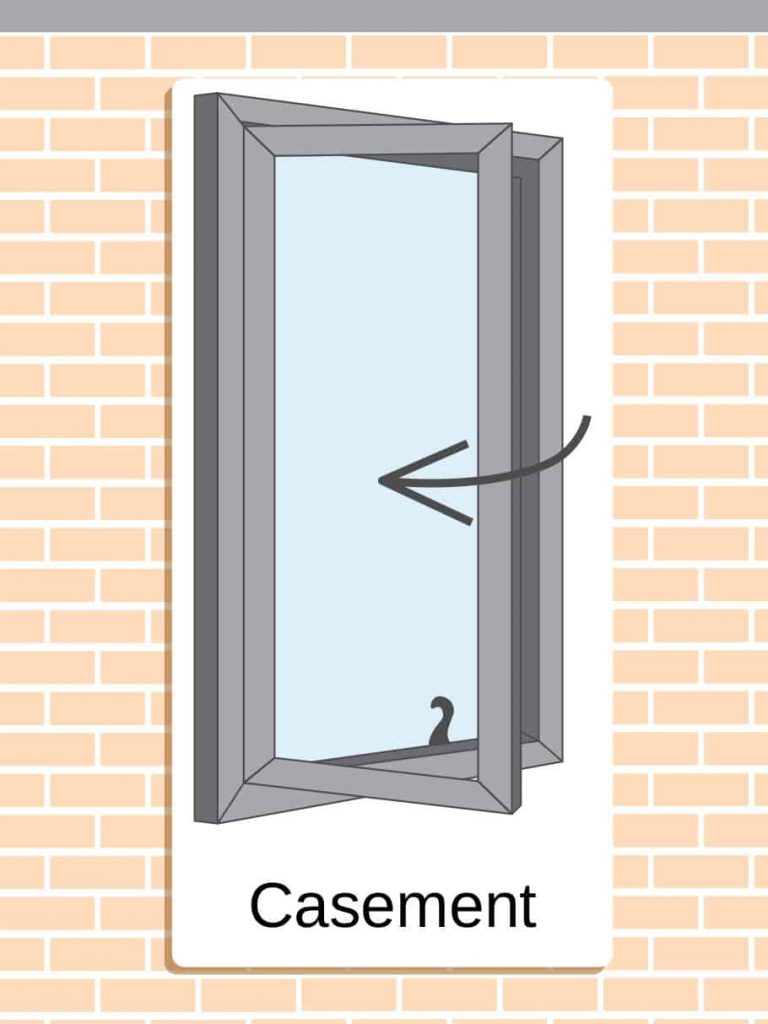 In contrast to the hopper, which is a horizontal window, casement windows are single-stash windows that are mounted vertically instead.
Inward opening windows have hinges on the inside, while outward opening windows have hinges on the outside.
Pros:
Airflow is superb for ventilation.

More accessible and less time-consuming.

Insulation of good quality.

An endless assortment of colors, sizes, and materials can be found here.
Cons:
A little tricky to use if your window screens are on the inward side.

Not too secure.

Limitations on its size.
Cost range: Middle-tier; values of $270 to $750
11. Awning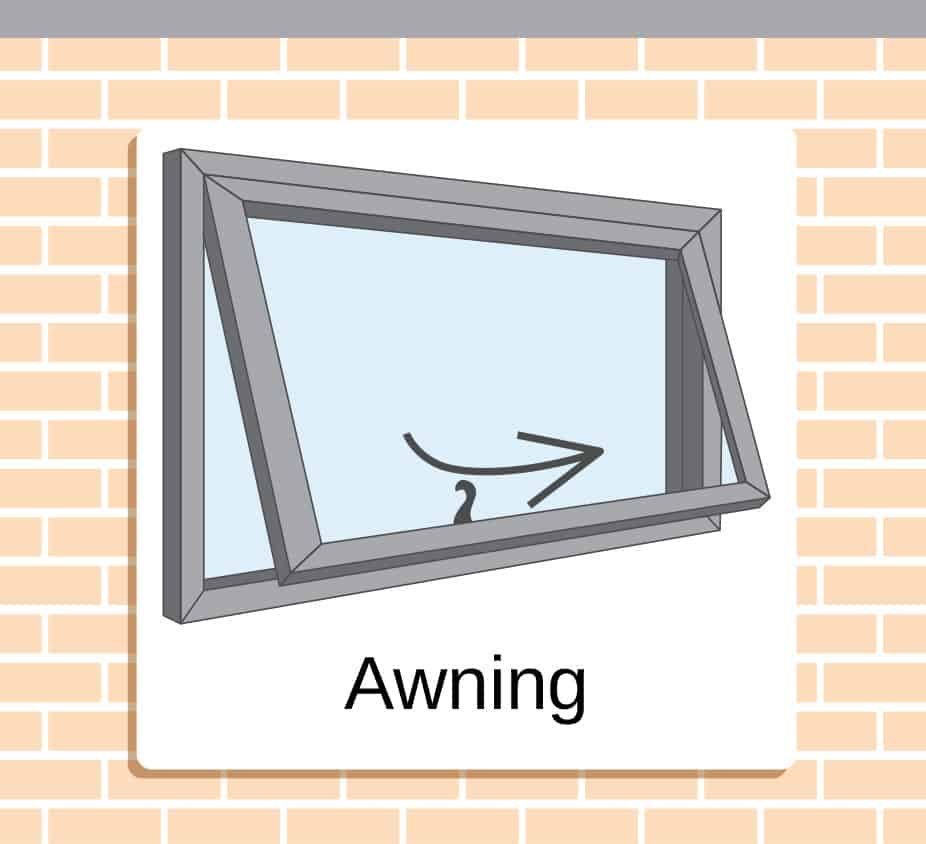 In addition to this, the awning is similar to hoppers except that the tilt of the awning is inwards rather than outwards.
Installing this mechanism of opening in such a way that it will prevent the room from becoming too small while allowing the window to be accessible allows you to place plants and other obstructions inside the room's space while keeping the window accessible.
Pros:
Energy saver.

This material offers excellent insulation.

It prevents snow and rain from entering the room and keep out precipitation
Cons:
The outer part of the windowpane is challenging to clean.
Cost range: $420-$760
12. Transoms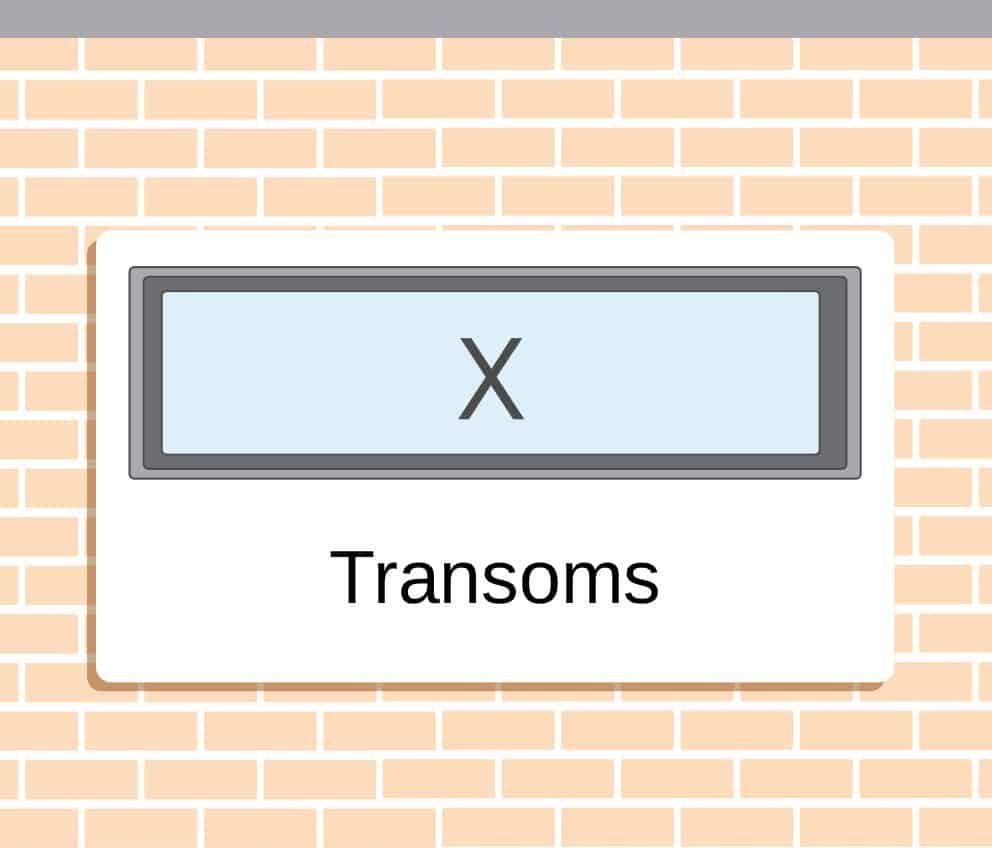 For most beautiful houses, you're bound to see transom windows, which are the most common accent window type.
In the past, fans have been traditionally referred to as "fan-shaped," but these days, they are popular for having different designs and materials.
Pros: 
It brightens your home while letting in natural light.

It has efficient ventilation and thermal insulation features
Cons: 
It is difficult to clean.
Cost range: $200 to $575.
13. Different Shapes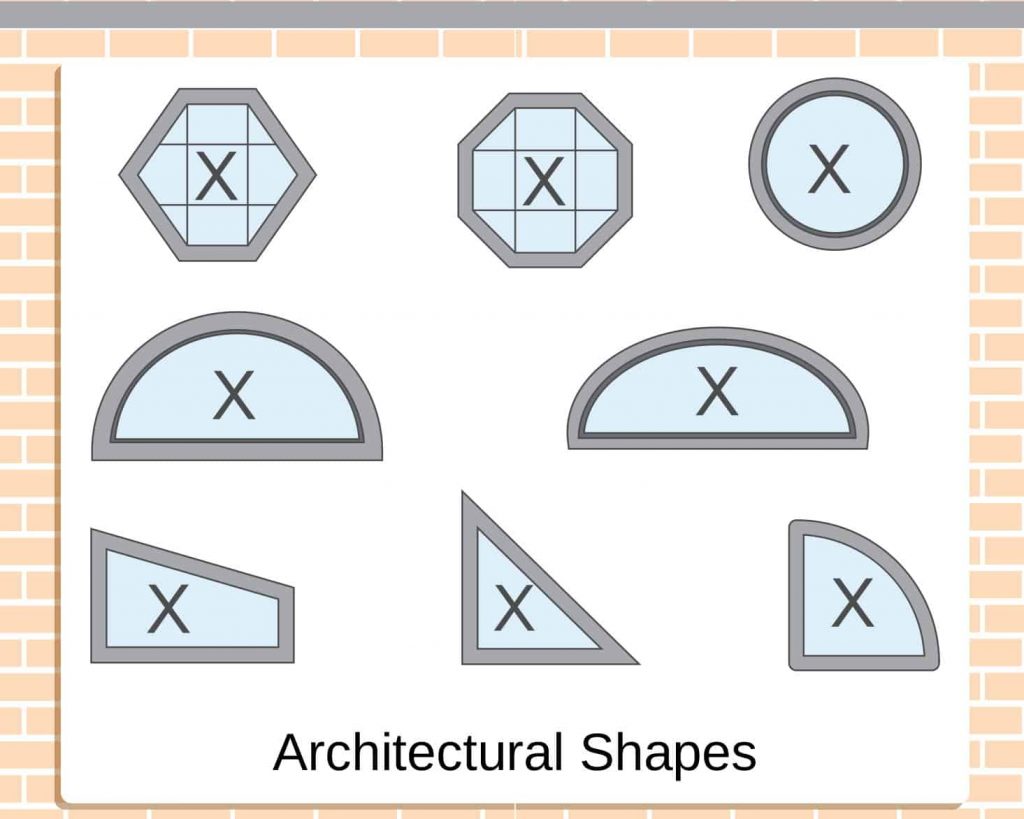 When it comes to the use of windows, the different shapes serve different purposes.
They are mostly decorative, but they can be used in a number of ways depending on the room where they are located.
The visual style for many bathroom and kitchen installations is to use round or half-circle-shaped windows, for greater privacy.
Pros:
Will fit architectural interests that are creative or unusual.

It enables a higher degree of natural light to enter
Cons:
Cost range: $250 to $750 or more.
14. Bay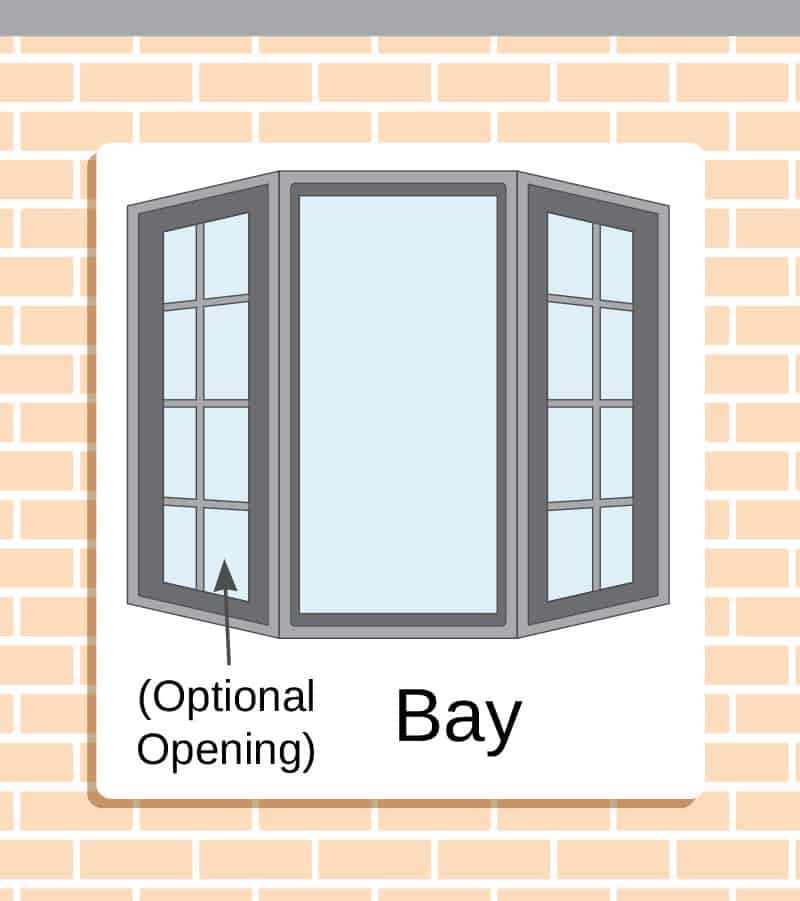 We touch on the oriel windows when we discuss the Bay Windows.
Outwardly it is usually hexagonal, providing an additional room.
Pros:
It lets the scene and gives a decorative flourish to your living area.

It generates a magnified panoramic view of the environment

By simply applying an elegant accent, your home can be instantly transformed.
Cons:
It is capable of obstructing a narrow outside space.

Replacement and maintenance are expensive.
Cost range: ranges between $1150 and $3550
15. Bow
You might already know that bow windows are simply the bay window with the front door on the left side.
There is only one major difference between the windows on the bow and those on the stern; these bow windows are curved and form an arch.
This type of window is typically larger than bay windows due to its curved edges.
Pros:
You can keep designing stylishly with these elegant windows

It makes an expansive view.

It gives the interior some breathing room.
Cons:
Costly.

Very dirty and difficult to clean.

"Bonus light and heat" is not for people who don't want that in their rooms.
Cost range: $2000 and up.
16. Jalousie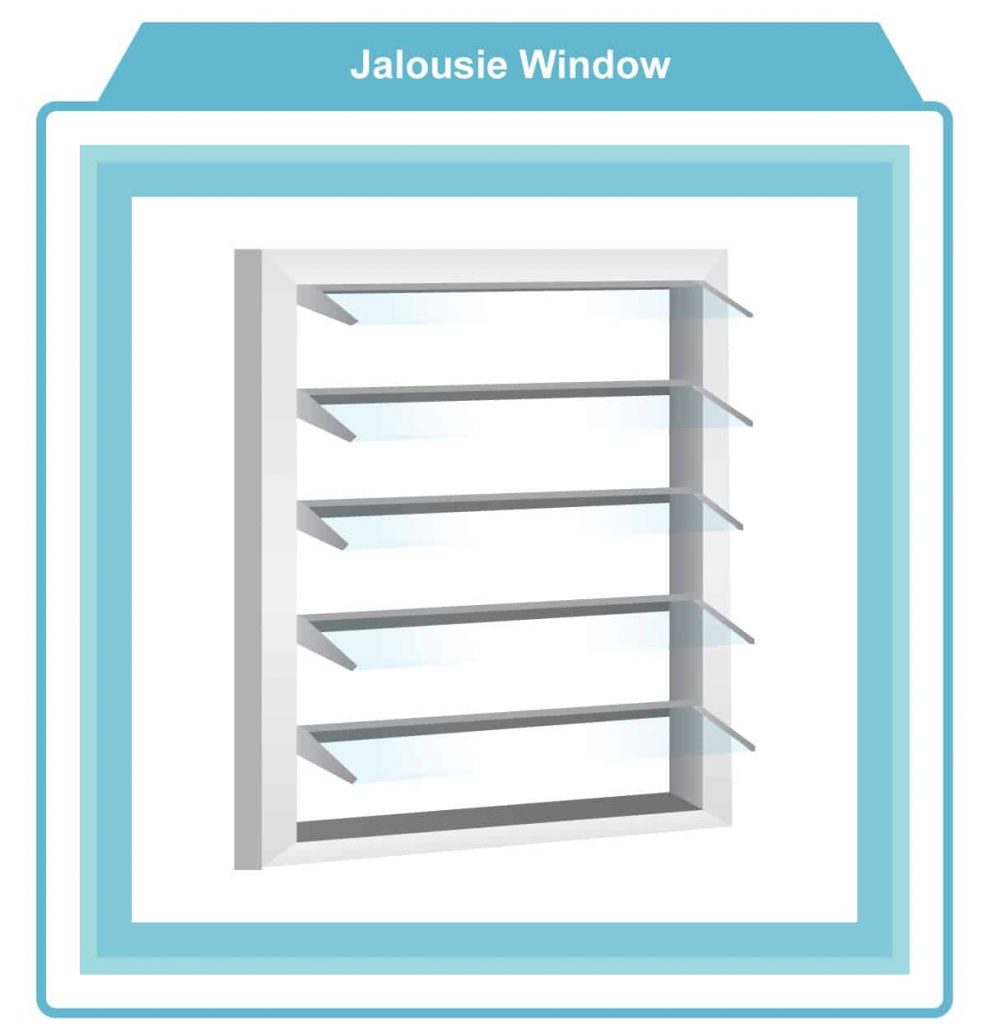 When proper ventilation is your primary concern, jalousie windows are an excellent choice.
On jalousie windows, you'll find parallel glass, wooden louvers, or acrylic louver panels that can be tilted open and shut at the same time, all at the same time.
It provides exceptional performance while also appearing attractive in a variety of home styles.
Pros:
It provides adequate ventilation.

The design has a feature that is complementary to it.

Its slanted design allows for better air circulation during storms and rainy days.
Cons:
The window is not as secure as other window types, which is a disadvantage.
17. Garden Style Window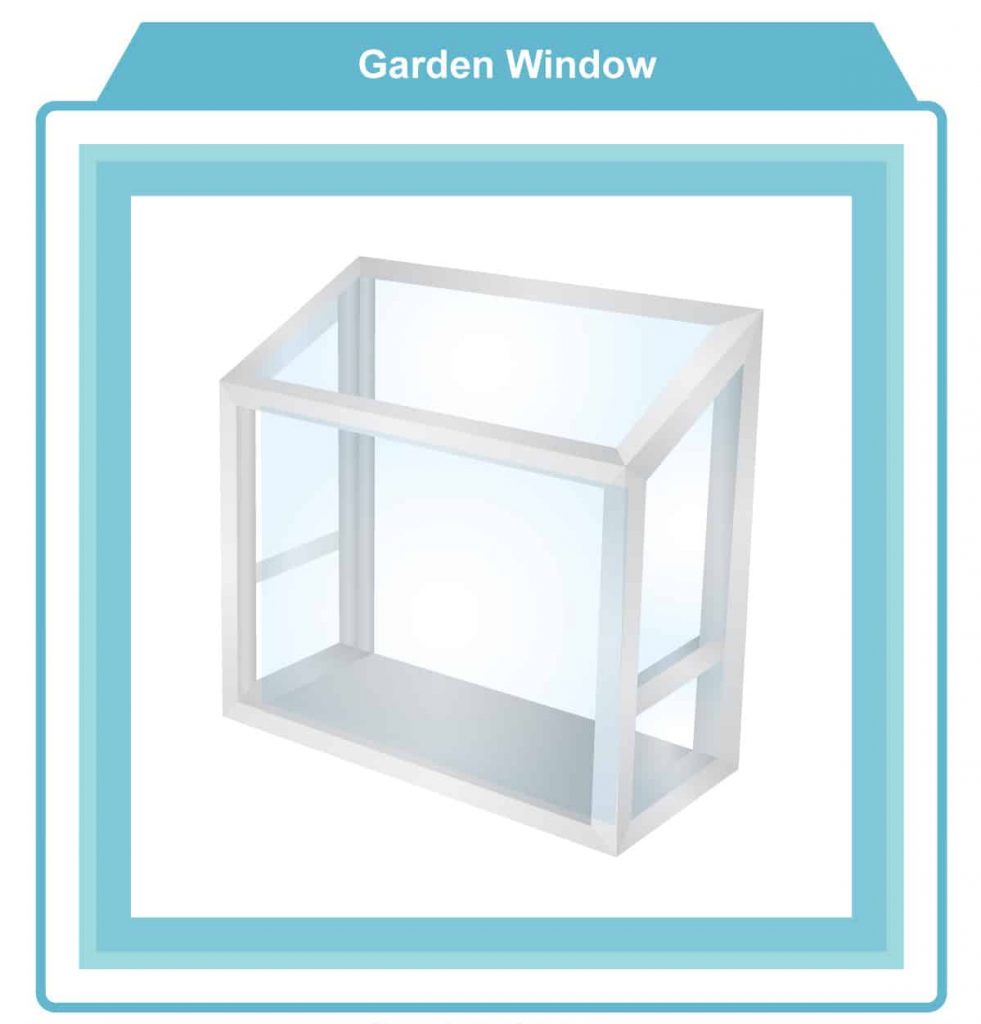 These windows are ideal for those who have a green thumb because they allow for plenty of natural light.
It is a four-sided window that extends outward in order to capture the sufficient amount of sunlight required by plants to flourish.
Create an indoor garden in your window by displaying plants, flowers, or herbs that are bright, fresh, and healthy.
You can even grow herbs for cooking purposes in your window.
Pros:
Its design is visually appealing

Mini greenhouse or plant sanctuary are examples of what is possible.

Window with long-lasting construction.
Cons:
Its extended construction, if improperly installed, may cause it to interfere with sidewalks, patios, and other exterior features.
18. Glass Block Window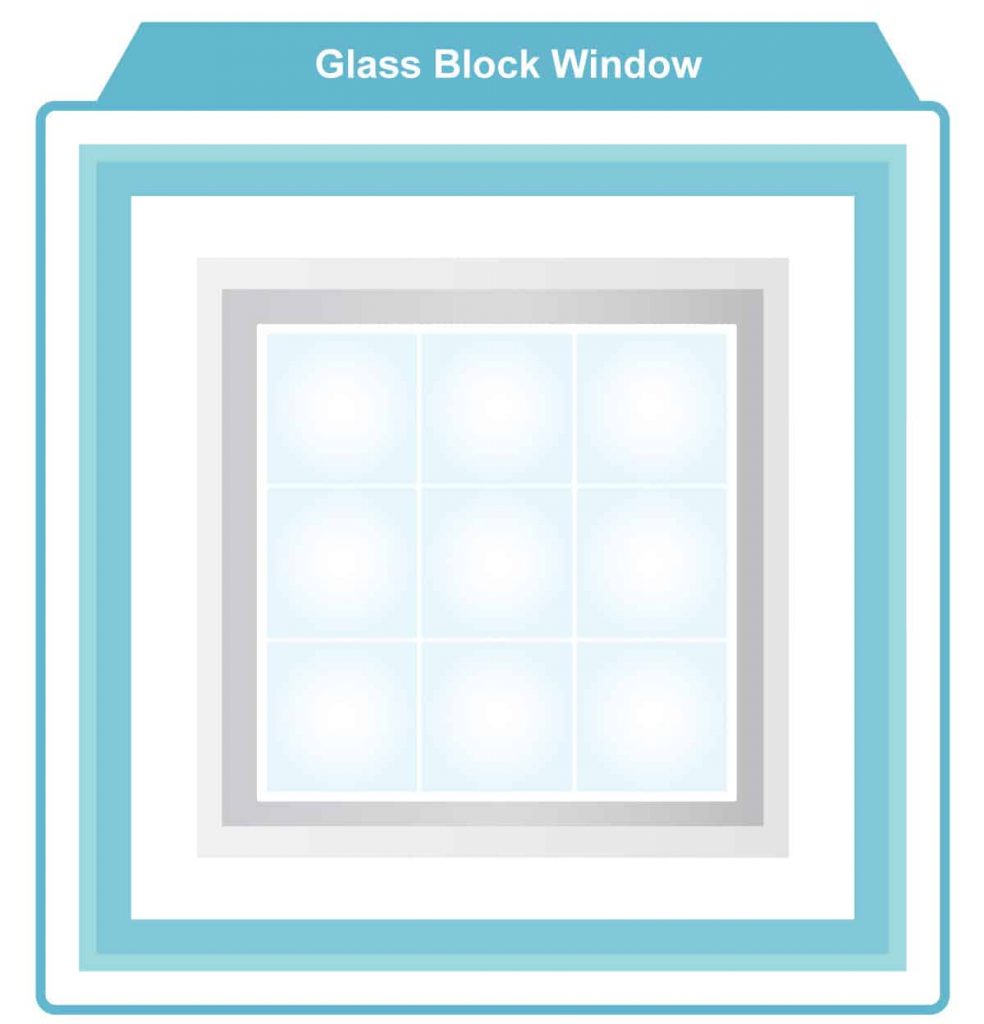 A glass block window not only has a pleasing and flattering appearance but also serves an important function in terms of privacy and security.
With its thick and durable construction, as well as its fashionable designs, this type of window is unquestionably one of the most popular choices for both homes and offices.
Pros:
Frosted glass blocks have an obscured view, which allows you to maintain your privacy.

There are numerous designs to choose from.

Its thick and durable finish adds an extra layer of protection to your residences and workplaces.
Cons:
There is no natural ventilation.

Most lights and images get distorted
19. Storm Window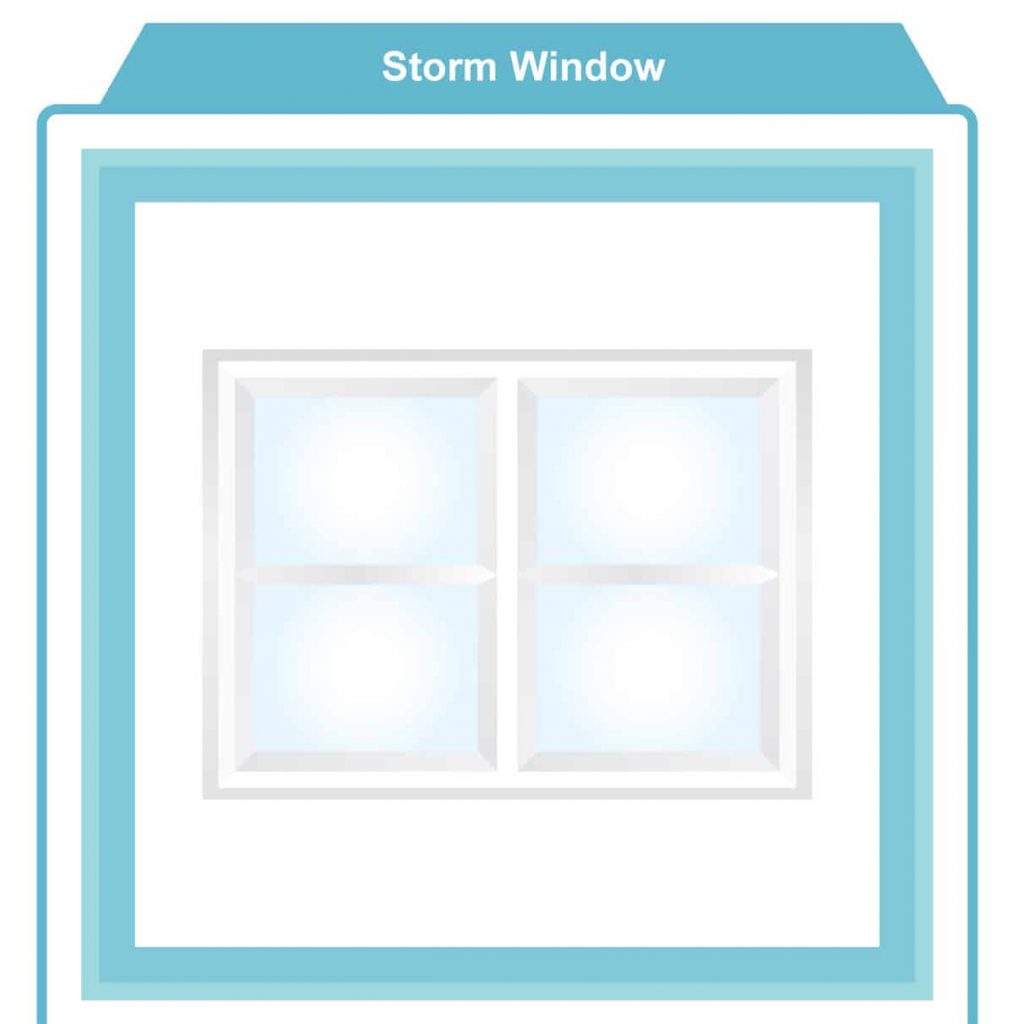 If a storm window is installed on either the outside or the inside of the main glass window, it is referred to as a storm panel or a weatherstrip, depending on where it is installed.
The use of a second barrier, which is placed on top of the original window, allows the house to remain warm in the winter and cool in the summer, depending on the season.
This product's outstanding performance when it comes to insulating your home and protecting it from the elements is due to the exceptional architecture and design that went into its creation.
Pros:
Double pane windows are more expensive than standard windows because they are less common.

It is relatively inexpensive to install.

Improvements in home insulation have resulted in a higher standard of energy efficiency for windows.
Cons:
High-maintenance

Condensation between two layers of wood can cause damage to the exterior of the building.
20. Egress Window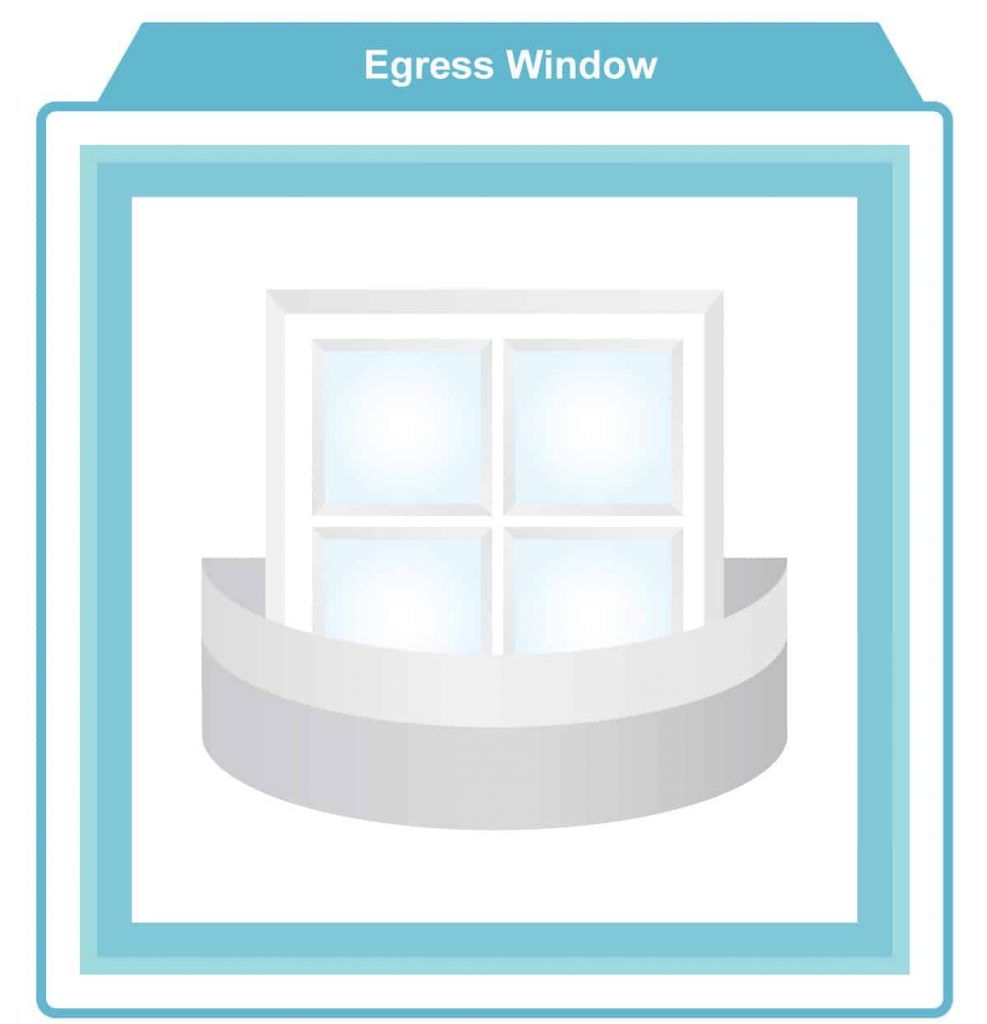 Functionality is more important than aesthetics when it comes to home improvements.
In other words, the fact that the egress window serves the safety and style simultaneously is a good thing.
A means of escape, even if the home is on fire or in an earthquake, is provided by this type of window.
It is an emergency exit point for the general public, as well.
Pros:
This window can be a lifesaver in situations such as a fire emergency.

It works well in dark areas, especially in basements.

Keeps the room ventilated

Affordable and extremely alluring
Cons:
Toilet leaks can cause moisture problems if they are not installed properly.

This installation is an undertaking; it requires careful planning and hard work.
21. Skylight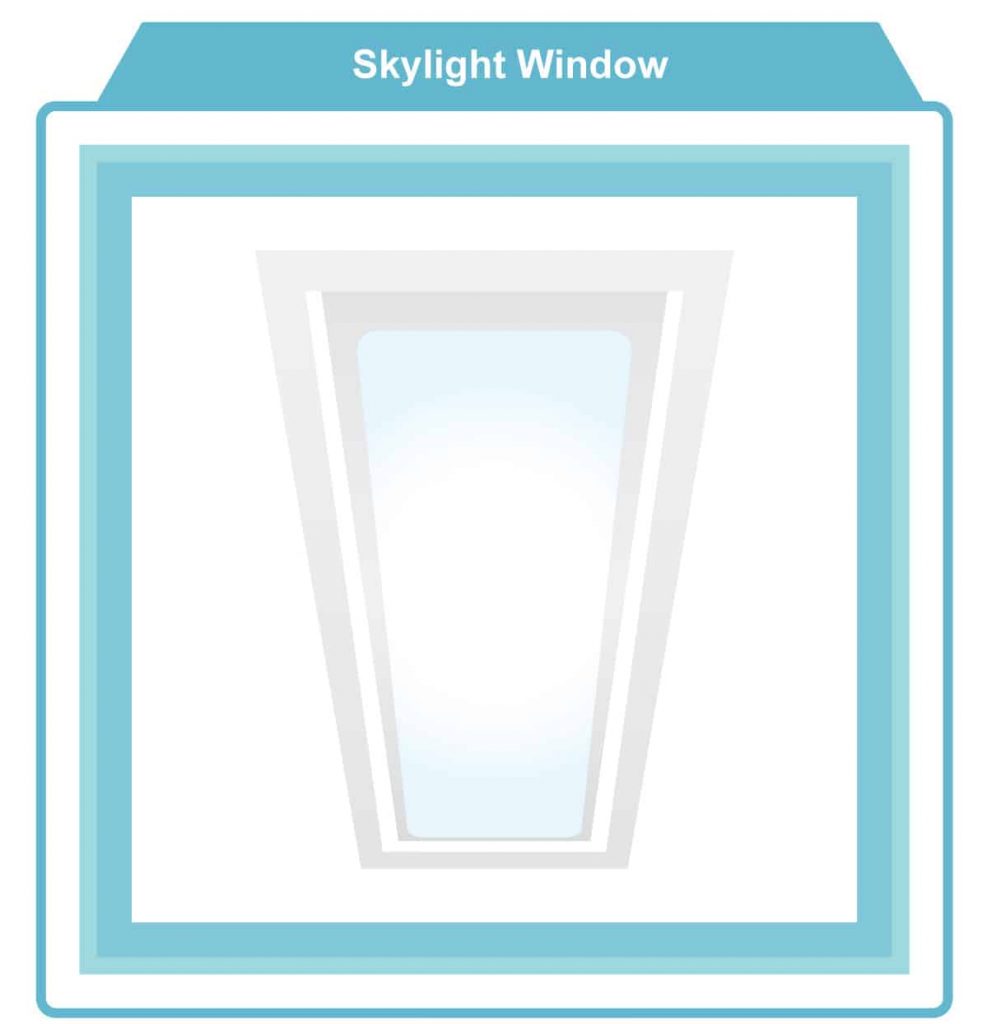 Skylights are windows that are installed in a roof or ceiling to allow light into a building.
In addition to that, it conserves energy, allowing you to enjoy beautiful views of the sky from the outside.
Pros:
It provides light, even in the darkest locations with natural sunlight.

Indirect solar light is provided

Finishes that complement the interiors
Cons:
It can be a major financial burden to purchase and maintain

These dishes may lead to roof leaks

Predictable strain can potentially result in structural damage
22. Round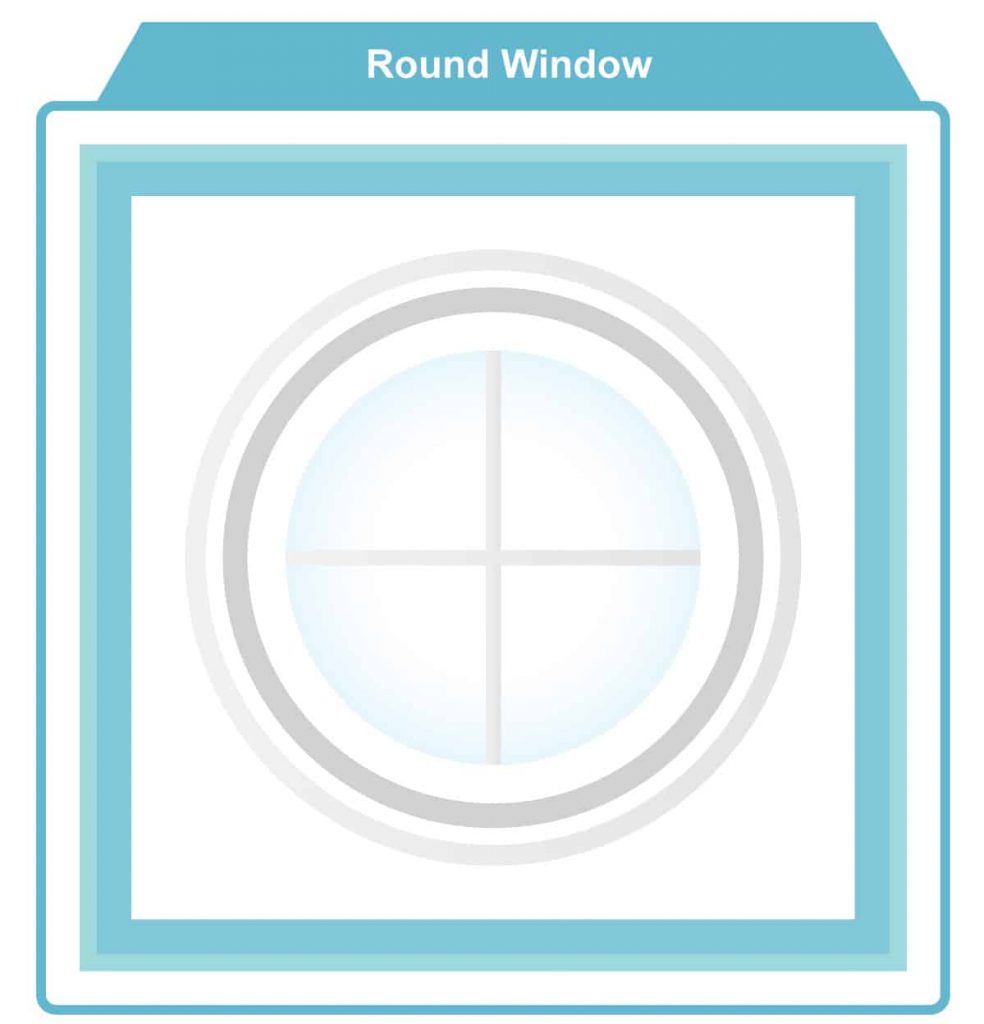 However, modern round windows serve the same purposes, while Gothic-inspired round windows are meant to evoke the rose window.
By creating a focal point for the exterior details, and letting enough light and air into the structure, we have created a unity between the structure's exterior and interior.
Pros:
It offers special detailing and design details

It gives off a natural light 
Cons:
There are usually round windows that can neither be opened nor closed.

Despite its classic finish, it is not a very common trend.
23. Arched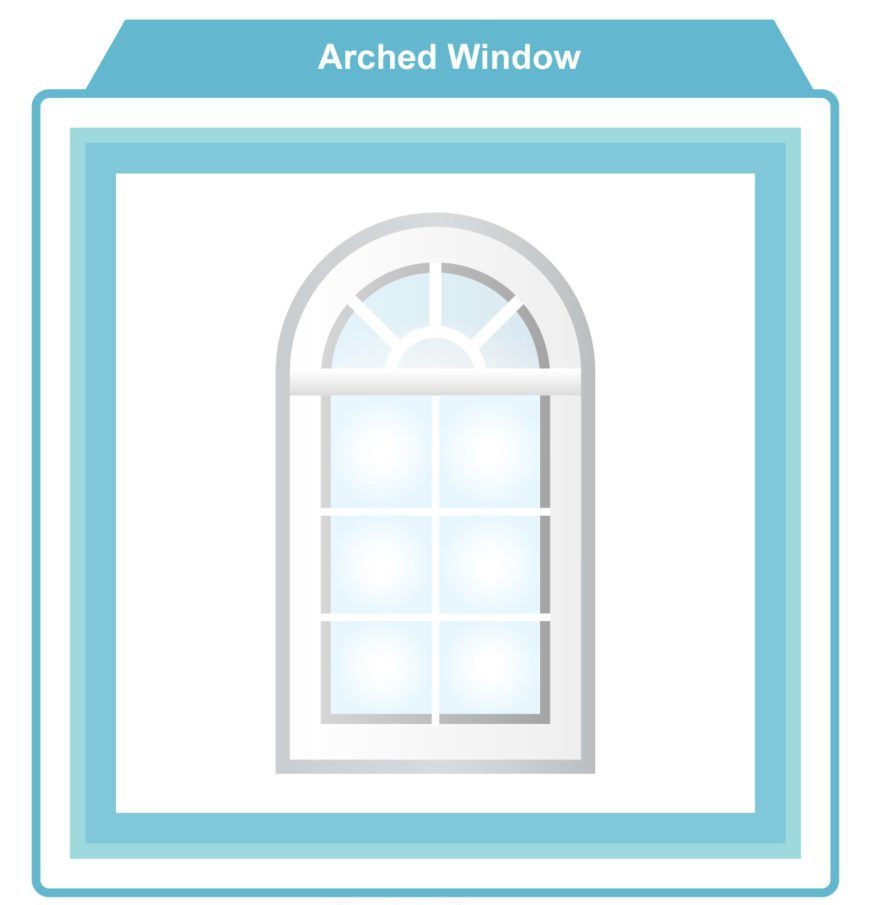 The timeless beauty of Roman architecture makes it a unique option for modern construction.
It gives your home's exterior a welcome increase in curb appeal, even though it is low-maintenance. 
Pros
It offers an eye-catching architectural appeal

It is relatively easy to take care of

It can be designed in many different ways
Cons
It does not have adequate ventilation

You can't use them as escape routes since they aren't optimal during emergencies
24. Dormer Windows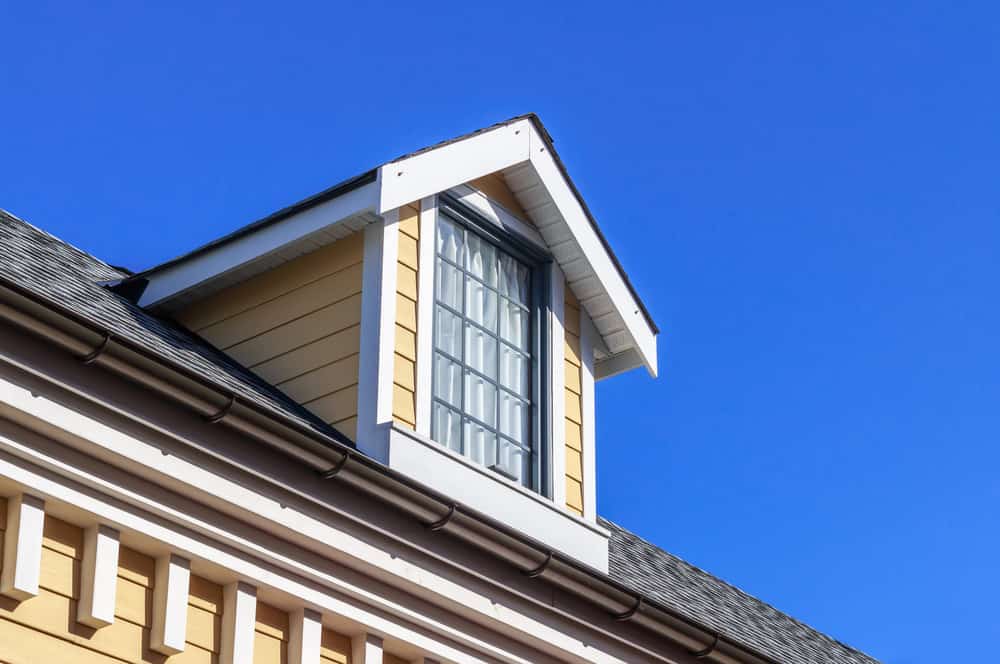 A dormer is a roof extension that creates additional living space under a slanted roof, and it is possible to install windows in these areas for natural light.
Many modern houses now include dormers as an aesthetic feature, but some new houses add actual dormers.
Most interesting of all, dormer windows come in many different varieties.
There are other dormer designs, but the one above is most common.
Window Panes
1. Double Pane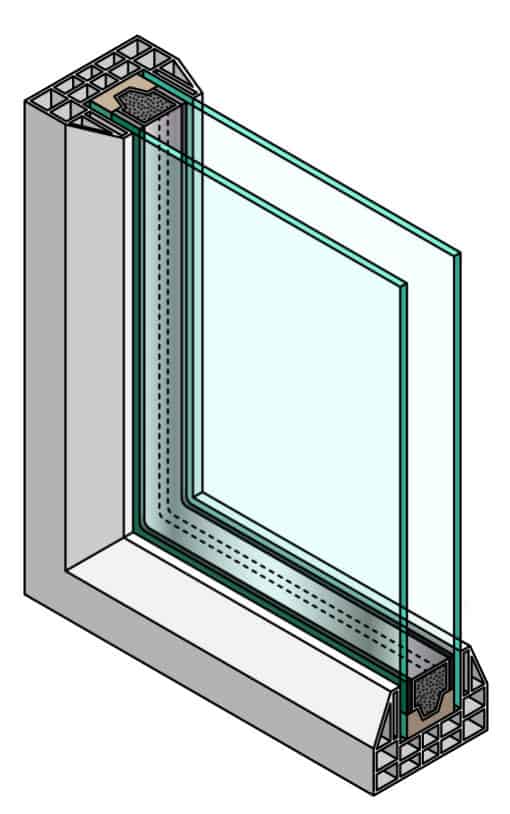 Double-pane windows are by far the most commonly used type of window.
A device known as a windowpane, comprised of two sheets of glass separated by trapped gas, is referred to as two sheets of windowpane glasses.
It helps to make a more airtight seal, which will keep heat and energy in the house.
Pros:
These kinds of windows keep water from collecting on your windows during the cold winter months.

Its material works great to serve as insulation.

This type of window is effective at blocking outside noise because of the existence of a tight seal.

It provides a significant boost in security and durability
Cons:
If you live in an older, ancestral home, it may not be a good fit in terms of design.

Maintaining its material is expensive because you have to replace the entire thing when something breaks.

During the summer, having such a great insulator does not bode well.
2. Triple Pane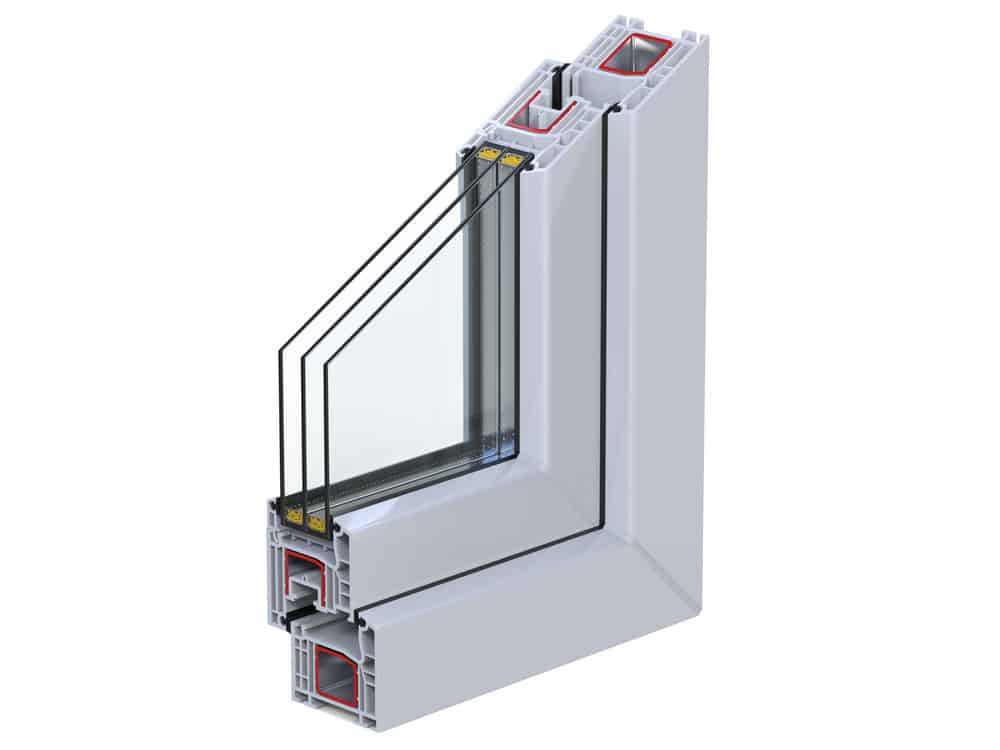 In recent years, the triple-pane window has seen a rise in popularity due to architectural advances and innovations.
While the double-pane windows have three panes of glass separated by two gas layers, this design uses three panes of glass separated by two gas layers.
The double pain has less insulation than two layers of airtight gasses.
Pros:
The improved version of the double-pane window is the triple-pane window.

It's a better version of all the advantages/pros of double pane windows.
Cons:
The cost is about twice that of double-pane windows.

It is thicker than a double-pane window, so it requires a sturdier window frame.
3. Quadruple Pane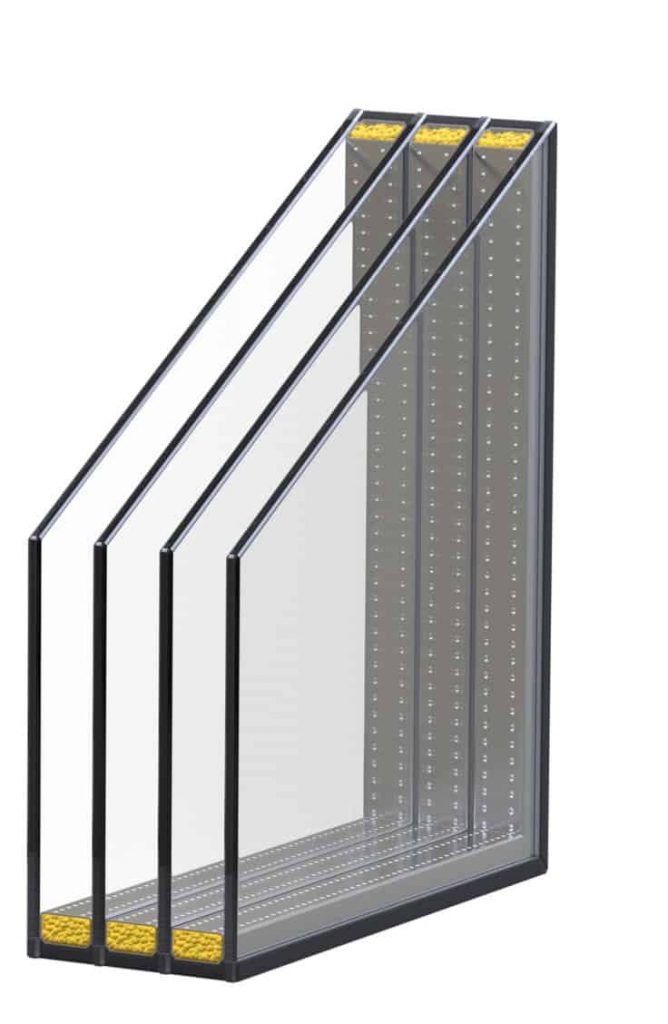 When it comes to window panes, the quadruple pane window is at the cutting edge.
This additional insulation is helped by using glass window panes stacked on top of one another with three airtight containers of gas interspersed in between.
The existence of this new type of panel-like element vastly increases the functionality and features of the other two types.
It offers many benefits, and as a result, has pros and advantages, but as a tradeoff, it is very heavy, requiring a thicker, more durable window frame and sash.
Don't forget the higher price it has!
Kinds of Window Frames
Since we've covered all the windows and window panes, we should now discuss how the frames were made of.
Here are the most common types of window frames, depending on your needs and preferences.
1. Wood
While wooden frames have been most popular up to the present, there are currently many house models featuring fiberglass ones.
The car possesses both style and classicism. An old saying, and in architectural and window frame industries alike, is that it has a good appearance and excellent durability.
Pros:
Easy to maintain

Replaceable

Easy on the eyes
Cons:
It needs ongoing care.

Pests such as insects and termites frequently inhabit this object.

Expensive.
2. Vinyl
Polyvinyl chloride (PVC) is used in vinyl window frames.
This pipe and plumbing are made of the same materials, which are used in plumbing and plumbing applications.
Popular because of its durability and affordability, this window frame is frequently utilized.
Pros:
Very low on energy usage.

It has multiform fabric which is perfect for window fashion design

It requires less effort to maintain
Cons:
It will fade during extreme heat and you'll have to replace it since it can't be repainted.

The resale value is low.
3. Aluminum
Both modern and classic architecture has utilized aluminum windows.
This is because it has to stay powerful and made for endurance.
​Pros:
It is an environmental best practice when compared to the use of wood and vinyl

Simple design. 

It doesn't fade, crack, split, or corrode.

Weather-proof.

It gives off a harmony of classic and modern architecture which can be easily and efficiently match any interior design.
Cons:
It is more expensive than both vinyl and fiberglass, but cheaper than wooden frames.

It is efficient as an insulator, not so much It is also quite cold in winter, which is undesirable.
4. Fiberglass
The fiberglass window frame is less commonly found, but it is also the most durable and least expensive when it comes to maintenance.
This frame is formed of extruded fiberglass sections that are connected together to form a frame. It looks similar to a PVC window frame with the design showing through.
Pros:
Though they look alike, fiberglass is more durable than PVC and can be painted.

Simple look.

Weatherproof.

The most insulation-friendly frame

Durable.
Cons:
This frame still has the look of a PVC frame, even though it is more durable and efficient,

It can cost you some extra expense compared to the wooden frame to make it look as tough as the latter.
Frequently Asked Questions
If you want to learn more about glass windows, then continue reading the answers to the frequently asked questions about them down below:
When it comes to glass windows, how long do they last?
Glass windows are long-lasting, but proper maintenance and care can help them last even longer.
Without regular maintenance, glass windows typically last between 15 and 20 years.
However, proper care increases the expected lifespan to 30 years.
The length of time your glass window can last is affected by where you live and how frequently tumultuous weather occurs (i.e. thunderstorms and snow).
There are a number of other things to consider, like the type of frame you use, which have a major impact on the life of a window.
Consider this: Wood frames have been reported to last an average of 10 to 20 years, but some can last up to 30 years. The time frame of aluminum frames is 15 to 40 years. Vinyl frames have a long lifespan, with the record remaining playable for 20 to 40 years if cared for properly.
Is it possible to paint glass windows?
While this can be certainly done, be sure you have the correct paint type.
Acrylic paint is also useful for painting your window, but it is also helpful in enhancing the window's durability.
Acrylic paint with a baked-on capability should be used to help the paint last longer on your window.
For better or worse, your feature is going to become increasingly difficult to use if it's exposed to direct sunlight.
Do glass windows have the potential to crack of their own accord?
Yes, it is possible for glass windows to crack on their own. While this may appear straightforward, it is more complex than you might believe.
Spontaneous glass breakage is typically caused by factors such as the type of glass, application methods, or mistakes during installation.
We're unable to identify whether there is a problem with the glass because it spontaneously cracks, usually under trying circumstances.
In order to avoid breaking your glass windows, we recommend that you learn about Spontaneous Glass Breakage.
This will help you know the risks and equip you with everything you need to prevent breakage.
Would you say that glass windows can be repaired?
If the damage is severe, then replacement of the glass may be necessary, even if the glass can be repaired.
An example of this can be found in small cracks in a window, which may be reinforced, but it will likely be necessary to replace the entire window when larger cracks are found.
Doing research and consulting a professional is an important step to accurately determining whether or not your window needs repair.
You must not neglect this step or you risk injuring yourself or your window!
Do glass windows bear any weight?
A glass window depends on the type of frame and brand purchased, and whether or not it is load-bearing.
Because they are not load-bearing, windows made of aluminum are to be handled with care when looking into them.
While it is certainly possible to identify whether the windows you're examining are load-bearing, there is no method that is 100% certain.
There is always a chance that the item you purchase does not actually support your application.
If you have doubts, talk to a technician and research whether or not the product carries load-bearing capability.
Regardless, the ones that support weight will most certainly declare themselves as such!
What method do they use to make efficient glass windows?
Glass windows are made by melting various minerals and then pouring them into the desired shape.
To separate the different components into one homogeneous substance, the melting temperature is often at least 3090 degrees Fahrenheit.
Glass is usually made of silica, which is also abundant in the sand.
When all the chemicals are mixed together, limestone is added in order to make sure the solution does not break down.
Adding limestone to the mix causes the glass to form, and the molten glass is used to create various different objects.
When windows are made, molten glass is poured into molds to form the windows, after which they are sold.
As with every glass-making process, this one is going to be different depending on the kind of glass you're working with and on the various materials, you're using.
Is it possible to reseal glass windows?
Simply put, the answer is yes.
Alternatively, if the crack is too large to be repaired, it is extremely unlikely that it will be able to be repaired.
Check whether or not the window you want to repair is resealable before calling a professional to help you out.
Is it possible to recycle glass windows?
In the United States, glass windows can be recycled less frequently.
Some recycling facilities do not want to sort through windows, even though there are differences in the kinds of glass made.
It is because the glass is treated, making it difficult to break down and recycle.
This does not mean that you should not recycle windows, but merely that you must first verify whether or not you have the opportunity to do so.
There are organizations that have been created with the express purpose of helping people recycle windows.
We encourage you to seek one of these organizations out so you can recycle your windows in an environmentally friendly manner.
This recommendation is for those who are looking to recycle glass windows and are unsure of the best ways to reuse them.
As with all small- to medium-sized organizations, theater companies seek functional props, which means even if you have a broken window at home, you may find a way to incorporate it into a new play.
Used glass windows can be sold, right?
You are correct, but glass windows rarely sell at a price that is competitive with the market.
Only in the case of historical preservation would someone be interested in purchasing your glass windows, so it is unlikely that anyone will approach you with an offer to purchase them.
A local business may be interested in purchasing an item such as a valuable window if you find one that you think is worth selling.
It is still possible to get a good return on your investment even if the window pane itself is no longer usable by selling the window frame instead of the pane.
Are windows usually made of insulated glass?
Most of the time.
The insulated glass-making process is commonly used to properly regulate room temperature.
So, when window shopping, it's important to keep the insulated windows in mind right from the start.
Lack of insulation can result if you fail to take the first step. This does not mean that you have to rely on a professional to insulate windows for you if you want.
In order to insulate your windows, you can look on the internet and see what options are available for you.
Whether you're new to an activity or are trying to figure out if you're doing something right, always seek the advice of a professional.
Do glass windows block out sound?
Sometimes, but not all of the time.
Many of the soundproof glass windows are not intended to be used as soundproof windows in the first place.
Finding a brand that advertises soundproof windows is an excellent option for those who are looking for soundproof windows.
It is nearly impossible to soundproof windows because the glass is constructed in such a way that it is nearly impossible to soundproof; therefore, even if you manage to soundproof your windows on your own, you will have to go through this process.
However, it is possible to find soundproof glass window guides, although these are frequently inaccurate and deceptive.
Glass windows are waterproof, correct?
Yes but to a certain point.
Glass windows are resistant to water because they are placed between two frames; however, windows that lack frames are at a greater risk of damage during events such as flooding, hurricanes, and thunderstorms.
We recommend looking into glass block windows if you want to try out a type of window that can hold up in adverse conditions.
While this article is helping you to ensure that you're purchasing and installing all the windows correctly, a professional should definitely be consulted.
You may lose the water tightness of your windows if you don't take care of it as soon as possible.
If your windows meet the Environmental Protection Agency's minimum standard for insulating in your area, they qualify for the Energy Star certification.
It is possible to insulate your home against the cold and heat by installing gas-filled windows with low-E coatings.
Additionally, a low U-factor can be obtained for improved thermal resistance.
The U-factor is the rate at which non-solar heat is transferred through windows and other openings.
In warm climates, double-paned windows can help to reduce heat gain by reducing solar heat gain.
Additionally, look for windows with low solar heat gain coefficient (SHGC).
The SHGC is the amount of solar radiation admitted through a window.
Higher heat gain in warmer climates can be caused by lower SHGCs than in cooler climates.
In hot and cold climates, such as those with seasons, look for windows with low U-factors and low SHGCs, which are more energy-efficient.
Conclusion
Always remember, before rushing to the store immediately because you just became a "window expert" by simply reading this article, do your due diligence.
One article read does not make you an expert.
There are more experienced professionals that are willing to help you out for the minimum charge; in fact, some even give free consultations.
Shopping around will also help you get the best price!
Here is a quick visual reference guide on the different types of windows we discussed today: