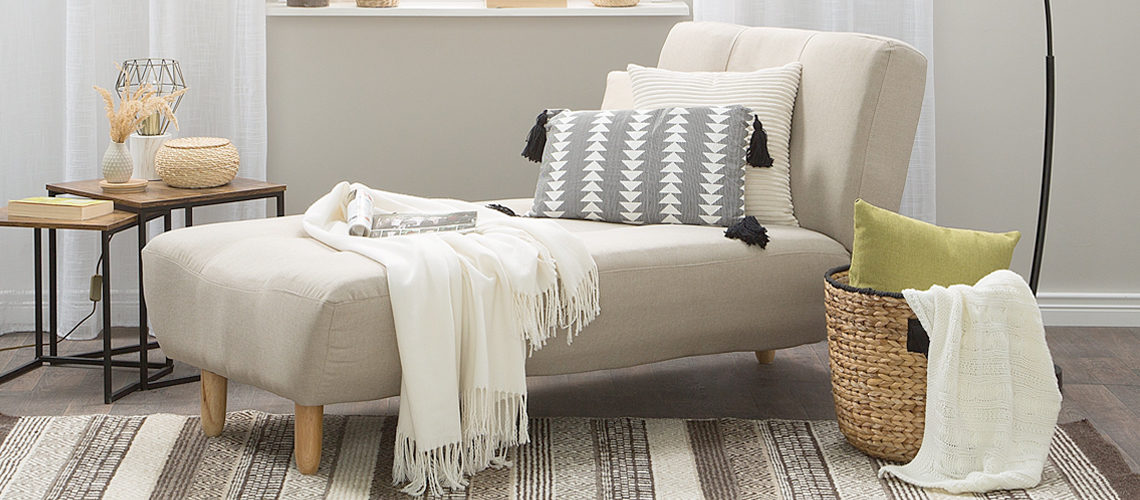 Chaise lounges were specifically designed to provide a comfortable place to lie down and "lounge."
Think of it as not quite a sofa and not quite a bed, it's a little of both!
It is thought that the first blend of a chair and daybed originated in Egypt.
The earliest known models were made from palm sticks lashed together with pieces of cord or rawhide.
Later, Egyptian bed-makers introduced mortise-and-tenon construction and wood bed frames veneered with ivory or ebony.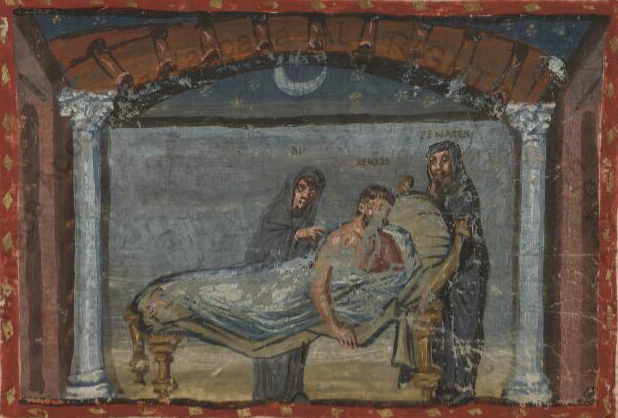 The Romans used a daybed for reclining in the daytime and to sleep on at night. Developed from the Greek prototype, the Roman daybed was designed with legs carved in wood or cast bronze.
The Romans also adapted a chaise lounge style chair for the "accubatio" (the act of reclining during a meal).
The Romans did not practice upholstery, so the couches were made comfortable with pillows, loose covers and animal skins.
Victorians later used them as decorative furniture where they would also lay down for an afternoon nap or to read a book.
It was very common in wealthy homes.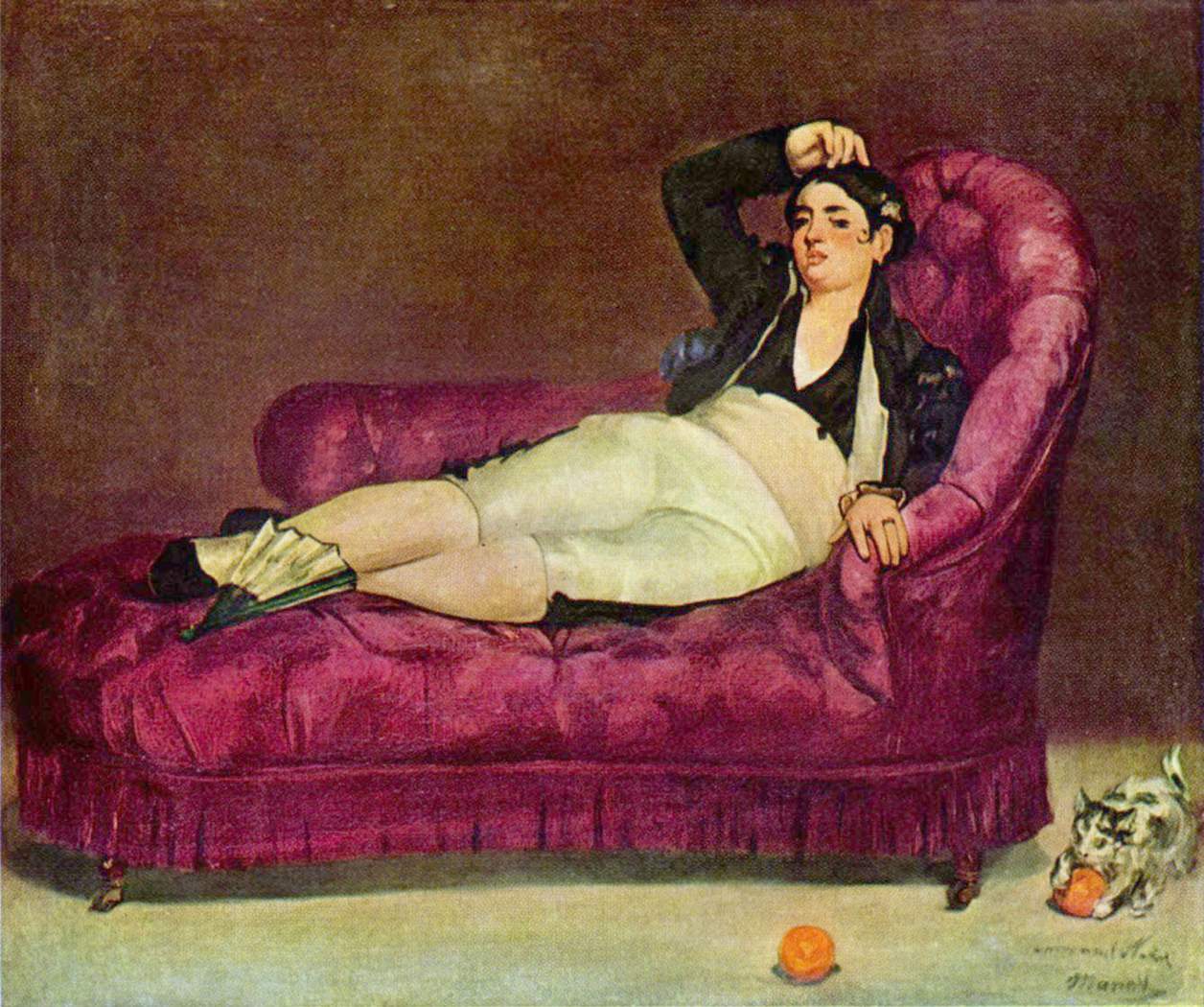 Chaise Lounges have certainly evolved over time but still remain a popular item in a home or in offices of counselors, therapists, or physical therapy.
There are so many different styles to choose from like classical or modern or if you are only about comfort and don't care about style, you got that too.
There are chaise lounges to cover virtually any style you are looking for.
Here's the Best Chaise Lounge Sofas and Chairs of 2023:
Clara Sleeper Sofa by West Elm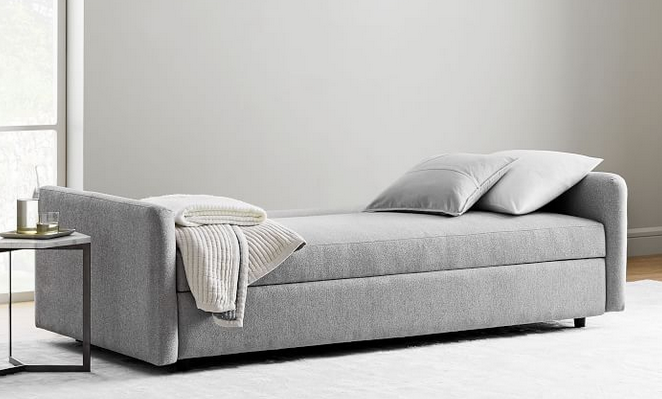 Perhaps one of our favorite Chaise Lounge chairs, this Down-Filled Sleeper Sofa by West Elm lives up to it's name.
Not only is this soft, but it is stylish and solid quality.
If you are looking for both comfort and style, this is an excellent choice!
Although it is on the pricier side, this is a more timeless style and definitely a centerpiece as well as a comfort piece.
Large enough for two people but just the right size to cozy up with a warm blanket, this chaise doesn't disappoint.
The legs are made of solid wood and the cushions are reversible and removable for easy cleaning and maintenance.
You can choose from multiple colors and fabric combinations to find the one that fits your exact style.
Features:
Solid oak and engineered hardwood frame
Solid ash legs in a Whitewashed finish
Kiln-dried wood to prevent warping
50% feather and down, 50% poly fiber cushion
Seat cushion has fiber-wrapped, high-resiliency polyurethane foam core
Reversible cushions
Multiple colors and fabrics to choose from
Zip-off covers
Crafted in USA
Price:
$1,099 – $1,249
Buy Here:
Dunkerton Tufted Armless Chaise Lounge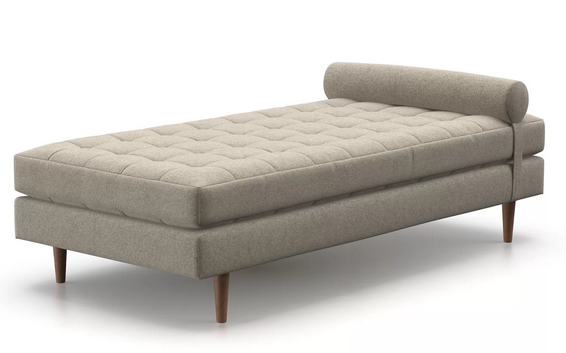 For more of a mid-century inspired aesthetic, this Dunkerton Tufted Armless Chaise Lounge has style and comfort.
The tapered legs give it a nice, tall appearance and the removable cushions make it easy for cleaning and maintaining.
This is a great accent piece for an office or living room, but also provides additional seating when hosting or a comfortable spot to relax.
The pillow is removable so that you can add your own pillows if you want. It can even be used up against a wall as a bench.
The price is quite reasonable as well!
This is a classic piece that won't go out of style and will be used for years to come.
Features:
Solid eucalyptus wood frame
750lb weight capacity
Removable cushion
Luxe soft velvet upholstery featuring a smooth texture with a flanneled finish
Some Assembly Required
Price:
$720
Buy Here:
Ashley Furniture Signature Design – Hogan Contemporary Press Back Chaise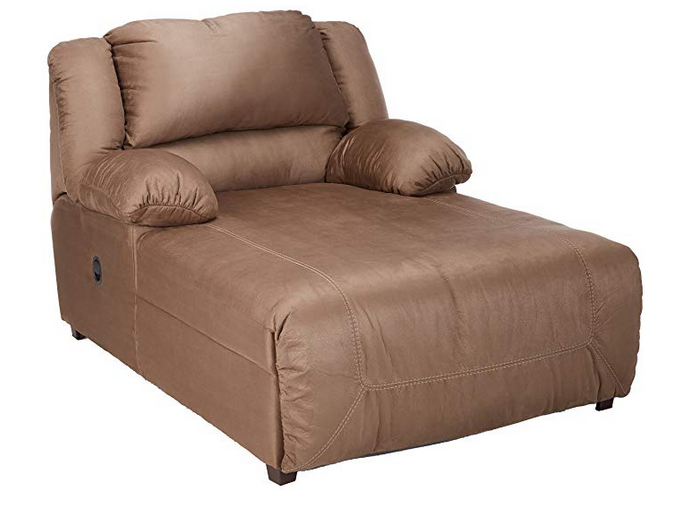 If you are more about comfort than style, this is the one for you.
With countless reviews raving about the absolute comfort of this chaise, the Ashley Furniture Chaise is the perfect addition to your family room, media room or lounge area.
The microfiber upholstery makes keeping this clean easy and the foam cushions provide extra comfort and support.
For $620 you may not be getting the most stylish chair, but like we said, this chair is all about comfort.
This is ideal for family rooms or media rooms where you don't care about style nearly as much as comfort.
Features:
High-resiliency foam cushions wrapped in thick neutral-tone poly microfiber

Oversized, great for family spaces
Very comfortable and soft

Tight back and tight seat cushions

Microfiber upholstery
Price:
$620
Buy Here:
Roho Chaise Lounge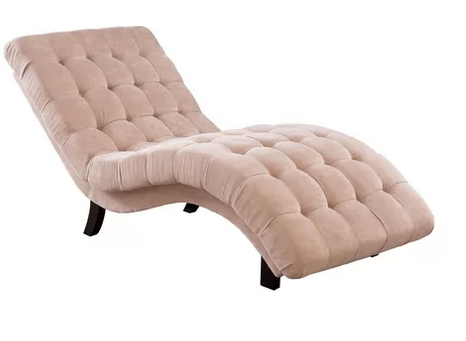 Another more budget friendly option, this gently curved armless design creates comfort while still providing an elegant design.
Made with 100% durable polyester velvet, this chaise is not only soft but easy to clean and care for. The upholstery is designed to be easily spot treated when needed.
If you are looking for a more elegant style but also want comfort, this is winner.
The curved design provides optimal back and lumbar support as well as a comfortable elevated leg positioning.
Add a beautiful throw blanket and find yourself lost in comfort while reading your favorite novel.
Features:
Polyester Velvet upholstery
Comfortable curved back and seat design
Includes matching kidney pillow
Solid wood frame
Some assembly required
Weight capacity 250lbs
1 Year warranty
Price:
$289
Buy Here:
Better Homes & Gardens Papasan Chair with Cushion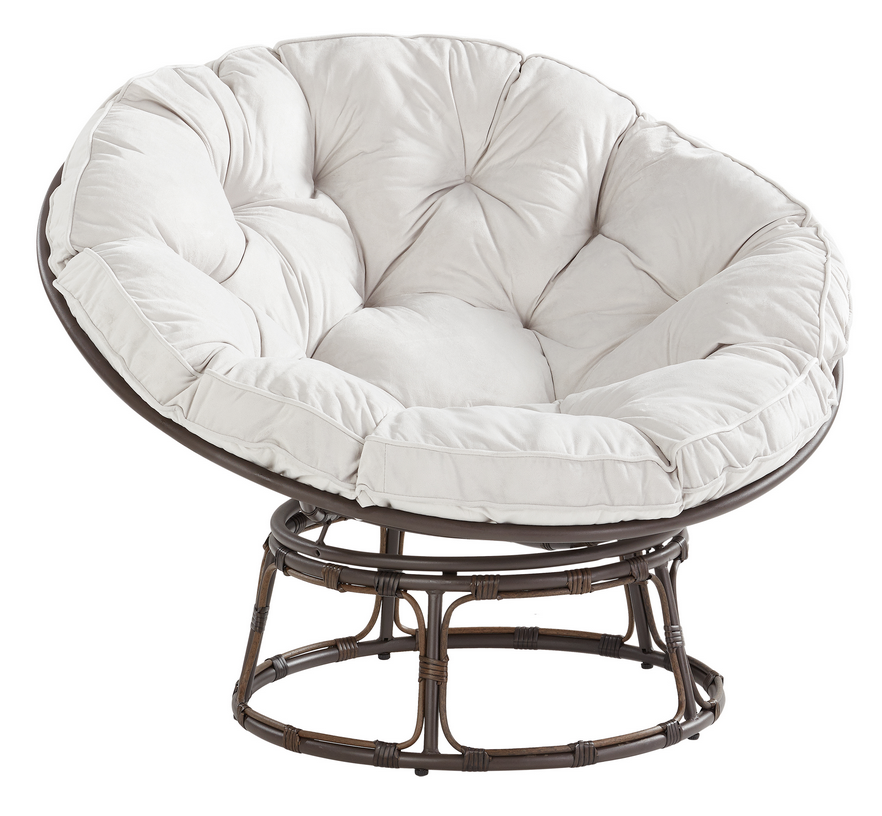 This is not your average wicker Papasan Chair! This Better Home & Gardens Papasan Chair with Cushion has a steel frame, making it sturdy and long lasting.
Perfect for creating a casual look in a family room, play room, kids rooms, bedrooms and more, this is the ideal spot to curl up and get cozy.
You could even create a boho vibe on an outdoor patio area, the possibilities are endless.
This Papasan Chair has a chair bowl that securely attaches to the base for comfort and stability.
If you want comfort but don't want to spend more than a couple hundred bucks, this is a really great option!
Features:
4.5″ thick tufted cushion
100% polyester velvet-look upholstery
Sturdy steel frame and base features faux wicker accents for a casual look
Comes in multiple colors
Price:
$139
Buy Here:
Cullison Restore Leather Chaise Lounge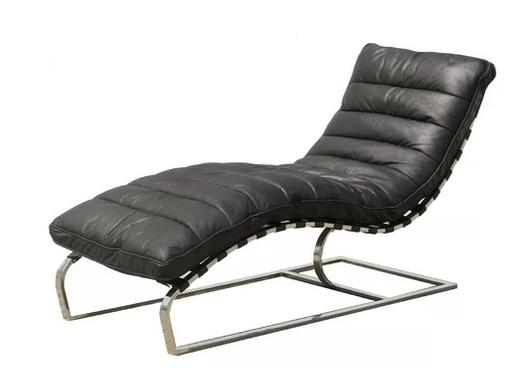 Where converted lofts meet old factories, this chaise lounge provides city industrial chic style.
Although on the pricier side, this chaise is made of soft genuine leather that stays cool in the summer and warm in the winter.
Not only does this piece provide beauty to your space, it is comfortable!
The leather is plush and soft and just gets even more and more comfortable with time.
A leather chaise is actually a really good idea because it not only lasts longer than many fabric upholstered chairs, but it wipes off easily making it easy to keep clean.
Leather is also ideal if you have pets because you can easily wipe them down if your pet sheds.
This chaise comes fully assembled and ready to enjoy!
Features:
Genuine Leather
Sturdy Metal Frame
Chrome finish
No Assembly required
Price:
$1,700
Buy Here:
Adding a Chaise lounge to an office space, family room, living room, kids room, reading nook, and even in a backyard setting provides an instant place to relax throughout the day.
It provides additional seating for your guests, leg support and just a fabulous place to curl up with a book or to a movie.