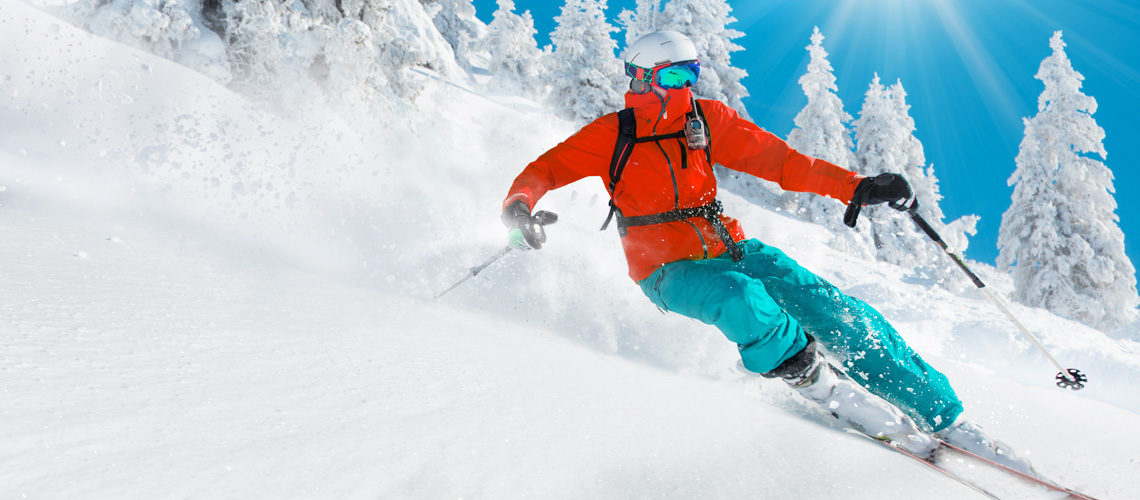 Whether you're an experienced skier or you're new to the slopes, you absolutely need a pair of high-quality ski gloves to keep your hands warm this winter.
There are a variety of options available ranging in style, price, and functionality so it's important you do your research to ensure you get the perfect pair to suit your type of skiing.
If you're stuck on where to start, look at our top choices below followed by an informative Buyer's Guide for additional information that will help you on your search for the perfect pair of ski gloves. 
Here is a list of the Best Ski Gloves of 2023:
1. Black Diamond Mercury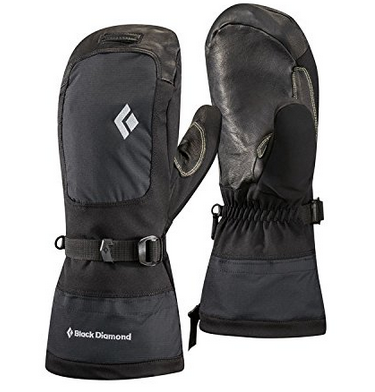 Black Diamond Mercury mitts are a great choice if you're an avid skier or spend a lot of time outdoors in the winter. The waterproof shell is made using a combination of 92% nylon and 8% spandex and the palm is reinforced with 100% goat leather to ensure a secure grip.
For warmth, you'll find comfort in the Prim aloft insulation and removable fleece lining. The removable dry insert is perfect for ensuring your hands stay dry and warm and the mitts are secured using a pull-on closure.  
Despite the bulky appearance, these mitts are lightweight and allow for significant hand dexterity. If you're rough on your mitts, you'll appreciate the abrasion-resistance of this product.
Black Diamond Mercury mitts are available in versions suitable for women and men and can be found in a variety of sizes from x-small to x-large. 
Key Features
Fully waterproof shell

Prim aloft insulation

Removable fleece lining

Goat leather palm for grip
Buy Here
2. Dakine Titan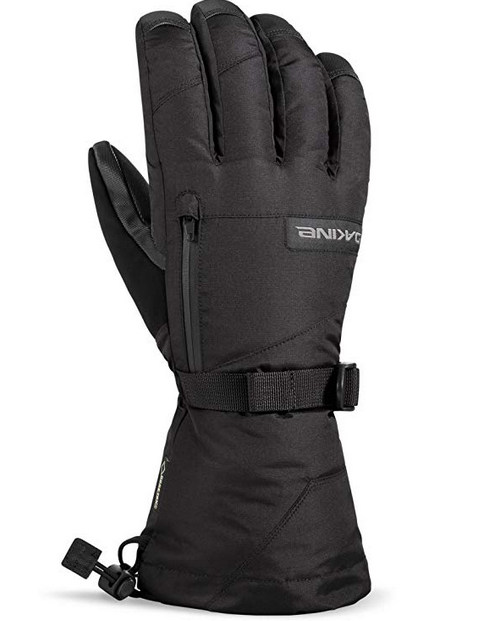 If you would prefer a more budget-friendly option, these Dakine Titan ski gloves might fit the bill. The shell is made from 72% polyester, 25% PVC, and 3% polyurethane. The lining is 100% polyester and the insulation is 100% polyester fibre.
To help with grip, the palms are reinforced with Rubbertec. There is a GORE-TEX waterproof insert that promises to be breathable while protecting the glove's insulation from melting snow and ice. For added warmth, there is a removable stretch fleece liner that promises to hold up in extreme cold. 
If you want to keep small items safe while wearing these ski gloves, you'll find an external waterproof pocket on the back of each glove that is secured with a zipper. Most customers enjoy the wide, comfortable fit.
There are a few color options to choose from and a range of sizes from small to XX-large for men. Currently, there are no sizes available for women in the Titan range of Dakine ski gloves. 
Key Features
Removable fleece liner

GORE-TEX waterproof insert

External waterproof pocket 

Comfortable, wider fit 
Buy Here
3. Gordini GTX Storm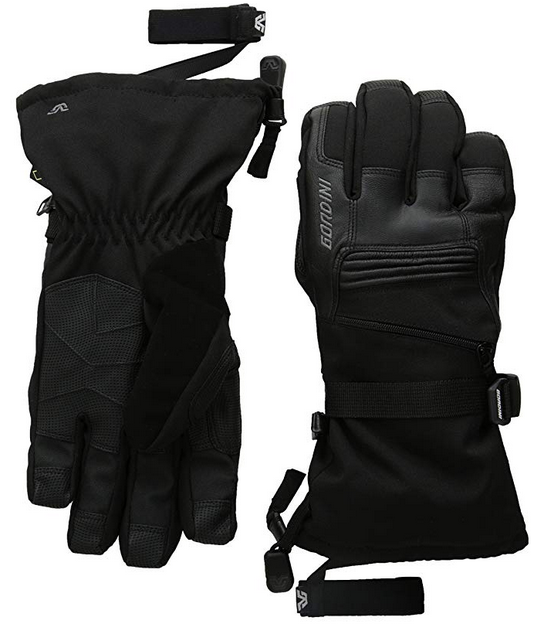 Made using 94% nylon and 6% spandex, Gordini GTX Storm ski gloves offer an array of benefits. For added warmth, a heat pack pocket has been added alongside the generous Megaloft insulation. 
To protect from wind and water, a Hydrowick microdenier lining and GORE-TEX insert have been incorporated into the gloves. The company promises breathability, so you don't need to worry about feeling uncomfortable while skiing or working outside. 
If you need to be on your phone or carry small objects, you might find the digital grip palm, thumb, and wrap caps with stick grip fingers useful.  There is a gauntlet cinch closure to keep moisture and wind out with a leash that can be used to attach the gloves to clothing.  
To keep these gloves clean throughout the season, the company recommends handwashing. Available in sizes small to xx-large. 
Key Features
Heat Pack pocket

Digital grip palm, thumb and wrap caps with stick grip fingers

Megaloft insulation 

GORE-TEX waterproof insert
Buy Here
4. Outdoor Research Lucent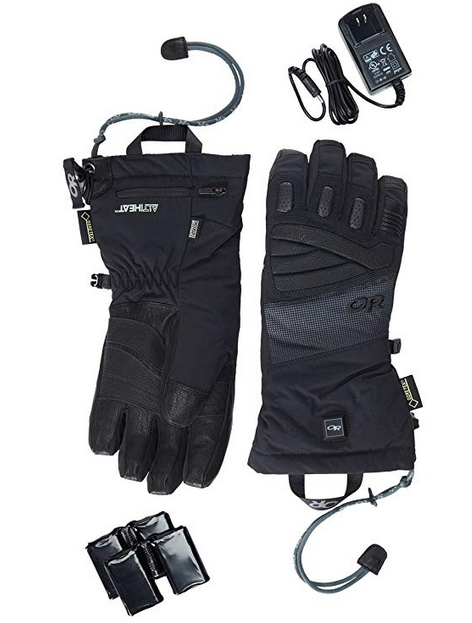 If you are dealing with the bitter cold, you can't go wrong with these battery-powered heated gloves from Outdoor Research. 
Heat is customizable with Hi/Med/Low settings, so your hands can be as warm as you need them to be. There is a rechargeable lithium battery included with each pair of gloves that promises to last for a few days, and a zippered compartment  is available to carry extra batteries if needed. For added comfort, you'll find that these gloves have fleece lining in the palm and EnduraLoft insulation. 
The shell is made from 100% nylon with 100% polyester insulation. The palms have been reinforced using goat leather, so you don't need to worry about losing traction while working or participating in your favorite winter activities. 
Like similar gloves, Outdoor Research utilizes GORE-TEX inserts to ensure they remain waterproof in snowy conditions. They are also windproof, so you can feel free to conquer the great outdoors. 
Compared to competitors, these gloves are on the pricier side, but the guaranteed warmth might make up for it. Available in sizes x-small to x-large. 
Key Features
Goat leather palm

Battery-powered heat with customizable settings

Wind & waterproof 

EnduraLoft insulation
Buy Here
5. KINCO 901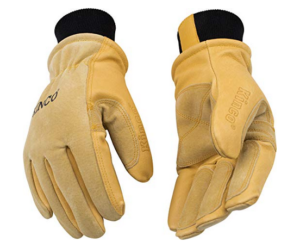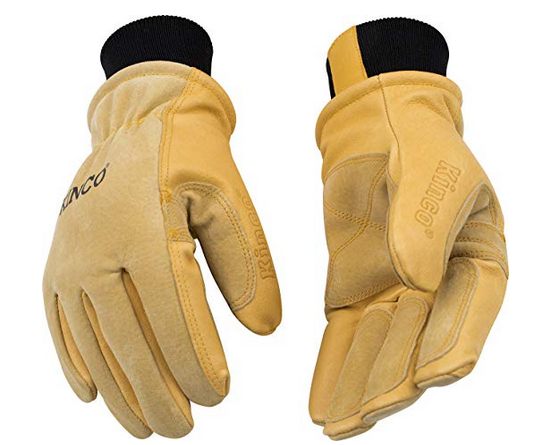 KINCO 901 ski gloves are made using durable pigskin leather, making them a stronger choice than cowhide or fabric gloves. 
While they might not win the contest for prettiest ski glove, we think the double-layered HeatKeep thermal lining might make up for it as far as warmth is concerned. If you're not convinced, the additional TR2 inner lining might surprise you with its ability to retain heat while keeping moisture away. 
For added protection against abrasions, reinforced leather patches have been sewn with heavy-duty Draylon thread over the fingers and palm area. To effectively regulate body temperature, the adjoining wrist fabric can be tucked into the gloves or left out. 
The flexibility of these gloves may surprise you too, but the seamless angled-wing thumb helps ensure flexibility and comfort is never compromised. 
For added waterproof protection, the company includes Nikwax waterproofing wax that you can apply to the gloves yourself if needed. There are a few sizes to choose from, but the company recommends buying them a size smaller than you usually would, as they run large. 
Key Features
Durable pigskin leather 

HeatKeep thermal lining

Nikwax waterproofing wax for optional waterproofing

Reinforced leather patches for abrasive protection
Buy Here
Best Ski Gloves Buyer's Guide
How do I choose ski gloves? 
It depends on what you intend to use them for. There are two main styles to choose from: mitten and five-digit with individual fingers. The five-digit version is typically most popular amongst skiers for their mobility and functionality, but the mitten-style can have some benefits too. Mittens typically provide more warmth and are slowly becoming more recognized for functionality. There are different styles of cuffs available too. Short-cuff ski gloves can fit under or over your jacket, but long-cuff gloves provide more warmth, so they are often recommended over the shorter variety. 
How do I measure for ski gloves? 
The right fit can make a huge difference when it comes to ski gloves. It's important that you can move your fingers without limitation, but gloves that are too big can impede your grip significantly. To get the best fit, we recommend following the manufacturer's size guide as sizes can vary between brands of ski gloves, 
Can I add waterproofing to ski gloves? 
Yes. Some ski gloves are made using waterproof fabric, but you can also buy a waterproofing product like Nikwax waterproofing wax. When applied properly, this product helps repel water to keep your hands dry and protect your investment. 
Are ski gloves warm? 
Yes. Ski gloves are designed to keep your hands warm while skiing or participating in other cold-weather activities.
That said, not all brands of ski gloves are comparable, so you will want to do your research to ensure you are getting a high-quality, warm pair of ski gloves that will last during your favorite winter excursions. 
For the our Buyers Guide of the Best Mittens, checkout our post here!